How to Make Homemade Peanut Butter – VIDEO + Photo Tutorial
How to Make Homemade Peanut Butter: a step-by-step tutorial on how to make smooth, creamy homemade peanut butter. Vegan, Gluten-Free, Dairy-Free.
One of my very first recipes on the blog was no bake peanut butter coconut bites. One of the biggest mistakes I made on that recipe was mentioning homemade peanut butter! That is, mentioning it and not having a recipe ready to go. 😉
That recipe was and continues to be one of the most popular recipes on Beaming Baker. And yet, it still took me this long to answer the question I get all the time: do you have a recipe on how to make peanut butter? Or, "So, how do you make peanut butter?"
Ah, silly me! But now we're all ready to go. Btw, have you made peanut butter before?
It's a shockingly easy process that also does, in fact, include a bit of cleanup (blame the peanut oil for this one). Peanut butter is super easy to make and seriously so delicious. More peanut-ty, in fact, than store-bought peanut butter.
I've got more than a few recipes that you can put your freshly made peanut butter to use in! Hint: Easy Vegan Peanut Butter Cookies, 3 Ingredient Peanut Butter No Bake Energy Bites, No Bake Chocolate Peanut Butter Bars, and more! But we'll save that for later. 😉
Are you ready to do this? Let's get started!
Step ONE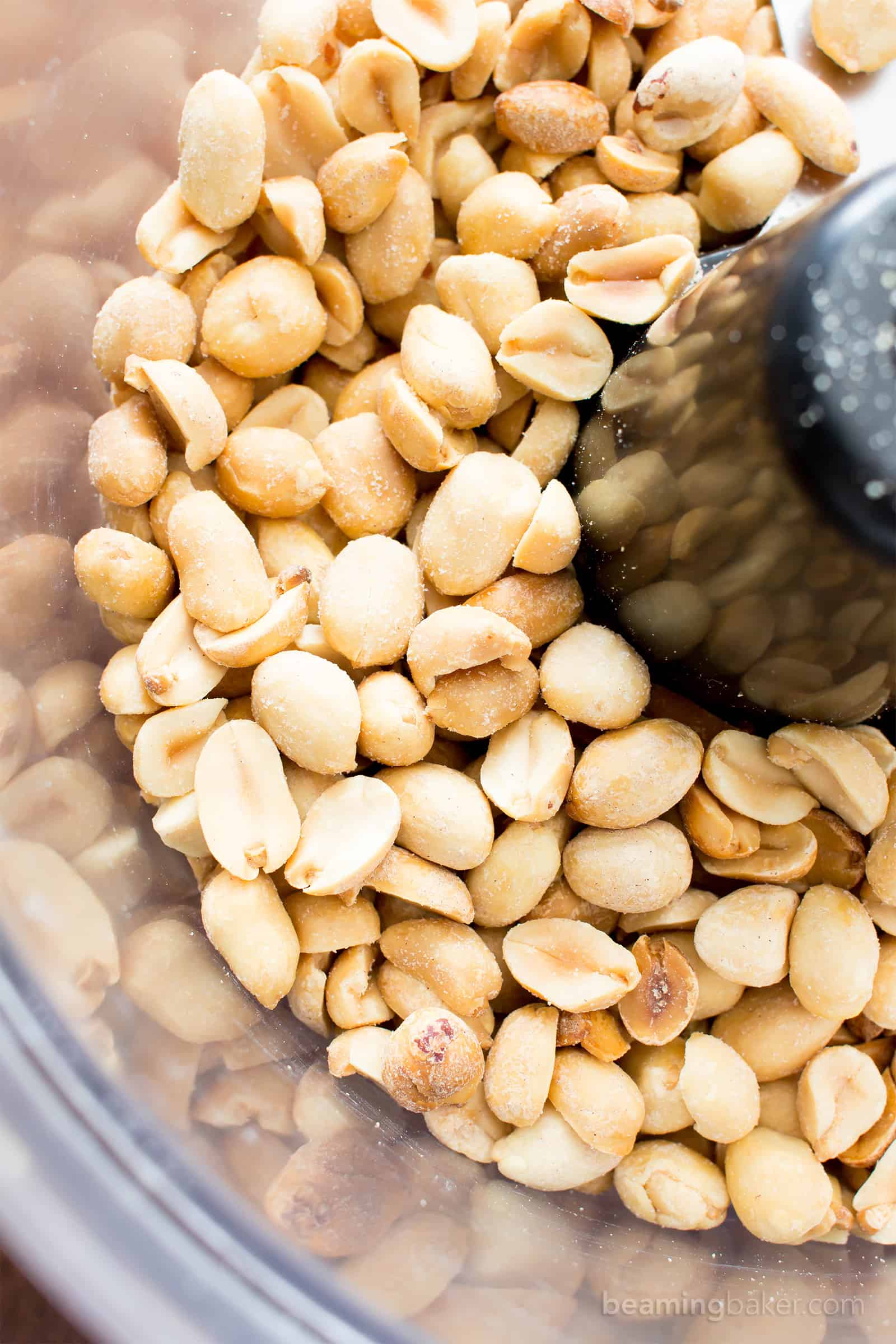 Add peanuts to a food processor or blender. I prefer using roasted, unsalted peanuts. The greater the roast, the deeper the flavor, and the darker the final peanut butter will be. Blend!
Step TWO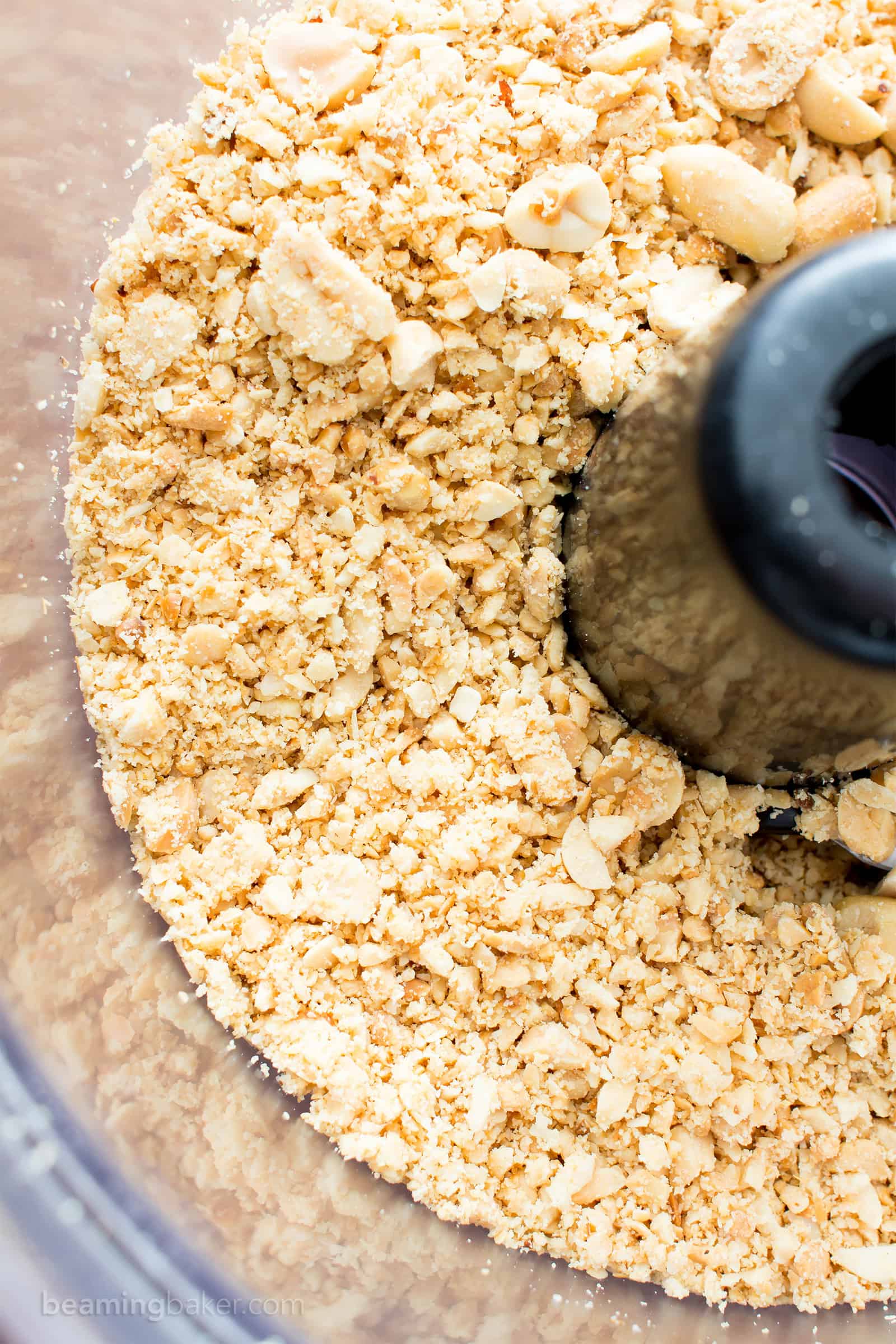 Blend! Initially, the peanuts will turn into smaller, chopped up pieces. In this photo, you can see that there are still some whole peanuts.
Step THREE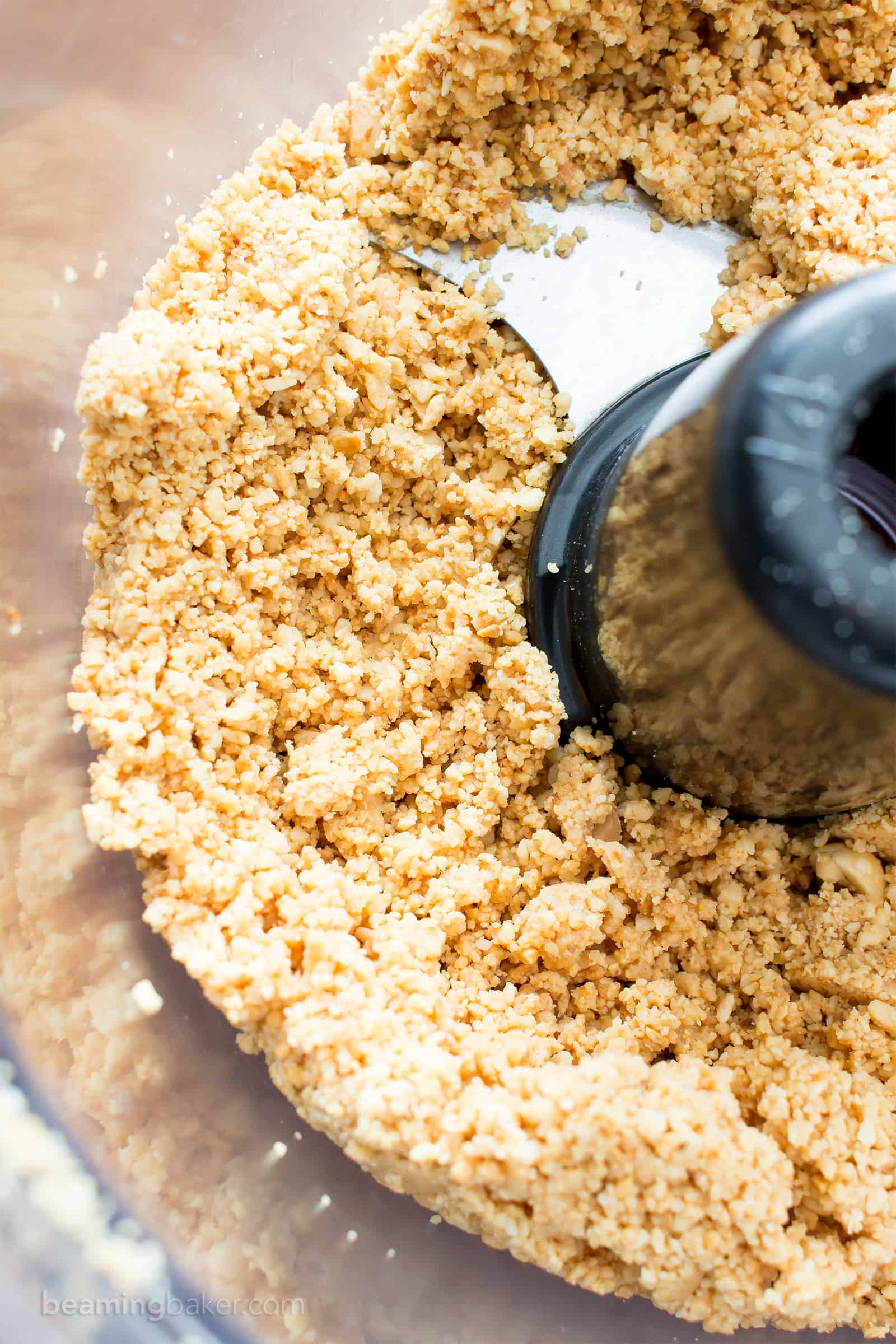 Remember to scrape down the sides of the processor. Now, the peanuts are starting to release oil. The peanut pieces are much smaller and beginning to stick together.
Step FOUR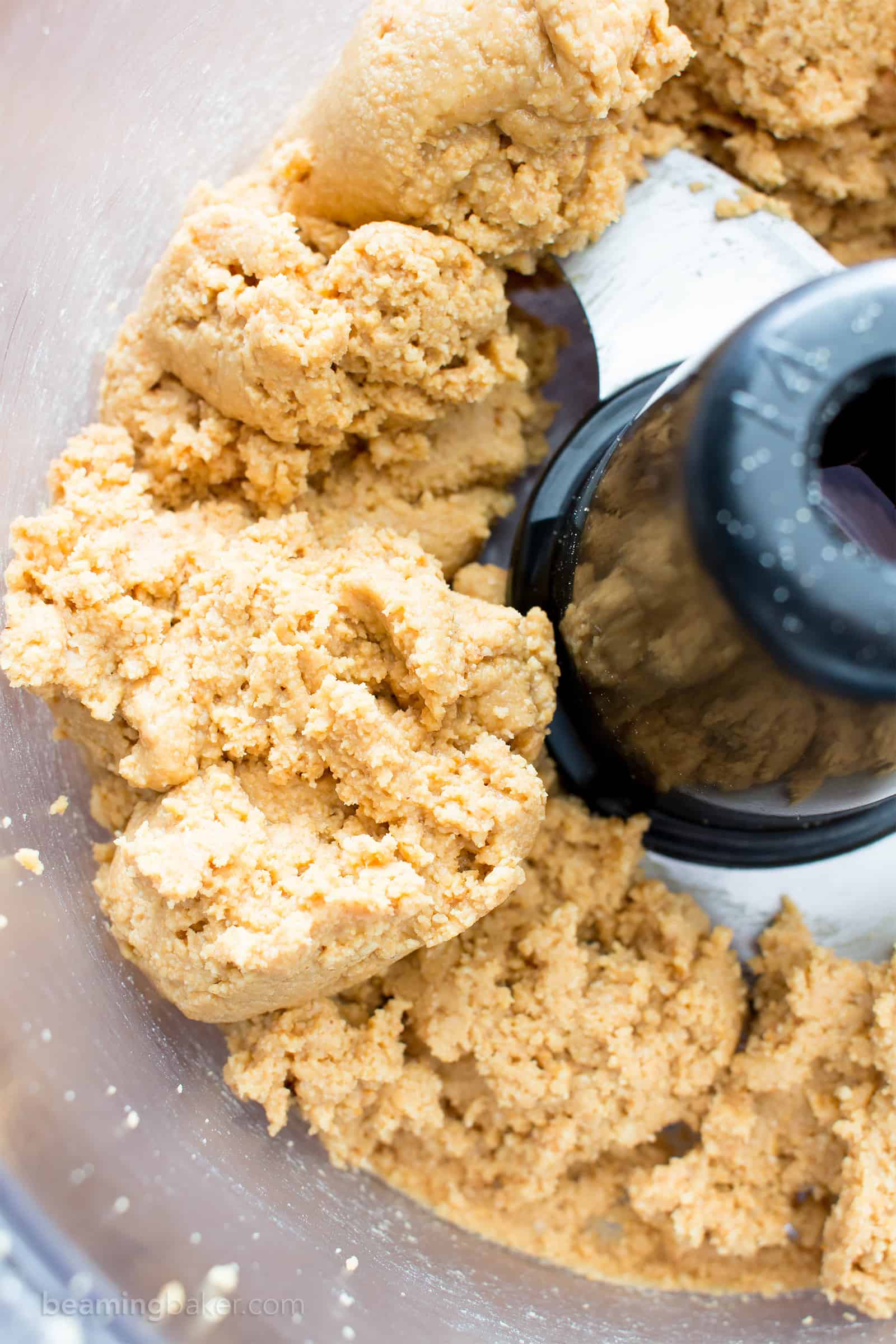 A few minutes later, and a few scrapes down the side later, almost no large or medium pieces of peanuts remain. The remaining peanut pieces have been pulverized and have started to mix well with the peanut oil, creating a dough-like texture.
Step FIVE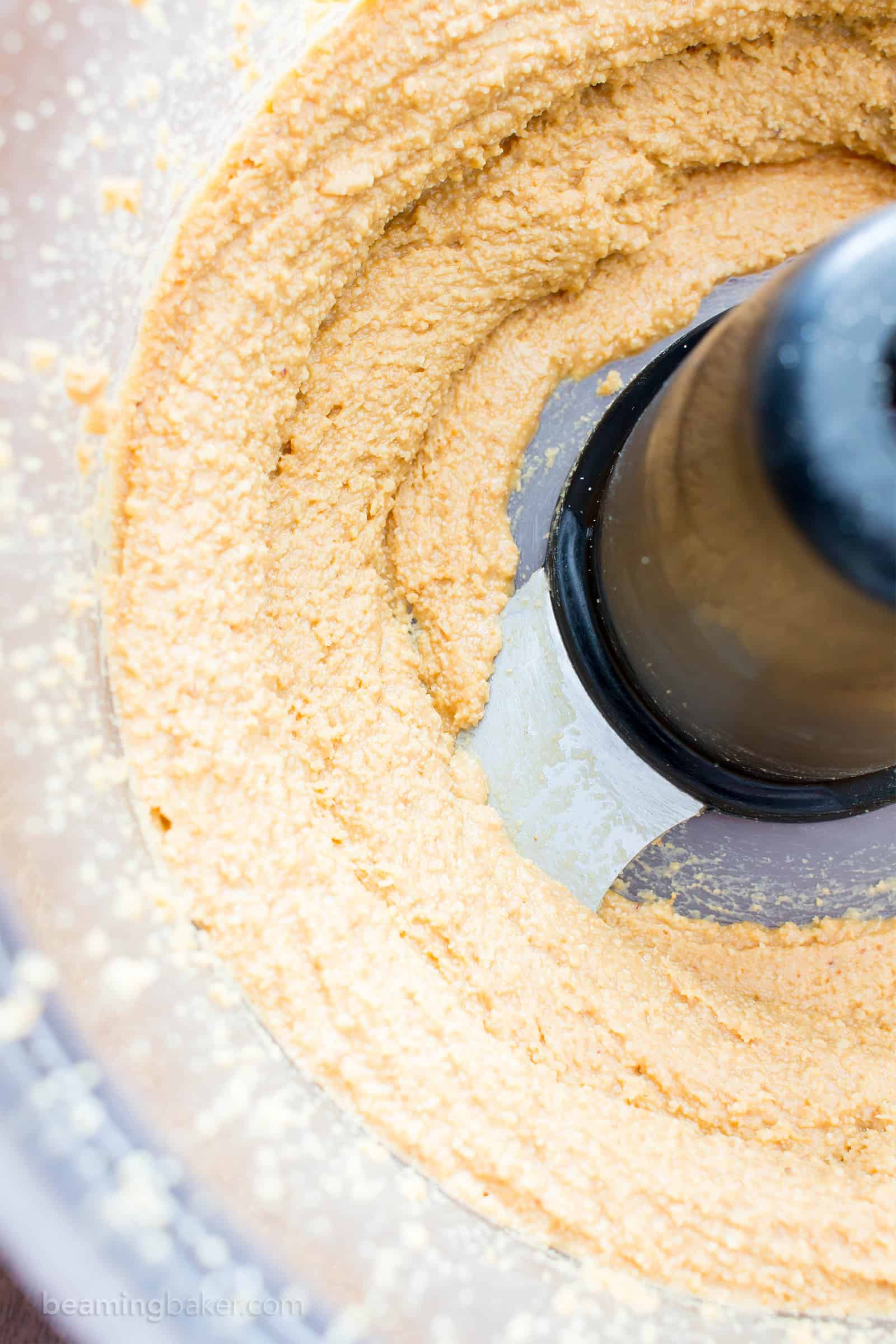 An additional few minutes later, we're almost there. The dough-like balls of pulverized peanuts have been blended until more oil has released. It's now turning into a liquid. However, there are still discernible chunks of peanuts still left.
Step SIX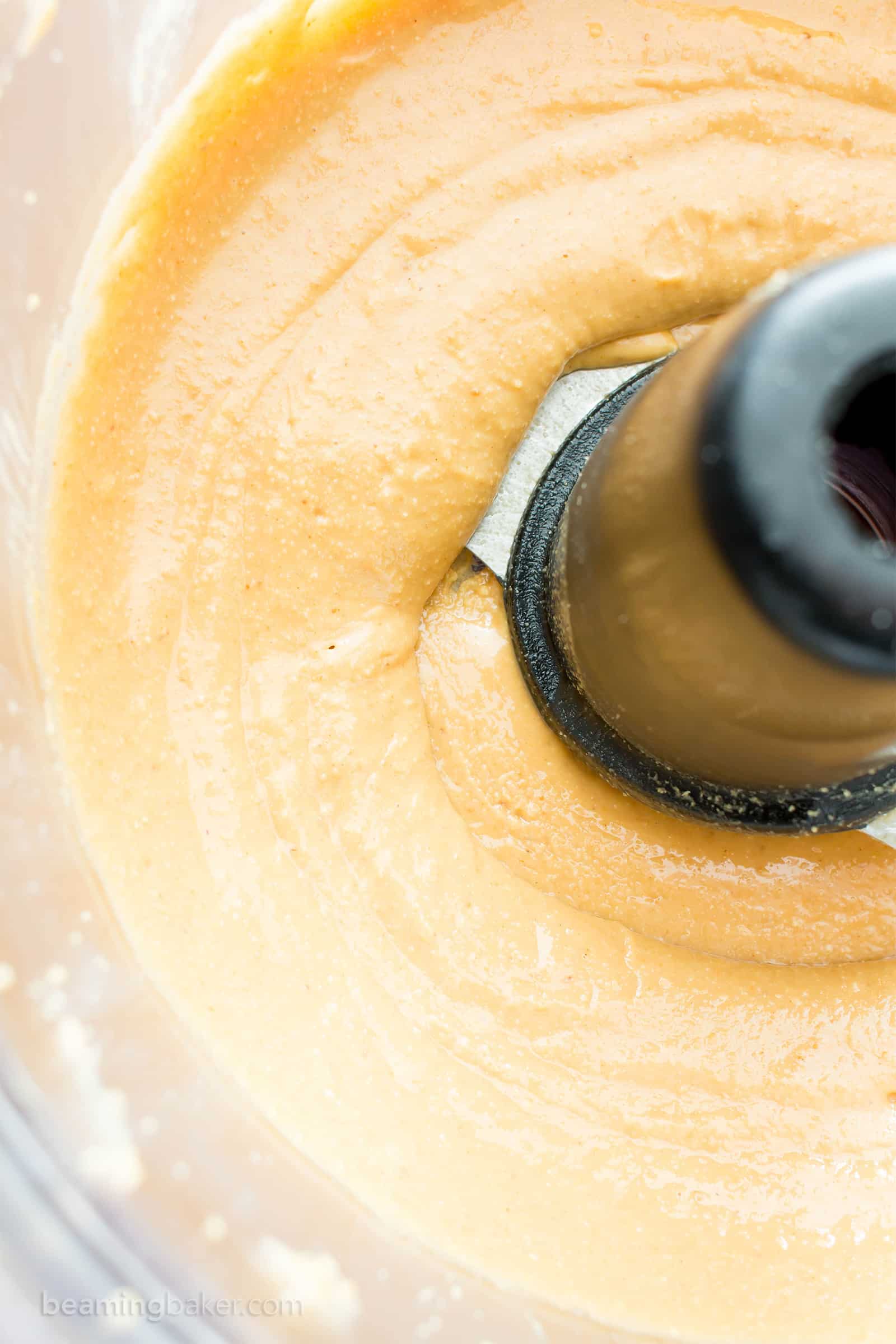 Blend until you get this ↑. Now you have peanut butter. The peanuts have turned into a liquidy, mostly smooth and spreadable delight. Enjoy!
PEANUT BUTTER RECIPES to use your homemade peanut butter in!
More Baking Basics How-To's
How to Make Homemade Chocolate Frosting
How to Start a Food Blog (Yes, this is a baking basic. .)
How to Make Homemade Oat Flour
… and more to come!
Who knew that would be so much fun? Let me know how your homemade peanut butter turns out and what you used it for! I might share some twists on this recipe. Comment or email me if you have a request! I can't wait to see how yours turns out.
Sending you all my love and maybe even a dove, xo Demeter ❤
☀︎ Click below to Pin ☀︎

☀︎ Did you make this recipe? Take a pic and share it on Instagram with the hashtag #beamingbaker and tag @beamingbaker. I would love to see it! ☀︎
More Homemade Nut Butter Recipes
Print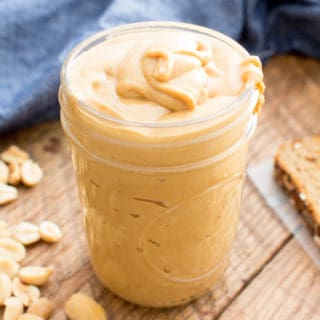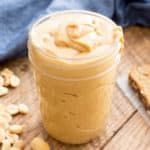 How to Make Homemade Peanut Butter (Gluten Free, Vegan) + VIDEO
---
Description
How to Make Homemade Peanut Butter: a step-by-step tutorial and video guide on how to make smooth, creamy homemade peanut butter. Vegan, Gluten-Free, Dairy-Free.
---
2 cups

unsalted, roasted peanuts
---
Notes
– Storage notes: Store in an airtight container, in a cool, dark environment, at room temperature for 2-3 months. Store in the refrigerator for 3-6 months.
Category:

Snacks, Vegan, Gluten-Free, Dairy-Free
© beamingbaker.com. All content and images are protected by copyright. Please do not use my images or recipe without my permission. Please do not republish this recipe, instead, include a link to this post for the recipe.
SHOP THE RECIPE
Here are a few items I used in today's recipe, and in the other peanut butter recipes I shared. 🙂
Mason Jars | Food Processor | Blender | Silicone Spatulas | OXO Mixing Bowls | Maple Syrup | Cooling Rack | GF Rolled Oats (Bulk)
This post may contain affiliate links, which allow me to make a small commission for my referral, at no additional cost to you. Thank you for supporting Beaming Baker.
Facebook ☀︎ Pinterest ☀︎ Twitter ☀︎ Instagram