Midnight Mocha Oatmeal Bowls (Vegan, Gluten Free, Dairy-Free)
Midnight Mocha Oatmeal Bowls (V, GF): the perfect morning treat—a nourishing bowl of dark chocolate, coffee and superfood infused oatmeal to kick off a fantastic morning! Vegan, Gluten-Free, Dairy-Free.
Midnight Mocha. Doesn't the sound of that just give you a little thrill? Erik and I've always been HUGE fans of mocha. We have a long history of loving paleo mocha frappes, as well as the always delicious peppermint mocha frappuccino variation. What's not to love when coffee and chocolate are involved?
Lately we've been really getting into having a bowl of hot oatmeal, first thing in the morning. Life's been so hectic recently, but with summer right around the corner, I thought it'd be high time to start slowing it all down. Making time for breakfast and coffee seemed like the perfect start—especially if both are already in the bowl to begin with!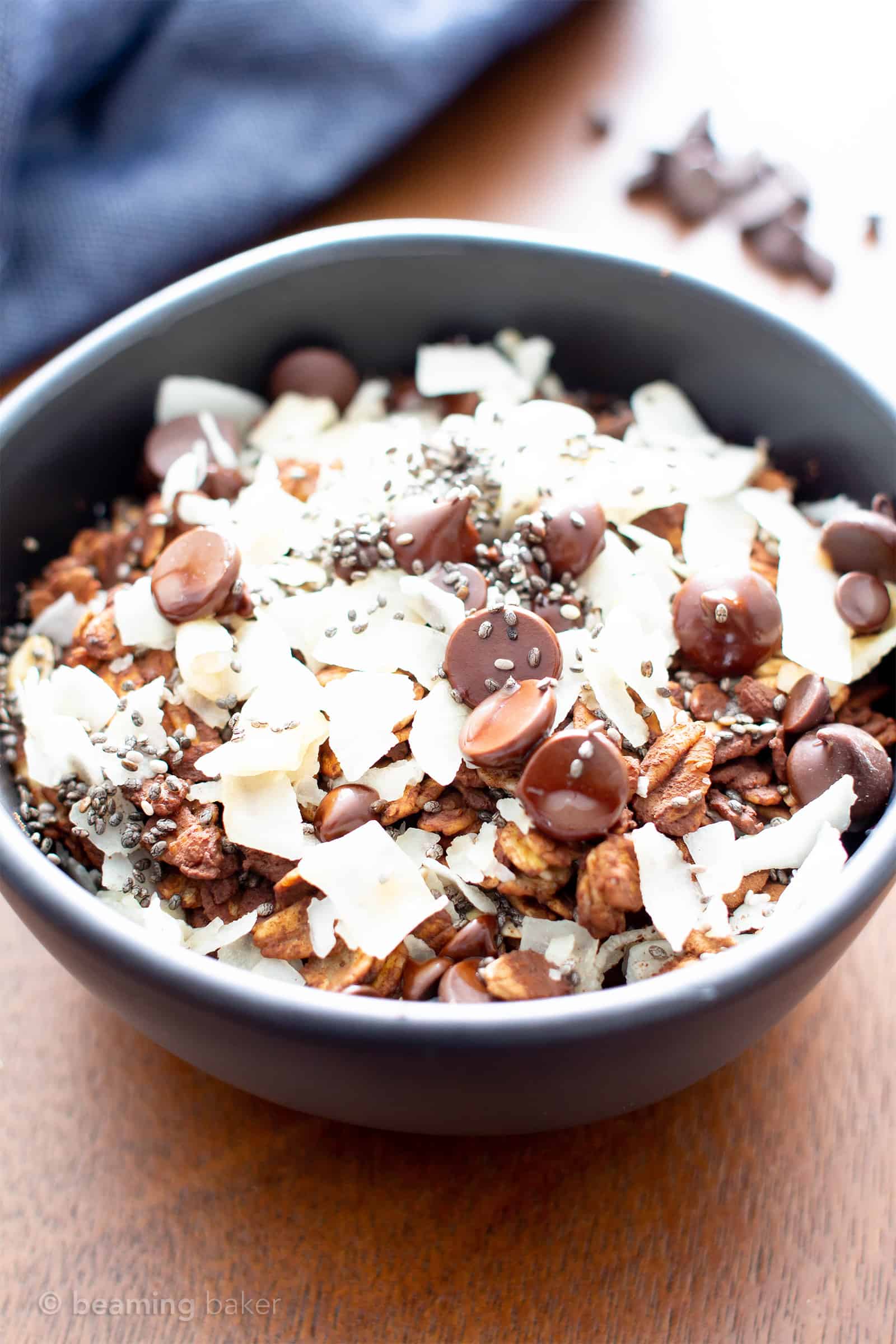 So what's midnight mocha? In three ingredients, it's…
dark chocolate
espresso
steamed milk (make that dairy-free milk, of course!)
It's the perfect transitional breakfast from the weekday to the weekend. All healthy, but with a bit of dark chocolate sassiness to usher you straight into the fun of the weekend! (And a bit of much-deserved indulgence).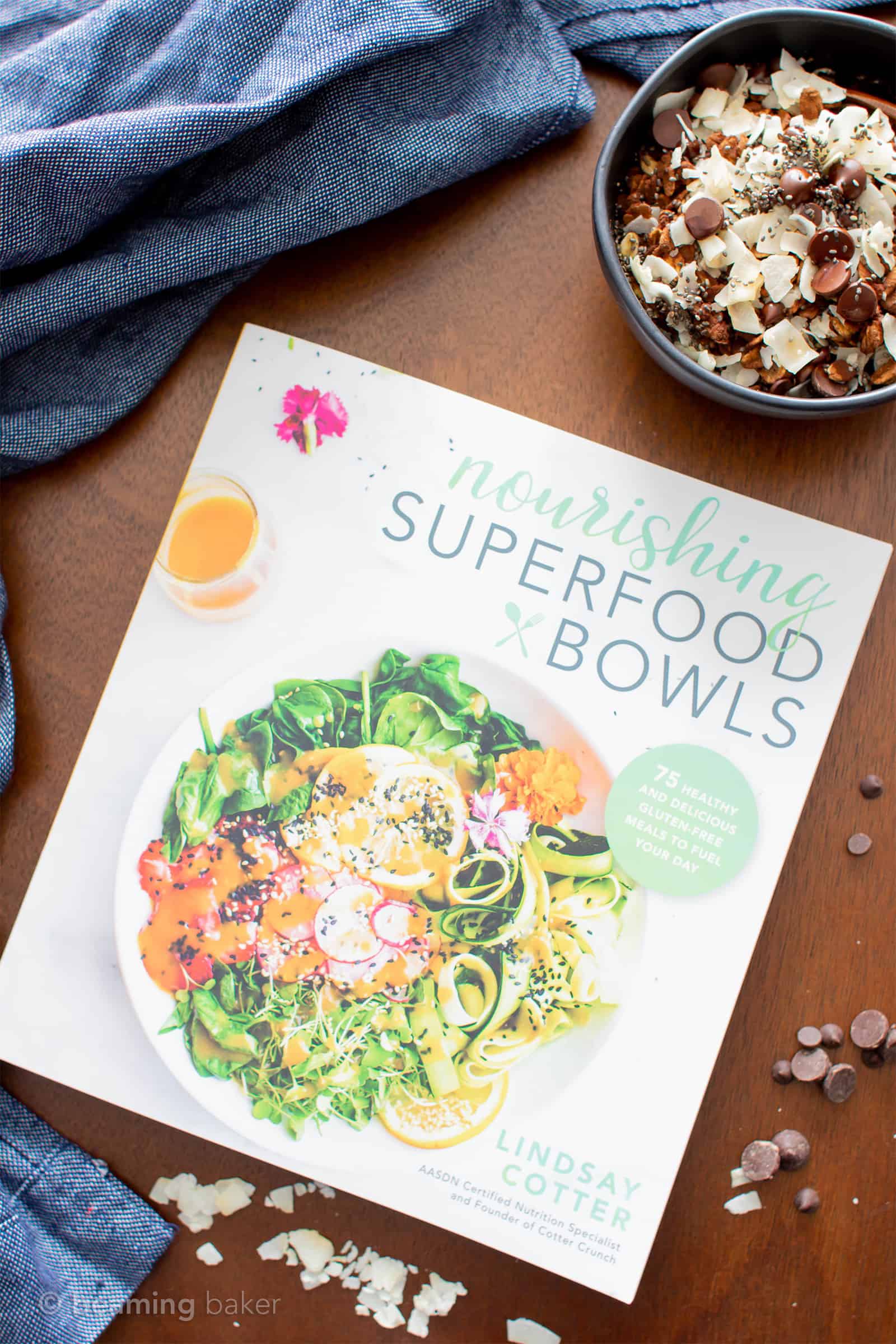 This brilliant Midnight Mocha Oatmeal Bowls recipe is from my sweet and talented friend Lindsay Cotter from Cotter Crunch. Her blog, Cotter Crunch, focuses on deliciously healthy gluten free recipes that satisfy and keep you fueled. I seriously love how creative she always gets with her GF recipes and how beautiful all of photos always are. <— photography inspo, much? .
Today's recipe comes from her eye-poppingly gorgeous Nourishing Superfood Bowls cookbook. Literally, every single recipe is in a bowl! How convenient is that? If you're a big fan of bowls like I am, or if you're just curious and are looking for something easy and quick, you've got to check out her book here.
You'll find this recipe for Midnight Mocha Oatmeal Bowls on page 31, as well as 74 other incredible recipes that will make gluten free eating seem easy peasy.
There are savory and sweet recipes, as well as a ton of recipes that are paleo, vegan, dairy-free and grain-free. All GF, of course!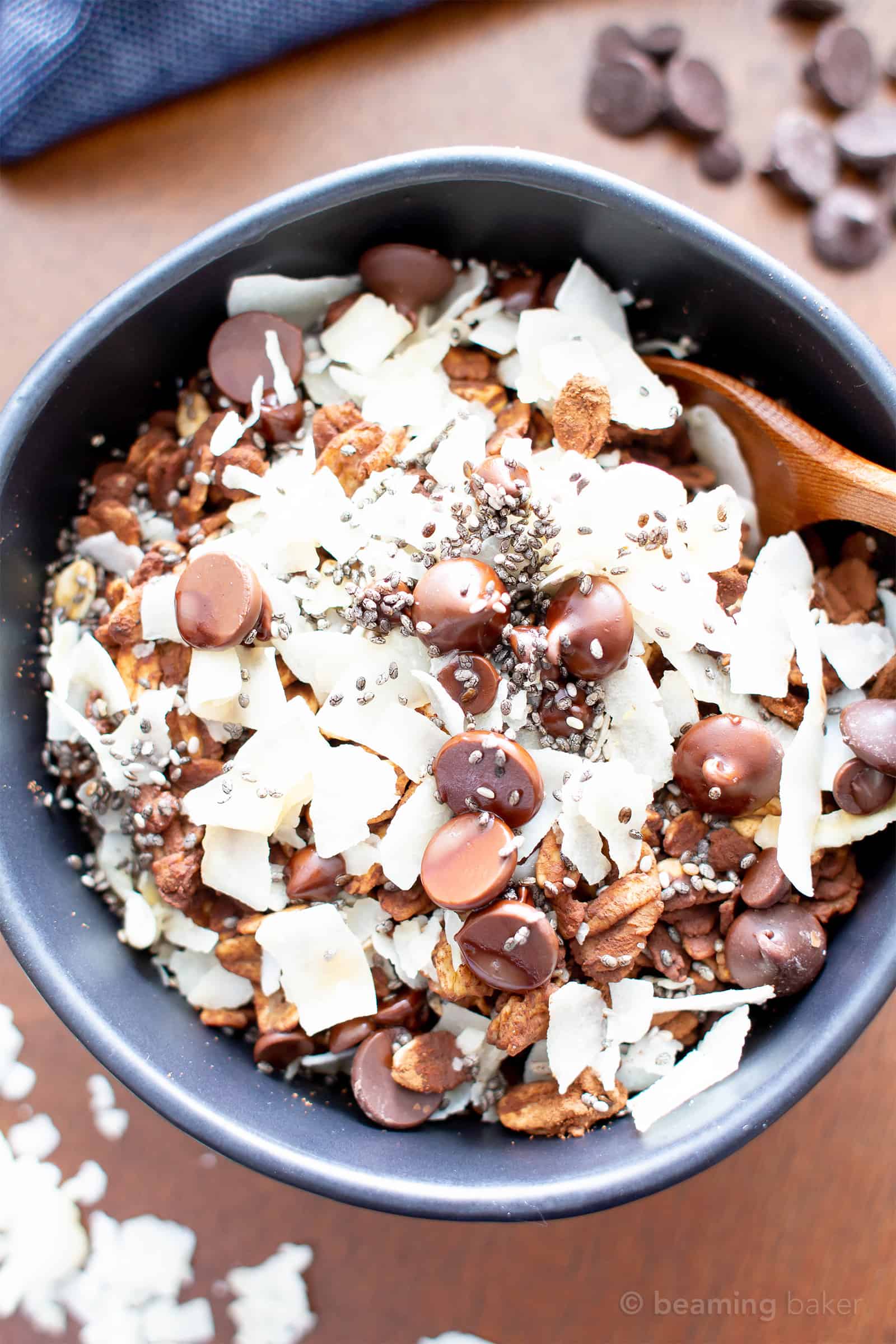 I'm not sure which to try next, but I'm totally eyeing the following (help me choose!!):
Mango Tango Glow Bowls (pg. 27) — omigosh, the sound of the coconut milk, turmeric, and pineapple together is just bliss!
Greek Cauliflower Rice Pilaf Bowls (pg. 70) — think: super tasty deconstructed dolma. YUM! I also saw some vegan feta cheese at the store the other day that I might top these with…
Creamy Chocolate Streusel Bowls (pg. 158) — delicious chocolate decadence, all topped with an easy to make streusel! Loving it!
Avocado Pesto Mexican Pasta Bowls (pg. 93) — Black beans, avocado, cumin and beets on a beautiful bed of sweet potato noodles, topped with avocado pesto… oh my vegan goodness!
Let me know what incredible recipe you try first from Nourishing Superfood Bowls! I know you'll just love them all. 🙂
Sending you all my love and maybe even a dove, xo Demeter ❤
.︎ Click below to Pin .︎

. Did you make this recipe? Take a pic and share it on Instagram with the hashtag #beamingbaker and tag @beamingbaker. I would love to see it! .︎
If you enjoyed these Midnight Mocha Oatmeal Bowls, then you'll just love these delicious healthy breakfast recipes:
More Gluten Free Vegan Breakfast Recipes
Print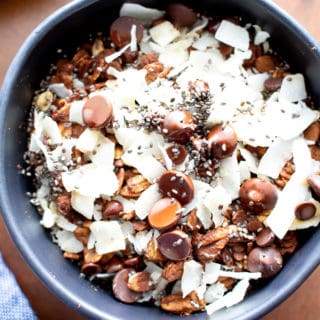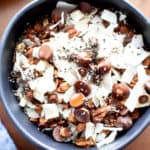 Midnight Mocha Oatmeal Bowls (Vegan, Gluten Free, Dairy-Free)
---
Description
Midnight Mocha Bowls (V, GF): the perfect morning treat—a nourishing bowl of dark chocolate, coffee and superfood infused oatmeal to kick off a fantastic morning! Vegan, Gluten-Free, Dairy-Free.
---
½

to

1/3

cup brewed coffee

½ cup

to 1/3 cup drinking coconut milk or almond milk, plus more for topping

1 cup

gluten-free rolled oats

1/3 cup

unsweetened cocoa powder, plus extra for topping

1/3 cup

vegan dark chocolate chips, plus more for topping

½ cup

unsweetened coconut

¼ cup

black chia seed or flaxseed, plus more for topping
Maple syrup, optional
---
Instructions
Mix the brewed coffee with the coconut milk. Pour ¼ cup of the coffee mixture over the oats in either a microwave-safe bowl or a saucepan on the stovetop. For the microwave, the oats and coffee should cook for about 1 to 2 minutes. On the stovetop over medium heat, the oats should cook for 5 to 10 minutes, or until the liquid is absorbed.
Keep an extra ¼ to 1/3 cup of the coffee mixture for topping. Once the oats are heated, add in the cocoa and stir together.
Divide the oats into two bowls. Add the chocolate chips, coconut, chia and maple syrup, if desired.
Pour the rest of the coffee mixture on top and sprinkle with cocoa powder. Feel free to add more coconut milk or cream to make the oats more creamy.
Top with additional dark chocolate and chia seeds.

Recipe from Nourishing Superfood Bowls with permission from author & publisher.
Category:

Breakfast, Vegan, Gluten-Free, Dairy-Free
© beamingbaker.com. All content and images are protected by copyright. Please do not use my images or recipe without my permission. Please do not republish this recipe, instead, include a link to this post for the recipe.
Nourishing Superfood Bowls is available for purchase here: Amazon
SHOP THE RECIPE
Here are a few items I used in today's recipe. 🙂
Black Stoneware Bowl | Gluten Free Rolled Oats | Paleo Vegan Chocolate Chips | Gluten Free Unsweetened Coconut | Stainless Steel Measuring Cups | Glass Mixing Bowls | Unsweetened Cocoa Powder | Silicone Spatulas
This post may contain affiliate links, which allow me to make a small commission for my referral, at no additional cost to you.
Facebook ☀︎ Pinterest  ☀︎ Twitter ☀︎ Instagram