Toasted Coconut Chocolate Chip Nice Cream (Vegan, Dairy Free, Gluten Free)
Toasted Coconut Chocolate Chip Nice Cream (V+GF): a 5 ingredient recipe for deliciously creamy vegan ice cream, exploding with coconut and chocolate chips. Vegan, Dairy Free, Gluten Free.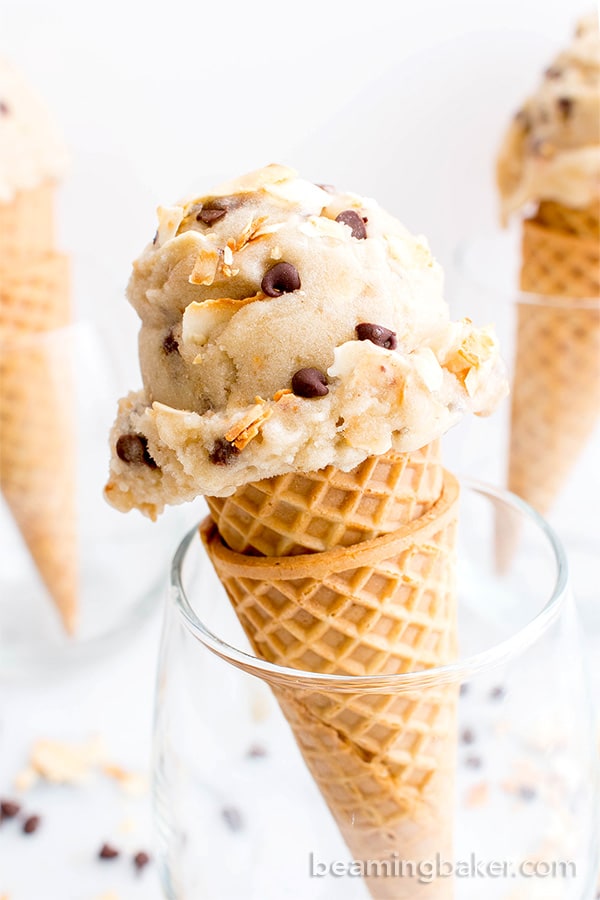 Oh, what is the summer without ice cream? Without popsicles? Just no fun at all, at least in my family. Yup, we're big eaters of all the delicious things.
Everyone in my family LOVES coconut and chocolate. But when they find both of those ingredients in a recipe, their coconut chocolate love goes into overdrive.
For years, we've marveled at the wondrous frozen creations that we've enjoyed on family vacations: rose water ice cream, chocolate pistachio pudding, caramel chai popsicles, and more. One of my family's favorites has always been the kinda-hard-to-find, but absolutely-worth-the-hunt coconut chocolate chip ice cream (see: overdrive notes).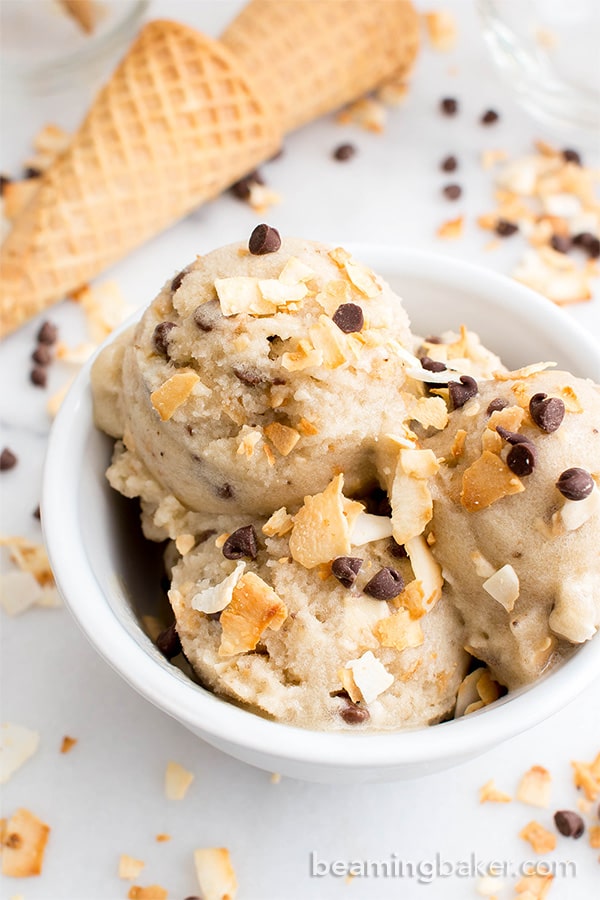 So when I had one big–okaaaaay, three big bags of coconut flakes lying around, inspiration (or more likely, hunger) hit me: it was time to do this, vegan nice cream style. If you've never heard of nice cream, you can check out this post to read all about it.
Nice cream is pretty much the super-fantastic, healthy, vegan substitute for ice cream. It's made of bananas (shoutout to banana lovers!) and very easy to make. Working off of my dark chocolate nice cream recipe, I dialed the cocoa powder all the way down (like, back into its container in the cupboard), added in coconut, chocolate chips, then reworked the recipe to be even coconutty-er and chocolatey-er. Yup, I even had to make up awesomer words in the process. This included the word awesomer.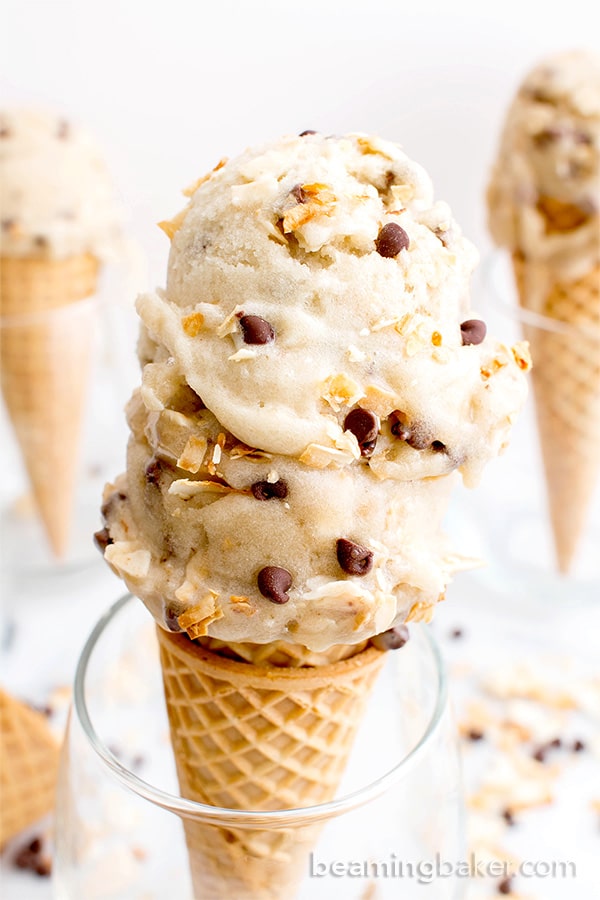 If there's one thing my family loves mores than coconut, it's toasted coconut. And that includes Erik. While I was writing the recipe for this nice cream, he kept hovering about, oohing and aahing, then kindly (and then annoyingly) suggesting that I toast the coconut. And boy was I happy that I did! Score for Erik! (He just said "woohoo" as I wrote this–nosy much?) 😉
When I started toasting the coconut, the kitchen immediately filled with that beautiful, warm, toasty (well, yeah), and just delightfully tropical scent of coconut. Watching the coconut toast to a warm caramel color on the edges once again reminded me of the wonderful little moments in cooking. *Happy sigh*
Once the toasted coconut was done, I laid it on a parchment-covered baking sheet to cool in the freezer. Then, I got to work on the nice cream. Suddenly, we started blending happily and humming along together, troubles completely forgotten. That's summer for you, happiness and relaxation beckoning you at every corner. 🙂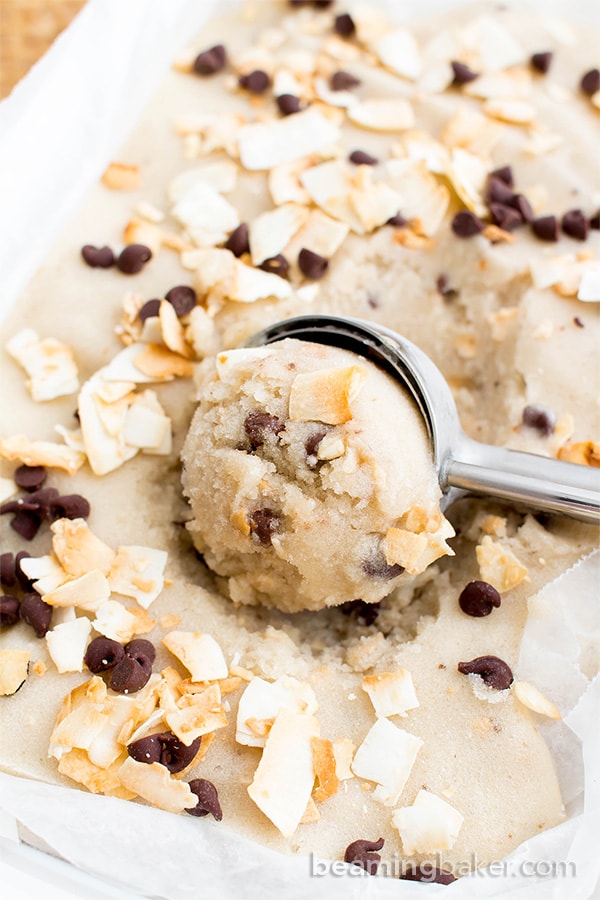 Soon thereafter, that special, super magical thing happened—the bananas turned into nice cream. NIIIIICE. Sorry, I could not help myself. I added in the toasted coconut, mini chocolate chips and blended. Then, I went ahead and added more coconut and more chocolate chips.
Because. Summer.
There are many reasons to love this delightfully cool dessert. But it's summer, so I'll keep it short (so you can go nap). This Toasted Coconut Chocolate Chip Nice Cream is:
made with just 5 ingredients
creamy and delicious
vegan, gluten free and dairy free
incredibly easy to make
packed full of coconut and chocolate yum
made with the simple ingredients you love
satisfies your sweet tooth like its nobody's business
just in time for summer relaxing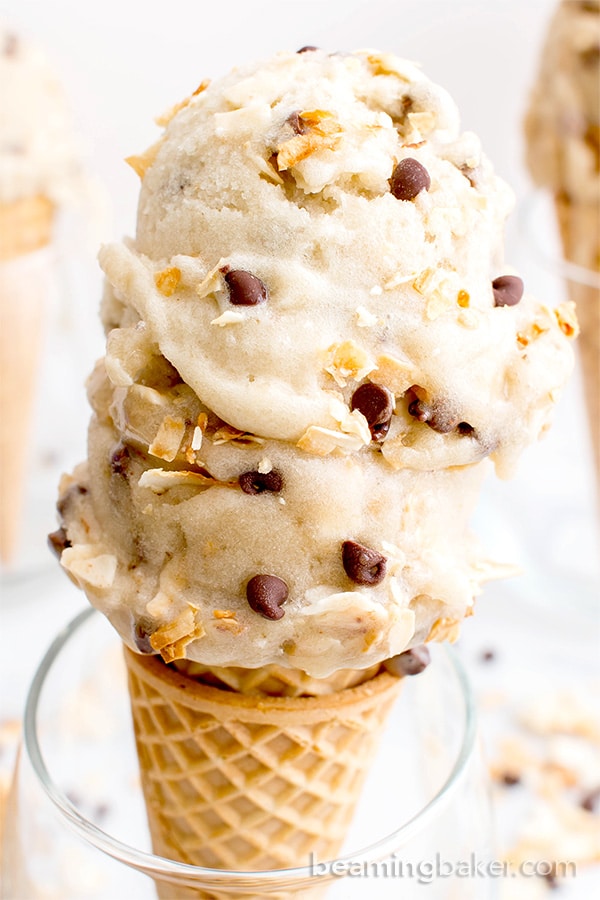 Later that evening, and for the rest of the week, Erik and I enjoyed the most delightful summer treat of a double scoop of toasted coconut chocolate chip nice cream. Double NICE.
Won't you join us? Whip up this super easy, 5 ingredient toasted coconut chocolate chip nice cream. Call off of work early, take a long lunch, or start planning your summer vacation. Or, sit down to a nice, long Netflix-marathon with two big scoops of this nice cream. It's time to get our summer on!
☀︎ Did you make this recipe? Take a pic and share it on Instagram with the hashtag #beamingbaker and tag @beamingbaker. I would love to see it! ☀︎
Watch the video below for another delicious vegan ice cream: Coconut Chocolate Chip Vegan Ice Cream ← Click on the link for the recipe!
Print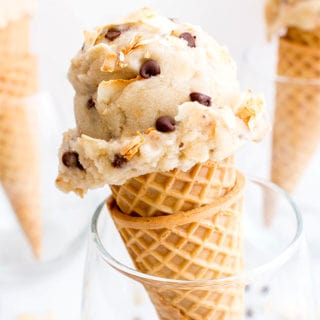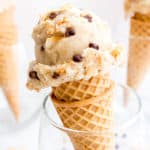 Toasted Coconut Chocolate Chip Nice Cream (Vegan, Dairy Free, Gluten Free)
---
Description
Toasted Coconut Chocolate Chip Nice Cream (V+GF): a 5 ingredient recipe for deliciously creamy vegan ice cream, exploding with coconut and chocolate chips. Vegan, Dairy Free, Gluten Free.
---
¼ cup

coconut flakes or shreds

4

medium bananas, sliced and frozen

1 tablespoon

pure maple syrup

1 teaspoon

pure vanilla extract

¼ cup

vegan mini chocolate chips
---
Instructions
Bring a skillet to medium heat. Add coconut. Stir until lightly browned and fragrant. This will take 3-5 minutes. Pour onto a plate and place in the freezer to cool.
In the meantime, add bananas to a blender or food processor. Blend until you get a crumbly texture. Add maple syrup and vanilla. Blend until smooth and creamy, scraping down the sides of the blender as necessary. This will take a few minutes.
Add coconut and chocolate chips to blender. Pulse just a few times to incorporate.
If you like soft ice cream, enjoy immediately. If you want your ice cream firm and scoopable: pour into a freezer-friendly, airtight container. Freeze for 4-6 hours, or until completely frozen. Allow to thaw for 5-15 minutes before scooping. Enjoy!
Prep Time:

10 mins

Category:

Ice Cream, Vegan, Gluten Free, Dairy Free
© beamingbaker.com. All content and images are protected by copyright. Please do not use my images without my permission. If you wish to republish this recipe, please re-write the entire recipe using your own words and include a link to this post for the recipe.
Craving some serious chocolate dessert? Try my Dark Chocolate Nice Cream (Vegan, Dairy Free, Gluten Free). Instant chocolate bliss.
Blueberries taste even better with coconut, dontcha think? Try my Vegan Blueberry Coconut Popsicles (Vegan, Dairy Free, Gluten Free).
Just in case you're in the mood for some Almond Joy YUM, try my amazingly dairy-free Paleo Vegan Almond Joy Ice Cream!
What's your favorite ice cream flavor?
I can't wait to hear your responses.