Vegan Gluten Free Cinnamon Apple Crisp with Oats (V, GF): an easy recipe for a warm, gooey apple crisp with delicious cinnamon oat topping. Made with healthy ingredients. Vegan, Gluten-Free, Dairy-Free, Paleo Option.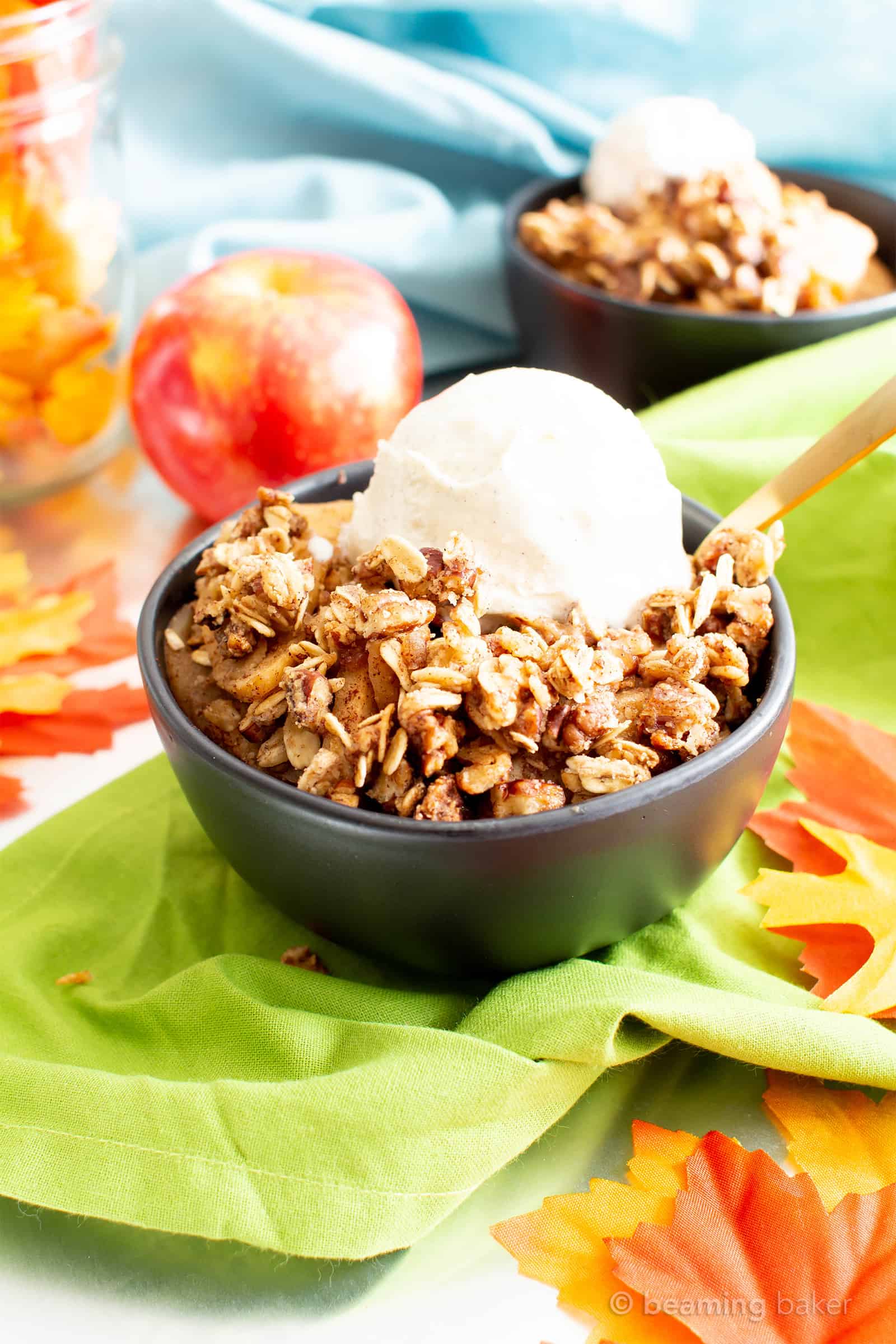 Do you ever feel like your internal calendar is ridiculously far behind (and simultaneously far ahead of) everyone else's? Everyone else = the actual calendar on your desk.
Apparently, it's just a few days until the first official day of Autumn! And I sooooo don't know how to process this. Like, whaaaaa? How is it Autumn already? Concurrently, I'm also thinking: Wasn't it autumn like 3 months ago?
Ah, the life of a madwoman. Erm, a food blogger! Truth be told, I developed and shot this recipe in the thick of summer—and I do mean THICK. The weather was hot, muggy, thick with sweat (ew) and, well, not with a lot of fall stuff lying around. Save for this gluten free vegan pumpkin bread that Erik had to have, immediately. Or else. ..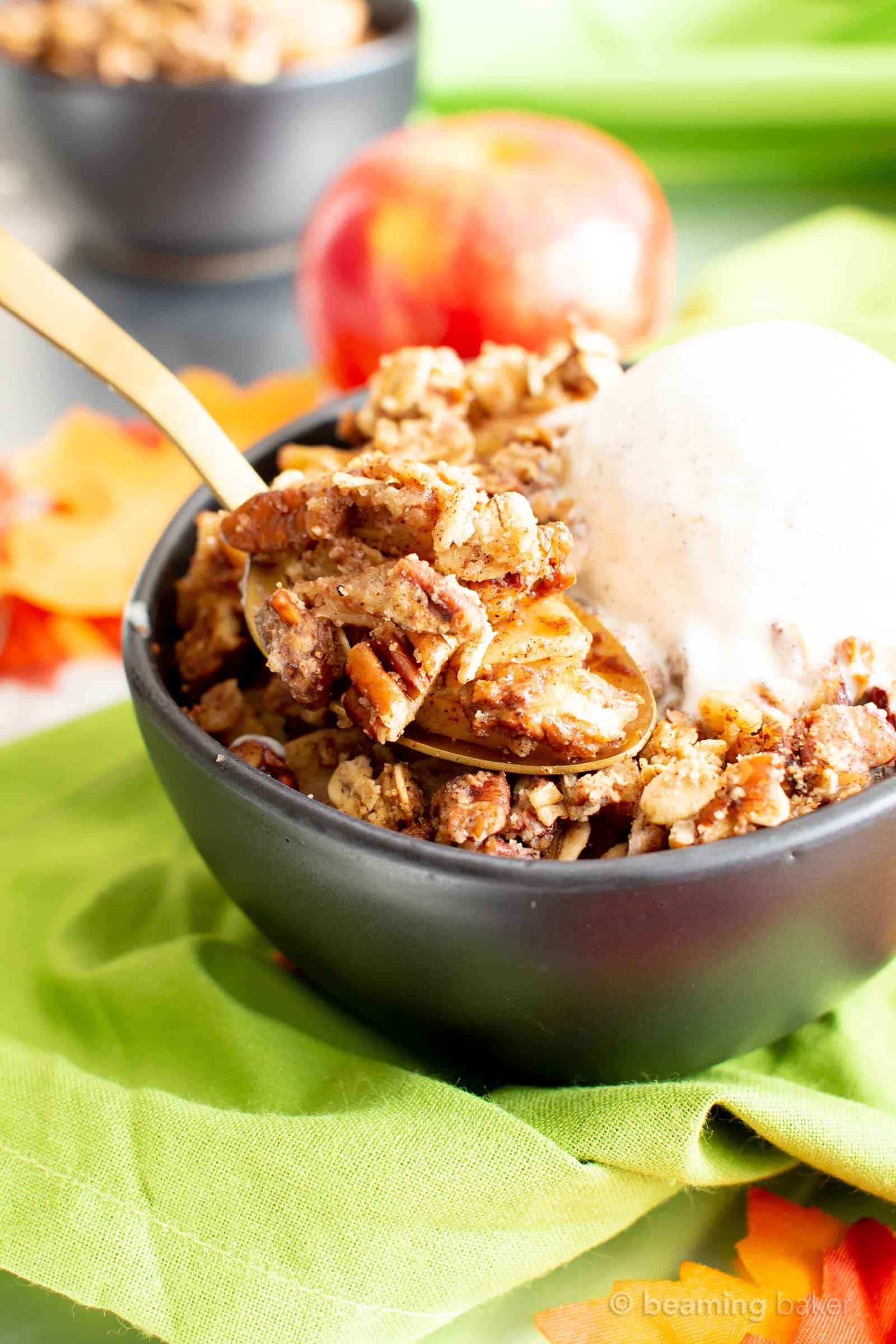 So, in my mind, fall was ages ago. But also, hasn't happened yet. Oh me…
Meanwhile, to add more confusion to the mix, Erik and I always joke about the fact that we think fall starts in August (blame back-to-school, aggressively early candy displays that insist that it's Halloween in JULY, etc., I could go on and on), but it actually starts way later.
So to soothe our minds and calm our… everything… I decided to greet fall the best way I know how: with FOOD. Duh!! I mean, I can't even tell you how these vegan gluten free chocolate cupcakes saved me the other day… I mean, I could, but I'm too dazed to do so. .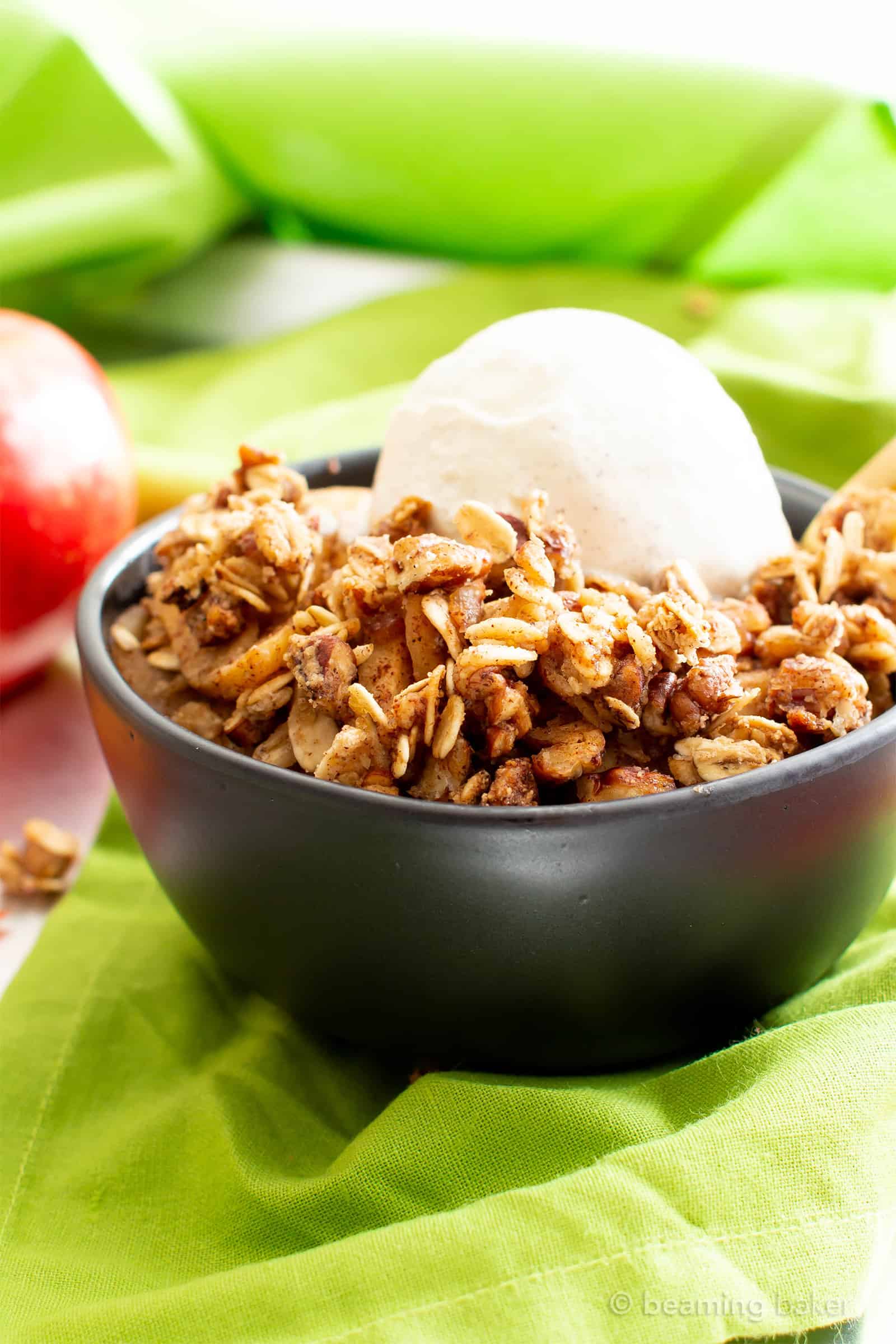 Anywho… welcome to my Vegan Gluten Free Cinnamon Apple Crisp with Oats. It's warm, cozy, totally time-appropriate (I promise), and seriously so good. I took the reader-fave recipe for my Paleo Apple Crisp and gave it a little twist with a gluten free oat topping. I also kicked up the ground cinnamon to a most pleasing level, and voila!
Seasonal. Fall. Delicious. Perfection.
Just so you and I know what season it really is! 😉
My favorite part? The sweet oat & nut topping—wait, no, the gooey cinnamon filling—wait, actually, the delightful whole ingredients—wait, oh never mind!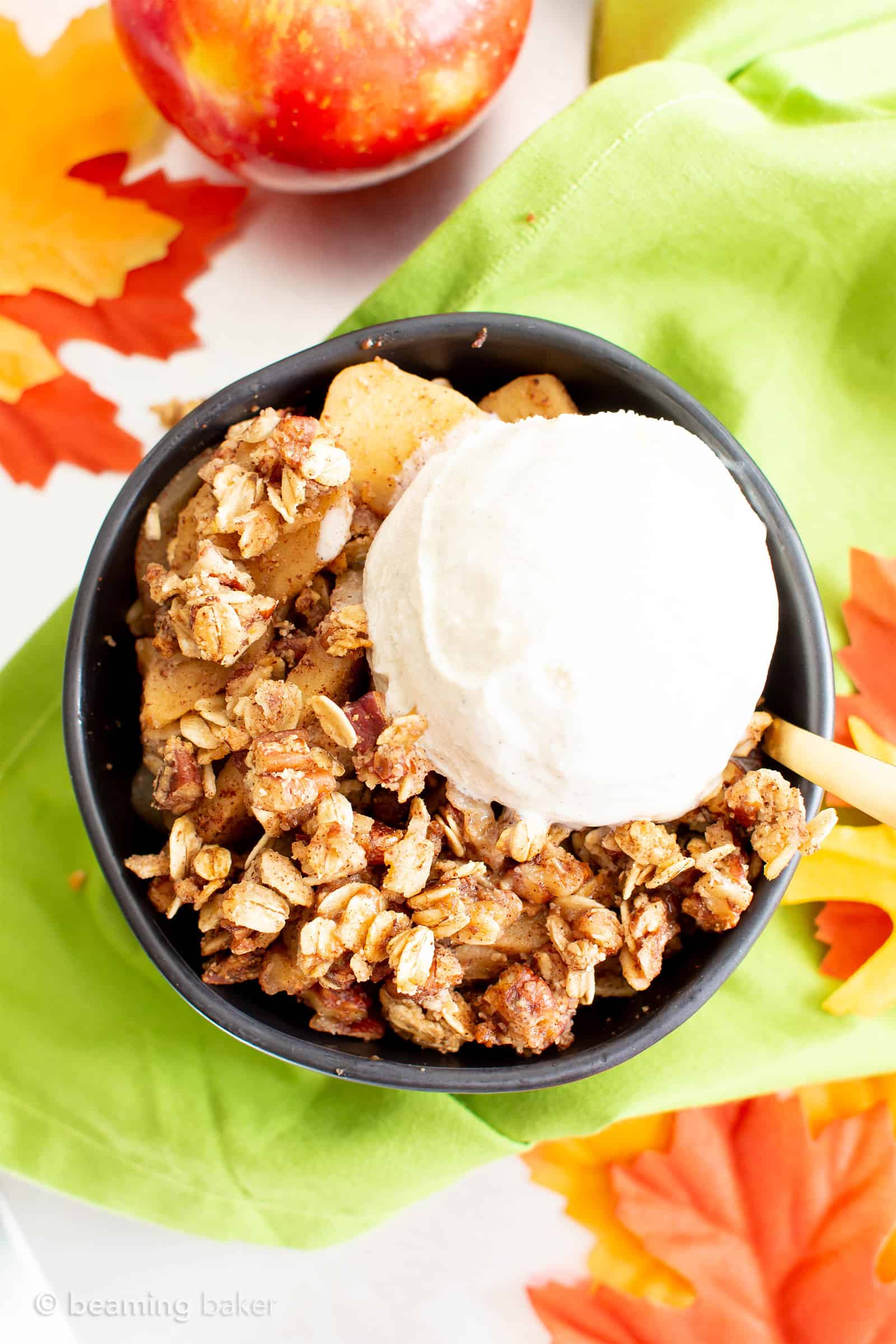 Try this vegan gluten free cinnamon apple crisp with oats and let me know what your favorite part is! In the meantime, allow me to lavish you with its finest selling points. This easy healthy apple crisp is:
so amazing, with a warm 'n gooey, cinnamon filling
vegan, gluten-free, oil-free (save for the coconut oil used to coat your baking pan!)
wonderfully refined sugar-free (not unlike these delicious homemade kind bars)
my favorite vegan gluten free apple crisp recipe to make for my fam
just the healthy apple crisp recipe you've been searching for!
deliciously plant-based and allergy-friendly
made with the simple, whole ingredients you know and love
the best gluten free apple crisp recipe to add to your fall dessert repertoire
the perfect companion to these recipes on a fall dessert platter: skillet-roasted maple cinnamon pecans, gluten free pumpkin chocolate chip oatmeal breakfast bars, one bowl gluten free pumpkin chocolate chip muffins
helps you/us finally get with the program and know what season it is! 😉
I truly hope you enjoy my recipe. Why don't I grab the apples while you grab the gluten free oats? 🙂 It's truly my pleasure to share in these recipes and kitchen moments with you. I hope your loved ones enjoy this recipe as much as mine do! Thank you for stopping by!
Sending you all my love and maybe even a dove, xo Demeter ❤️
.︎ Click below to Pin .︎

. Did you make this recipe? Take a pic and share it on Instagram with the hashtag #beamingbaker and tag @beamingbaker. I would love to see it! .︎
If you enjoyed this Vegan Gluten Free Cinnamon Apple Crisp with Oats recipe, then you'll just love these…
More Healthy Fall Recipes
Try my favorite vegan gluten free fall recipes: Gluten Free Apple Crisp Recipe, Gluten Free Maple Pecan Pumpkin Muffins, Easy Gluten Free Vegan Pumpkin Coffee Cake Recipe, Moist Gluten Free Chocolate Pumpkin Muffins, Healthy Homemade Gluten Free Vegan Granola, Vegan Pumpkin Pie Smoothie, and Vegan Chocolate Cake Recipe, just for fun! 😉
Print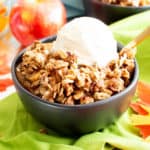 Vegan Gluten Free Cinnamon Apple Crisp with Oats (Dairy-Free, GF, Easy)
---
Description
Vegan Gluten Free Cinnamon Apple Crisp with Oats (V, GF): an easy recipe for a warm, gooey apple crisp with delicious cinnamon oat topping. Made with healthy ingredients. Gluten-Free, Vegan, Dairy-Free, Healthy, Fall Desserts.
---
Filling
3

medium apples, peeled and thinly sliced* (

4 cups

)

2 tablespoons

coconut sugar

1 tablespoon

pure maple syrup

1 tablespoon

blanched almond flour

1 teaspoon

ground cinnamon

¼ teaspoon

ground nutmeg

½ teaspoon

pure vanilla extract

1

–

2

tablespoons water (optional)
Topping
¾ cup

pecans, chopped

½ cup

gluten free rolled oats

¼ cup

blanched almond flour

½ teaspoon

ground cinnamon

2 tablespoons

pure maple syrup
To make this paleo, make the topping in this recipe.
---
Instructions
Preheat oven to 350°F. Grease an 8-inch square baking pan with coconut oil. Set aside.
In a large bowl, add all Filling ingredients: apples, coconut sugar, maple syrup, almond flour, cinnamon, nutmeg and vanilla extract. Using a rubber spatula, stir and fold until apples are fully coated and sugar has dissolved. If the mixture isn't very wet, add in water—there should be 1-2 tablespoons of liquid at the bottom of the mixing bowl. I used 1 ½ tablespoons water in mine.
Pour this mixture into the prepared baking pan. Use the spatula to smooth apples into an even layer.
Add all Topping ingredients to a medium bowl. Using a fork, stir and fold until crumbles form. Gently spoon evenly over apples, making sure to keep crumbles intact.
Bake for 40-60 minutes. Mine took 45 minutes. It's done when the top is a deep golden brown and the juice around the filling has thickened. To test, use a spoon to carefully lift up a corner of the crisp to see the juices. If it's still too watery, bake for another 5 minutes.
Allow to cool for 10-15 mins. Serve warm with a scoop with dairy-free ice cream on top. Enjoy! Storing instructions below.Adapted from my Paleo Apple Crisp and my Easy Healthy Apple Crisp Recipe (V, GF).

Also try my One Bowl Gluten Free Vegan Pumpkin Bread.
Equipment
Notes
*I like to use a mix of apples: Braeburn, Fuji, Granny Smith, etc.
Storage notes: Best on the first day. Cover with foil, or transfer to an airtight container. Store in the refrigerator for up to 1 week. Reheat before serving.
Category:

Dessert, Vegan, Gluten-Free, Dairy-Free, Refined Sugar-Free
© beamingbaker.com. All content and images are protected by copyright. Please do not use my images or recipe without my permission. Please do not republish this recipe, instead, include a link to this post for the recipe.
This post may contain affiliate links, which allow me to make a small commission for my referral, at no additional cost to you.
Facebook ☀︎ Pinterest ☀︎ Twitter ☀︎ Instagram