Keto Clusters – 3 Ingredients!
the best keto clusters take only 5 minutes of prep!
Crispy, crunchy, and seriously delightful keto clusters. Keto clusters that will have you coming back, again and again. Deliciously low carb with a sweet, nutty chew.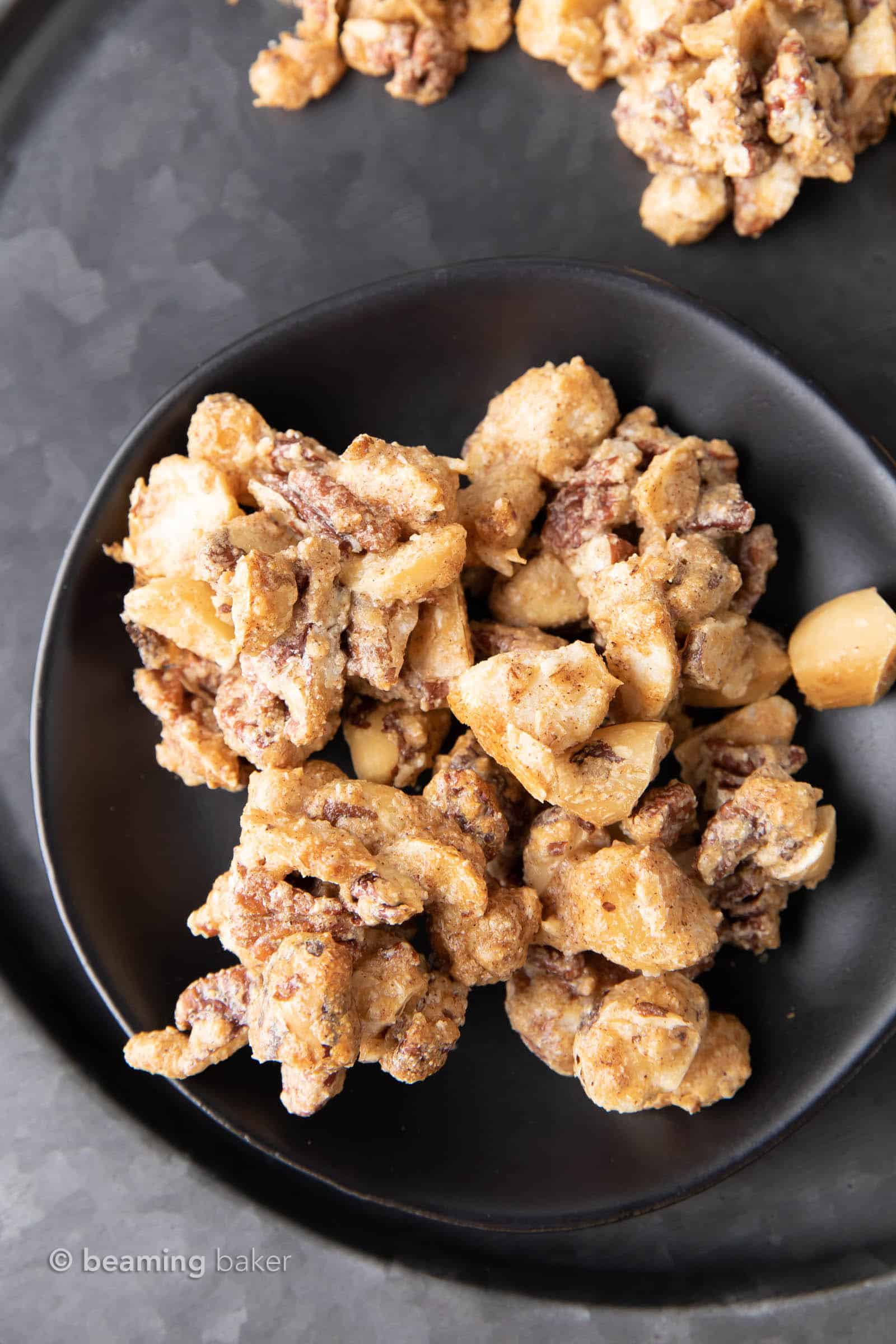 Happy Thursday! Are you totally gearing up for the holidays or what? 🙂 Here around the BB household, we're going nuts for holiday nuts! (I had to.) One of the treats we like best around this time of year are candied nuts, but this time around, I wanted to share something low carb, low sugar, and keto-friendly folks can enjoy.
Welcome to your new favorite low carb nuts treat for the holidays, for snack times, for treat times, and for any time you just need a tasty nutty treat.
I hope you love today's keto nut clusters recipe! It's delightfully low carb and boasts approximately 1,000,000 grams of tastiness. Yes, that's a scientific fact! 😉
Ready to make your very own keto nut clusters? Let's do it!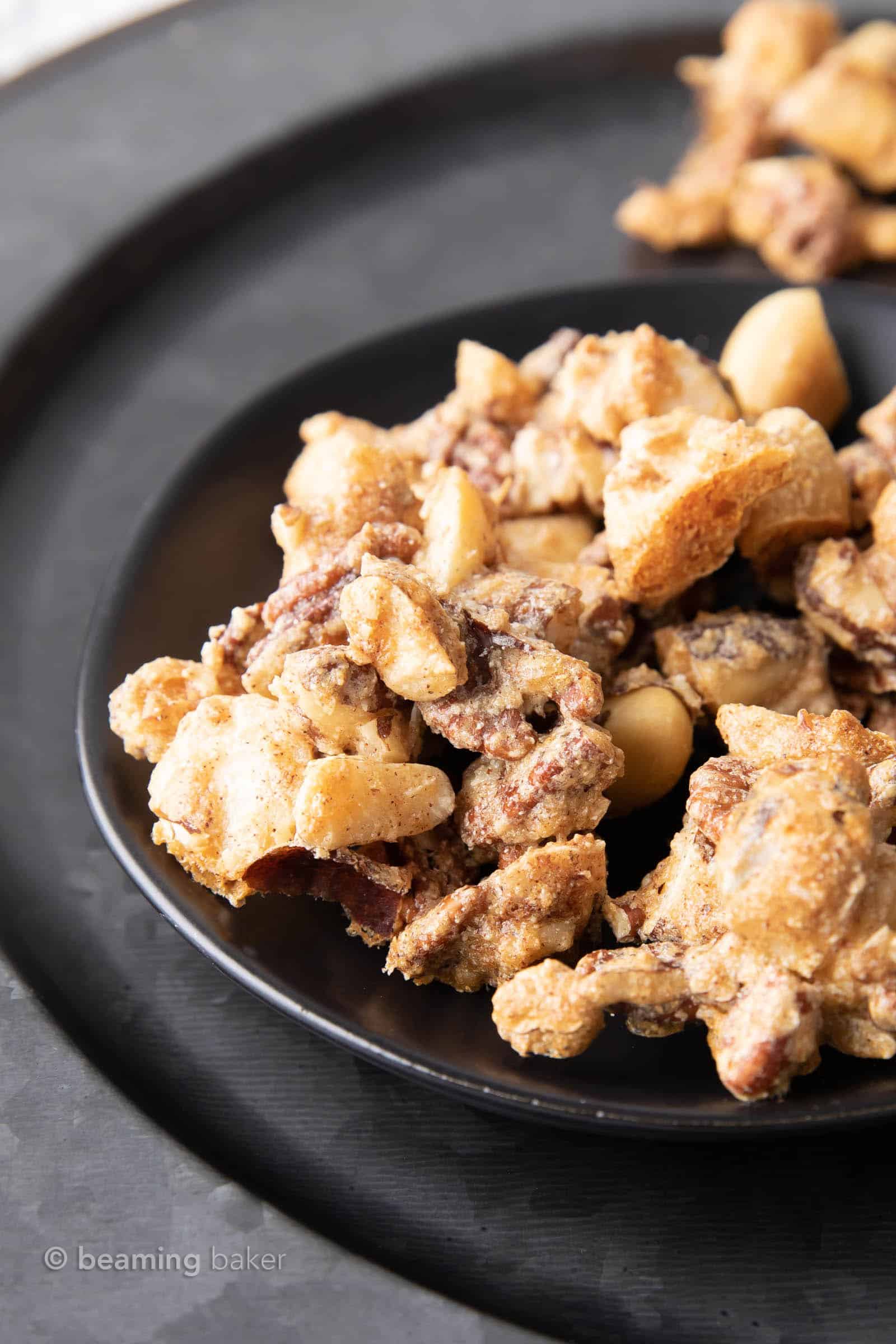 What are keto clusters?
Keto clusters are a keto-friendly treat that feature a variety of keto-approved ingredients! I know, that sounds purposefully vague… because it is! Haha. For specifics, let's focus on today's recipe: keto clusters.
Today's keto clusters are keto nut clusters. That means that we're gonna be mixing together some keto nuts plus keto-approved sweetener and a few simple ingredients, then baking them. After cooling, guess what you have? Super tasty low carb keto clusters!
How to Make Keto Clusters
Preheat
First things first, preheat your oven to 325°F. Then grab some parchment paper and line a large baking sheet with it.
Mix
Add your favorite keto nuts, and the remaining two ingredients to a mixing bowl. Use a rubber spatula to stir and fold all the ingredients together until everything is very well mixed. Just like that, you've made your keto nut cluster mixture!
Scoop
Using a spoon, scoop this keto nut mixture onto the baking sheet. You want to create piles of keto nuts so they can bake together into sturdy, crunchy keto nut clusters. Leave some space in between each nut cluster so air can flow through.
Bake, Cool, & Enjoy
Bake clusters for about 20 minutes. Cool and enjoy the best keto nuts treat ever!!
The 3 ingredients you need
Ingredient 1: Keto Nuts
Best Keto Nuts to Use
Not all nuts were created carb-equal. That means that some nuts are better for a low carb, keto-friendly diet than others. Below, I'll list the keto nuts by carb count, and then note my favorite ones to use in this recipe. You can also check out this keto nuts guide and this one and this one. 😉
Pecans – 4 carbs
100 grams of pecans has 4 net carbs. This nut has the least amount of carbs and is just straight up tasty! This is one of my favorite keto nuts to use in keto recipes.
Brazil Nuts – 4 carbs
Brazil nuts have 4 net carbs per 100 grams. This keto nut is low carb and has a bit of an unusual taste—some find it not so palatable, others find it very yummy. Try it for yourself and decide. [Here is where I get my brazil nuts.]
Macadamia – 5 carbs
Macadamia nuts have just 5 net carbs per 100 grams. They're one of my favorite keto nuts to incorporate into baked keto recipes, or just simply snack on. [Click here to buy macadamia nuts.]
Hazelnuts – 7 carbs
Just 7 net carbs for 100 grams or 3.5 ounces of hazelnuts. Hazelnuts are low carb and have a distinct flavor that many, many people love—especially when mixed with chocolate!
Walnuts – 7 carbs
Peanuts – 8 carbs
Almonds – 9 carbs
Only 9 net carbs per 100 grams of almonds—that's about 80 almonds. While 9 grams of net carbs seems like much more than the 4 grams in pecans, it's still a low amount.
Pine Nuts – 9 carbs
Pistachios – 15 carbs
Cashews – 22 carbs
One of the tastiest keto nuts on the block, but one of the highest in carbs. For 100 grams, cashews have 22 net carbs. This makes them one of the trickiest nuts to crack, so to speak, for a keto recipe, but one that's most worth it. Hint: they add such creaminess and soften a keto recipe so it's just right. Check out my Vanilla Keto Ice Cream Recipe to see what I mean.
Ready to bake in minutes! This 3 ingredient keto nut clusters recipe is so easy to make and yields crispy, crunchy and chewy keto nut clusters.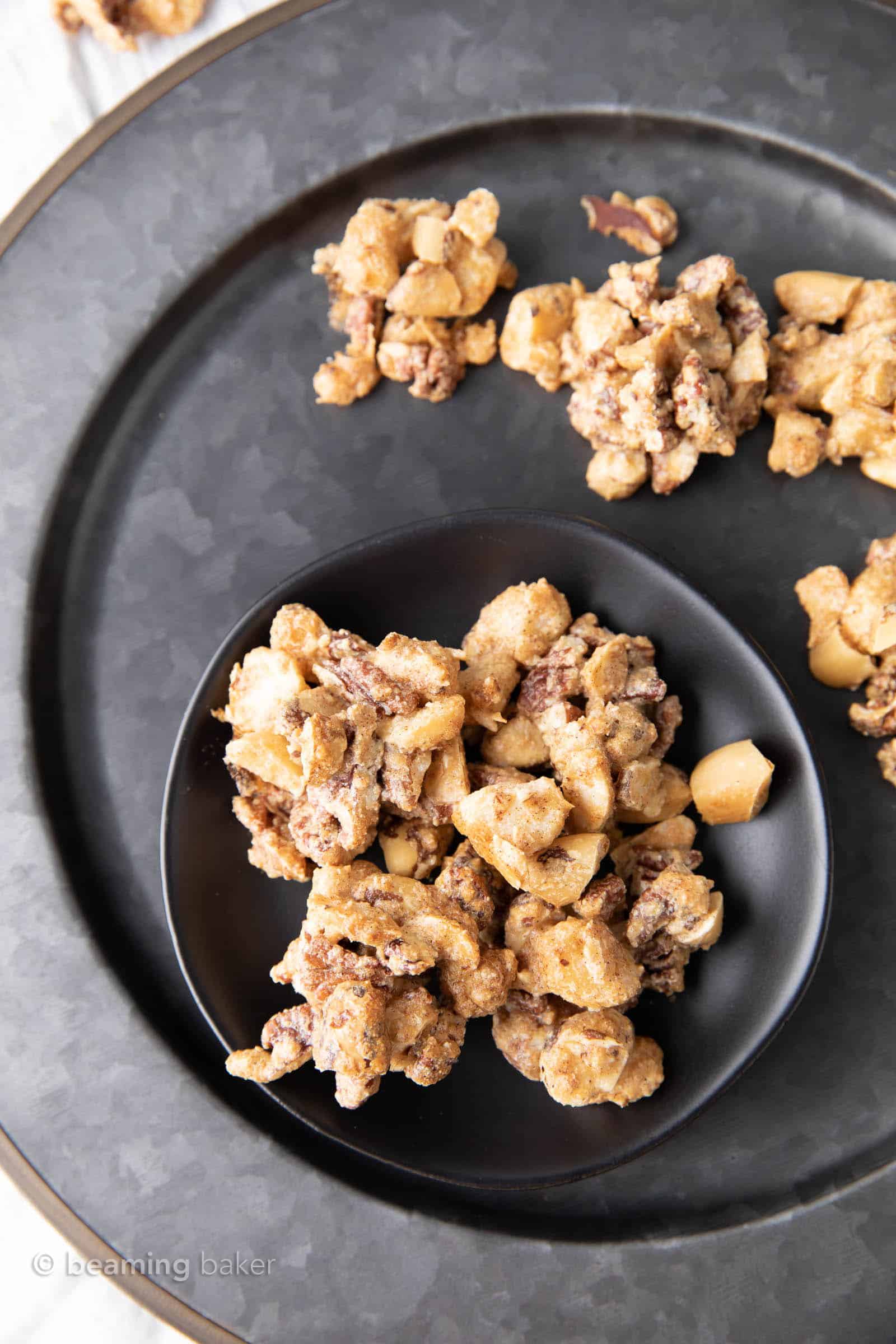 How many carbs are in each keto cluster?
Glad you asked! Each keto cluster has just 1.8g of net carbs, as long as you use the lowest carb nuts! If you use keto nuts with a higher carb count, you know what that means–the net carbs go up. I recommend checking out the "Best Keto Nuts to Use" section higher up in this post for the best, well, keto nuts to use. 😉
☀ Click below to Pin ☀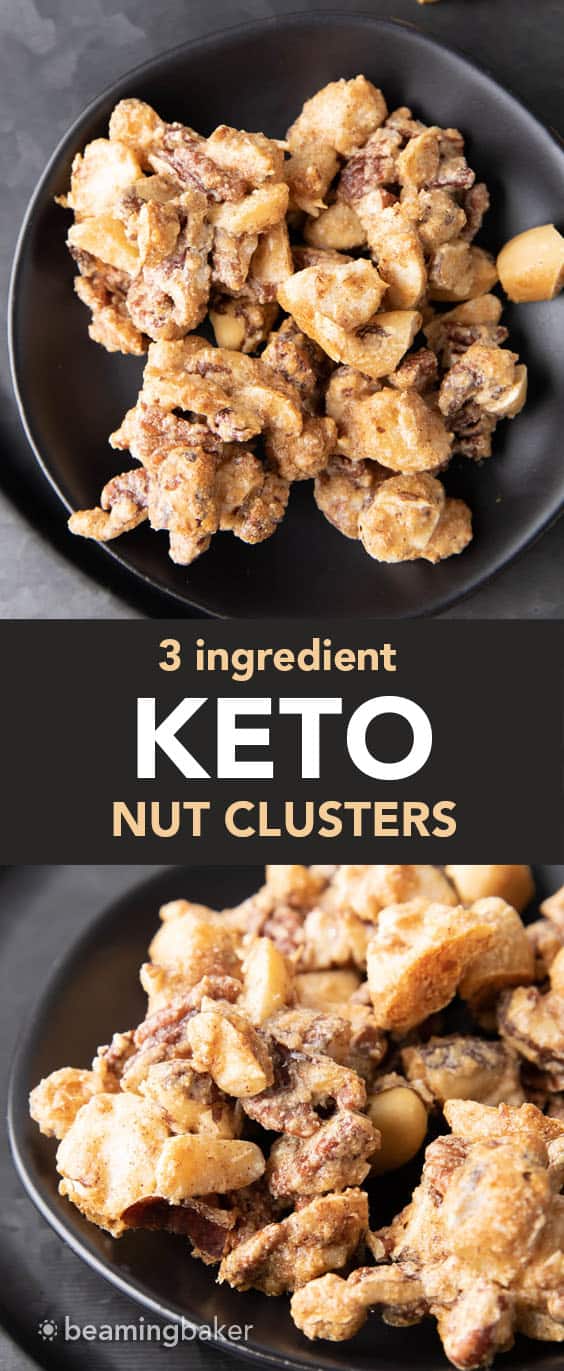 📸 Did you make this keto nut clusters recipe? Take a pic and share it on Instagram with the hashtag #beamingbaker & tag @beamingbaker. I'd love to see it! 📸
More Delicious Keto Recipes
Print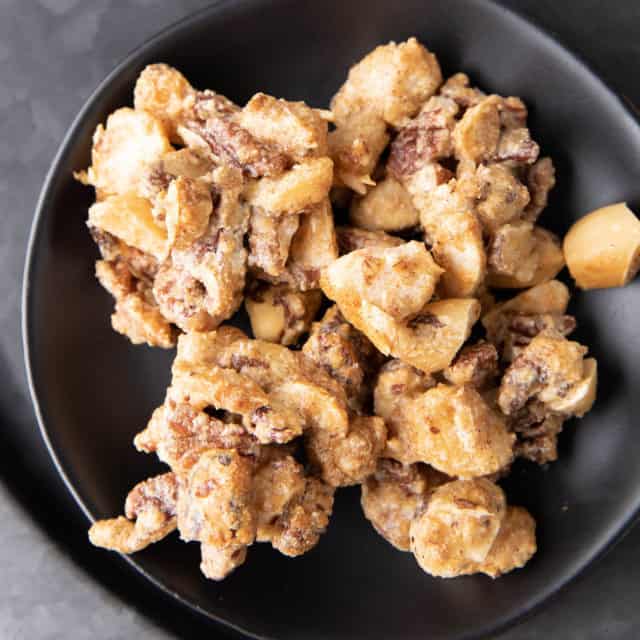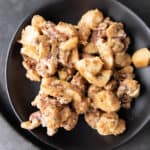 3 Ingredient Keto Clusters (Low Carb)
---
Description
Keto Nut Clusters: just 3 ingredients and 5 minutes of prep for crispy, crunchy keto clusters with a sweet, nutty chew. Low Carb, Keto Nuts.
---
Keto Nut Clusters
2 ¼ cups

keto-friendly nuts, roughly chopped*

¼ cup

finely ground, blanched almond flour

3 tablespoons

keto honey
Optional Flavor Add-ins
½ teaspoon

ground cinnamon (optional)

¼ teaspoon

sea salt (optional)
---
Instructions
Preheat oven to 325°F. Line a large baking sheet with parchment paper or greased foil. Set aside for later.
Add all ingredients to a large bowl: keto nuts, almond flour and keto honey. Using a rubber spatula, fold until well mixed. This is the keto honey I used.
Using a spoon, spoon out mixture and create sturdy piles of nuts—creating clusters. The piles should not be falling apart, as they won't hold together; make sure nut cluster piles are sturdy. Leave enough room in between each cluster to let air through.
Bake for 16-24 minutes. Mine took 20 minutes. Clusters will crisp up while cooling.
Place baking sheet on a cooling rack. Allow to cool for about 30 minutes, or until completely cooled. Enjoy! Storing instructions below.
Equipment
Notes
*For 2 ¼ cups keto-friendly nuts, here's what I used (click the links to buy):
Storing Instructions: Store in an airtight container for 1-2 months at room temperature.
Prep Time:

5 minutes

Cook Time:

20 mins

Category:

Snacks

Method:

Bake

Cuisine:

American
Nutrition
Serving Size:

1 cluster

Calories:

127

Sugar:

0.4

Sodium:

0.3

Fat:

12.3

Carbohydrates:

5.1, Net Carbs: 1.8g

Fiber:

3.3

Protein:

2.2
Keywords: keto clusters, keto nut clusters
© beamingbaker.com. All content and images are protected by copyright. Please do not use my images or recipe without my permission. Please do not republish this recipe, instead, include a link to this post for the recipe.
This post may contain affiliate links, which allow me to make a small commission for my referral, at no additional cost to you.
***
Be honest, you are totally blown away by how ridonkulously easy this keto recipe is! I can't wait to hear what you think. Be sure to leave a comment below if you try my recipe. 🙂 Wishing you and your loved ones a safe, happy and joyful holiday season. 'Til the next keto baking adventure…
Sending you all my love and maybe even a dove, xo Demeter ❤️