4 Ingredient Coconut Almond Pecan Paleo Granola (V, GF): a quick 'n easy recipe for crunchy, salty & sweet granola packed with whole ingredients. Paleo, Vegan, Gluten-Free, Healthy, Dairy-Free, Refined Sugar-Free.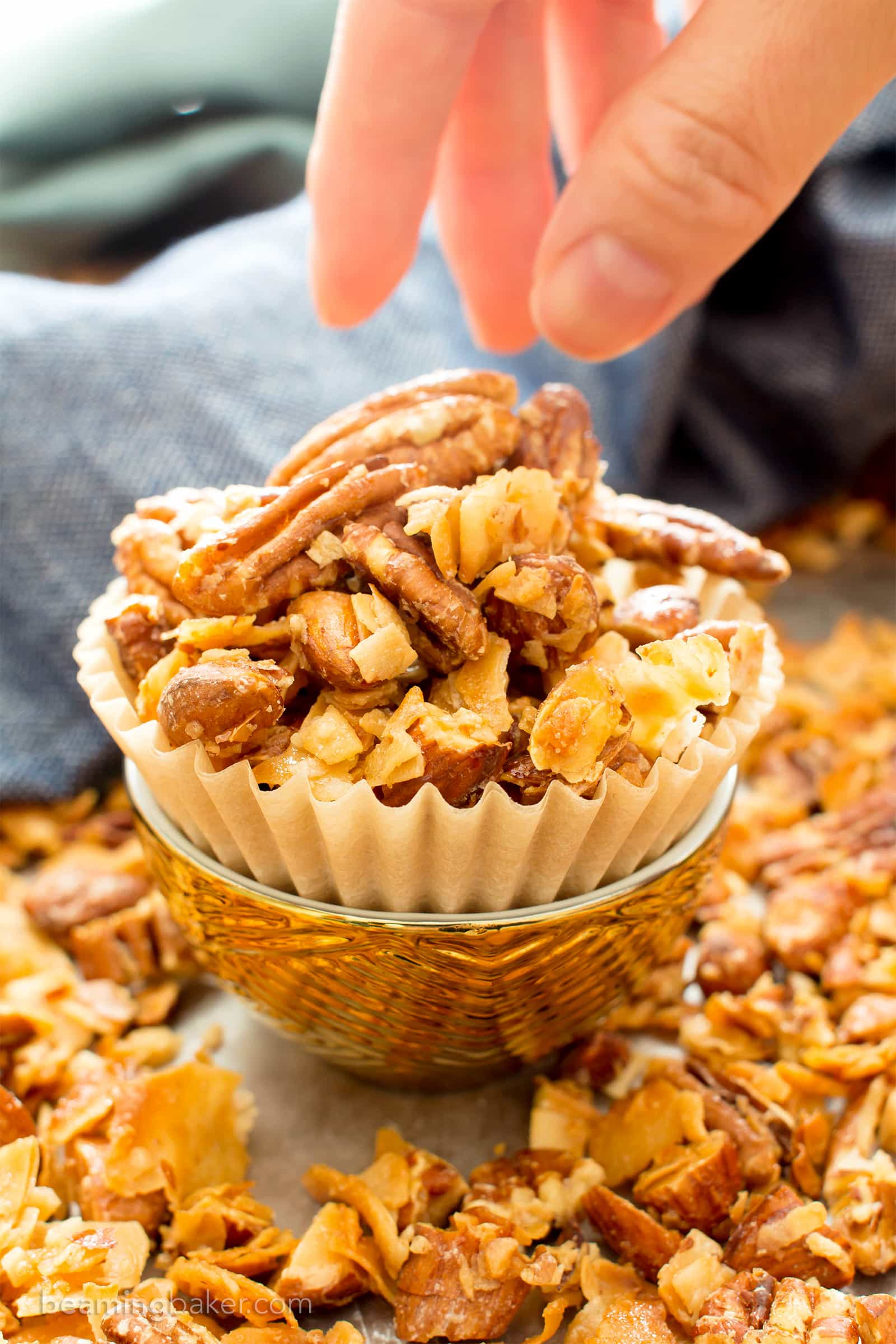 Crispy… crunchy… full of big clusters… how do you like your granola?
How about perfectly sweet, with a hint of maple and warm fall spices? Or… deliciously refined sugar-free and awesomely paleo? Alright, I've totally got to avoid sounding like a sales pitch for this ultra yummy granola right now. Ahem. 😉
Anyway, I used to think the only way I liked my granola was chocolate covered. See evidence here: Chocolate Almond Coconut Granola. The more chocolate, the better. The less… uh, other stuff, the better. 😉 But now I've matured (I know, you can't tell at all), and have taken the very adult leap to non-chocolate involved/covered granola.
You proud?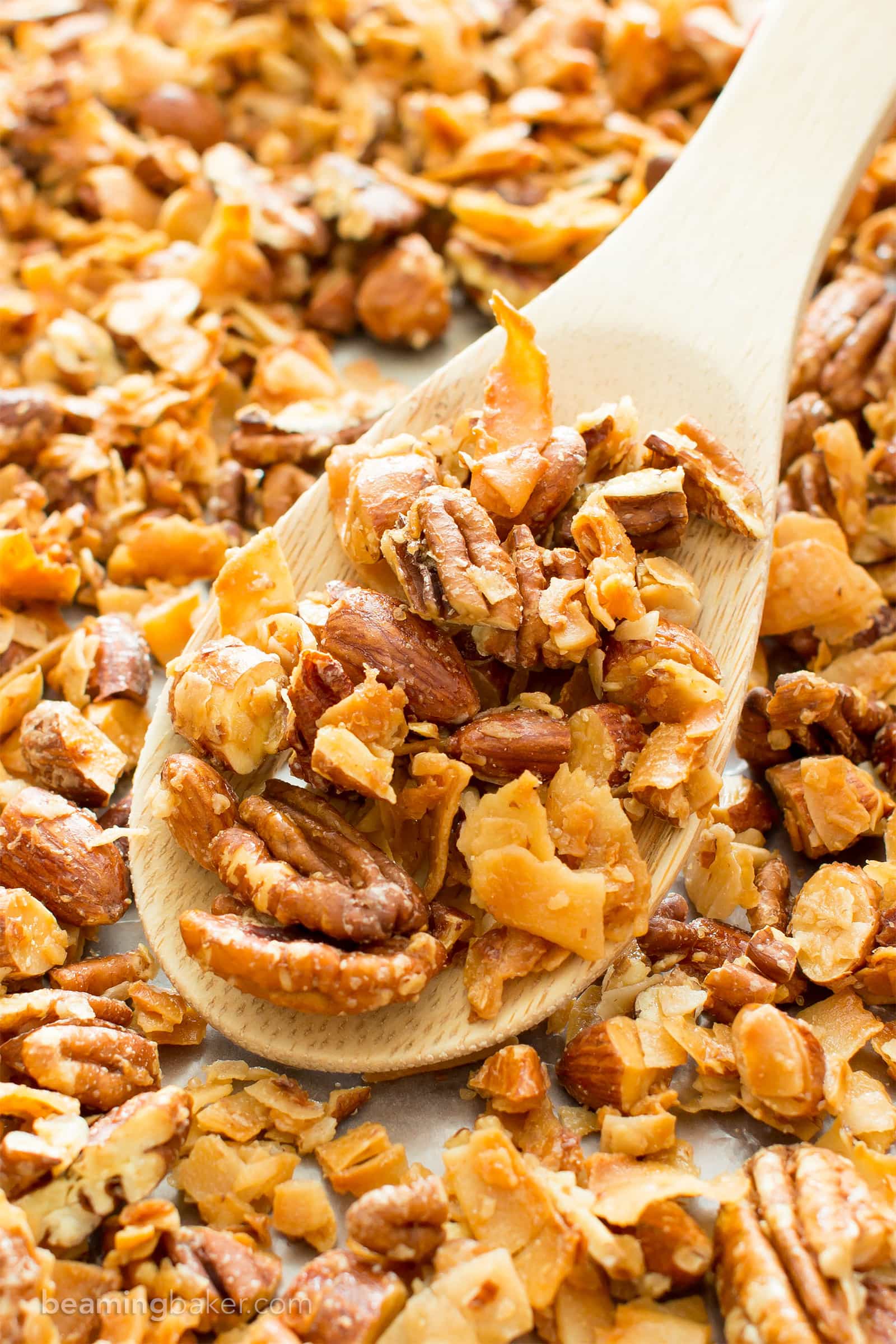 Or, perhaps you're someone like me who didn't believe non-chocolate covered granola could be good? Or maybe you're not even a granola lover and might just be a tad exhausted at reading the word "granola" like 50 times in the last minute. In that case, my apologies.
I have muffins, cookies, brownies, and chocolate bread for you. 😉
For everyone else, I'm beyond pleased to share with you my new favorite granola of all time: 4 Ingredient Coconut Almond Pecan Paleo Granola. It's just, I used to be one of those people who could not be bothered to make granola. I mean, it's soooo easy to just go buy a bag from the store, right?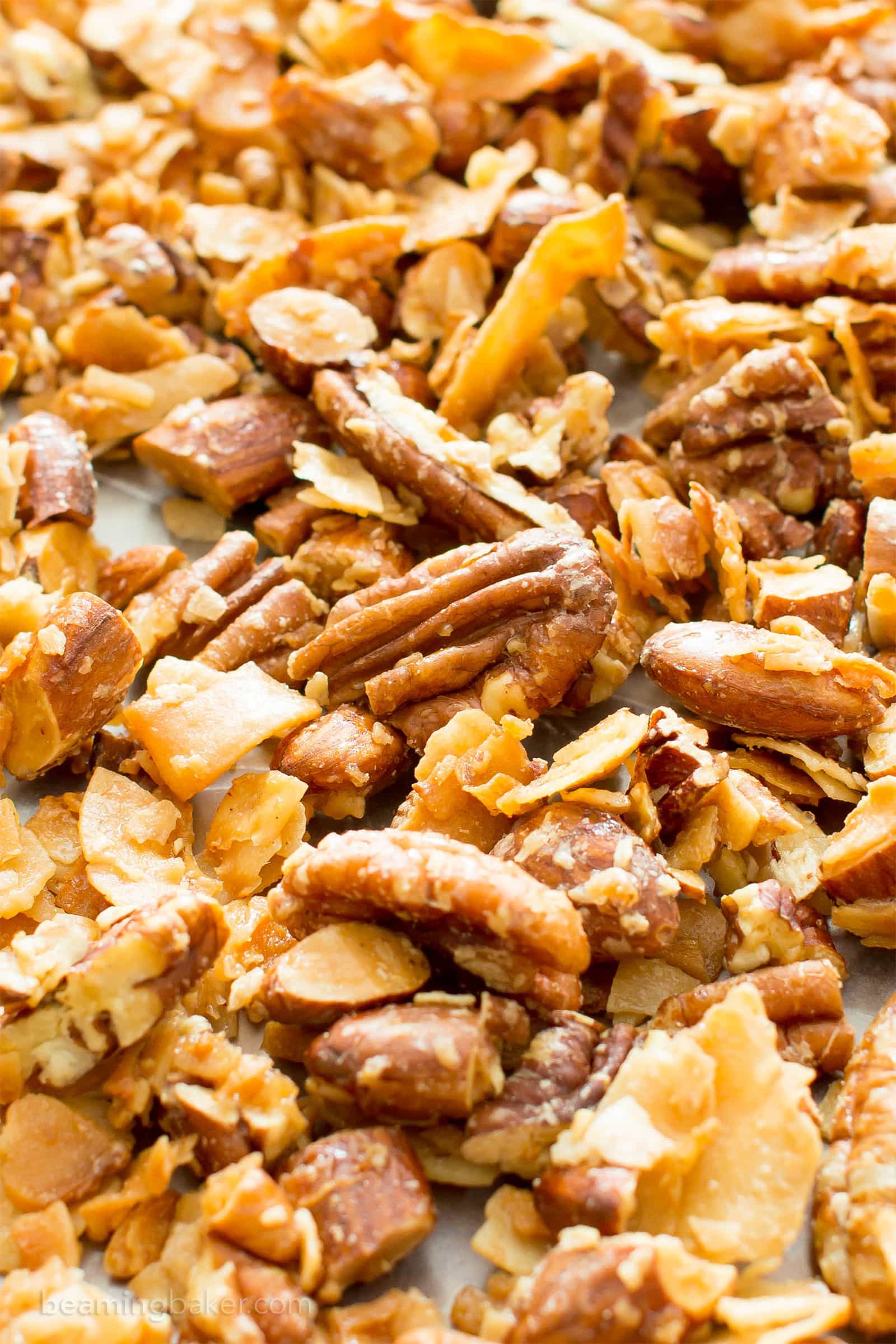 But then you can't control what goes into the granola (hello, I'm the resident control freak here, nice to meet you!), you can't decide exactly what add-ins you want to include, and you can't… well, have the joy of making it all by yourself. <<< Could you totally tell that I said that in my proudest 7-year-old voice? 🙂
Once you meet this granola, you will completely and utterly change your mind. It is so insanely easy, you won't believe it. Even I stood there, looking down into my mixing bowl, thinking, that's it?? I'm done prepping? No way!!
They're even easier to make than my 5 Ingredient KIND Nut Bars!! And those are friggin' easy to make. I mean, EASY. Have you tried it yet? My other sister (yep, I have lots of them!) Penny's been frequently asking for the Almond & Coconut version. Have you tried that one? To be honest, I'd never even heard of them (because: NO chocolate heh heh). But apparently they're super popular!
So, quick poll: would you like to see a paleo and vegan (of course) Almond & Coconut KIND bar recipe on BB? 🙂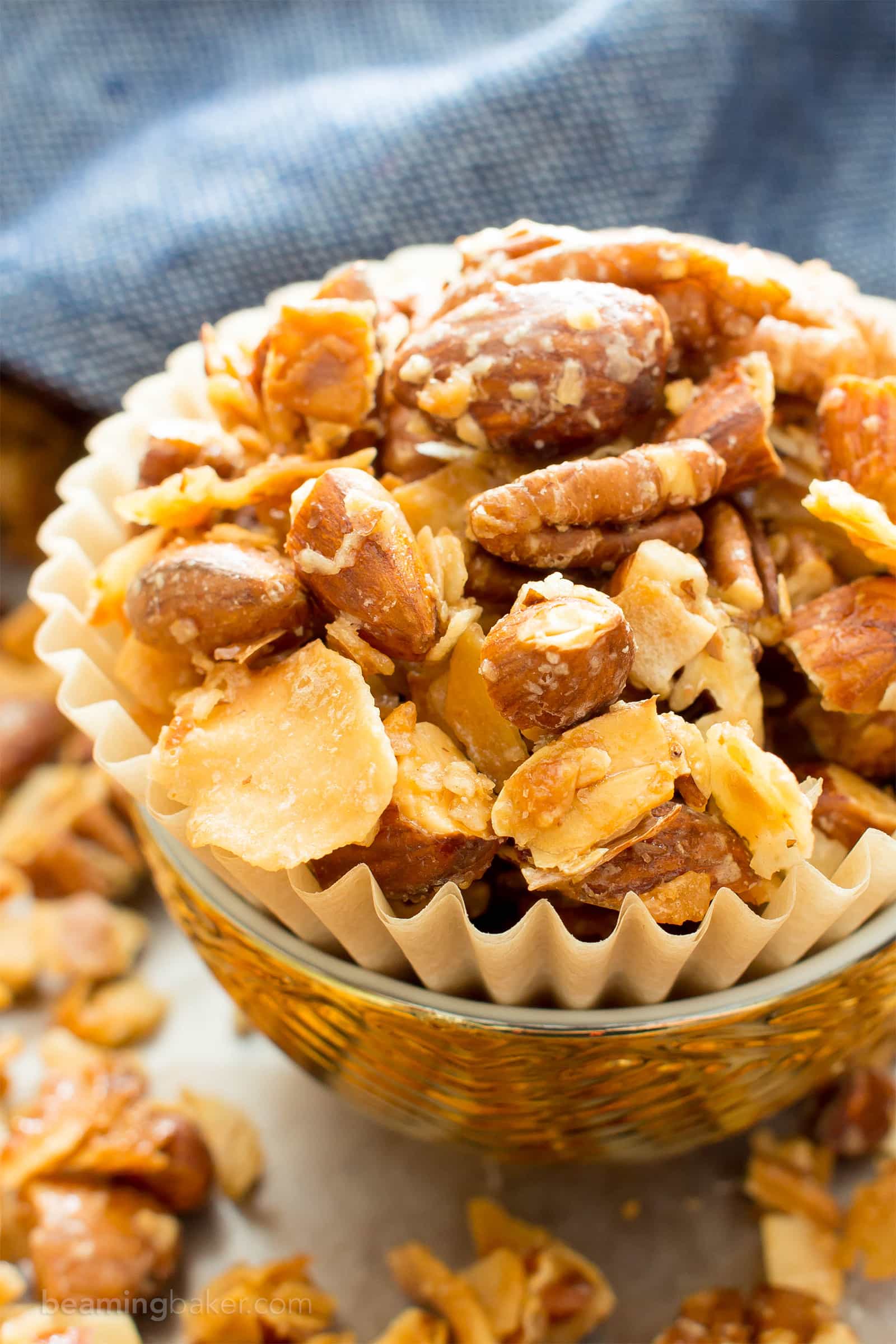 Meanwhile, my other sister sister Jenny has been asking for this granola nonstop. And since she has a newborn in the house, our beautiful nephew Kai, she hasn't had a second to herself. Between all the sleepless nights and endless days, she gets real hungry and is always searching for the perfect quick snack.
Which this totally is. Just sayin'.
Btw, does anyone else here read viral Mom posts on FB and just tear up like a baby afterwards? Moms of the world, you rock. I don't know how you do it everyday. If I could make you a batch or five of this 4 Ingredient Coconut Almond Pecan Paleo Granola, I would.
Instead, I made this granola as simple as can be! I'm almost 99% sure you have at least 4 of the 4 ingredients needed to make this recipe. I'm 99.9% sure you have the one bowl it takes to whip this sucker up. And I'm 99.99% sure you'll love this! That's like a whole 'nother .09. I mean, this is statistics, folks! Who can argue with statistics??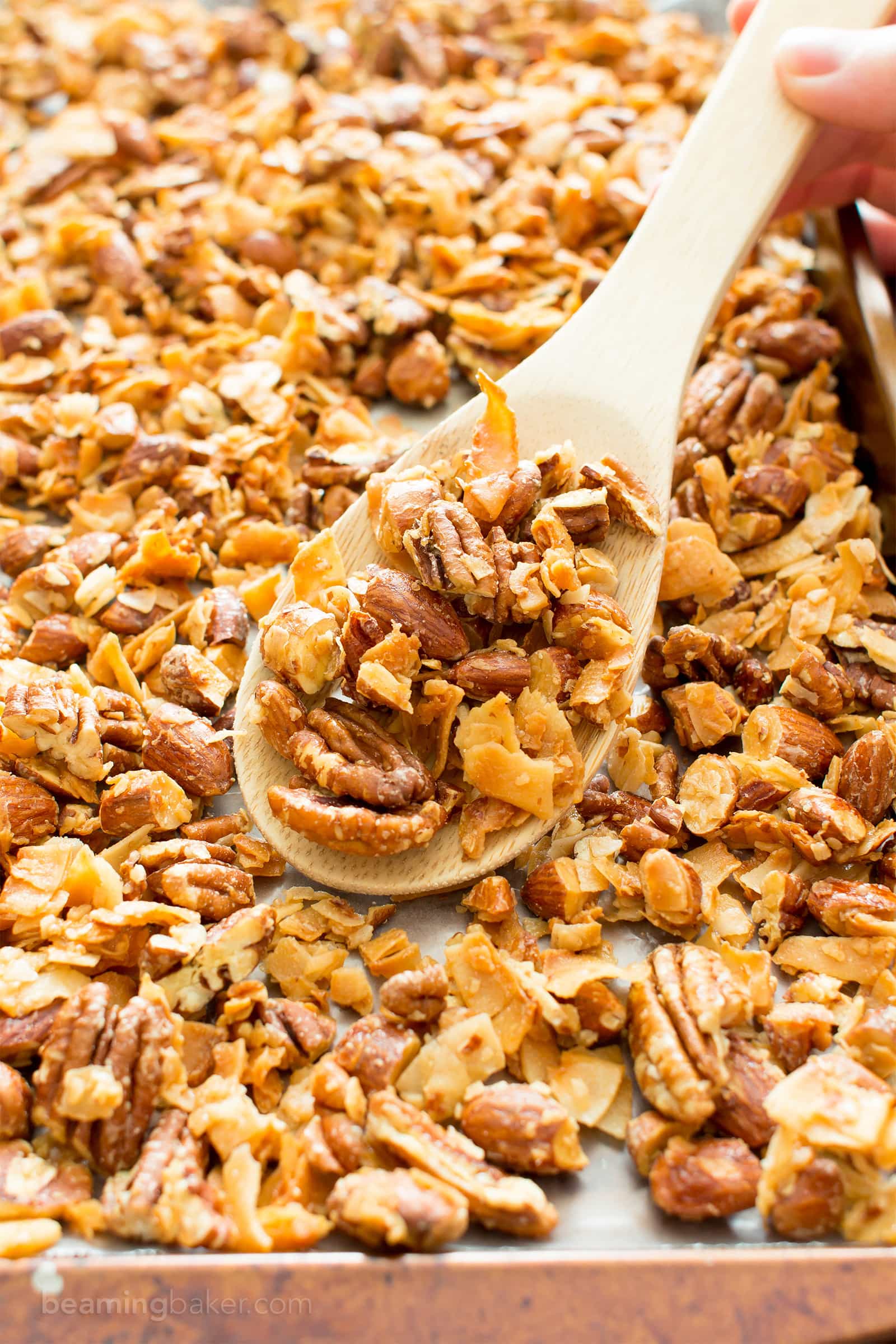 Anyway, I've kept you here long enough with my chitter chatter. Let's get to the good stuff—the selling points of this 4 Ingredient Coconut Almond Pecan Paleo Granola. Let me tell you all the ways it's the cat's meow (do people still say that??). This mom-approved paleo granola is:
made in just one bowl
crispy, caramelized, crunchy
made with just 4 ingredients
paleo, vegan, gluten-free, dairy-free
so amazing at filling your kitchen with the warm, cozy, caramel scent of fall/autumn
wonderfully plant-based and allergy-friendly
awesomely refined sugar-free
full of big chunks
made with the simple, whole, healthy ingredients you love
perfect for a quick 'n easy snack, dessert, or sitting atop your favorite dairy-free ice cream (oh, YUM!)
perhaps really good covered in chocolate… just sayin'
Are you ready? It's time to grab your shiniest bowl, your favorite nuts, and that cool, new salt grinder you've been meaning to use! Let's get our homemade granola on! It's been ages since I've shared a granola recipe on this blog, so I'm waiting on pins and needles to hear what you think! By the way, thank you for taking the time to try my recipe. I hope it's everything you wanted it to be. While I wait to hear what you think, tell me…
What's your favorite granola add-in?
Sending you all my love and maybe even a dove, xo Demeter ❤️
☀︎ Click below to Pin ☀︎

☀︎ Did you make this recipe? Take a pic and share it on Instagram with the hashtag #beamingbaker and tag @beamingbaker. I would love to see it! ☀︎
Print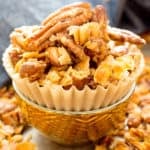 4 Ingredient Coconut Almond Pecan Paleo Granola (Oil-Free, Vegan, Gluten-Free, Grain-Free, Dairy-Free, Refined Sugar-Free)
---
Description
4 Ingredient Coconut Almond Pecan Paleo Granola (V, GF): a quick 'n easy recipe for crunchy, salty & sweet granola packed with whole ingredients. Paleo, Vegan, Healthy, Gluten-Free, Dairy-Free, Refined Sugar-Free.
---
1 cup

unsweetened coconut flakes

¾ cup

almonds, roughly chopped*

¾ cup

pecans, roughly chopped*

1/8 teaspoon

salt (optional)

3 tablespoons

pure maple syrup
---
Instructions
Preheat the oven to 325°F. Line a large baking sheet with parchment paper or greased foil. Set aside for later.
Add coconut, almonds, pecans and salt (if using) to a large bowl. Stir until well mixed.
Add maple syrup. Stir and fold until coconut and nuts are fully coated.
Pour onto the prepared baking sheet. Spread granola into an even layer, with empty pockets at regular intervals to let air through. Using a spoon, create small piles of granola—these will become clusters after baking.
Bake for 10 minutes. Using a heatproof spatula, flip granola to evenly crisp the other side. Bake for an additional 5-10 minutes. Mine took a total of 20 minutes.
Place baking sheet on a cooling rack. Allow to cool for about 30 minutes, or until completely cooled. Enjoy! Storing instructions below.
Category:

Granola, Healthy Snacks, Paleo, Vegan, Gluten-Free, Dairy-Free, Refined Sugar-Free
© beamingbaker.com. All content and images are protected by copyright. Please do not use my images or recipe without my permission. If you wish to republish this recipe, please re-write the entire recipe using your own words and include a link to this post for the recipe.
If you enjoyed this plant-based, allergy-friendly 4 Ingredient Coconut Almond Pecan Paleo Granola, then you'll just love these delicious healthy dessert recipes:
☀︎ More Paleo Gluten Free Vegan Fall Recipes ☀︎
Skillet-Roasted Maple Cinnamon Pecans | No Bake Vegan Pecan Pie Bites | Paleo Vegan Chocolate Coconut Truffles | Paleo Apple Pecan Coconut Crisp | No Bake Paleo Chocolate Pecan Bars | Pumpkin Chocolate Chip Cookie Dough Bites | Vegan Pumpkin Pie Smoothie | Gluten Free Vegan Chocolate Pumpkin Bread | and… Salted Caramel Toasted Coconut Chips, just for fun. 😉
This post may contain affiliate links, which allow me to make a small commission for my referral, at no additional cost to you. Thank you for supporting Beaming Baker.
Facebook ☀︎ Pinterest  ☀︎ Twitter ☀︎ Instagram