Gluten Free Vegan Chocolate Pumpkin Bread (V, GF, Dairy-Free, Refined Sugar-Free) + VIDEO
Gluten Free Vegan Chocolate Pumpkin Bread (V, GF): a one bowl recipe for perfectly moist 'n decadent chocolate pumpkin bread made with warm spices and your favorite fall flavors. Gluten Free, Vegan, Dairy-Free, Refined Sugar-Free.
Happy Fall!! Okay, happy almost fall! Yes, I went ahead and looked up the actual first day of fall in case any of you season aficionados are fact-checking. Alright, be honest, are there any season aficionados out there? Anyone??
How about almanac maniacs? Ooooh, I just had to say that. Forgive me?
Well, the first day of fall is Friday, September 22, according to my super trusty, well-educated friend named Google. Yeah, we go waaaaay back. Now before I go on a huge tangent none of us will recover from (like telling you about the life-changing gluten free no bake brownie energy bites I've been eating all week), let me also say, Happy Almost Weekend! <– Totally the best part of Thursday posts, don't you agree?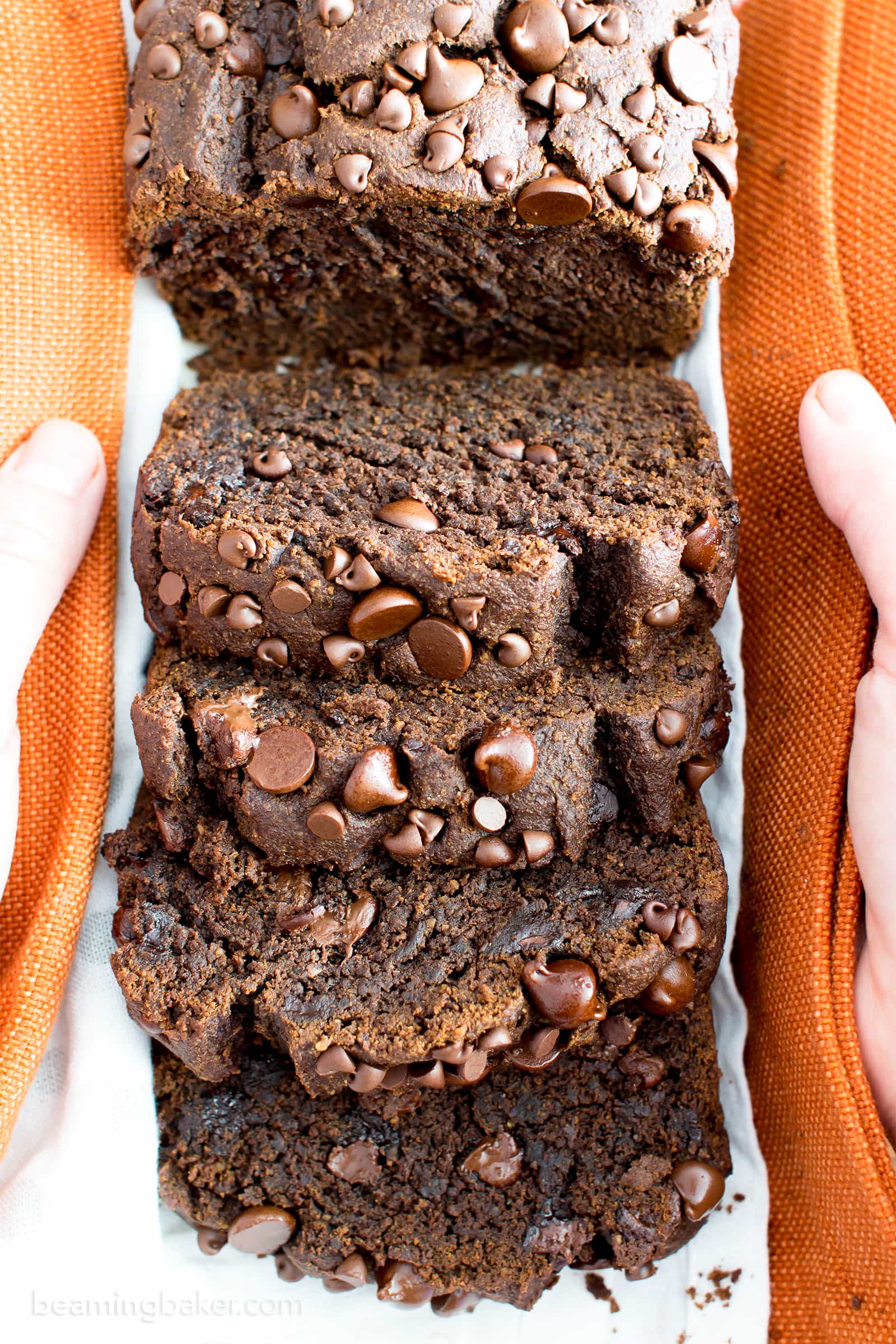 And to celebrate these two kinda-holidays-in-one, I'm super pumped to share my Gluten Free Vegan Chocolate Pumpkin Bread with you. After all, chocolate is one of THE best ways to ring in seasonal changes/the weekend/making it through the workday/it being 2pm… those kinds of momentous things. Just look at these homemade dark chocolate sea salt KIND nut bars, and you'll instantly know what I'm talking about.
Even though I'm still sorta reeling from how fast this season has come upon us (yes, I'm that person at the grocery store who's gawking at the Halloween candy display in July…. JULY!!!!!), I'm ALL IN when it comes to pumpkin.
Btw, are you semi-shocked that it's already time for pumpkin?? Or are you a year-round pumpkin eater? (Of course, my immature mind picks this moment to cue: cheater, cheater, pumpkin eater!!! Ah, Mind…)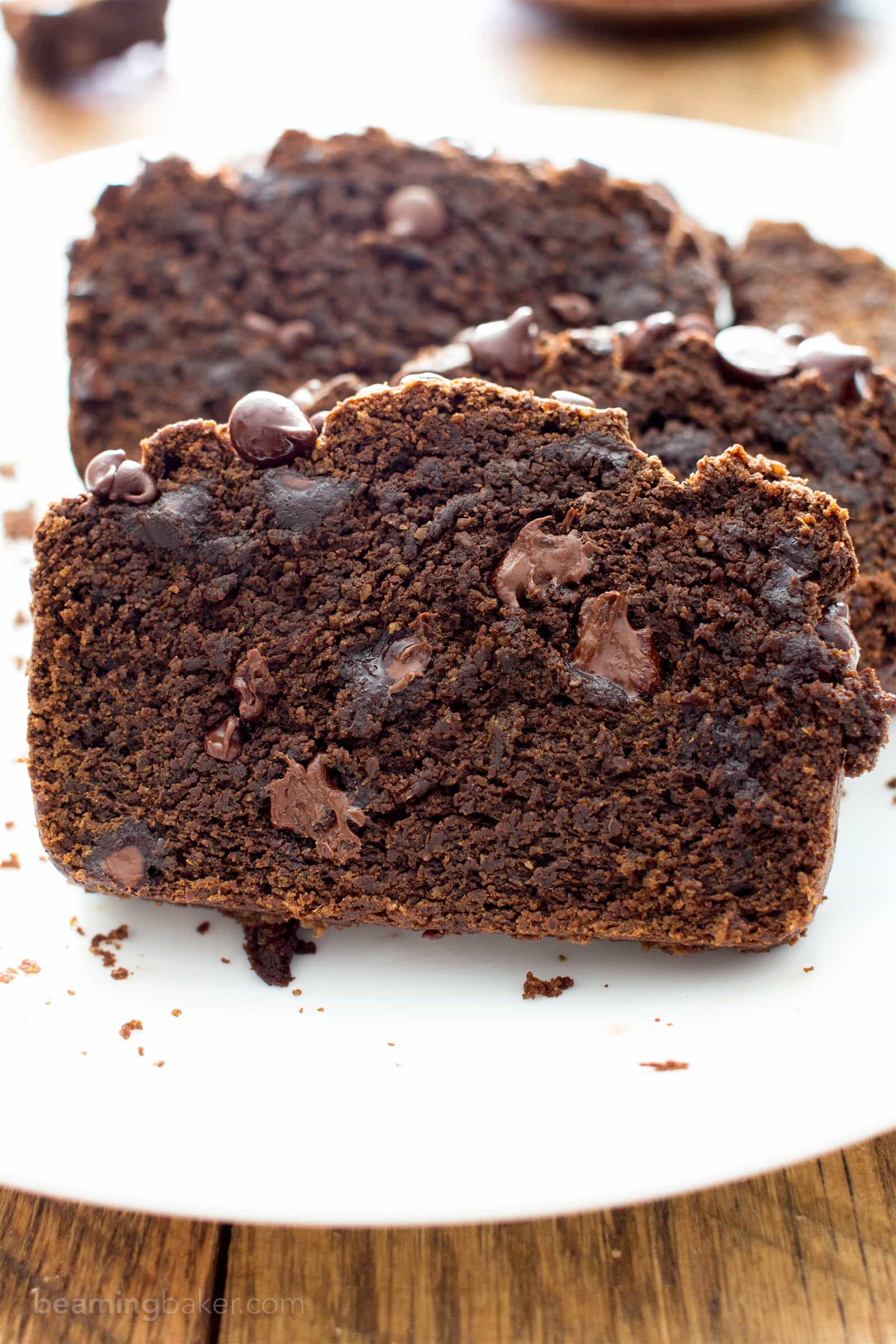 For some reason, every freaking year, I spend the summer thinking, Hey, no big deal, pumpkin season isn't until October or November… you've got plenty of time to get these pumpkin recipes ready. Then, boom! Folks are talking about all things pumpkin in early August and always-behind me is like, "Say whaaaaa?"
So I'm not gonna tell you that I frantically spent all of last week, day and night, working on this recipe. Or, that I seriously considered growing an actual pumpkin patch in my non-existent backyard because I live in the city. Or, that pumpkin and I had a bit of a staring contest to see who would come out victorious (obvs pumpkin won). Or, that everything I see and smell is now in Pumpkin Vision because it's gotten real up in my kitchen.
I'll just say, Happy Pumpkin Bread Day (or… Happy Gluten Free Vegan Chocolate Pumpkin Bread Day)!! As if I even knew what day that actually was. (Too tired and tangented to Google now). And… this recipe was in the bag months ago!!! But not…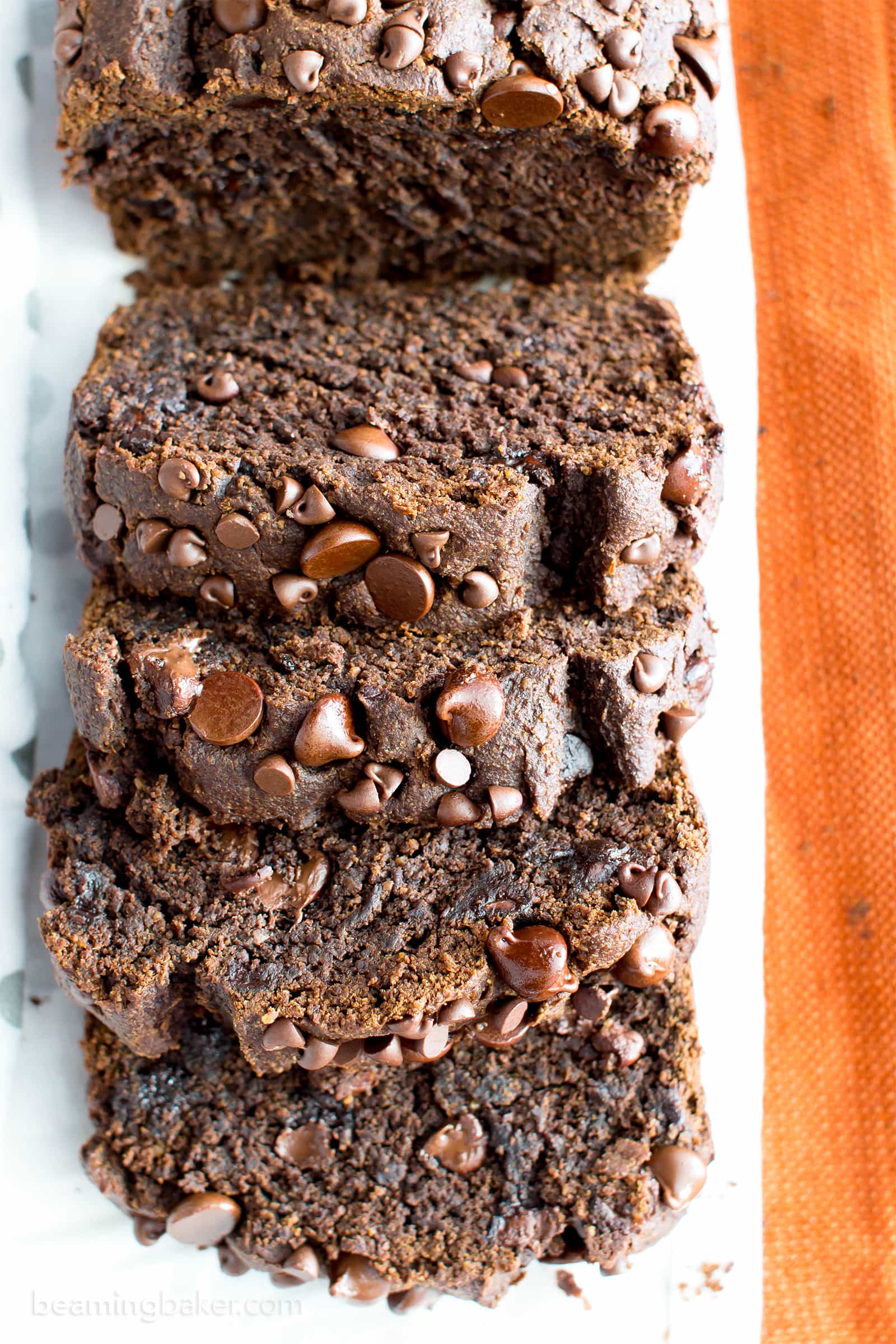 Ahem.
Luckily, Erik and I enjoyed our hilarious (read: highly unpleasant and comically confidence lowering) pumpkin trials last year. If you want to feel so much better about yourself, read the pumpkin bread recipe post. So this year, I was able to make that reader-favorite recipe and give it the ol' splendid chocolate makeover!! Yeah!
If you LOVE chocolate and pumpkin, then this recipe is all for you. If you don't like either of those things, then why are you here? J/k! Hugs!!! I'll just spray some perfume or something to cover up my now ever-present pumpkin aura.
This gluten free vegan chocolate pumpkin bread recipe is so freaking good, y'all: perfectly moist… decadently chocolatey (tastes like chocolate cake, according to my sis Jenny), pretty easy to make in just one bowl… and made with the same awesome ingredients that I hope by now I've trained you to always have in your pantry!! Riiiiiiight? 😉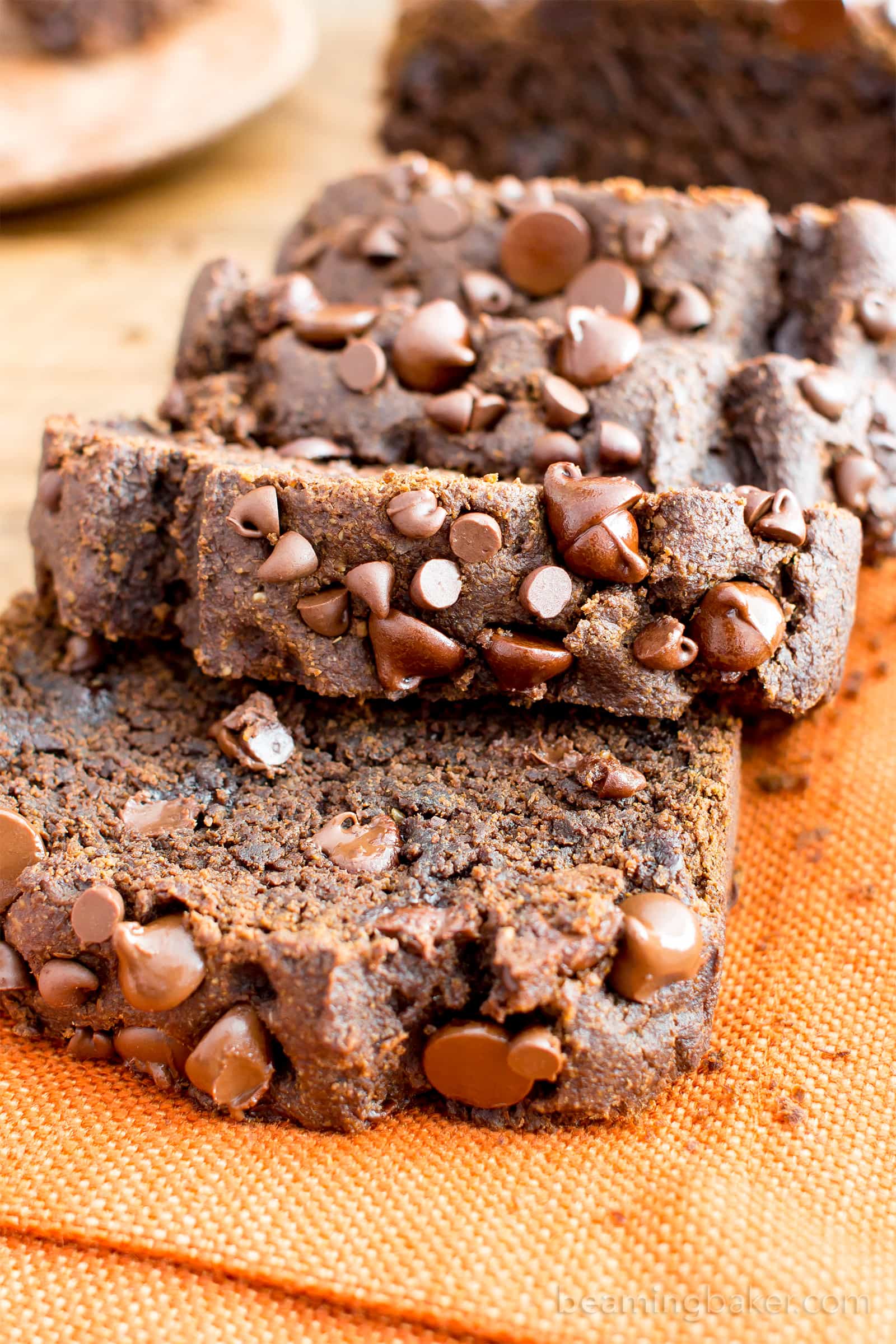 But just in case you're looking for the TL;DR, here are my usual loving bulletpoints about this Gluten Free Vegan Chocolate Pumpkin Bread. Your new favorite fall treat is:
made in just one bowl (less dishes!!!)
bursting with pumpkin spice goodness
deliciously moist
indulgently chocolatey and rich
vegan, gluten-free, dairy-free
bursting with your favorite fall flavors: cinnamon, cloves, nutmeg
plant-based and allergy-friendly
made with the simple, healthy ingredients you love
wonderfully refined sugar-free
tastes like chocolate cake
… make that pumpkin chocolate cake
and wonderfully on time (take that, season aficionado!! Or… almanac maniac!!! Yeah!!)
So whaddya say? Are you ready to greet the autumnal equinox with me? Or hilariously try slipping "autumnal equinox" into a sentence in your next "casual" conversation? 😉 Let's grab our Fall-iest bowls or something, and like jump in a pile of leaves/buy an orange sweater, it's about to get ultra-max FALL up in here! I'm so happy to be finally kicking off the holiday/seasonal vibes with you! I can't wait to hear what you think of this recipe. In the meantime, tell me…
What's your favorite fall flavor?
Sending you all my love and maybe even a dove, xo Demeter ❤
☀︎ Click below to Pin ☀︎

☀︎ Did you make this recipe? Take a pic and share it on Instagram with the hashtag #beamingbaker and tag @beamingbaker. I would love to see it! ☀︎
If you enjoyed this plant-based, allergy-friendly Gluten Free Vegan Chocolate Pumpkin Bread, then you'll just love these simple, tasty and whole recipes:
☀︎ More Gluten Free Vegan Bread & Muffins Recipes ☀︎
Easy Orange Muffins Recipe | Healthy Lemon Poppy Seed Muffins Recipe | Easy Gluten Free Vegan Dark Chocolate Muffins | One Bowl Gluten Free Vegan Pumpkin Bread | Gluten Free Pumpkin Chocolate Chip Muffins | Vegan Chocolate Banana Nut Bread | Gluten Free Vegan Banana Nut Muffins | Gluten Free Banana Oat Muffins | Double Chocolate Banana Muffins | and… Gluten Free No Bake Brownie Energy Bites, just for fun. 😉
Print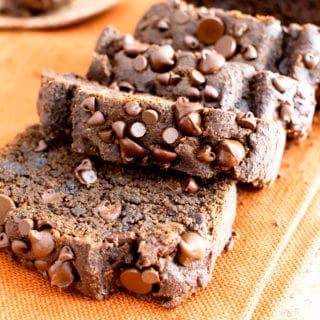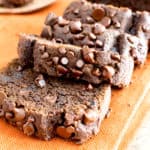 Gluten Free Vegan Chocolate Pumpkin Bread (V, GF, Dairy-Free, Refined Sugar-Free) + VIDEO
---
Description
Gluten Free Vegan Chocolate Pumpkin Bread (V, GF): a one bowl recipe for perfectly moist 'n decadent chocolate pumpkin bread made with warm spices and your favorite fall flavors. Gluten-Free, Vegan, Dairy-Free, Refined Sugar-Free.
---
Wet Ingredients
1 cup

100% pure pumpkin puree

¼ cup

melted coconut oil

¼ cup

+

2 tablespoons

pure maple syrup

¼ cup

+

2 tablespoons

coconut sugar

1

flax egg (

1 tablespoon

ground flax +

3 tablespoons

water, whisk together, set for 15 mins)

1 teaspoon

pure vanilla extract
Dry Ingredients
1 ½ cups

gluten free oat flour

½ cup

unsweetened cocoa powder

½ cup

almond meal

1 teaspoon

baking soda

½ teaspoon

baking powder

1 teaspoon

ground cinnamon**

½ teaspoon

ground cloves**

½ teaspoon

ground nutmeg**

¼ teaspoon

salt
Add-in Ingredients
½ cup

vegan chocolate chips
Topping
2 tablespoons

vegan chocolate chips (mini and regular)
---
Instructions
Preheat the oven to 350°F. Line an 8-inch or 9-inch loaf pan with parchment paper or greased foil. Set aside.
Add the wet ingredients to a large bowl: pumpkin, coconut oil, maple syrup, sugar, flax egg, and vanilla. Whisk until well incorporated.
Add the dry ingredients: oat flour, cocoa powder, almond meal, baking soda, baking powder, cinnamon, cloves, nutmeg and salt. Whisk together until difficult to stir. Using a rubber spatula, fold until just incorporated, making sure no flour patches remain. Fold in Add-in chocolate chips.
Pour batter evenly into prepared loaf pan. Using a butter knife, cut a slit down the center (or off center, based on your preference). Use the knife to go back over the line, widening the slit. Sprinkle chocolate chips on top of the loaf. Lightly press chips down to secure.
Bake for 55-70 minutes.* (In my 8-inch loaf pan, mine took 62 minutes). Test for doneness by sticking a toothpick into the center of the loaf. The toothpick will come out clean when the loaf is done.
Allow to cool on a cooling rack for 2-3 hours, or until completely cool. Lift the loaf out and place on a clean workspace. Slice and enjoy! Storing instructions below.
Category:

Bread, Pumpkin, Fall, Thanksgiving, Vegan, Gluten Free, Whole Grain, Dessert
Nutrition
Serving Size:

1 slice

Calories:

194

Sugar:

13g

Fat:

9g

Carbohydrates:

26g

Protein:

4g
© beamingbaker.com. All content and images are protected by copyright. Please do not use my images or recipe without my permission. If you wish to republish this recipe, please re-write the entire recipe using your own words and include a link to this post for the recipe.
SHOP THE RECIPE
Here are a few items I used in today's recipe. .
8-inch Loaf Pan | Organic Pumpkin Puree | Coconut Oil | Glass Mixing Bowls |
Silicone Spatulas | Maple Syrup | 9-inch Loaf Pan | Coconut Sugar
This post may contain affiliate links, which allow me to make a small commission for my referral, at no additional cost to you. Thank you for supporting Beaming Baker.
Facebook ☀︎ Pinterest  ☀︎ Twitter ☀︎ Instagram