4 Ingredient Salted Caramel Toasted Coconut Chips (Paleo, Vegan, Gluten-Free, Dairy-Free, Refined Sugar-Free)
4 Ingredient Salted Caramel Toasted Coconut Chips (V, GF, Paleo): an easy, 5-minute prep recipe for crispy, salty 'n sweet coconut chips caramelized to perfection. Paleo, Vegan, Gluten-Free, Refined Sugar-Free.
Welcome to the season of all things salted caramel. Mmm… now who doesn't want that? Last year, I kind of saw the Salted Caramel signs… waved hello and politely & quickly shuffled past the guy. I mean, I was all up on the pumpkin: pumpkin chocolate chip muffins, pumpkin bread… even pumpkin cookie dough bites!
But salted caramel. Oy… salted caramel!
I just thought, how is it possible to make anything salted caramel without feeling kinda crappy/really guilty about it all?
And if you've been around awhile, you know we don't do guilt-ridden treats 'round these parts. Kind of defeats the whole "treat" business, don't you think? I mean, no one should be hiding in a closet, eating these guys.
(Not that I ever hid in a closet, secretly, desperately scarfing down snacks. Or anything.)
Ahem.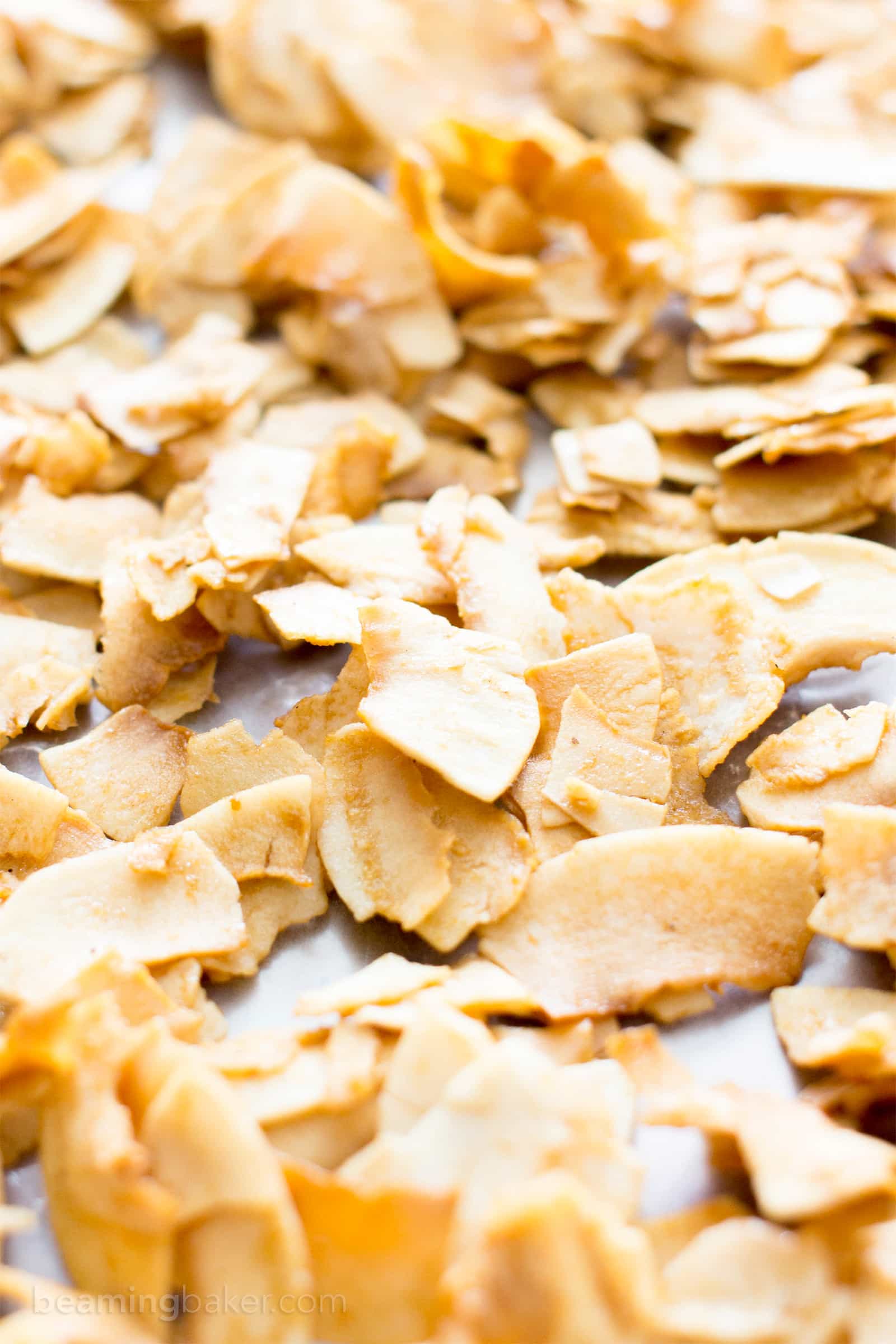 But this year. This year, we're gonna do it! And we're gonna start slow, so no one gets scared. If there are any takers, my mom has already volunteered to hold people's hands. Then, stealthly sneak to a big squirt of antibacterial in her hands and rub them quickly and vigorously. Because she's a germaphobe. And because apparently we all like doing things in secret in my family.
Double ahem.
My goodness, when did I lose track of this entire post? Thursdays… what can I say? The weekend is so near, yet so far.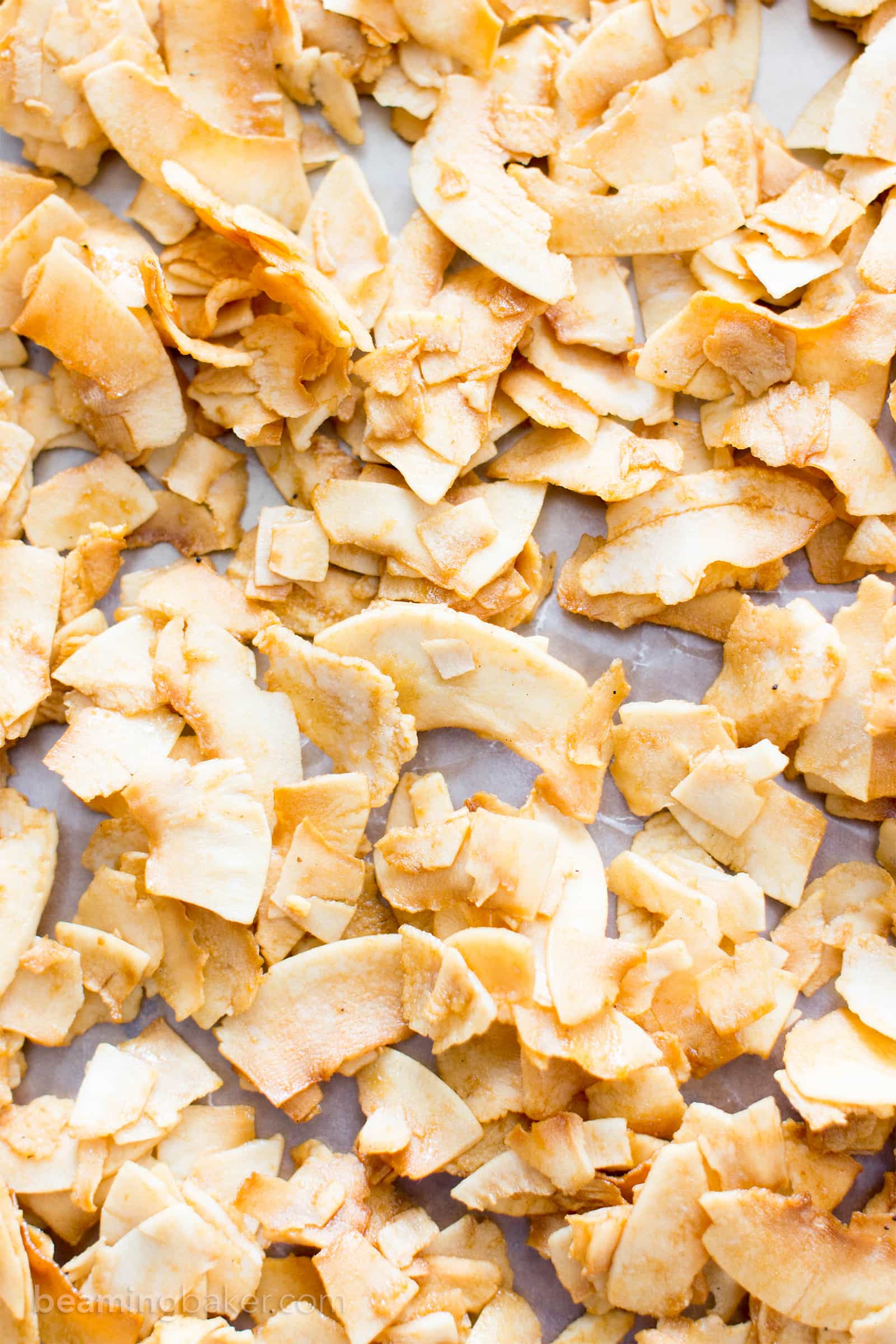 Alright: 4 Ingredient Salted Caramel Toasted Coconut Chips! So as I was doing my usual snack aisle investigations at the grocery store, I started noticing all of these super intriguing treats: coconut chips! I've legit been checking out the nutrition labels, reading ingredients lists, cooking up ideas in my sleep (I know, I've got to get a life.)
All the while, it's been nagging at me like crazy: why can't we make these at home? Crunchy, salty, sweet, perfectly toasted, oh-so-snackable and pretty much guilt-free… coconut chips. Oh, YES.
One of the flavors I really, really wanted to share with you guys was Salted Caramel. Since the holidays are fast approaching, we don't have time to take it slow (quick: grab my mom's hand if need be). So we're just gonna jump right in! No basic, non-salted, non-cararmely version of these toasted coconut chips. Just the one you really want: Salted Caramel Toasted Coconut Chips.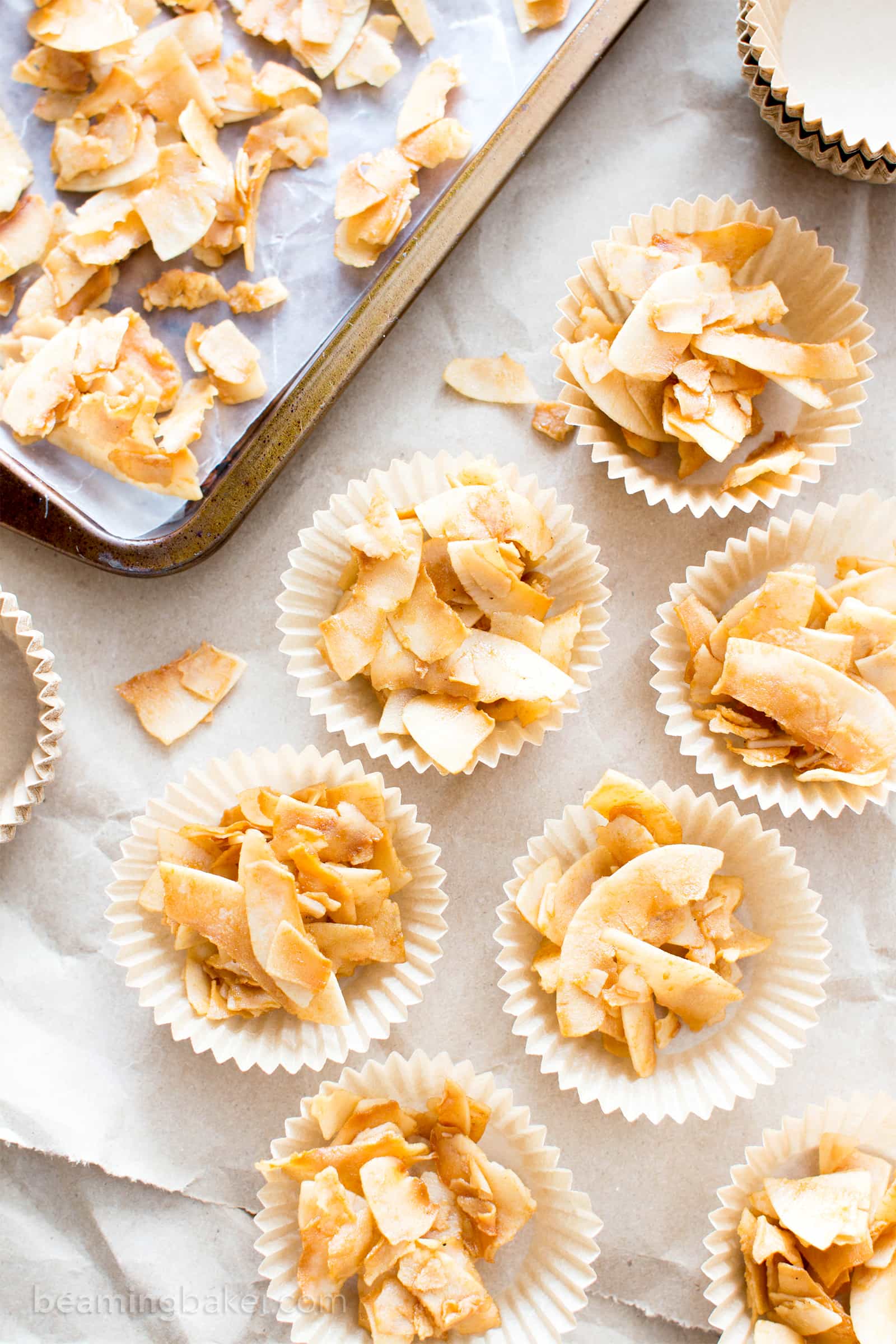 You guys, it's soooooo good. The prep work is almost nonexistent. You know how we roll here: the easier, the better, right? Pop them in the oven, and in just a few minutes, your entire kitchen will become an oasis of salted caramel delight. Forget all of those highfalutin scented candles, incense stick thingies, and diffusers… nothing can come close to this scent.
The aroma is almost unbearably delicious.
Once they're out of the oven, let them cool off a bit, then grab a chip. So sweet, so caramel-y, so salty YUM… so guilt-free. YEAH!!!
When the scent finally fades from your kitchen, you can/should bake another batch of 4 Ingredient Salted Caramel Toasted Coconut Chips! And in between all the batches you make, go ahead and grab one of those candles. Then quickly report back and tell me which ones are your faves. I'm not gonna lie, I love those things!! And speaking of amazing caramel scents, you've got to try out this fantastic Chai Caramel Popcorn from Perry's Plate! Yep, there's caramel and chai in there. 🙂 How good does that sound?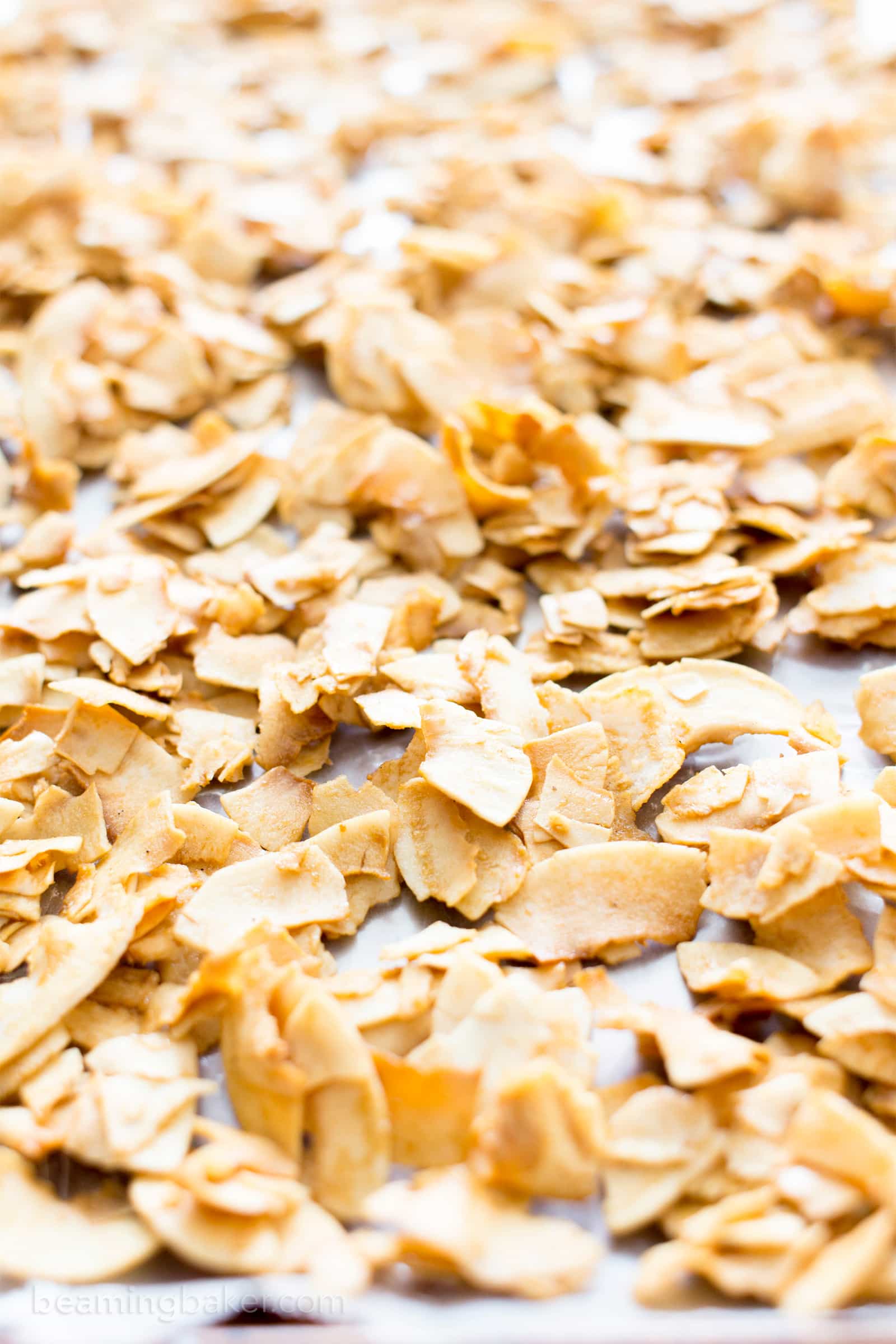 Now, while I dream of all the salted caramel treats we can make together this fall, and eagerly await your feedback, let me tell you all about these. My 4 Ingredient Salted Caramel Toasted Coconut Chips are:
so incredibly easy to make
(seriously, prep time is 5 minutes or less)
(… like, depending on your measuring prowess)
paleo, vegan, gluten-free, dairy-free
soon-to-be your favorite salty 'n sweet snack
awesomely refined sugar free
bursting with salted caramel flavor
made with the simple, whole healthy ingredients you love
plant-based and allergy-friendly
perfect for a snack, or dessert
of course, guilt-free
Are you ready to get your homemade snack on? Grab your favorite large-flake coconut chips (seriously, does that sound sexy or what), your favorite coconut sugar, and your coolest sea salt grinder (totally a thing). Let's get baking! I truly have the best time getting back in the kitchen and baking all the wonderful treats with you. My favorite part is hearing how much these treats have made snack-time, dessert-time and all the tasty times more fun for you. I can't wait to hear what you think of this recipe. In the meantime, tell me:
What's your favorite snack of all time?
Sending you all my love and maybe even a dove, xo Demeter ❤️
☀︎ Click below to Pin ☀︎

☀︎ Did you make this recipe? Take a pic and share it on Instagram with the hashtag #beamingbaker and tag @beamingbaker. I would love to see it! ☀︎
SHOP THE RECIPE
[amazon_link asins='B001CCZL7W,B0019GZ84C,B000Q3D95Y,B01N33WO1X,B00091PNTI,B005EEYGCA' template='BB-ProductCarousel' store='beamingbake0c-20′ marketplace='US' link_id='839af705-68c0-11e7-9ea3-853cc8647a93′]
Here are a few items I used in today's recipe. 🙂
2-Tablespoon Cookie Scoop | Glass Mixing Bowls | Coconut Flakes
Coconut Sugar | Cookie Sheet | Stainless Steel Measuring Cups | Cooling Rack
Print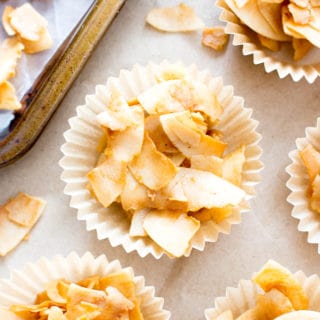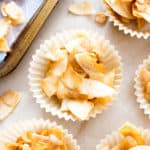 4 Ingredient Salted Caramel Toasted Coconut Chips (Paleo, Vegan, Gluten-Free, Dairy-Free, Refined Sugar-Free)
---
Description
4 Ingredient Salted Caramel Toasted Coconut Chips (V, GF, Paleo): an easy, 5-minute prep recipe for crispy, salty 'n sweet coconut chips caramelized to perfection. Paleo, Vegan, Gluten-Free, Refined Sugar Free, Dairy-Free.
---
1 ½ tablespoons

coconut sugar

1 tablespoon

water

¼ teaspoon

salt

1 ½ cups

unsweetened coconut flakes
---
Instructions
Preheat the oven to 300°F. Line a large baking sheet with parchment paper or greased foil.
In a large bowl, add coconut sugar and water. Whisk until sugar is almost completely dissolved—this will take about 1-2 minutes. Add salt, stirring until well mixed.
Add coconut. Using a spatula or spoon, stir and fold until coconut is well-coated in sugar mixture.
Pour this mixture onto the prepared baking sheet. Spread into an even, thin layer, creating empty pockets for air to flow though while baking.
Bake for 10 minutes. Stir and flip the coconut chips. Bake for an additional 4-8 minutes. Mine took a total of 18 minutes. Chips are done when thoroughly toasted and mostly dried out. Be careful not to burn. Chips will crisp up during cooling.
Place the baking sheet on a cooling rack. Allow to cool for about 30 minutes. Cool completely before storing. Storing instructions below. Enjoy!
Category:

Snacks, Sweets, Paleo, Vegan, Gluten-Free, Dairy-Free, Refined Sugar-Free
© beamingbaker.com. All content and images are protected by copyright. Please do not use my images or recipe without my permission. If you wish to republish this recipe, please re-write the entire recipe using your own words and include a link to this post for the recipe.
If you enjoyed these plant-based, allergy-friendly 4 Ingredient Salted Caramel Toasted Coconut Chips, then you'll just love these whole foods recipes:
☀︎ More Vegan Gluten Free Paleo Snacks & Desserts ☀︎
Homemade Dark Chocolate Sea Salt KIND Nut Bars | No Bake Paleo Chocolate Almond Butter Bars | Paleo Vegan Chocolate Coconut Truffles | Toasted Coconut Almond Rice Crispy Treats | 4 Ingredient No Bake Peanut Butter Coconut Oatmeal Cookies | Coconut Chocolate Chip Vegan Ice Cream | Gluten Free No Bake Brownie Energy Bites
This post may contain affiliate links, which allow me to make a small commission for my referral, at no additional cost to you. Thank you for supporting Beaming Baker.
Facebook ☀︎ Pinterest  ☀︎ Twitter ☀︎ Instagram