Banana Oatmeal Chocolate Chip Muffins (Vegan, Gluten Free, Dairy-Free, Refined Sugar-Free)
Banana Oatmeal Chocolate Chip Muffins (V, GF): a healthy 1-bowl recipe for moist, satisfying fresh-baked banana muffins bursting with hearty oats and decadent chocolate chips. Vegan, Gluten-Free, Dairy-Free, Healthy.
Can you believe it's the last week of July? How did the summer go by so fast? I feel like it was just yesterday that I was celebrating the first day of summer with my 3 Ingredient Strawberry Coconut Sorbet. Before the start of the summer, I thought I'd have all of this extra time to redo the kitchen, redo my mom's place and maybe even plan an extra itty bitty vacation before all the holiday madness begins.
But did I do any of that? Nope! Alright, maybe just a little bit of each. I promised to help my mom decorate and rearrange her furniture ages ago, but progress has been slow going. (More on that in a later post.) I also promised her I'd make her a banana quick bread/muffin-esque recipe chockfull of her all-time favorite combo: oats and chocolate chips!
Allow me to present to you my Banana Oatmeal Chocolate Chip Muffins, made special, just for my mom (and yours). 🙂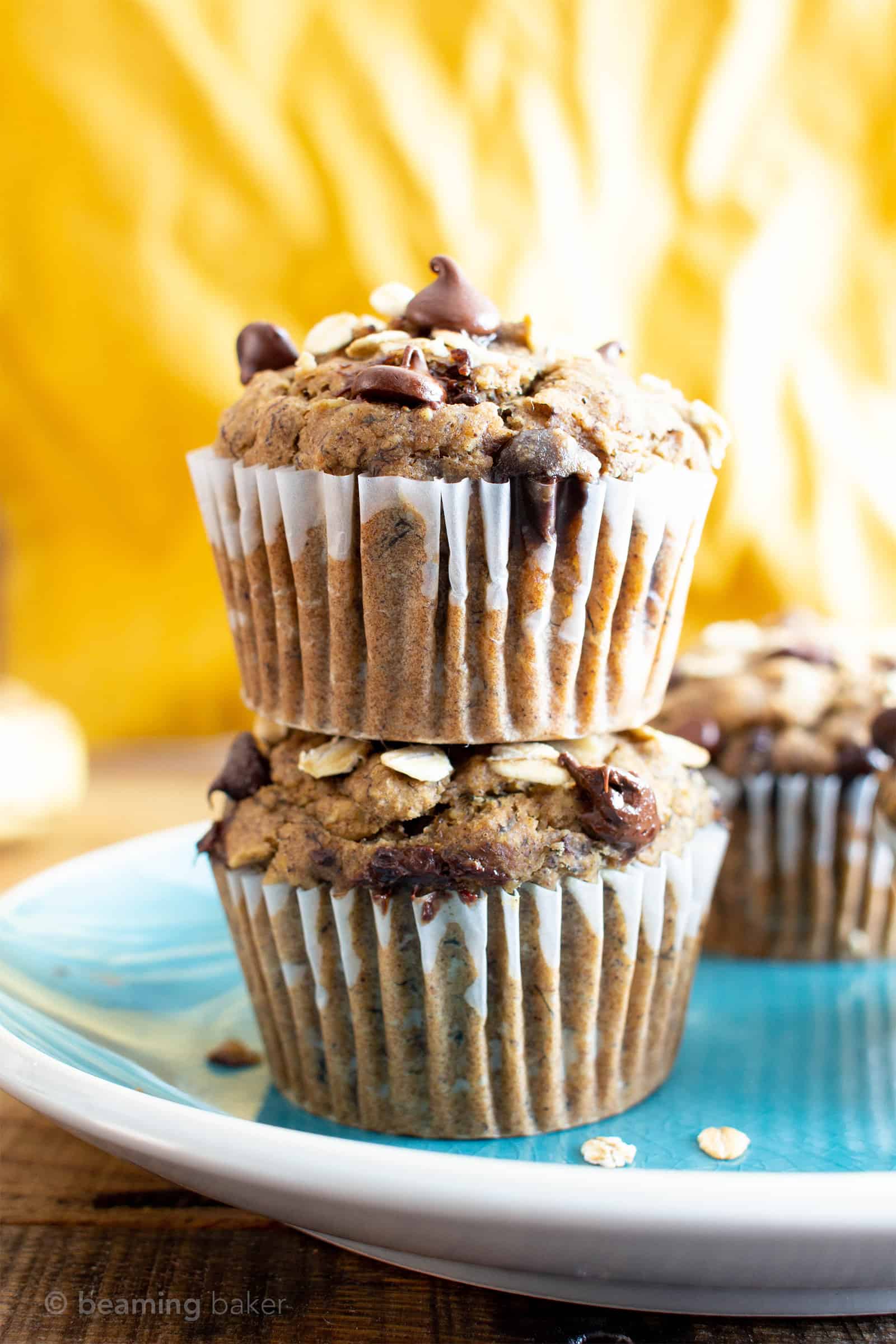 Meanwhile, in actuality, coconut and chocolate are her favorite combo, and oats and chocolate chips come in second… but for the purposes of this post, let's just pretend the former is true. 😉
Growing up, my mom used to try to get us kids to eat bananas all the live long day. We resisted because we were kids and simply had to test the boundaries. And, also, let's be honest… super ripe banana texture can be a bit much for any kid (or adult) palate to handle. If only we had something like these gluten free vegan banana nut muffins growing up…
My mom could only rarely get us to eat bananas, and when we did, there had to be some kind of incentive involved… mainly involving Sailor Moon stickers or a side of cookies.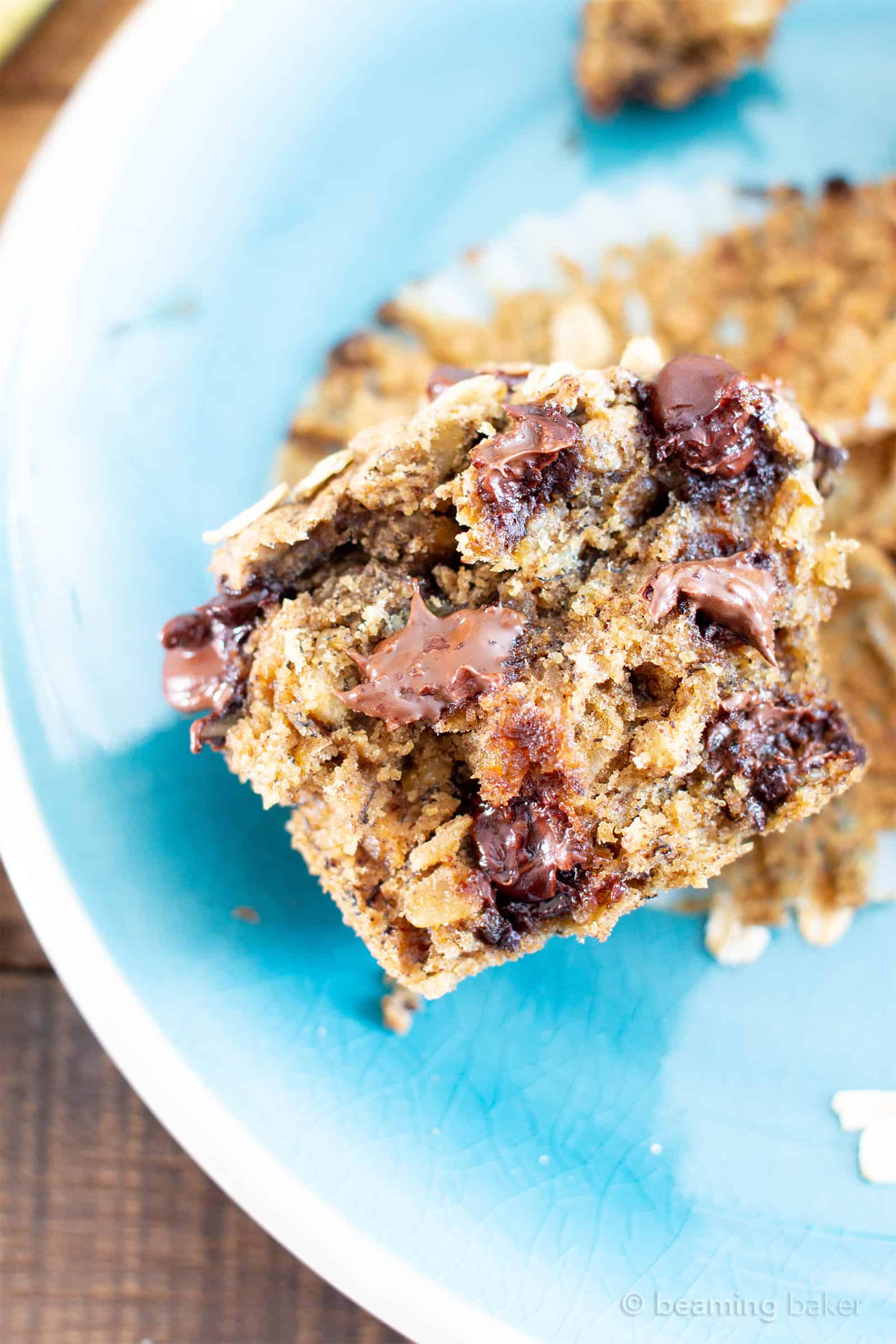 Nowadays, it's all we can do to wait for those gosh darn bananas to ripen to that exact perfect level of ripeness that's great for banana baked goods. At any given time, my mom, my sister, or Erik and I have batches and batches of bananas lying/laying (.‍♀️?) around, waiting for their perfect moment to shine.
This time, we had the bananas right where we wanted them, AND, it was just the perfect moment to fulfill my promise to my mom to make her something special. Plus, it just so happens that these Banana Oatmeal Chocolate Chip Muffins are also the tastiest transitionary recipe to get us into the back-to-school mood!
And just in case you're in the mood for more perfectly portable snacks, try these:
These easy gluten free banana oat muffins are chockfull of the good stuff: the healthy, whole ingredients you know and love. They are so unbelievably hearty and satisfying. The domed tops on these suckers are INCREDIBLE and totally worth writing home about… Side note: if you haven't yet, you've got to try using this ice cream scoop to scoop and drop your batter for the perfect domed tops. They're soft, tender and moist—pretty much everything you're searching for in the best chocolate chip banana oat muffin recipe. 😉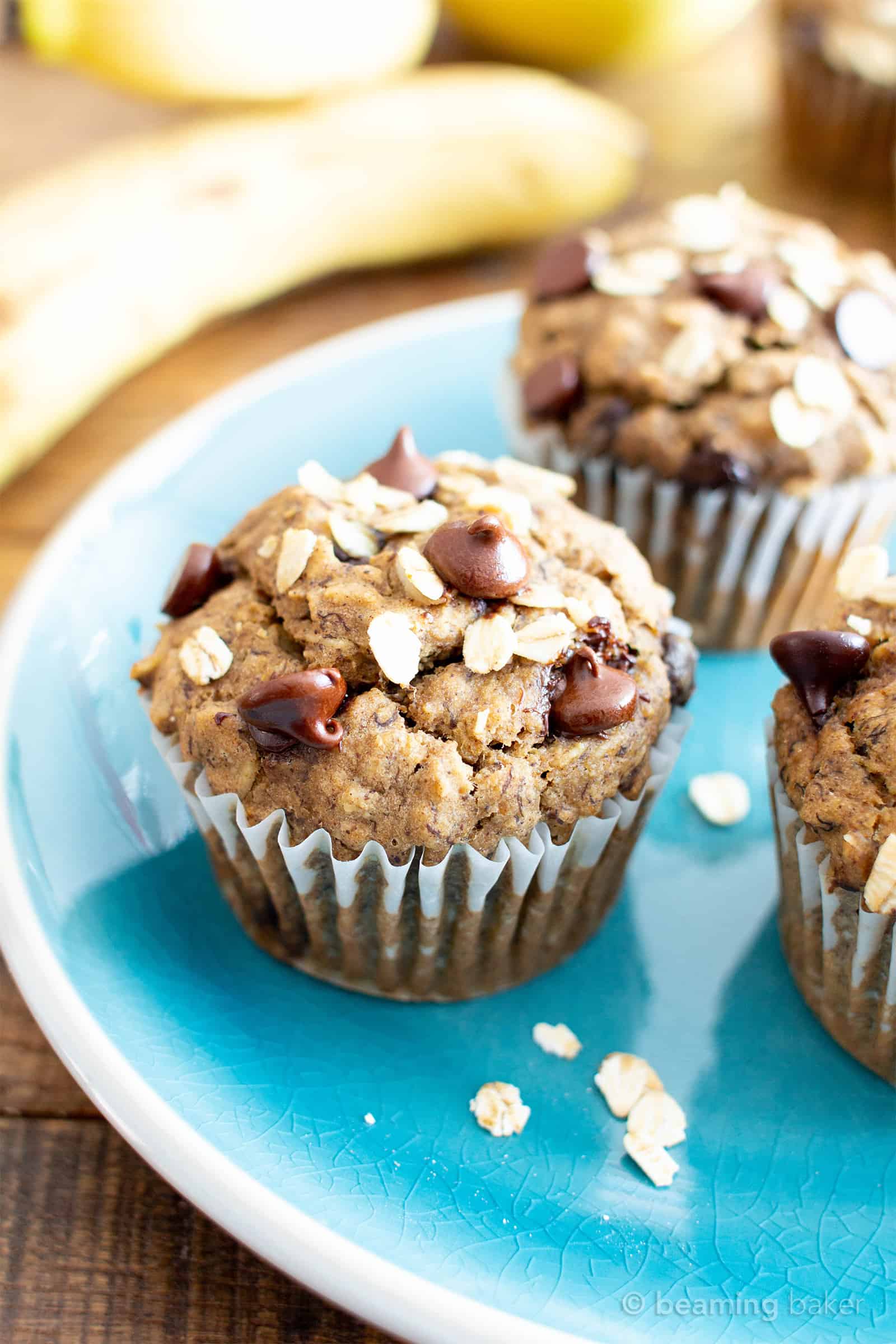 If I haven't got you convinced, allow me to shower you with all of these Banana Oatmeal Chocolate Chip Muffins finest, most delicious bulletpoints! They're:
I hope you truly enjoy these banana oatmeal chocolate chip muffins! Are you ready to get your bake on? Let's do this! You grab the vegan chocolate chips, I'll grab the bananas! It's truly the best experience, being able to share in these kitchen activities with you. I hope you and your loved ones have a ball of a time making and eating these. Thank you for stopping by.
Sending you all my love and maybe even a dove, xo Demeter ❤️
.︎ Click below to Pin .︎

📸 Did you make this recipe? Take a pic and share it on Instagram with the hashtag #beamingbaker and tag @beamingbaker. I would love to see it! 📸
If you enjoyed this Banana Oatmeal Chocolate Chip Muffins recipe, then you'll just love these healthy gluten free vegan breakfast recipes:
More Easy Healthy Breakfast Recipes
Print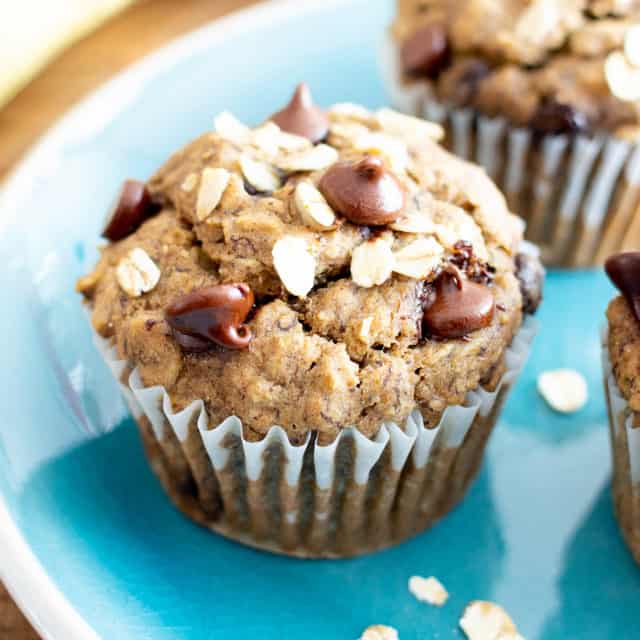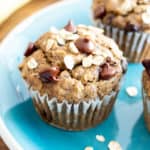 Banana Oatmeal Chocolate Chip Muffins (Vegan, Gluten Free, Dairy-Free, Refined Sugar-Free)
---
Description
Banana Oatmeal Chocolate Chip Muffins (V, GF): a healthy 1-bowl recipe for moist, satisfying fresh-baked banana muffins bursting with hearty oats and decadent chocolate chips. Vegan, Gluten-Free, Dairy-Free, Refined Sugar-Free.
---
Wet Ingredients
3

medium, very ripe bananas (

1 cup

+

2 tablespoons

mashed)

¼ cup

melted coconut oil

¼ cup

coconut sugar

¼ cup

pure maple syrup

2

flax eggs (

2 tablespoons

ground flax +

6 tablespoons

water, whisk together, set for 15 mins)

½ cup

unsweetened almond milk, room temperature

1 teaspoon

pure vanilla extract
Dry Ingredients
Add-ins
Optional Toppings
1 tablespoon

gluten free rolled oats

2 tablespoons

vegan chocolate chips
---
Instructions
Preheat the oven to 325°F degrees. Line a 12-cup muffin pan with muffin liners.
Peel bananas and add to a large mixing bowl. Using a sturdy whisk or fork, mash bananas until smooth. Add the oil, sugar, maple syrup, flax eggs, milk and vanilla. Whisk until well incorporated.
Add oat flour, oats, baking powder, baking soda and cinnamon. Whisk together until just incorporated, making sure no flour patches remain. Fold in chocolate chips.
Using a large scoop, scoop and drop batter evenly into muffin cups. I use this ice cream scoop for easy scooping and a beautiful round top. If not using the scoop, smooth batter into an even layer, with a domed top (rise) in the center. Optionally, press oats and chocolate chips on top of the muffins.
Bake for 24-30 minutes. Mine took 29 minutes for large domed-topped muffins.
Allow to cool in muffin pan set on a cooling rack for about 20 minutes. Remove from pan to finish cooling, about 1-2 hours. Enjoy! Storing instructions below.

Adapted from my Gluten Free Banana Oat Muffins.

Also try Double Chocolate Banana Muffins and Moist Banana Chocolate Chip Muffins.
Notes
– Storage notes: Store in an airtight container for up to 1 week.
– Freezing instructions: Cool completely and store in an airtight, freezer-friendly container or bag. Keep for 1-2 months. Allow to thaw at room temperature for 10-40 mins, or heat in the microwave in 10-second increments until just warm.
Category:

Muffins, Breakfast, Healthy, Vegan, Gluten-Free, Dairy-Free, Refined Sugar-Free
© beamingbaker.com. All content and images are protected by copyright. Please do not use my images or recipe without my permission. Please do not republish this recipe, instead, include a link to this post for the recipe.
SHOP THE RECIPE
Here are a few items I used in today's recipe. 🙂
Muffin Pans (2pk) | Parchment Cupcake Liners | Glass Mixing Bowls | OXO Trigger Ice Cream Scoop | Maple Syrup | Gluten Free Rolled Oats | Coconut Sugar | Stainless Steel Measuring Cups
This post may contain affiliate links, which allow me to make a small commission for my referral, at no additional cost to you.
Facebook ☀︎ Pinterest ☀︎ Twitter ☀︎ Instagram