Double Chocolate Banana Almond Mini Muffins (Vegan, Gluten Free, Oat Flour, Dairy-Free)
Double Chocolate Banana Almond Mini Muffins (V, GF, DF): a one bowl recipe for perfectly moist chocolate banana mini muffins made with oat flour and almonds. Vegan, Gluten Free, Dairy-Free, Oat Flour, Whole Grain.
Guess what? My sister just got me a mini muffin pan!! How cool is that?? Oh okay, truth time: she didn't just get it for me. She actually got it for me… um, let's see… yep, back in August. Of last year. Oh, that just two seconds ago. Times 7,776,000.
Okay, wow. 6 months have just flown right on by, as my precious "new" mini muffin pan got overlooked, stacked into the corner and wedged into the furthest, dustiest edges of my mind. I had so many grand plans for this miniature pan—homemade donut holes, mini pb cups, more homemade doughnut holes (totally a different recipe since the spelling is different, obviously), mini vegan chocolate cheesecakes, oversized nonpareils and so much more.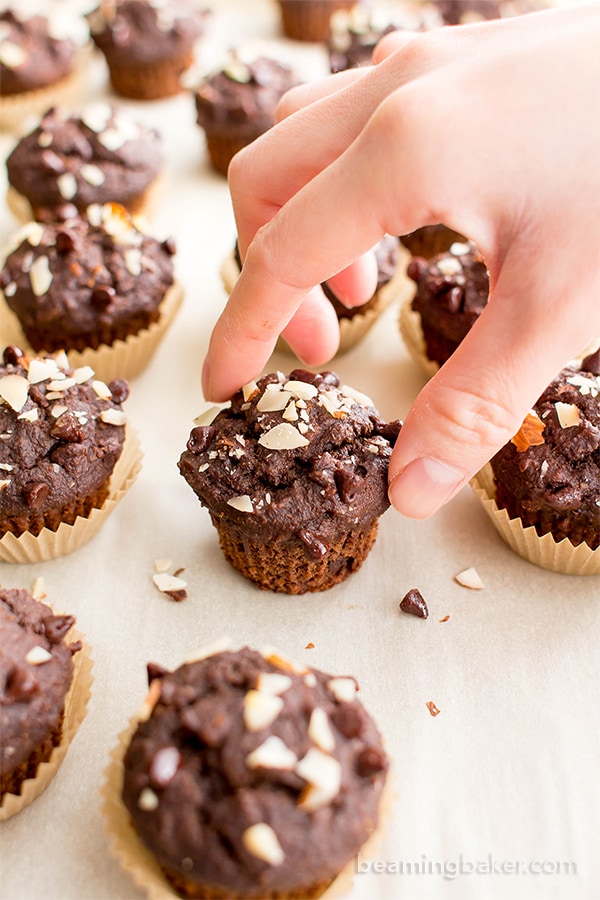 Maybe I even had delightfully small, but still grand, plans for miniature banana muffins. <– Well, it's good to know that I actually ticked one item off that list.
I wistfully look back at 6 Months Ago me and see so many mini awesome plans in my future. But that was then and this is now. We've got plenty of full-sized treats on the blog (muffins, granola bars, cookies, and more), so now we can really play around with all the fun that comes from smaller versions of everything!
Are you guys feeling a theme coming on? What would you say if I made mini versions of everything on the blog? We could have mini double chocolate chip cookies, mini banana oat muffins, mini almond joys, mini peanut butter banana ice cream smoothies… oh wait… would that just be the same recipe poured into like 20 tiny cups? We could even make these peanut butter chocolate banana bread muffins from A Mind "Full" Mom in delish mini form!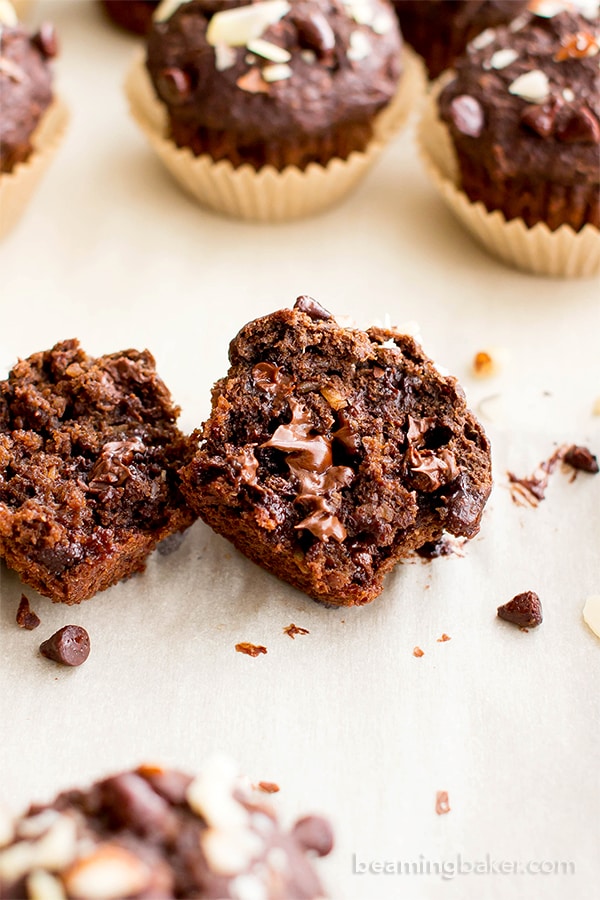 What recipe would you mini-fy on the blog?
Alright, alright, that could take ages… and perhaps y'all don't fancy smaller versions of everything. But I've got to say, something about smaller (and larger) versions of things makes them more fun, don't you think?
I know, I've got to quit with all the questions. There's just something about our first official mini day that makes me excited and curious. Maybe it reminds me of when I was a mini-me. But anyway, how did this whole recipe come about? (I know, with the questions!!)
Well, I had the mini muffin pan waiting patiently for me for months and months. In that time, I made a full-sized, regular ol' recipe for double chocolate banana muffins. Since then, I'd gotten a ton of positive feedback from readers. Folks were telling me that they were so deliciously chocolately, perfectly moist and the best chocolate banana muffins they'd ever had. But—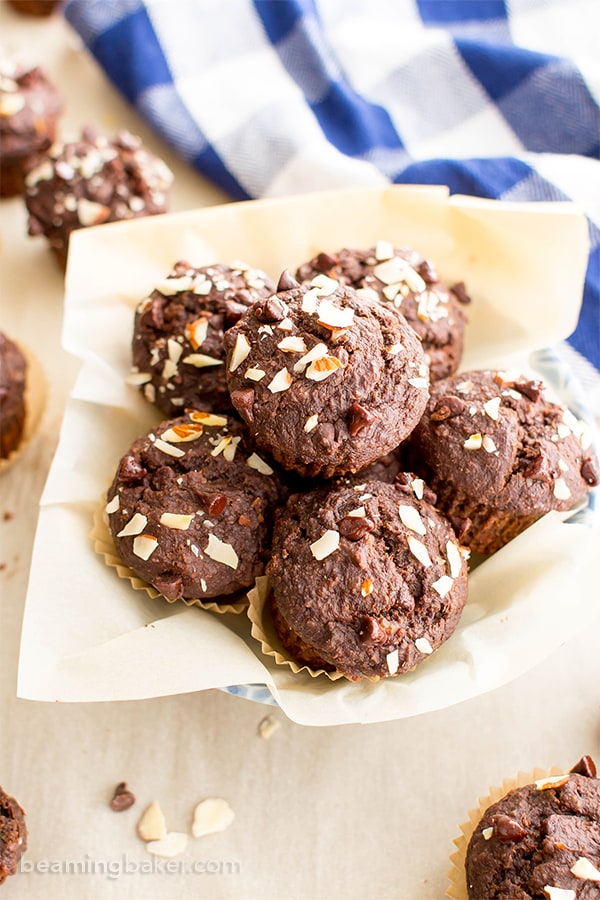 Isn't there always a but?
But, people kept asking me about how to reduce the sugar content. Darn it! As always, I wanted to give a thoroughly researched and thoroughly tested answer. But I couldn't. I didn't yet have the time to test and re-test versions of the double chocolate banana muffin with less sugar. So there it went, into the dusty, never-looked at corner of my mind (and my apartment).
Until one day, a mere 182 days later… I saw the most perfectly spotted, deliciously ripened, golden bananas sitting on my counter. There may or may not have been a glowing spotlight that appeared above the bananas, pointing me to my next mission.
So I scooted myself right on over and did what I had to do: sat down and had a nice long chat about GRDB's (Gorgeously Ripened Delicious Banana) future. Would they go to college and aspire to be vegan chocolate banana bread one day? How about heading off to my mom's and planning for a short, but sweet tenure as banana streusel bars? Or bundling up and preparing for a frosty, but purpose-driven stay in the freezer before they became strawberry peanut butter smoothies?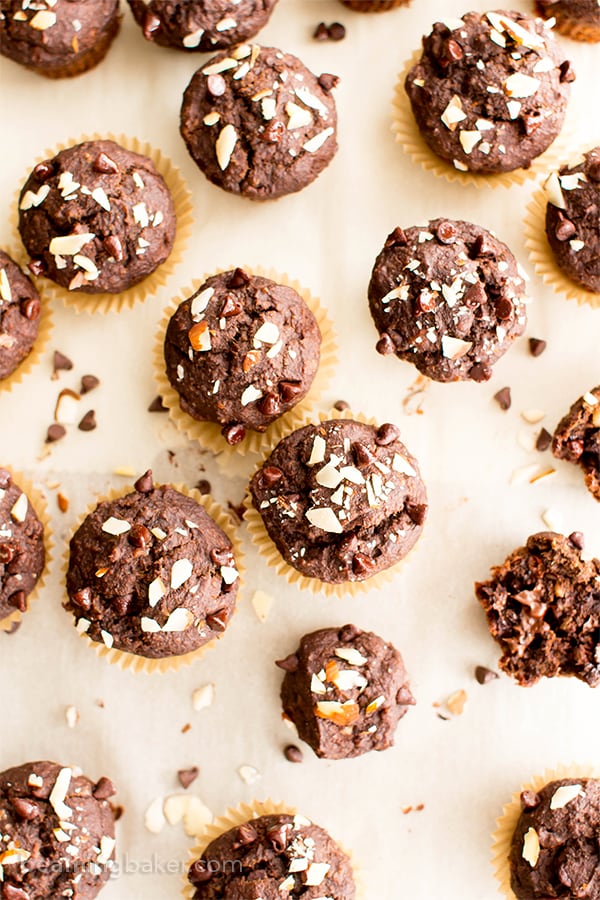 Just as I was reaching over my stack of cooling racks and about to grab a loaf pan, I heard a whisper from… my mini muffin pan!! Apparently, now was the time stop my banana bread foolishness and get going on my long-awaited mission of making something that was both deliciously miniature and lower in sugar.
And guess what? The results were amazing. I'm pleased to report that 1) procrastination is still a terrible idea; 2) domed tops are just as amazing if not more amazing on mini muffins; 3) double chocolate anything (unlike procrastination) is always a great idea; 4) less sugar totally doesn't have to taste like it; 5) I really have to get moving on my other miniature plans…; and 6) I get really hungry when I have to think this much.
So there you have it. Just a short period after receiving my graciously gifted mini muffin pan, I have expediently made my Double Chocolate Banana Almond Mini Muffins. Monica, are you pleased? Aren't you so happy I didn't try your patience by making you wait a full year to see me use this gift? Aren't I the bestest sister ever?
Next up on my list of baked banana treats is this wonderful Gluten Free Banana Bread from Gluten Free on a Shoestring! It looks fantastic, and can be made vegan by using flax eggs, vegan butter and dairy-free sour cream.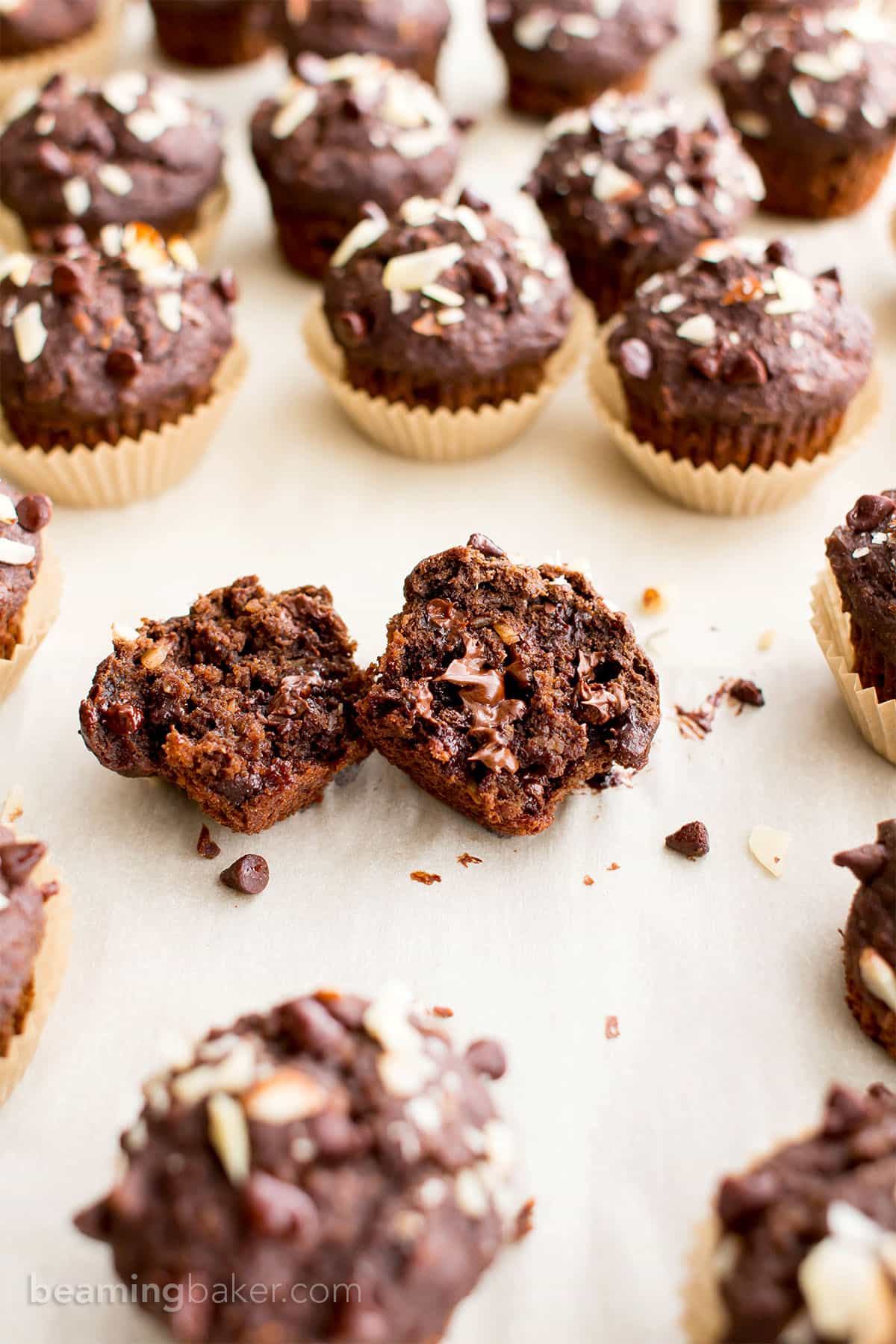 Now before it takes me another 6 months to wrap up this post, allow me to tell you all about my Double Chocolate Banana Almond Mini Muffins. They're:
made in just one bowl
deliciously rich and chocolatey
perfectly moist and soft
vegan, gluten free, dairy-free and whole grain
bursting with almond goodness
amazing because: DOMED tops (on a mini, folks!!)
so easy to make
plant-based and allergy-friendly
full of healthy, feel-good ingredients
packed with deliciously nutritious oat flour and almond meal
great for breakfast, an afternoon snack or dessert
So what do you think? Are you totally judging me harshly for waiting so long to use my gift? I know… me too. 🙁 But it's time to cheer up and hit the kitchen together. After all, these Double Chocolate Banana Almond Mini Muffins aren't gonna make themselves (although we totally wish they would). I'm also totally eyeing these chocolate almond butter muffins from Meaningful Eats! We can swap the eggs for flax eggs and voila! Vegan YUM.
It's been lots of fun chatting with ya! Tell me…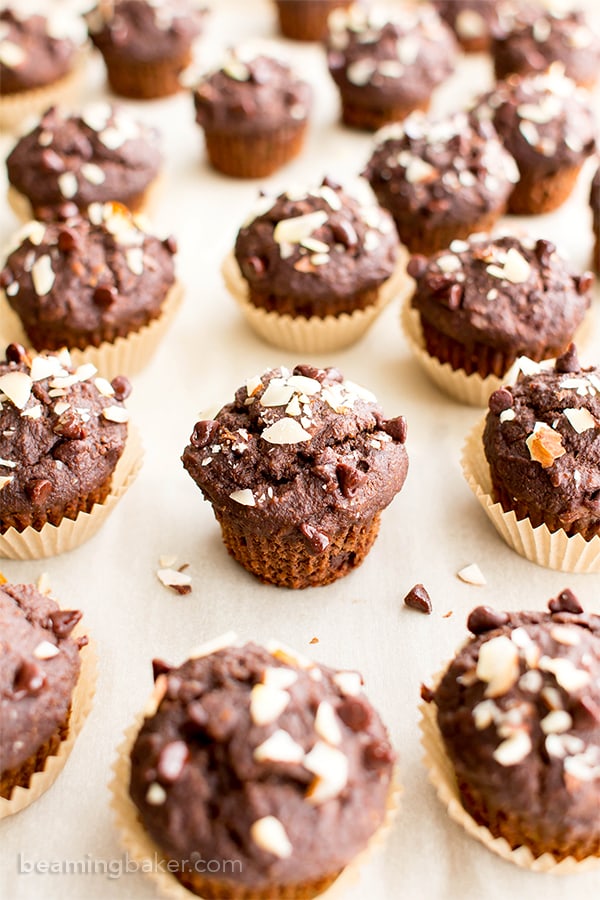 What's your favorite mini version of any food (or other things… I'm now incredibly curious!!) to make? Or, if you could have me miniaturize anything on this blog, what would it be? Recipe-wise, of course, because I do not yet have access to Honey, I Shrunk the Kids technology. Darn it!
Sending you all my love and maybe even a dove, xo Demeter ❤
.︎ Click below to Pin .︎

. Did you make this recipe? Take a pic and share it on Instagram with the hashtag #beamingbaker and tag @beamingbaker. I would love to see it! .︎
Print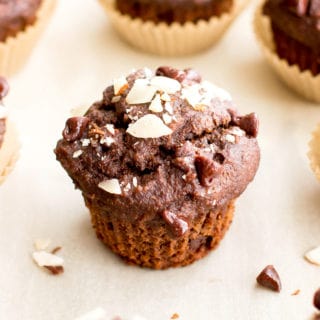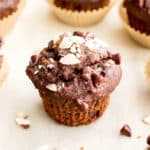 Double Chocolate Banana Almond Mini Muffins (Vegan, Gluten Free, Oat Flour, Dairy-Free)
---
Description
Double Chocolate Banana Almond Mini Muffins (V, GF, DF): a one bowl recipe for perfectly moist chocolate banana mini muffins made with oat flour and almonds. Vegan, Gluten Free, Dairy-Free, Whole Grain.
---
Wet Ingredients
3

medium, very ripe bananas*

¼ cup

melted coconut oil

¼ cup

pure maple syrup

1

flax egg (

1 tablespoon

ground flax +

3 tablespoons

water, whisk together, set for 10 mins)

1 teaspoon

pure vanilla extract
Dry Ingredients
1 cup

gluten free oat flour

¾ cup

almond meal

½ cup

unsweetened cocoa powder

¾ teaspoon

baking powder

½ teaspoon

baking soda

¼ teaspoon

salt
Add-ins
Optional for topping
1 tablespoon

each: vegan chocolate chips and sliced almonds, chopped
---
Instructions
Preheat the oven to 350°F. Line a 24-cup mini muffin pan with mini muffin liners.
Add peeled bananas to a large mixing bowl. Using a sturdy whisk or fork, mash bananas until smooth. Add coconut oil, maple syrup, flax egg, and vanilla. Whisk until well incorporated.
Add the dry ingredients: oat flour, almond meal, cocoa powder, baking powder, and baking soda. Whisk together until just incorporated, making sure no flour patches remain.
Using a spoon or cookie scoop, drop batter evenly into muffin cups (about 2 tablespoons of batter per muffin). Optional: sprinkle chocolate chips and almonds on top of the muffins.
Bake for 16-24 minutes. Mine took 19 minutes. Allow to cool on a cooling rack for about 1 hour. Lift out and enjoy!
Category:

Muffins, Breakfast, Vegan, Gluten Free, Dairy-Free, Whole Grain, Oat Flour
© beamingbaker.com. All content and images are protected by copyright. Please do not use my images or recipe without my permission. Please do not republish this recipe, instead, include a link to this post for the recipe.
☀︎ More Delicious Baked Goods & Banana Recipes ☀︎
One Bowl Vegan Chocolate Banana Nut Bread (Vegan, Gluten Free, Dairy-Free, Whole Grain)
Gluten Free Banana Oat Muffins (Vegan, Gluten Free, Dairy-Free, Whole Grain)
Vegan Double Chocolate Banana Muffins (Vegan, Gluten Free, Dairy-Free, Whole Grain)
Facebook ☀︎ Pinterest  ☀︎ Twitter ☀︎ Instagram