Paleo Chocolate Muffins – Gluten Free Chocolate Muffins (Almond Flour, Grain Free)
Paleo Chocolate Muffins: moist Gluten Free chocolate muffins with almond flour, tons of chocolate & crispy tops! Easy, Grain-Free, Vegan, Healthy ingredients.
Happy January! Or should I say, "Happy 1st Recipe of January!!!" There, that's better. 😉 At the very least, it's tastier. Can you believe it's 2020 already? Like, doesn't anyone else feel the least bit awkward typing 20 twice, and ya know, not ending it with "19"? Cuz I sure as heck do.
But enough about that! How was your winter holiday season? Did you enjoy Christmas, Hannukah, Kwanzaa, or perhaps a good 'ol Winter Solstice? Did you enjoy any yummy dessert goodies, such as paleo chocolate almond butter bars or paleo chocolate cupcakes? Whatever you celebrated, and whatever you ate during those celebrations, I hope it was with great company, even better hugs, and lots of laughter.
Now that that's done with, it's time to get crackin' on Fitness January!! Okay, am I the only one that calls it that in my mind? 😉 Not to worry, we're gonna start it off nice and slow, with what I like to think of as my transitionary recipe—a grain-free, paleo & whole ingredient delight that just happens to be my favorite chocolate muffin of all time.
Yep, more than my best moist gluten free chocolate muffins. Even more than my banana chocolate muffins. And totally more than my dark chocolate muffins.
Say whaaaa?
Well, let's just say I didn't come to play when it came to developing my 1st ever Paleo Muffin recipe. For you. 🙂 Special emphasis on the "for you" part because you know I never, ever wanna leave you with a hot mess in the kitchen—just a hot & tasty treat!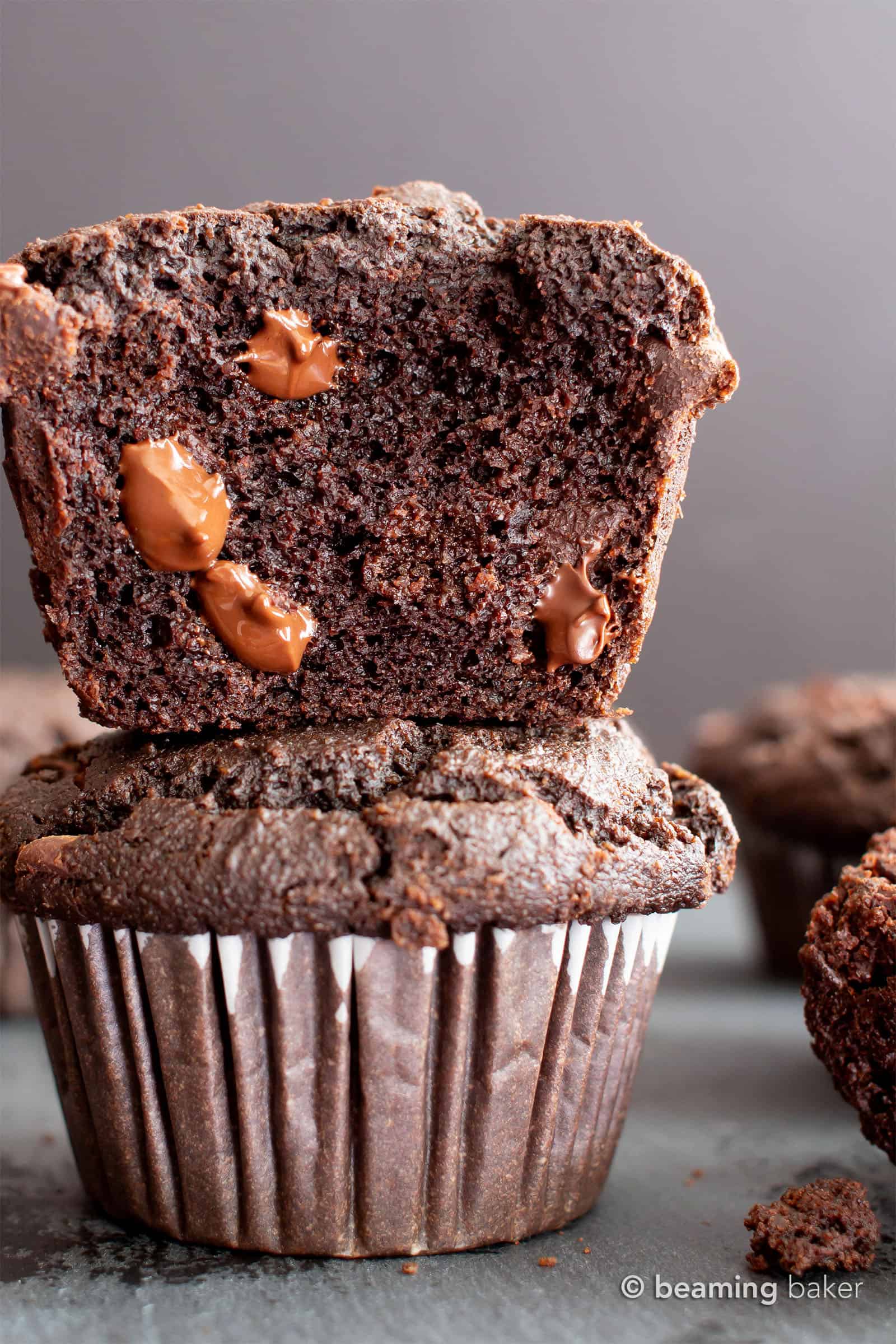 ­­­

Paleo Chocolate Muffins – Gluten Free Chocolate Muffins (Easy)

These Paleo Chocolate Muffins have now become my favorite gluten free chocolate muffins of all-time. Bonus? They're easy to make, dairy-free, grain-free and made from healthy ingredients. But, so what, Demeter!! [I hear you saying…like, I'm not talking about myself in the 3rd person or anything…ahem.] But how do these paleo chocolate muffins taste??

Well, my Paleo Chocolate Muffins are perfectly moist and rich, packed with deep chocolate flavor, and, they have crispy tops!! Bonus, these gluten free chocolate muffins are made with almond flour—just like y'all have been requesting for ages. When you make these paleo chocolate muffins, you can expect a light & unbelievably fluffy crumb, with mouthwatering chocolate flavor.
Is this Paleo Chocolate Muffins Recipe Grain Free? Gluten Free? Easy? Vegan?
Grain Free Chocolate Muffins?
Oh YES. I'm pleased to inform you that this paleo chocolate muffins recipe does, in fact, qualify as grain free chocolate muffins. There's not a grain in sight!
Gluten Free Chocolate Muffins- Easy?
Double yes—these paleo chocolate muffins just so happen to be my favorite gluten free chocolate muffins. They're so easy to make, they'll be your favorite gluten free muffin the second you taste them.
Vegan Chocolate Muffins?
Yes!! I totally get it—sometimes it's hard to remember what's paleo, what's grain-free, what's dairy-free but not vegan, gluten free but not paleo. Not to worry, you've got everything you're looking for in this paleo chocolate muffin! They are the best vegan chocolate muffins! And if you're looking for more vegan chocolate muffins, look here: Paleo Chocolate Orange Muffins, Gluten Free Pumpkin Chocolate Chip Muffins, Moist Banana Chocolate Chip Muffins.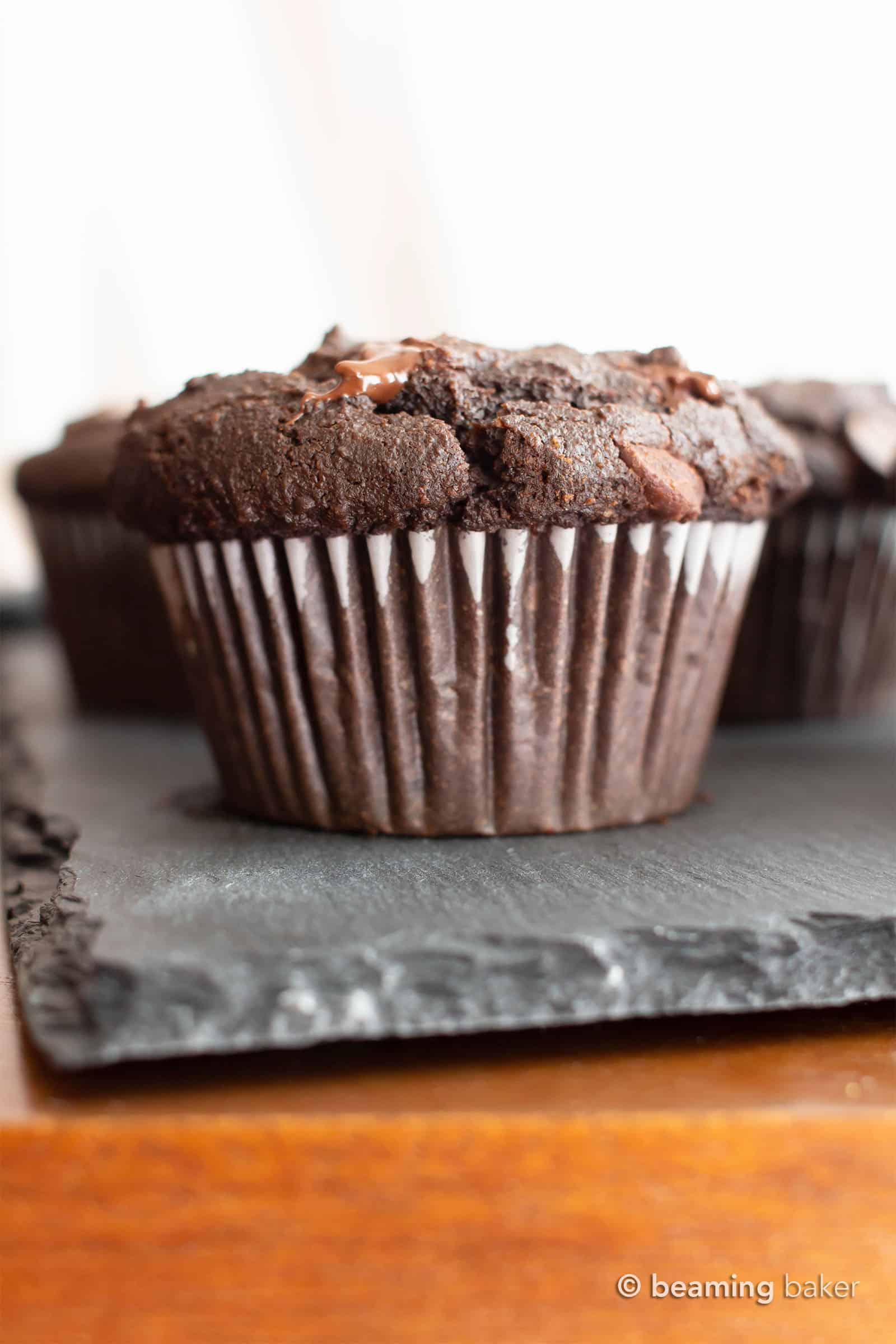 Gluten Free Chocolate Muffins: Almond Meal or Almond Flour?
I get this question all the time: Can I use almond meal in place of almond flour? Also, "What is the difference between almond meal and almond flour?"
Lemme begin by saying that some manufacturers do not differentiate between almond flour and almond meal. Yep, you heard me. But there is a distinct difference. Allow me to clarify so you can easily identify which one you're looking for (despite the labelling not always being clear).
Almond Flour is cream colored, like the inside of an almond. Almond flour is made by grinding up blanched almonds (aka brown skins removed) into a fine flour. Look for super finely ground almond flour—some companies don't do a great job grinding their flours. Here is the almond flour that I use.
Almond Meal is a multi-colored meal made with almonds that have their skins on. As a result, this meal is much grainier, and I find, a bit heavier. Here is an almond meal that I love.
So yes, you can use almond meal as a substitute for almond flour, but I recommend using almond flour. Almond flour lends a lighter, finer texture to the paleo chocolate muffins. Almond meal will be more noticeable in the muffins.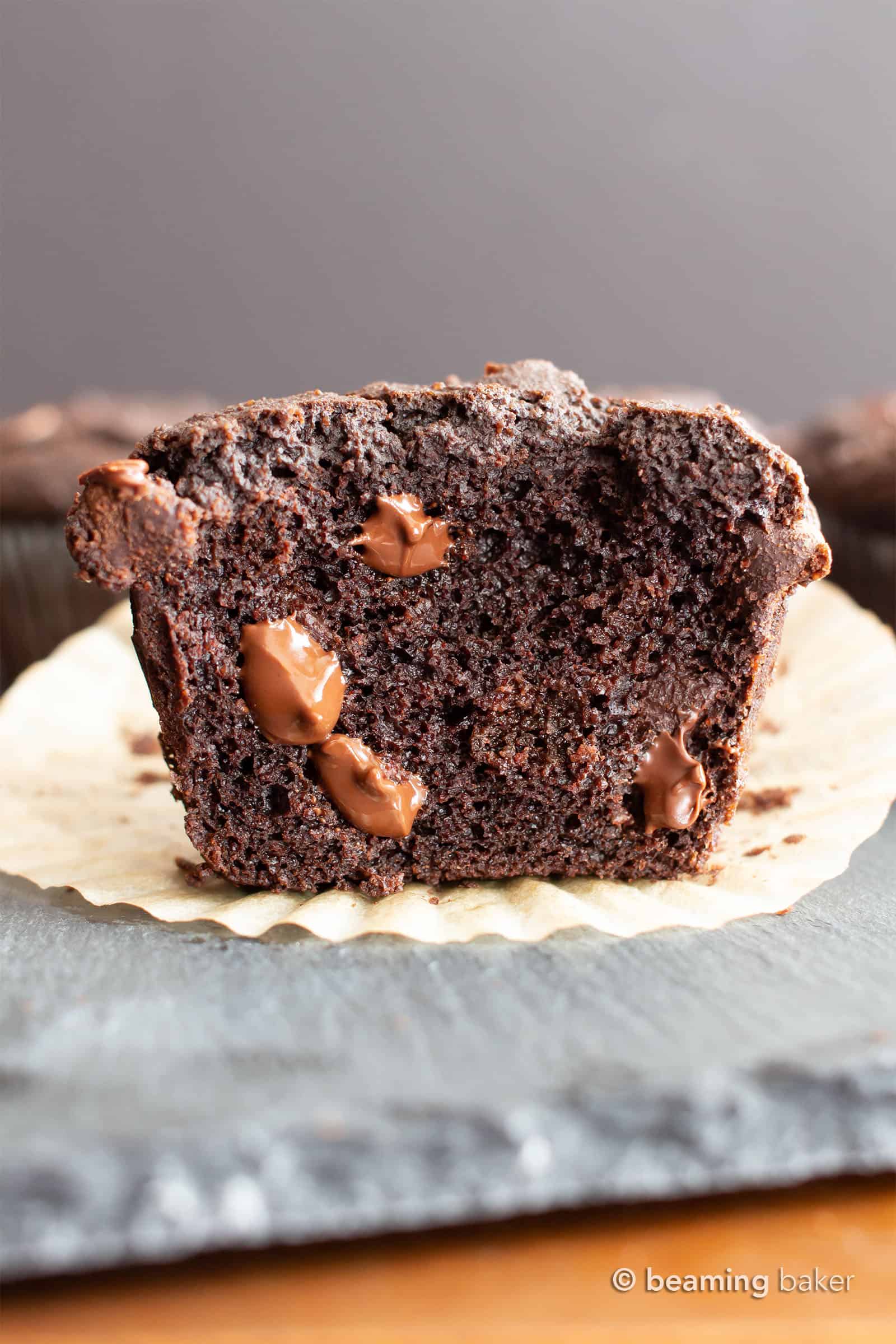 Best Tools for Easy Paleo Chocolate Muffins (Vegan)
Are you ready to make all the delicious paleo chocolate muffins?!? Let's do it! You grab the almond flour, I'll grab the raw cacao powder! I can't wait to hear what you think. Let me know how you like this recipe in the comments below. It's truly such a honor to share in these wonderful kitchen moments with you. 'Til the next baking adventure…
Sending you all my love and maybe even a dove, xo Demeter ❤️
. Click below to Pin .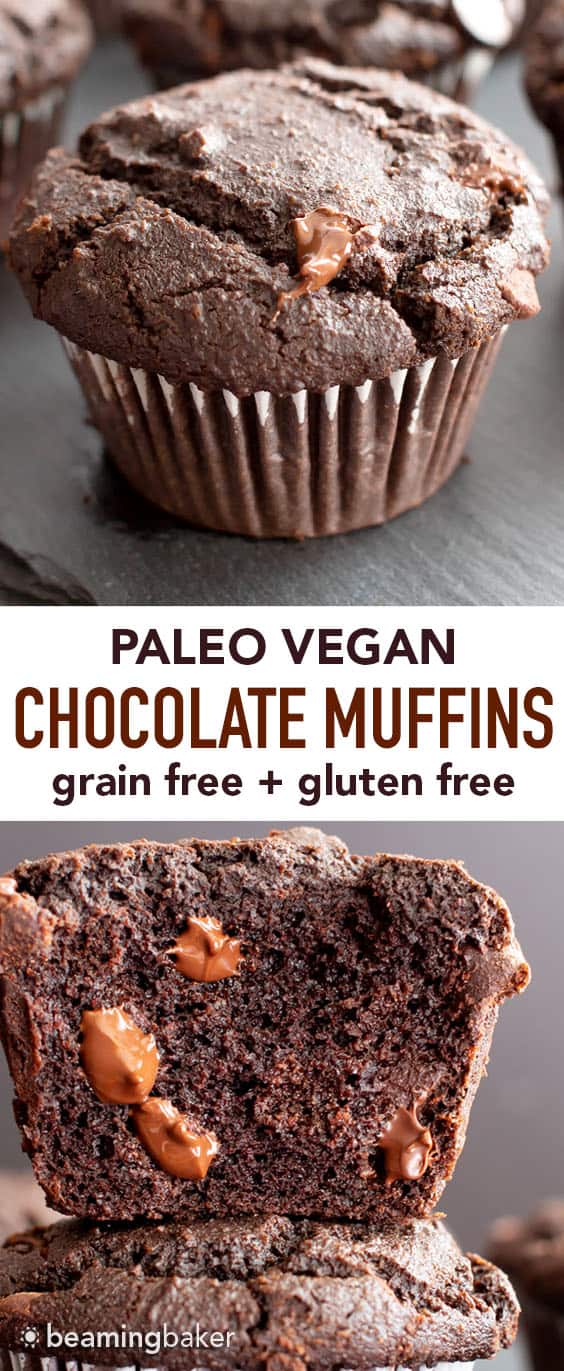 . Did you make this paleo chocolate muffin recipe? Take a pic and share it on Instagram with the hashtag #beamingbaker & tag @beamingbaker. I'd love to see it! .
Gluten Free Chocolate Muffins & Easy Paleo Chocolate Recipes!
Print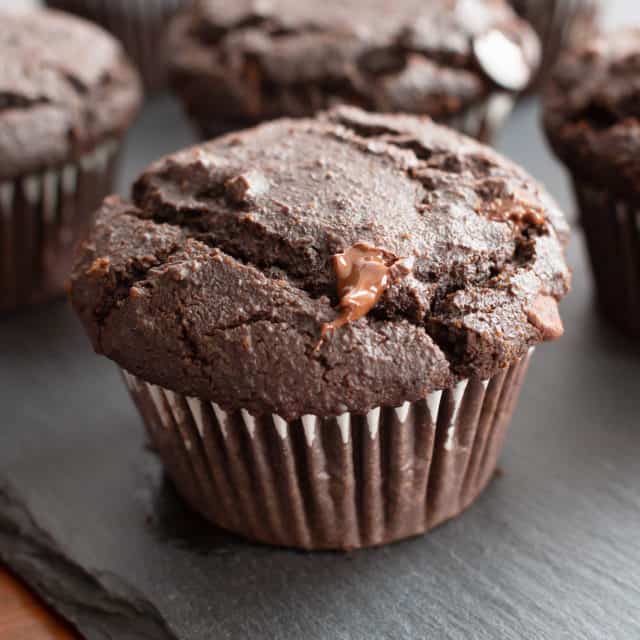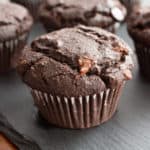 Paleo Chocolate Muffins – Gluten Free Chocolate Muffins (Almond Flour, Grain Free)
---
Description
Paleo Chocolate Muffins: moist Gluten Free chocolate muffins with almond flour, tons of chocolate & crispy tops! GF, Easy, Grain-Free, Vegan, Healthy ingredients.
---
Dry Ingredients
Wet Ingredients
Add-in Ingredients
---
Instructions
Preheat oven to 350°F. Line a 12-cup muffin pan with cupcake liners. Set aside.
In a large bowl, sift together the dry ingredients: almond flour, arrowroot flour, raw cacao, baking soda and salt. Set aside.
Add water and milk to a microwave-safe bowl. Heat in 10-second increments until just warm. This will prevent the melted coconut oil from solidifying once mixed with these liquids.
In a medium bowl, whisk together all wet ingredients: water, milk, coconut oil, coconut sugar, maple syrup and vanilla. Whisk until well incorporated.
Add wet ingredients to dry ingredients. Whisk until just incorporated, making sure no flour patches remain. Batter will be thick and liquidy—thick enough to be a bit stiff and easily scooped, but still liquidy enough to settle. Fold in chopped paleo chocolate chunks.
Using a large ice cream scoop, scoop and drop batter evenly into prepared muffin pan—filling each cup about 3/4 of the way for a greater quantity of medium dome-topped muffins, or all the way for a lower quantity of high dome-topped muffins. Makes 9 large muffins, or 12 medium muffins.
Bake for 19-25 minutes. Mine took 23 minutes for 9 high, dome-topped muffins. Insert a toothpick to test for doneness—it should come out mostly dry, with a few muffin bits on it.*
Place muffin pan on a cooling rack to cool for 30 minutes. Remove muffins from pan and continue cooling on rack until completely cool. Enjoy! Storing instructions below.
Adapted from my Dark Chocolate Muffins & my Vegan Gluten Free Chocolate Cupcakes.
Paleo Vegan Chocolate Recipes
Equipment
Prep Time:

25 mins

Cook Time:

23 mins

Category:

Breakfast, Dessert, Snacks

Method:

Bake

Cuisine:

American
© beamingbaker.com. All content and images are protected by copyright. Please do not use my images or recipe without my permission. Please do not republish this recipe, instead, include a link to this post for the recipe.
This post may contain affiliate links, which allow me to make a small commission for my referral, at no additional cost to you.