Vegan Zucchini Muffins (Gluten Free, Egg Free)
Deliciously moist vegan zucchini muffins that are buttery 'n fluffy! The best gluten free zucchini muffins—egg-free & delicious.
So you wanna make vegan zucchini muffins. Interesting. Hehe!! Was that serious enough for you? I felt like I had on some kind of trench coat, most definitely a fedora and certainly a stern look on my face.
Oh boy… Well, let me tell you, I used to get so nervous about the mere thought of zucchini in my baked goods, never mind ever-so-popular zucchini bread or zucchini muffins! I mean, we haven't even discussed vegan and gluten free zucchini muffins. M'kay?
But I kept thinking back to this amazing zucchini bread that I had. Picture it: it was 2003. Dang it, that was a long time ago. And yep, I had to ask Erik for that date because cobwebs in the brain and all that. Anywho, it was the most divine, moist 'n rich chocolate zucchini bread I'd ever had. It was one of the best breads I'd ever eaten… including my famous vegan gluten free pumpkin bread!
Eyes: opened. Stomach: growling. Recipe Brain: pumping! So after a few years of running this food blog and getting all the requests for zucchini bread and zucchini muffins, I finally bit the bullet and created my gluten free vegan zucchini bread. And y'all loved it.
healthy vegan chocolate chip zucchini muffins
With just a bit of tweaking, I transformed that tasty 'n easy zucchini bread into today's Healthy Moist Vegan Zucchini Muffins (with chocolate chips, of course)!! These vegan zucchini muffins are moist, buttery (without any actual butter, woot!), oh-so-flavorful, with just a hint of cinnamon and packed full of vegan chocolate chips and a dash of chopped walnuts.
Trust me, you're gonna love this. My mom, who's not biased at all obviously (heh heh), kept asking me how I did it? Why they're so soft 'n moist? And how did I come up with the idea to add zucchini to muffins? To which I feigned a coughing fit, then conveniently moved on to the next subject…
Try my healthy moist vegan zucchini muffins and let me know what you think in the comments below! I simply can't wait! Without further ado, let's get started!
How to Make Vegan Gluten Free Zucchini Muffins
Step 1: Whisk together the dry ingredients.
Step 2: Whisk together the wet ingredients.
Step 3: Combine the wet and dry to make the gluten free zucchini muffin batter.
Step 4: Fold in zucchini, chocolate chips and walnuts.
Step 5: Scoop and drop muffins batter into lined muffin pan.
Step 6: Bake.
Step 7: Cool and enjoy the best vegan zucchini muffins ever!
Vegan Muffin Recipes For You: GF Vegan Dark Chocolate Muffins • Lemon Poppy Seed Muffins • Gluten Free Vegan Blueberry Applesauce Muffins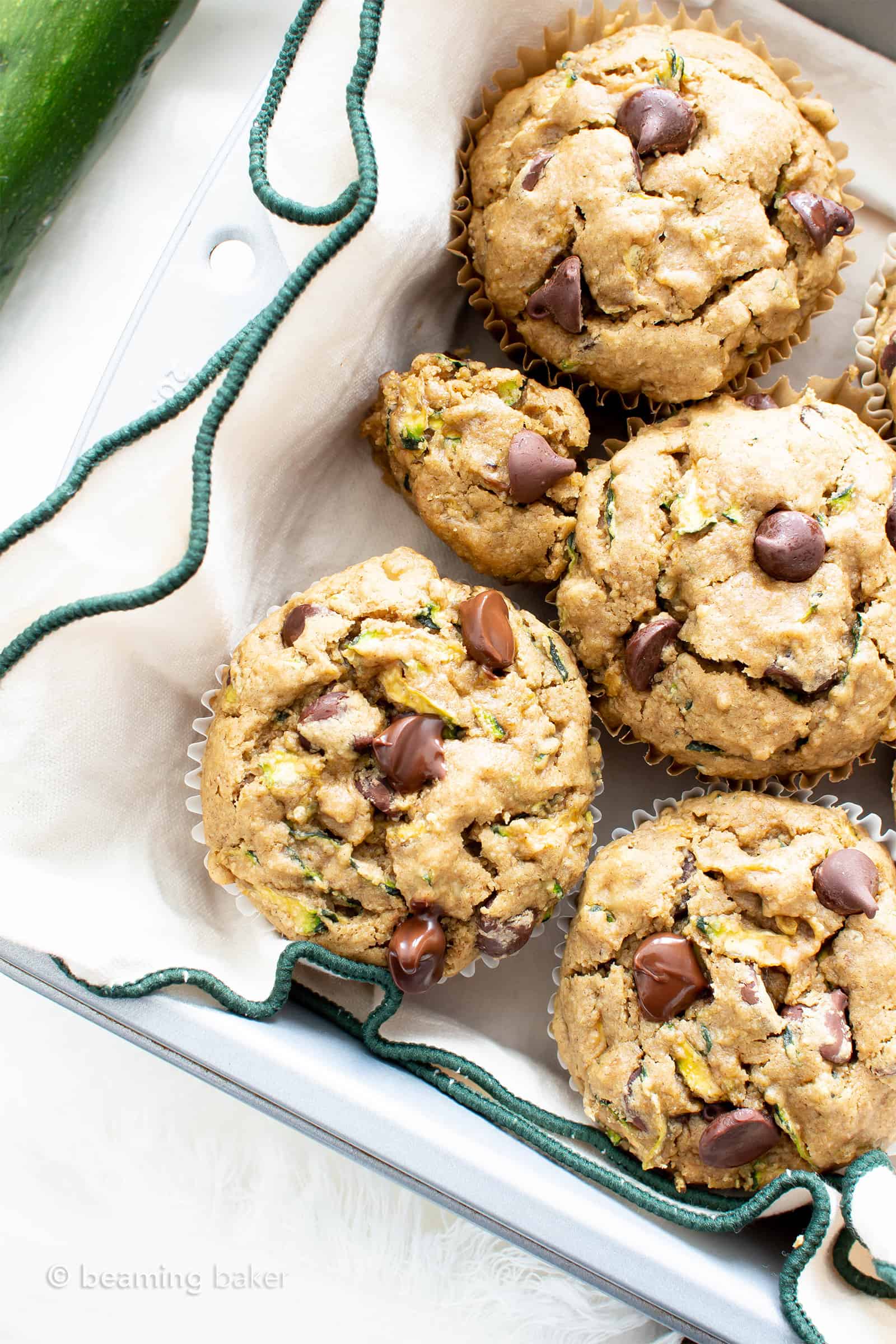 how do i turn this vegan zucchini muffins recipe into zucchini bread?
I'm so glad you asked! As it happens… I have a Vegan Gluten Free Zucchini Bread recipe that is soooo good. It yields the best loaf of zucchini bread, and yes, it's gluten free, egg-free, dairy-free and vegan, just like this healthy zucchini muffins recipe!
storing these gluten free zucchini muffins
how long do gluten free zucchini muffins last?
These gluten free vegan zucchini muffins can last up to 5 days. They're best on Day 1, still good/okay through Day 3, and can last up to Day 5.
can i freeze zucchini muffins?
Yes! I love baking, cooling, then immediately freezing these healthy vegan zucchini muffins. Freezing these muffins right away ensures that you lock in the freshness! To do so: simply cool the muffins completely, then store in a freezer-friendly container for 1-2 months. Allow frozen zucchini muffins to thaw for 15-30 minutes before enjoying.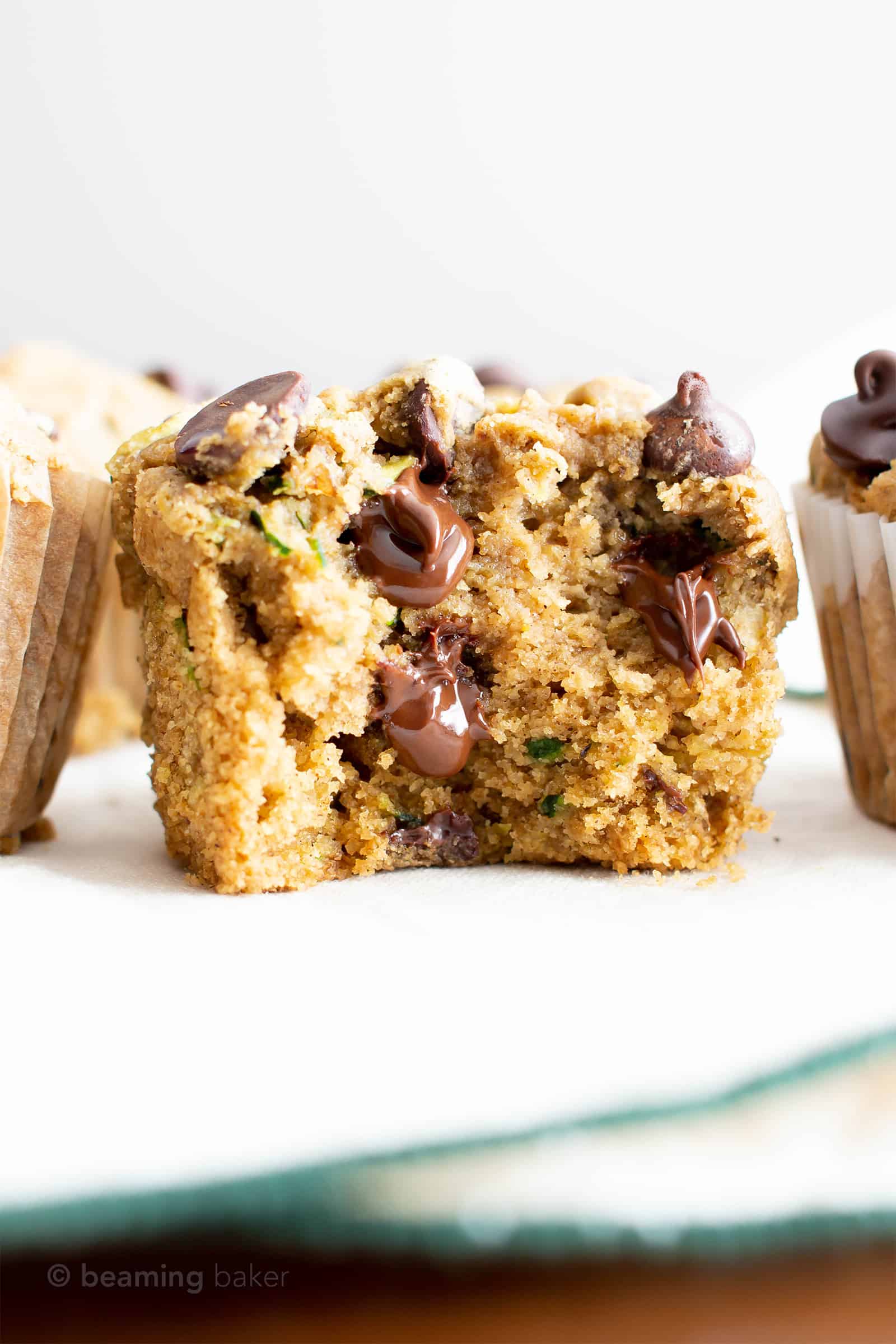 where can i find more vegan chocolate chip muffin recipes?
Check out my favorite easy 'n healthy chocolate & chocolate chip muffin recipes below!
q&a for healthy zucchini bread muffins (gf)
Can I make these vegan zucchini muffins with applesauce? I wouldn't recommend it. These muffins are perfectly moist as is. If you swap out any of the ingredients for applesauce, you might create overly moist/undercooked zucchini muffins that will most likely be gummy & overly chewy!
How do I store these gluten free zucchini muffins? Check out the section above, titled "Storing this Gluten Free Zucchini Muffins Recipe" for answers.
Are these egg-free zucchini muffins dairy-free? Yes! These zucchini muffins are made with non-dairy products and are also gluten free and vegan.
Can I substitute the flax eggs in these zucchini muffins with something else? Yes, you may use chia eggs instead. For instructions on how to make a flax egg, click the link. If you choose to use regular eggs, the zucchini muffins won't be vegan. 😉
How do you cut zucchini for zucchini bread muffins? Use a box grater or a food processor with the shredding disk attached.
Where do I find a good box grater to grate the zucchini for this zucchini bread muffins recipe? Here is the exact box grater I used to make these zucchini bread muffins.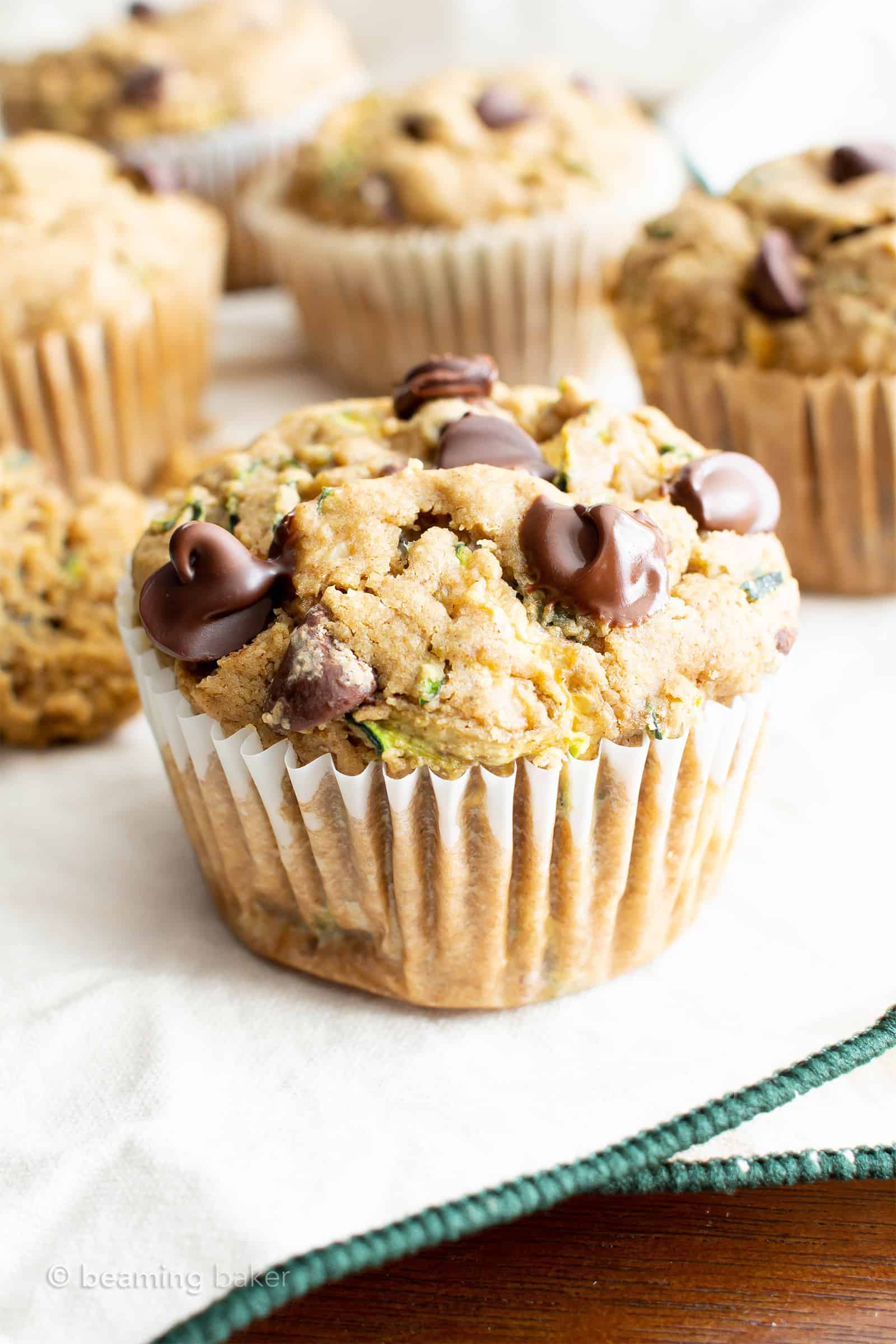 So… did my mom lead you astray? Are these not the best easy healthy zucchini bread muffins EVER?? I can't wait to hear what you and your loved ones think! It's always a true pleasure sharing in these kitchen adventures with you. 'Til the next one…
Sending you all my love and maybe even a dove, xo Demeter ❤️
☀ Click below to Pin ☀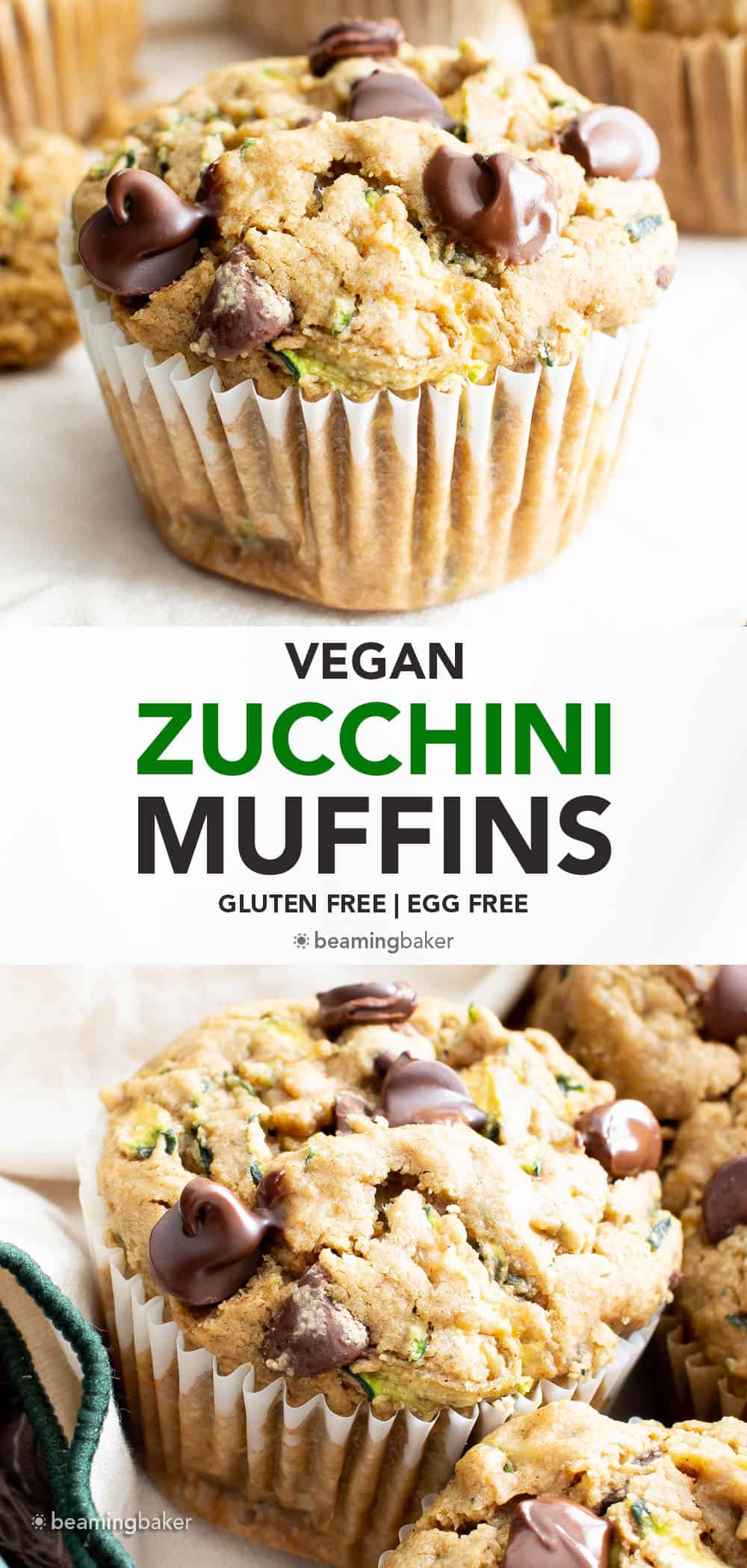 📸 Did you make this vegan zucchini muffins recipe? Take a pic and share it on Instagram with the hashtag #beamingbaker & tag @beamingbaker. I'd love to see it! 📸
Gluten Free Vegan Muffin Recipes & More
Print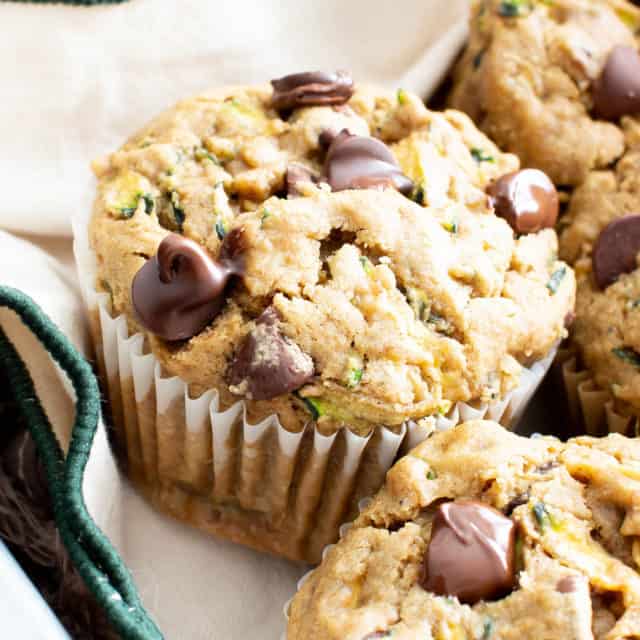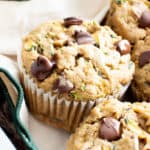 Vegan Zucchini Muffins (Gluten Free)
---
Description
Vegan Zucchini Muffins (Gluten Free): deliciously moist vegan zucchini muffins that are buttery, moist 'n fluffy! The best gluten free zucchini muffins—egg-free & delicious.
---
Dry Ingredients
2 cups

gluten free oat flour – if using homemade oat flour, make sure it's very finely ground (not coarse)

½ teaspoon

baking soda

1 teaspoon

baking powder

1 teaspoon

ground cinnamon

¼ teaspoon

salt
Wet Ingredients
Fold-in Ingredients
Optional Topping
---
Instructions
Preheat the oven to 350°F. Place muffin liners into a standard, 12-muffin pan. Set aside.
In a medium bowl, whisk together all the dry ingredients.
In a large bowl, whisk together all the wet ingredients.
Add dry ingredients to wet ingredients. Whisk until just incorporated, making sure no flour patches remain.
Thoroughly fold and mash zucchini into the batter, until zucchini is very well incorporated (about 1 min). The batter will be very, very thick—do not add additional liquids to thin out the batter. Fold in chocolate chips and optional walnuts.
Using a large scoop, scoop and drop batter evenly into the muffin pan. I use this ice cream scoop to create beautiful domed tops. If not using a scoop, use a rubber spatula or spoon to smooth batter into an even layer with a domed top. To make fewer, high-domed top muffins, fill cups all the way with a slight mound on top; to make a larger quantity of medium-domed top muffins, fill cups ¾ of the way. Optionally, top with chocolate chips and walnuts.
Bake for 24-32 minutes, depending on how many muffins are made. Mine took 28 minutes for 8 total tall-domed top muffins. It will bake on the lower end for 12 muffins. Insert a toothpick to check for doneness—once it comes out clean with just a few moist bits, it's done.
Allow muffins to cool in the muffin pan, placed on a cooling rack for about 30 minutes. Then lift muffins out of the pan, transferring directly onto the cooling rack. Allow to finish cooling for 30-60 minutes. Enjoy!
Adapted from my reader-favorite Vegan Gluten Free Zucchini Bread.
Yummy Vegan Gluten Free Muffin Recipes
Equipment
Notes
Storing Instructions: Store in an airtight container for up to 3 days in the refrigerator, or in a cool, dark environment. Best the first day, okay through Day 3. Can keep for up to 5 days.
To Freeze: Freeze immediately after cooling completely. Store in an airtight container in the freezer for up to 1-2 months. Allow to thaw for about 30 minutes at room temperature before enjoying. Or, heat in the microwave in 15-second increments until just warm.
Nutrition Information is an estimate based on the products listed in the Ingredients section of the recipe. Also, it's estimated based on 12 servings per recipe, made without optional ingredients. 🙂
Recommended Tools for Healthy Moist Vegan Zucchini Muffins
Prep Time:

25 mins

Cook Time:

28 mins

Category:

Breakfast

Method:

Bake

Cuisine:

American
Nutrition
Serving Size:

1 muffin

Calories:

232

Sugar:

15g

Sodium:

55mg

Fat:

13g

Saturated Fat:

9g

Carbohydrates:

29g

Fiber:

3g

Protein:

4g

Cholesterol:

0mg
Keywords: vegan zucchini muffins, gluten free zucchini muffins
© beamingbaker.com. All content and images are protected by copyright. Please do not use my images or recipe without my permission. Please do not republish this recipe, instead, include a link to this post for the recipe.
This post may contain affiliate links, which allow me to make a small commission for my referral, at no additional cost to you.