Moist Banana Chocolate Chip Muffins (V, GF): a one bowl recipe for perfectly moist banana muffins bursting with chocolate chips! Vegan, Gluten-Free, Dairy-Free.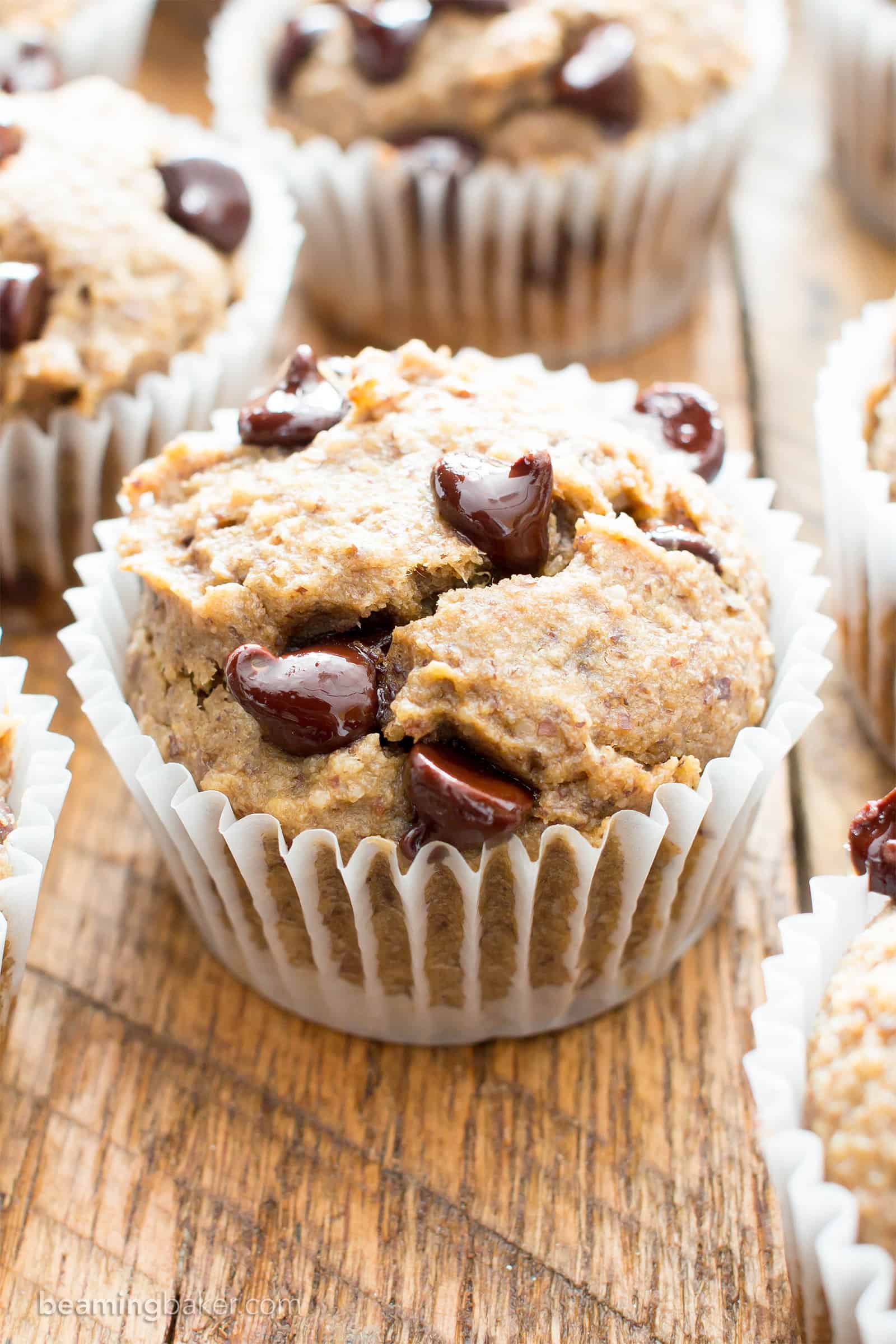 Moist Banana Chocolate Chip Muffins. Come on, just reading that made you drool, didn't it? In the most attractive way possible, I'm sure! (Same here…)
When was the last time you had a fresh, homemade muffin for breakfast? If you haven't had it in a good, long while, you've GOT to make these. Like, right now. And while you're at it, you can also whip up some of these Easy Gluten Free Dark Chocolate Muffins and these One Bowl Double Chocolate Banana Muffins.
And if you're actually in the mood for something more… say, lemon-y, try my deliciously moist Healthy Lemon Poppy Seed Muffins Recipe. .
Trust me, you'll be in total muffin bliss. 😉
The thing is, I'm not a morning person. Like, at all. Way back during my college days, I wouldn't even consider an 8am class because it was too friggin early! And even when I had no choice, I'd sit in that class—scratch that—I'd sleep through that class and still be walking around in a daze until 11am.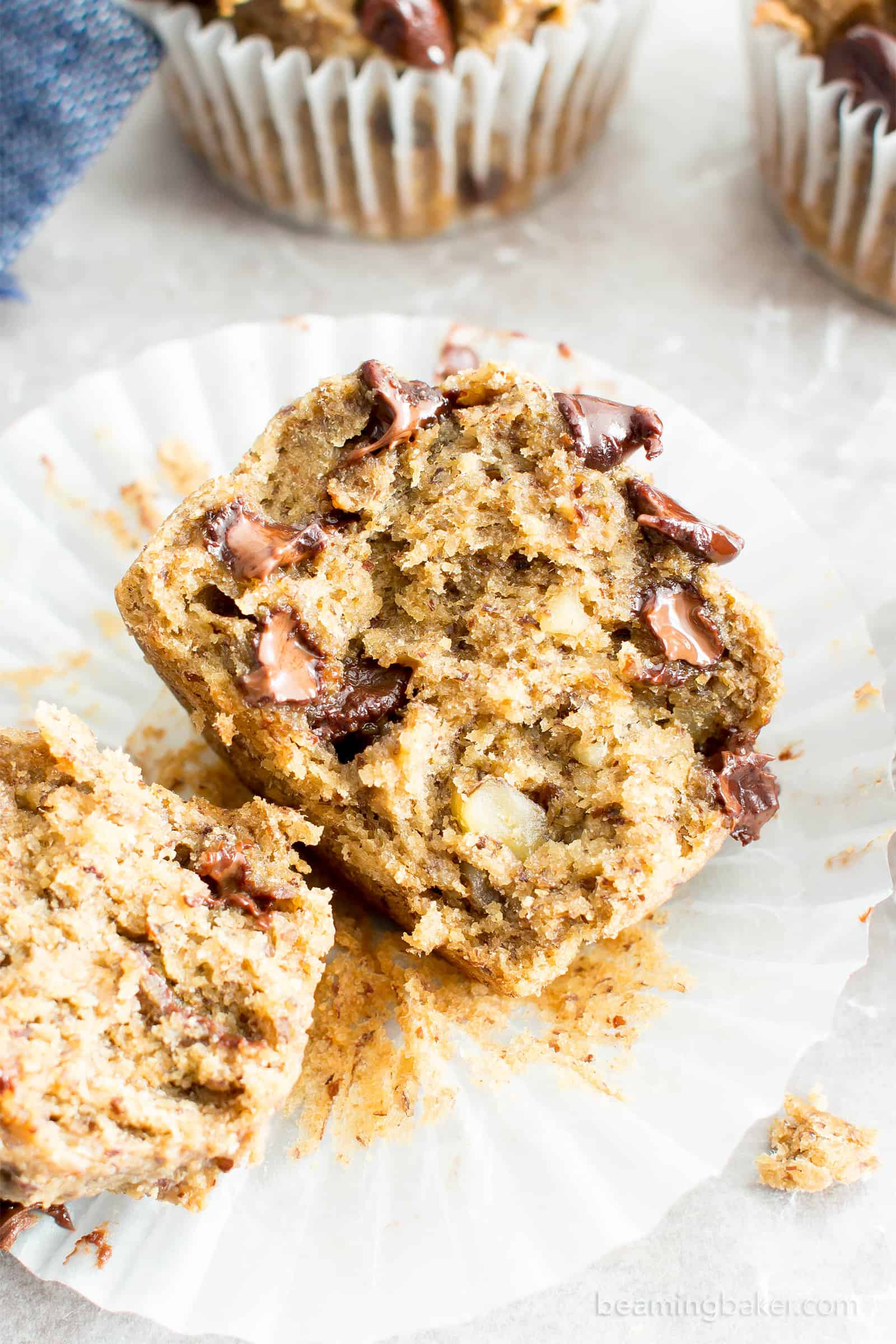 Yes, there are far too many professors who can confirm this.
But now that I'm a certified, card-carrying adult, I actually wake up pretty early every day: 5:58am EARLY.
Why yes, it's exactly 5:58am. Because for some reason, that extra 2 minutes into 5am makes me feel more like I'm waking up at 5am and not 6am. And that for sure counts as an extra hour in the day, right?
Anyway, needless to say, college me would've bopped current me over the head and been like, "Um, did you never go to sleep last night?" "Surely, you're getting ready for bed right now!!!" And "Why don't you party or do anything mildly fun anymore? Boring adult!!"
She was judgy!!! Heh heh.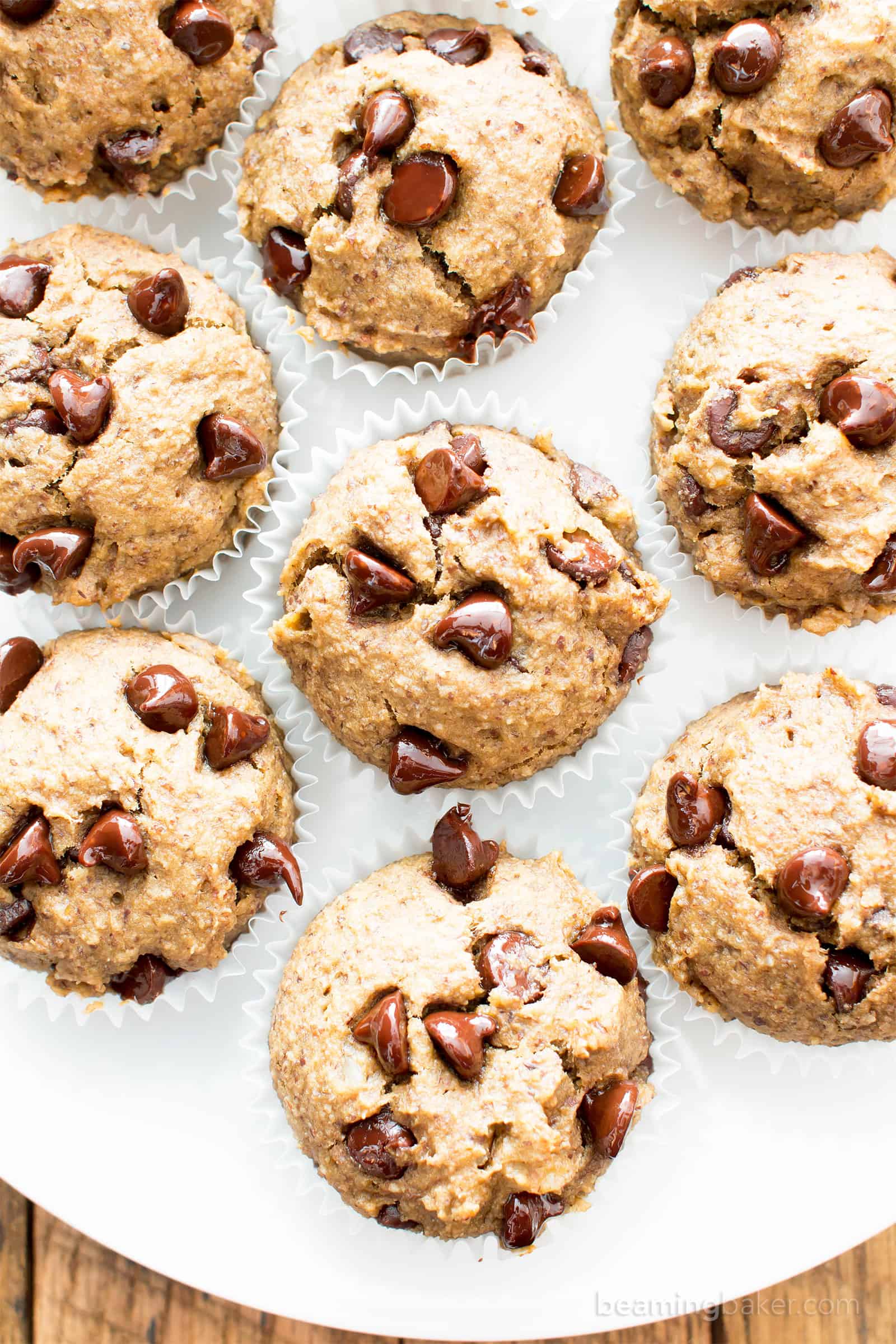 Anywho, the ONE thing that makes all of this better? Homemade baked breakfast treats. Like I said, there's at least one obvious perk to this old job-o-roo called food blogging, and it's called:
THE FOOD!! 😉
What's up now, college me?!? That instant ramen and 2-day-old left-out-the-entire-time pizza is not lookin' so good and superior now, is it?
Is it?!?
Now I get to wake up/must wake up (who am I kidding) early to make delicious treats like homemade chunky paleo granola with clusters and these moist banana chocolate chip muffins. They're better than waking up at 10am, rolling into class still super foggy, then staying up til 3am for a last minute cram session and party (for good measure).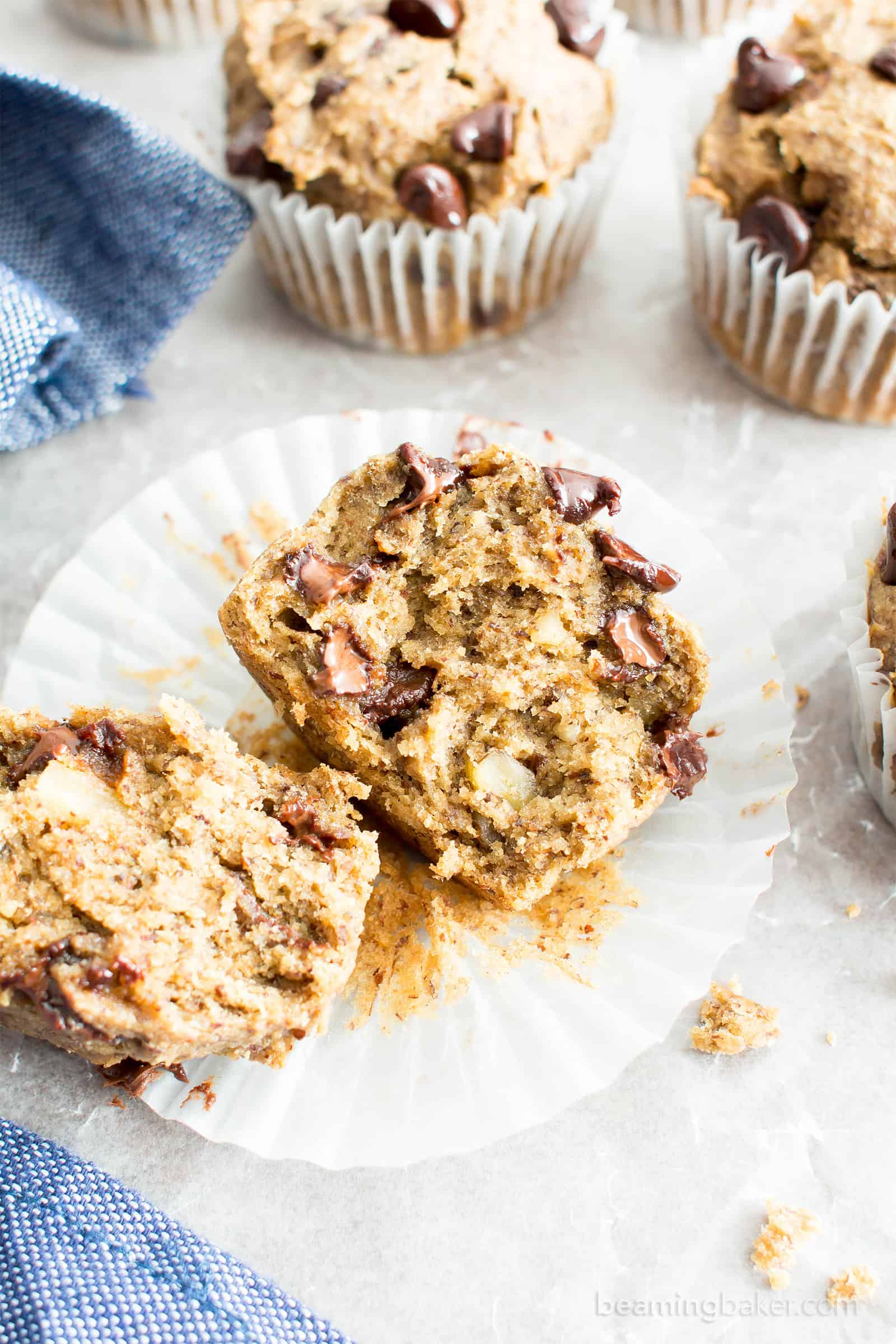 They're better than those store-bought, totally guilt-inducing, heavy & overly sweet muffins that drag you down all day. They're better than anything you can buy on your way to work.
P.S So is this Best Vegan Gluten Free Moist Chocolate Muffins Recipe. .
They're better because you made them. 🙂 And you know exactly what goes in each vegan and gluten free moist banana chocolate chip muffin.
They're moist (in case you haven't caught on yet), perfectly balanced between deliciously fluffy and satisfyingly dense, bursting with melty chocolate chips and just the right hint of nuttiness. They're about ready to rock your entire set of morning socks off!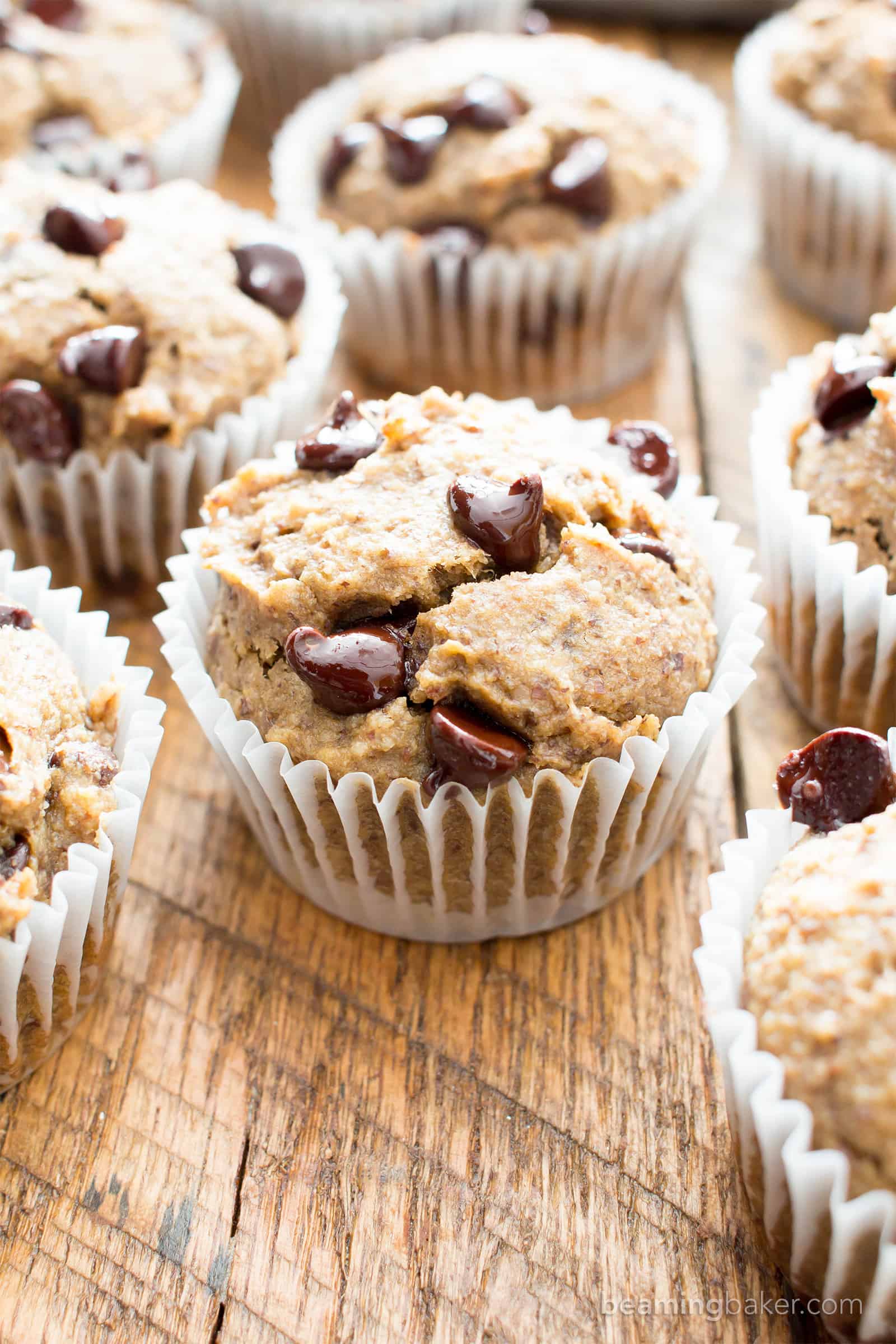 So you ready for this? Let's make these Moist Banana Chocolate Chip Muffins! They're:
made in just one bowl
vegan, gluten-free, dairy-free
fluffy, moist, and bursting with banana YUM
deliciously nutrient-packed
made with the healthy, whole ingredients you know and love
just the perfect moist chocolate chip banana muffins you've been searching for
easily made nut free with just two swaps: sub the walnuts and follow instructions in the notes on subbing the almond meal
just the vegan banana chocolate chip muffins you've been searching for… or the gluten free banana chocolate chip muffins… oh you get my drift 😉
great for a gluten free vegan breakfast treat
or an afternoon healthy allergy-friendly snack!
Go ahead and send notice to those super ripe bananas on your kitchen counter. It's time for them to get deliciously useful! I simply love making and sharing these vegan treats with you. I'm so grateful to have you here. I can't wait to hear what you think! In the meantime, tell me:
What flavors of muffins would you like to see on Beaming Baker next?
Sending you all my love and maybe even a dove, xo Demeter ❤
☀︎ Click below to Pin ☀︎

☀︎ Did you make this recipe? Take a pic and share it on Instagram with the hashtag #beamingbaker and tag @beamingbaker. I would love to see it! ☀︎
If you enjoyed these supremely satisfying Moist Banana Chocolate Chip Muffins, then you'll just love these delicious healthy recipes:
☀︎ More Gluten Free Vegan Breakfast Recipes ☀︎
Print
Moist Banana Chocolate Chip Muffins (Vegan, Gluten-Free, Dairy-Free, Refined Sugar-Free, One Bowl)
---
Description
Moist Banana Chocolate Chip Muffins (V, GF): a one bowl recipe for perfectly moist banana muffins bursting with chocolate chips! Vegan, Gluten-Free, Dairy-Free.
---
Wet Ingredients
3

medium, very ripe bananas (

1 cup

mashed)

¼ cup

melted coconut oil

¼ cup

coconut sugar

1

flax egg (

1 tablespoon

ground flax +

3 tablespoons

water, whisk together, set for 15 mins)

1 teaspoon

pure vanilla extract
Dry Ingredients
1 ½ cup

gluten free oat flour

¾ cup

almond meal* (Nut-Free substitution in Notes)

¾ teaspoon

baking powder

½ teaspoon

baking soda

¼ teaspoon

salt
Add-ins
¾ cup

vegan chocolate chips

¼ cup

walnuts, chopped (optional)
Optional Topping
2

–

3

tablespoons vegan chocolate chips
---
Instructions
Preheat oven to 350°F. Line a 12-cup muffin pan with muffin liners.
Add peeled bananas to a large mixing bowl. Using a sturdy whisk or fork, mash bananas until smooth. Add remaining wet ingredients: oil, sugar, flax egg, and vanilla. Whisk until well incorporated.
Add all dry ingredients: oat flour, almond meal*, baking powder, baking soda and salt. Whisk together until just incorporated, making sure no flour patches remain. Fold in chocolate chips and walnuts, if using.
Using a large scoop, scoop and drop batter evenly into muffin cups. I use this ice cream scoop for easy scooping and a beautiful domed top**. If needed, smooth batter into an even layer, with a domed top (rise) in the center. Optional: sprinkle chocolate chips on top of the muffins.
Bake for 16-22 minutes. Mine took 18 minutes. Allow to cool on a cooling rack for about 1 hour. Lift out and enjoy!
Notes
– Adapted from my Double Chocolate Banana Muffins and my One Bowl Gluten Free Vegan Banana Nut Bread.
– *To substitute almond meal with oat flour: use a TOTAL of 1 ¾ cups + 2 tablespoons gluten free oat flour. Muffins will be just a touch drier and not as fluffy, but still good!
**I like to use this ice cream scoop to scoop and drop one scoop of batter into each muffin liner. This scoop helps control the batter, prevent messes and gives you a nice rounded top. Tip: after dropping scoops, lightly tap the pan to even out the batter.
– Storage notes: Store in an airtight container for up to 1 week.
– Freezing instructions: These muffins freeze well. Store in an airtight, freezer-friendly container for up to 1-2 months. Allow to thaw at room temperature for 15 minutes before enjoying. Or, heat in 15-second increments in the microwave until warm.
– More gluten free muffin recipes: banana nut muffins, dark chocolate muffins, maple pecan pumpkin muffins.
Category:

Muffin, Breakfast, Vegan, Gluten-Free, Dairy-Free
© beamingbaker.com. All content and images are protected by copyright. Please do not use my images or recipe without my permission. Please do not republish this recipe, instead, include a link to this post for the recipe.
SHOP THE RECIPE
Here are a few items I used in today's recipe. 🙂
Muffin Pan | Parchment Cupcake Liners | Ice Cream Scoop | Glass Mixing Bowls | Coconut Sugar | Coconut Oil | Gluten Free Oat Flour | Cooling Rack
This post may contain affiliate links, which allow me to make a small commission for my referral, at no additional cost to you. Thank you for supporting Beaming Baker.
Facebook ☀︎ Pinterest ☀︎ Twitter ☀︎ Instagram