No Bake Almond Butter Paleo Brownie Bites (Vegan, Gluten Free, Dairy-Free, One Bowl)
No Bake Almond Butter Paleo Brownie Bites (V, GF): An easy recipe for melt in your mouth fudgy paleo brownie bites that taste like a bite of pure chocolate. Vegan, Paleo, Dairy-Free, Gluten-Free.
Can you believe that it's almost Halloween? Woah!! Have you picked out your costume yet? Or one for your kiddo? Or perhaps you're doing a best friend theme this year? One year, Erik and I did seriously consider being a bottle of ketchup and mustard. Tbh, Erik really wanted to do this and I cringed like 5 times in a row.
Because: I'm no lover of mustard. Let's just keep it at that.
Plus, do we really need help looking even dorkier than we normally do? Geez, Erik! Although, one year, he did go as a 3-hole punch version of himself. Any Office fans just get that? Meanwhile, I was a very out-of-the-box, totally unconventional and very creative…
Cat.
Why mess with a classic, right? I was a great cat, too! Very agile. I hardly tripped on anything—no greater than 3 stumbles for me that day. Woohoo!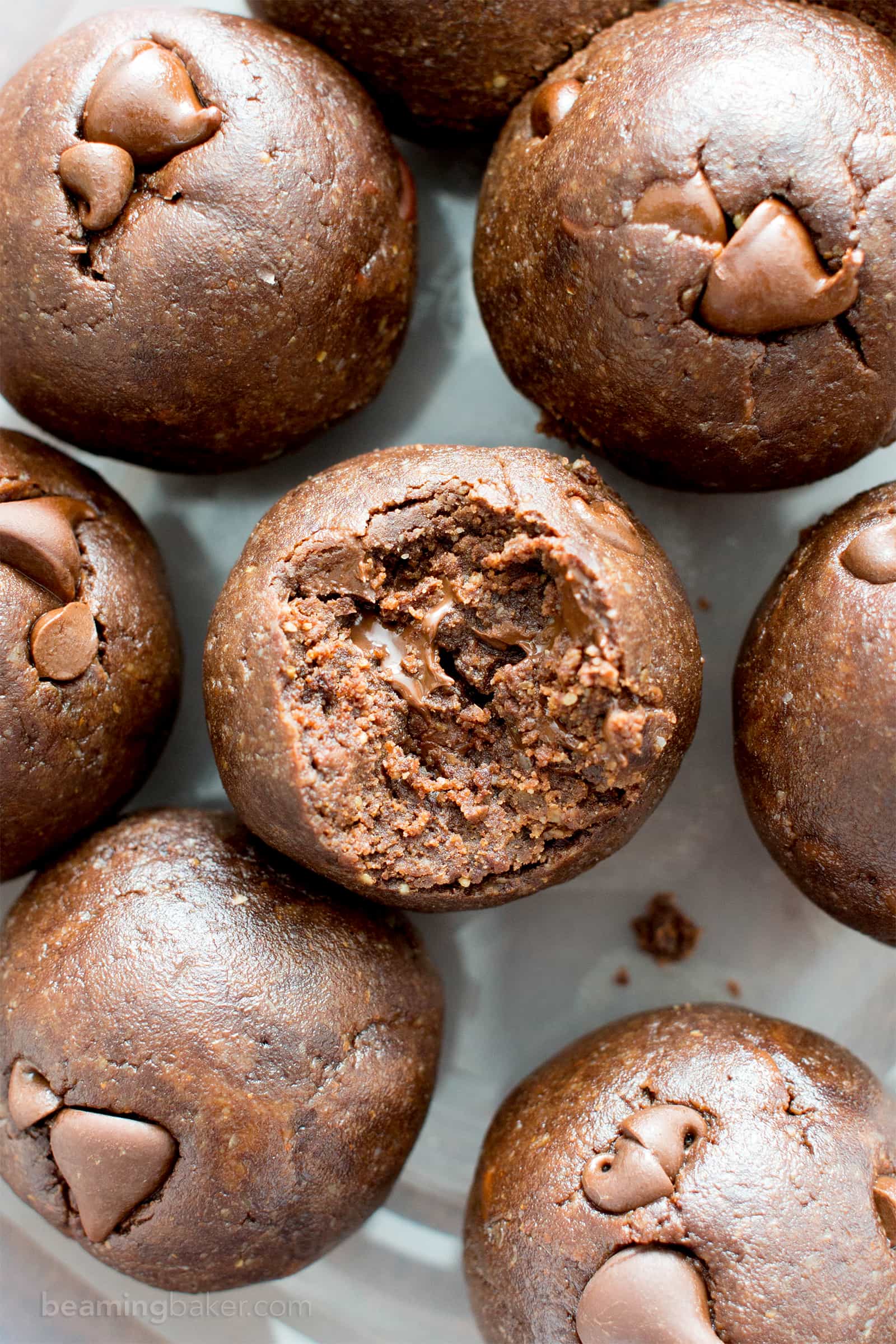 This year though, we're really trying to up our costume game. More along the lines of elaborate and festive rather than super easy and straight up lazy. If you were around last year, you know that we were really aiming to upgrade our usual costume game like crazy. But it just didn't happen. Darn it!
We even had a whole family theme planned with my mom (Grams), my sister Jenny and her kiddo Dylan. I can't quite remember what we were gonna do, but many themes were thrown around. One including all of us being animals and my mom being the zookeeper. She was going to carry a butterfly net and everything. For no real reason of course.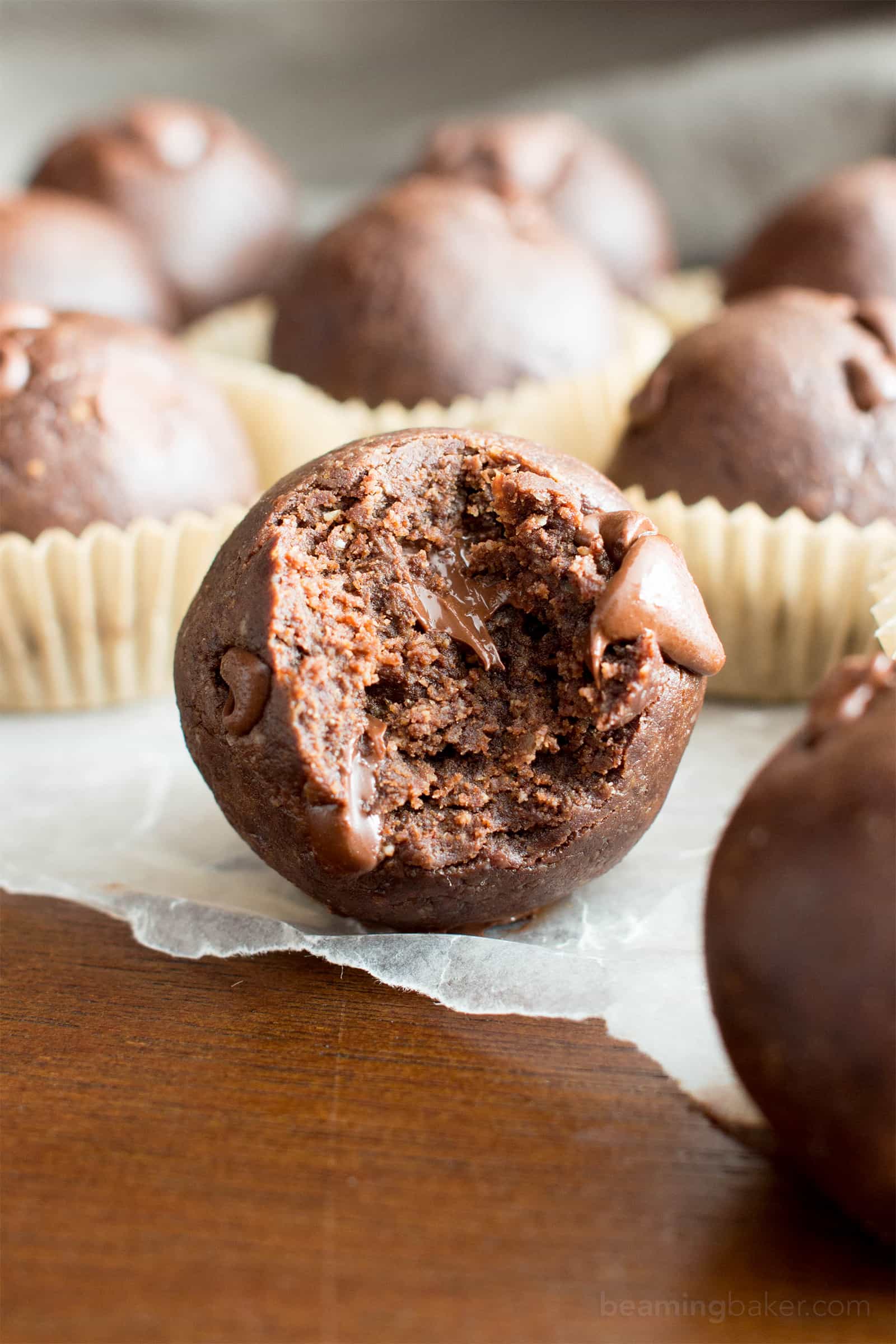 This year, we might go for a Transformers/Rescue Bots theme, picked by… guess who? My four-year-old nephew Dylan, of course. In that case, Jenny's newborn might just be a mini Bumblebee or Servo. I'll keep you posted (I know, you're waiting with bated breath).
Anyway, while we can't quite keep our costume game on point, the least we can do is… TREATS!! About a month ago, I shared these no bake brownie energy bites with you. They were and still are one of my favorite recipes of all time. Just: try them warm. So. Good. But many of you asked for a paleo version.
You asked, I delivered. Yeah!! Welcome to my No Bake Almond Butter Paleo Brownie Bites.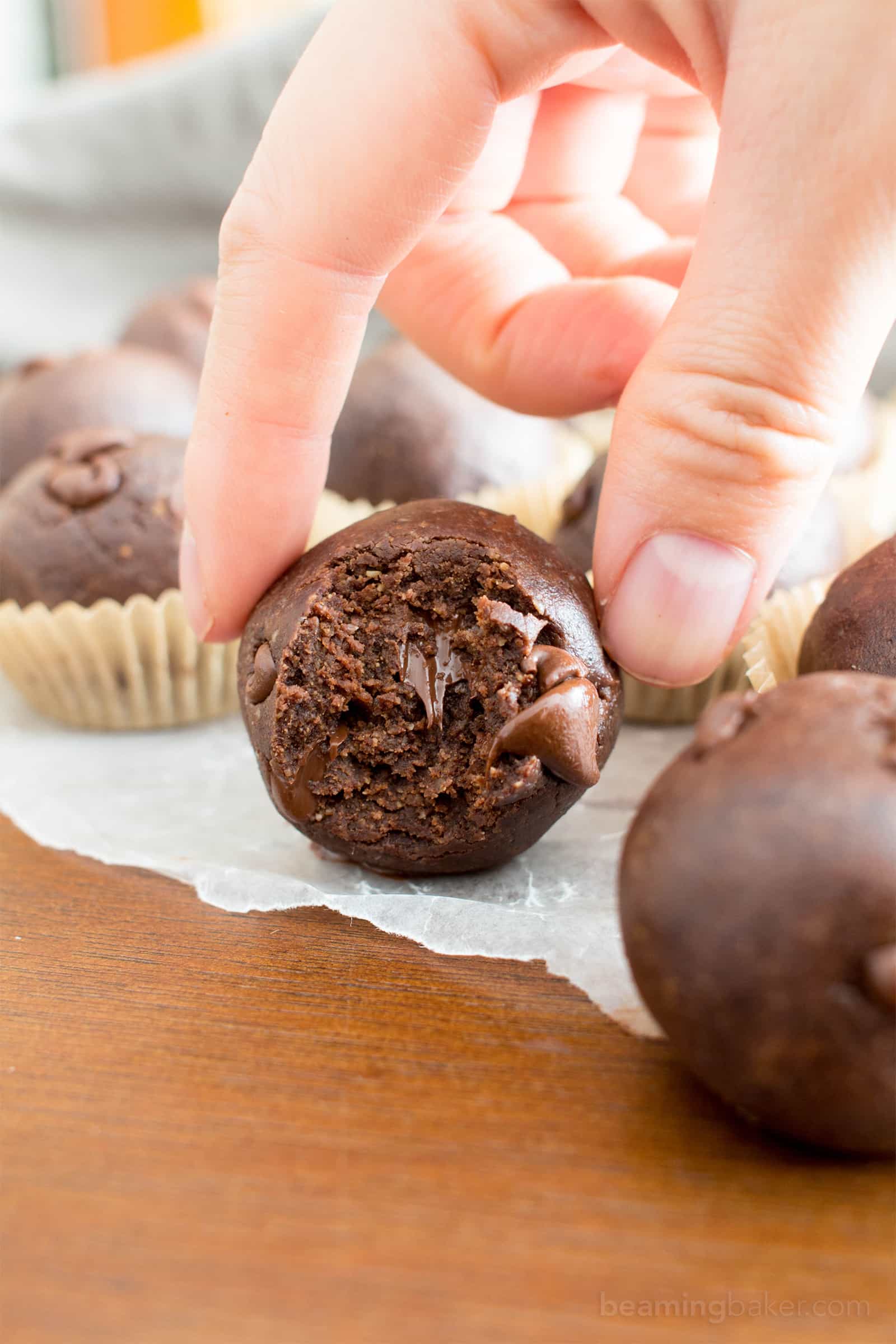 I made just a few minor tweaks in this recipe. Out went the oat flour, in came the blanched almond flour. Erik and I bought a HUGE bag of finely ground blanched almond flour a few weeks back and I've been trying to put it into everything. Like, everything.
It's funny because you'd think it's the same thing as unblanched almond meal right? Wrong… I was sooo wrong. It's almost delicate and light. I love using it in muffins to create a lighter batter. Case in point: these chocolate cranberry almond banana muffins. My next plans are to make some kind of paleo cake recipe out of it, but we'll see!
Meanwhile, the blanched almond flour worked beautifully in this recipe. My goal was to keep the texture almost exactly the same as in my no bake gluten free brownie energy bites: fudgy, dense, and rich. But, I wanted it just a tad softer.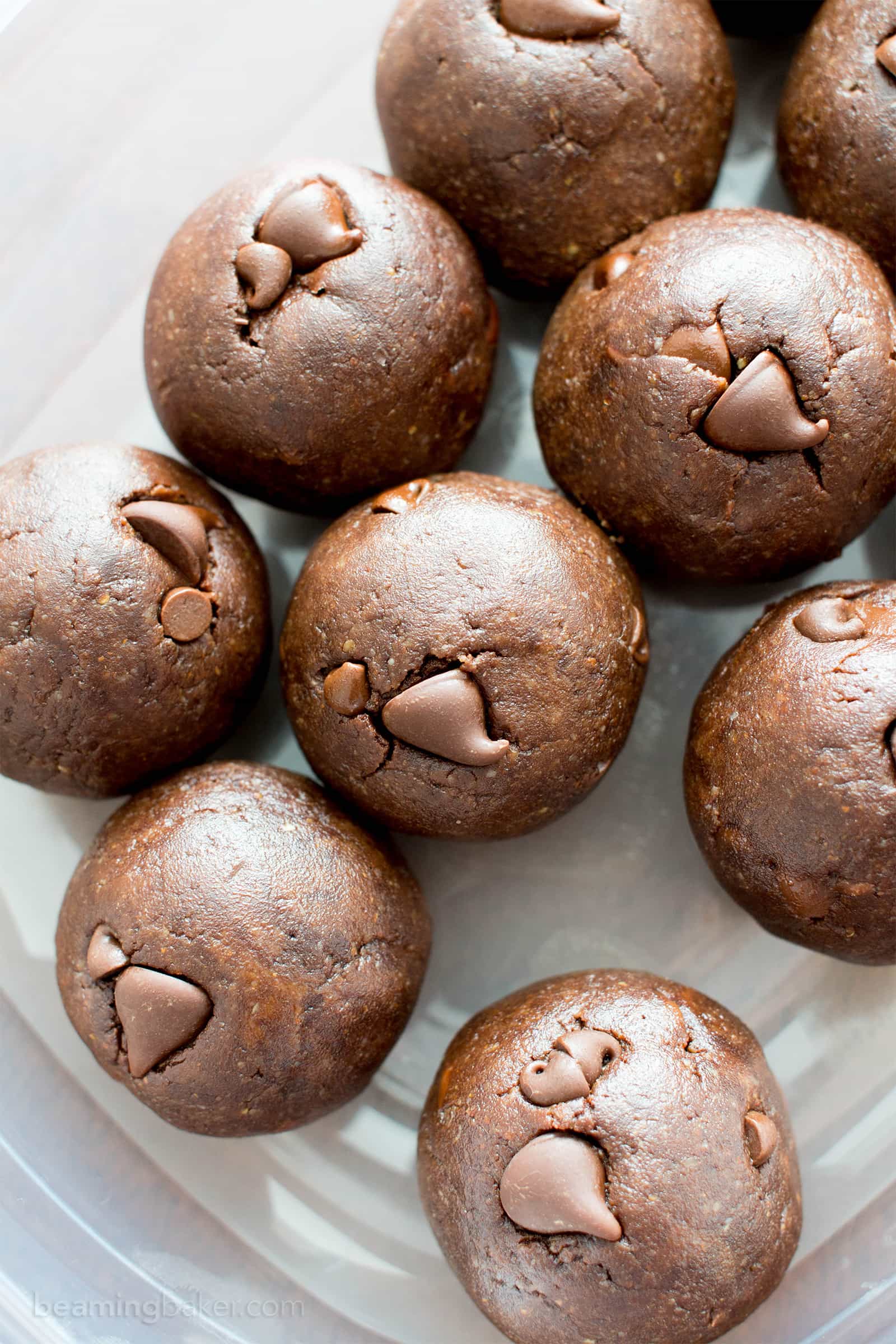 Secondly, I wanted to dial down the flavor of flax quite a bit. I feel like the flavor of flax is totally fine in energy bites, but in a no bake dessert bite, that flavor has got to be nonexistent. So I decreased the amount of flax in this recipe, tweaked the almond flour to absorb just the right amount of liquid, and voila: No Bake Almond Butter Paleo Brownie Bites.
Whether you prefer gifting or receiving candy or other types of treats, I've got you covered! Try making these no bake almond butter paleo brownie bites, or one of these allergy-friendly, plant-based treats for Halloween:
If ya need more candy (yes, there's more), let me know in the comments below! I'm thinking of throwing together a paleo vegan candy recipe roundup so we have those recipes all in one convenient place.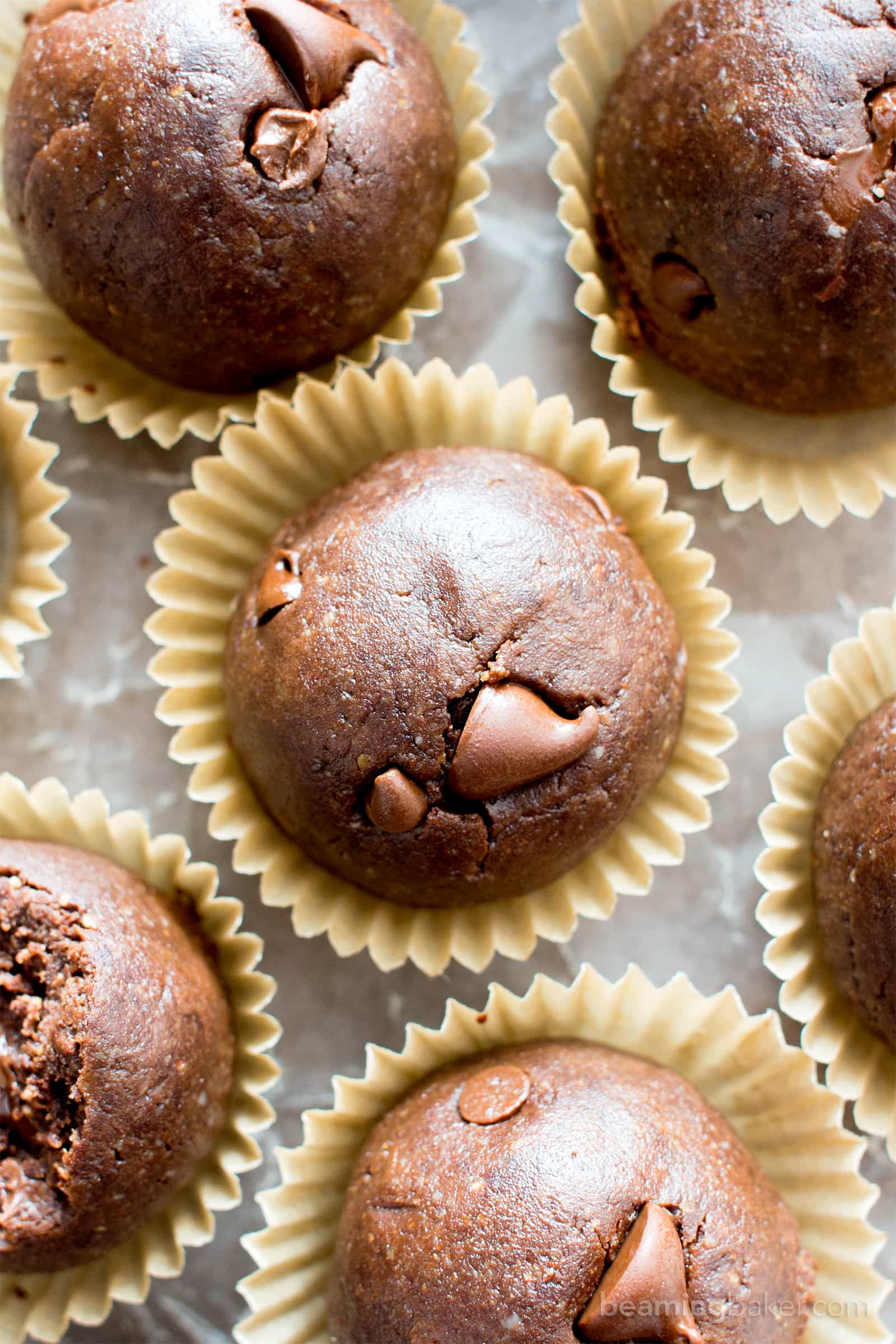 Now, you know what time it is! It's time to cover all of the tastiest bulletpoints about these No Bake Almond Butter Paleo Brownie Bites. They're:
so easy to make
fudgy, rich, decadent
sweet tooth satisfying
made with just 7 ingredients
paleo, vegan, dairy-free, gluten-free
deliciously refined sugar-free
made in just one bowl
wonderfully protein-rich
melt in your mouth GOOD
plant-based and allergy-friendly
made with the simple, whole and healthy ingredients you love
perfect for dessert, a workout snack…
or an on-the-go treat
great for Halloween!!! (Said in my spookiest voice, of course)
So what do you say? Are you ready to make these Chocolate Lover's Only paleo brownie bites? You grab the chocolate chips, I'll grab the almond flour. Let's no-bake this! It's wonderful making baking, no-baking, and drizzling our way through the holidays together. 🙂 I'm always grateful to have you here. While I wait to hear what you think of this recipe, tell me:
What's your favorite childhood candy?
Sending you all my love and maybe even a dove, xo Demeter ❤️
☀︎ Click below to Pin ☀︎

☀︎ Did you make this recipe? Take a pic and share it on Instagram with the hashtag #beamingbaker and tag @beamingbaker. I would love to see it! ☀︎
SHOP THE RECIPE
[amazon_link asins='B000SSVRYM,B0055IRNAC,B0083QJU72,B005EEYGCA,B06XK1SXWB' template='BB-ProductCarousel' store='beamingbake0c-20′ marketplace='US' link_id='01fbbdc5-a7af-11e7-bfcc-57b663136de1′]
Here are a few items I used in today's recipe. .
Blanched Almond Flour | 2-Tablespoon Cookie Scoop | Maple Syrup | Glass Mixing Bowls | Silicone Spatulas
Print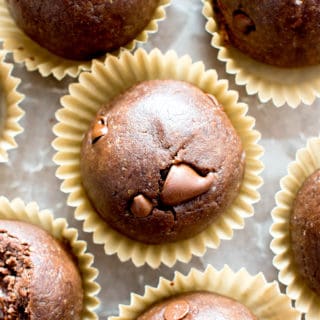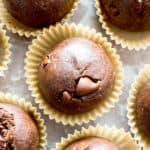 No Bake Almond Butter Paleo Brownie Bites (Vegan, Gluten Free, Dairy-Free, One Bowl)
---
Description
No Bake Almond Butter Paleo Brownie Bites (V, GF): a one bowl recipe for melt in your mouth fudgy paleo brownie bites that taste like a bite of pure chocolate. Vegan, Paleo, Dairy-Free, Gluten-Free.
---
Dry Ingredients
¾ cup

finely ground, blanched almond flour

¾ cup

unsweetened cocoa powder

2 tablespoons

ground flaxseed

½ cup

paleo-friendly vegan chocolate chips (mini and regular)
Wet Ingredients
¾ cup

natural, unsalted creamy almond butter (mine is very liquidy)

¼ cup

pure maple syrup

1 teaspoon

pure vanilla extract
Optional
2 tablespoons

paleo-friendly vegan chocolate chips (mini and regular)
---
Instructions
In a large bowl, mix together all of the dry ingredients: almond flour, cocoa powder, flaxseed and chocolate chips.
Add almond butter, maple syrup and vanilla. Using a sturdy spatula, stir and fold together until well incorporated.
Using a cookie scoop, scoop and drop a ball into your hands. Here are the 2-tablespoon and 1-tablespoon scoops I use. Roll and press into bites. Optionally, press chocolate chips into bites. Enjoy!
Category:

No Bake, Brownies, Chocolate, Paleo, Vegan, Gluten-Free, Dairy-Free, Dessert
© beamingbaker.com. All content and images are protected by copyright. Please do not use my images or recipe without my permission. If you wish to republish this recipe, please re-write the entire recipe using your own words and include a link to this post for the recipe.
If you enjoyed these deliciously snackable No Bake Almond Butter Paleo Brownie Bites, then you'll just love these easy no bake recipes:
☀︎ More Paleo Vegan Dessert Recipes ☀︎
Paleo Apple Pecan Coconut Crisp | No Bake Paleo Chocolate Almond Butter Bars | No Bake Paleo Chocolate Pecan Bars | Ultimate Fudgy Paleo Vegan Brownies | Homemade Almond Joy | Super Fudgy Paleo Maple Pecan Brownies | Chocolate Coconut Cups | and… Oil-Free Cinnamon Nut Granola just for fun. 😉
This post may contain affiliate links, which allow me to make a small commission for my referral, at no additional cost to you. Thank you for supporting Beaming Baker.
Facebook ☀︎ Pinterest  ☀︎ Twitter ☀︎ Instagram