Chocolate Cranberry Almond Banana Muffins (Gluten-Free, Vegan, One Bowl, Dairy-Free)
Chocolate Cranberry Almond Banana Muffins Recipe (V, GF): delightfully warm and cozy chocolate banana muffins packed with juicy cranberries and almonds. Vegan, Gluten-Free, Dairy-Free, Healthy, One Bowl.
Hello, Chocolate Cranberry Almond Banana Muffins! Take that, Monday!! Take all of that chocolatey, moist, bursting with almond and banana-upgraded goodness and stick it in your portable muffin holder!
These muffins, formerly known as Whoopsie Muffins in my household, have been waiting in my back pocket for ages now! But as you might remember from last year, I have a terrible sense of when things are "supposed" to come out. Or… what seasonal flavors are expected. Last year, I held a bit of a survey regarding the ever divisive cranberries.
So, what do you think? What time of the year do you love to enjoy cranberries?
Last year, my Cranberry Chocolate Chip Cookies sparked a mini-debate (bc I'm so not cool enough to spark an actual full-blown debate, obvs) about what time of year cranberry recipes should be released. I even—dare I say it—shared these No Bake Cranberry Coconut Energy Bites at the beginning of August!! Gasp!!!
But come on, guys! They're dried!!! Who gives a rhubarb pie's tin when they should be shared? You can buy them all year long, so that's when I'm gonna use 'em (in secret, to avoid all the glares). Now that we're in that crucial phase between the end of Back to School and the beginning of the holiday season, I'm gonna help us transition with these little ruby jewels of sweet and tartness delights!
With my head held high, goshdarnit!
By the way, did you notice how long I've gone without sharing a chocolate recipe on BB? Anyone? It's got to be a record! Did I tell you, I was once asked if a theme of BB was chocolate? When I heard that question, I was like, whaaaa? Isn't the theme of EVERYTHING chocolate?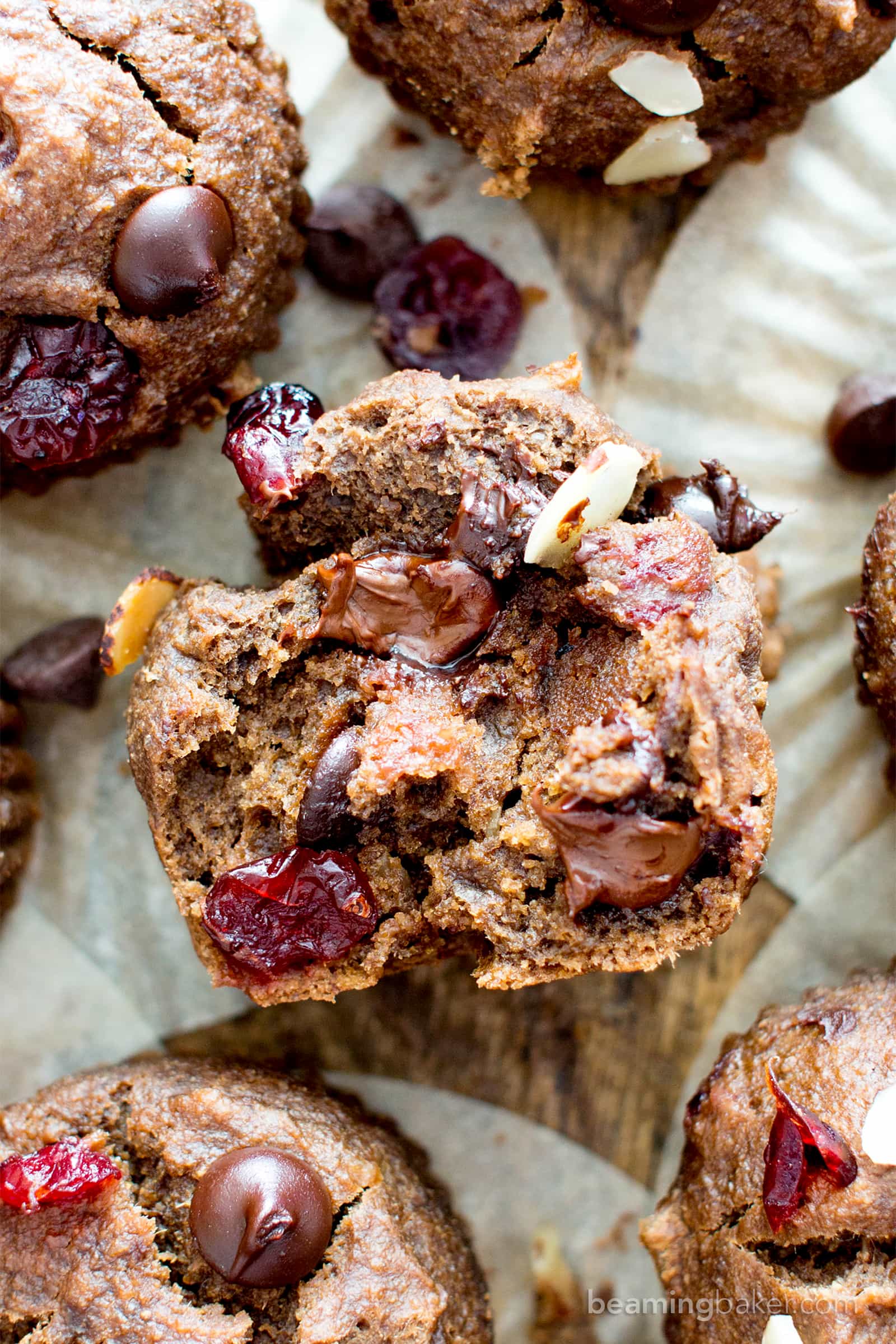 Guess not.
Since then, I've been a bit self-conscious about sharing too many chocolate recipes (which I still don't fully believe is an actual thing). And now that I've been "good" all month, I'm here to tell you, my fellow chocolate lovers, to get your appetites ready! We're about to make All the Chocolate Things in the next few months! (Get ready to be asked if the "theme" of your kitchen is Chocolate—don't say I didn't warn you.)
And just in case you're wondering what some of these deeee-licious chocolate recipes are, let me recommend a few: double chocolate oatmeal cookies, no bake brownie energy bites, almond butter fudge cups, no bake peanut butter cup granola bars (yuuuuuum), paleo chocolate almond butter bars, and double chocolate pecan brownies.
Now that we're all warmed up, we're gonna kick off this most delicious theme with the fantastically versatile (think: good for dessert and breakfast) Chocolate Cranberry Almond Banana Muffins. I know, I know, I crammed way too many ingredients into that title. But at least you weren't surprised when you read the recipe, right?
I just could not help myself when I was making these. Also, darnit, I almost forgot to tell you why these are called Whoopsie Muffins! I was actually in the middle of a crazy kitchen day (let's just pretend like every day in my kitchen isn't a crazy one), making recipe after recipe. I was prepping the ingredients for two, while another was in the oven, and two more were cooling on my racks (my cooling racks, to be clear).
Let's just say a few messages got crossed in the ol' informational highway known as my noggin and I accidentally dropped a quarter cup of cocoa powder into my mixing bowl. Oh goodness, you should've seen the epic levels of eyeball-popping that occurred after that. Also, the quick, reflexive glare I gave to Erik (he loves me, so I can blame him for things that aren't his fault when only absolutely necessary). Then, the Crap!-what-do-I-do-now?? that went spinning through my mind.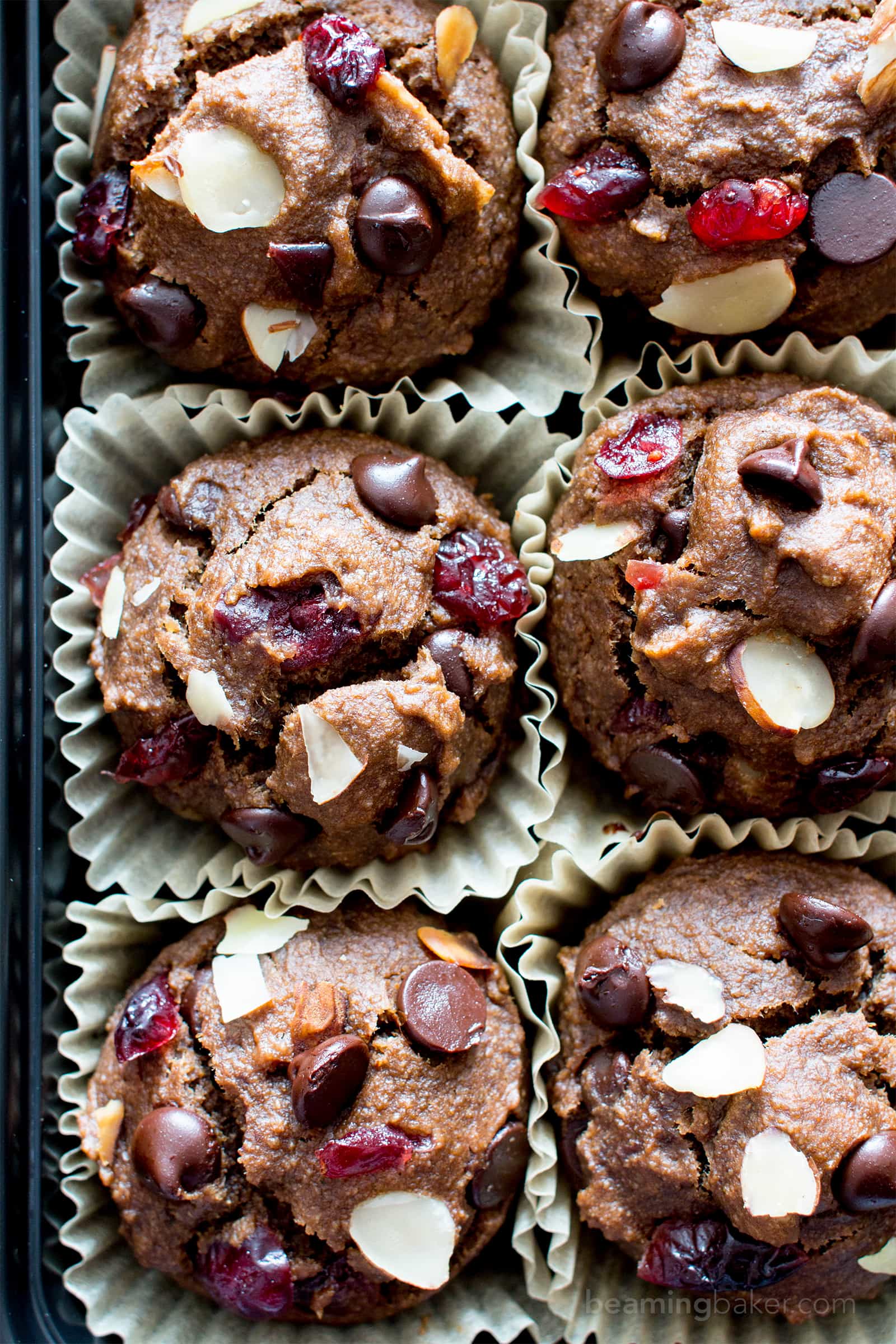 This time, Erik was lucky. I mean, this time, I responsibly took the blame for my mess-up and just went with it. Heck, I just cracked like 5 other muffin recipes (Maple Pecan Pumpkin, Blueberry Applesauce, Banana Nut, and more to come…), so I could work with this! I mean, I kind of had to since there was a very strict and unyielding assembly line situation/negotiation I had going on with my kitchen (oven, cooling rack, counterspace).
So I tossed in a few other ingredients, got sassy with those add-ins (see looooooong recipe title, oh, here it is: Chocolate Cranberry Almond Banana Muffins), and got to scooping! And guess what?? It was spectacular! Okay, almost spectacular! I tweaked the recipe just a tad afterward and here we are, enjoying the spoils of my brainfart.
I know, that sounds seriously appetizing.
These muffins are incredibly moist, chocolatey, and beyond tasty! I promise, they're not overly moist. I'm very, very against things that are so moist that they're basically uncooked, except for super fudgy brownies, because brownies are naturally exempt from all dessert rules. 😉
The mix of cranberries and almonds create this wonderful texture party in your mouth: sweet, tart, crunchy, nutty. It's the same kind of delicious flavor mix found in this seriously scrumptious-looking Almond Jam Tart from Salted Plains. <– Did I mention it's gluten free and vegan? Droolfest! What was I saying? Oh yes, between these chocolate cranberry almond banana muffins and my maple pecan pumpkin muffins, our homemade breakfast game has been sooooooo on point!
And, if you're looking for another gluten-free muffin recipe to add to your breakfast menu, you have to try these fantastic Paleo Chocolate Chip Muffins from my friend Chrystal at Gluten-Free Palate! Just be sure to swap the eggs for flax eggs to make them vegan.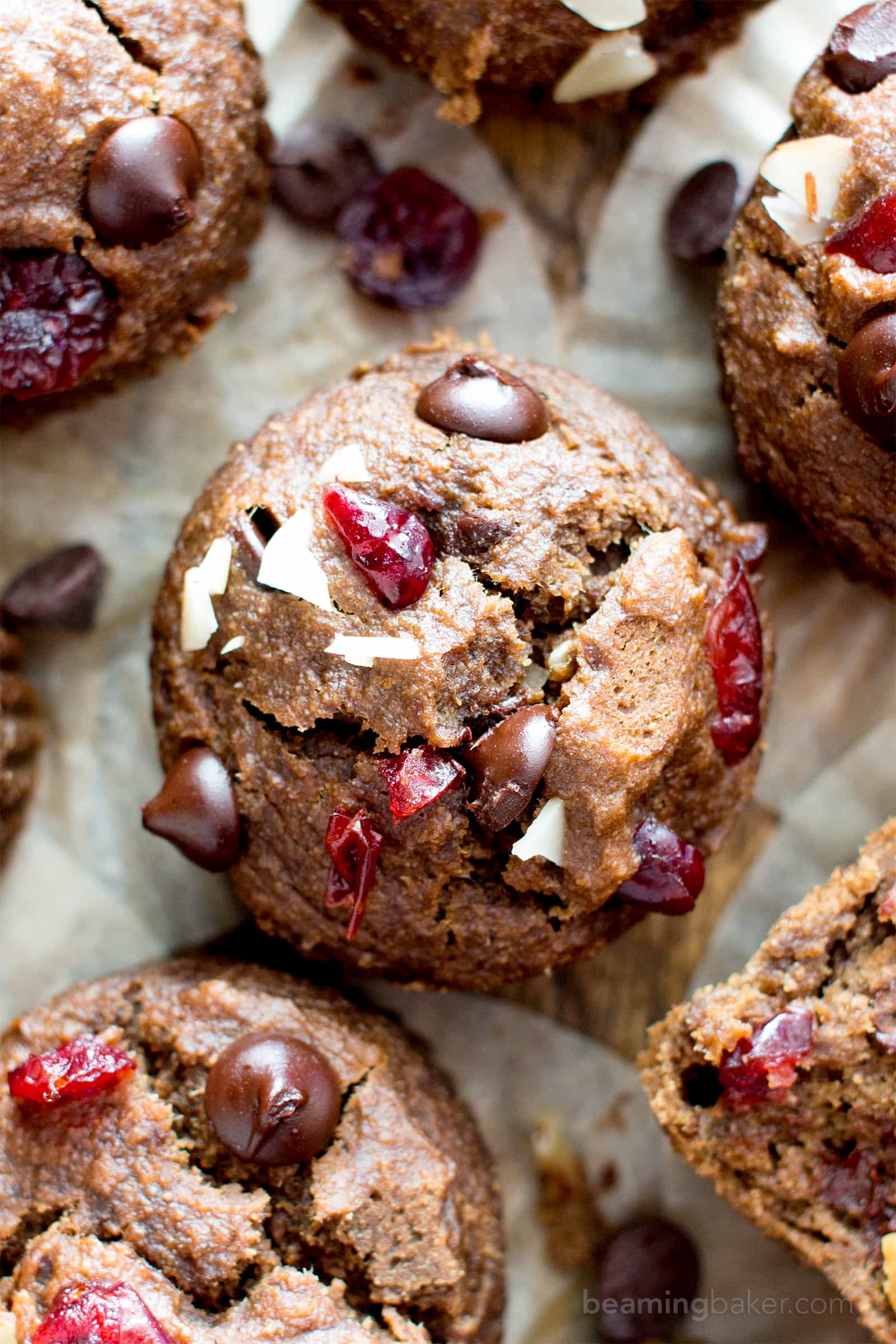 Now, just in case you're not convinced yet, let me tell you all about these Chocolate Cranberry Almond Banana Muffins. They're:
moist, rich and chocolatey
made in just one bowl
vegan, gluten-free, dairy-free, whole grain
wonderfully refined sugar-free
packed with flavorful cranberries and almonds
easily customizable by using your favorite add-ins
plant-based and allergy-friendly
made with the simple, healthy, whole ingredients you love
perfect for a quick snack, breakfast or dessert
a tasty accident that proves sometimes messing up is a good thing 🙂
Are you ready to bake something special for breakfast today? Oh, alright, they'll totally be tasty for breakfast tomorrow, too! You grab the cranberries, I'll grab the almonds! I'm so happy to be here, baking and making such fun creations with you. I can't wait to hear what you think of this recipe. In the meantime, tell me:
What are your favorite muffin flavors during the fall/autumn?
Sending you all my love and maybe even a dove, xo Demeter ❤
☀︎ Click below to Pin ☀︎

☀︎ Did you make this recipe? Take a pic and share it on Instagram with the hashtag #beamingbaker and tag @beamingbaker. I would love to see it! ☀︎
SHOP THE RECIPE
[amazon_link asins='B003W0UMPI,B00J4U8QX0,B0060A99YW,B00CPZPYLS,B0083QJU72,B000S16WRQ,B00MFC5MVI,B00004UE65,B001CCZL7W,B003W0UNM0′ template='BB-ProductCarousel' store='beamingbake0c-20′ marketplace='US' link_id='f58f4b6c-9e15-11e7-bb60-0354643137c3′]
Here are a few items I used in today's recipe. .
Muffin Pan | Parchment Cupcake Liners | Coconut Oil | Cookie Scoop |
Cookie Sheet | Silicone Spatulas | Maple Syrup | Blanched Almond Flour
Print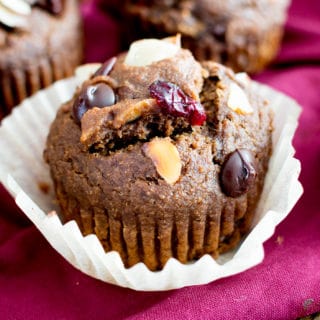 Chocolate Cranberry Almond Banana Muffins (Gluten-Free, Vegan, One Bowl, Dairy-Free)
---
Description
Chocolate Cranberry Almond Banana Muffins Recipe (V, GF): delightfully warm and cozy chocolate banana muffins packed with juicy cranberries and almonds. Vegan, Gluten-Free, Dairy-Free, One Bowl.
---
Wet Ingredients
3

medium, very ripe bananas (

1 ¼ cup

mashed)

¼ cup

melted coconut oil

¼ cup

coconut sugar

1

flax egg (

1 tablespoon

ground flax +

3 tablespoons

water, whisk together, set for 15 mins)

1 teaspoon

pure vanilla extract
Dry Ingredients
1 ½ cup

gluten free oat flour

¾ cup

finely ground, blanched almond flour

1/4 cup

unsweetened cocoa powder

¾ teaspoon

baking powder

½ teaspoon

baking soda

¼ teaspoon

salt
Add-ins
1/4 cup

chocolate chips

1/4 cup

dried cranberries

1/4 cup

sliced almonds
Optional Topping
2 tablespoons

chocolate chips, cranberries, almonds
---
Instructions
Preheat the oven to 350°F. Line a 12-cup muffin pan with muffin liners.
Add peeled bananas to a large mixing bowl. Using a sturdy whisk or fork, mash bananas until smooth. Add the coconut oil, coconut sugar, flax egg, and vanilla. Whisk until well incorporated.
Add oat flour, almond flour, cocoa powder, baking powder, baking soda and salt. Whisk together until just incorporated, making sure no flour patches remain. Fold in chocolate chips, cranberries and almonds.
Using a large scoop, scoop and drop batter evenly into muffin cups.* If needed, smooth batter into an even layer, with a domed top (rise) in the center. Optionally, sprinkle toppings onto muffins.
Bake for 16-22 minutes. Mine took 19 minutes. Allow to cool on a cooling rack for about 1 hour. Lift out and enjoy! Storing instructions below.
Category:

Muffin, Chocolate, Vegan, Gluten-Free, Dairy-Free, Breakfast, Healthy Snacks
© beamingbaker.com. All content and images are protected by copyright. Please do not use my images or recipe without my permission. If you wish to republish this recipe, please re-write the entire recipe using your own words and include a link to this post for the recipe.
If you enjoyed these warm and cozy gluten free vegan muffins, then you'll just love these delicious healthy fall recipes:
☀︎ More Vegan Gluten Free Muffins + Quick Breads Recipes ☀︎
Gluten Free Vegan Chocolate Pumpkin Bread | One Bowl Banana Nut Muffins | Chocolate Chip Pumpkin Bread | Double Chocolate Banana Muffins | Vegan Banana Nut Bread | Pumpkin Chocolate Chip Muffins | Gluten Free Vegan Pumpkin Bread | Vegan Chocolate Banana Nut Bread | and… Fudgy Paleo Brownies, just for fun. 😉
This post may contain affiliate links, which allow me to make a small commission for my referral, at no additional cost to you. Thank you for supporting Beaming Baker.
Facebook ☀︎ Pinterest  ☀︎ Twitter ☀︎ Instagram