No Bake Double Chocolate Chip Granola Bars (V+GF): an easy recipe for deliciously chewy double chocolate granola bars made with simple ingredients. Vegan, Gluten Free, Dairy Free.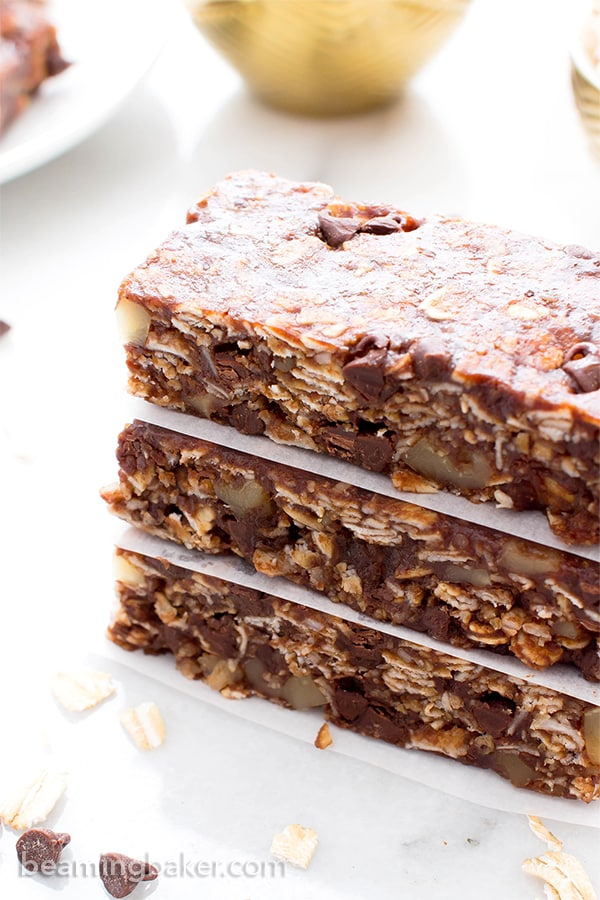 Remember when I told you about my childhood dislike of all things oatmeal raisin? About how I eventually learned that oatmeal raisin was actually pretty good? Well, many of you admitted that you still don't like oatmeal raisin.
And since Mondays are less about broadening our horizons and more about pleasant distractions, I thought I'd bring you something chocolatey. Also, some pretty funny memes in which people are seriously disappointed that they got an oatmeal raisin cookie, rather than a chocolate chip one.
Such as…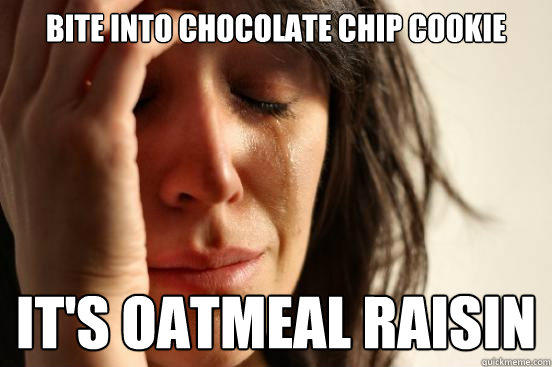 And my personal favorite… ?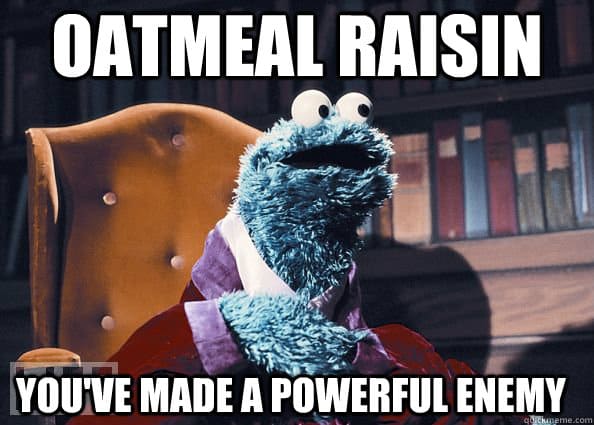 Well folks, as it's a Monday, I'm not even gonna play any games. I mean, who wants to anger THE Cookie Monster, anyway? We're gonna kick Monday up like 5,000 yummy notches (made of gummy bears, I'm sure) with no bake double chocolate chip granola bars. No raisins. Not a one in sight.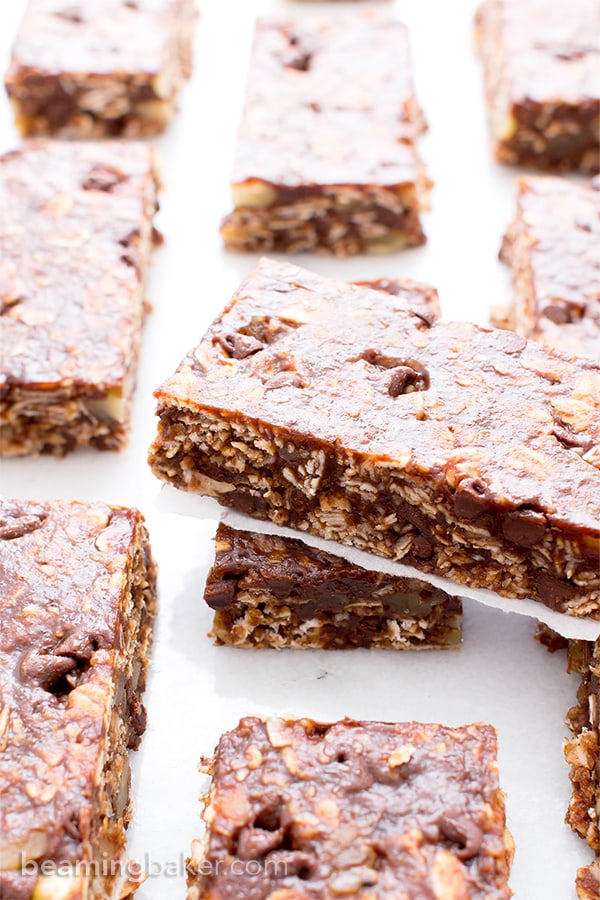 You happy?
And although I am now a humbled lover of oatmeal raisin, I must admit, I will still pick chocolate anything over raisins everything. Every. Single. Time. Plus, what could be better than anything with chocolate chips in it? Well, the answer is simple: double chocolate chips.
Doesn't it make you feel good just reading that?
If I could, I would make everything triple chocolate, quadruple chocolate, heck let's make it quintuple chocolate. Or something… Um, yeah. Must be the whole holding a Chocolate Lovers' Official Membership card. Or… maybe because I sometimes dream about having chocolate visions in chocolate Technicolor?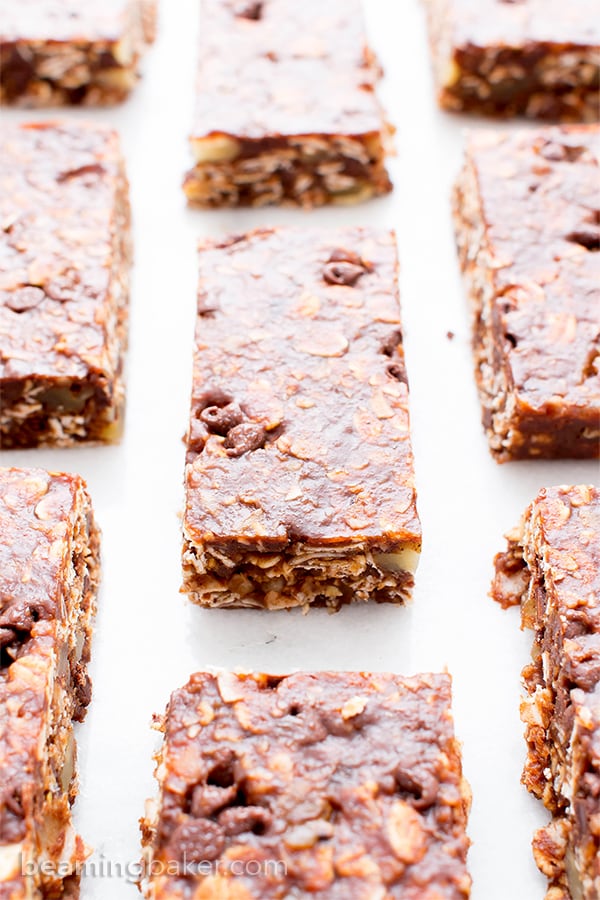 But I digress. It's Monday, after all. Anywho, back-to-school is just getting started up, people are wrapping up their summer vacays, and some of us are trying to get the jump on slightly healthier-ish eating now. Ya know, to make up for all of the pumpkin doughnuts, gluten free vegan brownies, cookie dough truffles and peppermint mochas we're gonna be tucking away come The Holidays!!!
Yes, The Holidays. It almost sounds as if I'm talking about the movie, right? Boy, I sure have the rambles this fine Monday. Ahem. Moving on! (Omg, why am I mentioning Monday like 500 times?) ?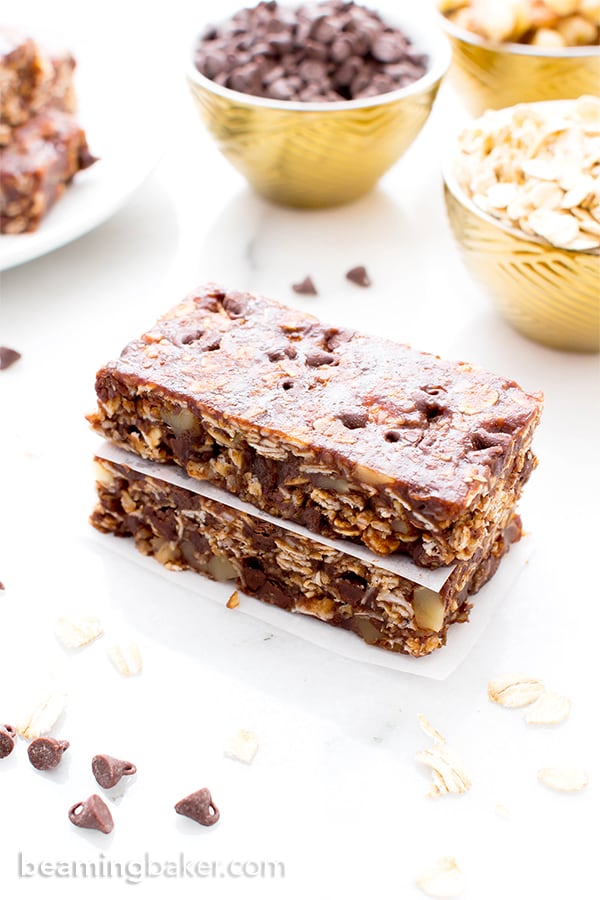 Btw, anyone else super, duper excited about Halloween? I know, I know, I just saw Halloween candy at the grocery store and was pretty taken aback by the whole thing. I mean, it's August, dear grocery buyers! But all judgment aside, I LIVE for Halloween! The costumes, the candy, the family time, it's the best. 🙂
But before all of that seasonal holiday fun/madness begins, let's enjoy a bit of a calm respite first. All with a big stack of these no bake double chocolate chip granola bars. And maybe a super fun romance/action/sci-fi/whatever floats your boat novel? Btw, what are you reading right now? I'll happily take suggestions, as my reading list is getting a tad stale.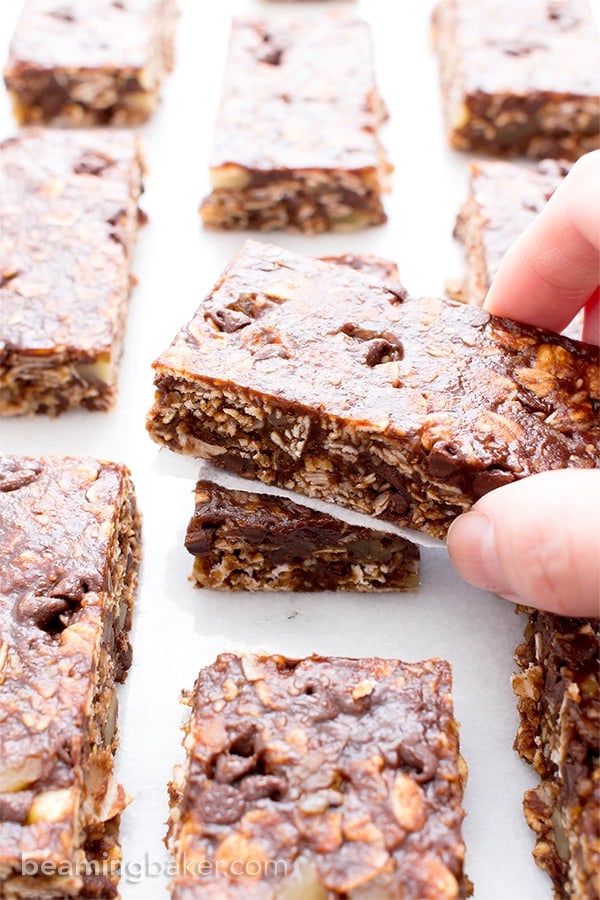 While I await your wonderfully interesting book suggestions, allow me to tell you all about these no bake delights. These No Bake Double Chocolate Chip Granola Bars are:
made with simple ingredients you can feel good about
vegan, gluten free, and dairy free
deliciously chocolatey and richly sweet
super easy to make
perfectly chewy and intensely satisfying
packed with protein and much more energy-boosting goodness
ready to go with you on a hike, to work or anywhere on-the-go
plant-based and allergy-friendly
not oatmeal raisin, for you die-hard chocolate lovers out there 😉
pleasantly portable and great for a bike ride
So before you head out on your picturesque Fall hike, or plan your next gym-a-thon, whip up a batch of these satisfyingly chewy and amazingly chocolatey No Bake Double Chocolate Chip Granola Bars. And prepare yourself, this is gonna be good.
Tell me, what's your favorite Fall recipe? Are you more of a pumpkin fan, a cranberry fan or something else?
Sending you all my love and maybe even a dove, xo Demeter. ❤️
☀︎ Click below to Pin ☀︎

☀︎ Did you make this recipe? Take a pic and share it on Instagram with the hashtag #beamingbaker and tag @beamingbaker. I would love to see it! ☀︎
Print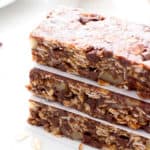 No Bake Double Chocolate Chip Granola Bars (Vegan, Gluten Free, Dairy Free)
---
Description
No Bake Double Chocolate Chip Granola Bars (V+GF): an easy recipe for deliciously chewy double chocolate granola bars made with simple ingredients. Vegan, Gluten Free, Dairy Free.
---
Dry Ingredients
1 ½ cups

gluten free rolled oats

¼ cup

gluten free oat flour

¼ cup

unsweetened cocoa powder

½ cup

unsweetened, shredded coconut

¼ teaspoon

salt
Wet Ingredients
2

flax eggs (

2 tablespoons

ground flax +

6 tablespoons

warm water, whisked together, set for 15 mins)

¼ cup

melted coconut oil

½ cup

natural, unsalted almond butter or preferred nut butter

1/3 cup

pure maple syrup

2 teaspoons

pure vanilla extract
Add-in Ingredients
---
Instructions
Line a 9-inch square baking pan with parchment paper or wax paper. Set aside.
In a large bowl, whisk together all of the dry ingredients: oats, flour, cocoa powder, coconut, and salt.
In a medium bowl, whisk together all of the wet ingredients: flax eggs, coconut oil, nut butter, maple syrup and vanilla. Whisk until smooth.
Pour the wet mixture over the dry mixture. Use a rubber spatula to stir the ingredients together until well combined. Fold in chocolate chips and walnuts.
Pour into the prepared baking pan. Using the rubber spatula, spread granola bar mixture into an even layer, pressing down until tightly packed and smooth.
Place baking pan in the freezer for 15-20 minutes.
Remove from freezer. Lift bars out of the baking pan. Set onto an even surface and slice into 18 bars. Enjoy!
Notes
– Adapted from my No Bake Chewy Chocolate Chip Granola Bars (Vegan, Gluten Free, Dairy Free).
– Store in an airtight container in the refrigerator for 1-2 weeks. You may also freeze these for up to a month. Thaw for 20-30 minutes before enjoying.
– Storing at room temperature: These bars will be slightly soft, but still firm at room temperature. If you're bringing these as a snack, make sure to store them in a hard, airtight container.
– More No Bake recipes here.
Prep Time:

10 mins

Category:

No Bake, Vegan, Gluten Free, Dairy Free, Snacks
© beamingbaker.com. All content and images are protected by copyright. Please do not use my images without my permission. If you wish to republish this recipe, please re-write the entire recipe using your own words and include a link to this post for the recipe.
Are you feeling single chocolatey? Try my No Bake Chewy Chocolate Chip Granola Bars (Vegan, Gluten Free, Dairy Free) instead. Just as easy to make and simply delicious.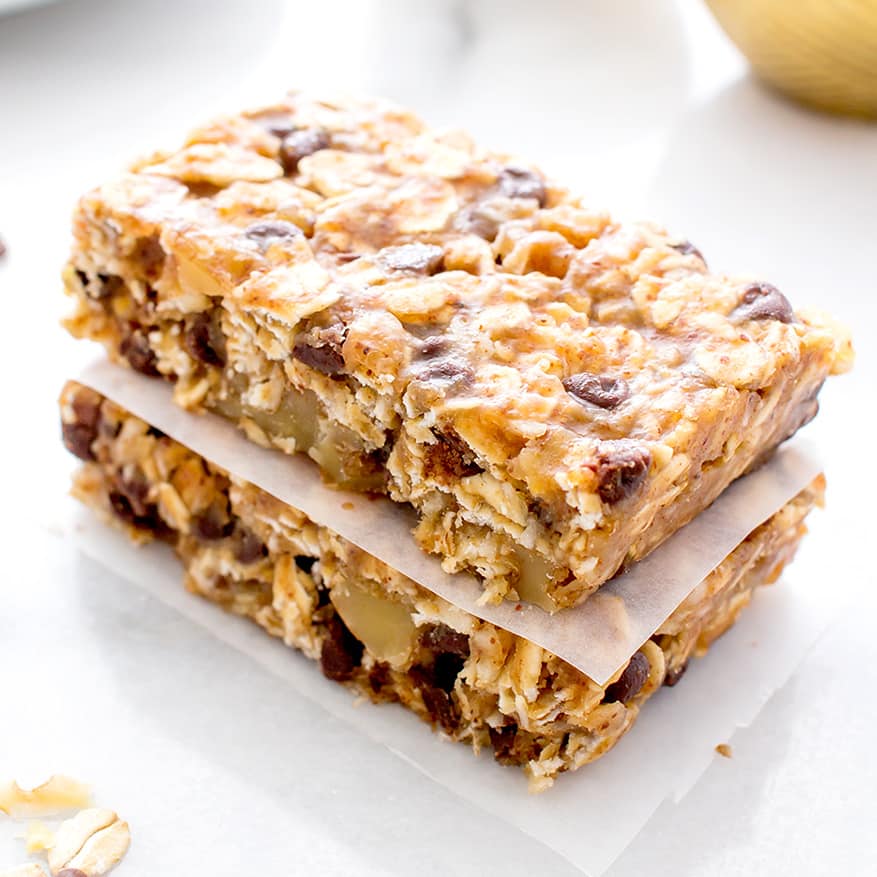 Chocolate = Instant Bliss. You'll see what I mean with my Gluten Free Vegan Brownies (V, GF, Dairy Free).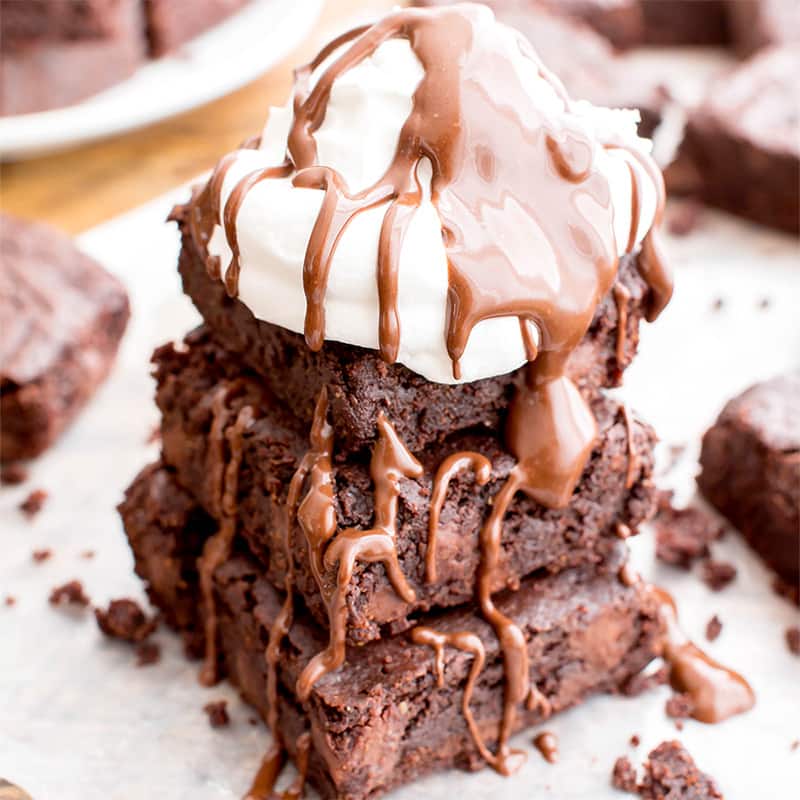 How about a smoothie to go with your granola bar? Try my Chocolate Peanut Butter Banana Smoothie (Vegan, Gluten Free, Dairy Free). Looks like a smoothie, tastes like a milkshake.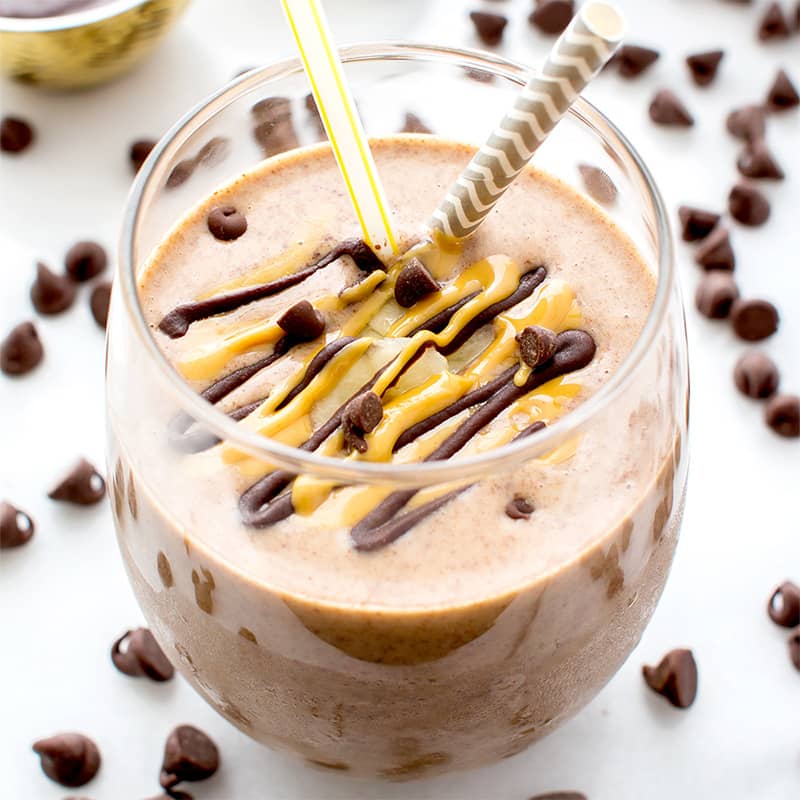 What are you looking forward to this Fall?
I can't wait to hear your responses.