Vegan Triple Chocolate Peppermint Cookies (V, Gluten Free, Oat Flour, Dairy-Free, Soft-Baked)
Vegan Triple Chocolate Peppermint Cookies (V, GF, DF): an easy recipe for decadent, soft-baked peppermint cookies bursting with chocolate. Vegan, Gluten Free, Dairy-Free, Oat Flour.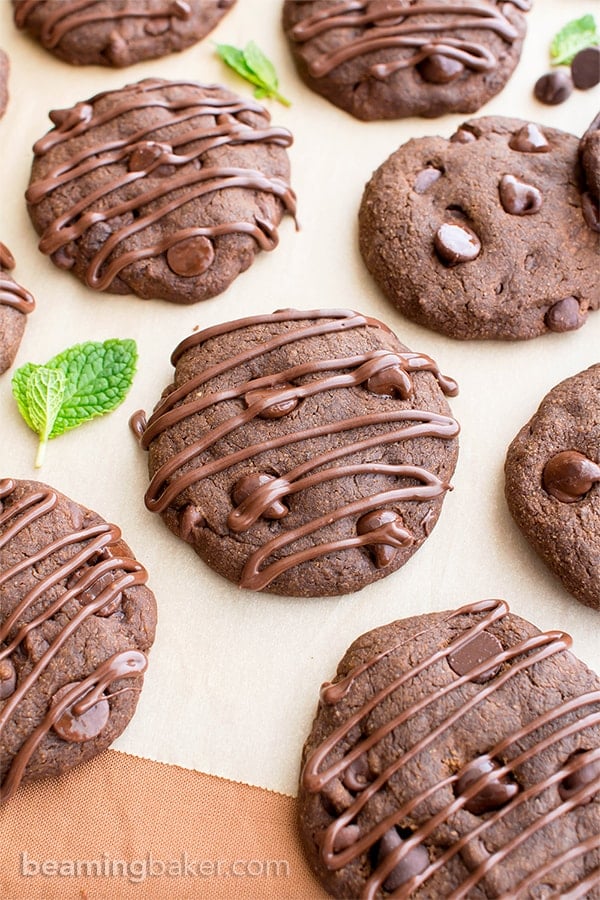 Happy first day of Christmas/Holiday month!!! I feel like there should be horns or something… does anyone have any horn sounds? And they should totally be golden horns adorned with mistletoe. Wouldn't that be cool? Like… mint? Or perhaps, peppermint? As in 5 minute easy peppermint fudge? Or vegan peppermint mocha cupcakes?
Um, anyway, what was I saying?
Yes, Happy December! Are you finally ready to, for realsies, get your holiday on? I hope you are, because today I have something seriously special for you: my Vegan Triple Chocolate Peppermint Cookies. These cookies are so chocolatey, so decadent, and so… Christmas!! Do you hear Jingle Bells playing in the background or what?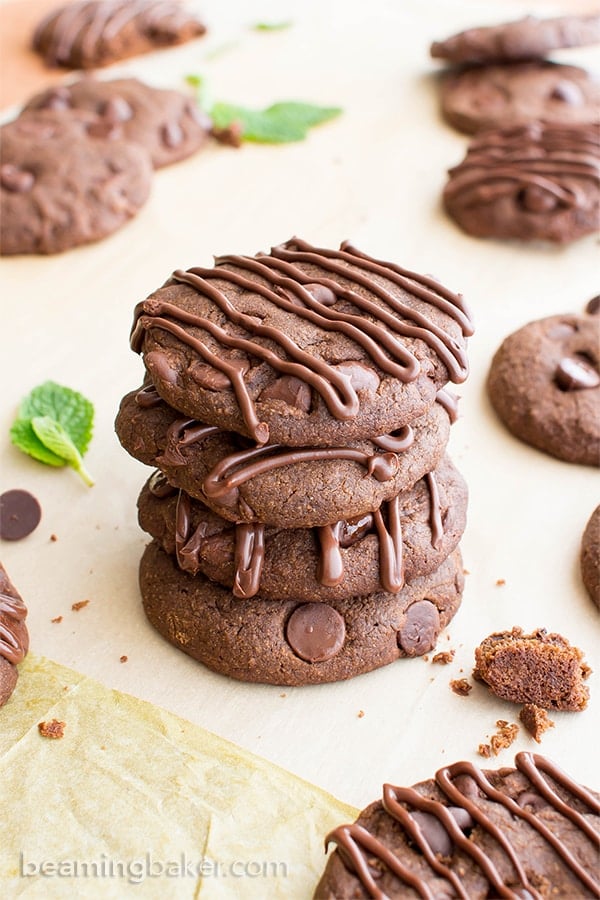 In collusion with the golden horns chorus, of course. 😉
Okay, so this isn't the first peppermint chocolate recipe of the season. If you were here on Monday, you might have seen/drooled/hopefully-already-made my peppermint crunch bars. If you loved that, then you'll seriously love this. It has all the cool mint YUM of the season, as well as our much-beloved chocolate bestie.
But with DRIZZLE.
Yep, I said it. And yep, I SO drizzled it. You cool with that? I thought so. 😉
Anywho, now that it's officially December, you might be scrambling around test baking the perfect recipes for holiday gatherings. Or taste testing fave goodies at the local bakery? Whatever floats your festive boat, my friend. But around these parts, it's kitchen time from sunup to sundown. And then some.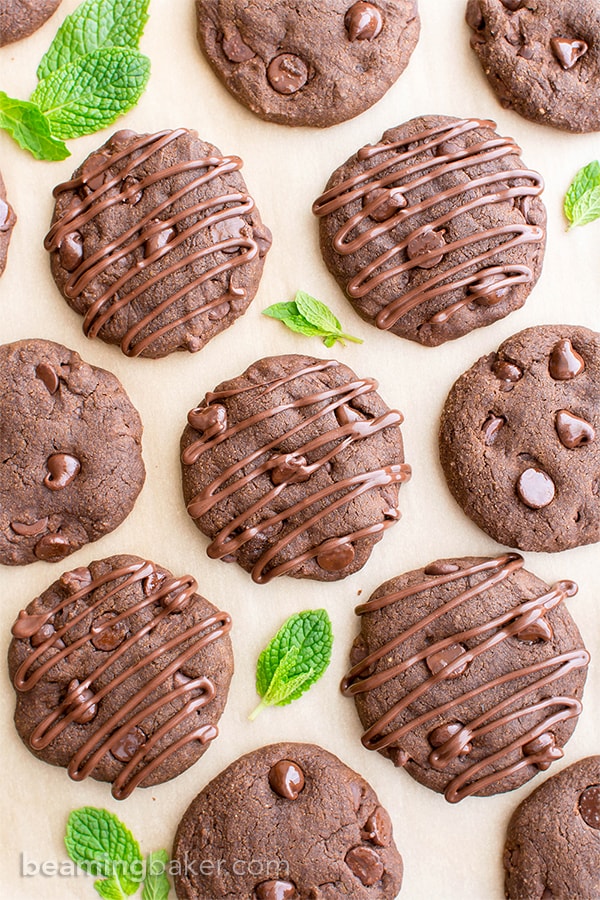 Erik and I are getting ready to send out our annual packages of assorted cookies, candies and little funny gifts. I've already picked out the perfect swea—shoot, I can't say because my sister's gonna read this and it will totally ruin the surprise!! Darn! But I can tell you about the goodies we're gonna be including in those packages. Side note, I've totally been eyeing these gluten free gingerbread cookies from Bless Her Heart Y'all! If you make them, just be sure to use vegan butter to make them vegan! 🙂
This one's not a spoiler for the fam because they're surprisingly vocal and matter-of-fact about the exact goodies they want in their packages. Ahem. Andrew, I'm not talking about you… *Clears throat* 😉 Here's what I'm including:
On the Candy front:
– Peppermint Crunch Bars (If I hear one more request for these, I'm gonna… crunch!)
– Paleo Almond Joy (I'm pretty sure my mom just hinted that she'd seriously consider disowning me if I didn't make at least two batches for her… Such a kind soul, that one.)
– Chocolate Chip Cookie Dough Truffles (Might just keep a few of these…)
– Paleo Vegan Chocolate Coconut Truffles ('Nuff said.)
– Gluten Free Vegan Peanut Butter Cups (Always a hit–serious no-fail recipe here!)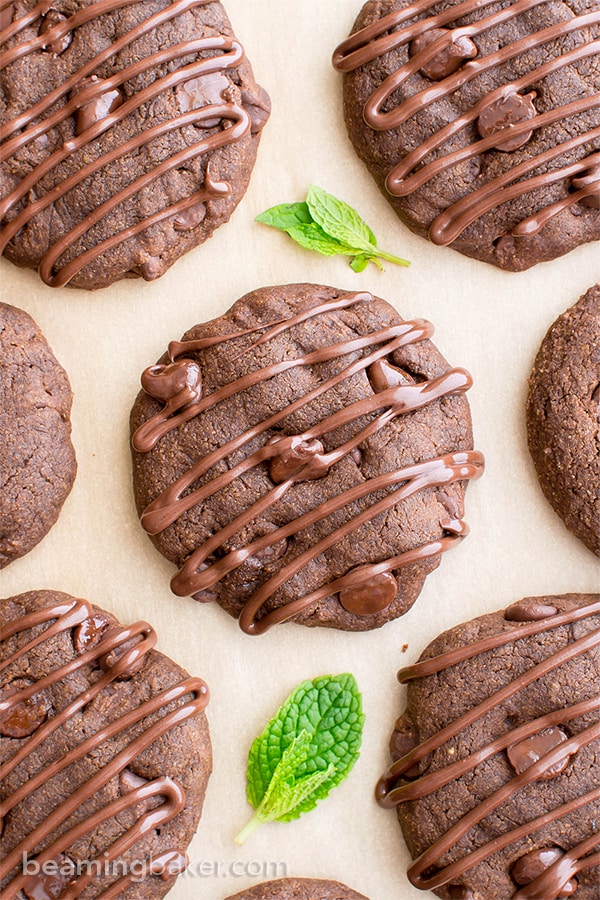 On the Cookies/Baked Goodies front:
– these Vegan Triple Chocolate Peppermint Cookies, of course!
– Best Vegan Brownies (Yes, Andrew, a double batch—I heard ya!!)
– Peanut Butter Chocolate Chip Oatmeal Cookies
– Double Chocolate Chip Cookies (Monica's fave! She says they taste like brownies.)
– Triple Chocolate Pecan Brownies (aka Erik's "Now I Like Chocolate and Nuts Together" Brownies)
– Vegan Cranberry Chocolate Chip Cookies (My personal fave.)
On the Gifts front:
– I can't say. Remember?? 😉
And you're totally gonna laugh at me when I say this, but one of my favorite/most loathed parts (remember the thin line between love and hate?) is packing these goodies up! Erik says that I'm a Packing Wizard. Only because I've had to pack our entire lives into like 3 luggages at least 5 times in the past 7 years. We like to move, but that's a whole different story.
But anyway, I also like to send out cookie/treat packages a few times year-round. It sure is quite the "treat" (translation: sweaty energy balls) to see whether or not these goodies turn up safe and sound on the other end. Fortunately, there was only one incident when I sent super soft-baked cookies to my sister Penny in haste and totally just blew it. Lesson learned: no more sending super soft-baked cookies in the future.
Unless I wanted to send a gift box of cookie "crumbles."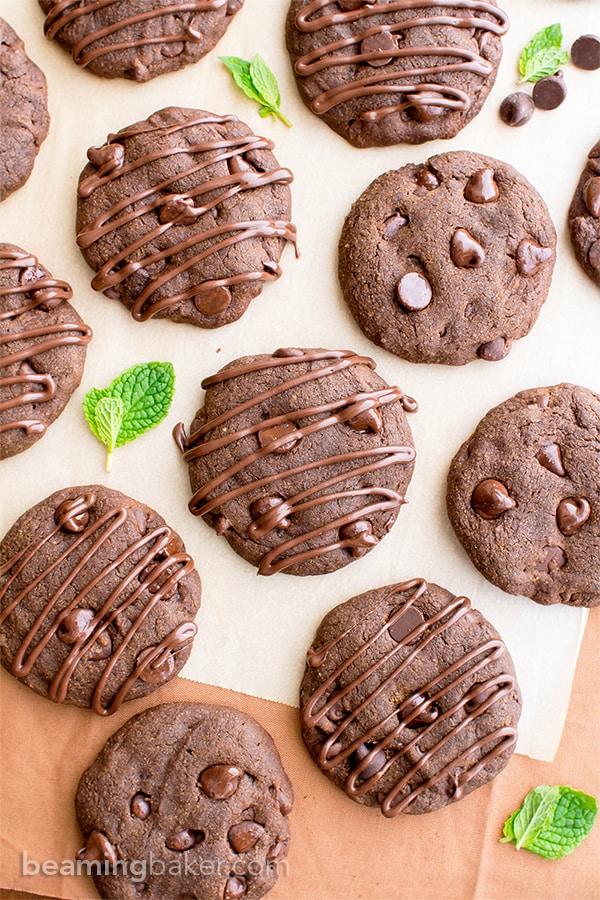 That's why I'm gonna seriously pack these guys with LOADS of candy, sturdy brownies and nicely cushioned cookies. I'm also thinking about adding in this totally droolworthy gf choco mint brownie recipe from Fearless Dining. I'm gonna veganize them real quick by swapping the eggs for flax eggs. 😉  Anyway, I have this love/hate situation with packing because I just love fitting these treats in like puzzle pieces. How much cushioning is needed? Which treats should be separated because the scents/chemical composition will cause the others to change? Will my handwritten note get smashed to smithereens, along with my cookies, by the time they get to Monica?
Right after I seal up that last flap, these questions and challenges float around without answers… until. UNTIL: arrival! It's the most wonderful thing ever to get a phone call, a text, a picture about the package from one of my sisters with all the exclamation points. Like, ALL of them. Challenge: complete! I mean, challenge: complete!!!!!!!!!
And knowing that the people I love, who live so stinkin' far away, can still know that they're loved, thought about, baked for (oh, you know what I mean!)—it's just wonderful. 🙂
How about you? Do you send packages of treats this time of year?
This year, I'm so excited to hand-deliver many of these goodies to my mom, my sister Jenny and Dylan. Yep, we're gonna do Christmas all the wonderful ways in Boston! I'm hoping we get a chance to ice skate at Frog Pond, go shopping downtown, bake cookies together (especially with Dylan's help) and just enjoy the warm, quiet moments together. Okay, it's not gonna be that warm in Boston…
What are your plans this holiday season?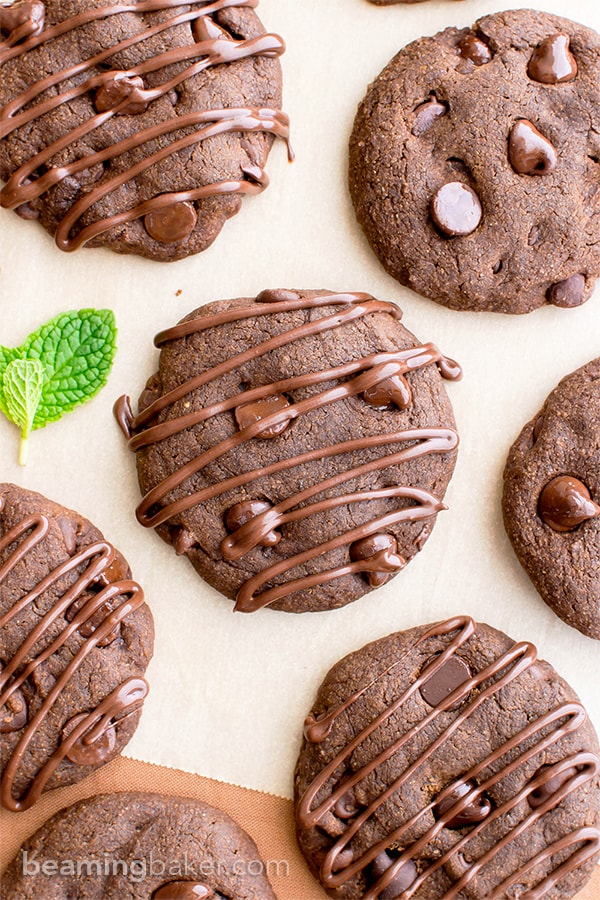 While I eagerly await your reply, allow me to tell you all about these simply delectable Vegan Triple Chocolate Peppermint Cookies. They're:
made especially for chocolate lovers
vegan, gluten free, whole grain
so easy to make, it's not even funny. But it is. 😉
perfectly minty, perfectly festive
chocolate, upon chocolate, upon chocolate
plant-based and allergy-friendly
seriously so satisfying for your sweet tooth
soft-baked (but not super soft, 'cuz ya know…)
perfect for gift-giving this holiday season
I hope you get to bake these with your family this year. Btw, I'm soooo looking forward to hearing about your holiday festivities! What do you have planned for this year? Thank you for spending the holidays getting ready with me. Wishing you a safe and wonderful season…
Sending you all my love and maybe even a dove (woah, this is totally Christmasy already!!), xo Demeter ❤️
☀︎ Click below to Pin☀︎

☀︎ Did you make this recipe? Take a pic and share it on Instagram with the hashtag #beamingbaker and tag @beamingbaker. I would love to see it! ☀︎
☀︎ More Vegan Christmas Recipes ☀︎
Print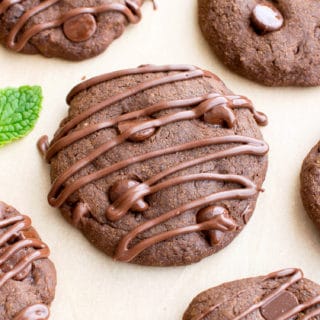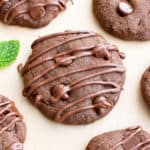 Vegan Triple Chocolate Peppermint Cookies (V, Gluten Free, Oat Flour, Dairy-Free, Soft-Baked)
---
Description
Vegan Triple Chocolate Peppermint Cookies (V, GF, DF): an easy recipe for decadent, soft-baked peppermint cookies bursting with chocolate. Vegan, Gluten Free, Dairy-Free, Oat Flour.
---
Dry Ingredients
1 ¼ cups

gluten free oat flour

¼ cup

unsweetened cocoa powder

½ teaspoon

baking soda

½ teaspoon

baking powder

¼ teaspoon

salt
Wet Ingredients
¼ cup

+

2 tablespoons

melted coconut oil

¼ cup

coconut sugar

¼ cup

pure maple syrup

2

flax eggs (

2 tablespoons

ground flax +

6 tablespoons

water, whisked together, set for 10 minutes)

1 teaspoon

pure peppermint extract
Add-in Ingredients
1 cup

vegan chocolate chips
For topping: 2 tablespoons vegan chocolate chips
Drizzle
¼ cup

vegan chocolate chips

¼ teaspoon

melted coconut oil
---
Instructions
Preheat oven to 350°F. Line a baking sheet with parchment paper or greased foil. Set aside for later.
In a medium bowl, whisk together all the dry ingredients: oat flour, cocoa powder, baking soda, baking powder and salt.
In a large bowl, whisk together all the wet ingredients: coconut oil, coconut sugar, maple syrup, flax eggs, and peppermint. Whisk until thoroughly combined.
Add the dry ingredients to the wet ingredients. Whisk until you get a sticky, soft dough-like mixture. Fold in chocolate chips.
Cover the bowl of cookie dough. Let sit for 10-15 minutes at room temperature—this allows the dry mixture to absorb the wet mixture and become more cohesive.*
Using a cookie scoop, scoop about 2 tablespoons of cookie dough onto the prepared baking sheet. Using a fork, flatten cookies into a round disc of desired thickness—they won't spread much during baking. Press chocolate chips into the tops of the cookies.
Bake for 10-14 minutes. Using a flat, heatproof spatula, carefully lift cookies off the baking sheet and transfer to a cooling rack. Allow to cool completely.
In a microwave safe bowl, add ¼ cup chocolate chips and ¼ teaspoon melted coconut oil. Heat in 20-second increments until softened and melted. Stir until smooth. Spoon melted chocolate into a small zip bag and trim off a tiny corner. Pipe chocolate in a zigzag pattern across the top of each cookie.
Enjoy! Storing instructions below.
Notes
– *You can skip this step, but the dough is more likely to be too sticky to flatten with a fork. Also, the cookies are less likely to have a beautiful textured on top.
– Adapted from my Double Chocolate Chip Cookies (V, GF, DF).
– Store in an airtight container at room temperature for 1-2 weeks.
– Freezing instructions: Store in an airtight, freezer-friendly container in the freezer for 1-2 months. Before enjoying, allow to thaw for 5-10 minutes at room temperature. Or, heat in the microwave in 20-second increments until warm.
– More cookie recipes: cranberry chocolate chip, peanut butter chocolate chip oatmeal, gluten free vegan trail mix, and paleo pumpkin chocolate chip.
– More holiday recipes: peppermint crunch bars, skillet-roasted maple cinnamon pecans, paleo vegan chocolate coconut truffles and no bake chocolate pecan bars. (all V, GF, DF)
Category:

Cookies, Vegan, Gluten Free, Dairy-Free
© beamingbaker.com. All content and images are protected by copyright. Please do not use my images or recipe without my permission. If you wish to republish this recipe, please re-write the entire recipe using your own words and include a link to this post for the recipe.
Facebook ☀︎ Pinterest  ☀︎ Twitter ☀︎ Instagram