3 Ingredient Keto Peanut Butter Balls (Low Carb)
peanut butter keto energy balls: just 3 ingredients for quick 'n easy keto peanut butter balls that are low carb!
Are you going keto or low carb this year? Not gonna lie, Erik and I've been doing keto on and off for the last few years or so and it truly is something else. One thing that I've taken away from it? You stay full for so much longer when you're eating more healthy fats!
I know, some of you are face-palming right now, like, "Duh, Demeter!!" But you know what? I'm a child of the 80s/90s and guess what? We were taught to be super duper scared of fat and eat tons of carbs (like 8-12 slices of bread a day) and also wear spandex cut way too high on the thigh when going to the gym. I mean, there were so many bad ideas during that period!
So, let's skip the duh's and just go, "Ah, I see! Now gimme all the keto energy balls!!!" That's better.  Well, one thing I learned going keto was that you don't have to be on the keto diet to strategically drop a couple keto energy balls and/or other keto snacks in your diet to stay satisfied for longer.
As such, I'm sharing my Peanut Butter Keto Energy Balls recipe with you—both for keto and non-keto folks alike.
4 easy steps with just 3 simple ingredients for keto peanut butter balls that are lightly sweet and totally satisfying.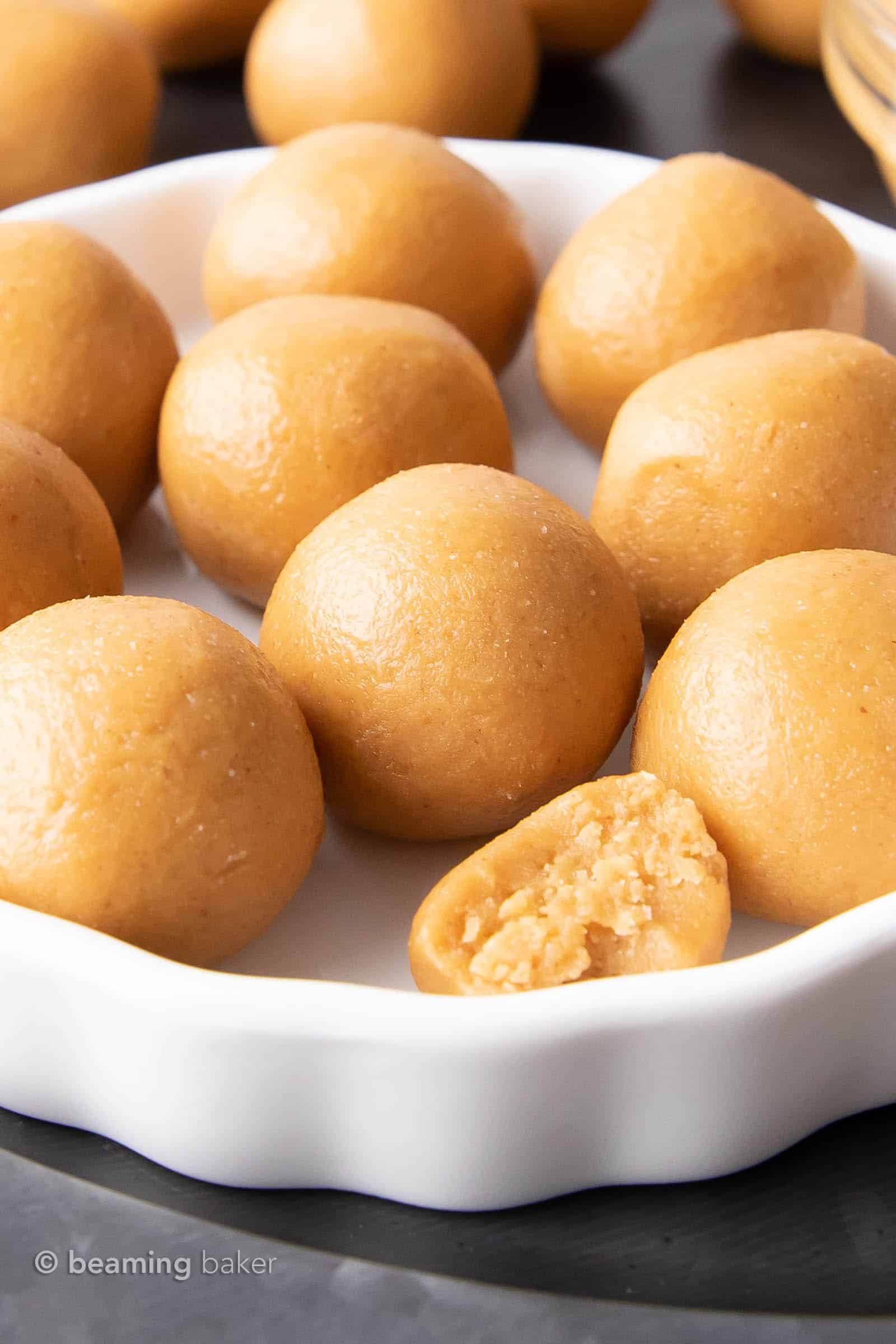 How to Make Keto Peanut Butter Balls
Line
First, line a baking sheet with parchment paper or wax paper. You can even use a plate if that's what you have on hand!
Add Ingredients
Add all keto peanut butter balls ingredients to a medium bowl: peanut butter, coconut flour and keto maple syrup.
Stir
Using a fork, go ahead and stir it all together until well mixed. I like to finish this off by stirring and folding with a rubber spatula.
Scoop and Enjoy!
Using a small or medium cookie scoop, scoop and drop keto balls onto the prepared baking sheet (or plate!). Now, enjoy the easiest keto peanut butter balls ever!
An easy 3 ingredient keto energy balls recipe!
Best news? This peanut butter keto energy balls recipe only requires 3 simple ingredients: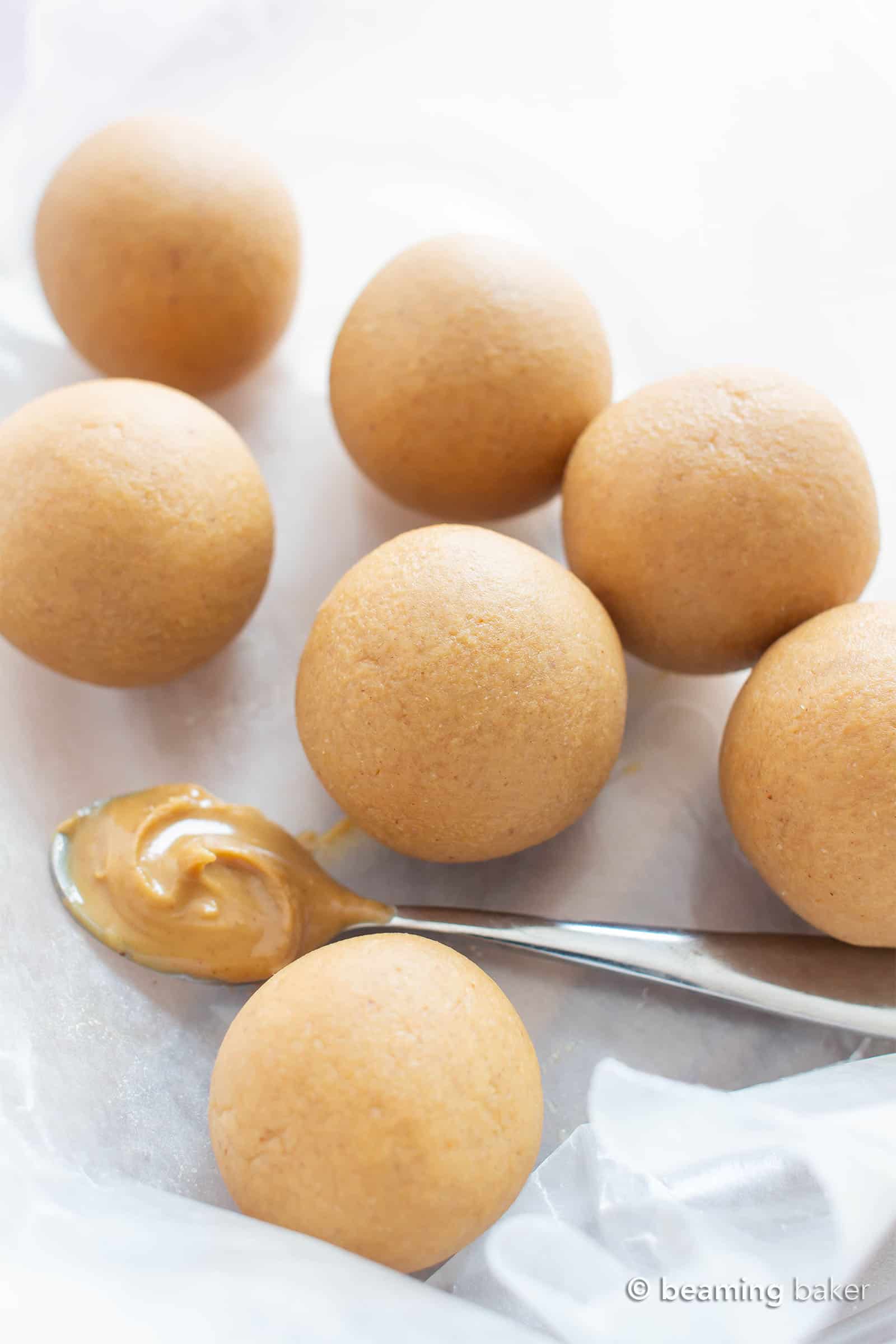 Testimonials
Hailey says, "Thank you for this recipe! I've been craving sweet food, as I just switched to keto and these turned out GREAT! I feel better in so many ways after eating one. My body is now satiated ♥️ (Also I used swerve and crunchy peanut butter instead and they still turned out good) Yum."
Meg says, "Sooo easy, yummy, and satisfying! I started the keto diet in the new year, so I really appreciate the recipe for this super-tasty treat. Thank you, Demeter!!"
Hellen says, "Turned out SO WELL!!! Thank you!"
The Taste: Keto Peanut Butter Balls
This keto energy balls recipe is so unbelievably tasty that you'll just have to try it to see. I love turning to these peanut butter keto energy bites when I'm oh-so-close to giving up on my healthy plan for the day. (And believe you me, I'm close to giving up like all the darn time.) One keto energy ball and your sweet tooth craving is satisfied. Heck, if you need two, go for two!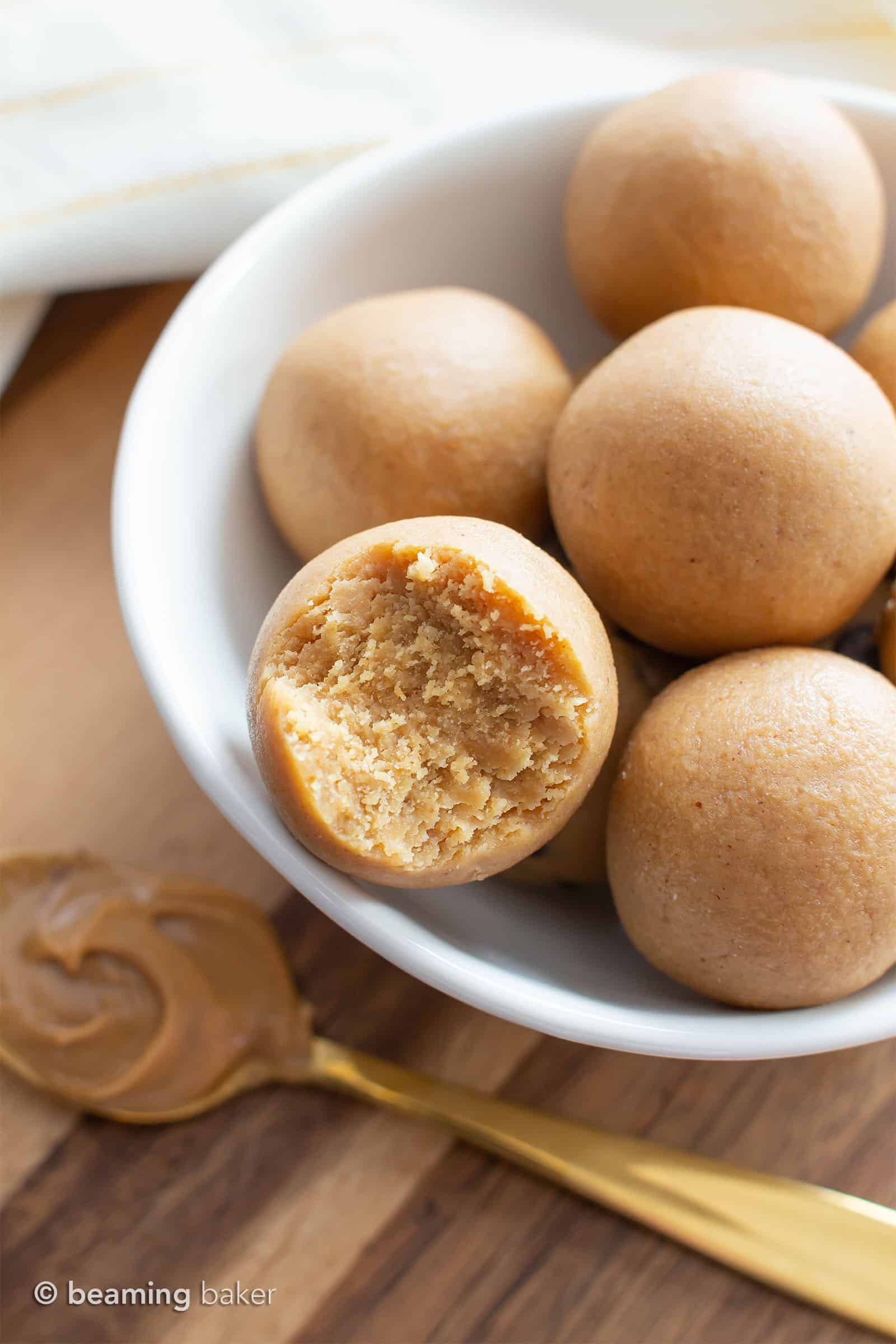 recommended tools for the best keto energy bites!
Medium Cookie Scoop or Small Cookie Scoop: I seriously love these cookie scoops! They're so friggin' useful in the kitchen, it's not even funny–and they allow me to scoop up these keto energy bites super fast while still creating perfectly round shapes.
Low Carb Sweetener: A vital ingredient in these keto energy bites, this low carb sweetener is what actually makes this a keto recipe. It's also sugar-free!
Are you ready to try making all the keto energy balls? I can't wait to hear what you think! Just, know that I truly love making and sharing in these sweet kitchen moments with you. 'Til the next keto kitchen adventure…
Sending you all my love and maybe even a dove, xo Demeter ❤️
☀ Click below to Pin ☀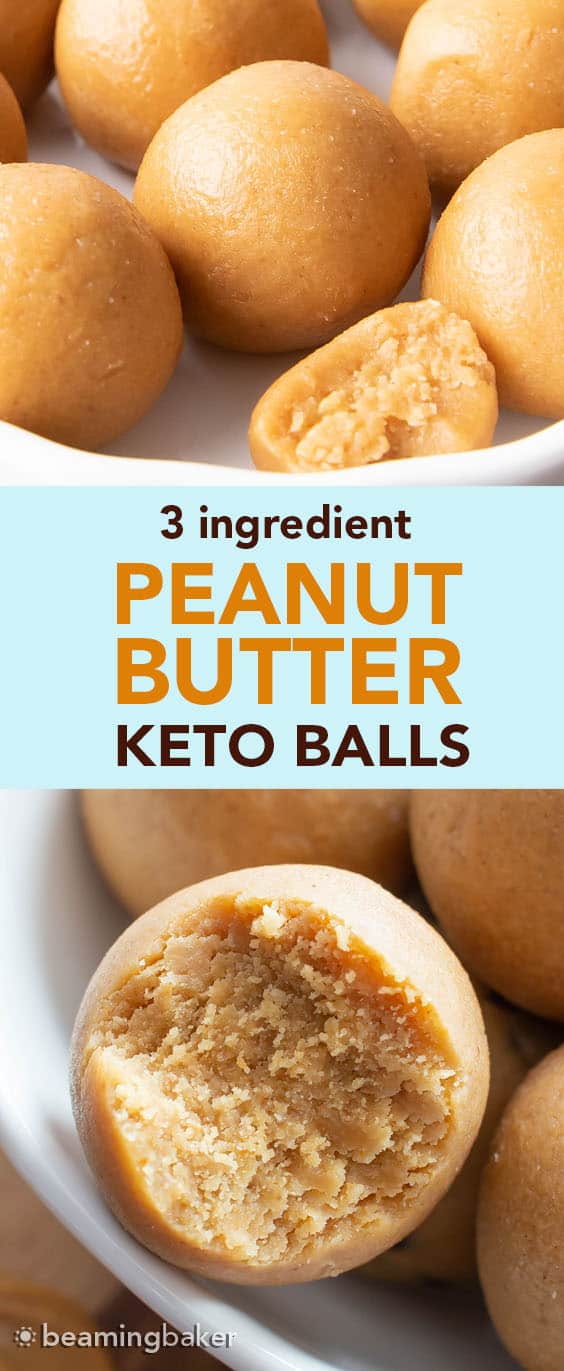 📸 Did you make this keto peanut butter balls recipe? Take a pic and share it on Instagram with the hashtag #beamingbaker & tag @beamingbaker. I'd love to see it! 📸
Keto Snack Recipes
Print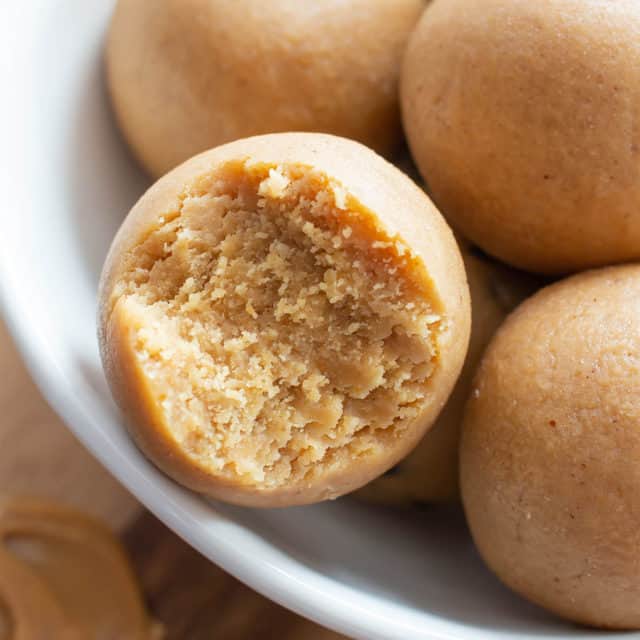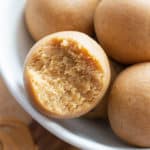 3 Ingredient Keto Peanut Butter Balls (Low Carb)
---
Description
Peanut Butter Keto Energy Balls Recipe: just 3 ingredients for easy keto energy bites bursting with peanut butter flavor!
---
---
Equipment
Prep Time:

15 mins

Cook Time:

0 mins

Category:

Snacks

Method:

Chill

Cuisine:

American
Nutrition
Serving Size:

1 ball

Calories:

69

Sugar:

1g

Sodium:

4mg

Fat:

5g

Saturated Fat:

1g

Unsaturated Fat:

3g

Carbohydrates:

4g, Net Carbs: 2g

Fiber:

2g

Protein:

3g

Cholesterol:

0mg
This post may contain affiliate links, which allow me to make a small commission for my referral, at no additional cost to you.