Chewy Healthy Oatmeal Chocolate Chip Cookies (V, GF): my favorite easy recipe for chewy chocolate chip oatmeal cookies with mouthwatering crispy edges, bursting with chocolate morsels! Made with healthy ingredients. Vegan, Gluten-Free, Dairy-Free.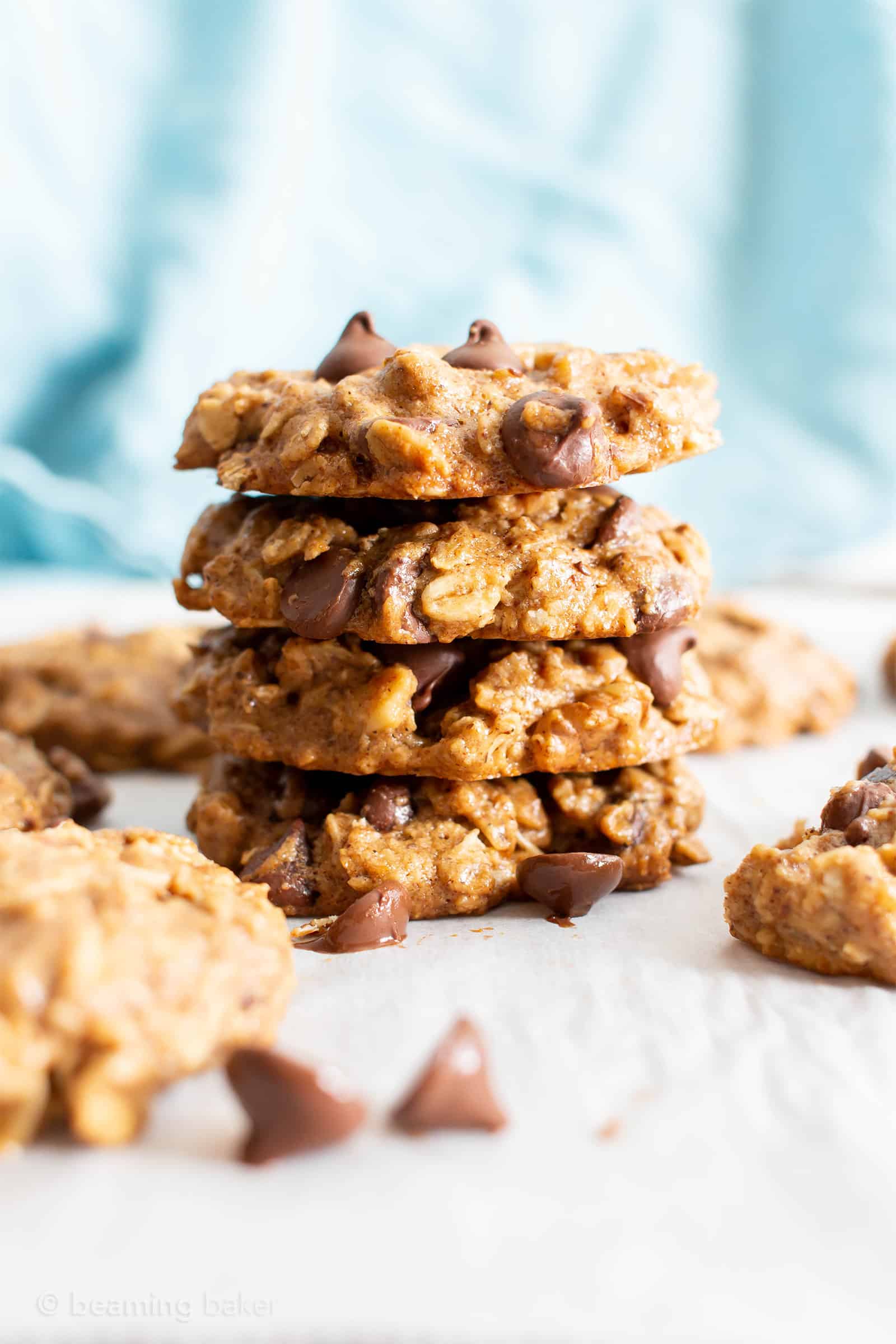 What's your favorite board game? Perhaps a classic like Monopoly or a more indie treat like Elder Sign? Now that we're safely seated into the thick of fall, I'm looking everywhere for fun indoor activities. This past summer, while I was enjoying scoops of peanut butter swirl ice cream & paleo almond joy ice cream, Erik and I hid in the cool of our apartment, playing a large assortment of board games.
There's just something special about East Coast weather in that, whether it's extremely hot or extremely cold, you can and should run indoors. Or else. 😉 As a California gal, born and raised, I'm still getting used to it all. Even after 6 on and off years of living in Massachusetts! Go figure.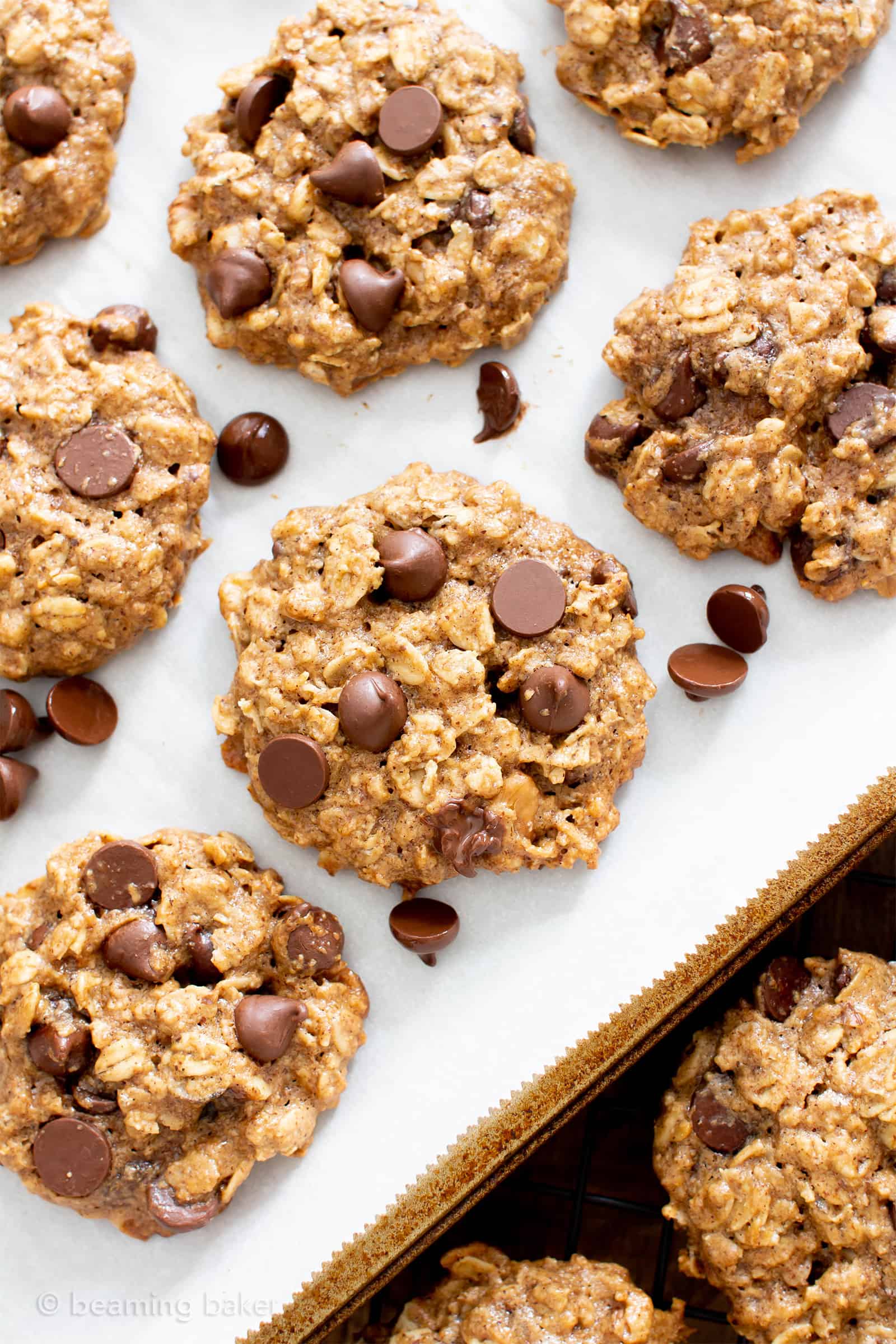 So this time around, I'm gonna prepare well in advance. See: these Chewy Healthy Oatmeal Chocolate Chip Cookies. They're kind of my way of saying, 'Hey fall and winter holidays! I see you. I know it's about to get ALL kinds of indulgent. But can also enjoy a little sumthin' sumthin' without the guilt.' Kinda like how I approached these orange cardmom muffins and these sea salt dark chocolate almond clusters. 😉
And then me mumbling audibly to myself that I should probably think about not talking to the seasons and/or inanimate objects quite as often.
'Til then…
Let's make all of the easy 'n chewy healthy oatmeal chocolate chip cookies. They're made with healthy ingredients… perfectly chewy, crispy, moist, and all of the best yummy cookie adjectives. Packed with oats and chocolate, plus a sneaky little ingredient that makes ALL the difference: almond butter. 😉 They're so indulgent-tasting that you'd bet on the fact that they're made with the guiltiest of guilty ingredients (butter, white cane sugar, etc.)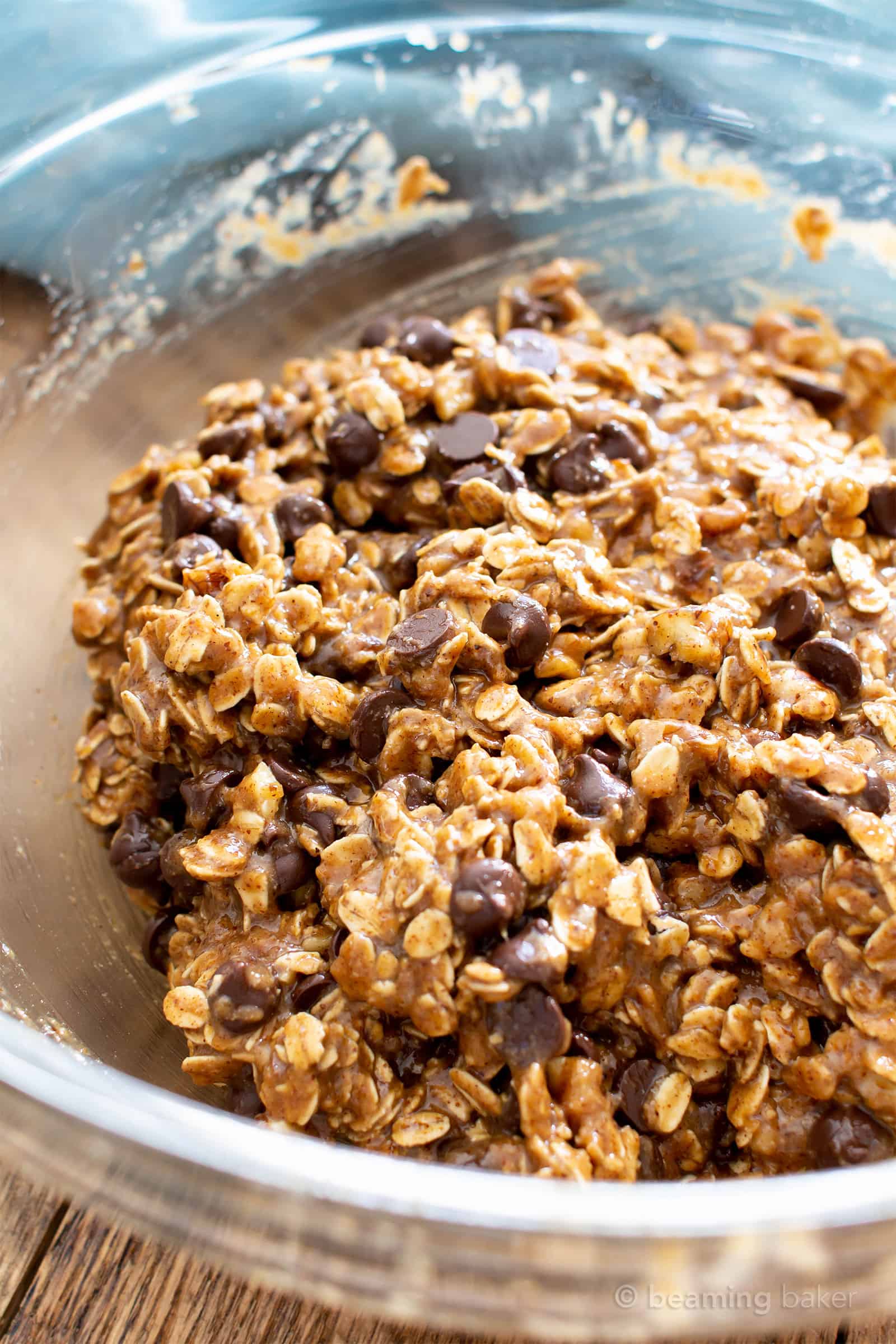 These babies are seriously one of my favorite cookies. Of all time.
Along with these: peanut butter chocolate chip oatmeal cookies, these vegan chocolate chip cookies, and these oatmeal chocolate chip cookies. Oh, and these no bake chocolate peanut butter oatmeal cookies!!! Yep, my love for cookies goes far and wide. 😉
Now, if only I can find my favorite board game of all time. I'm gathering all of your best ideas! Right now, Erik and I've been playing and enjoying: Bananagrams, Megaland (a new game that's quick and easy to start playing), Taboo, Uno (all-time FAVE), and Forbidden Island.
I'm a sucker for classic games that are super easy to start playing… in fact, that's making me realize that's how I approach recipes. Dun dun dun!! I love classic recipes that are made super simple and easy. Well, then!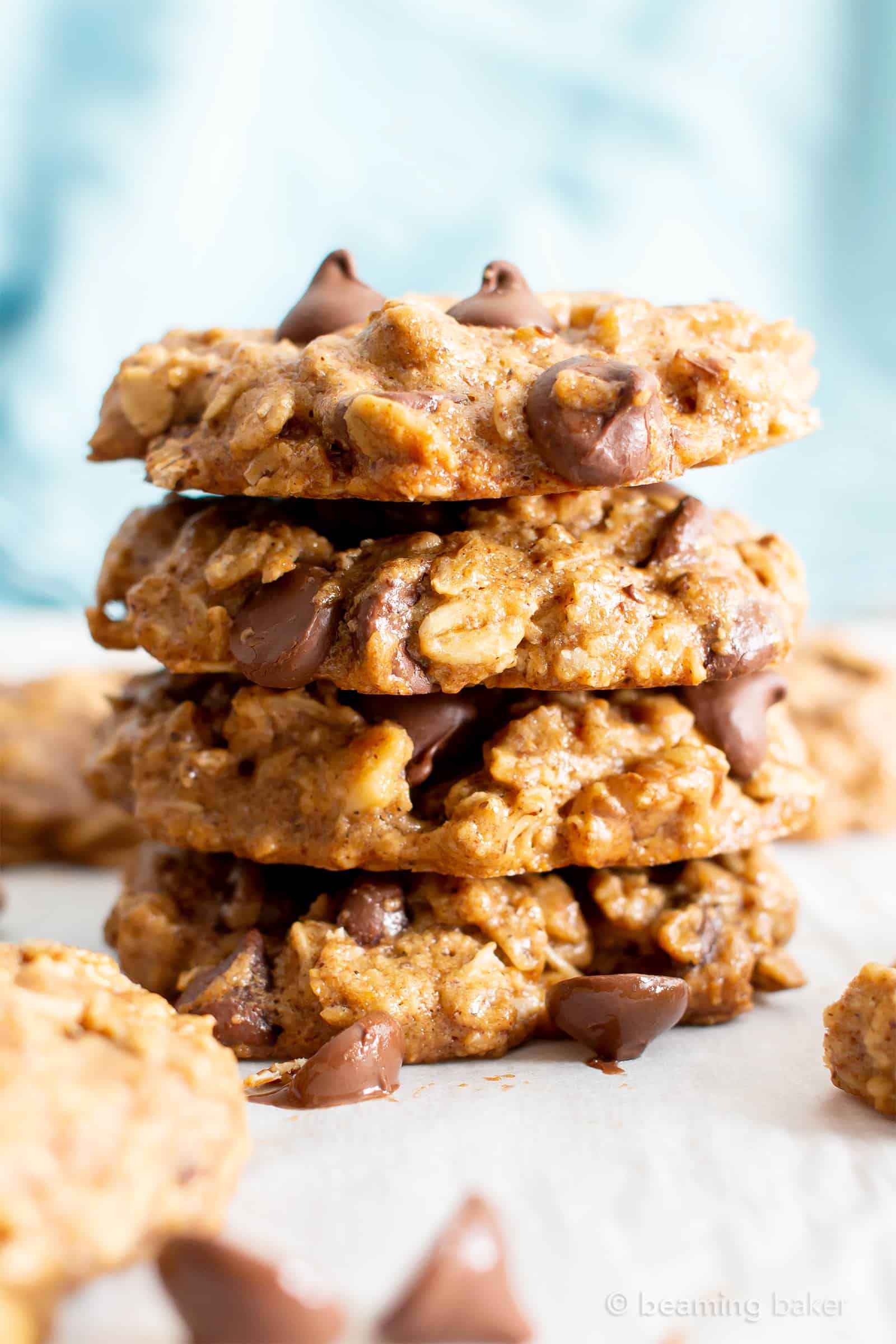 Let me know your faves so I can try them out. In the meantime, allow me to tell you all about my Vegan Chewy Healthy Oatmeal Chocolate Chip Cookies. They're:
chewy and moist on the inside, crispy on the outside
wonderfully vegan, gluten-free, dairy-free
soon-to-be your favorite gluten free chocolate chip oatmeal cookies
bursting with oat-filled YUM
with just the right amount of chocolate
the perfect thick 'n chewy oatmeal chocolate chip cookies to add to your healthy vegan cookie recipe box!
seriously so good paired with gluten free banana chocolate chip oatmeal breakfast bars and easy gluten free vegan oatmeal raisin cookies
made with the whole, healthy ingredients you know and love
the perfect accompaniment to board games!!
Are you ready to get your cookie on? Let's do it! You grab the gluten free homemade oat flour, I'll grab everything else. That's how I roll! 😉 It's THE most fun sharing in these sweet moments with you. I can't wait to hear what you and your loved ones think. 'Til next time…
Sending you all my love and maybe even a dove, xo Demeter ❤️
????︎ Click below to Pin ????︎

???? Did you make this recipe? Take a pic and share it on Instagram with the hashtag #beamingbaker and tag @beamingbaker. I would love to see it! ????︎
If you enjoyed this Chewy Healthy Oatmeal Chocolate Chip Cookies recipe, then you'll just love these easy 'n healthy gluten free cookie recipes:
Gluten Free Vegan Cookie Recipes
Chewy Healthy Oatmeal Chocolate Chip Cookies (Vegan, Gluten-Free, Dairy-Free, Refined Sugar-Free)
Chewy Healthy Oatmeal Chocolate Chip Cookies (V, GF): my favorite easy recipe for chewy oatmeal chocolate chip cookies with mouthwatering crispy edges, bursting with chocolate morsels! Made with healthy ingredients. Vegan, Gluten-Free, Dairy-Free, Healthy, Refined Sugar-Free.
Author:
Demeter | Beaming Baker
Recipe type:
Cookies, Vegan, Gluten-Free, Dairy-Free, Healthy, Refined Sugar-Free
Ingredients
Wet Ingredients
¼ cup melted coconut oil
½ cup unsalted, natural creamy almond butter
¼ cup + 2 tablespoons coconut sugar
¼ cup + 2 tablespoons pure maple syrup
2 flax eggs (2 tablespoons ground flaxseed + 6 tablespoons warm water, whisked together, set for 15 minutes)
1 teaspoon pure vanilla extract
Dry Ingredients
2 cups gluten free rolled oats
¾ cup gluten free oat flour - if using homemade, make sure it's very finely ground (not coarse)
1 teaspoon baking powder
1 teaspoon ground cinnamon
½ teaspoon salt
Add-ins
1 cup vegan chocolate chips
½ cup chopped walnuts (or your favorite add-in)
Optional Topping
2-3 tablespoons vegan chocolate chips
Instructions
Preheat oven to 350°F. Line a baking sheet with parchment paper or greased foil. Set aside.
In a medium bowl, whisk together the wet ingredients: coconut oil, almond butter, coconut sugar, maple syrup, flax eggs and vanilla.
In a large bowl, using a rubber spatula, stir together all of the dry ingredients: oats, oat flour, baking powder, cinnamon and salt.
Pour the wet mixture over the dry mixture. Using the spatula, fold and stir until well mixed. Fold in chocolate chips and walnuts.
Using a 2-tablespoon cookie scoop, scoop and drop cookie dough balls on the prepared cookie sheet, spread evenly apart. Optionally, dot the cookie tops with chocolate chips. Using a fork, flatten cookies to desired thickness—cookies will only spread a tiny bit. Cookie dough will be sticky.
Bake for 12-18 minutes. Mine took 16 minutes. Allow cookies to cool on the cookie sheet for about 10 minutes (on a cooling rack). Transfer cookies directly onto a cooling rack to cool completely before storing. Storing instructions below. Enjoy!

Try my favorite Oatmeal Cookie Recipes: Gluten Free Vegan Oatmeal Chocolate Chip Cookies and Chewy Oatmeal Raisin Cookies.
Notes
- Store in an airtight container for 1-2 weeks.
- Freezing Instructions: store in a freezer-friendly container or bag. Keep for up to 1-3 months. Thaw at room temperature for about 20 minutes before enjoying.
© beamingbaker.com. All content and images are protected by copyright. Please do not use my images or recipe without my permission. Please do not republish this recipe, instead, include a link to this post for the recipe.
Facebook ☀︎ Pinterest  ☀︎ Twitter ☀︎ Instagram