Healthy Breakfast Bars Recipe
Deliciously soft healthy breakfast bars bursting with fruits, nuts and seeds. The best breakfast bars ever!
Wholesome and homemade: wonderfully filling breakfast bars packed with your favorite add-ins, heart-healthy oats and delicious fruit! What could be better?
You know what I love about making breakfast bars versus breakfast cookies? You can prep the entire batch of dough and just dump the entire thing in a pan, smooth it out and bake it. Easy peasy, lemon squeezy.
Nowadays, we're all looking to make meal prep as easy and simple as possible. And let's face it, if we could skip the whole prepping part of meal prep, we probably would. (That is, unless we achieved our dreams of having oodles and oodles of free time to enjoy the pleasure of baking.)
So what am I gonna do today to help things be a bit easier, a bit simpler, and a whole lot more delicious for your snack prep? Introducing…
Healthy Breakfast Bars
My easily customizable Healthy Breakfast Bars recipe! This recipe is one of my favorite breakfast bars ever. It's packed with nuts, seeds, fiber-rich oats, naturally sweetened fruits and a bit of healthy fats to keep you full and energized throughout the day.
Best part? You can easily switch up most of the ingredients to suit your dietary needs. But more on that later… <– It's called intrigue, people! 😉 And if you're looking for more breakfast recipes, check out my 25+ Healthy Gluten Free Breakfast Recipes!
What Are Breakfast Bars?
Breakfast bars are one of my favorite breakfast treats! But more than that, breakfast bars are a breakfast food that's packed with the most commonly enjoyed breakfast ingredients: oats, bananas, nuts, seeds and a lil' sweetener, depending on the recipe. 🙂 Typically, you'd whisk together all of these ingredients, pour them into a pan, then bake, cool, slice and enjoy!
Breakfast bars are a super popular option because they can be made fairly quickly, and, can be customized to your personal liking!
In today's healthy breakfast bars recipe, I'm taking the concept of breakfast bars and making them healthy. How are these breakfast bars healthy, you ask? Well, they're packed with fiber-rich and heart-healthy ingredients, a minimal amount of sweetener, and whole ingredients that you can feel good about. Learn more about these breakfast bars' health benefits below.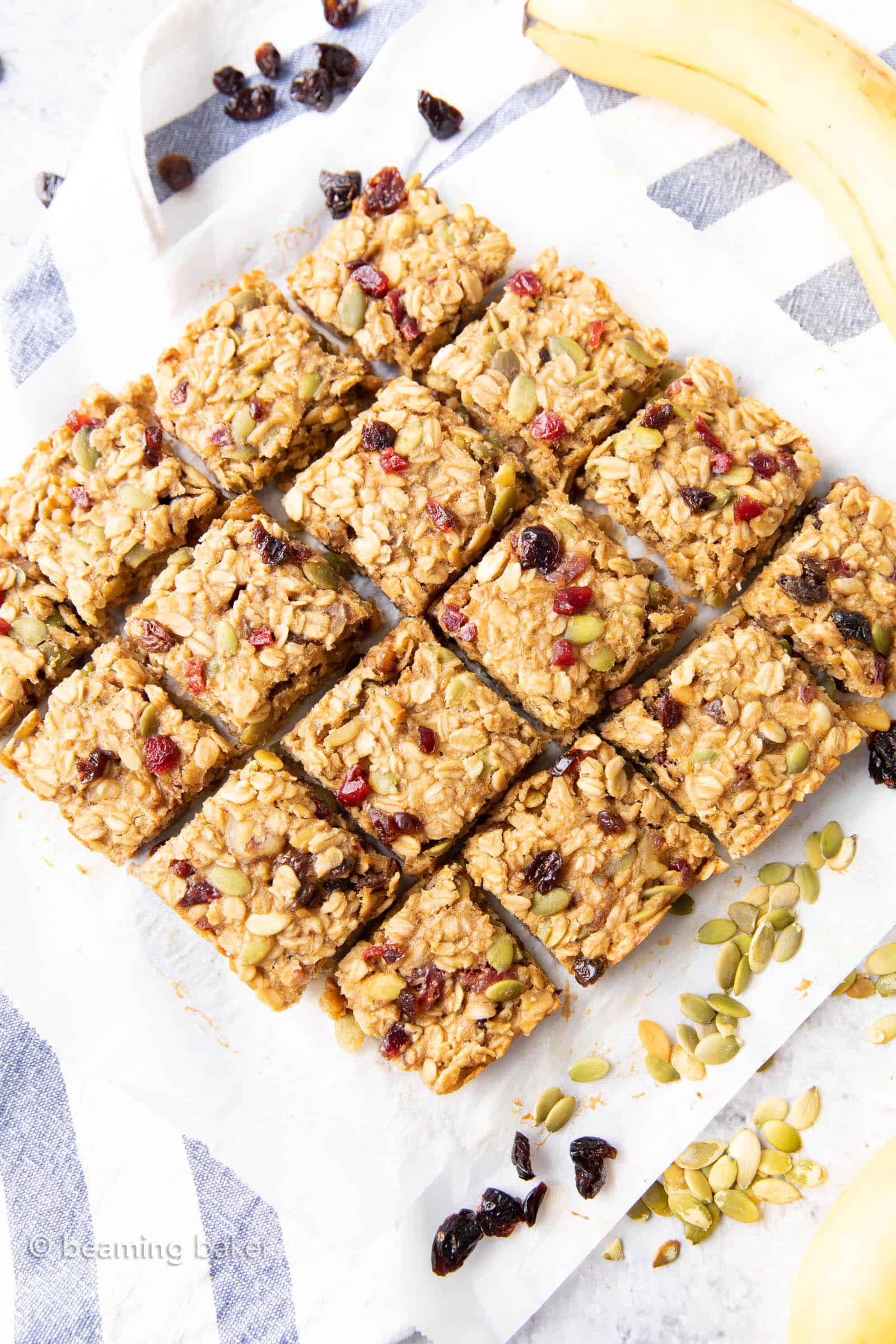 The Ingredients You Need
My breakfast bars recipe is made with simple, whole ingredients that you can feel good about! I love making these in advance, then packing some for a day trip or for a long day at work! Check out the delicious ingredients below!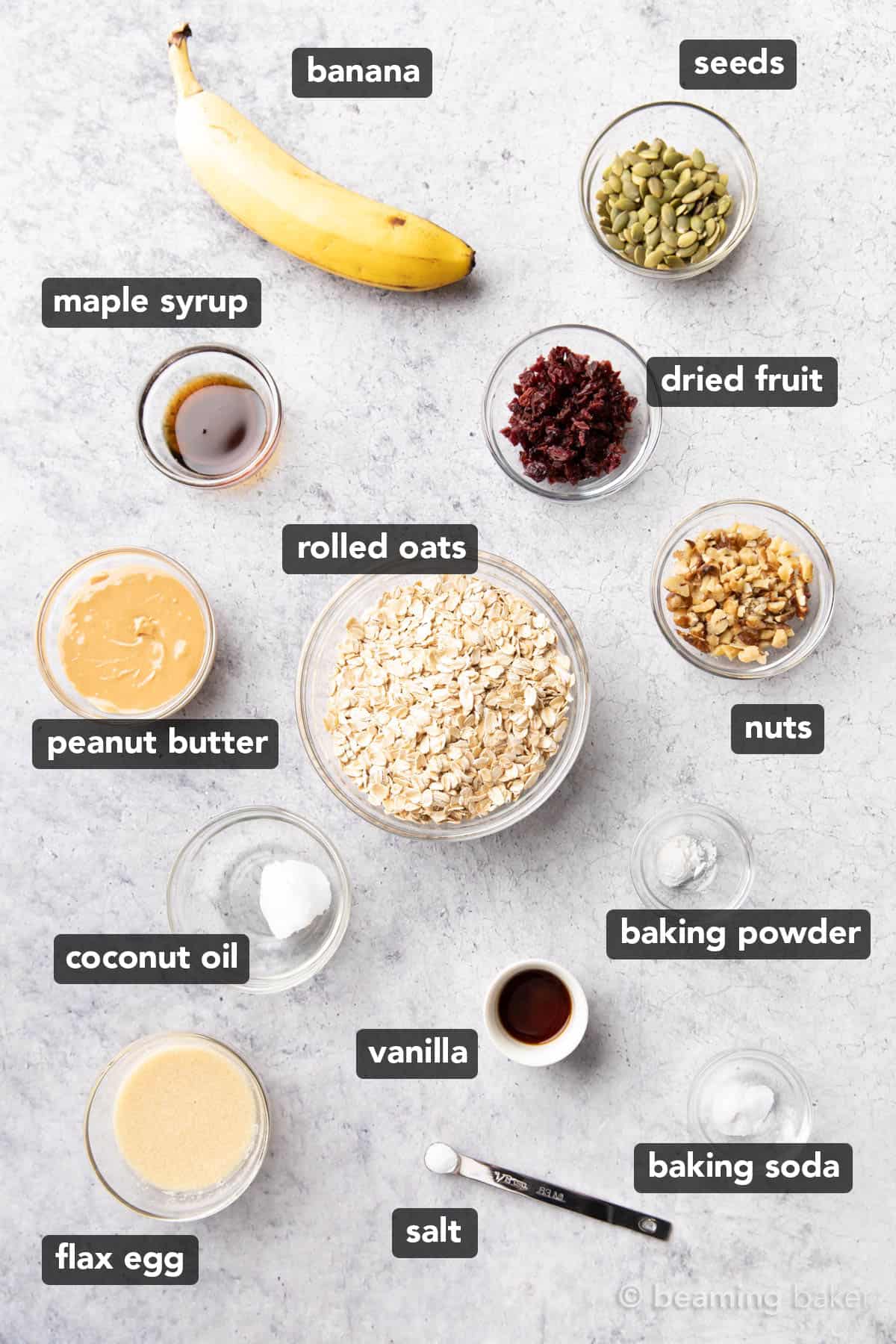 How to Make Healthy Breakfast Bars
Wondering how to make a breakfast bar recipe the healthy way? We're gonna make it simple and easy while using the least processed ingredients that also just happen to be packed with nutrients and vitamins. Follow these super easy steps to make breakfast bars!
Mash Banana
Mash banana in a large bowl. My secret trick for easy mashing? Using a dough blender! You can use a fork or a whisk to mash, but I love my handy tool the best. P.S. So does Erik!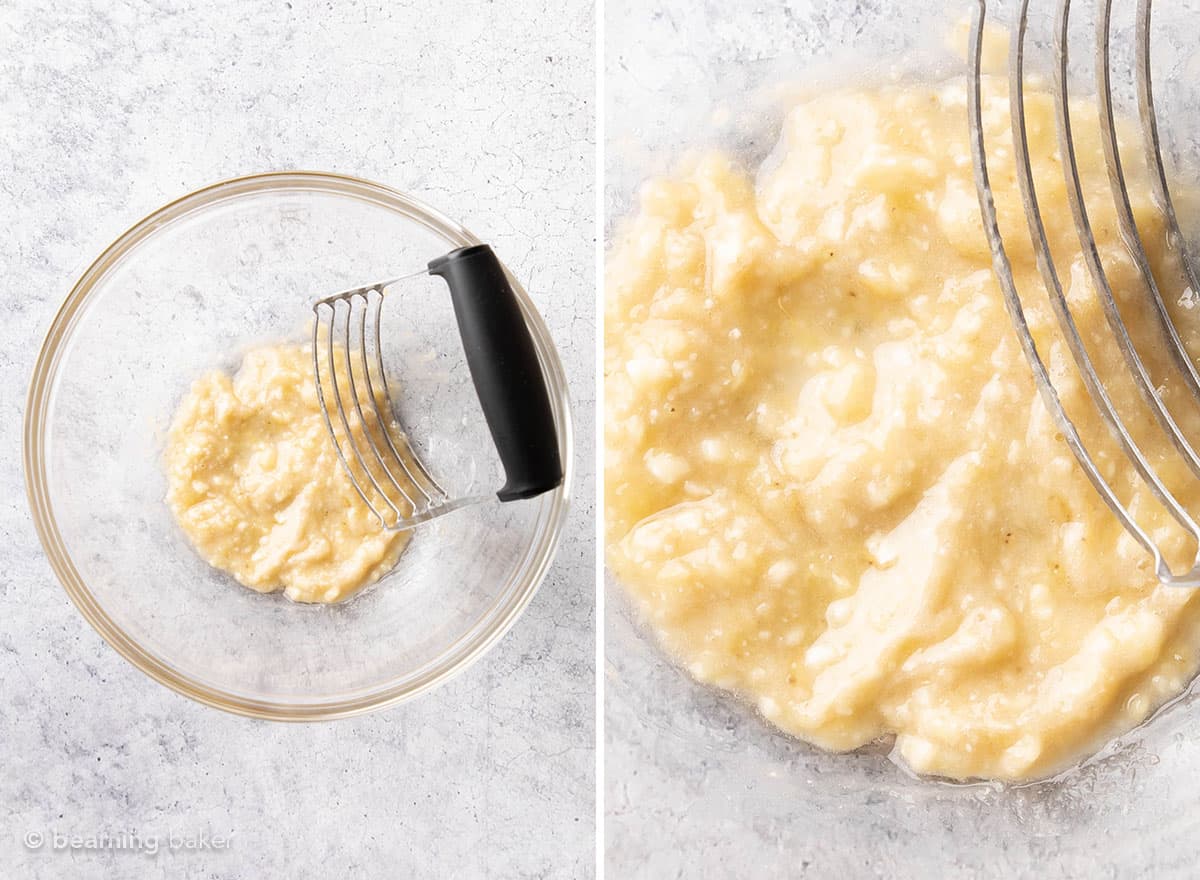 Prep Wet Ingredients
Add the rest of the wet ingredients to the same bowl: peanut butter, maple syrup, coconut oil, flax egg and vanilla. Whisk until well mixed.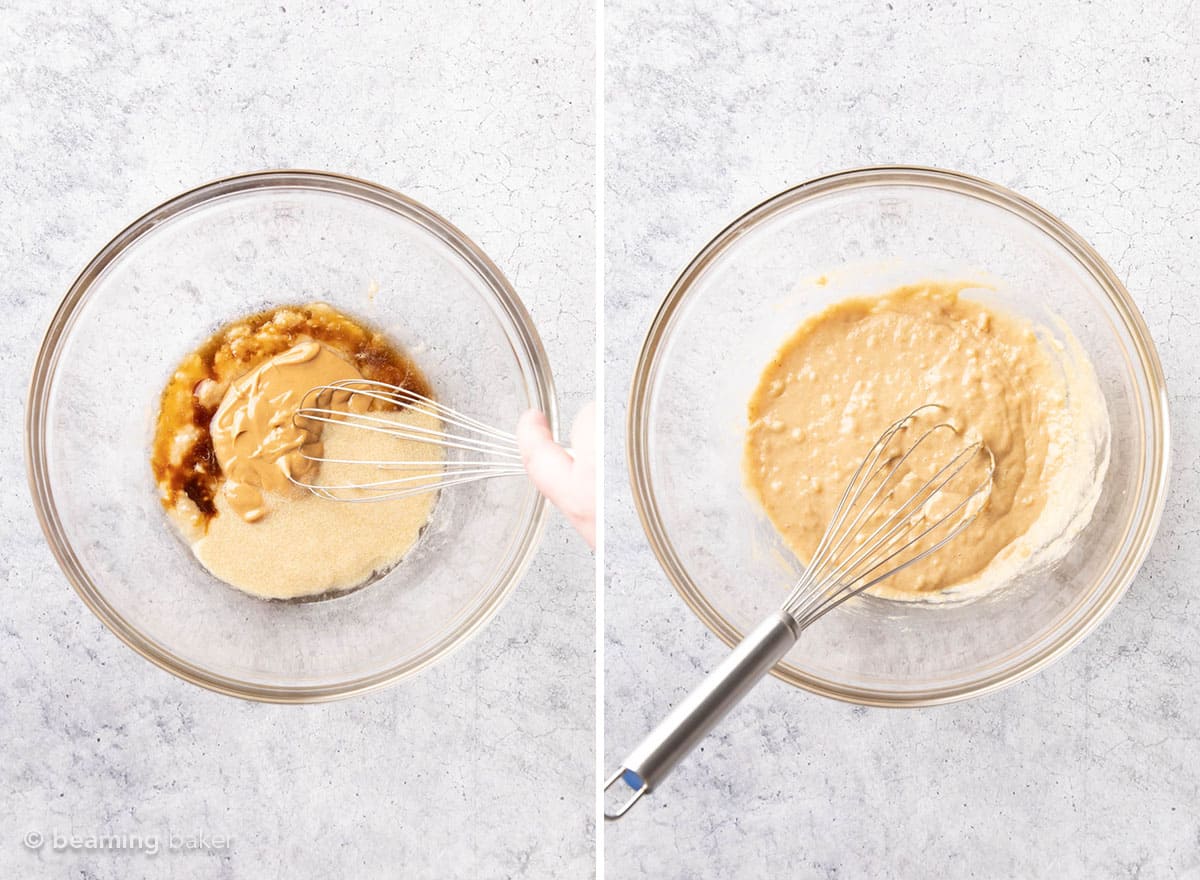 Add Dry Ingredients
Add dry ingredients and fold until well mixed: gluten free rolled oats, baking soda, baking powder and salt. Voila, you've just made the dough for your breakfast bars!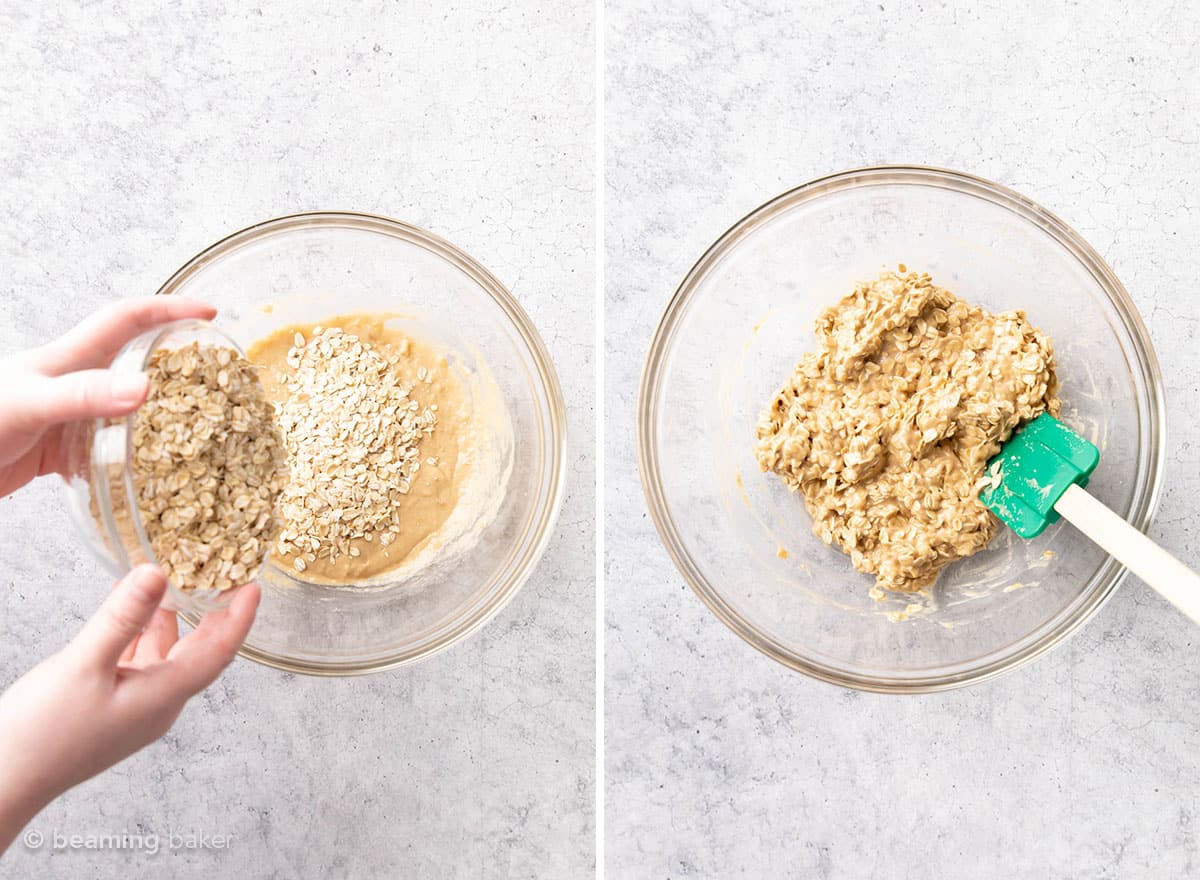 Fold in Add-ins
Now, for the fun part! Add in your favorite add-in ingredients for fully customizable breakfast bars. I like using dried cranberries for my dried fruit, sunflower seeds for my seeds, and chopped walnuts for my nuts.
You can skip them all and use chocolate chips, if you like. Go wild–they're your breakfast bars!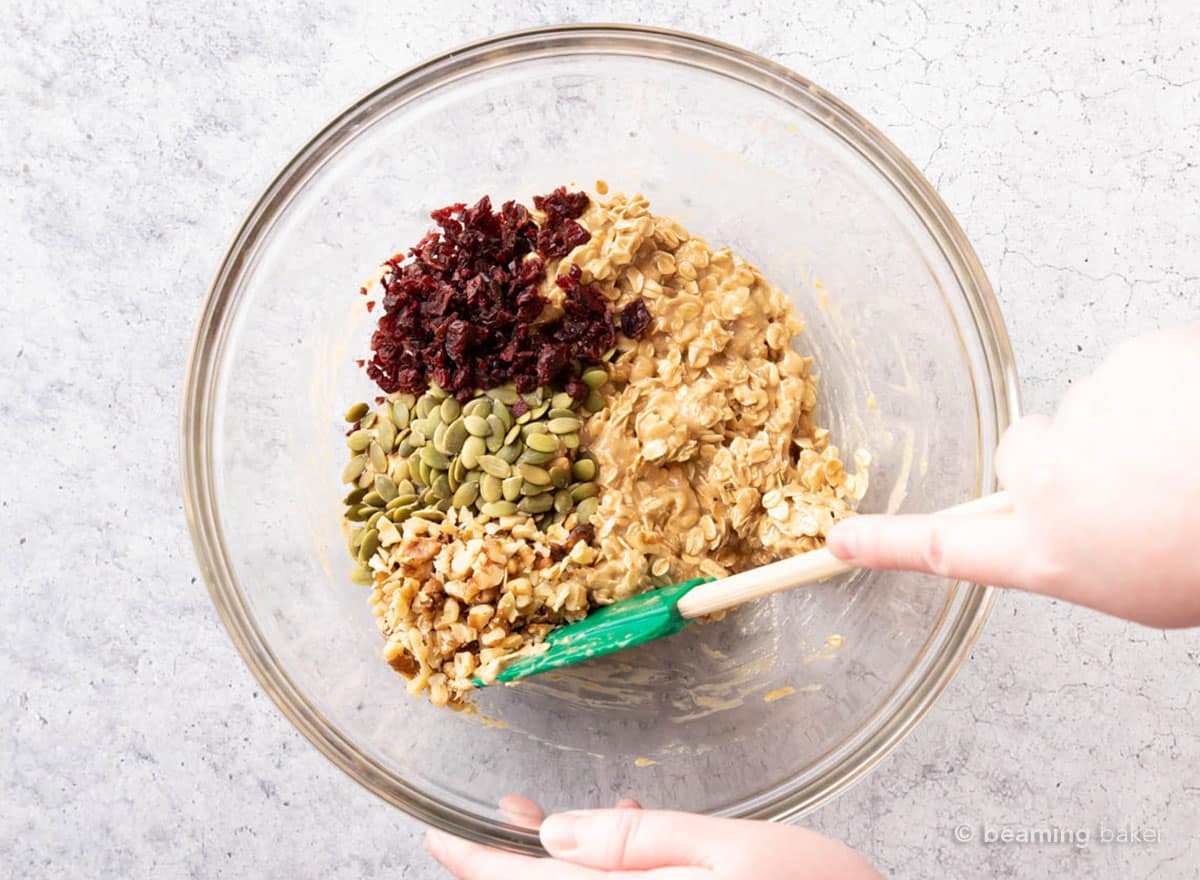 Pour into Pan
Pour your breakfast bar mixture into a pan and smooth into an even layer.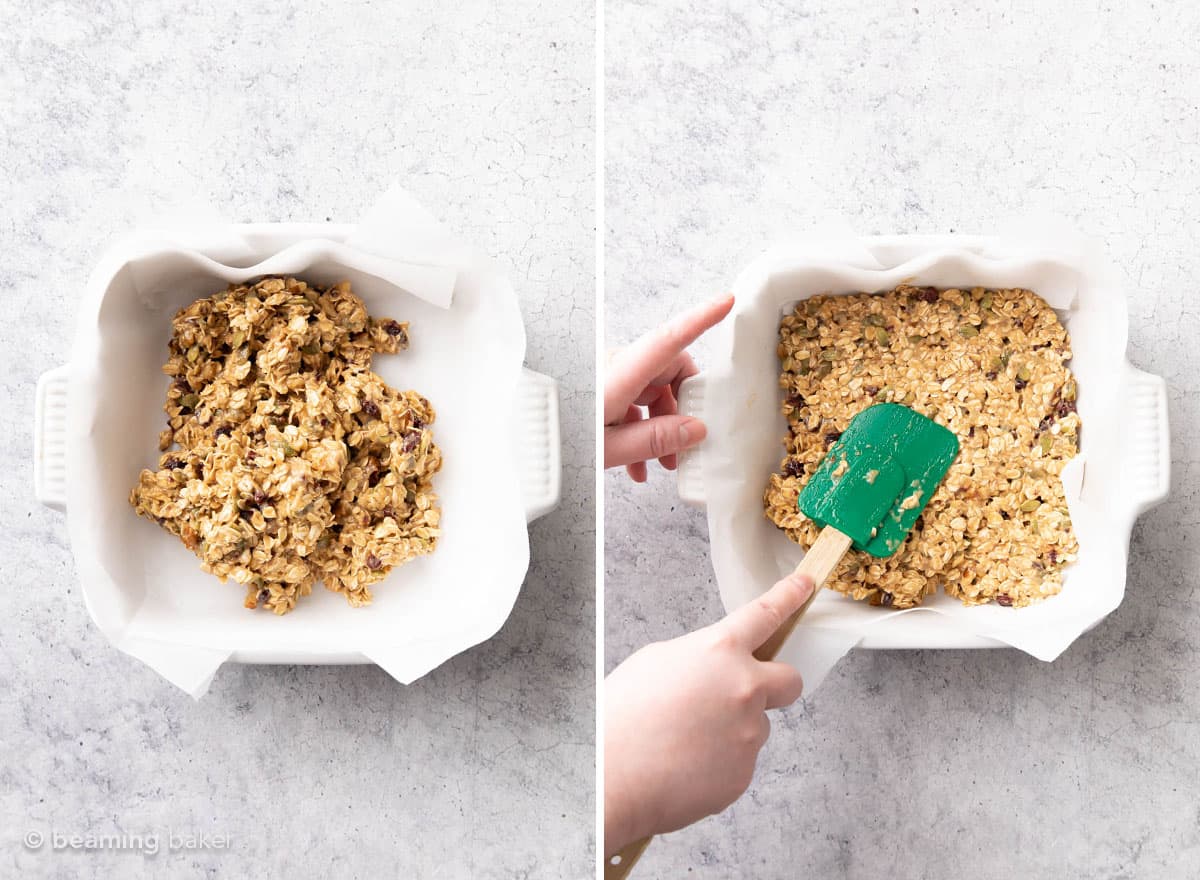 Bake
Bake for about 15 minutes.
Cool, Slice and Eat!
Cool, slice and eat the best healthy breakfast bars! Then pat yourself on the back—you rock!
What makes this breakfast bars recipe healthy?
You might be asking yourself, "What in the heck makes these breakfast bars so healthy?" Well, the ingredients, my friend! I've designed a healthy breakfast bar that packs in the healthiest ingredients without sacrificing on flavor. Take a look for yourself:
Oats: oats are a longtime favorite in my family. They're fiber-rich, heart-healthy and keep you delightfully regular [1]. Sorry, had to say it!
Bananas: bananas are a naturally sweet fruit that lend flavor and delicious health-benefits to your healthy breakfast bars! Think: 33% of your daily RDI (recommended daily intake) of Vitamin B6, among other nutrients. Think: antioxidant-rich and fiber-rich [2].
Flaxseed, Walnuts, Pumpkin Seeds: the powerhouse trifecta of healthy fats that are low in carbs and rich in nutrients.
Natural, Unsalted Peanut Butter: Sometimes peanut butter can get a bad rap–mainly because most store-bought peanut butter products are actually "spreads" which contain plenty of added sugar, oils, and other ingredients. Conversely, natural, unsalted peanut butter contains just 1 ingredient: peanuts. With 1/4 cup of natural peanut butter for the whole recipe, you'll get just the right amount of filling, satisfying, heart-healthy fats to keep you going–without the guilt.
A simple and easy recipe for healthy breakfast bars that you can easily customize with your favorite add-ins.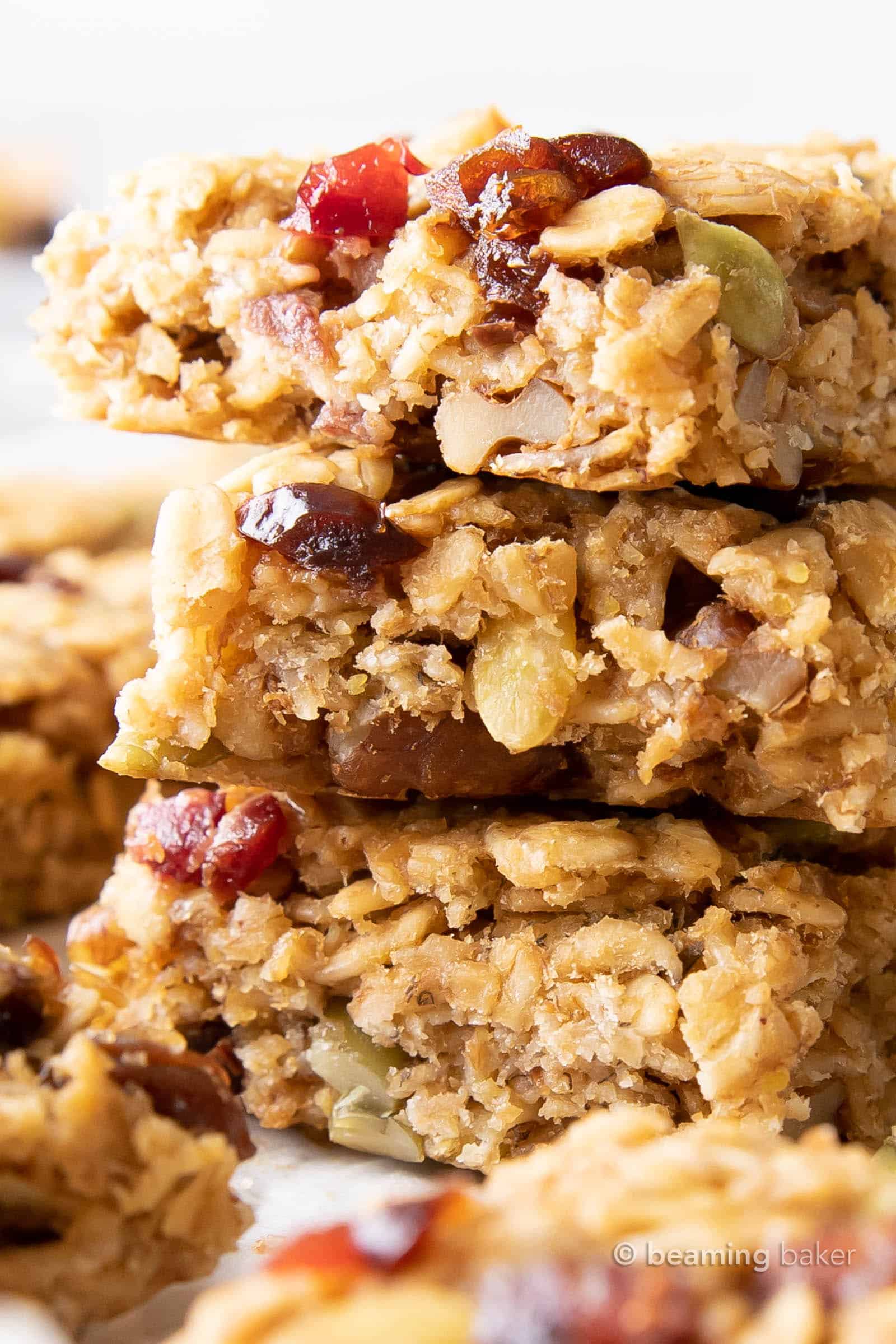 Where Can I Find Healthy Breakfast Cookies?
If you're hankering for breakfast cookies instead of breakfast bars, check out a few reader favorites below:
Substitutions & Customizing Your Breakfast Bars
Wanna know how to make substitutions to your healthy breakfast bars? How about how to customize your breakfast bars to your liking? Read on to find out!
Peanut Butter: sub with almond butter, cashew butter or sunflower seed butter. Other nut/seed butters will work, too. 🙂
Coconut Oil: sub with vegan butter or other oil that you enjoy the flavor & scent of.
Vanilla Extract: sub with a smaller amount of almond extract, or other extracts—just make sure you don't put too much in, as some are much stronger than vanilla.
Maple Syrup: sub with brown rice syrup, agave, or honey if not vegan.
Flax Egg: sub with chia egg or regular egg if not vegan. Learn how to make a flax egg here.
Seeds: I like using pumpkin or sunflower seeds. Try adding the seeds that you like.
Raisins or Dried Cranberries: sub with any dried fruit—just make sure to chop it finely so no big chunks make your breakfast bars crumbly.
Walnuts: sub with any chopped nuts or more dried fruit.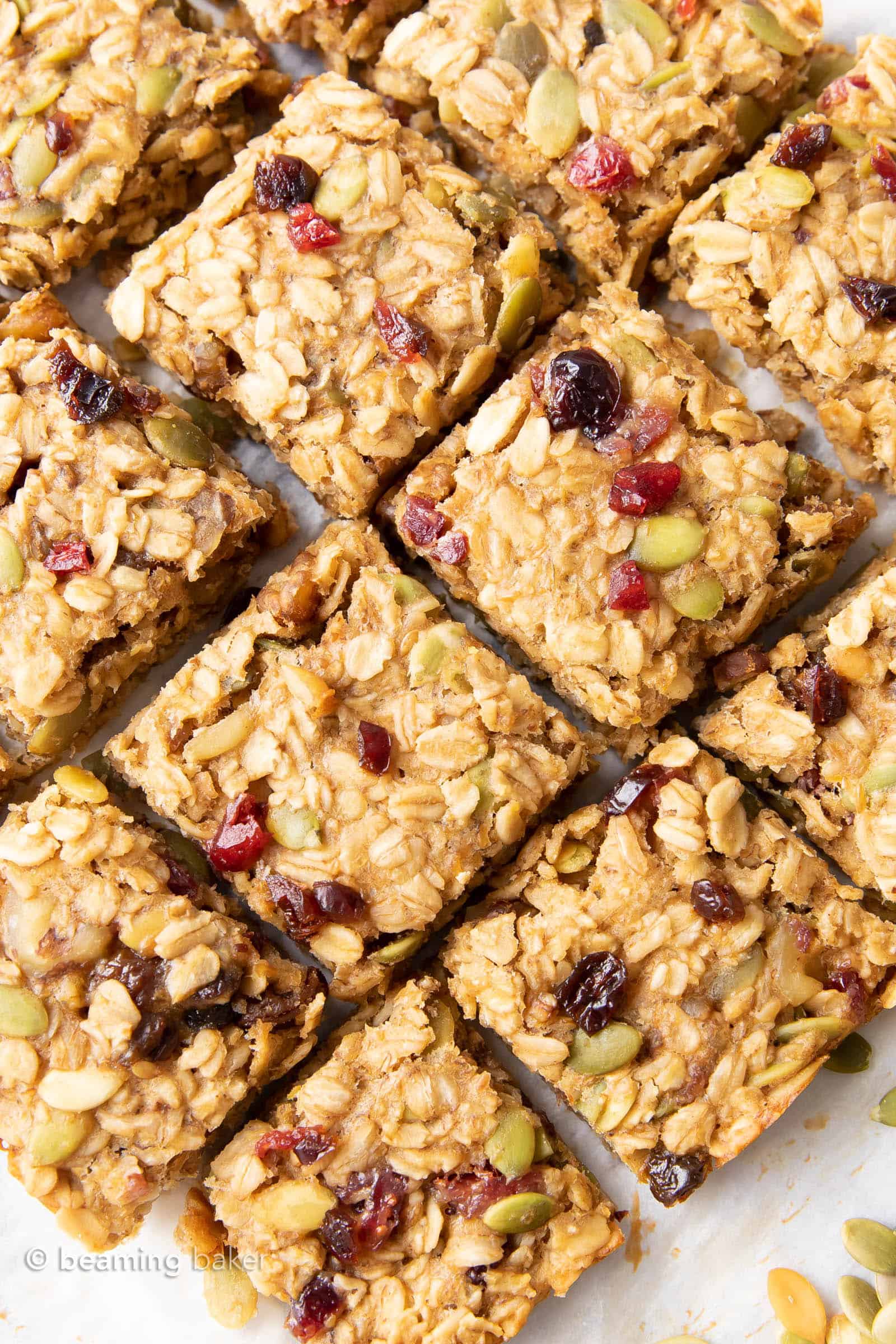 Recommended Tools
Dough Blender: my #1 tool for mashing bananas. And my how many bananas Erik and I have mashed (probably 1,000s). This dough blender makes quick work of mashing your bananas into just the right texture.
Organic Pumpkin Seeds, No Added Sugar Dried Cranberries & Raw Walnuts: my favorite add-ins, from no bake granola bars to homemade granola and more. The combo is deliciously sweet, savory, tart and nutty. Yum!
That was easy peasy, lemon squeezy, amiright? 😉 Let me know if you try my recipe in the comments below—I truly love hearing from you! In the meantime, just know that I'm so thankful that you're here, sharing in these wonderful baking adventures with me and your loved ones. 'Til the next one…
Sending you all my love and maybe a dove, xo Demeter ❤️
Breakfast Bars: Reader Favorites
Print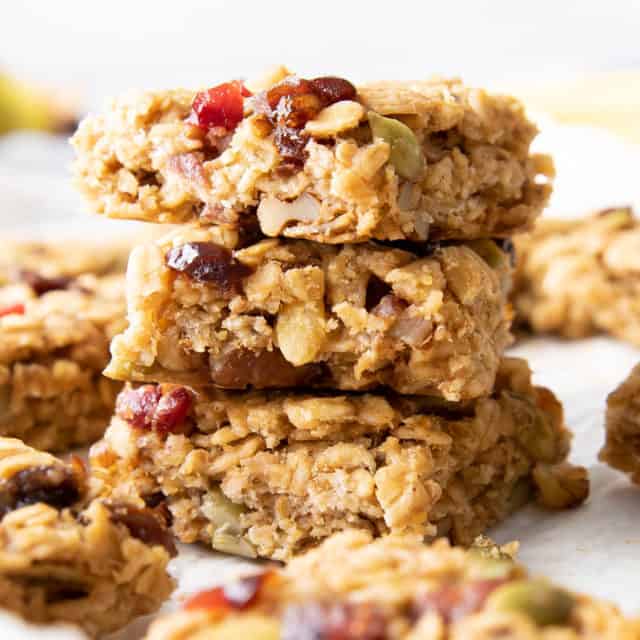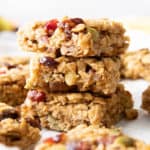 Healthy Breakfast Bars Recipe
---
Description
Deliciously soft healthy breakfast bars bursting with fruits, nuts and seeds. The best healthy breakfast bars recipe!
---
Wet Ingredients
¼ cup

+ 2 tablespoons mashed, very ripe banana (about

1

medium banana)

1 tablespoon

pure maple syrup

1 tablespoon

melted coconut oil

1

flax egg (

1 tablespoon

golden ground flaxseed +

3 tablespoons

water, whisked together, set for 15 minutes)

1 teaspoon

pure vanilla extract
Dry Ingredients
Add-in Ingredients
---
Instructions
Preheat oven to 350°F. Line an 8-inch square baking pan with parchment paper or greased foil. Set aside.
In a large bowl, add peeled banana. Using a fork or dough blender (recommended), mash until smooth. Add the remaining wet ingredients: peanut butter, maple syrup, coconut oil, flax egg and vanilla. Whisk until well incorporated.
Add the dry ingredients: oats, baking soda, baking powder and salt. Using a rubber spatula, fold until well mixed. Fold in seeds, dried fruit and walnuts.
Pour this mixture into the prepared baking pan. Using the rubber spatula, smooth into an even layer.
Bake for 12-18 minutes, until just lightly golden around the edges. Mine took 15 minutes. Cool for about 1 hour. Slice into bars. Enjoy! Storing instructions below.
Healthy Breakfast Bars: Reader Favorites
Equipment
Prep Time:

20 mins

Cook Time:

15 mins

Category:

Breakfast, Snack

Method:

Bake

Cuisine:

American
© beamingbaker.com. All content and images are protected by copyright. Please do not use my images or recipe without my permission. Please do not republish this recipe, instead, include a link to this post for the recipe.
Delectable Breakfast Recipes
This post may contain affiliate links, which allow me to make a small commission for my referral, at no additional cost to you.