Homemade Paleo Granola Bars Recipe (Grain Free, Gluten Free, Oat Free)
Homemade Paleo Granola Bars (V, GF): the BEST grain free granola bars recipe—chewy & satisfying, packed with nutty crunch and simple, whole ingredients. Gluten Free, Vegan, Paleo, Protein-Rich, Dairy-Free.
Are you a big fan of granola bars? When I was a little kid, I absolutely despised them. Like, by granola bars, do you mean those at-once crumbly and super hard things that could easily break my little teeth off and usually have no chocolate at all?
I couldn't understand granola bars and I didn't want to. All I knew was that if I was getting a granola bar from my mom, I wasn't getting a cookie, too. I wasn't one of those cool kids who liked healthy stuff, anyway. (Plus, let's be honest, granola bars were not what they are today—I might as well have been eating a plate of cookies. .)
But today, as a fully-realized (okay, half-realized-ish) adult, I can say that I am able to tolerate granola bars. Hehe!! Just kidding—I love granola bars. As long as they're made with ingredients that can't basically swap recipes and should basically become junk food cookies already, and they're soft & chewy with crispy edges.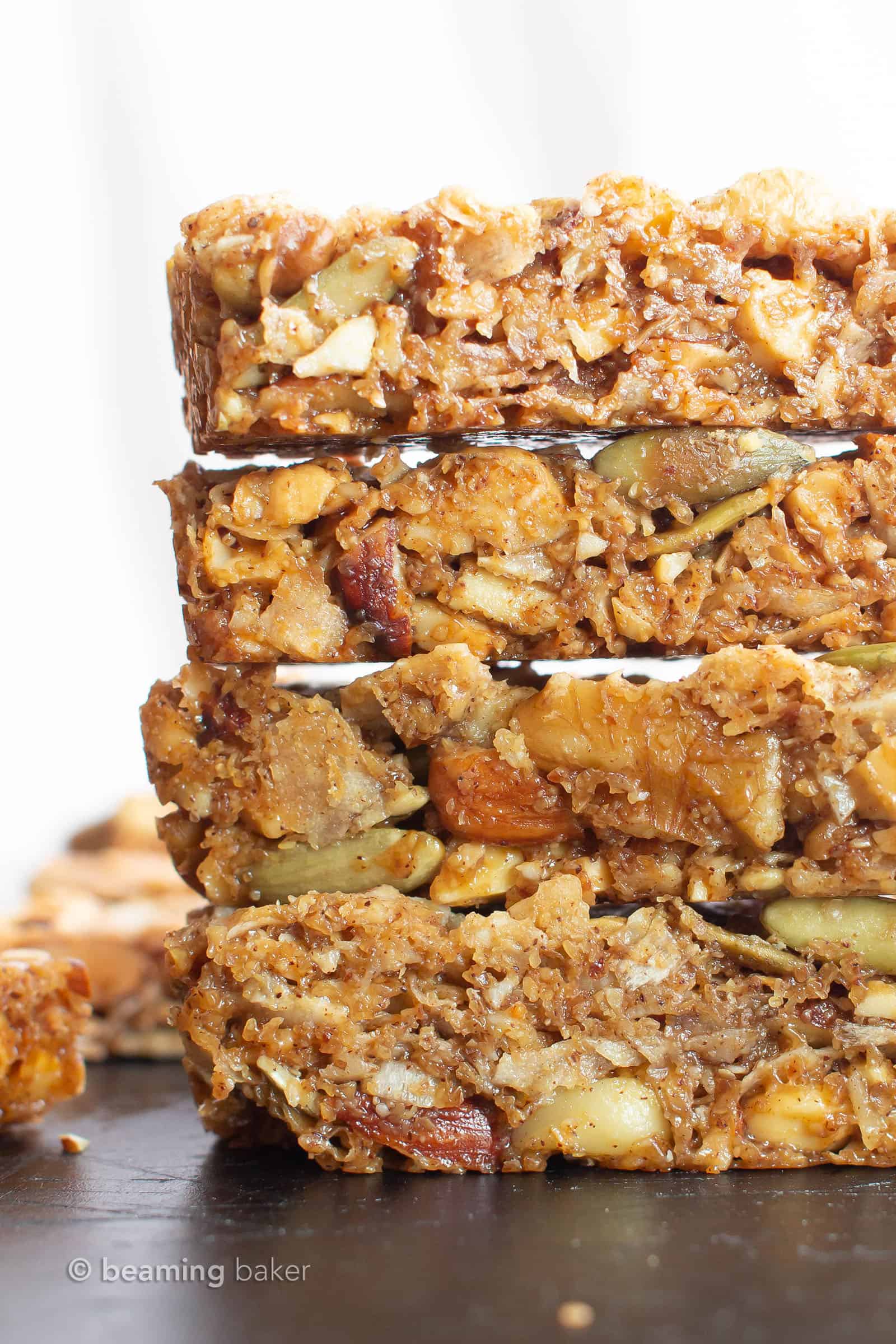 Chewy Paleo Granola Bars, Here We Come!!
Yep, I still can't stand granola bars that can/will have ill-intent to break one's teeth. I need those, ya know? So today, I'm sharing the homemade paleo granola bars recipe to end all homemade paleo granola bars recipes. It's just kind of a bonus that these granola bars are grain free and paleo (I promise you'll still love them if you're gluten free & vegan, but don't care for paleo snacks.)
But if you're a fan of deliciously crispy edges, with a chewy center, I recommend using this granola bar pan. <– It's my key to crispy granola bars with a soft & chewy center. If you want just soft & chewy paleo granola bars, then simply make your granola bars in an 8-inch square pan, bake, then slice. 🙂
My Favorite Homemade Paleo Granola Bars Recipe
My favorite homemade paleo granola bars recipe just happens to be my favorite homemade granola bars recipe of all time. They're so easy to make, dairy-free, vegan, refined sugar-free and gluten free. Plus, they're packed with whole, healthy ingredients that you can feel good about. Extra bonus, you can easily customize this grain free granola bars recipe to suit your tastes.
The Taste & Texture: Grain Free Granola Bars Recipe
Speaking of taste, I know you're dying to hear what these yummy homemade paleo granola bars taste like. These grain free granola bars are just slightly soft & chewy with a crispy exterior. They pack the most delicious nutty crunch, which is coated in the sweetness and most incredible aroma of pure maple syrup and just a touch of coconut sugar. You won't believe how satisfying these paleo granola bars are—bursting with healthy ingredients that keep you full for longer.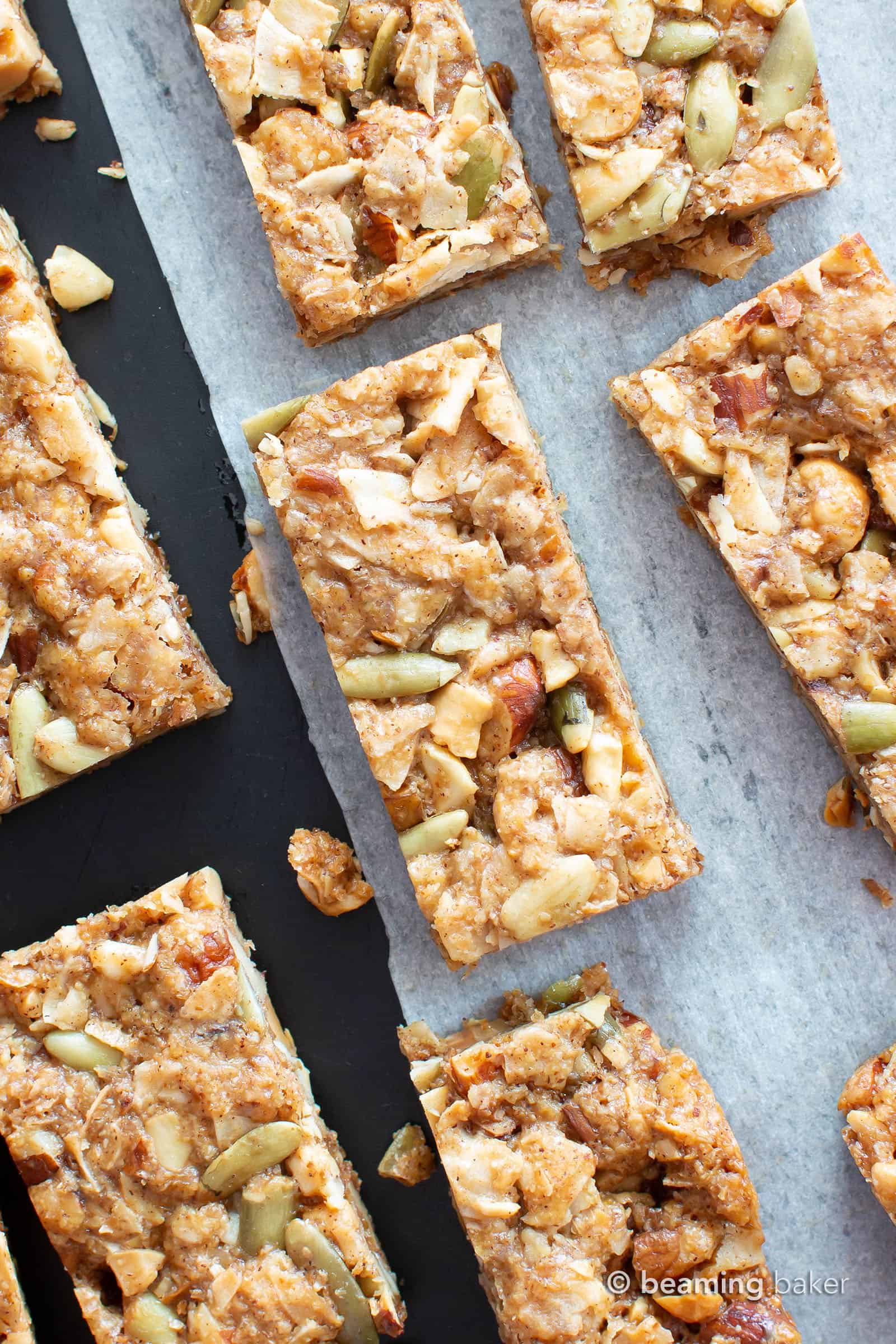 Simple Ingredients for the BEST Homemade Paleo Granola Bars
I made sure to pack the best homemade paleo granola bars recipe with the best ingredients! Check out the benefits of the ingredients below.
Nuts: many readers have asked, so I'm here with the answer to, "What exact amount & type of nuts do you use?" While you can use whatever nuts you'd like in these paleo granola bars, I like to stick to 1/3 cup almonds, 1/3 cup pecans and 1/3 cup walnuts. I used roasted almonds, and raw pecans and walnuts.
Raw Coconut Chips: my favorite way to keep my paleo recipes grain free! These coconut chips keep the carbs down, and the flavor nice and high. What more could you want?
Pumpkin Seeds & Golden Ground Flaxseed: these paleo granola bars are packed with a whopping ¼ cup of ground flaxseed (if ya been baking with flaxseed a long time, you know what a feat this is) and a ¼ cup of pumpkin seeds. Pumpkin seeds & flaxseed provide heart-healthy nutrients, are high in antioxidants and packed with minerals that are good for you.
Coconut Oil & Almond Butter: two of my favorite healthy fat ingredients! Coconut oil is my favorite way to avoid using dairy products such as butter and shortening. Coconut oil helps keep you full longer, has healthy fatty acids that can increase good cholesterol in your blood, and can help with brain function. Almond butter is full of minerals and good fats that are good for you!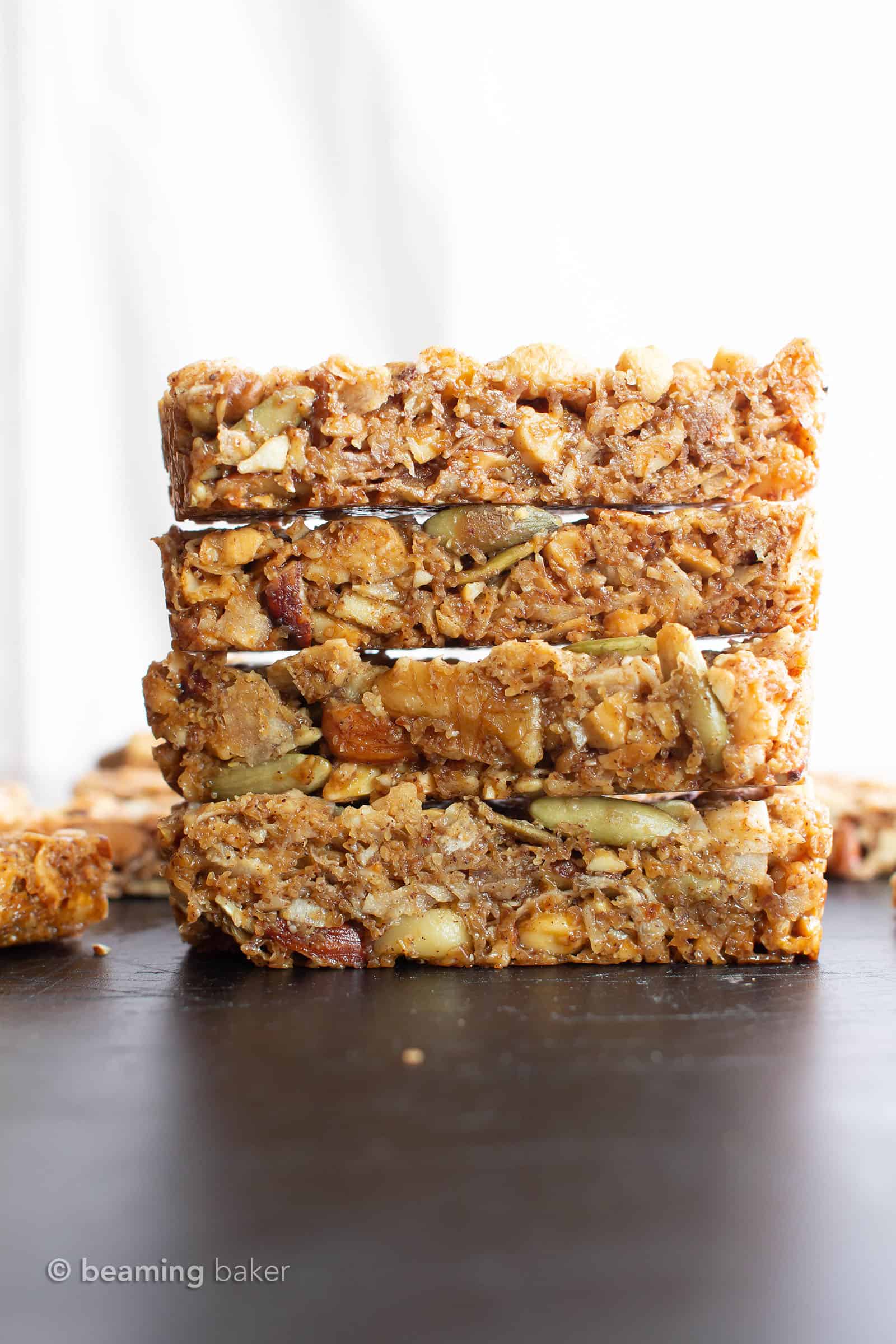 Best Tools for this Homemade Paleo Granola Bar Recipe
Are you soooo ready to make some scrumptious homemade paleo granola bars or what? Let's do it! I'll grab the dry ingredients, you grab the wet! Be sure to let me know if you've made this recipe in the comments below. I love hearing from you. I'm truly so grateful to share in the kitchen moments with you and your loved ones. 'Til the next baking adventure…
Sending you all my love and maybe even a dove, xo Demeter ❤️
Click below to Pin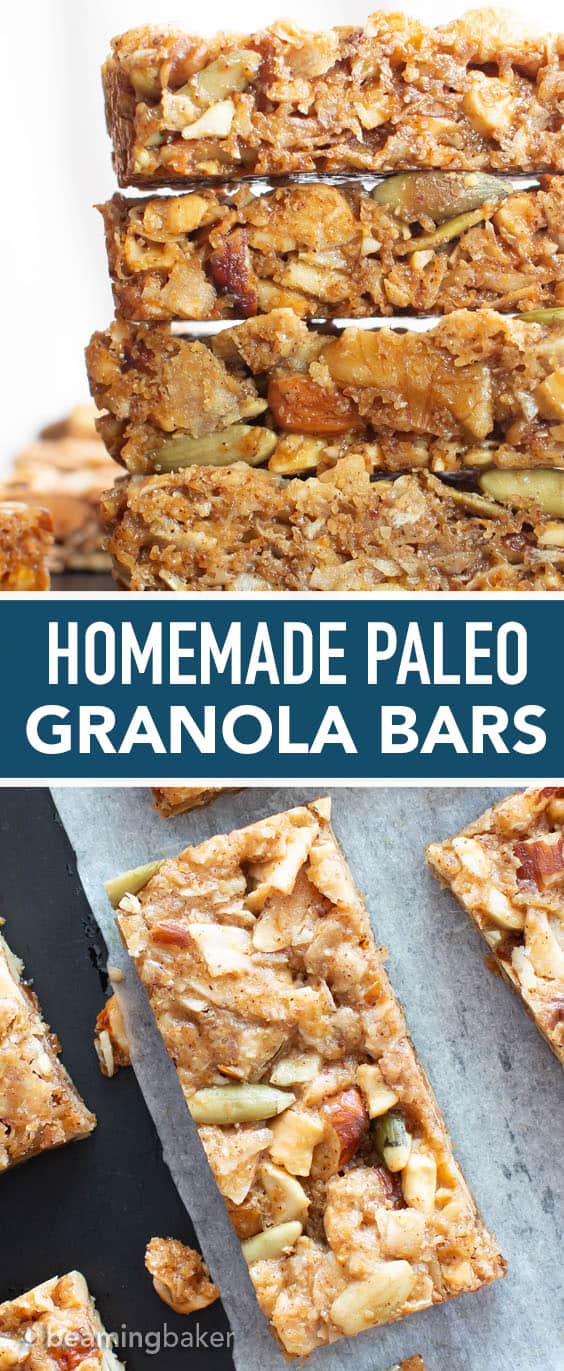 Did you make this homemade paleo granola bar recipe? Take a pic and share it on Instagram with the hashtag #beamingbaker & tag @beamingbaker. I'd love to see it!
Grain Free Granola Bars (Paleo) & More!
Print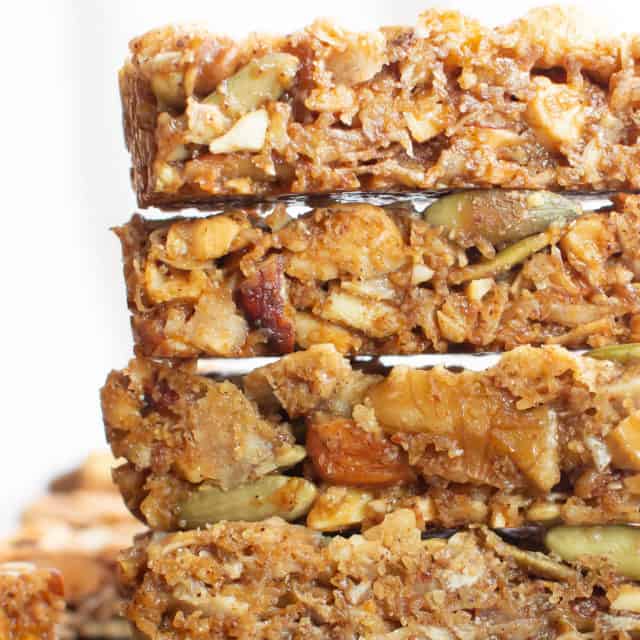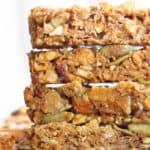 Homemade Paleo Granola Bars Recipe (Grain Free, Gluten Free, Oat Free)
---
Description
Homemade Paleo Granola Bars (V, GF): the BEST grain free granola bars recipe—chewy & satisfying, packed with nutty crunch and simple, whole ingredients. Gluten Free, Vegan, Paleo, Protein-Rich, Dairy-Free.
---
Dry Ingredients
Wet Ingredients
---
Instructions
Preheat oven to 325°F. Set aside this granola bar pan atop a medium baking sheet (for stability in the oven.) Or, line an 8-inch square baking pan with parchment paper or greased foil. I prefer using the granola bar pan; it creates a firmer bar with deliciously crispy edges & a chewy, crisp exterior. Set aside for later.
Add all dry ingredients to a large bowl: nuts, coconut, pumpkin seeds, flaxseed, and cinnamon & salt (if using). Stir until well mixed.
Add all wet ingredients to a medium bowl: coconut sugar, coconut oil, almond butter and maple syrup. Whisk until well incorporated.
Pour wet ingredients over dry ingredients. Using a rubber spatula, stir and fold until very well mixed.
Pour the mixture into the prepared granola bar pan or baking pan. For the granola bar pan: scoop about 3 tablespoons of mixture into each crevice. Use a small, narrow spoon to press the mixture down into an evenly, very tightly packed layer. For the square baking pan: using the spatula, press mixture firmly down into an even, very tightly packed layer.
Bake for 22-27 minutes. Mine took 25 minutes. Place granola bar pan + baking sheet, or baking pan, onto a cooling rack to cool for 50-60 minutes, or until completely firm. Then… for the granola bar pan: remove bars from pan and transfer directly onto a cooling rack; for the baking pan: lift bars and parchment paper onto the cooling rack. Allow to finish cooling for 1-2 hours. Slice into 12-18 bars (for baking pan only). Enjoy! Storing instructions below.
Healthy Paleo Snacks You'd Love
Prep Time:

10 mins

Cook Time:

25 mins

Category:

Snacks

Method:

Bake

Cuisine:

American
Nutrition
Serving Size:

1 bar

Calories:

102

Sugar:

3g

Sodium:

2mg

Fat:

8g

Saturated Fat:

3g

Unsaturated Fat:

3g

Trans Fat:

0g

Carbohydrates:

6g

Fiber:

1g

Protein:

2g

Cholesterol:

0mg
© beamingbaker.com. All content and images are protected by copyright. Please do not use my images or recipe without my permission. Please do not republish this recipe, instead, include a link to this post for the recipe.
This post may contain affiliate links, which allow me to make a small commission for my referral, at no additional cost to you.