Rich and creamy overnight oats taken to the next level with matcha flavor and sweet, fresh fruit layers for these delicious matcha overnight oats!
Creamy & Dreamy Matcha Overnight Oats
What's your favorite matcha flavored treat? Right now, mine are these matcha overnight oats! Not only are we talking bold matcha flavor and fresh fruit delight, but we are also so enjoying the rich and creamy texture of our beloved overnight oats. What combo could be better? Shall you take my hand and join me in making matcha overnight oats? Let's do this!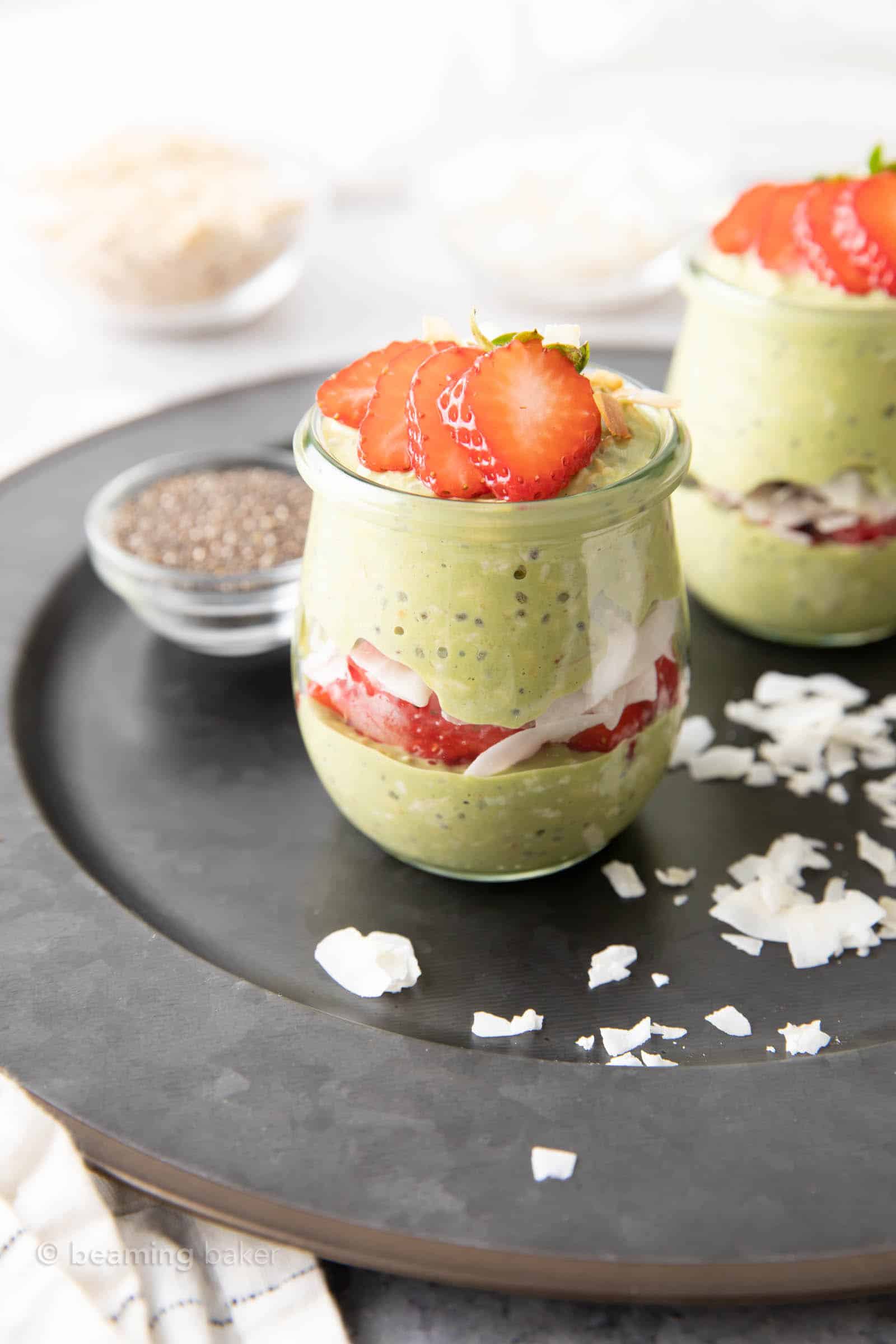 Matcha Overnight Oats Ingredients
If you've ever tried making overnight oats, then you're probably familiar with most of the ingredients below. I've incorporated the best, simplest ingredients to keep you full and satisfied.
Organic matcha powder + vanilla protein powder: matcha powder is the star of the show in these matcha overnight oats. They add a uniquely matcha flavor—think classic green tea with a twist. Meanwhile, the vanilla protein powder helps to offset what can be an interesting bitterness to matcha.
Rolled oats, chia seeds, milk of choice: these three ingredients make the simplest base for overnight oats. Some overnight oats recipes call for just these three ingredients—I like to add some pizzazz so you get a creamier, tastier oatmeal treat.
Coconut cream or yogurt of choice: I always include coconut cream or yogurt in my overnight oats recipe to ensure a dreamy, creamy and thick texture that keeps my OO's tasting like a dessert.
Pure vanilla extract
Maple syrup and coconut sugar: you can use as much as as little as you'd like to achieve the sweetness you desire. I've included a range for the amount I recommend to get you started.
What is Matcha, Anyway? (Besides the Perfect Shade of Green)
Maybe you've had matcha in a Frappuccino, maybe you've had it in an ice cream—but you're not exactly sure what it is. Matcha, simply put, is a powder made from green tea leaves that are grown in a specific kind of process. Green tea plants are grown in the shade a few weeks before harvesting. Then, the green tea plants are processed into a powder. [1]
Traditionally, matcha is used in East Asia, in everything from Japanese tea ceremonies to food dye and flavoring. Matcha is high in antioxidants, and has possible health benefits such as potentially improving brain function, promoting heart health, weight loss, cancer prevention and more. [2]
🍃 For today's overnight oats recipe, we'll be using this organic matcha powder.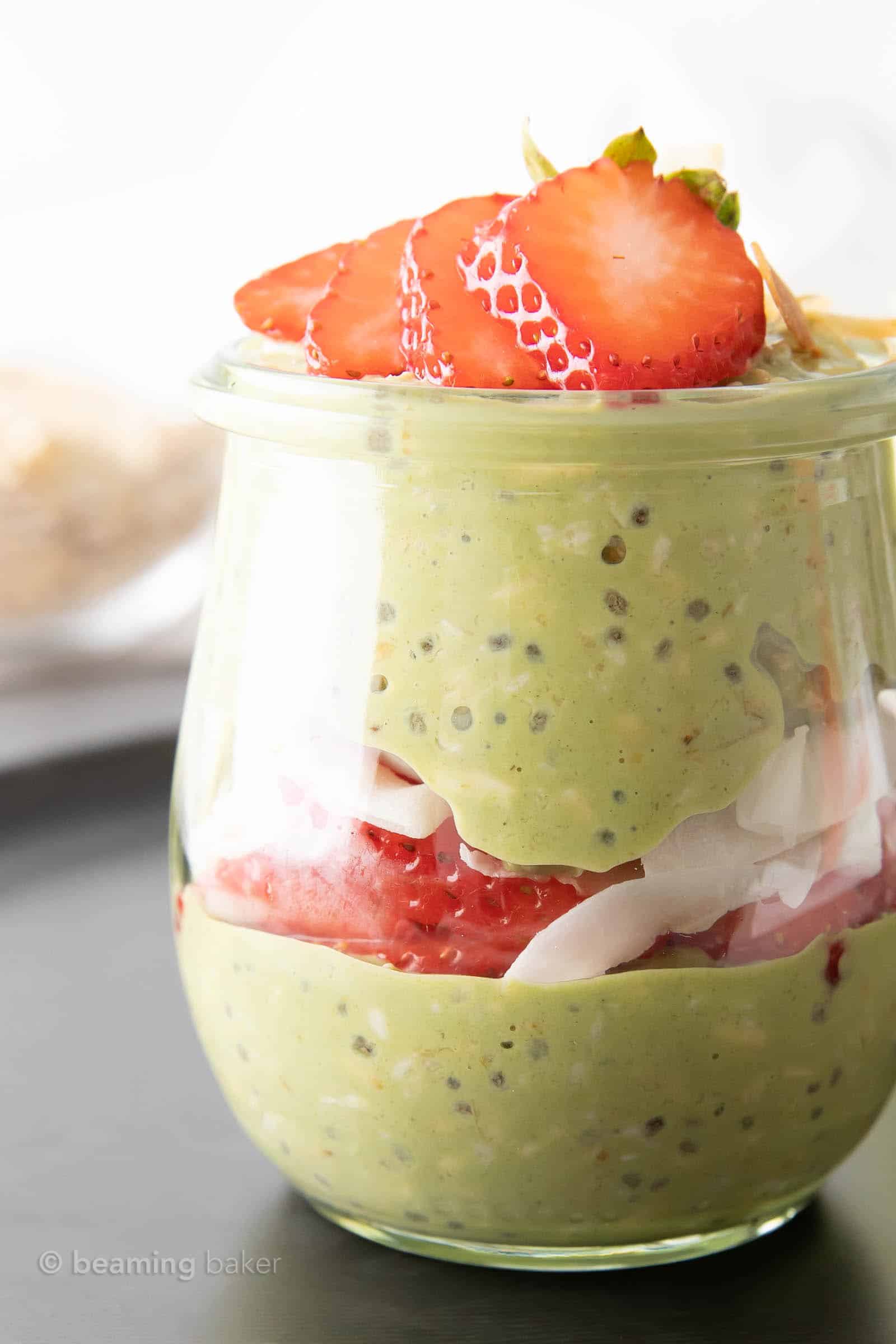 How to Make Matcha Overnight Oats
Let's make matcha overnight oats! We're gonna be adding in fresh strawberries (or your favorite fruit) to highlight the beautiful green of matcha powder and a sprinkle of coconut for added texture.
Get the Jars
I love using these compact, resealable glass jars to make my overnight oats. If you're using these, then set 2 to 3 aside. If you're making one large serving, then set aside a classic 16oz mason jar.
Mix the Ingredients
Add all the ingredients into a mixing bowl. Whisk everything together until no clumps of coconut cream, yogurt, or matcha powder remain. Pour into jars.
Add the Topping
You can add any toppings you'd like, or wait until the day of serving (my preferred method), to keep the toppings crisp and plump.
Store Overnight & Enjoy
Seal the jars and store overnight, or at least 3-4 hours. Enjoy the best matcha overnight oats!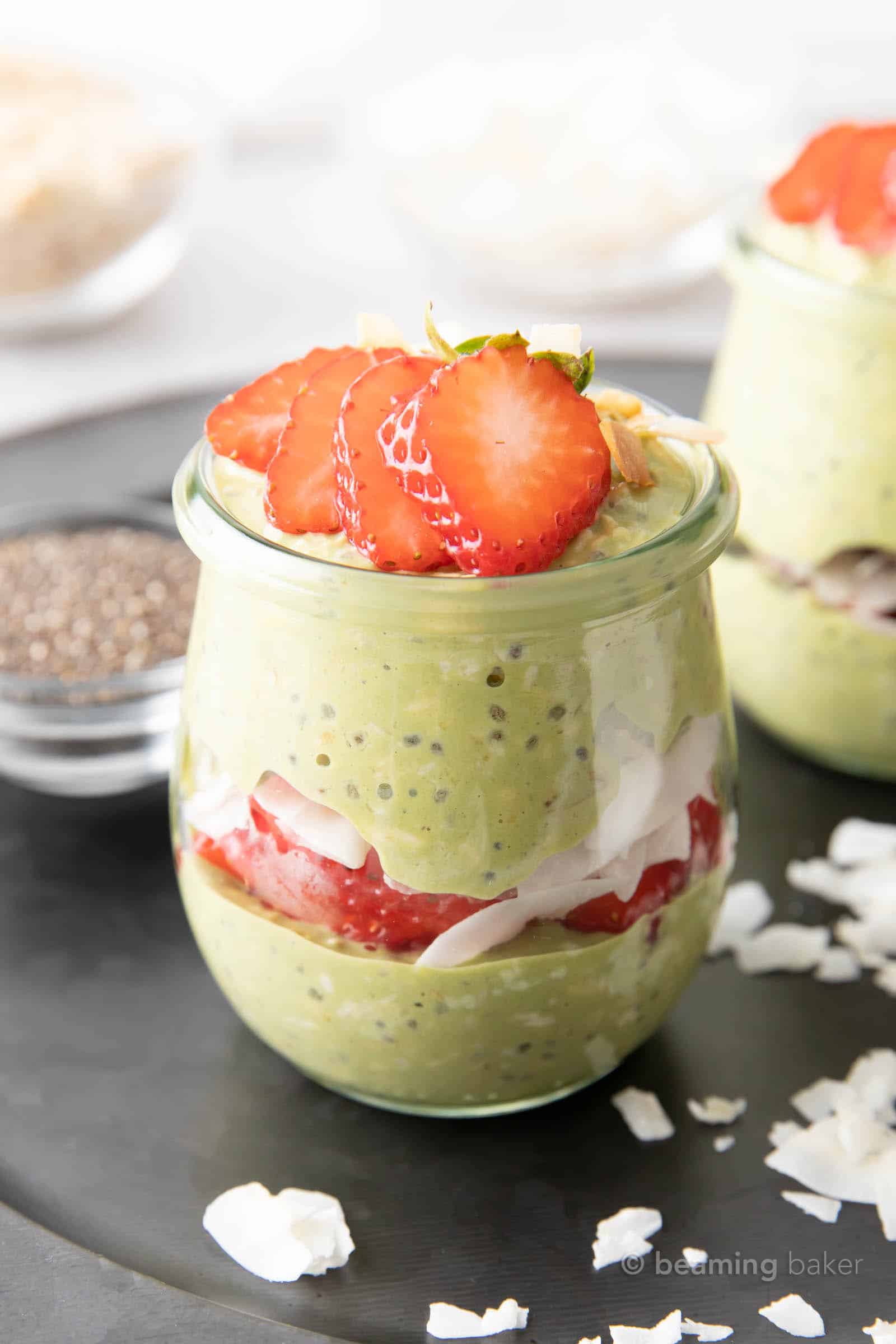 More Overnight Oats Recipes to Brighten Your Morning ☀️
Tools You Need
Matcha All Day, Matcha All Night
…and most definitely matcha overnight. 😉 Now, what matcha treat should I make next? Leave your ideas below! Thank you for stopping by and joining in these kitchen adventures with me and your loved ones. 'Til the next one…
Sending you all my love and maybe even a dove, xo Demeter ❤️
🍃 📸 🍓
📸 Did you make this matcha overnight oats recipe? Take a pic and share it on Instagram with the hashtag #beamingbaker & tag @beamingbaker. I'd love to see it! 📸
Print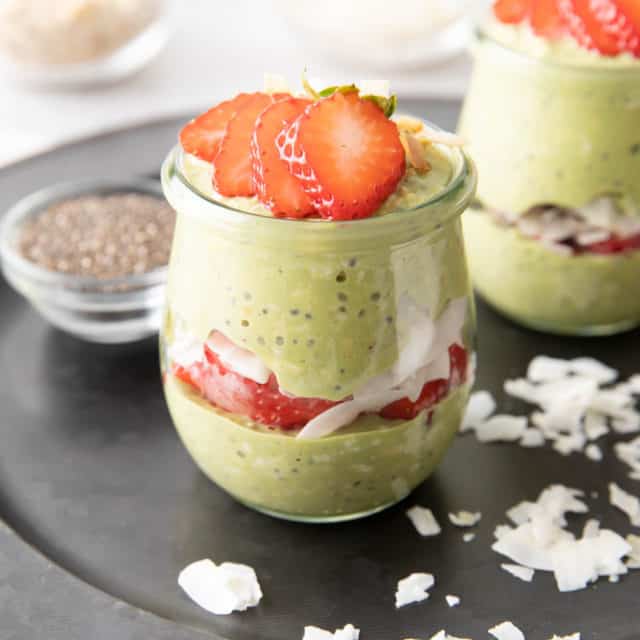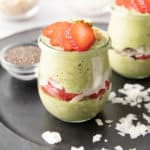 Matcha Overnight Oats
---
Description
Rich and creamy overnight oats taken to the next level with matcha flavor and sweet, fresh fruit layers for these delicious matcha overnight oats!
---
Matcha Overnight Oats
Toppings
Fresh strawberries or raspberries
Dried coconut or toasted coconut
Maple syrup
---
Instructions
If making smaller servings, set aside 2-3 resealable mini jars. Here are the resealable mini glass jars that I use–if using these, set aside 3 jars. If making one large serving, set aside one large jar.
Add all matcha overnight oats ingredients to a mixing bowl for easier stirring. Stir until well mixed, then pour into jars when done. If using coconut cream, make sure no coconut cream clumps remain after stirring.
Seal jars.
Store overnight in the refrigerator for up to 5 days. Overnight oats will become thicker as each day passes.
To create layers:
Store overnight oats mixture as normal in a large, tightly sealed jar or covered mixing bowl in the refrigerator. After at least 4 hours, or overnight (recommended), the mixture will have thickened enough to create layers. Pour thickened overnight oats mixture into a clean jar, creating about a 1/2″ layer. Smooth into an even layer. Now, place toppings in another 1/2″, even layer. Repeat alternating overnight oats and toppings layers until jar is full. Reseal for storing or enjoy immediately.
Notes
Storing Notes: Keep in an airtight container for 3-5 days in the refrigerator. The fresher the ingredients you use, the longer your overnight oats will last.
Prep Time:

10 minutes

Cook Time:

0 minutes

Category:

Breakfast, Snack

Method:

Chill

Cuisine:

American
Keywords: matcha overnight oats
© beamingbaker.com. All content and images are protected by copyright. Please do not use my images or recipe without my permission. Please do not republish this recipe, instead, include a link to this post for the recipe.
Wanna help grow the Beaming Baker community? ☀️
You play such an important part in the livelihood of Beaming Baker–and just know that Erik and I truly appreciate it. 🧡 If you want to help grow the BB community, you can do the following:
📝 Leave a comment & rating. When you try a recipe, leave a comment and star rating to let us know how you liked the recipe. It truly helps all of our readers discover which recipe works best–and keeps us going in the right direction.
📸 Instagram. Made a recipe? Take a photo and share it on Instagram with the tag #beamingbaker and tag us at @beamingbaker. It makes our day to see how the recipe turned out for you!
👭 Tell a friend. You know when you love something, you can't help but tell others about it? If you love any of the recipes on Beaming Baker, tell a friend. 🙂 It truly helps to grow the BB community. ☀️
This post may contain affiliate links, which allow me to make a small commission for my referral, at no additional cost to you.