Easy Homemade Granola Recipe with Chocolate Chips
Homemade Granola Recipe: make your own granola, homemade & healthy! Crunchy clusters with chocolate chips. Best homemade granola recipe! Grain-Free, Vegan, Dairy-Free.
What's your favorite granola recipe of all time? Mine is a tie between this Homemade Chunky Paleo Granola and this Healthy Chunky Granola Recipe.
The first recipe has these delicious granola clusters that are made up of coconut, almond flour and a little maple syrup. The second recipe has THE most massive chunks of granola. Really, it'd be more apt to say that this granola comes in literal sheets.
One kind of granola that I'm not to fond of is granola that's loose, in tiny pieces with absolutely no chunks at all. But, I've noticed that a lot of store-bought granola is super loose and non-chunky like this. My question to you: do you like loose, non-chunky granola that's super piece-y, or do you like super chunky granola with lots of big clusters?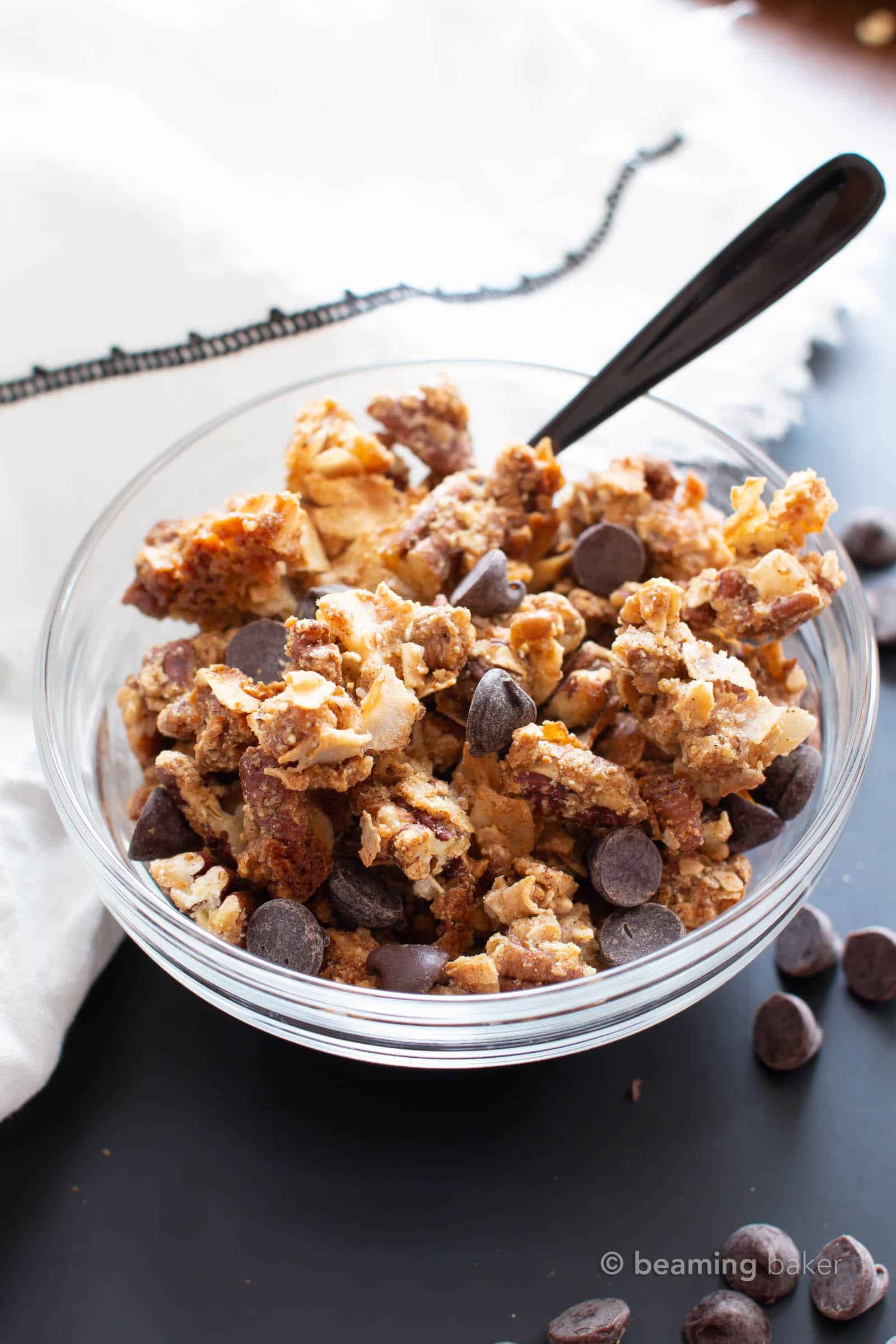 Easy Homemade Granola with Chocolate Chips!
If you went for the latter, lemme tell you, you're in for a treat today! And if you were like, "I LOVE super loose, non-chunky granola!", then I'mma just blow past the awkwardness of not telling you that that's not what this is. And, may I interest you in a granola bar recipe? 😉 No controversy there!
Today's easy homemade granola with chocolate chips is based off of my Homemade Chunky Paleo Granola, and topped off with chocolate pizzazz (reminiscent of a chocolate chip cookie!). If you're looking for more of an oatmeal cookie than a chocolate chip cookie granola situation, try my oatmeal raisin vegan granola recipe.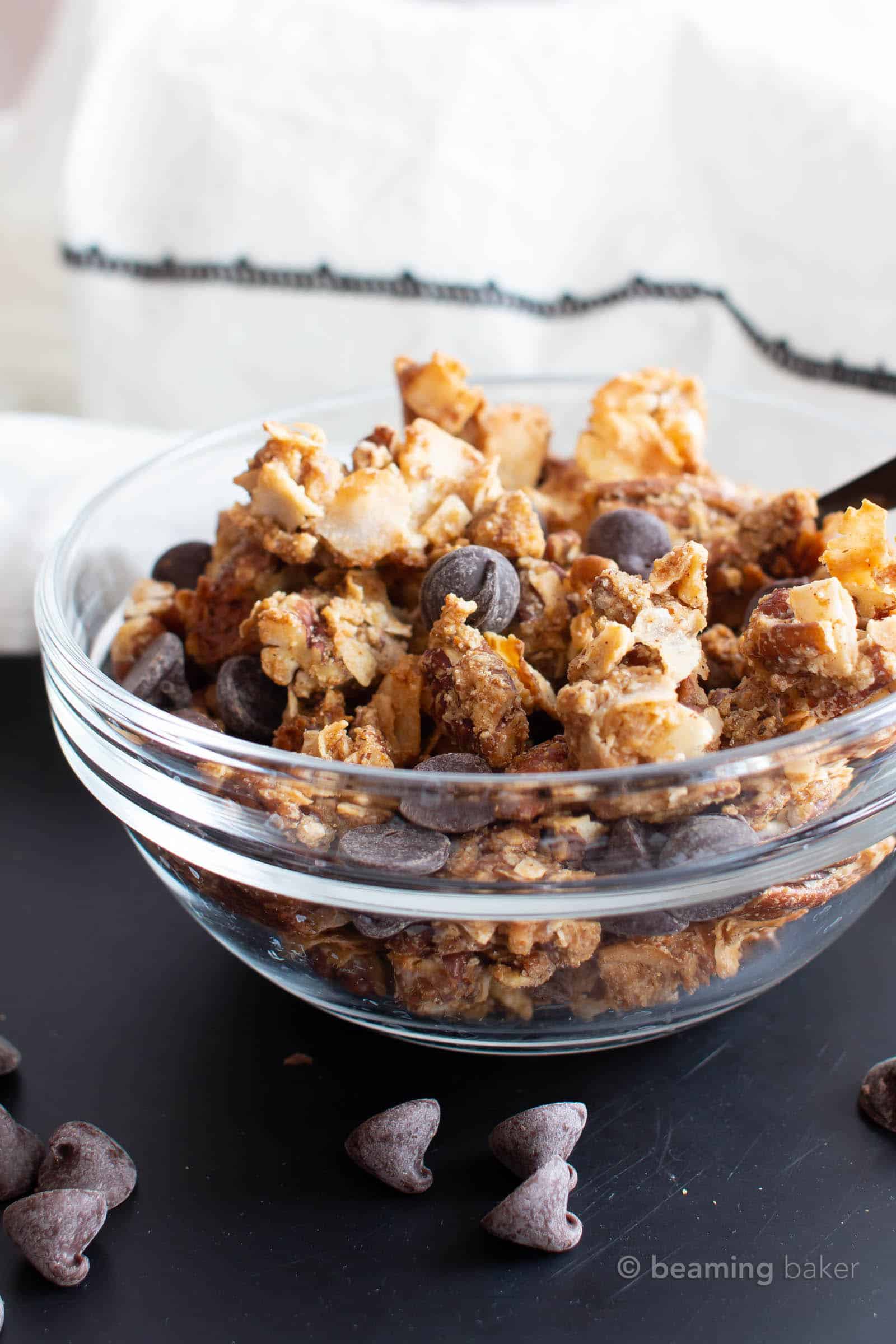 How to Customize Your Homemade Granola
Worry not if you're not a chocolate fan, it's super easy to customize this recipe. Check it out:
Nuts: use any nuts you'd like. I like using a 1/3 each of almonds, pecans and walnuts. Sometimes I'll throw in cashews to keep things fresh. 😉
Spices: use any spice you'd like 'til you get the flavor combo you desire. Sometimes I'll put in some nutmeg and a little allspice for some seasonal flair. Also try pumpkin pie spice for a fall treat!
Saltiness: skip the salt if you don't like it salty. Add more if you love the salt vibes.
Add-ins: no need to use chocolate chips. Try adding in dried fruits like fruit sweetened dried blueberries, cranberries, golden raisins, or even seeds!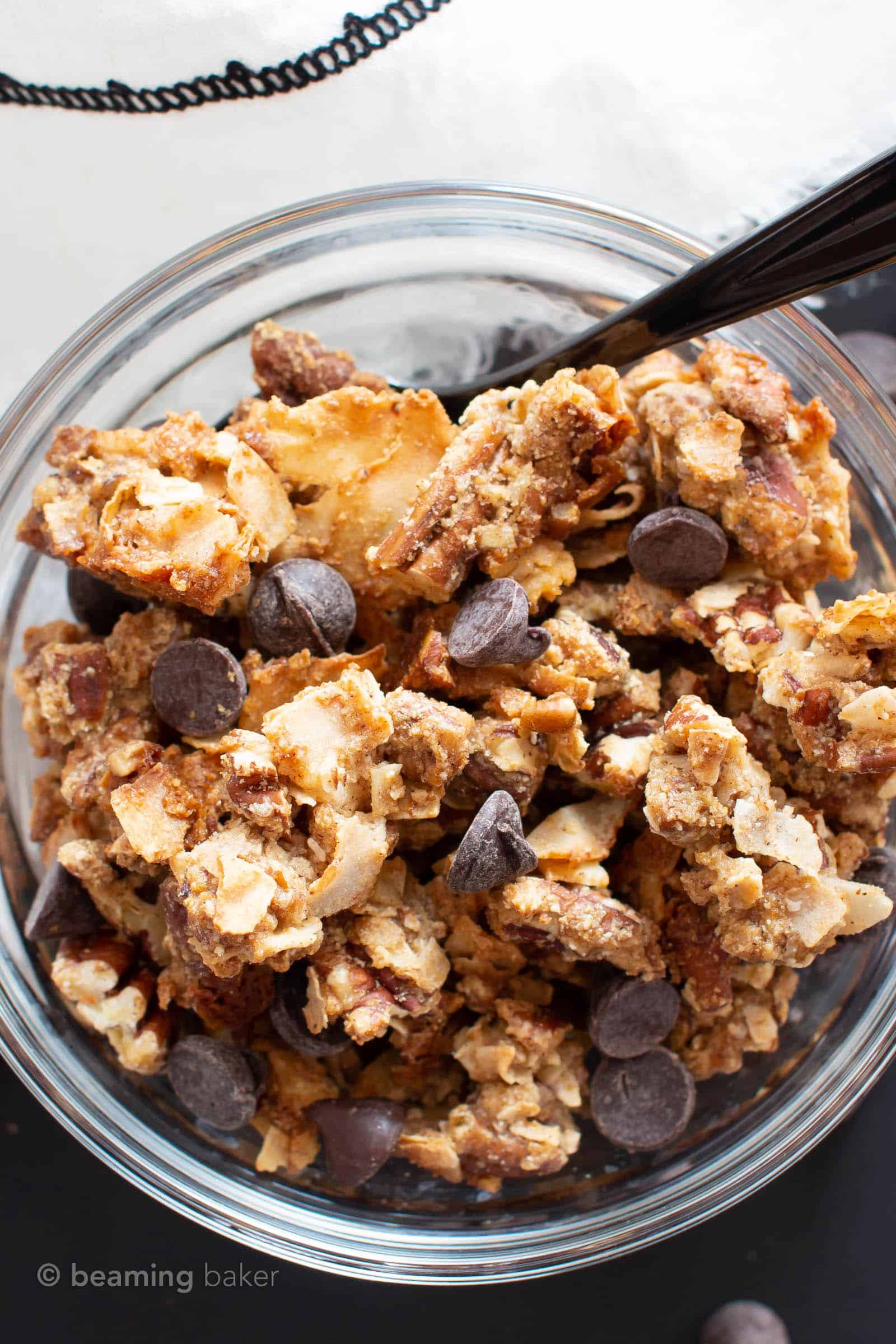 Handy Tools for the Best Homemade Granola Recipe
Final thoughts: loose, piece-y granola or super chunky granola with clusters? Scrap the whole discussion altogether and just go for 3 Ingredient No Bake Peanut Butter Granola Bars? I can't wait to hear all about it below. 🙂 Thanks for stopping by and creating joyful kitchen memories with me and your loved ones. 'Til the next kitchen adventure…
Sending you all my love and maybe even a dove, xo Demeter ❤️
☀ Click below to Pin ☀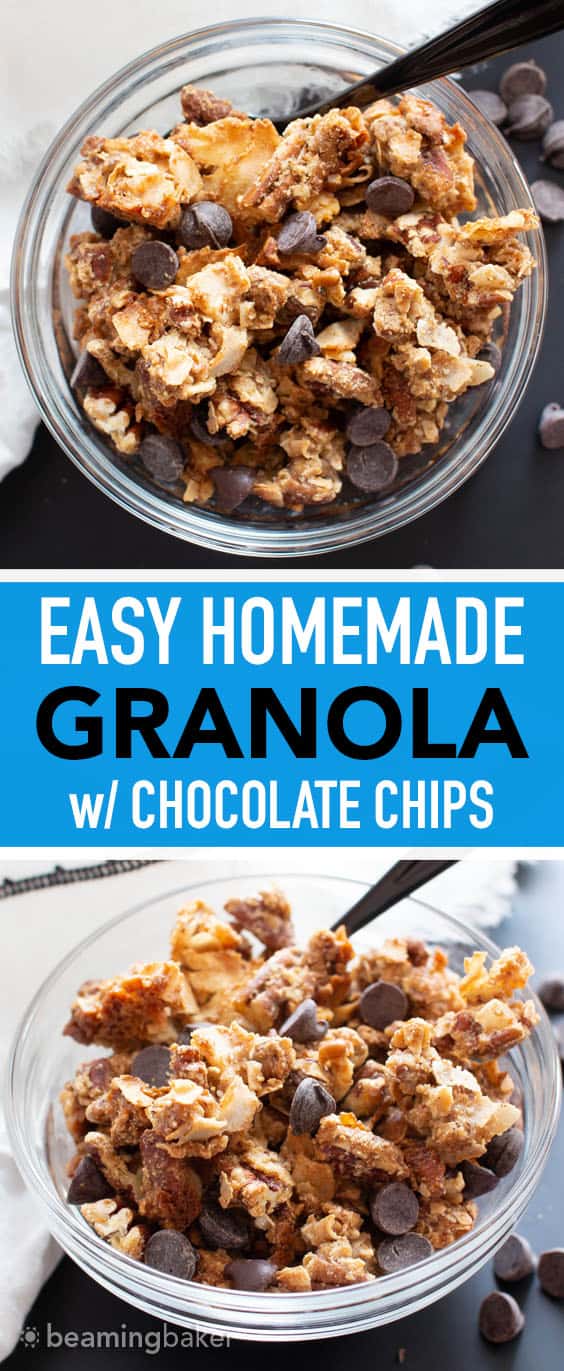 📸 Did you make the best homemade granola recipe? Take a pic and share it on Instagram with the hashtag #beamingbaker & tag @beamingbaker. I'd love to see it! 📸
Best Granola – Homemade, Healthy
Print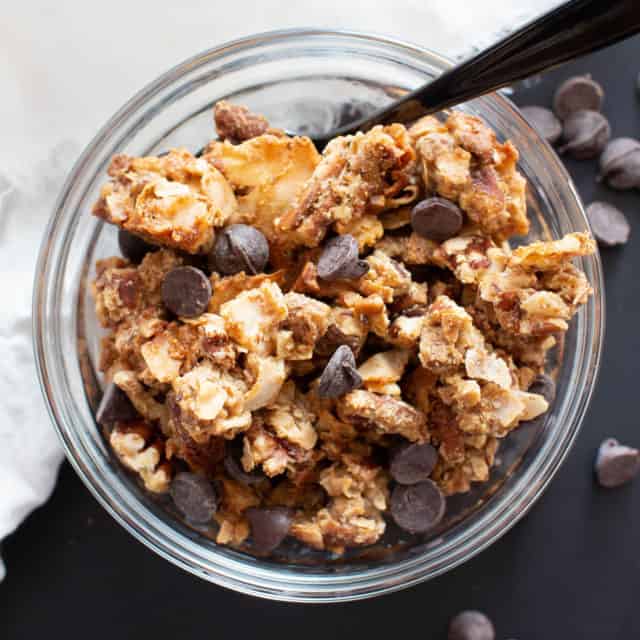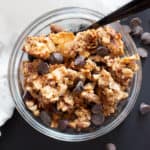 Easy Homemade Granola Recipe with Chocolate Chips
---
Description
Homemade Granola Recipe: make your own granola, homemade & healthy! Crunchy clusters with chocolate chips. Best homemade granola recipe! Grain-Free, Vegan, Dairy-Free.
---
Homemade Granola
1 ½ cups

nuts, roughly chopped

1 cup

unsweetened raw coconut chips or coconut flakes

½ cup

finely ground, blanched almond flour or almond meal

1 tablespoon

coconut sugar

½ teaspoon

ground cinnamon (optional)

¼ teaspoon

salt (optional)

¼ cup

pure maple syrup

1 teaspoon

pure vanilla extract (optional)
Add-in Ingredient
---
Instructions
Preheat the oven to 325°F. Line a large baking sheet with parchment paper or greased foil. Set aside for later.
Add all ingredients except maple syrup and vanilla to a large bowl. Stir until well mixed.
Add maple syrup and vanilla. Using a rubber spatula, fold until clusters form and mixture is well mixed.
Pour onto the prepared baking sheet. Create an even layer. Make a few pockets throughout to let air through to crisp up granola.
Bake for 18-20 minutes. Using a heatproof spatula, gently flip granola, making sure to keep clusters intact. Bake for an additional 4-6 minutes, until edges are a deep golden brown and granola is just slightly soft. Mine took a total of 24 minutes. Granola will crisp up while cooling.
Place baking sheet on a cooling rack. Allow to cool for about 30 minutes, or until completely cooled. Enjoy! Storing instructions below.
Delicious Homemade Granola Recipes
Equipment
Prep Time:

10 mins

Cook Time:

24 mins

Category:

Breakfast, Snacks

Method:

Bake

Cuisine:

American
© beamingbaker.com. All content and images are protected by copyright. Please do not use my images or recipe without my permission. Please do not republish this recipe, instead, include a link to this post for the recipe.
This post may contain affiliate links, which allow me to make a small commission for my referral, at no additional cost to you.