No Bake Paleo Chocolate Pecan Bars (Vegan, Paleo, Gluten Free, Dairy Free)
No Bake Paleo Chocolate Pecan Bars (V, GF, Paleo): a 5-ingredient, no bake recipe for deliciously textured pecan bars topped with a thick layer of chocolate and nuts. Paleo, Vegan, Gluten Free, Dairy-Free.
Before we get started today, I just wanted to say thank you all for the amazing birthday wishes. 🙂 It was really wonderful and heartwarming to receive your kind words. <3 All the hugs, high-fives, and maybe, just maybe, some big plates stacked with warm cookies (and birthday cake) to you.
☀︎ ☀︎ ☀︎
It's official, fall is here! Wait a minute, I'm a bit behind again, aren't I? What I meant to say was… it's official, Thanksgiving madness is upon us! We made it through that rough patch of letting go of summer, we drizzled our way through Halloween, and, now, we are finally in that cozy, warm spot before the winter holidays.
Leaves are turning all the beautiful colors of pumpkin bread (and chocolate pumpkin bread!!! Okay… brown leaves heh heh), candy red apples, and caramel spice lattes… um, I mean, natural, non-food related colors of fall (yeah, right). And here we are! In case anyone noticed, I've gotten into a mood. More specifically, the pecan mood.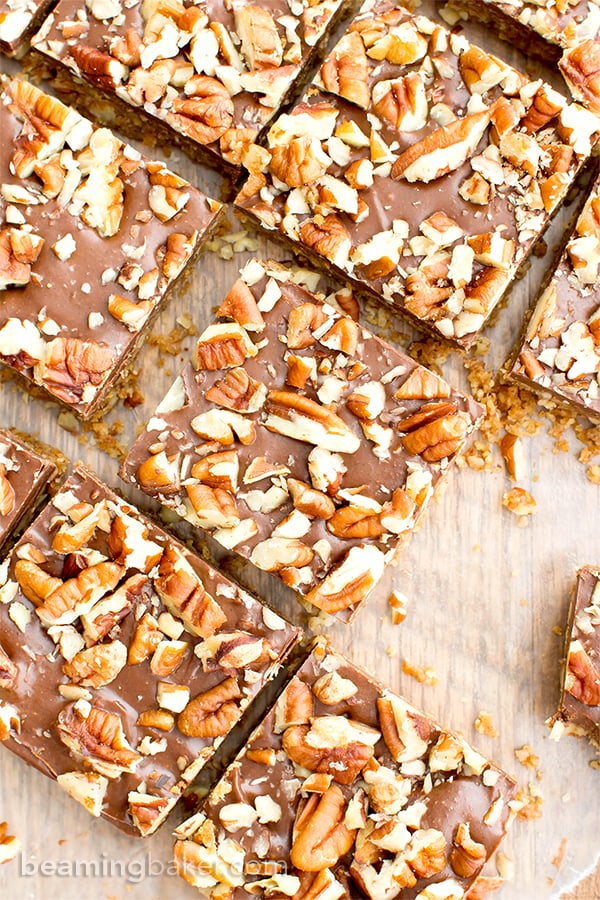 Could there be a tastier mood?
Okay, there is peanut butter and chocolate, coffee and coconut and all kinds of other flavor-ingredient moods I have to stop talking about or else I'll eat my computer. But, ya know, it's a pecan-scented/stuffed/topped/chopped mood 'round these parts.
First there was the double chocolate pecan brownies. Yep, with plenty, plenty, and more plenty of drizzle. Then, there was the no bake pecan pie bites. And now, without further ado, a most stunning addition to the Pecan Collection of '16: No Bake Paleo Chocolate Pecan Bars.
Are you excited?
Do you love pecans as much as I do? Do you kinda think they taste like they're already coated in something sweet and delicious, like coconut sugar, without even being coated in something sweet and delicious, like coconut sugar?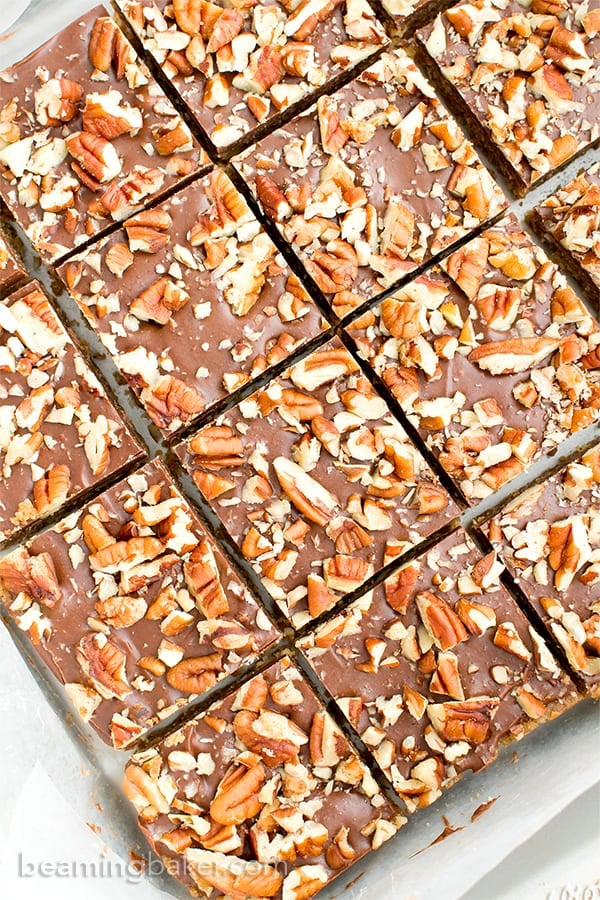 I do. 🙂
Anyway, when I was whipping up batches upon batches of my no bake pecan pie bites, several family members of mine kept asking for more ways to eat all of that deliciousness. My mom wondered if there could be cups of some sort. Erik asked for, well, you know what he asked for. My sisters… well, my sisters were happy with pretty much any and all forms of the snack-packed care packages they could get. 😉
Snack-packed care packages… Hmm. I kinda like the sound of that.
Wait, what was I saying? Right. Well, I was whipping up another batch of those pecan pie bites and I started thinking, what would happen if I just poured the entire lot of it into a pan? Then, combine some of that deliciousness with the amazing chocolate topping from this recipe?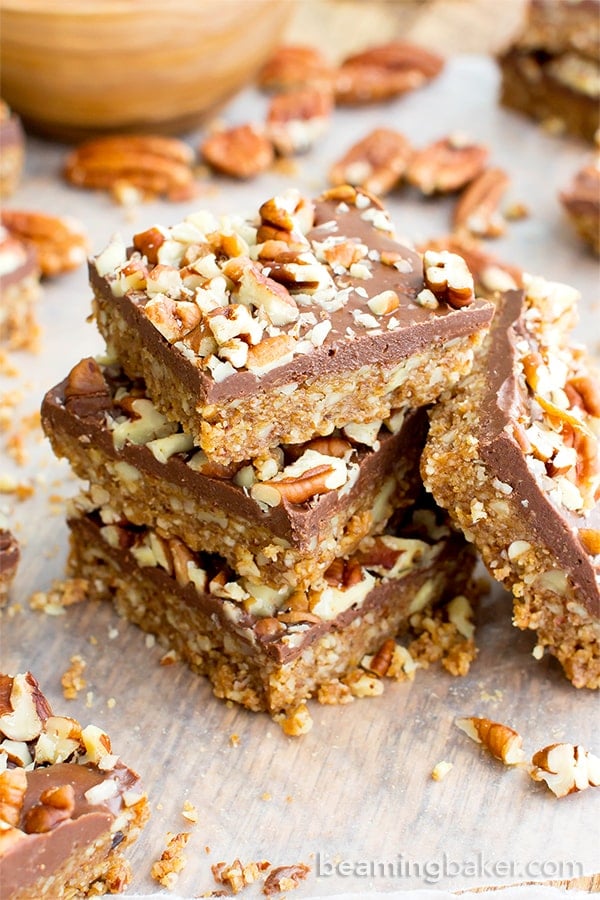 It could go one of three ways: 1) terribly awry for no good reason at all. Don't even get me started on the shenanigans that arose from trying to make my no bake pumpkin chocolate chip cookie dough bites into truffles (simple?? Not so much.) 2) Fairly mediocre-ly. Yes, mediocre-ly. In which case, it totally would not warrant the joy/trouble of blending up dates, almond butter and pecans (some of the most precious, delicious ingredients ever, amiright?).
3) Stunningly, fireworks-shooting-off-into-space, take the day off of work and traipse over all manner of apple-green hills while singing like Zac Efron in that one music video that ALWAYS makes Erik and me giggle because these are that good, GOOD.
So what do you think happened? 🙂
Someone call Zac (why yes, we're on a first-name basis) and tell him to put his singing shoes on. Because these No Bake Paleo Chocolate Pecan Bars are IT. IT = So. Ridiculously. Good. And before I start telling you all about how amazing they taste, let me just first say: they do not require refrigeration.
Is anyone else as excited about that as I am? No refrigeration. Duuuuuuuuude. I mean, you totally can refrigerate these, if that's what floats your (obviously cool in many ways) boat. But they just don't! In fact, the texture of these is actually better if you leave them out at room temperature.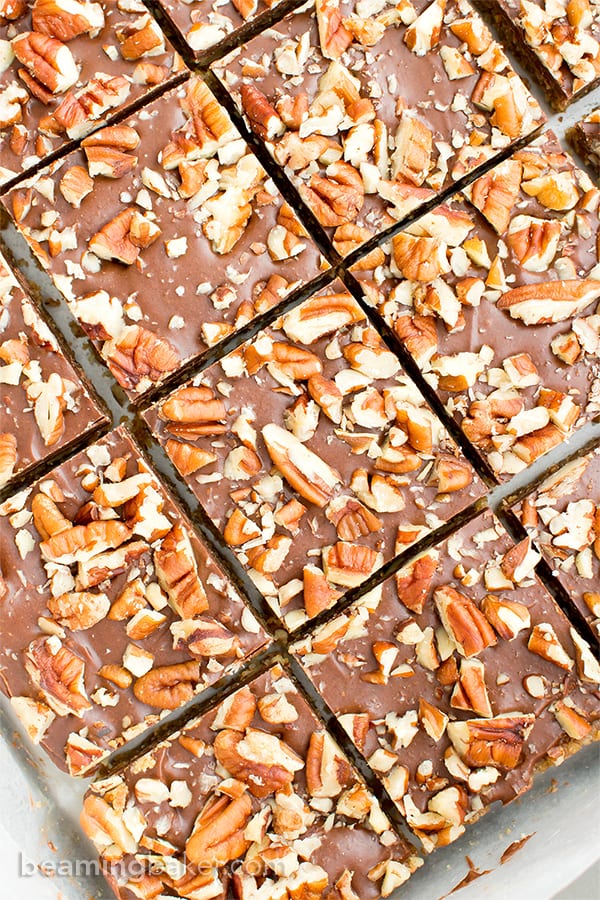 Unless you're the type to enjoy frozen brownies? No judgments—I've been known to really enjoy frozen cups of all shapes and sizes (okay, well, just sizes cause: cups. Ahem). Frozen can definitely make the enjoyment time last longer, but there's just something to be said about a no bake bar that can withstand the test of room temperature.
Ya know?
When I was testing these bars at different temperatures—why yes, that does sound a tad crazy—I wanted to make sure they'd keep at all the degrees. I trial tested one container of these No Bake Paleo Chocolate Pecan Bars in the fridge, one on the counter and one in the freezer. I found that the one at room temp had the tastiest texture. The chocolate topping was firm, but delightful to bite into, like soft fudge. And the pecan bars held together, with this perfect sweetness and scrumptious texture.
Alright, maybe I'm rambling. Okay, I'm definitely rambling. But seriously, these bars are THAT good. I'll save you the displeasure of reading like 10,000 more words about these no bake treats, and just shower you with the features bullet points that I so often like to do. 🙂 Also, before I get to THE list, can I just say: these paleo chocolate chip muffins from the very talented Chrystal at Gluten-Free Palate look amazing!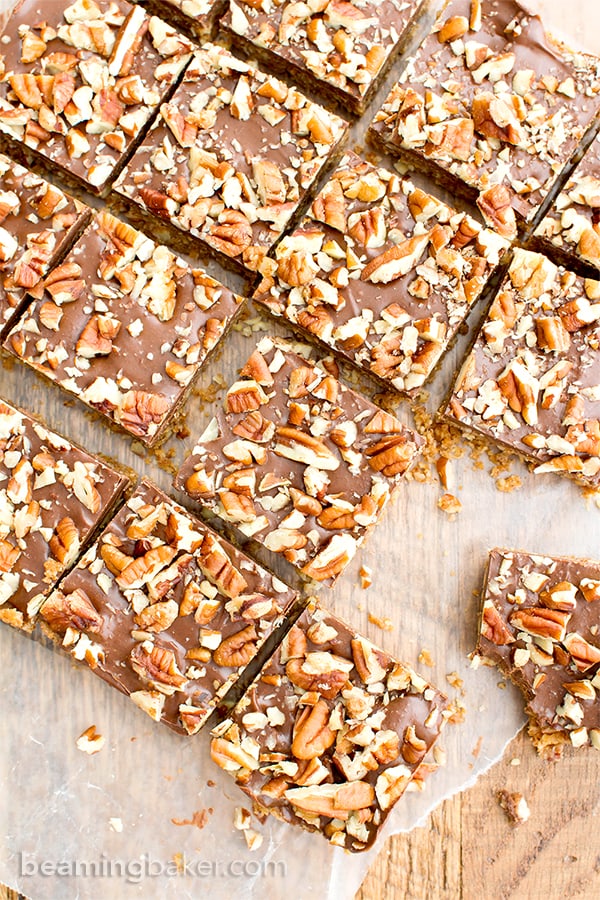 Check it out, these No Bake Paleo Chocolate Pecan Bars are:
made with just 5 ingredients
paleo, vegan
the perfect balance of salty and sweet
tasty just like chocolate pecan pie
gluten free, dairy-free
made with feel-good ingredients
so easy to make
rich, chocolatey and nutty
plant-based and allergy-friendly
AMAZING at room temperature
perfect for a post-dinner dessert or…
a mid-afternoon/morning snack
Zac Efron-approved (in theory; make that singing theory)
I hope you love these No Bake Paleo Chocolate Pecan Bars as much as my family and I do. Thank you for preparing for the holidays with me. I can't wait to hear what you think of these. In the mean time, tell me:
What's the weather like where you live? Does the change in seasons make you crave anything special?
Sending you all my love and maybe even a dove, xo Demeter ❤️
And a few Fall-inspired Plant-based, Allergy-Friendly Recipes for the road…
Super Fudgy Paleo Maple Pecan Brownies | Paleo Apple Crisp | 3 Ingredient Chocolate Pecan Fudge (Paleo) | Pumpkin Chocolate Chip Muffins  | Gluten Free Pumpkin Chocolate Chip Oatmeal Breakfast Bars | Pumpkin Chocolate Chip Breakfast Cookies | Gluten Free Maple Pecan Pumpkin Muffins | Skillet-Roasted Cinnamon Maple Pecans | Pumpkin Pie Smoothie (Paleo)
☀︎ Click below to Pin ☀︎

☀︎ Did you make this recipe? Take a pic and share it on Instagram with the hashtag #beamingbaker and tag @beamingbaker. I would love to see it! ☀︎
No Bake Paleo Dessert Recipes
Print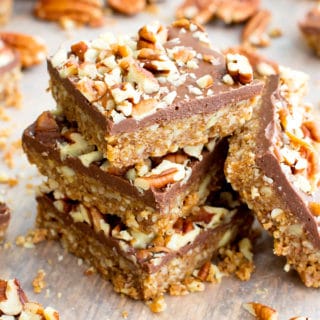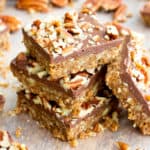 No Bake Paleo Chocolate Pecan Bars (Vegan, Paleo, Gluten Free, Dairy-Free)
---
Description
No Bake Paleo Chocolate Pecan Bars (V, GF, Paleo): a 5-ingredient, no bake recipe for deliciously textured pecan bars topped with a thick layer of chocolate and nuts. Paleo, Vegan, Gluten Free, Dairy-Free.
---
Pecan Layer
5

–

7

Medjool dates, pitted (

½ cup

, packed)

½ cup

unsalted, natural almond butter

1 ½ cups

unsalted pecan halves, divided

1 teaspoon

pure vanilla extract

¼ teaspoon

salt (optional)
Chocolate Layer
½ cup

vegan chocolate chips

¼ cup

+

1 tablespoon

unsalted, natural almond butter
Topping
---
Instructions
Line an 8-inch square baking pan with parchment paper, greased foil or wax paper. Set aside.
Make the pecan layer: Add dates and almond butter to a food processor. Blend until you get a somewhat cohesive, sticky and crumbly mixture, like chunks of wet sand/dough. This will take about a minute. Scrape down the sides of the processor as needed.
Add in 1 cup pecans, vanilla and salt. Blend until the pecans are fully-incorporated and you get a soft, crumbly mixture. It's ready when you can pinch the mixture between your fingers and it holds together. Add in remaining ½ cup pecans. Pulse just a few times until incorporated and pecans are chopped, with medium-small pieces still visible.
Pour this mixture into the prepared baking pan. Press down and smooth into an tightly-packed, even layer.
Make the chocolate layer: Use the double boiler method or the following. In a medium, microwave-safe bowl, add Chocolate Layer ingredients (1/2 cup chocolate chips and ¼ cup + 1 tablespoon almond butter). Heat in 20-second increments until softened and melted. Stir until smooth.
Pour this chocolate mixture over the pecan bars. Using a rubber spatula, smooth into an even layer. Sprinkle ¼ cup chopped pecans evenly over the bars. Press pecans gently into the chocolate layer.
Freeze for 20-30 minutes. Remove from freezer and slice into 16 bars. Enjoy! Storing instructions below.
Notes
– Adapted from my No Bake Pecan Pie Bites (Vegan, Paleo, Gluten Free, Dairy Free) and my Chocolate Peanut Butter Rice Crispy Treats.
– Storage notes: Store in an airtight container in the refrigerator or at room temperature for 1-2 weeks.
– Freezing instructions: Store in an airtight, freezer-friendly container in the freezer for up to 1 month.
– Fall recipes (v, gf, df): pumpkin bread, pumpkin chocolate chip muffins, caramel apple tartlets, double chocolate pecan brownies.
– More Paleo sweet treats (all v, gf, df): almond joy, coffee coconut frappuccino, no bake pecan pie bites, almond butter cups.
Category:

No Bake, Dessert, Paleo, Vegan, Gluten Free, Dairy-Free
© beamingbaker.com. All content and images are protected by copyright. Please do not use my images or recipe without my permission. If you wish to republish this recipe, please re-write the entire recipe using your own words and include a link to this post for the recipe.
Double Chocolate Pecan Brownies (Vegan, Gluten Free, Dairy Free)
No Bake Pecan Pie Bites (Paleo, Vegan, Gluten Free, Dairy Free)
Vegan Double Chocolate Chip Cookies (Vegan, Gluten Free, Dairy Free)
Paleo Almond Joy (Paleo, Vegan, Gluten Free, Dairy Free)