No Bake Almond Butter Chocolate Chip Cookie Dough Granola Bars (V, GF, DF): an easy one bowl recipe for soft and chewy no bake granola bars that taste like cookie dough. Vegan, Gluten Free, Dairy-Free.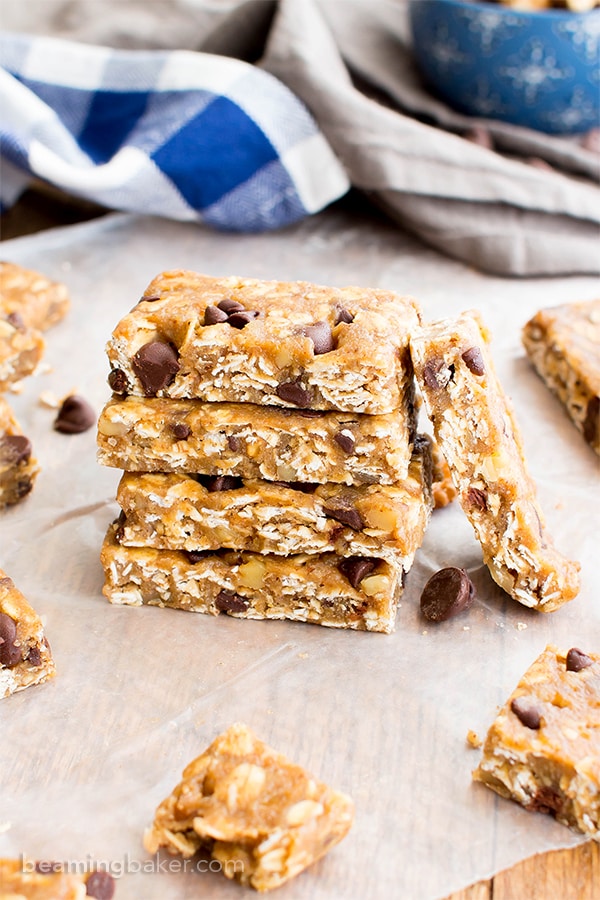 New year, new no bake recipes. Awwwww yeah! I know, I know, some folks may or may not fondly refer to yours truly as the Beaming No-Baker. Okay, maybe that's just my sisters and a few close friends. Wanna join the cool (as in no bake) kids? 😉
Either way, I always feel like January is the perfect time to bring on all the quick and easy snacks. We've just barely recovered from baking up a huge storm, wrapping all the things we could get our hands on, and crock-potting, casseroling and otherwise breaking our backs in the kitchen for a bit of awesome holiday indulgence.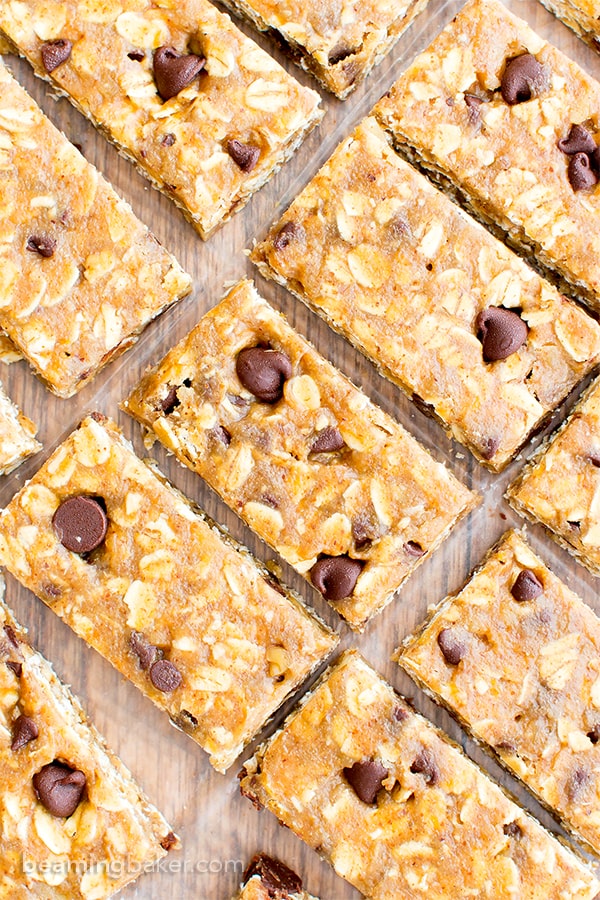 And we made it. To a fresh new year, a fresh new month. Time to give our crockpots, our casserole dishes and our stretchy buffet pants a break. Time to whip up something we can enjoy on our way to a new spinning group, yoga class or the local walking club (is that a thing–that should so be a thing!!).
These no bake almond butter chocolate chip cookie dough granola bars are so wonderfully easy to make, easy to take with you on the go, and even easier to eat. Imagine that. 😉 If you're a no bake granola bars fan, you may have already enjoyed my no bake oatmeal raisin granola bars or the more popular (because: chocolate, of course) no bake chewy chocolate chip granola bars.
Every other month, Erik whips up a batch of one of these bars and the other, uh… other, months, he whips up either these, these or these.
But my philosophy on no bake is: MORE! Can you really have too many no bake recipes? Please say no! Or… no bake?? I know, I'm confused with all the no's, too.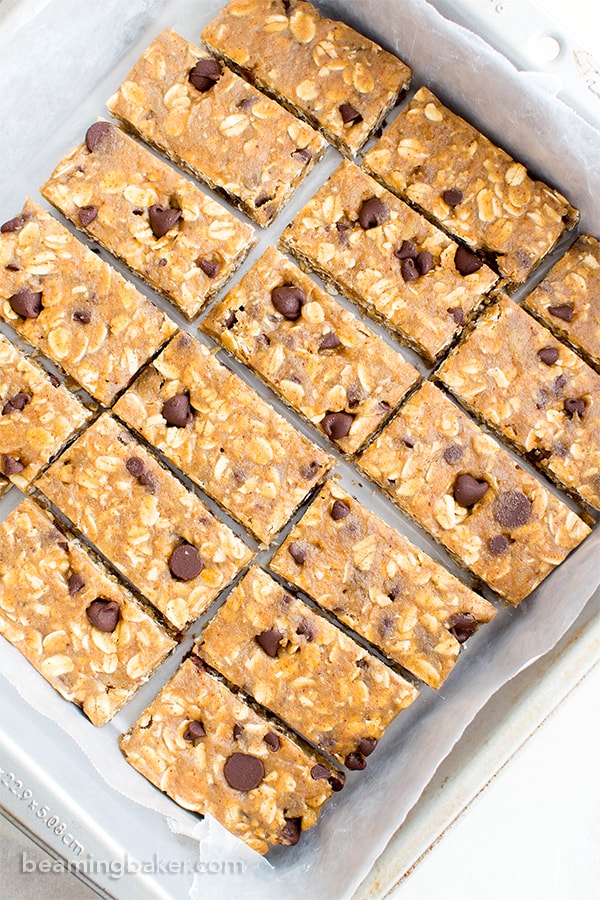 Even the two of us, who are regularly enjoying no bake recipe trials, are constantly whipping up more no bake goodies. They're just so convenient, ya know? I hope you just love these no bake almond butter chocolate chip cookie dough granola bars as much as we both do.
They came about when I was thinking up the kinds of treats y'all would like to see for the new year. I've gotten a lot of positive feedback on my strictly gym-centered no bake bites from one group and plenty of positive feedback on my more loosely-interpreted–oh, okaaaaaay–desserts-oriented no bake dessert bites.
This time, I thought, why not combine the two? Namely, let's combine no bake gym treat awesomeness with no bake COOKIE DOUGH yum! Are you pleased? Oh come on, I can see that grin from a mile away! Oh, wait, you were grinning at your cat or that really smokin'… sandwich that's on your plate for lunch. Darn it.
P.S. Why is your sandwich smokin'?? Tell me more!
Moving on… I'm sure you'll just love these no bake bars. Best of all, hopefully, they'll be exactly what you need to get your new year's resolutions going. 🙂 Do you have a list written up, or are you more of a "it's all up here" type of person?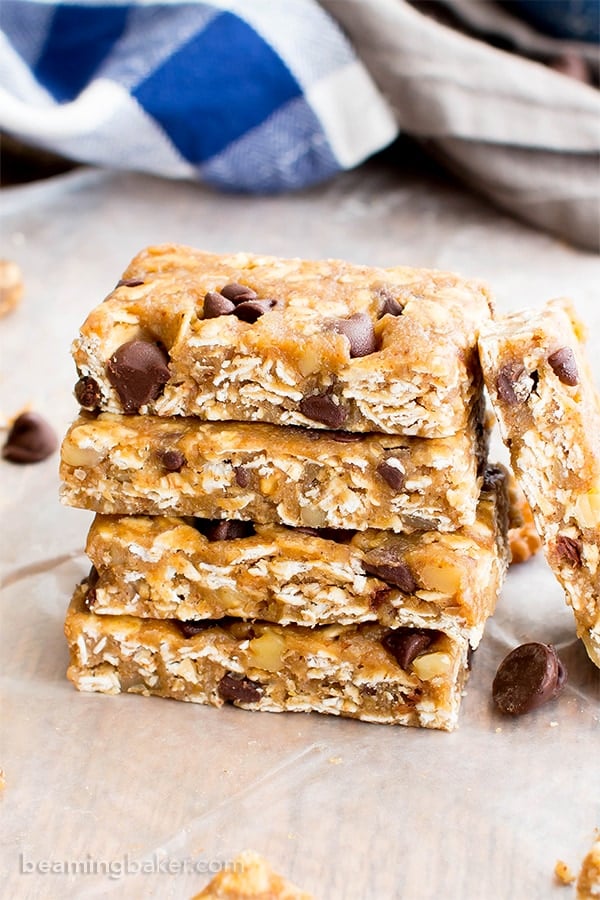 Erik and I aren't big on the new year's resolutions usually… but this year, we're gonna give 'em a go. The funny thing is that we usually have monthly resolutions that go through a bit of a rolling admissions-type process. If ya don't make it in this month, you'll get your turn next month. <– Let's just assume I have a good handle on how this rolling admissions business works.
This year, we're gonna be working on a few of these resolutions, and maybe even a few we haven't even thought of yet…
For Me:
more sleep, for the love of all that's sweet and salty!
better organization, like everywhere
more time for fitness, because I have one too many pairs of stretchy pants, and they're not for working out (just sayin')
less work, more living
like… with family and other real humans that exist outside of my computer screen (there's a rumor they exist)
more sleep
Better quality wind-down time at night, after work… because Erik's had enough sleepless nights with me tossing and turning, saying who knows what about recipes in my sleep
More… adventures, no reason needed
and finally, more sleep 😴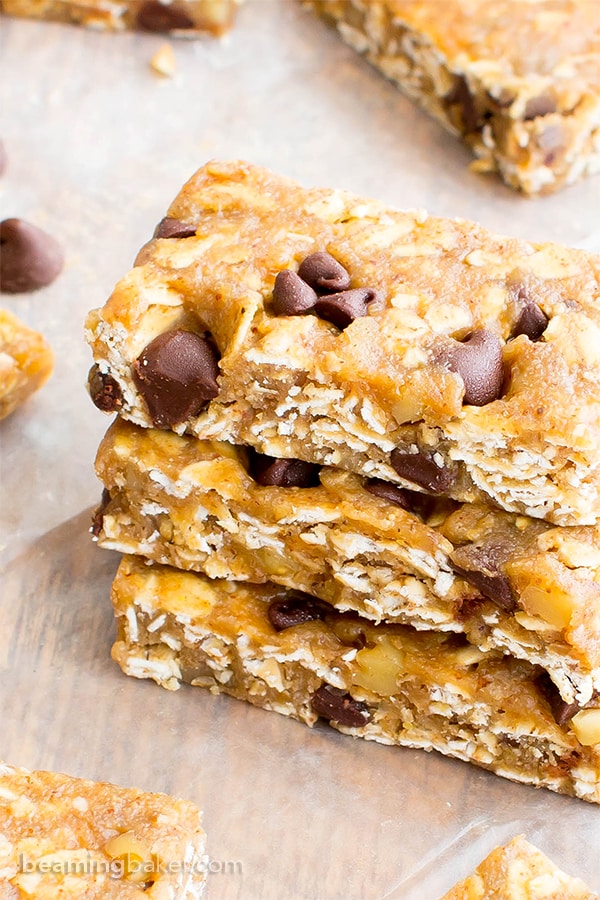 For Erik:
he told me to write, "yes" to all of the above and…
build a snowman, for the first time ever (!!!!)
more even sideburns (yep, he's all mine, ladies!)
more sleep (he then mumbled something about recipes…)
wear ties more often, for fun exclusively
and adventure time!! Not the show, the actual thing
Okay, now that you've heard ours, we have to hear yours! Yes, we are all in middle school right now. 😉 What are your new year's resolutions? Any fun ones you may or may not officially have on your list?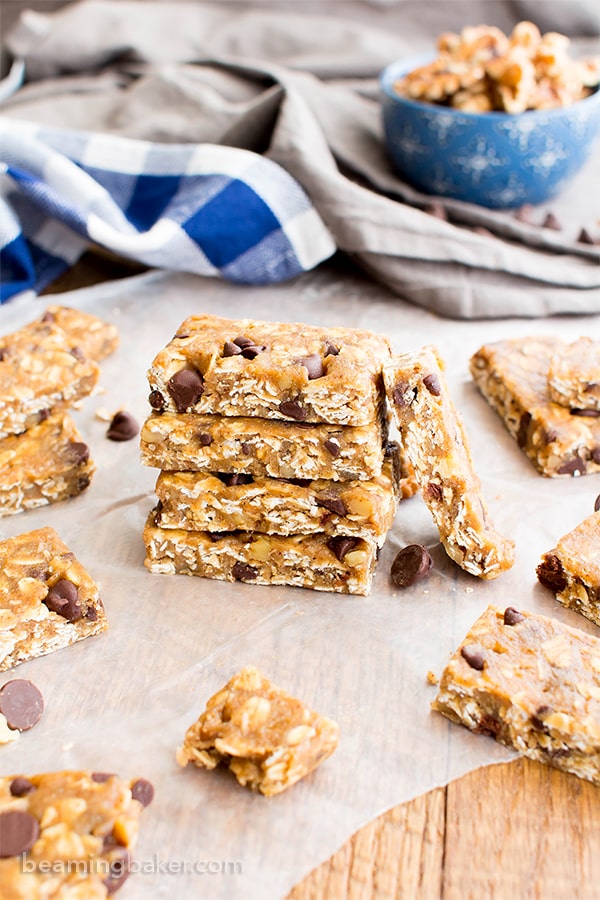 While I eagerly await your responses, allow me to tell you all about my No Bake Almond Butter Chocolate Chip Cookie Dough Granola Bars. They're:
so incredibly easy to make, in just one bowl
vegan, gluten free, dairy-free, whole grain
cookie-dough tasty!
totally awesome at room temperature, so you can bring them on all your adventures
soft, chewy and satisfying
packed with delicious, energy-boosting ingredients: chocolate, oats and more!
plant-based and allergy-friendly
made for almond butter lovers
perfect for an afternoon snack or an evening dessert
so made for kicking your new year's resolutions' butts! Or something…
I hope you get a chance to try a wealth of new things this year: activities, friends, recipes, fun. I'm looking forward to kicking off the new year with you. Let's make this year unbelievably awesome! Whaddya say? I can't wait to hear what you think of this recipe.
In the meantime, tell me, what's your number one new year's resolution?
Sending you all my love and maybe even a dove, xo Demeter ❤️
☀︎ Click below to Pin ☀︎

☀︎ Did you make this recipe? Take a pic and share it on Instagram with the hashtag #beamingbaker and tag @beamingbaker. I would love to see it! ☀︎
No Bake Almond Butter Chocolate Chip Cookie Dough Granola Bars (Vegan, Gluten Free, Whole Grain, Dairy-Free)
No Bake Almond Butter Chocolate Chip Cookie Dough Granola Bars (V, GF, DF): an easy one bowl recipe for soft and chewy no bake granola bars that taste like cookie dough. Vegan, Gluten Free, Dairy-Free, Whole Grain.
Author:
Demeter | Beaming Baker
Recipe type:
No Bake, Snacks, Vegan, Gluten Free, Dairy-Free
Ingredients
Wet Ingredients
¼ cup unsalted, natural creamy almond butter*
¼ cup pure maple syrup
2 tablespoons melted coconut oil
1 flax egg (1 tablespoon ground flax + 3 tablespoons water, whisked together, set for 10 mins)
1 teaspoon pure vanilla extract
Dry Ingredients
1 cup gluten free rolled oats
¾ cup gluten free oat flour
¼ teaspoon salt
Add-in Ingredients
¼ cup vegan chocolate chips (mini and regular)
¼ cup walnuts, finely chopped
Optional Topping
1 teaspoon mini chocolate chips
Instructions
Line an 8-inch square baking pan with wax paper, parchment paper or foil. Set aside.
In a large bowl, whisk together all of the wet ingredients: almond butter, maple syrup, coconut oil, flax egg and vanilla. Whisk until smooth.
Add the dry ingredients: oats, oat flour and salt. Use a rubber spatula or wooden spoon to fold the ingredients together until well combined. Fold in chocolate chips and walnuts.
Pour this mixture into the prepared baking pan. Using the rubber spatula, smooth into an even layer. Optionally, press chocolate chips into the bars.
Cover and freeze for 30 minutes. Remove from freezer and slice into 18 bars. Enjoy! Storing instructions below.
© beamingbaker.com. All content and images are protected by copyright. Please do not use my images or recipe without my permission. If you wish to republish this recipe, please re-write the entire recipe using your own words and include a link to this post for the recipe.
☀︎ More Healthy Snack Recipes ☀︎
No Bake Chewy Chocolate Chip Granola Bars (Vegan, Gluten Free, Dairy-Free, Whole Grain)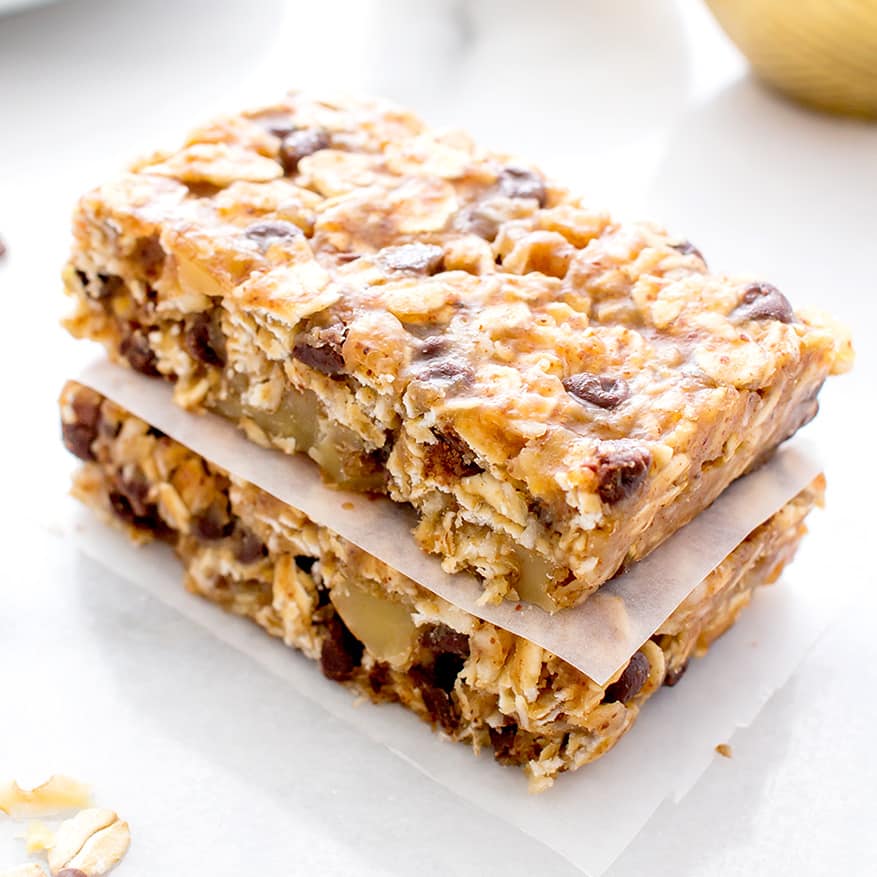 No Bake Oatmeal Raisin Granola Bars (Vegan, Gluten Free, Dairy-Free, Whole Grain)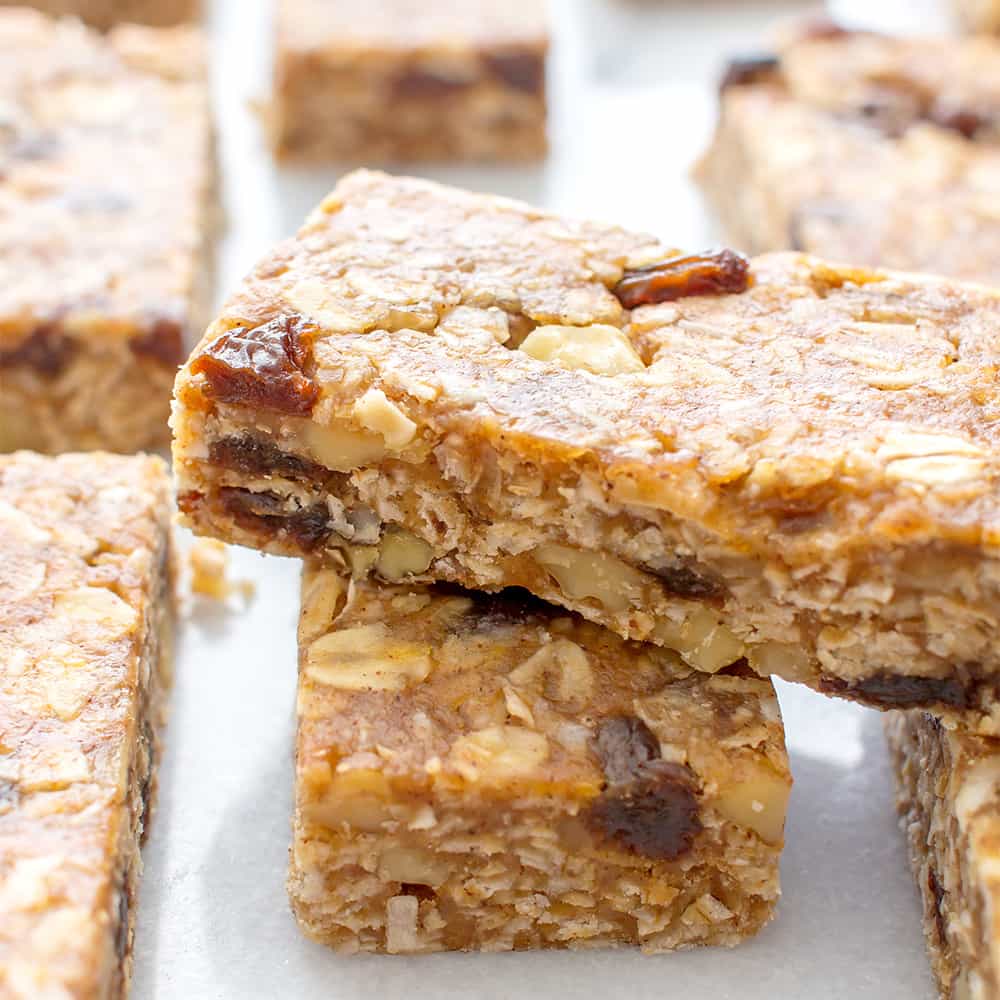 No Bake Peanut Butter Coconut Chocolate Chip Bites (Vegan, Gluten Free, Dairy-Free, Whole Grain)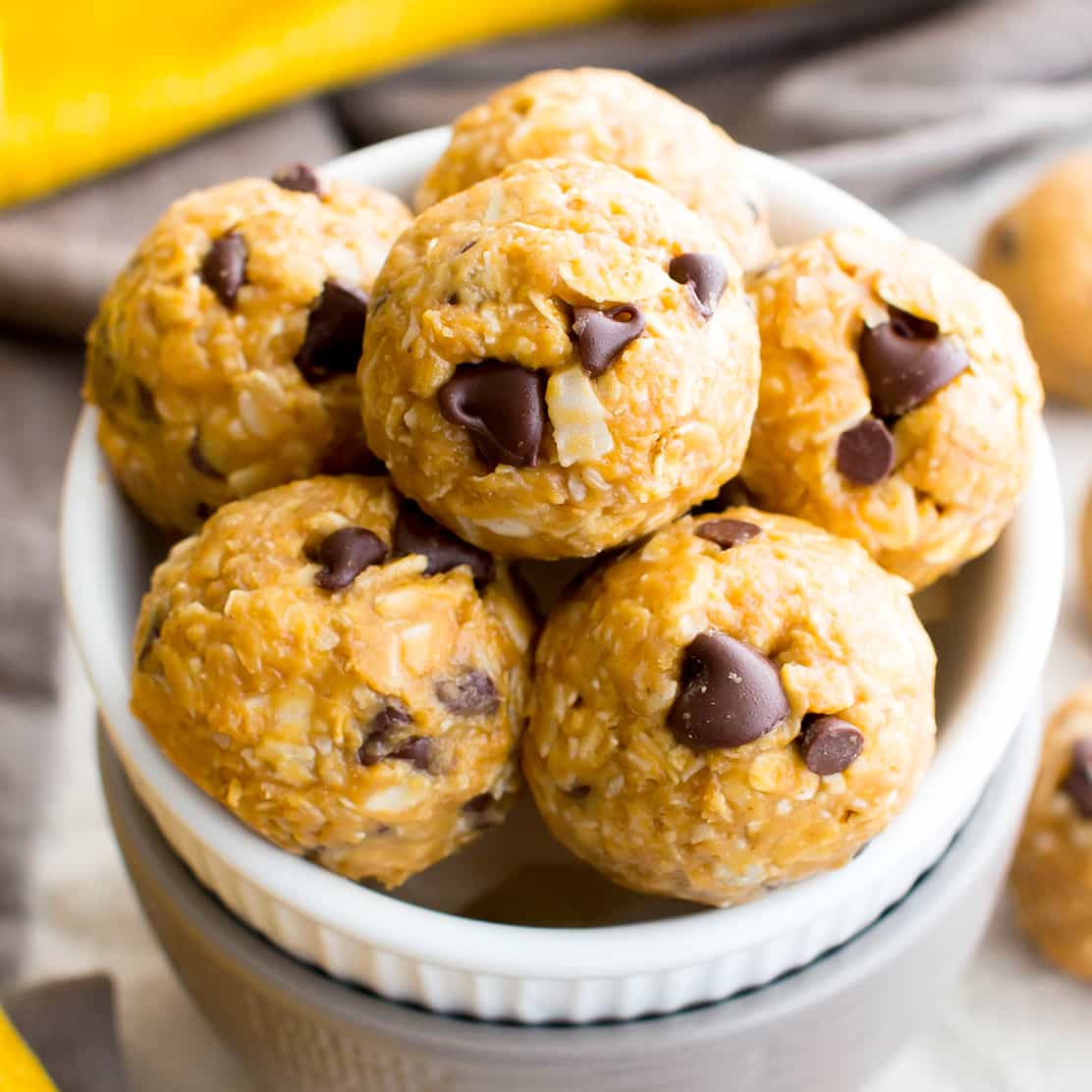 ☀︎ Even more No Bake deliciousness…
No Bake Cranberry Coconut Energy Bites (V, GF, DF, Whole Grain) by Beaming Baker
Seedy Chocolate No Bake Granola Bars (V, GF, DF) by Vegan Richa
No Bake Chocolate Peanut Butter Bars (4 Ingredient, Vegan, GF, DF, Whole Grain) by Beaming Baker
No Bake Almond Joy Granola Bars (V, GF, DF)  by Oh She Glows
No Bake Gluten Free Granola Bars by Gluten Free on a Shoestring
No Bake Peanut Butter Coconut Bites (Vegan, GF, Dairy-Free, Whole Grain) by Beaming Baker
Facebook ☀︎ Pinterest  ☀︎ Twitter ☀︎ Instagram