Easy Orange Muffins Recipe (Vegan, Gluten Free, Dairy-Free)
Easy Orange Muffins Recipe (V, GF): a fun recipe for perfectly moist homemade muffins bursting with zesty orange flavor! The best healthy 'n delicious breakfast to help start your day right! Vegan, Gluten-Free, Dairy-Free.
First there were lemons, then there were oranges!! By that I mean, of course, first there were Healthy Lemon Poppy Seed Muffins and then there was this Easy Orange Muffins Recipe.
Are you excited? I'm so thrilled to be sharing my very first orange recipe on Beaming Baker! I don't actually know if that's unusual or not… Are you a big fan of all things orange?
Growing up, one of my sister Monica's favorite foods was orange creamsicles. Does that count as a food? 😉 She was probably the only sister out of the four of us that actually liked fruit-flavored anything (over chocolate, of course). I mean, what was she thinking??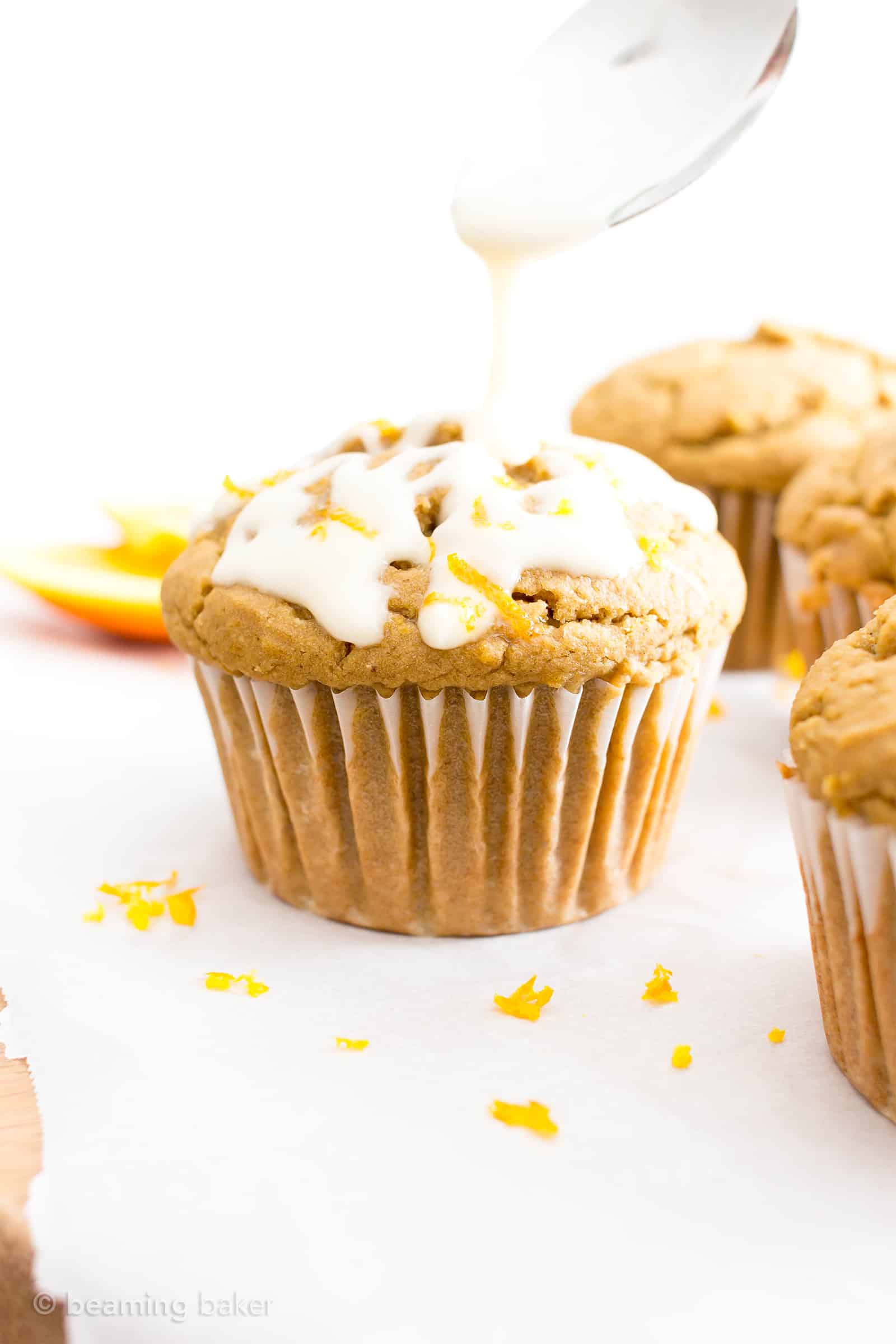 At that time, I couldn't fathom it. Now, as an older and hopefully wiser adult (at least when it comes to food), I can see the benefits of switching things up with a fruit or two once in a while. 😉 So you can basically blame/thank Monica for these recipes:
Actually, that's quite a few fruit-filled recipes! Dang, I'm good at this adult fruit business!! Let me just pat myself on the back while I try heartily to avoid thinking about what "adult fruit" could be a euphemism for… ..Side note: I've been totally eyeing these Healthy Gluten Free Sweet Potato Muffins from Food Faith Fitness! I'm thinking of trying the recipe with a flax egg instead of the egg to make it vegan.
Back on point, I've been thinking about Monica a ton because…guess what?!? It's her birthday!!! Woohoo!!! I was going to put a birthday spin on my vegan chocolate cake recipe for the big day, but decided to set the chocolate aside as a fruit-filled tribute to Monstee!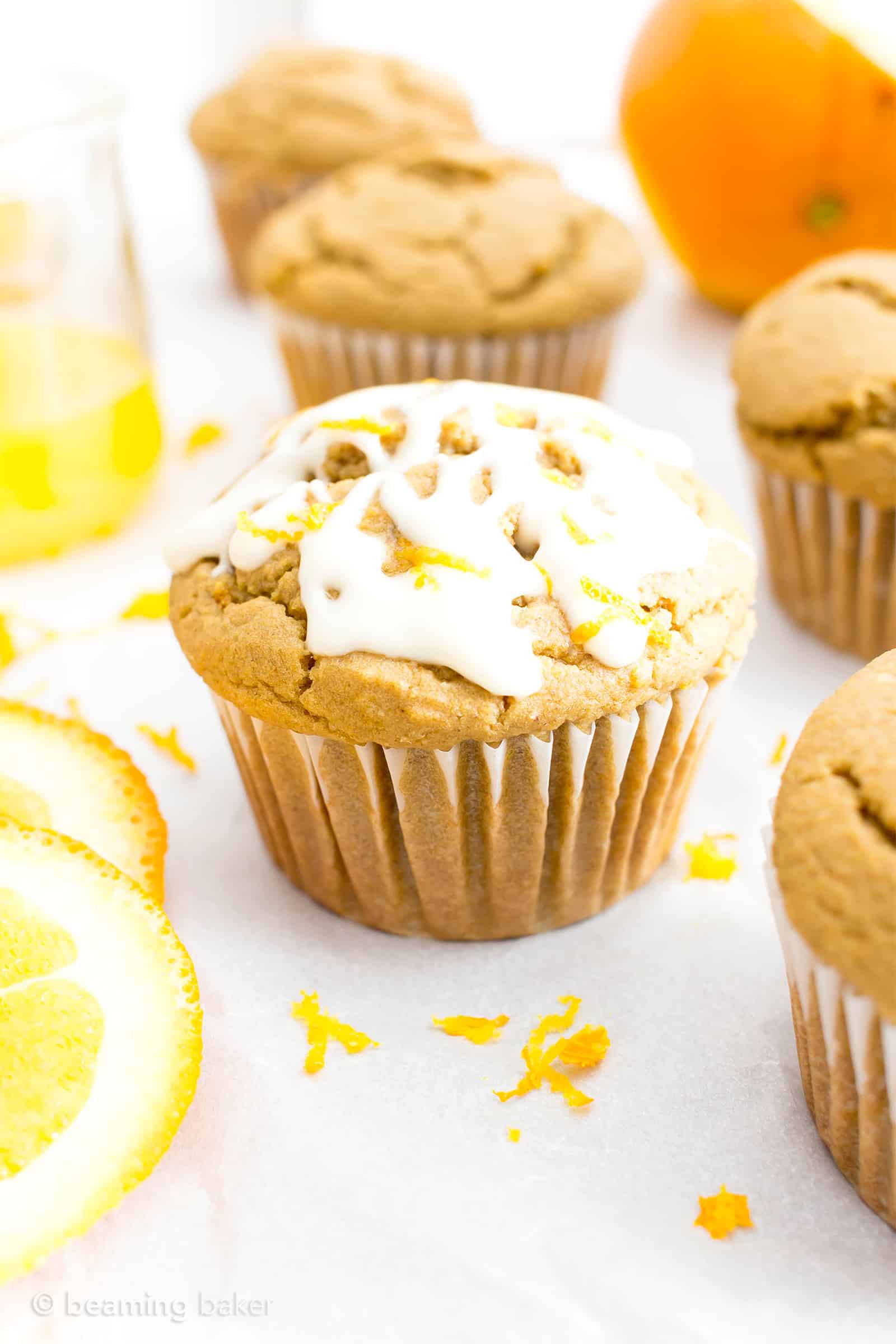 She's seriously been the best sister, friend and all-around awesome sauce person ever. Of course, I don't rank my sisters or anything juvenile like that, so we can say she's at the exact, precise same amazing level as my sisters Penny and Jenny. 😉
When I was little, I looked up to her big time. She was soooo cool! She was on the basketball team, actually had her photo in the local newspaper for her basketball prowess and even had cool matching basketball shoes with her ultra-rad team. But no matter how cool she was, she always made time for me. I'd show her my drawings, cry on her shoulder about a bully at school, and ask for advice on how best to style my hair in the morning so it wasn't just one big, giant fuzzball.
And she had the answers to it all.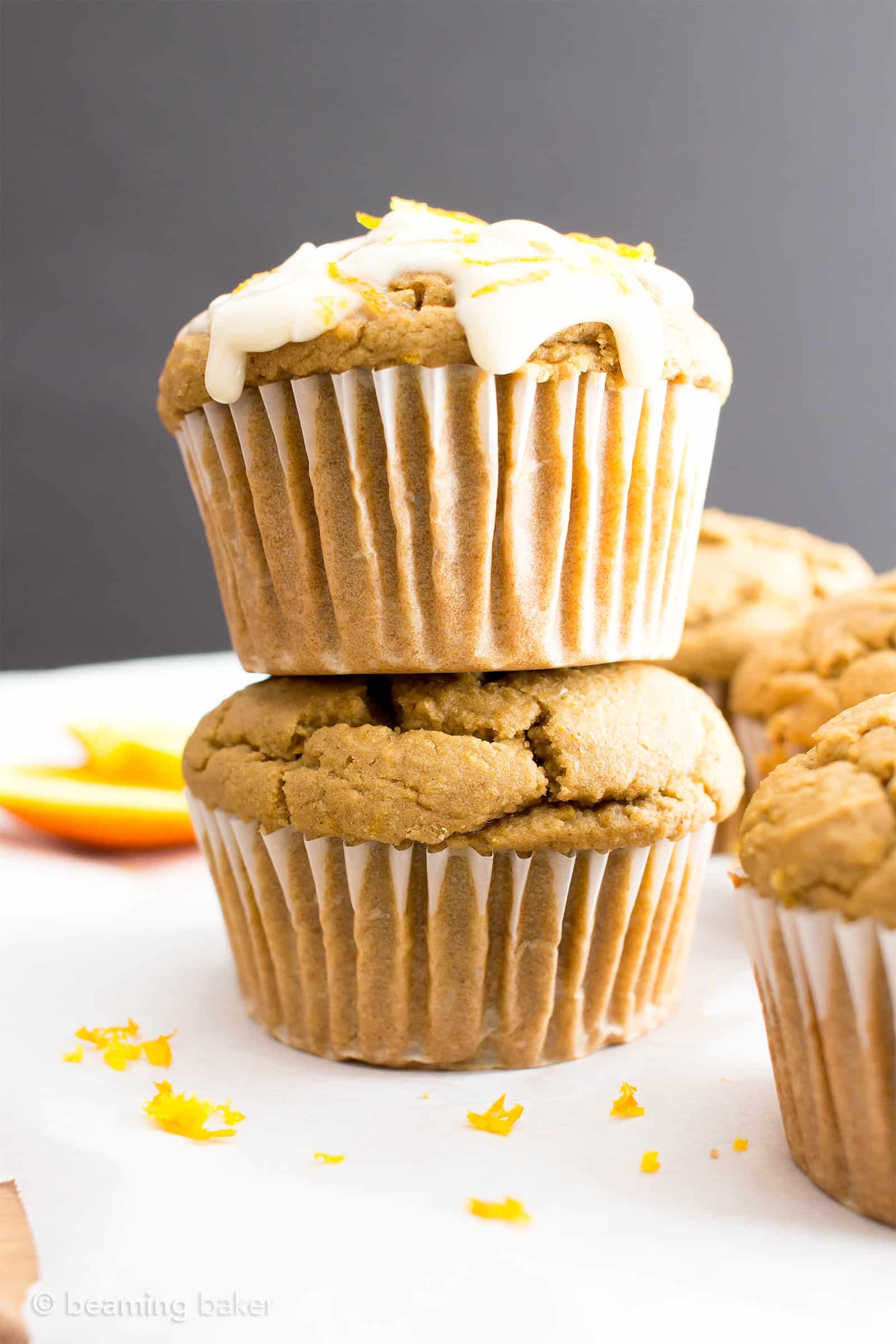 Nowadays, she's a big, bad professor who teaches her students to reach for more and to think more openly. See the world in a way that they haven't before.
And I know she's making a difference in their lives, just like she did in mine.
So will you join me in wishing my amazing sister a big ol' Happy Birthday? 🙂
Happy Birthday, Monstee! To my hero, my friend, and my idol in everything. Love ya, sis. <3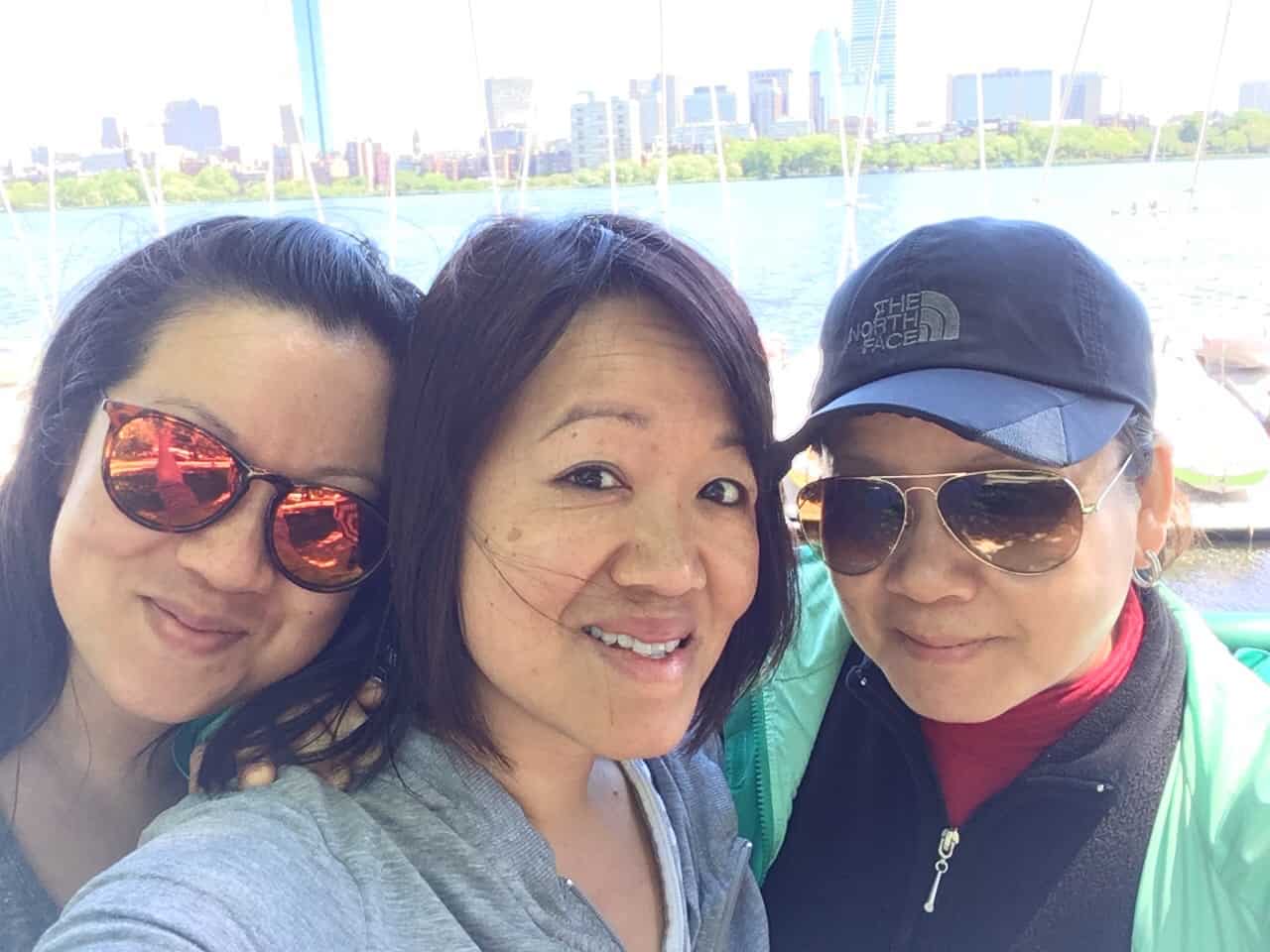 I think her favorite fruit of all time, in terms of desserts, is lemon… but I wanted to switch things up for her special day (in tribute to those Orange Creamsicles, of course). May I present to you Monica's Super Special Birthday-Level Delicious Easy Orange Muffins Recipe?
I'm thinking we gotta make a big batch with double extra glaze, some orange gummies on top and a big orange candle to celebrate her special day. Who's with me?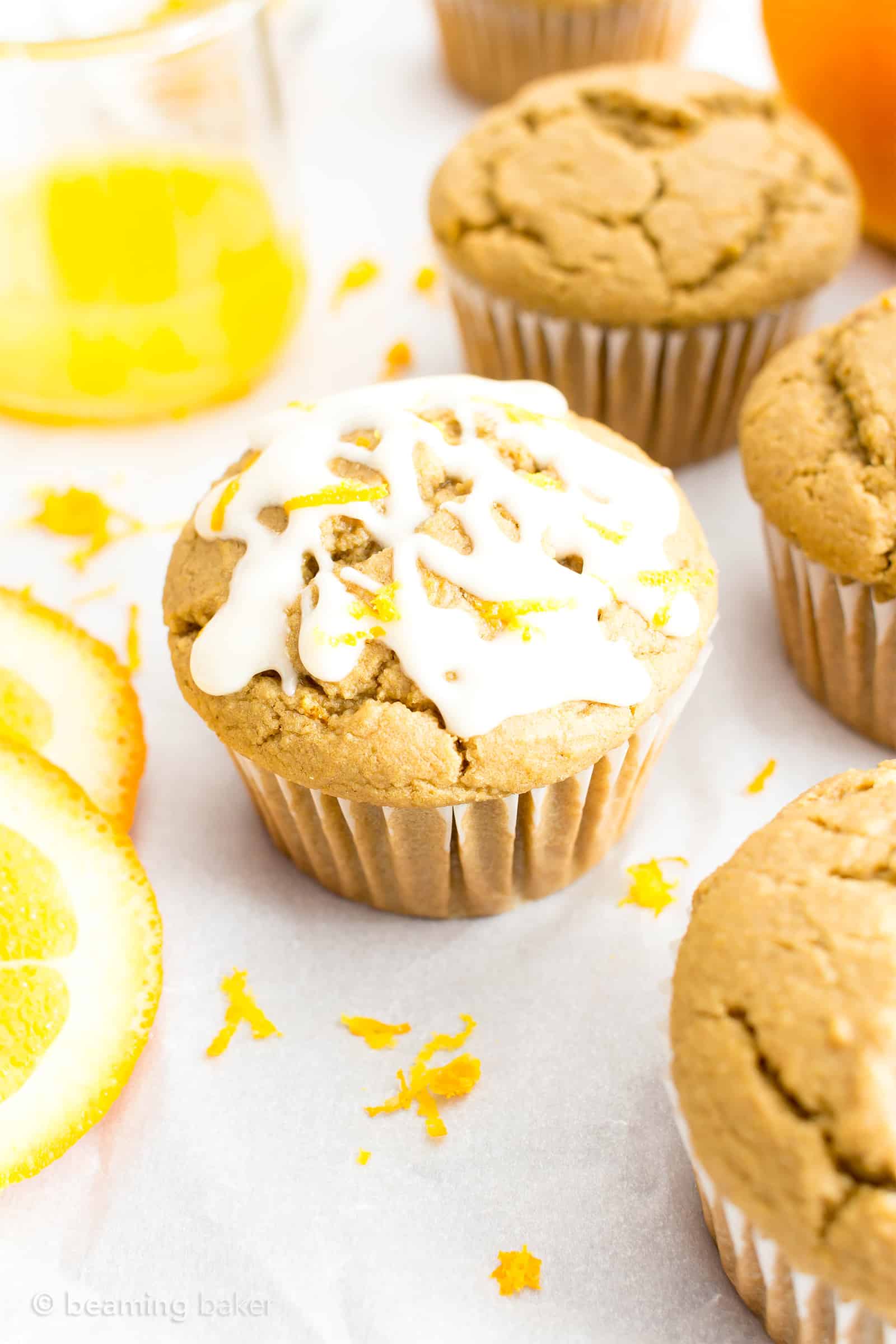 While I wait for her to blow out the candles, let's talk about all of this easy orange muffins recipe's finest and more delectable points! They're:
bursting with juicy, fresh orange flavor
vegan, gluten-free, dairy-free and refined-sugar free
easy to make and even easier to eat!
moist, fluffy and so satisfying
made with delicious and nutrient-dense gluten free oat flour (here's how to make homemade oat flour, just in case!)
just the gluten free orange muffin recipe you've been searching for
soooo good paired with this healthy homemade gluten free vegan granola (for a stupendous breakfast of champions!)
made with the healthy, whole allergy-friendly ingredients you know and love
dedicated to a special someone on her very special day 😉
Are you ready to get your bake on? Let's do this! I've gathered all of my juiciest oranges! Why don't you grab the gluten free oat flour? 🙂 I'll meet you in the kitchen! I love baking, no-baking, and sharing in these tasty kitchen adventures with you. It's always the best seeing what you've made and posted a pic of on Instagram. 🙂 I can't wait to hear what you think.
Sending you all my love and maybe even a dove, xo Demeter ❤
.︎ Click below to Pin .︎

Did you make this recipe? Take a pic and share it on Instagram with the hashtag #beamingbaker and tag @beamingbaker. I would love to see it!
If you enjoyed this delightfully domed-topped Easy Orange Muffins Recipe, then you'll just love these delicious healthy recipes:
Gluten Free Vegan Muffin Recipes & More
Print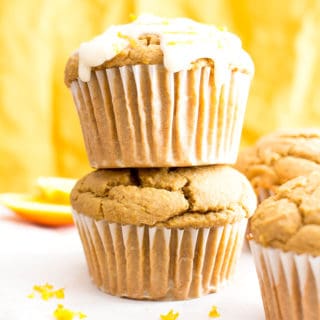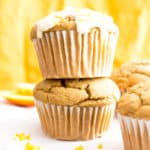 Easy Orange Muffins Recipe (Vegan, Gluten Free, Dairy-Free)
---
Description
Easy Orange Muffins Recipe (V, GF): a fun recipe for perfectly moist homemade muffins bursting with zesty orange flavor! Vegan, Gluten-Free, Dairy-Free.
---
Dry Ingredients
Wet Ingredients
½ cup

water

½ cup

non-dairy milk

¼ cup

fresh-squeezed orange juice

3 tablespoons

of zest (about

1

large orange)

3 tablespoons

melted coconut oil

¼ cup

coconut sugar

¼ cup

pure maple syrup

½ teaspoon

vanilla extract
Optional Glaze
---
Instructions
Preheat the oven to 350°F. Line a 12-cup muffin pan with cupcake liners. Set aside.
In a large bowl, sift together all the dry ingredients: oat flour, almond flour, baking soda, baking powder and salt.
Add water and milk to a microwave-safe bowl. Heat in 10-second increments until just warm. This will prevent the melted coconut oil from solidifying once mixed with these liquids.
In a medium bowl, whisk together all wet ingredients: water, milk, orange juice, orange zest, oil, sugar, maple syrup and vanilla. Whisk until well incorporated.
Add wet ingredients to dry ingredients. Whisk until just incorporated, making sure no flour patches remain.
Pour batter evenly into prepared muffin pan—filling each cup all the way to the top for big, round tops, and ¾ of the way for a larger quantity of smaller muffins. Bake for 22-26 minutes. Mine took 24 minutes. Insert a toothpick to check for doneness—once it comes out clean, it's done.
Place muffin pan on a cooling rack to cool for 20 minutes. Remove muffins from muffin pan and transfer to a cooling rack to cool completely, about 1-3 hours. Optionally, in a small bowl, whisk together Glaze ingredients until thickened: confectioners' sugar and orange juice. Drizzle muffins. Enjoy! Storing instructions below.

Get your morning fruit on with my Healthy Lemon Poppy Seed Muffins and my Blueberry Banana Almond Breakfast Cookies.
Notes
– *Powdered sugar substitutes: Swerve powdered sugar is a good sugar-free, low carb substitute. You can also grind the sweetener of your choice, such as Xylitol, in a coffee grinder or small blender until you get a powder. Since Swerve is a bit drier, use about 2 ½ teaspoons orange juice to make the glaze.
– *You can also add more powdered sugar if you'd like a thicker glaze.
– Storage notes: Store in an airtight container for up to 1 week in the refrigerator, or in a cool, dark environment. Glaze when ready to eat, or day of.
– To Freeze: store in an airtight container or bag, unglazed, in the freezer for up to 1-2 months. Allow to thaw for about 30 minutes at room temperature before enjoying. Or, heat in the microwave in 15 second increments until just warm.
– More Gluten Free Breakfast Recipes (all V, GF): double chocolate banana muffins, good morning breakfast cookies, peanut butter oatmeal breakfast bars.
Category:

Breakfast, Muffins, Vegan, Gluten-Free, Dairy-Free
© beamingbaker.com. All content and images are protected by copyright. Please do not use my images or recipe without my permission. Please do not republish this recipe, instead, include a link to this post for the recipe.
SHOP THE RECIPE
Here are a few items I used in today's recipe. 🙂
Muffin Pan | Citrus Zester | Gluten Free Oat Flour | Maple Syrup | Coconut Sugar | Cooling Rack | Citrus Squeezer | Coconut Oil | Organic Unrefined Confectioners' Sugar
This post may contain affiliate links, which allow me to make a small commission for my referral, at no additional cost to you.
Facebook ☀︎ Pinterest ☀︎ Twitter ☀︎ Instagram