Super Fudgy Paleo Maple Pecan Brownies (Vegan, Gluten Free, Dairy-Free, One Bowl)
Super Fudgy Paleo Maple Pecan Brownies (V, GF): Supremely fudgy chocolate brownies topped with delightfully sweet maple pecans. Paleo, Vegan, Gluten Free, Dairy-Free.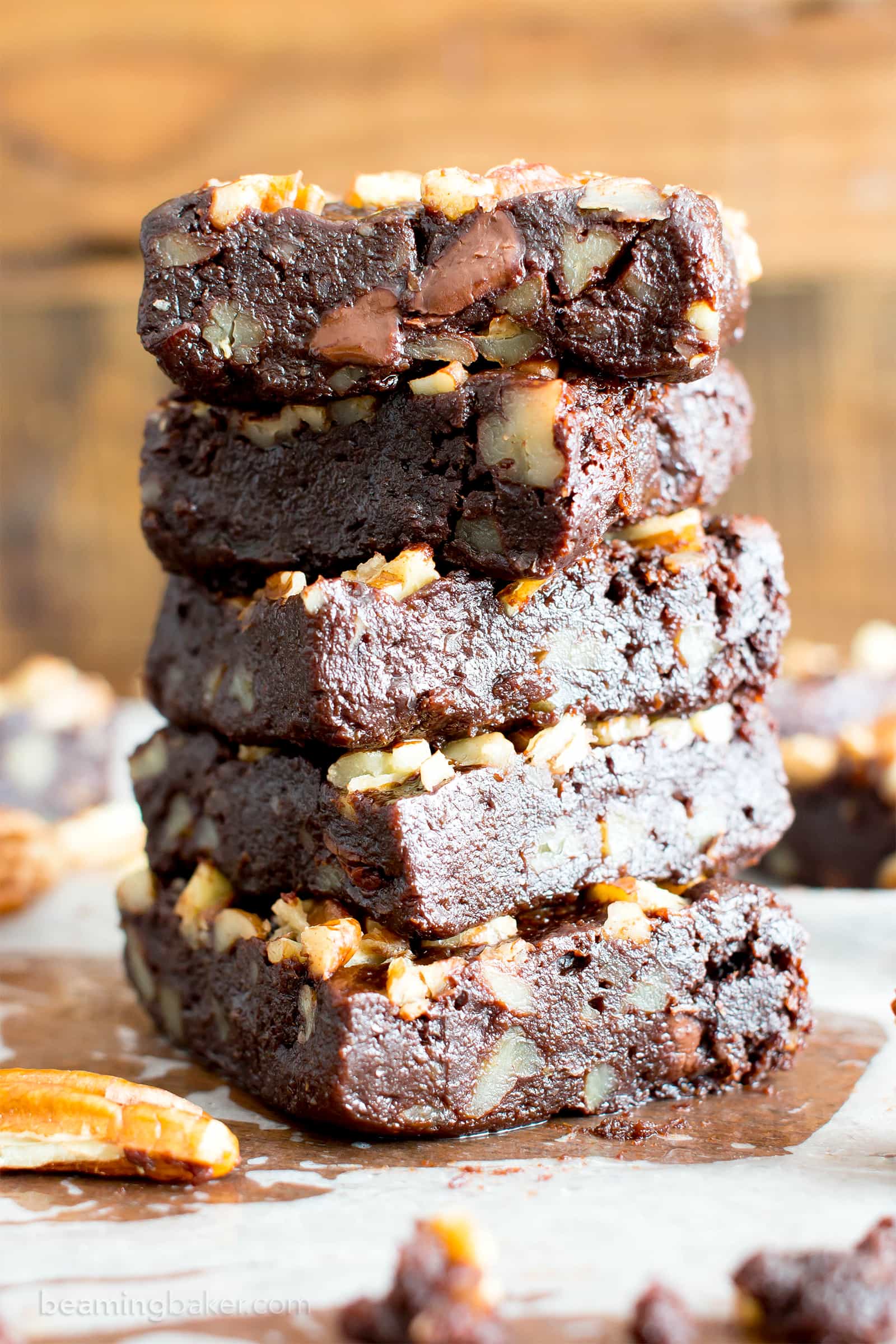 Happy October! And oh, what a happy October it'll be with these Super Fudgy Paleo Maple Pecan Brownies!
It's been a little too long since I've shared a full-blown brownie recipe with you—I know, some folks might not count no bake brownie bites as an actual "full-blown" brownie recipe.
The thing is, we LOVE brownies 'round these parts: my mom, my sisters, Erik. If we loved brownies any more, it would be embarrassing. <— Let's face it, it already is.
In case you don't believe me, check out these brownie recipes: best vegan brownies, double chocolate pecan brownies, gluten free vegan brownies, vegan gluten free fudgy walnut brownies, chocolate almond butter frosted paleo fudgy brownies.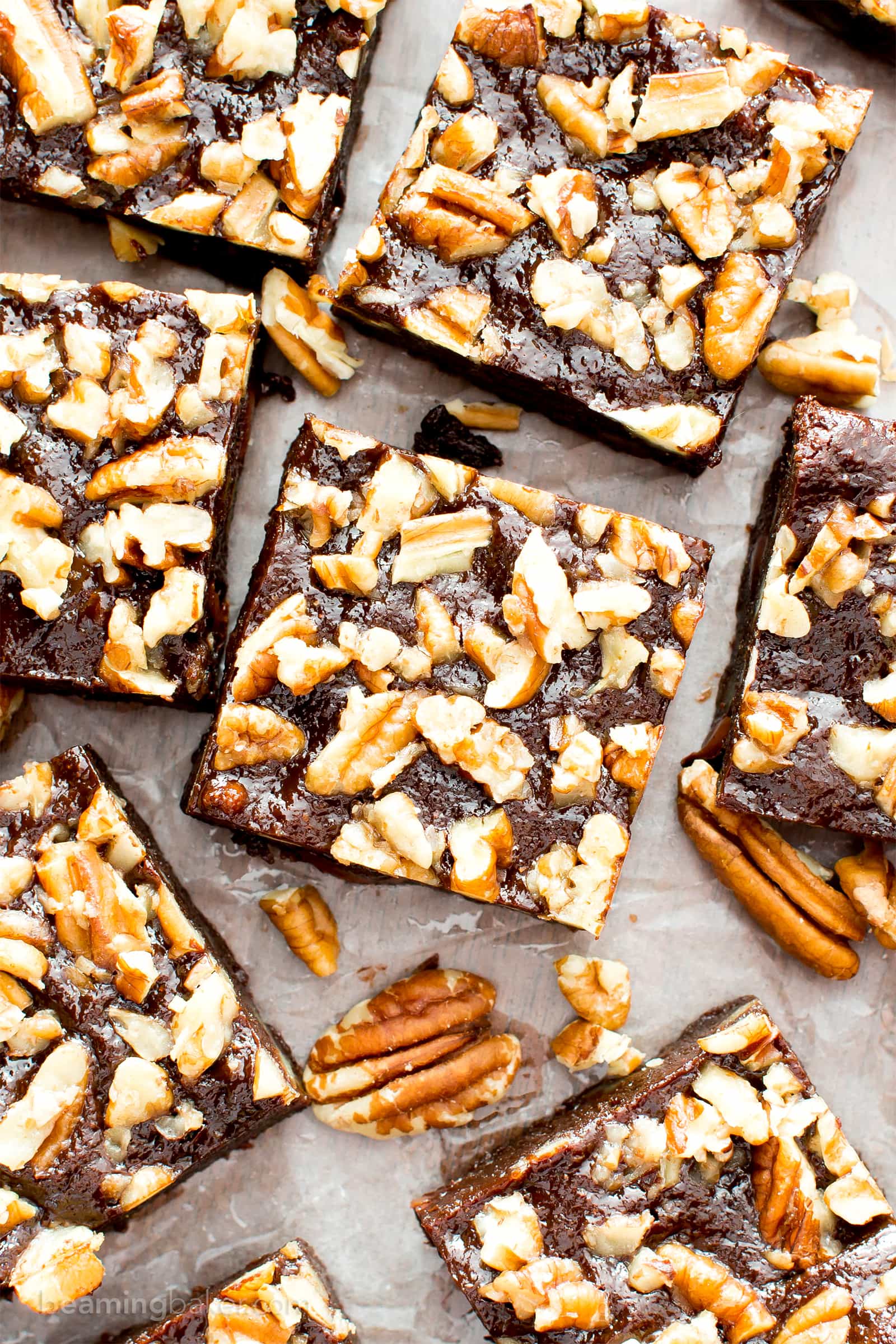 See what I mean? Any more brownie recipes and… hmm… and what? Everyone gets even happier? 😉 I simply cannot foresee any bad news coming from more brownies. I simply cannot!
Anyway, you might remember me sharing these ultimate fudgy paleo vegan brownies with you a few months back. It's since swept the nation—nay, the world—with its awesomeness. Okaaaaaaay, it hasn't. But wouldn't that be cool?? Ahem. Back to reality, I've since gotten a bunch of emails, instagrams, and comments about how much everyone loves them. So in the usual, tasty BB-fashion, I've decided to put a twist on it!
You ready? Here we go!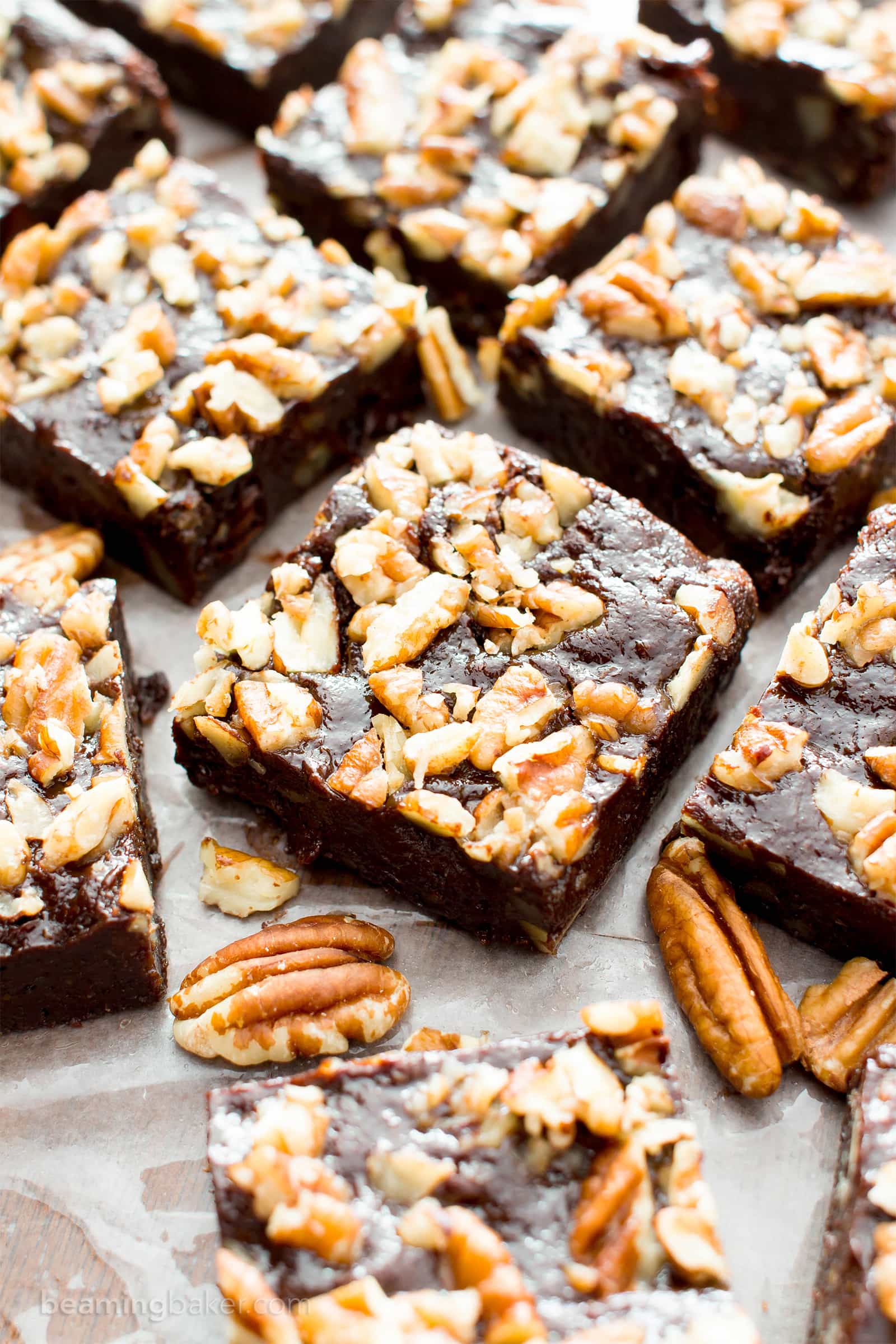 A few weeks back, I shared this super simple twist on my pumpkin chocolate chip muffins. I figured out a really easy way to amp up the maple flavor of that recipe by simply tossing chopped pecans in a teensy bit of maple syrup and piling those suckers on top of the muffins. The result? Deliciously glazed pecans shining like jewels atop that muffin crown. So. GOOD.
As such, I got to thinking: why not maple pecan-glaze-ify those tasty paleo brownies everyone's always talking about? I mean, who doesn't want to glaze-ify something? If I could, I would glaze ALL the things! My t-shirt, these moist chocolate pumpkin muffins, my snow boots, these vegan double chocolate chip chewy oatmeal cookies, Erik… what else? Definitely these Maple Glazed Donut Muffins. Yep, double glaze. 😉
As you can see, enjoying these decadent super fudgy paleo maple pecan brownies has gotten me slightly glazed in the eye and my train of thought. Quick, I've got to get it back!
What the fudge was I just saying?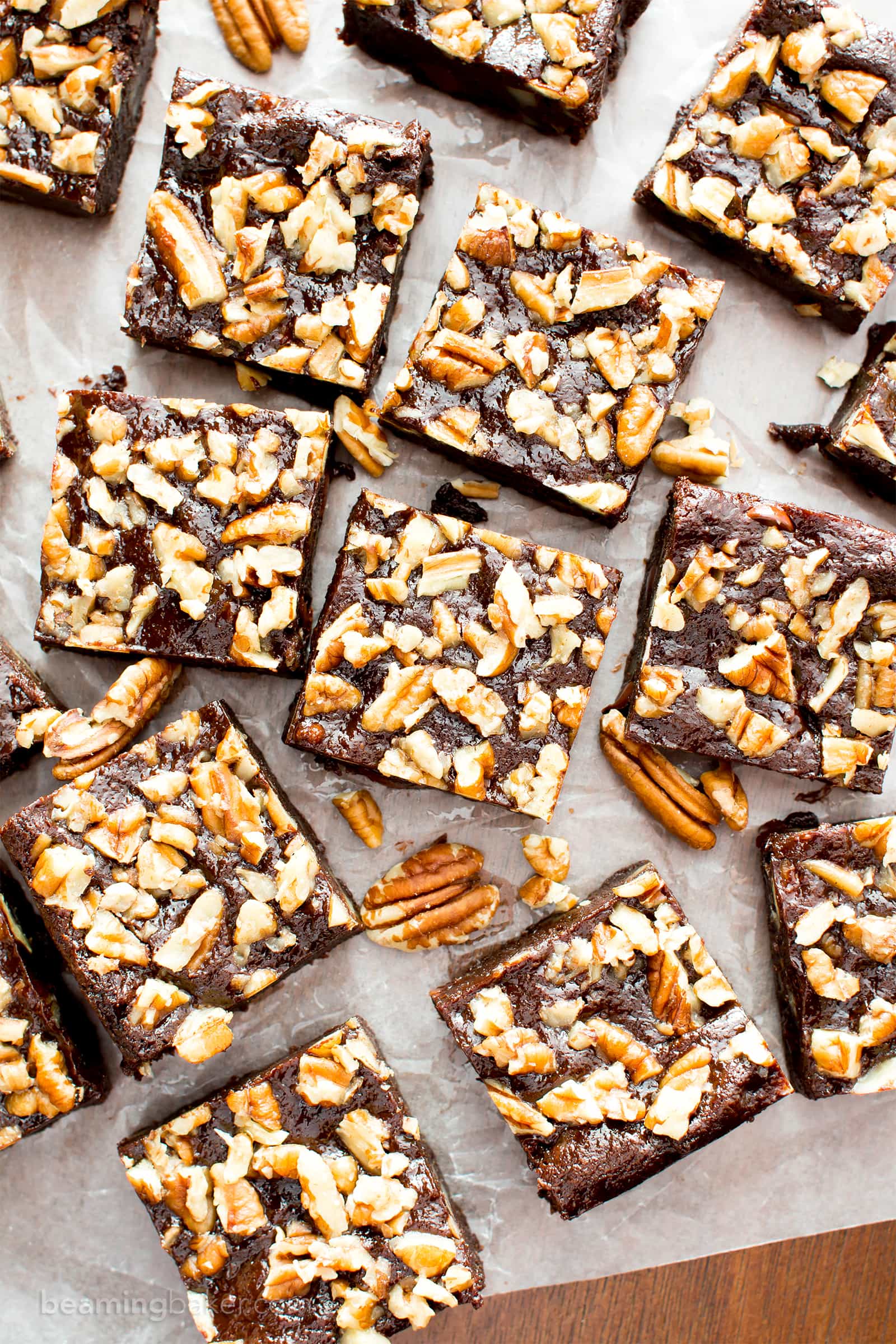 Right—glazed maple pecans. So I got to work on the recipe, making sure to add in as many chopped pecans as humanly possible. Which, I'm not even sure what that means, but just go with it. Speaking of total pecan love, check out all the glorious pecans in this Gluten-Free Chocolate Pecan Tart! Wait, where was I again? Basically, this brownie's chocolate decadence is not overshadowed, but simply complemented, in the best and tastiest way possible, by the abundant ratio of pecans.
Oh heck, I so obviously need a nap bright now. Annnnnnd, I just realized I typed "bright" now. Dagnabit. Let's get real for a second—it's like 100 degrees in my kitchen right now (thanks to a full day of baking) and running around like a madwoman trying to get ready for all the holiday festivities (Halloween, my mom's birthday, like 500 family things).
So let's just make a BIG batch of these together, forget I said anything, and top each and every piece with a BIGGER scoop of dark chocolate nice cream. And, one last delicate, but not so delicate, scoop of chopped pecans (because that's how much we seriously love pecans).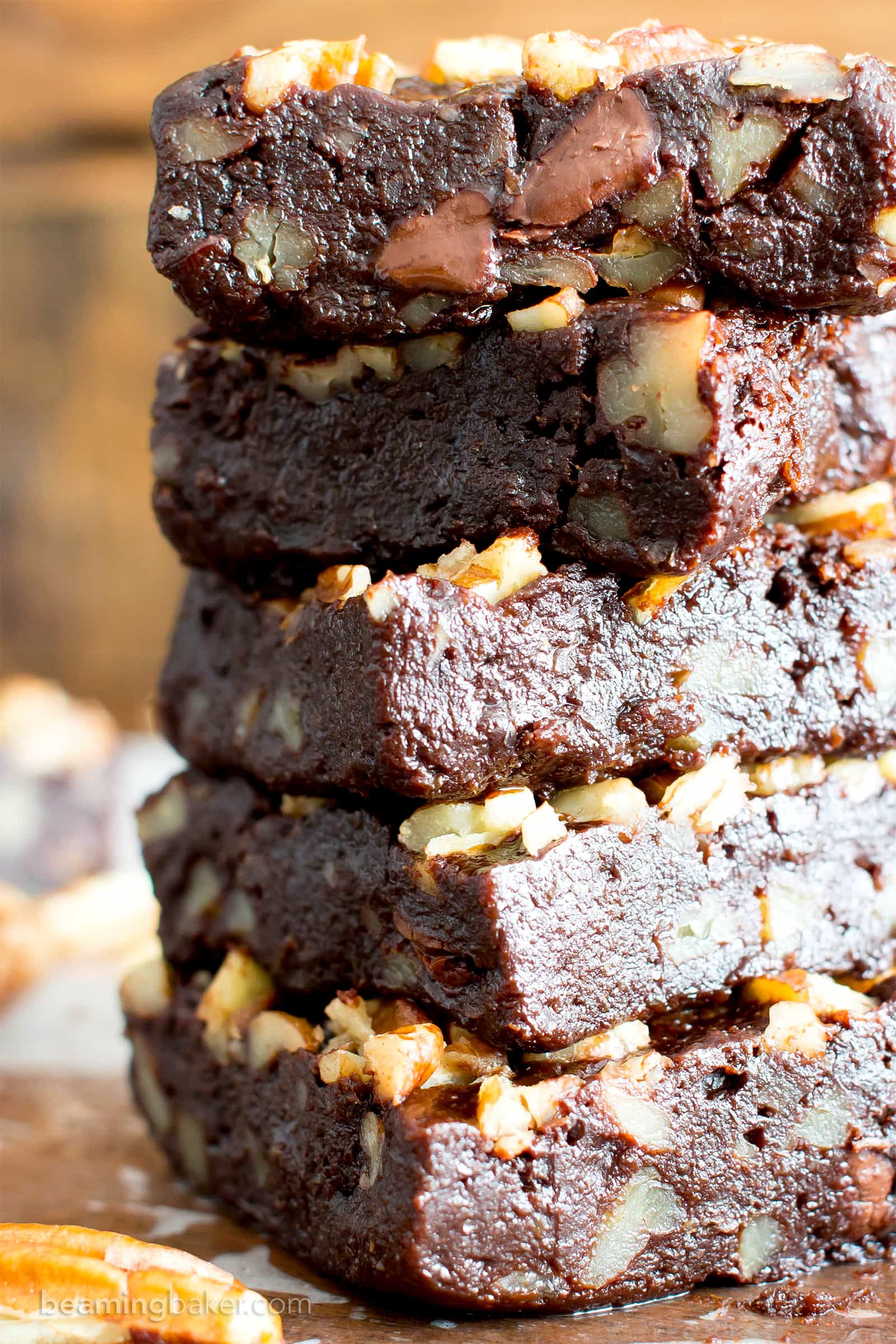 Just in case you're not convinced of the grandeur and yum-victory that are these Super Fudgy Paleo Maple Pecan Brownies, and you've totally lost your marbles reading this semi-holiday-cray post, allow me to tell you all about these paleo treats! They're:
out of this world FUDGY
packed to the brim with pecan goodness
vegan, gluten-free, dairy-free
awesomely paleo
made in just two bowls (one for the brownies, one for the maple pecans)
SO good fresh out of the oven
indulgent, chocolatey, rich
plant-based and allergy-friendly
super moist, just the way you like it (I hope!)
made with the simple, whole, healthy ingredients you love
perfect for dessert
a great way to steer the conversation around your wayward train of thought (because it's the holidaze!!)
Grab two bowls, your favorite spatula and meet me in the kitchen! It's time to get our holiday bake on! As always, it's such a joy making these homemade treats with you. I can't wait to hear what you and your loved ones think of this recipe. In the meantime, tell me:
What's your favorite way to eat brownies?
Sending you all my love and maybe even a dove, xo Demeter ❤
☀︎ Click below to Pin ☀︎

☀︎ Did you make this recipe? Take a pic and share it on Instagram with the hashtag #beamingbaker and tag @beamingbaker. I would love to see it! ☀︎
SHOP THIS RECIPE
[amazon_link asins='B000FCGRAK,B00DS842HS,B001CCZL7W,B00091PNTI,B0051T96QE,B0083QJU72′ template='BB-ProductCarousel' store='beamingbake0c-20′ marketplace='US' link_id='f50724ea-4aed-11e7-ad1e-3fd15d6f4101′]
Here are a few items I used in today's recipe. 🙂
OXO Mixing Bowls | Coconut Oil | Silicone Spatulas | Maple Syrup | Baking Pan (8-inch) | Cooling Rack | Blanched Almond Flour |
Print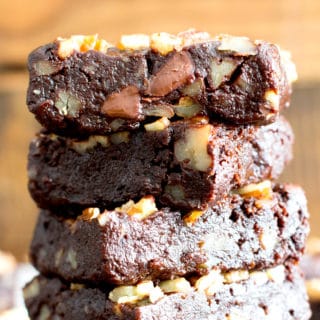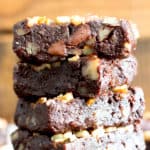 Super Fudgy Paleo Maple Pecan Brownies (Vegan, Gluten Free, Dairy-Free, One Bowl)
---
Description
Super Fudgy Paleo Maple Pecan Brownies (V, GF): supremely fudgy chocolate brownies topped with delightfully sweet maple pecans. Paleo, Vegan, Gluten Free, Dairy Free, Chocolate.
---
Brownies
¼ cup

natural, unsalted creamy almond butter

¼ cup

+

2 tablespoons

coconut sugar

1/3 cup

pure maple syrup

¼ cup

melted coconut oil

¾ cup

unsweetened cocoa powder

1 teaspoon

pure vanilla extract

¼ teaspoon

salt

2

flax eggs (

2 tablespoons

ground flax +

6 tablespoons

water, whisk together, set for 15 mins)

½ cup

finely ground, blanched almond flour
Add-Ins
½ cup

pecans, chopped

¼ cup

paleo vegan chocolate chips
Toppings
¼ cup

+

2 tablespoons

pecans, roughly chopped

1 ½ teaspoons

pure maple syrup
---
Instructions
Preheat oven to 325°F. Line an 8-inch square baking pan with parchment paper or greased foil. Set aside.
In a medium bowl, whisk together almond butter, coconut sugar, maple syrup and melted coconut oil. Whisk until it resembles caramel.
Add cocoa powder in ¼ cup increments, whisking until well mixed and thick like frosting. Scrape down the sides of the bowl as necessary. Whisk in vanilla, salt and flax eggs, until well incorporated. Using a rubber spatula, fold in almond flour until you get the consistency of soft dough or very thick batter, and no flour patches remain.
Fold in pecans and chocolate chips. Pour batter into pan. Using the rubber spatula, smooth batter into an even layer.
In a small bowl, add Topping ingredients: ¼ cup + 2 tablespoons pecans and 1 1/2 teaspoons maple syrup. Stir and fold until pecans are well-coated in maple syrup. Evenly sprinkle maple pecans over brownies. Using the back of a spoon, gently press pecans into batter.
Bake for 28-36 mins. Mine took about 30 minutes. Cool for about 2 hours, or until completely cool.* Slice into 16 brownies. Enjoy!
Notes
– *Brownies will be very fudgy and gooey after the first 2 hours of cooling. If you like them firmer, allow to cool & set for an extra 2-4 hours before enjoying.
– Adapted from my Gluten Free Vegan Brownies and my Ultimate Fudgy Paleo Brownies.
– Store in an airtight container for up to a week at room temperature. Store in the refrigerator if you like them firm.
– These brownies freeze well. Store in an airtight, freezer-friendly container for up to a month. Thaw at room temperature for 30 minutes before enjoying. Or, heat in the microwave for 15-20 seconds until warm.
– More Paleo Dessert Recipes: Paleo Almond Joy, Paleo Mocha Frappe, Chocolate Coconut Truffles.
Category:

Brownies, Vegan, Gluten Free, Paleo, Dairy-Free, Fall, Chocolate, Dessert
© beamingbaker.com. All content and images are protected by copyright. Please do not use my images or recipe without my permission. If you wish to republish this recipe, please re-write the entire recipe using your own words and include a link to this post for the recipe.
If you enjoyed these plant-based, allergy-friendly Super Fudgy Paleo Maple Pecan Brownies, then you'll just love these delicious whole food brownie recipes:
☀︎ More Gluten Free Vegan Brownies + Paleo Recipes ☀︎
Best Vegan Brownies | Peanut Butter Cup Brownies | Double Chocolate Pecan Brownies | Ultimate Fudgy Paleo Vegan Brownies | No Bake Paleo Chocolate Pecan Bars | Paleo Apple Pecan Coconut Crisp | Paleo Almond Joy Milkshake | and… No Bake Gluten Free Brownie Energy Bites, just for fun. 😉
This post may contain affiliate links, which allow me to make a small commission for my referral, at no additional cost to you. Thank you for supporting Beaming Baker.
Facebook ☀︎ Pinterest ☀︎ Twitter ☀︎ Instagram