3 Ingredient Easy Paleo Candied Almonds Recipe (Vegan, Healthy)
Paleo Candied Almonds: 5-minute stovetop EASY candied almonds recipe! Learn how to make the BEST vegan candied almonds—sweet, healthy & gluten free!
What's the holidays without a little something sweet and a little something crunchy? 😉 For the 2nd to last recipe in the 1st Annual Beaming Baker Vegan Cookie Countdown, I thought I'd share something a little different… just in case you got tired of all the cookie recipes. (Is there such a thing?) Anywho, keep up-to-date with all the recipes I'm sharing during the countdown by checking back in the blue box right above the recipe. I'll update all the new recipes I'm sharing for the countdown! Now… let's get started!
This time of year, I always get super nostalgic and wistful about past years' holiday gatherings. There's always so much laughter, playful ribbing, arguing (hey, that's family for ya) and so many hugs and even more eating.
One of my family's very favorite holiday treats are candied nuts! Right behind paleo almond flour cookie dough bars, gluten free vegan granola and peppermint crunch bars, of course. But their top favorite is the candied nuts, every time. They're always the thing every one of my three sisters and three brothers-in-law reach for. Heck, candied almonds are always the thing that everyone secretly hides their stashes of in hopes that no one will eat their share.
Ahhh… family: it's all about sharing. And, simultaneously defending your stash of yummy goodies! 😉
This year, I'm sharing one of my new favorite candied nut recipes to make for my family: Paleo Candied Almonds!!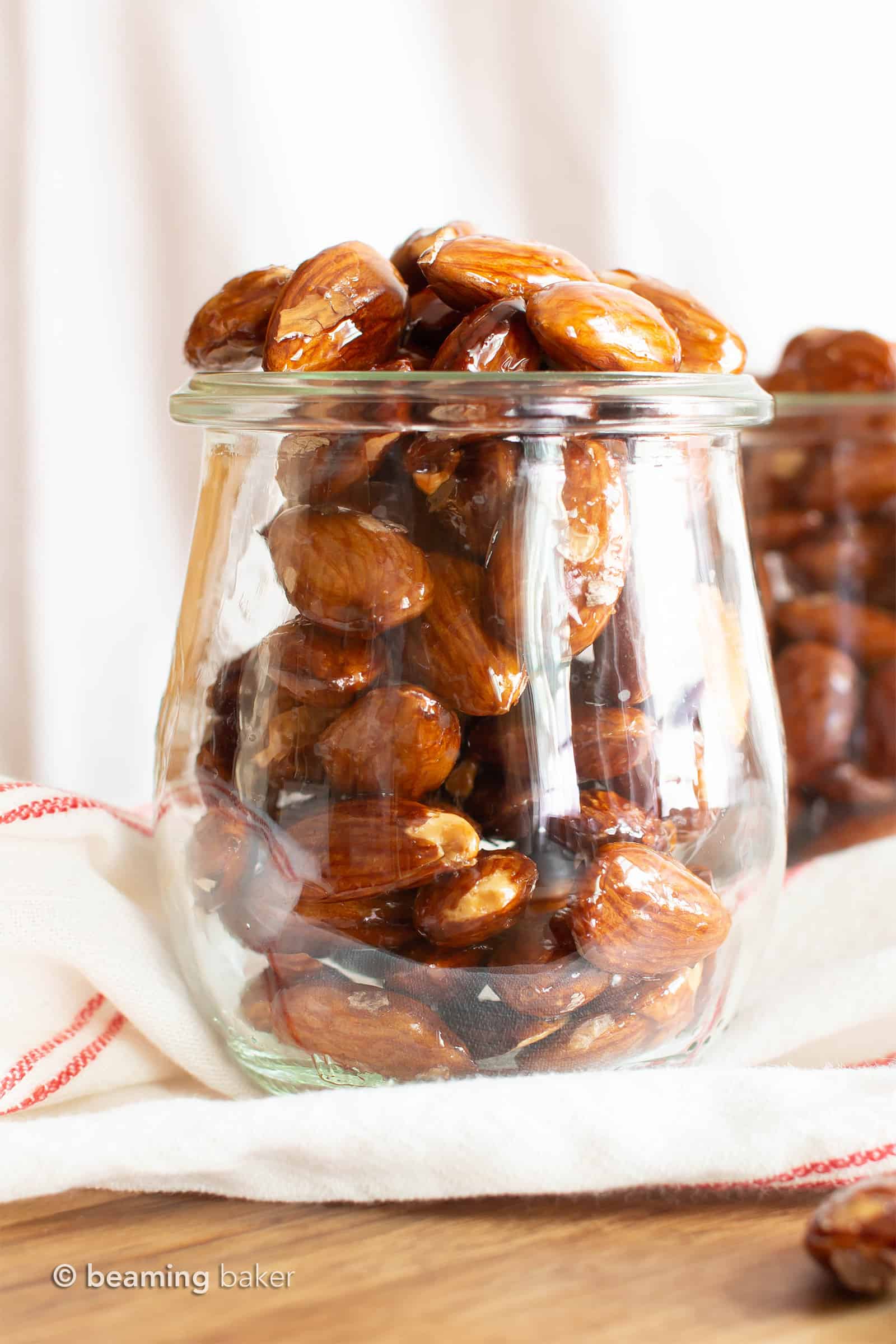 Paleo Candied Almonds Recipe
This paleo candied recipe is a huge hit with my family this year…and I hope it will be with yours, too. 🙂 Everyone will think you spent hours working on your delightful homemade gift of paleo candied almonds, when in fact, you spent only 5 minutes making it!
With just 3 ingredients and 5 minutes of cook time, you'll be sharing the edible gift hit of the year. (I know, edible gift hit sounds so weird…like some kind of gaming thingy.) Ahem! What was I saying? Yes, these vegan candied almonds are beautifully, glossily coated in a sweet layer of crunchy goodness. And hey, if you wanna sprinkle salt on there and gift the perfect sweet & salty gift, you do you! Or, try these sweet & salty nut clusters!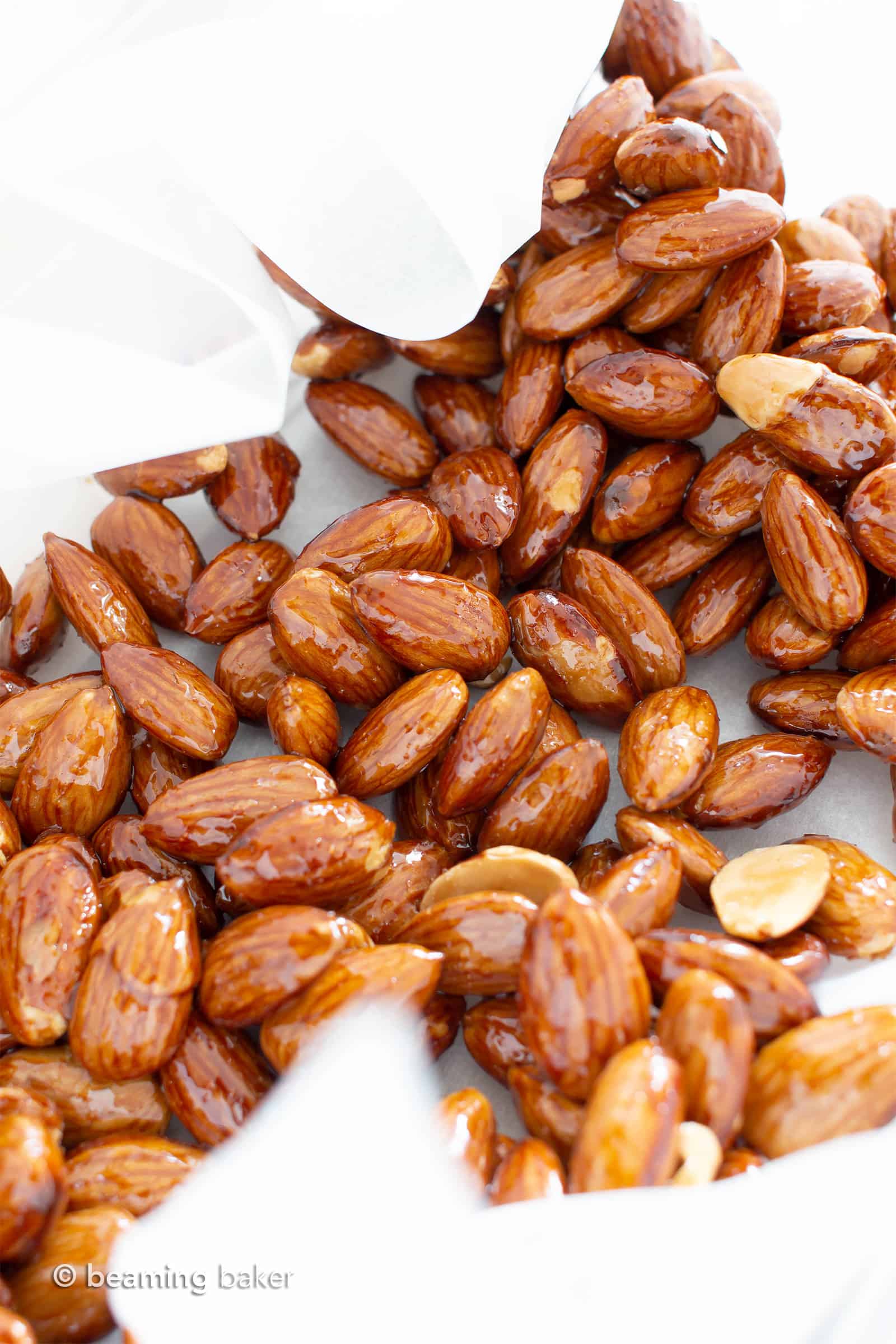 Easy Vegan Candied Almonds – Just 3 Ingredients!
Yep, all you need are 3 simple ingredients to make these paleo vegan candied almonds! Psst… they're gluten-free, grain-free, and dairy-free too!
How to Make Candied Almonds Paleo Vegan
Learning how to make candied almonds paleo and vegan is super easy! All you have to do is toss almonds, maple syrup and almond extract into a skillet over medium heat. Stir the almonds until nearly all the maple syrup is gone. Then, pour your paleo candied almonds onto a prepared baking sheet. Allow to cool and enjoy!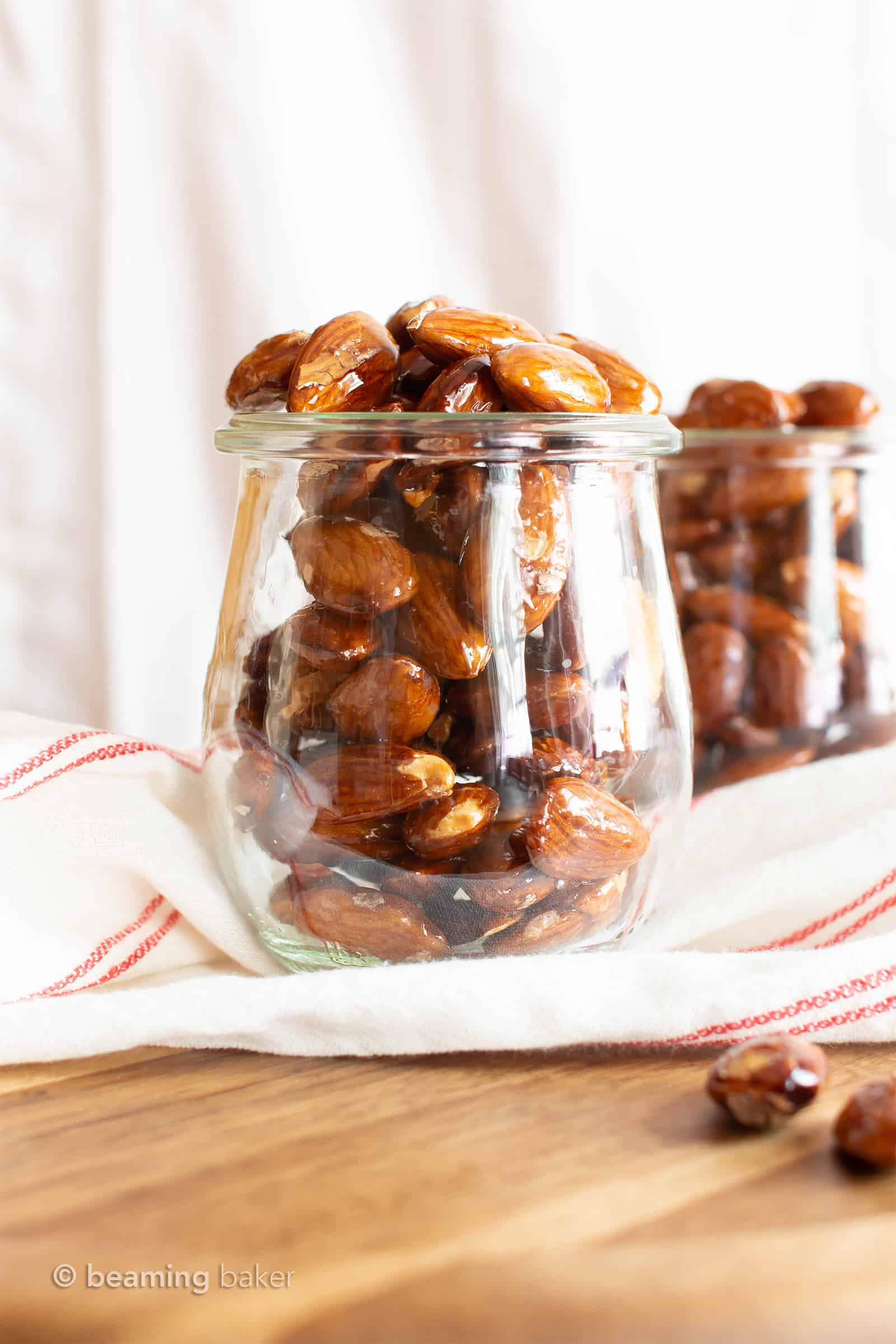 Recommended Tools for Easy Paleo Vegan Candied Almonds
Click the links below to explore the tools & ingredients I used to make this vegan paleo candied almonds recipe!
Are you ready to wow your fam/tear them apart via all the fighting that's gonna happen over these paleo candied almonds?!? J/K. Make a double batch. Trust me. 😉 I'm so happy to be here, sharing in the joyful holidays with you and your loved ones (including ourselves!!). Wishing you and your family a wonderful, safe and happy holidays! 'Til the next kitchen adventure…
Sending you all my love and maybe even a dove, xo Demeter ❤️
. Click below to Pin .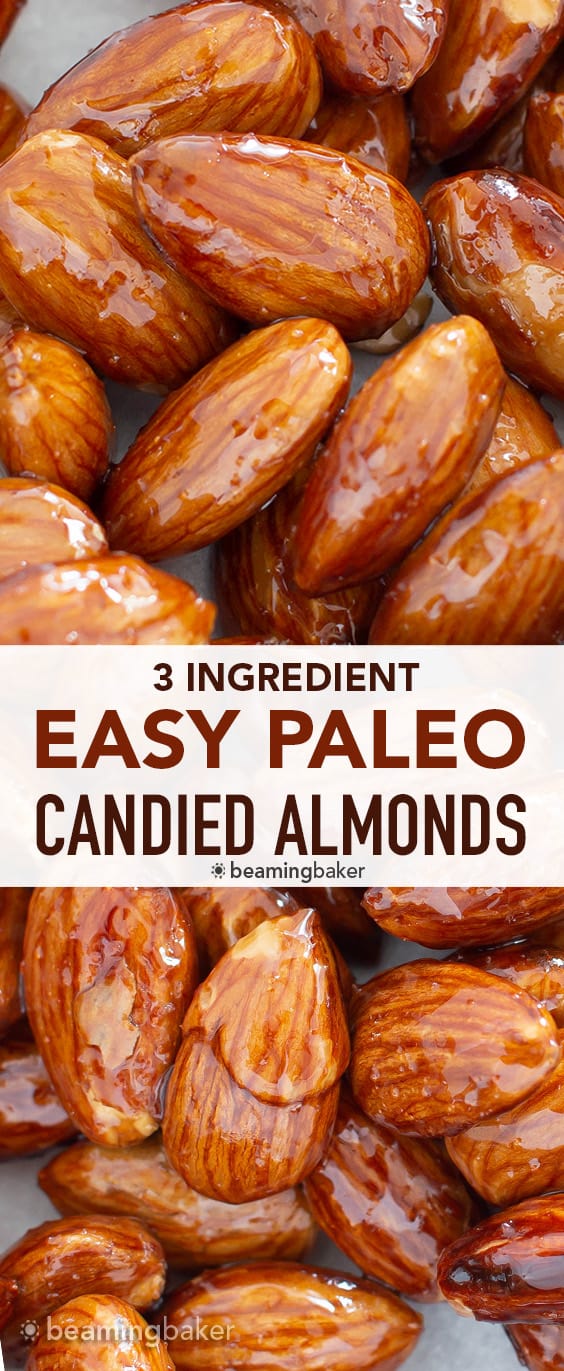 . Did you make this paleo vegan easy candied almonds recipe? Take a pic and share it on Instagram with the hashtag #beamingbaker & tag @beamingbaker. I'd love to see it! .
. 1st Annual Beaming Baker Vegan Cookie Countdown
Welcome to the 1st Annual Beaming Baker Vegan Cookie Countdown! We're starting a new tradition around these parts, and they involve all of the vegan gluten free Christmas cookies. This year, I'll be sharing 9 new vegan cookie recipes to help celebrate the holiday season with you: from vegan Christmas cookies to vegan holiday cookies to vegan cookies recipes you can enjoy all year long! . We're gonna count down from vegan cookie #9 to #1, right before Christmas! Are you excited? 🙂
Vegan "Cookie" #2: 3 Ingredient Easy Paleo Candied Almonds Recipe (Vegan, Healthy)
Yep, I snuck in a candied almonds recipe or two… j/k! I also included a fudge recipe and a snack bars recipe in this year's countdown because variety is the spice of life, baby! 😉
In case ya missed it, here are the other vegan Christmas cookies that I've shared so far:
2. Today's Recipe! 3 Ingredient Easy Paleo Candied Almonds Recipe (Vegan, Healthy) – technically not a cookie, but don'tcha love switching things up? 🙂
Easy Paleo Vegan Candied Nuts Recipes
Print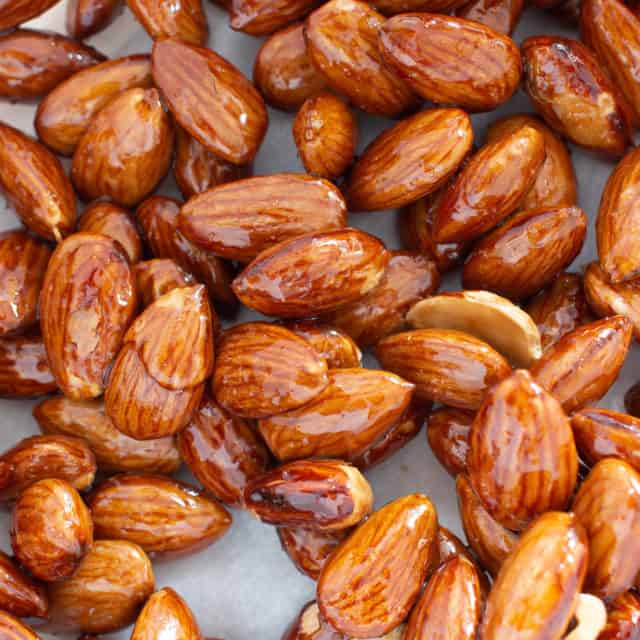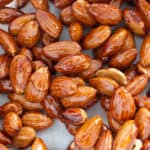 3 Ingredient Easy Paleo Candied Almonds Recipe (Vegan, Healthy)
---
Description
Paleo Candied Almonds: 5-minute stovetop EASY candied almonds recipe! Learn how to make the BEST vegan candied almonds— crunchy & sweet, healthy & gluten free!
---
---
Instructions
Line a large baking sheet with parchment paper or greased foil. Set aside.
Add all ingredients (almonds, maple syrup, almond extract and salt, if using) to a large or medium nonstick skillet set over medium heat. Using a heatproof silicone spatula, stir until well mixed and almonds are fully coated.
Stir occasionally, making sure almonds roast evenly on every side. Frequently scrape down the skillet to ensure the maple cooks onto the almonds.
When the maple syrup is nearly gone (about 5-9 minutes), begin to stir frequently. Stir until almonds start sticking together in clumps—being careful not to burn.
Pour almonds onto the prepared baking sheet, placed on a cooling rack or towel. Spread into an even layer, with empty pockets at regular intervals to let air through. Allow to cool for about 30 minutes. Optionally, sprinkle with sea salt. Storing instructions below. Enjoy!
Adapted from my Oven-Roasted Paleo Candied Pecans.
More Delicious + Healthy Nut Recipes
Equipment
Prep Time:

2 mins

Cook Time:

5 mins

Category:

Healthy Desserts, Snacks

Method:

Stovetop

Cuisine:

American
Keywords: best easy candied almonds recipe, paleo candied almonds, how to make vegan candied almonds
© beamingbaker.com. All content and images are protected by copyright. Please do not use my images or recipe without my permission. Please do not republish this recipe, instead, include a link to this post for the recipe.
This post may contain affiliate links, which allow me to make a small commission for my referral, at no additional cost to you.