Soft 'n moist zucchini muffins that are satisfying, delicious, & made with healthy ingredients. The best zucchini muffin recipe!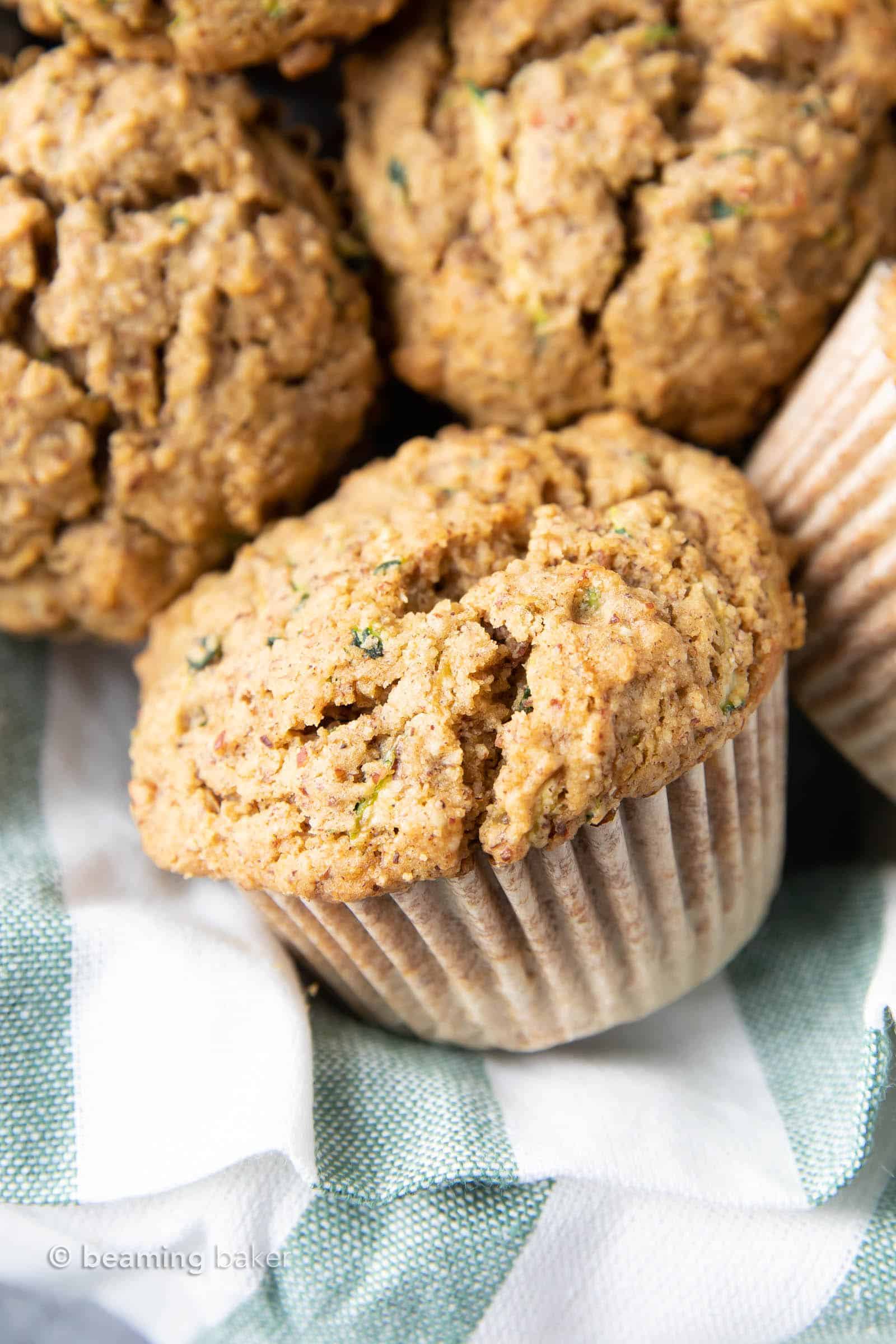 Happy Monday! Are you having a great start to the week yet? If you vigorously shook your head "No!" then I have something special (and yummy) to brighten your day: Healthy Zucchini Muffins!!
They're deliciously soft 'n moist, with incredible buttery flavor (without a trace of butter) and satisfying texture. Can you really resist? Me thinks not!
As for what's going on over here, Erik and I are spending the month just trying to chillax a bit and perhaps enjoy a few more zucchini treats before all the zucchini runs dry.
A few weeks ago, I made one of Erik's favorite zucchini recipes to date: Healthy Zucchini Brownies—they're moist, made with healthy ingredients and totally hit the sweet spot. But after I made those, guess what I still had left?
Lots and lots of zucchinis!! So what's a gal to do with a store of zucchinis and a big ol' hankering for more baked healthy zucchini treats? Make healthy zucchini muffins!
Why Are These the Best Healthy Zucchini Muffins?
Why are these zucchini muffins the BEST healthy zucchini muffins ever? Because they're so easy to make, have the perfect taste and texture and are made from healthy, whole ingredients that you don't have to feel guilty about. Nioooce!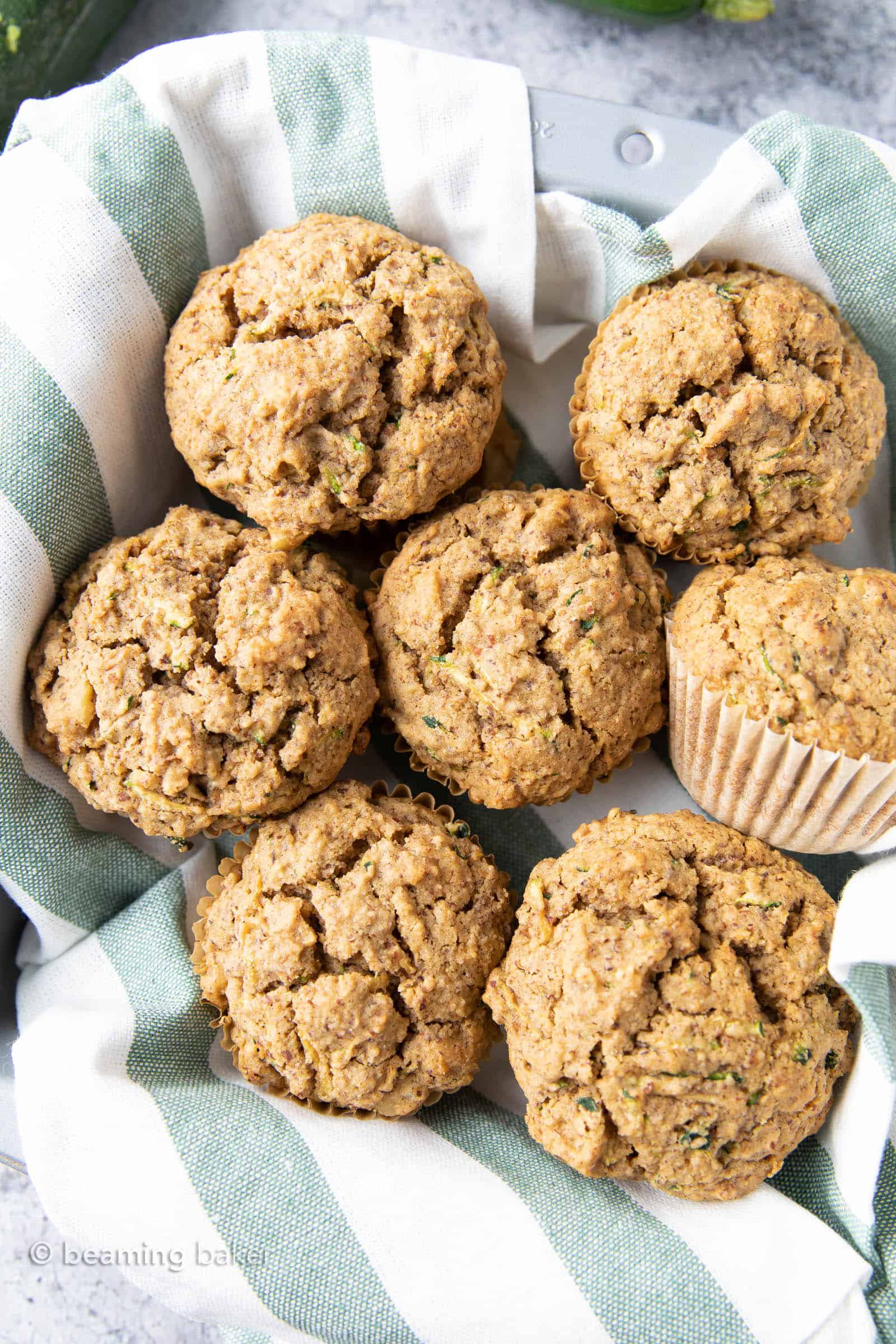 How to Make Zucchini Muffins Healthy
How do you make zucchini muffins healthy? Easy, follow this recipe! I've made sure to leave out refined sugars, pack in fiber-rich, heart-healthy oats, add healthy fats from almond meal and coconut oil, then snuck in all the veggies with, you guessed it, over 1 cup of zucchini! How awesome is that? Welcome to your new favorite healthy zucchini muffins!
How to Make Healthy Zucchini Muffins
Preheat
First things first, make sure to head into the kitchen and preheat the oven to 350°F. I tend to forget if I don't do this first. 😉 Then, tuck muffin liners into the crevices of your 12-cup muffin pan.
Whisk the Dry
Add all of the dry ingredients for your zucchini muffins into a medium mixing bowl: oat flour, almond meal, baking soda, baking powder, cinnamon and salt. Whisk it all together.
Whisk the Wet
Now, add all of the wet ingredients into a large mixing bowl: coconut oil, coconut sugar, maple syrup, flax egg and vanilla. Whisk thoroughly.
Combine
Combine the wet and dry ingredients by whisking together until very well mixed. Now fold in the zucchini and walnuts—you can be a bit rough here because we want the zucchini to really meld into the batter. 😉
Scoop
Scoop the zucchini muffin batter into the muffin pan you prepped earlier. I love using this scoop to create lovely, high-domed tops. Remember—the batter will bake up just as it looks when raw, so shaping it here is important.
Bake, Cool and Enjoy
Bake, cool and enjoy the best healthy zucchini muffins!
❤️ More Healthy Muffins You'll Love: Banana Oat Muffins • Healthy Pumpkin Oatmeal Muffins • Healthy Banana Chocolate Chip Muffins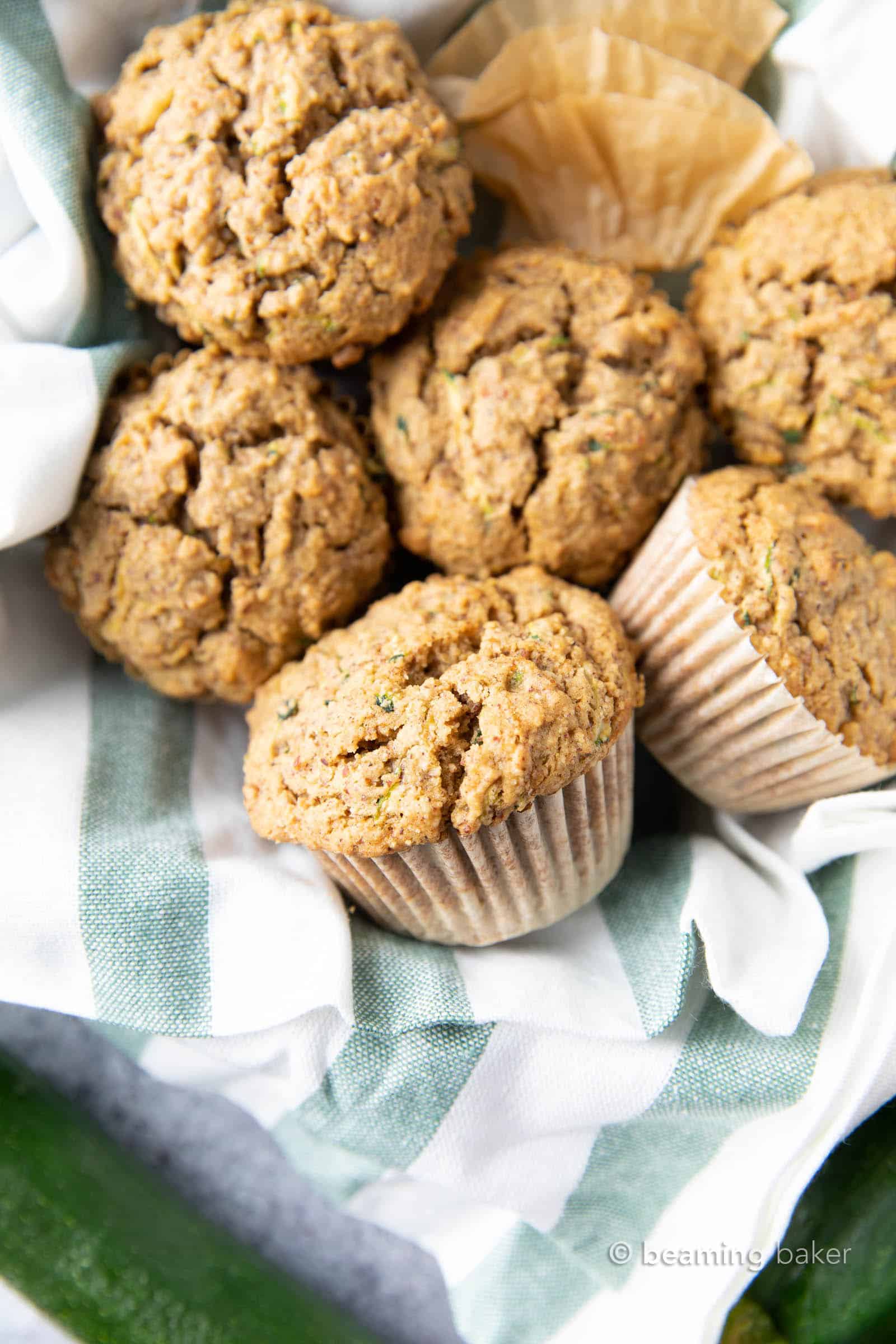 healthy zucchini muffins: the taste & texture
These zucchini muffins are the best healthy zucchini muffins ever because of their wonderful taste and texture. One bite, and you'd never guess that they're made with healthy, whole ingredients.
The Taste: these zucchini muffins have an enjoyable buttery flavor, delicious medium sweetness, with a satisfying nuttiness that just hits the spot.
The Texture: incredible. Imagine healthy zucchini muffins that are soft and moist on the inside with a delicious mealy texture that's SO good. You won't be able to stop at just one.
Testimonials
Jen says, "My neighbor just brought over a bunch of zucchini from her garden so we decided to make these and WOW! they're amazing! I'm going to make another batch to freeze for when mornings are crazy. Thanks for the tip!"
Deborah says, "Made these tonight. So good!! Thank you for the recipe. I love desserts that don't make me feel bad about eating them. :)"
Traci says, "Easy, delicious, and healthy…my favs!! I love using oat flour in baking. This simple recipe is going on repeat over here."
Enjoyable buttery flavor, delicious medium sweetness and satisfying nuttiness make for the best soft 'n moist healthy zucchini muffins!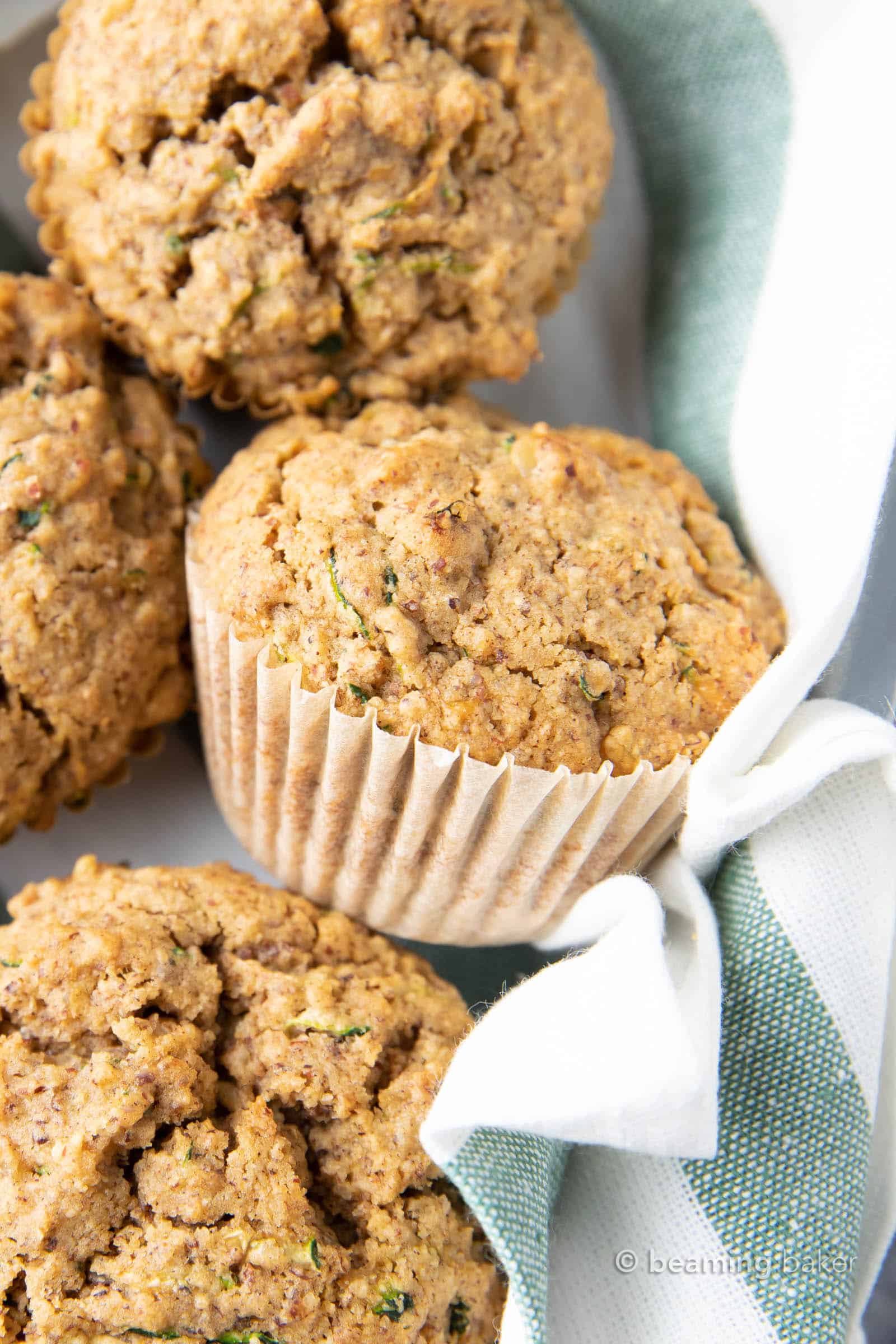 Recommended Tools for the Best Healthy Zucchini Muffins
So, what do you do with all of the zucchinis lying around your house? (Besides sword fighting with them, and then asking yourself why there are zucchinis and cucumbers and pickles, but none of them are the same.) Make the best healthy zucchini muffins ever!! Then pat yourself on the pack for a job well done. Thanks for stopping by and enjoying these kitchen adventures with me. 'Til the next one…
Sending you all my love and maybe even a dove, xo Demeter ❤️
☀ Click below to Pin ☀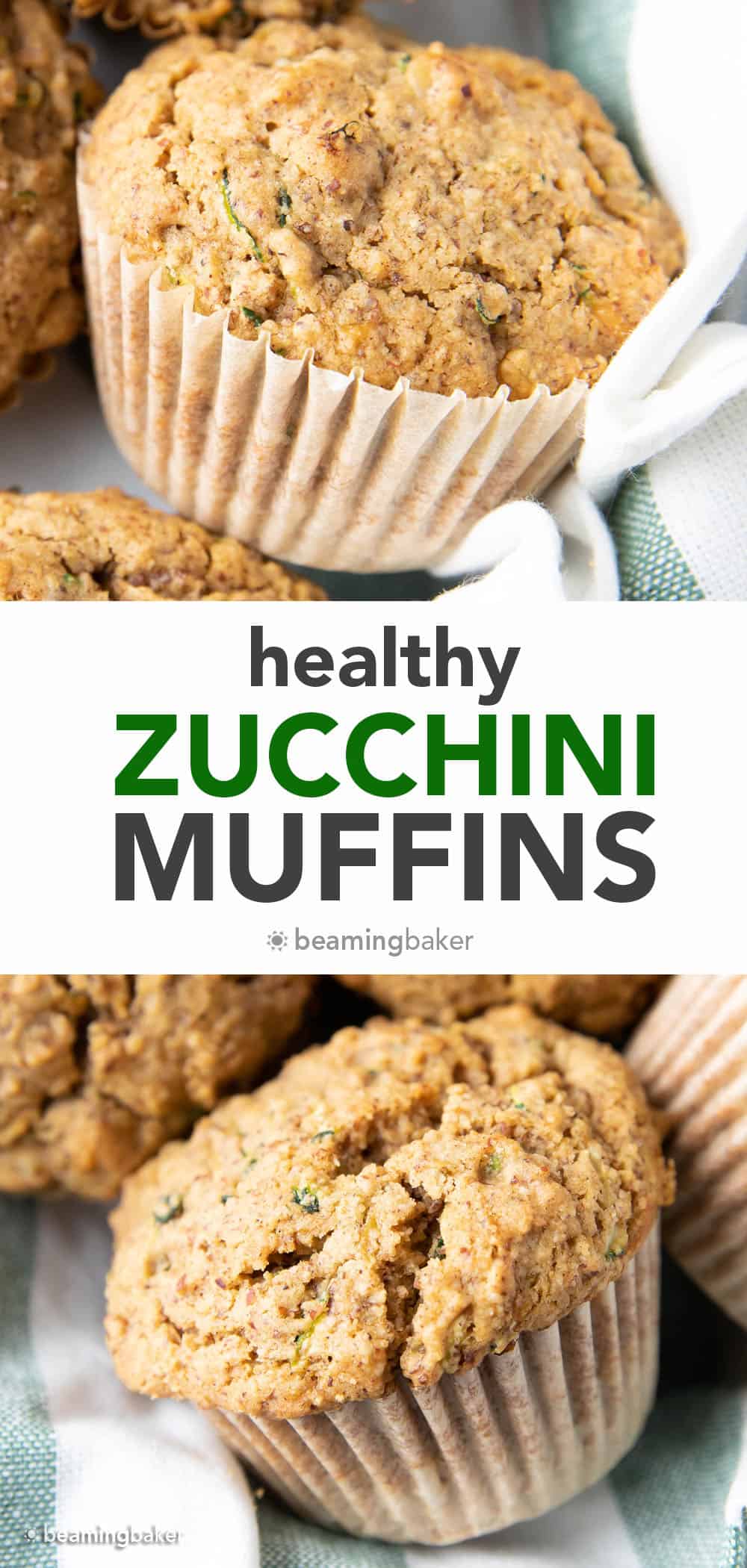 📸 Did you make this healthy zucchini muffins recipe? Take a pic and share it on Instagram with the hashtag #beamingbaker & tag @beamingbaker. I'd love to see it! 📸
Healthy Zucchini & Muffins Recipes
Print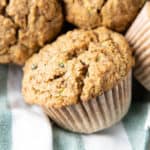 Best Healthy Zucchini Muffins
---
Description
The Best Healthy Zucchini Muffins: Soft 'n moist zucchini muffins that are buttery, perfectly sweet and made with healthy ingredients. The best zucchini muffin recipe!
---
Dry Ingredients
Wet Ingredients
Fold-in Ingredients
1 ¼ cups

grated zucchini

¾ cup

chopped walnuts
---
Instructions
Preheat the oven to 350°F. Place muffin liners into a 12-cup muffin pan. Set aside.
In a medium bowl, whisk together all the dry ingredients.
In a large bowl, whisk together all the wet ingredients.
Add dry ingredients to wet ingredients. Whisk until just incorporated, making sure no flour patches remain. Thoroughly press and fold in zucchini and walnuts, until zucchini is very well incorporated (about 30 seconds)—lightly smash the zucchini into the batter. The batter will be very, very thick—do not add additional liquids to thin out the batter.
Using a large scoop, scoop and drop batter evenly into the muffin pan. I use this ice cream scoop to create beautiful domed tops. If not using a scoop, use a rubber spatula or spoon to smooth batter into an even layer with a domed top. Batter will bake up very similar to how it looks raw. To make fewer, high-domed top muffins, fill cups all the way with a slight mound on top; to make a larger quantity of medium-domed top muffins, fill cups ¾ of the way. Optionally, top with walnuts.
Bake for 24-32 minutes, depending on how many muffins are made. Mine took 28 minutes for 8 total tall-domed top muffins. It will bake on the lower end for 12 muffins. Insert a toothpick to check for doneness—once it comes out clean with just a few moist bits, it's done.
Allow muffins to cool in the muffin pan, placed on a cooling rack for about 30 minutes. Then lift muffins out of the pan, transferring directly onto the cooling rack. Allow to finish cooling for 30-60 minutes. Enjoy!
Healthy Zucchini & Muffins Recipes
Equipment
Prep Time:

25 mins

Cook Time:

28 mins

Category:

Breakfast, Snack

Method:

Bake

Cuisine:

American
Keywords: healthy zucchini muffins, almond flour zucchini muffins
© beamingbaker.com. All content and images are protected by copyright. Please do not use my images or recipe without my permission. Please do not republish this recipe, instead, include a link to this post for the recipe.
This post may contain affiliate links, which allow me to make a small commission for my referral, at no additional cost to you.