4 Ingredient Peppermint Chocolate Crunch Bars (Gluten Free, Vegan, Dairy-Free)
4 Ingredient Peppermint Chocolate Crunch Bars (V, GF, DF): a one bowl, 4-ingredient recipe for crispy, cool mint crunch bars perfect for the holidays! Vegan, Gluten Free, Dairy-Free.
How was your weekend? Whether or not you were celebrating Thanksgiving, I hope it was a relaxing, happy one filled with good food and lots of laughter. And, that it made you especially energized for all the holiday fun that's to come!
To help you kick things off right, I'm bringing out the big ornaments (but not really, because these ornaments are crazy tiny). Erik and I bought ALL the Christmas decorations in town, and we got a little too carried away with our festive mood. 😉 Chock it up to all the 5 minute peppermint fudge and gingerbread oatmeal homemade breakfast bars we've been munching on.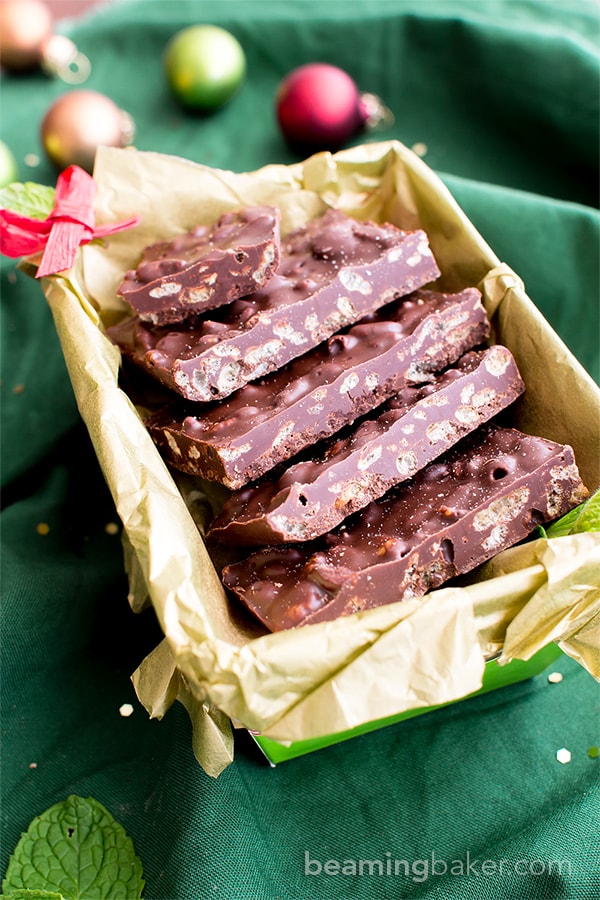 This year we already got the twinkly lights up, and we've been cookin' up so many ideas for the holidays. Erik already told me about all the holiday treats he hopes to receive this year—and I've already got to get crackin' on a good number of them, such as a Dark Chocolate Almond Mint Homemade KIND Bar Recipe or Moist & Fudgy Ganache Peppermint Brownies Recipe. 🙂
But remember how I told you there were a few treats I was working on… in SECRET?? Yep, saying "in secret" totally makes them way more cool! Like mint. Or peppermint. As in 4 Ingredient Peppermint Chocolate Crunch Bars!!! See what I did there? Okay, transitions can be tricky. Just sayin'.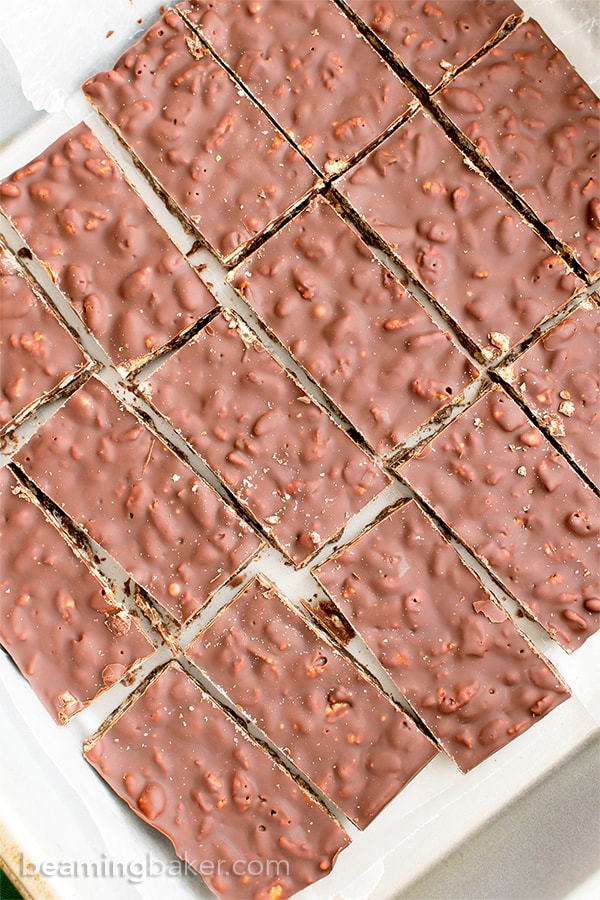 Well, two months ago (I told ya, we're Christmas crazy!), Erik listed off many, MANY peppermint chocolate treats that hearkened back to his childhood, such as these seriously irresistible gluten free moist mint dark chocolate chip muffins. At the time, I was like, wait!! Let me write this down, mid-run (yes, we were actually running during this convo), and you ate whaaaaa growing up? And how did you manage to try so many different treats at such a young age?? How??? And, how am I managing to talk and run? Woah!!
Once I got over my classy gawking, I got to thinking about how I would make one of the treats at the very top of his holiday favorites list: peppermint chocolate crunch bars. Oh. Yeah.
You see, I've wanted to make crunch bars for ages and ages, but then cookie dough cups happened, Almond Joy happened, peanut butter cup rice crispy treats happened, salted dark chocolate almond clusters happened, and then I fainted from running a full-time candy shop in my house. But not. But kinda. 😉 With the holidays right around the corner, Erik and I started our usual candy gift package planning… and I thought, let's do this!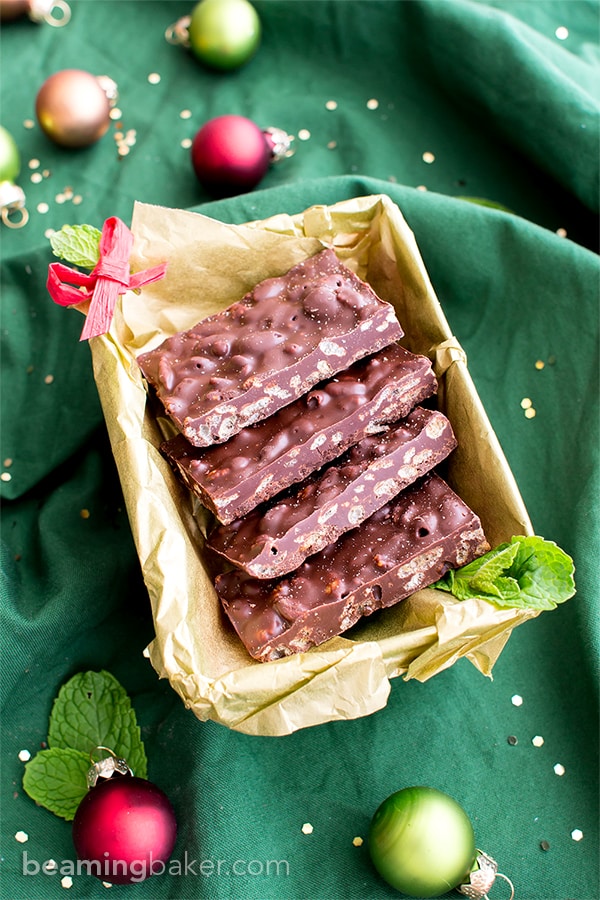 The result is so yummy, so perfectly crispy, so… blissfully satisfying. Who knew making your own candy could be so satisfying? I've kinda really, seriously gotten into making candy. It's all kinds of fun! The entire process is so magical. Almost like watching one of those super fascinating candy factory documentaries, but less of a snoozefest, and more of a sweetfest!
Plus, you get to actually eat the candy you see in your kitchen.
Then the drizzling happens (for my coconut truffles, and for my peppermint mocha cupcakes)… and, well, can you tell from these pics that I enjoyed myself immensely? 😉 Then then, you get to package it all up, as fancifully as you'd like, or just, ya know… eat it.
I'm totally bursting at the seams to talk about gift wrap options and such with you, but I think I'll wait 'til next week, when something particularly Christmas-y comes out. Dun dun dun!!! Intrigue. What can I say, I like to keep ya entertained here. 🙂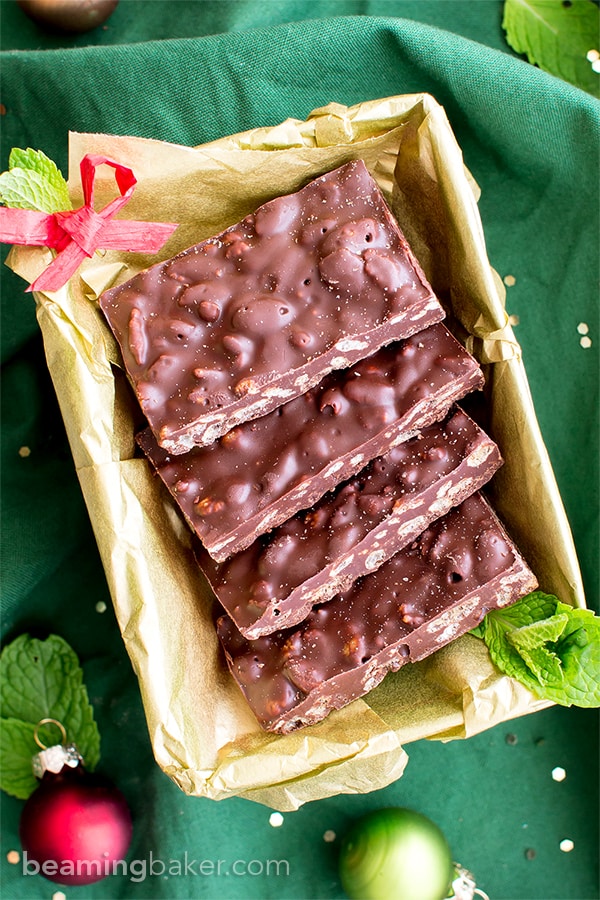 While you I eagerly await to talk all kinds of gift wrap shop with ya, allow me to tell you about these wonderful 4 Ingredient Peppermint Chocolate Crunch Bars. They are:
SO easy to make, in just one bowl
the perfect balance of rich chocolate and cool mint
made with just 4 ingredients
vegan, gluten free and dairy-free
crispy and crunchy
plant-based and allergy-friendly
so impressive, like for real
perfect for gift-giving
even more perfect for eating
So grab a bowl, 4 simple ingredients, and your candy-making uniform (if there's such a thing). It's time to get our homemade candy on! I hope you love these 4 Ingredient Peppermint Chocolate Crunch Bars as much as my family does. Thank you for spending the holidays with me. I'm so excited to share and swap stories about all of this holiday excitement! In the meantime, tell me:
What are your favorite peppermint chocolate flavored treats this season? If you're not a fan, what do you love to eat during the holidays?
I can't wait to hear what you think. Sending you all my love and maybe even a dove, xo Demeter ❤️
.︎ Click below to Pin .︎

. Did you make this recipe? Take a pic and share it on Instagram with the hashtag #beamingbaker and tag @beamingbaker. I would love to see it! .︎
Gluten Free Vegan Holiday Dessert Recipes!
If you enjoyed these 4 Ingredient Peppermint Crunch Bars, then you'll just love these gluten free chocolate and holiday recipes:
Print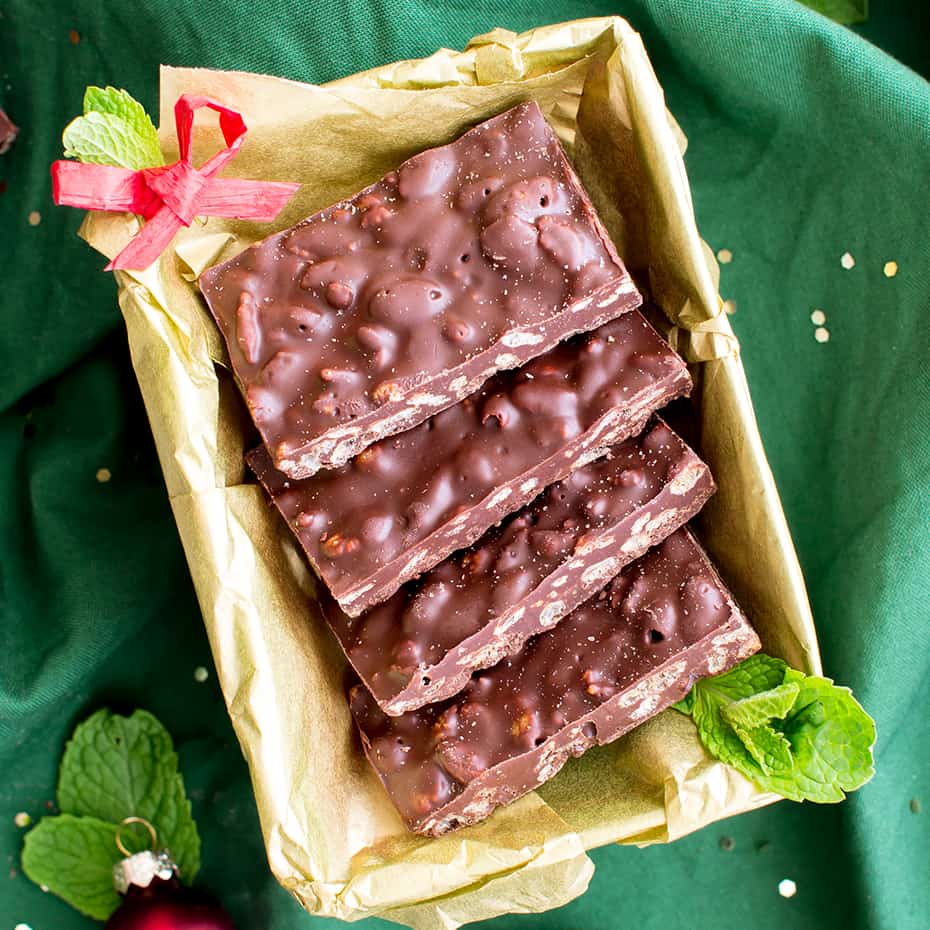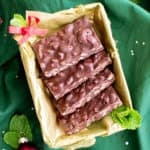 4 Ingredient Peppermint Chocolate Crunch Bars (Gluten Free, Vegan, Dairy-Free)
---
Description
4 Ingredient Peppermint Chocolate Crunch Bars (GF, V, DF): a one bowl, 4-ingredient recipe for crispy, cool mint crunch bars perfect for the holidays! Vegan, Gluten Free, Dairy-Free.
---
1 ½ cups

vegan chocolate chips

2 teaspoons

coconut oil

1 teaspoon

peppermint extract

3/4 cup

vegan gluten free brown rice crisp cereal
---
Instructions
Line an 8-inch square baking pan with parchment paper or wax paper. Set aside at room temperature. Clear some space in the freezer for this pan—you will need it later.
Melt the chocolate using the double boiler method, or do the following: add chocolate chips and coconut oil to a medium, microwave-safe bowl (large enough to add cereal later). Heat in 20-second increments until softened and melty. Stir in between heating, until smooth. Add peppermint and stir until well-incorporated.
Add cereal to melted chocolate. Using a rubber spatula, stir and fold until well incorporated. Pour this mixture into the prepared baking pan. Using the spatula, smooth into an even layer. Tap the pan a few times to help even out the mixture.
Transfer this pan into the freezer. Freeze for 10-15 minutes. Thaw at room temperature for 10-15 minutes. Slice into 18 rectangular bars (3 rows by 6 columns). Enjoy! Storing instructions below.
Notes
– Storing notes: store in an airtight container for 1 week (at room temperature), 1-2 weeks (in the refrigerator), or up to 2 months (in the freezer). Best if stored in the refrigerator or freezer.
– If storing in the freezer, thaw for 5-10 minutes before enjoying.
– Holiday treats (all V, GF, DF): pumpkin chocolate chip cookie dough, paleo vegan chocolate coconut truffles, no bake chocolate pecan bars, double chocolate chip cookies.
– More homemade candy (all V, GF, DF): cookie dough cups, paleo Almond Joy, almond butter cups, chocolate chip cookie dough truffles.
Category:

Candy, Dessert, Vegan, Gluten Free, Dairy-Free
© beamingbaker.com. All content and images are protected by copyright. Please do not use my images or recipe without my permission. If you wish to republish this recipe, please re-write the entire recipe using your own words and include a link to this post for the recipe.