Healthy Gluten Free Orange Cardamom Muffins Recipe (Vegan, GF, Dairy-Free)
Healthy Gluten Free Orange Cardamom Muffins Recipe (V, GF): an easy, 1-bowl recipe for soft, fluffy orange muffins with a hint of delicious cardamom flavor. Made with healthy ingredients. Vegan, Gluten-Free, Dairy-Free.
Here comes the guaranteed grumpiest day of my life: my birthday. I know, I know… what's wrong with me? I'm hugely grateful to be alive, enjoy my life and practice gratitude/trying my darnedest not to complain too-too much on a daily basis. But something about my birthday just puts a wrench in it. Unless I make and eat an entire vegan chocolate cake… .
Do you feel the same way?
Like, what is it about birthdays that hold way too much weight, too much reverse-levity (okay, that's probably the same thing), but you know… they feel like a check-in date of some sort where you have to See How Things Are Progressing in Life.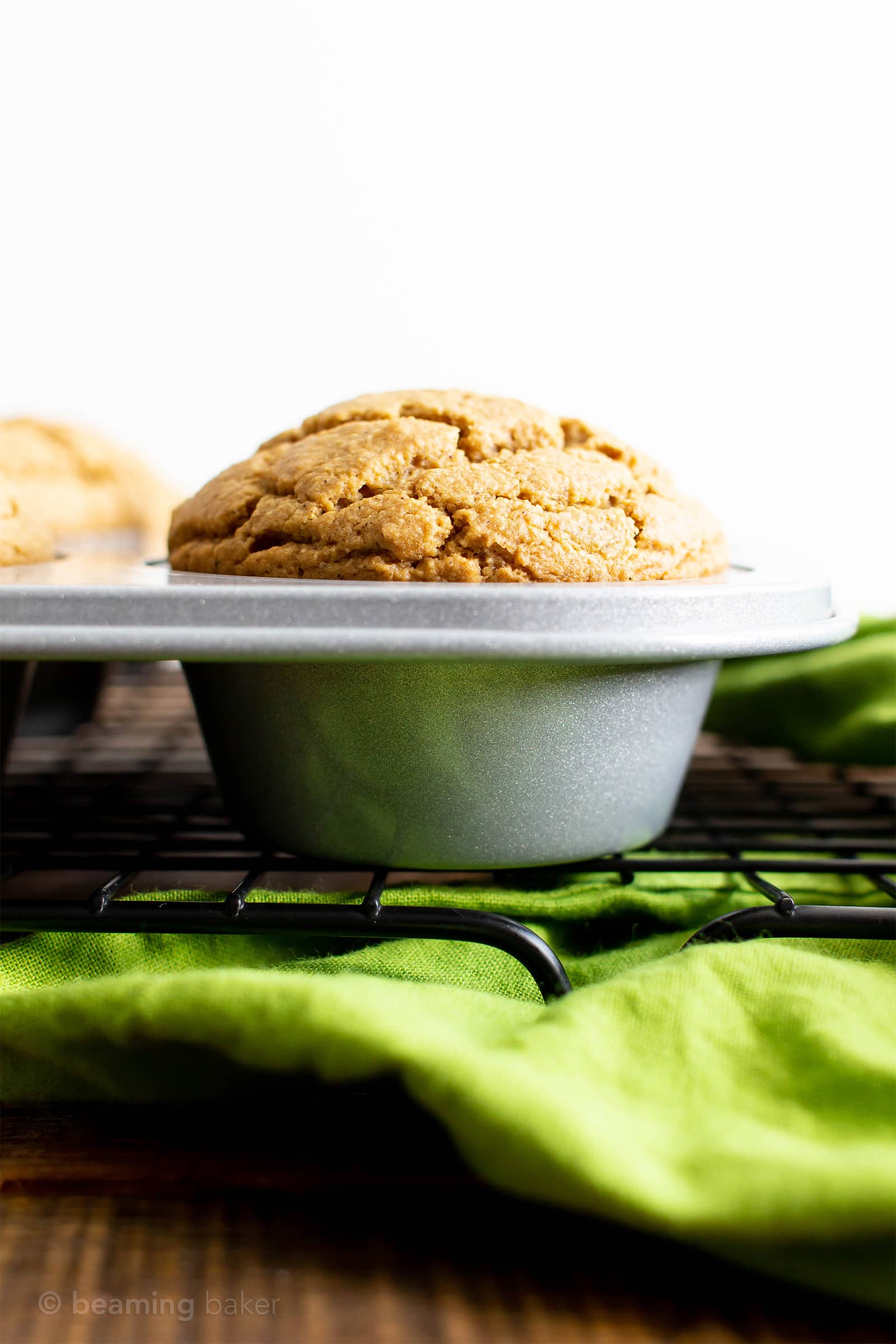 I don't know when this annual birthday grump fest started, but if I had to guess, it may have begun about 5 years ago. When I hit the last sparkling years of my 20s. Tbh, they weren't that sparkly and I'm really freaking glad they're over. But something about that decade change made me face facts: I'm older now, expected to be more mature, and expected to have accomplishments under my belt.
Today, at least, I can say that I've accomplished baking this healthy gluten free orange cardamom muffins recipe. There! Take that, mid-30s Progress Report Card!
Funny thing is, I'm glad to be in my 30s, putting all of the foolish mistakes of my 20s behind me, and moving forward into this for-realsies career. I finally learned that I've got to stand up for what I want, call people out when they're taking advantage, and vocalize my appreciation for the immense good in my life.
How's that for a grade, ya birthday bugger? 😉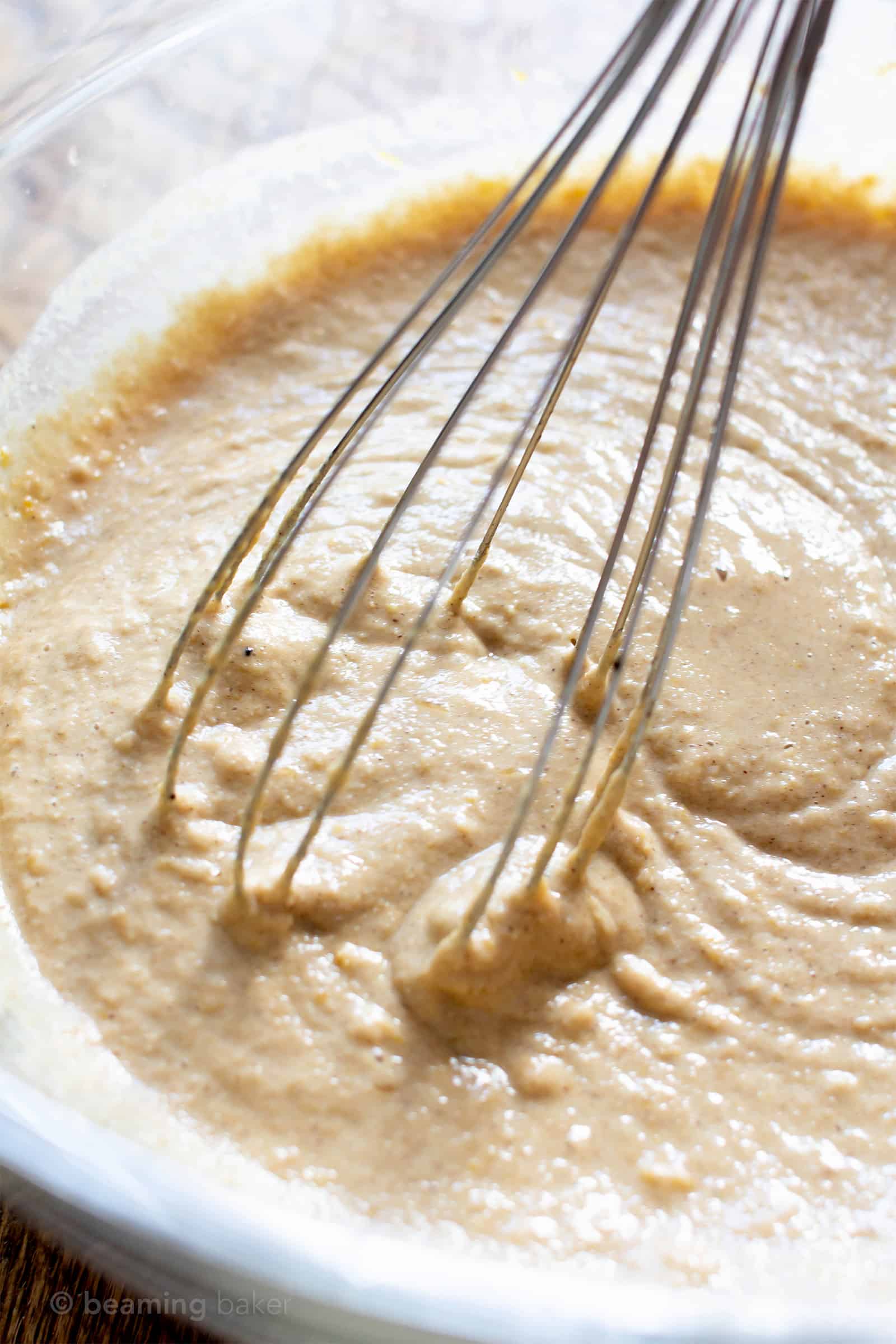 I now have the confidence and grit to focus on what I want, and not constantly apologize for getting it–something I talk about coming to terms with in my moist banana bread recipe post. So maybe I can just let myself be grumpy this year, for one day… then quickly snap back and appreciate, bless and beam about all the good things that surround me. Including you. 🙂 If it weren't for you, right now, reading this post, I wouldn't be able to do my dream job and make a career out of it. I wouldn't be able to sit with you, virtually, and gossip, make cookies, and swap kitchen makeover updates.
So thank you. And a Happy Everyday to all of us! (It would've been weird to wish myself a happy birthday, right? Hehe.)
I hope you truly enjoy these healthy gluten free orange cardamom muffins. They were a little outside of my comfort zone (see: Birthday Progress Report Card: required risk-taking). But I'm really happy with how they turned out. They're moist, fluffy—but just the right amount of satisfyingly-dense, orange-y, with a delightful hint of cardamom. A little bit like my Easy Orange Muffins, but with some much-needed birthday pizzazz.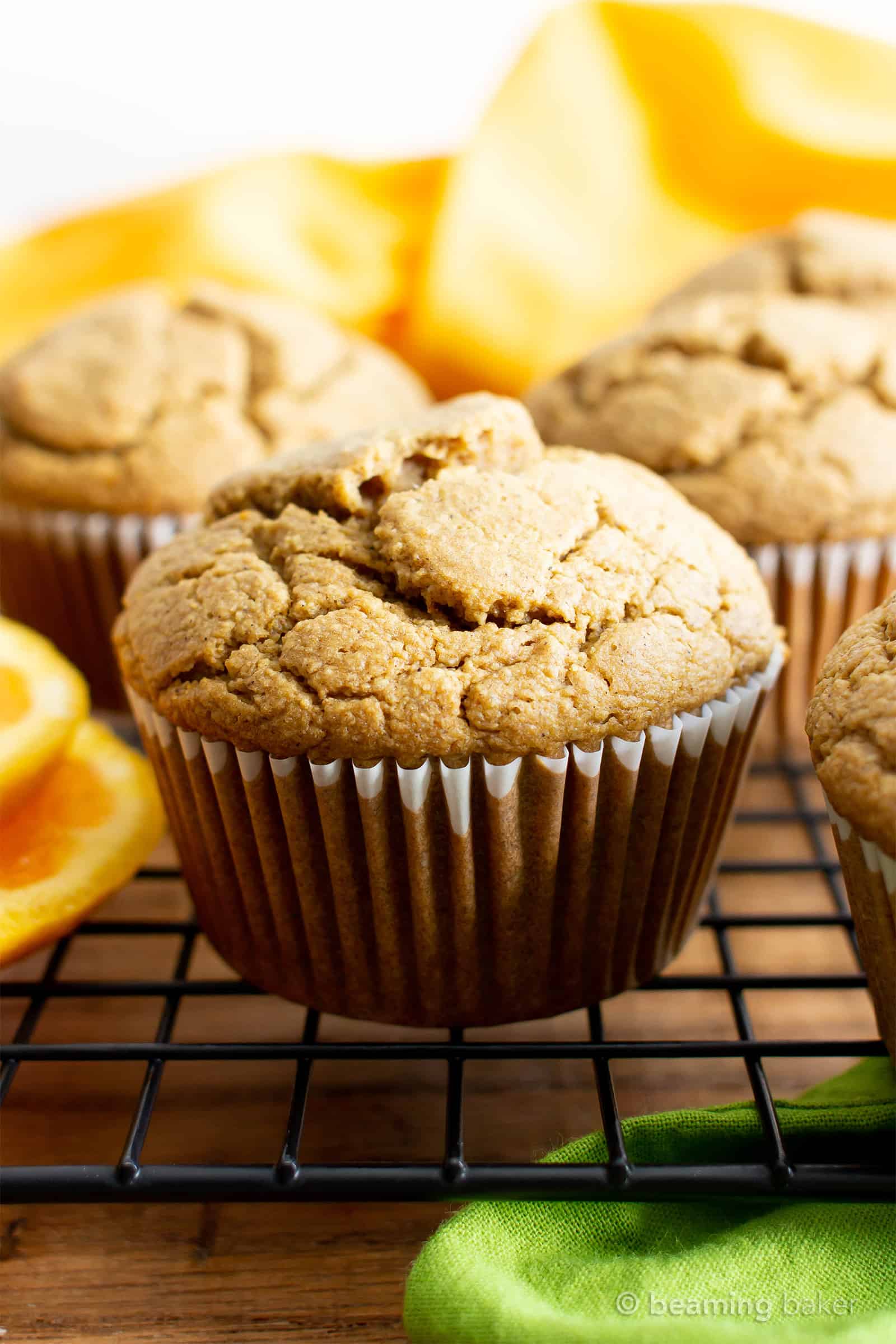 Will you celebrate my birthday with me by whipping up a batch of these Healthy Gluten Free Orange Cardamom Muffins? Here are a few delicious points about these gluten free muffins! They're:
vegan, gluten free, dairy-free, refined sugar-free
fluffy and moist, with just the right amount of dense texture
oh-so-satisfying
seriously perfect for a gluten free muffin basket including: gluten free maple pecan pumpkin muffins, gluten free banana oat muffins, moist gluten free chocolate pumpkin muffins, lemon poppy seed muffins, and moist banana chocolate chip muffins! .
made with the healthy, whole ingredients you know and love
just the easy gluten free orange muffins you've been searching for
so great with a Vegan Pumpkin Pie Smoothie or my Triple Berry Smoothie
your soon to be favorite homemade gluten free muffins!
dedicated to myself for my bday, which sounds weird, so we're gonna move on
Let's get our birthday bake on! You grab the muffin pan, I'll grab the balloons!! Okay, now I'm getting excited—blame the balloons. 😉 Thank you for being here, and sharing in these wonderful bake-a-thons with me. There's nothing better than seeing and hearing what you think. Pop over to Instagram some time if you want to chat! 'Til next time…
Sending you all my love and maybe even a dove, xo Demeter ❤️
.︎ Click below to Pin .︎

📸 Did you make this recipe? Take a pic and share it on Instagram with the hashtag #beamingbaker and tag @beamingbaker. I would love to see it! 📸
If you enjoyed this Healthy Gluten Free Orange Cardamom Muffins Recipe, then you'll just love these Vegan Gluten Free Muffins recipes:
Healthy Gluten Free Vegan Muffin Recipes
Print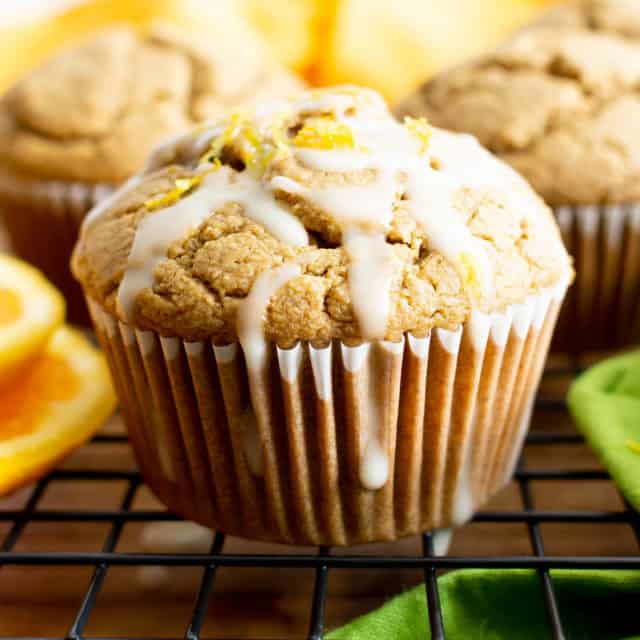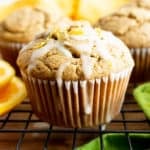 Healthy Gluten Free Orange Cardamom Muffins Recipe (Vegan, GF, Dairy-Free)
---
Description
Healthy Gluten Free Orange Cardamom Muffins Recipe (V, GF): an easy, 1-bowl recipe for soft, fluffy orange muffins with a hint of delicious cardamom flavor. Made with healthy, whole ingredients. Vegan, Gluten-Free, Dairy-Free, Healthy.
---
Dry Ingredients
2 ¼ cups

gluten free oat flour, if using homemade, make sure it's very finely ground, not coarse

1 teaspoon

ground cardamom

½ teaspoon

ground cinnamon

1 teaspoon

baking soda

½ teaspoon

baking powder

¼ teaspoon

salt
Wet Ingredients
½ cup

water

¼ cup

+

2 tablespoons

non-dairy milk

¼ cup

+

2 tablespoons

fresh-squeezed orange juice

3 tablespoons

orange zest (about

1

large orange)

3 tablespoons

melted coconut oil

¼ cup

coconut sugar

¼ cup

pure maple syrup

½ teaspoon

vanilla extract
Optional Glaze
---
Instructions
Preheat the oven to 350°F. Line a 12-cup muffin pan with cupcake liners. Set aside.
In a large bowl, sift together all the dry ingredients: oat flour, almond flour, cardamom, cinnamon, baking soda, baking powder and salt.
Add water and milk to a microwave-safe bowl. Heat in 10-second increments until just warm. This will prevent the melted coconut oil from solidifying once mixed with these liquids.
In a medium bowl, whisk together all wet ingredients: water, milk, orange juice, orange zest, oil, sugar, maple syrup and vanilla. Whisk until well incorporated.
Add wet ingredients to dry ingredients. Whisk until just incorporated, making sure no flour patches remain.
Pour batter evenly into prepared muffin pan—filling each cup all the way to the top for fewer muffins with high, domed-tops, and ¾ of the way for more muffins that are smaller. Bake for 22-26 minutes. Mine took 24 minutes. Insert a toothpick to check for doneness—once it comes out clean with just a few moist bits, it's done. Another way to tell: gently and carefully press your finger into the top of one muffin, if it springs back, it's done.
Place the muffin pan on a cooling rack to cool for 20 minutes. Remove muffins from the pan and transfer to a cooling rack to cool completely, about 1-3 hours. Optionally, in a small bowl, whisk together Glaze ingredients until thickened: confectioners' sugar and orange juice. Drizzle muffins. Enjoy! Storing instructions below.

Adapted from my Easy Orange Muffins Recipe.

Also try my Healthy Lemon Poppy Seed Muffins and my Dark Chocolate Muffins.
Notes
– Store in an airtight container for up to 1 week in the refrigerator, or in a cool, dark environment. Glaze when ready to eat, or day of.
– To Freeze: store in an airtight container or bag, unglazed, in the freezer for up to 1-2 months. Allow to thaw for about 30 minutes at room temperature before enjoying. Or, heat in the microwave in 15 second increments until just warm.
– *Powdered sugar substitutes: Swerve powdered sugar is a good sugar-free, low carb substitute. You can also grind the sweetener of your choice, such as Xylitol, in a coffee grinder or small blender until you get a powder. Since Swerve is a bit drier, use about 2 ½ teaspoons orange juice to make the glaze.
– *You can also add more powdered sugar if you'd like a thicker glaze.
Category:

Muffins, Breakfast, Vegan, Gluten-Free, Dairy-Free, Healthy
© beamingbaker.com. All content and images are protected by copyright. Please do not use my images or recipe without my permission. Please do not republish this recipe, instead, include a link to this post for the recipe.
Facebook ☀︎ Pinterest ☀︎ Twitter ☀︎ Instagram