No Bake Peanut Butter Coconut Bites: delicious, easy to make, energy-boosting and super-filling. Made of just 6 simple ingredients, vegan, gluten free and healthy!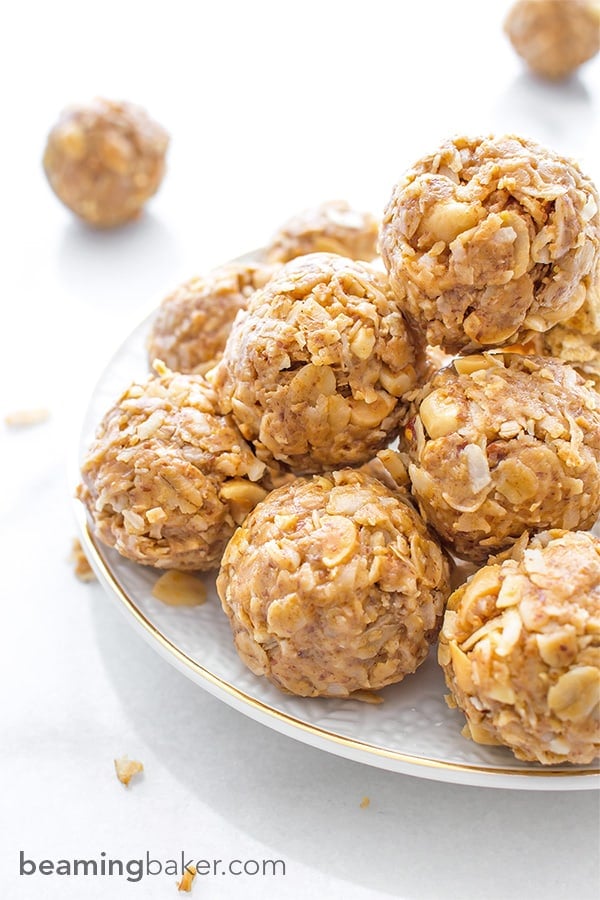 So there's this gif that I posted the other day on social media. It has one of the most brilliant, wise statements I've ever seen in my entire life (obvious note of the day: one of my faults is being overdramatic):
"Peanut butter; it just fills the cracks in the heart."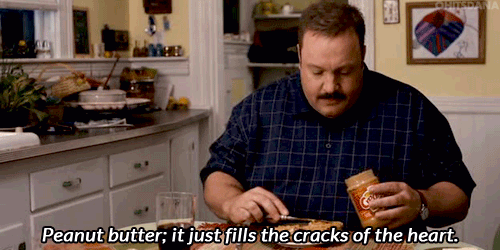 My fellow peanut butter lovers, do you agree? I do. But mostly because I'm here talking to myself. Ahem. The fact of the matter is, peanut butter is this magical cure-all. It does more than just fill the cracks in your heart, it glues your heart pieces all back together. D'awwww… I mean, basically:
PEANUT BUTTER = LOVE.
Whenever you hear the term "Peanut Butter Love," you just know what they're talking about.
The thing about making these no bake peanut butter coconut bites is… well, the scent. Oh. My. Gahhhhhh…. the Scent. All throughout making these bites, I was a prisoner to the Scent: freshly chopped peanuts, peanut butter magic and shredded coconut. Mmm-mmm!
That, my friends, is legit Peanut Butter Looooove.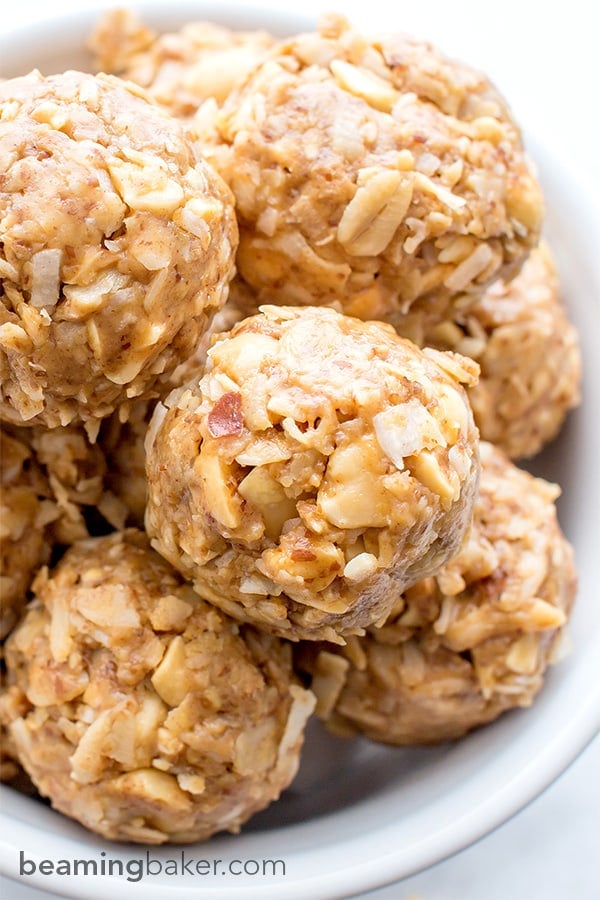 The funny thing is, this love for peanut butter just kind of snuck up on me. Isn't that the best kind of love though? It happened just like it did with coconut. I didn't see those cute, furry little fruits rolling straight at my heart until it was too late.
I know, food TOTALLY = love for me. Am I embarrassed? I think not!
I mean, don't even get me started on coconut. Did you know that simply putting unsweetened, shredded coconut in a recipe makes it automatically sweeter? And more yummy?
Anyway, back to peanut butter. I grew up just being okay with PB. But in the past few years, I started baking more, thinking more about the ingredients that went into my food, and… wait for it…
MAKING FRESH PEANUT BUTTER.
Oh, man!!!
Gah! Don't get me started on the madness/love/heart-crack-filling that is fresh, homemade peanut butter. Once you go there, you just regret eating regular ol' storebought PB. Ya know? But then you kind of have to because, let's face it, making homemade PB takes a while. No lie.
Anyway, my last Peanut Butter Love project (this is a thing now, isn't it?) was this amazing cookie. They are just life-changing. Crispy, soft, indulgent-but-actually-pretty-good-for-you and just… EVERYTHING.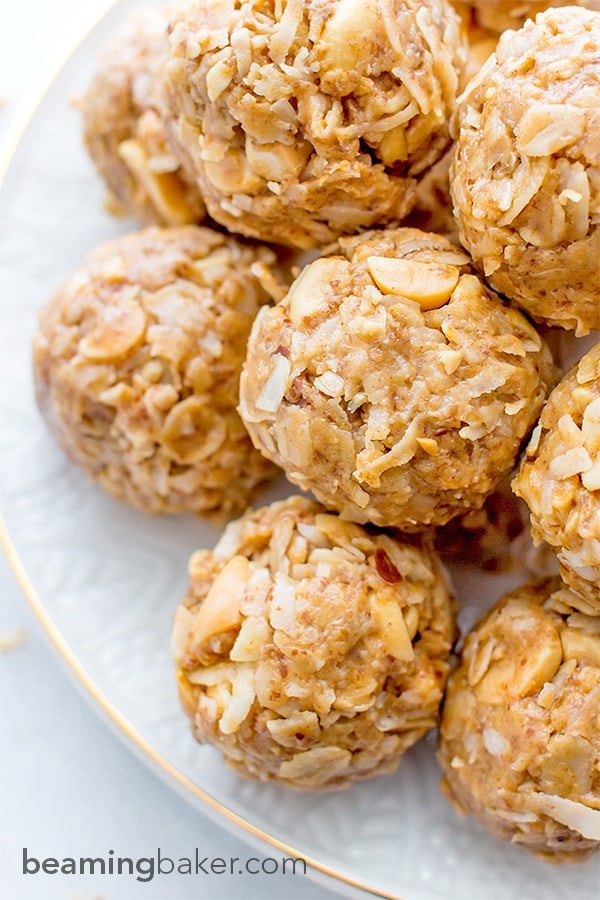 Well, I made these bad boys and I immediately ran around the house, all feverish and jacked up on cookies, thinking about ways to bring more Peanut Butter Coconut Love to the blog. Enter: my no bake peanut butter coconut bites. (Wow, it sure took me a while to get here…)
They're easy-to-make, energy-boosting, super filling and YUM to the max.
Best of all, these No Bake Peanut Butter Coconut Bites are made of just 6 simple ingredients:
unsweetened coconut
ground flax
chopped peanuts
natural, unsalted peanut butter
old-fashioned, rolled oats
just a touch of maple syrup
I made and remade this recipe until it had the least amount of sugar possible, while still being delicious and lightly sweet. They also take just a couple of minutes to throw together. That, and a few fun/slightly-laborious-but-totally-worth-it minutes to roll out these bites.
If you love peanut butter, coconut, or are just waiting for this special PB love to sneak up on you, try these.
After all, you really can't walk around with any would-be cracks in your heart, right? 🙂
☀︎ Click below to Pin ☀︎

☀︎ Did you make this recipe? Take a pic and share it on Instagram and tag it @beamingbaker and #beamingbaker. I would love to see it! ☀︎
no bake peanut butter coconut bites - vegan, gluten free
No Bake Peanut Butter Coconut Bites: delicious, easy to make, energy-boosting and super-filling. Made of just 6 simple ingredients, vegan, gluten free and healthy!
Author:
Demeter | Beaming Baker
Cuisine:
vegan, gluten free
Ingredients
Dry Ingredients
¾ cup unsweetened shredded coconut
¾ cup gluten-free rolled oats
¼ cup ground flaxseed
¼ cup chopped peanuts or other gluten-free, vegan add-ins (chocolate chips, raisins, etc.)

Wet Ingredients
¾ cup natural, unsalted peanut butter (mine is very liquidy)*
¼ cup pure maple syrup
Instructions
In a large bowl, mix together all of the dry ingredients: coconut, oats, flax and peanuts. Set aside.
In a medium bowl, whisk together the wet ingredients: peanut butter and maple syrup.
Pour wet mixture over dry mixture. Using a sturdy spatula, fold together until well incorporated.
Scoop mixture into your hands and roll into bites. I like my bites to be about 1 ½ tablespoons. If the mixture is too dry, add in a bit more maple syrup and peanut butter.
Enjoy!
Notes
- *Natural peanut butter works best for this recipe; the measurements were calculated based on the very drippy, liquidy nature of natural PB.
- Store in an airtight container for up to 2 weeks. If you like them firm, you can store them in the fridge.
© beamingbaker.com. All content and images are protected by copyright. Please do not use my images without my permission. If you wish to republish this recipe, please re-write the entire recipe using your own words and include a link to this post for the recipe.
A peanut butter cup, in smoothie form. ?  The tastiest way to get your protein on: Chocolate Peanut Butter Banana Smoothie (Vegan, Gluten Free, Dairy Free).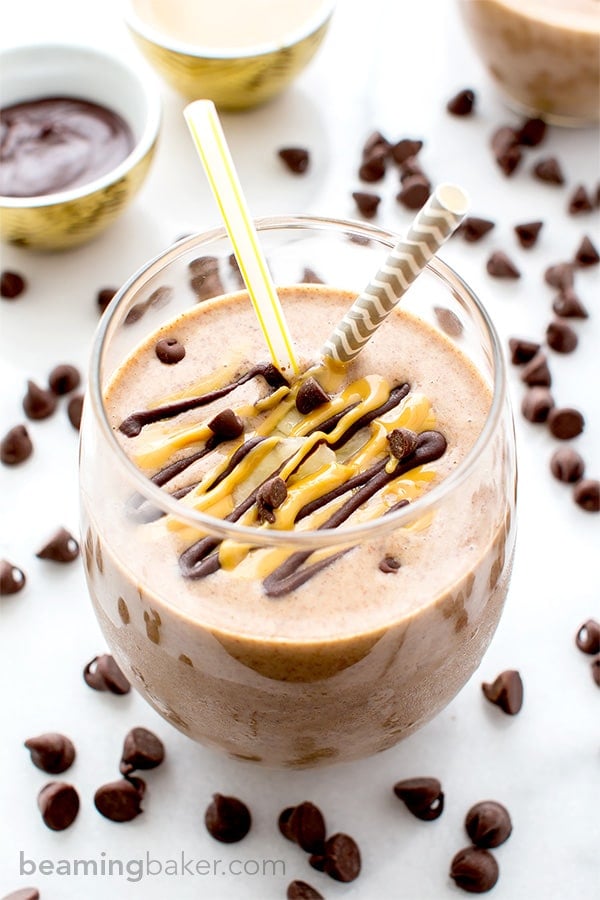 Secretly healthy, seriously indulgent, Chocolate Chip Cookie Dough Bites (Vegan, Gluten Free). For Cookie Dough Lovers only. 😉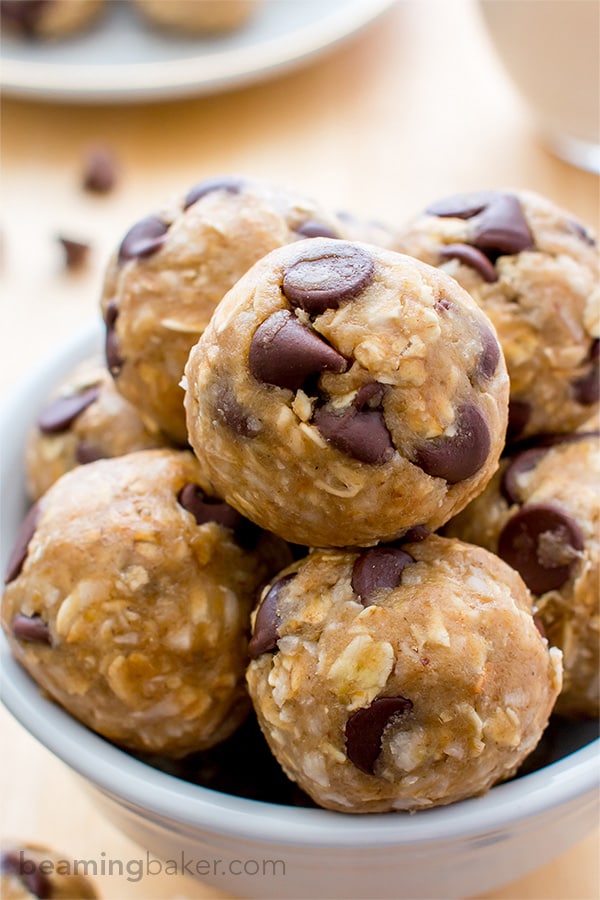 Have a craving for chocolate? Satisfy that craving with my Best Vegan Brownies. Easy to make and so delicious.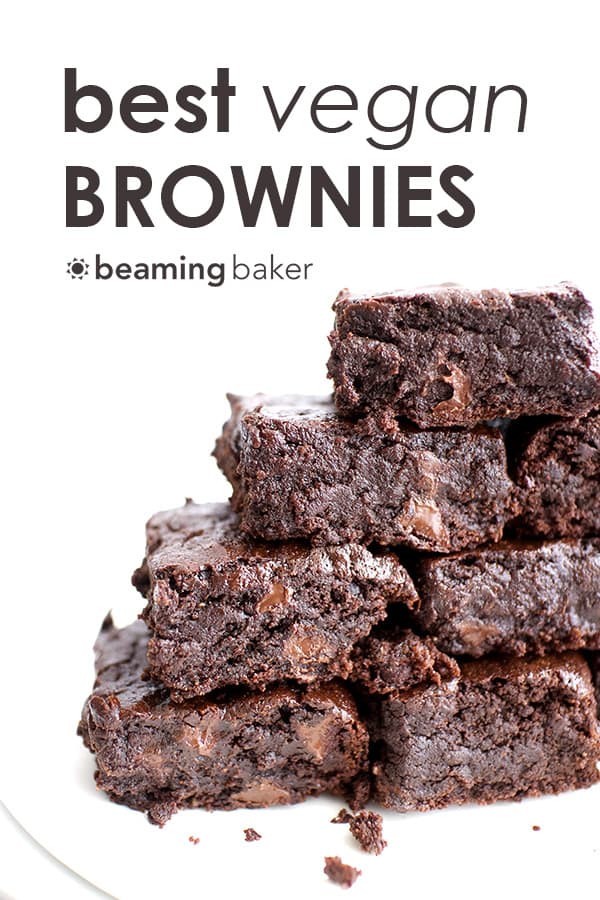 Questions of the Day
What's your favorite peanut butter recipe?
If you don't like peanut butter (no judgment), what's your favorite nut butter?
I can't wait to hear your replies.