Delicious apple bread recipe with lightly moist crumb and a touch of sweetness brought out by your favorite fall spices and delicious walnuts. Gentle sweetness of apples combined with comforting feelings of fall for the best apple cinnamon bread!
Spiced Apples, Crunchy Walnuts, and Lightly Moist Crumb for the Best Apple Bread Recipe!
Did you know that there are over 7,500 different types of apples in existence? Lately, Erik and I've been trying one kind of apple, then another… ya know, to switch up our apple routine.
We've had Granny Smith, Fuji, Gala, Envy, Honey Crisp, and more. But do you know our favorite way to eat apples? Making today's apple bread recipe! (Can you imagine if we could try this bread 7,500 times just to see how each type of apple tastes?) Oh… the possibilities!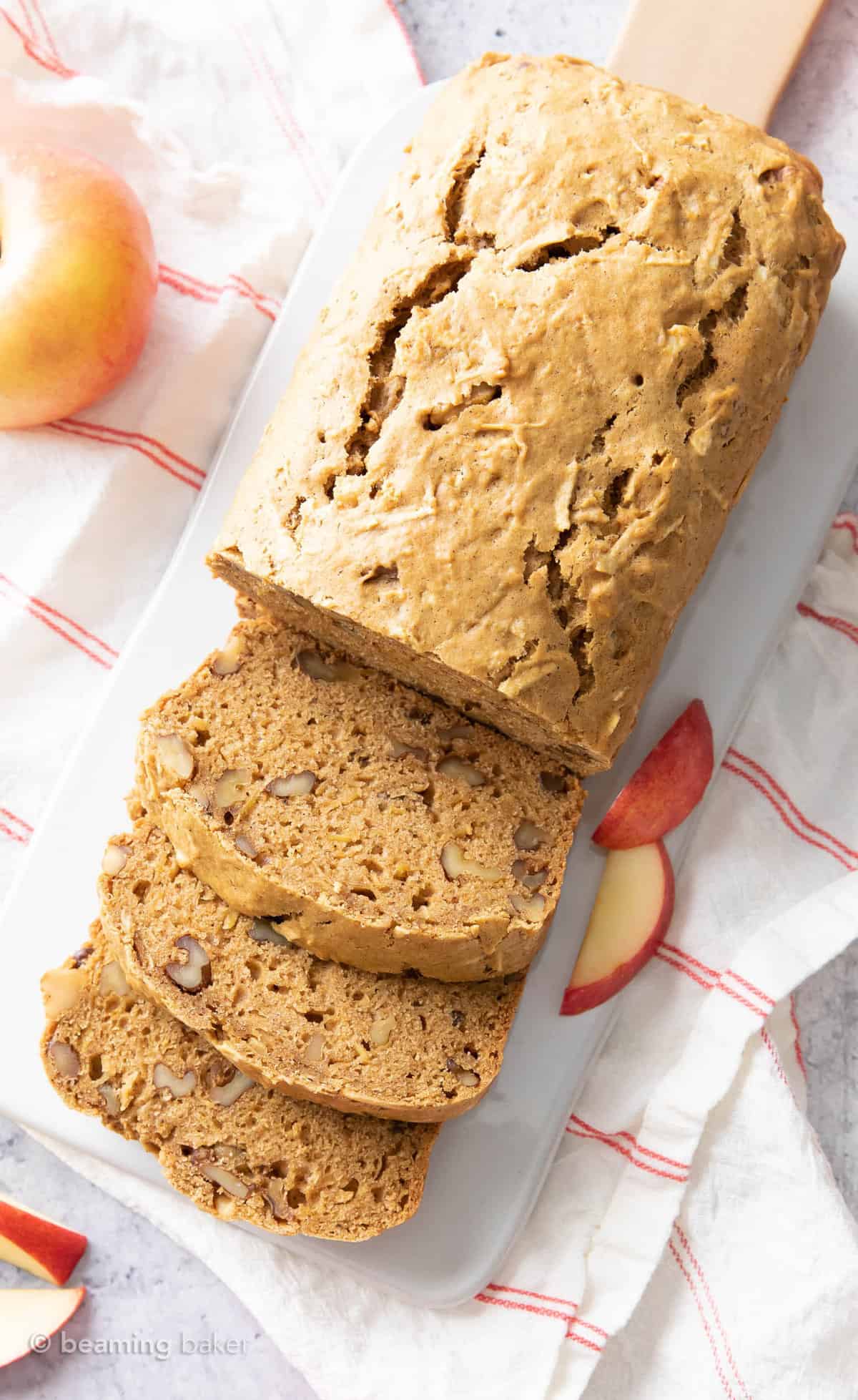 Simple Ingredients for a Simply Delicious Apple Bread Recipe
Today, we're using the simplest ingredients to make the simplest, most delicious apple bread recipe. This apple bread slices so beautifully, with wholesome and hearty crumb, speckled with beautiful bits of fresh apple, and singing with tantalizing spices. It's perfect for gifting at any holiday gathering or get together.
Apples
Oat flour or all purpose flour
Cinnamon, cloves, and nutmeg
Coconut sugar + maple syrup
Vanilla + almond extract
Vegan butter or coconut oil
Walnuts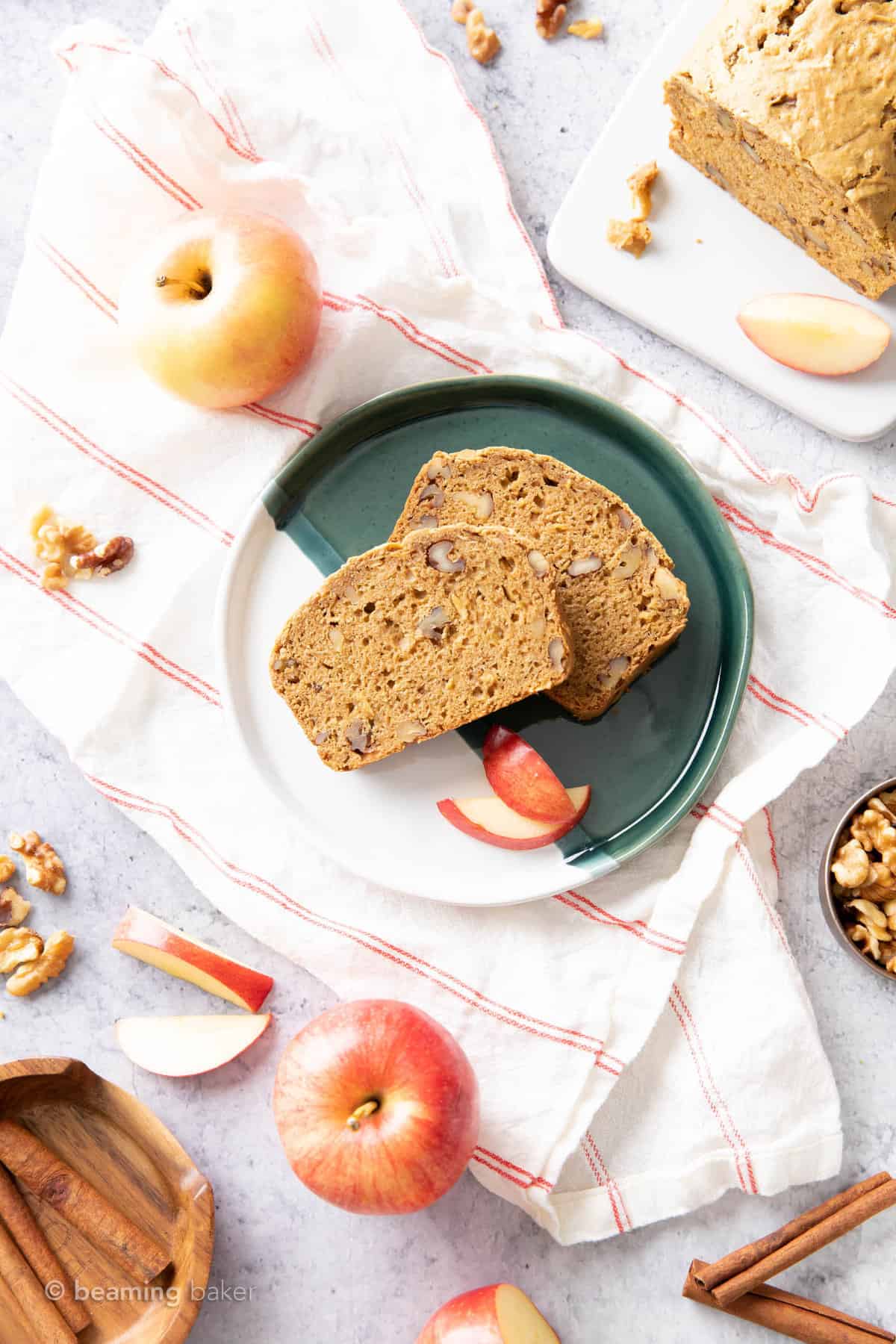 How to Make Apple Cinnamon Bread
Ready to learn how to make apple cinnamon bread? This healthy apple bread comes together in a few simple steps that you probably know very well: mixing all the dry together, mixing all the wet together, combining and so on. The best part? You won't believe the incredibly satisfying texture of this perfect apple bread recipe from less than 30 minutes of prep!
To make your apple bread recipe:
First, preheat the oven to 325°F. Then, line an 8-inch loaf pan with parchment paper or greased foil.
Then, grab a medium mixing bowl and add all the dry ingredients into it. Using a whisk, whisk the ingredients until everything is well mixed.
Next, grab a large mixing bowl and add all the wet ingredients into it. Using a new whisk, whisk this mixture until it's very well incorporated.
Now, you'll combine the wet and dry ingredients! Pour the dry ingredients over the wet ingredients in the large bowl. Whisk as long as you can, then switch to using a rubber spatula to stir and fold everything together to create a cohesive dough.
Then, pour your grated apples over the dough. You'll use the same rubber spatula to fold and mash the apples into your dough, thereby releasing yummy apple juices into the dough. Finally, fold in walnuts. Voila, you've just made your apple bread dough!
Transfer the dough into the pan. Smooth into a loaf shape, as the dough will bake up much how it looks raw.
Bake for about 60 minutes, or until a toothpick inserted into the highest part comes out clean.
Cool, slice, and enjoy the best apple bread recipe!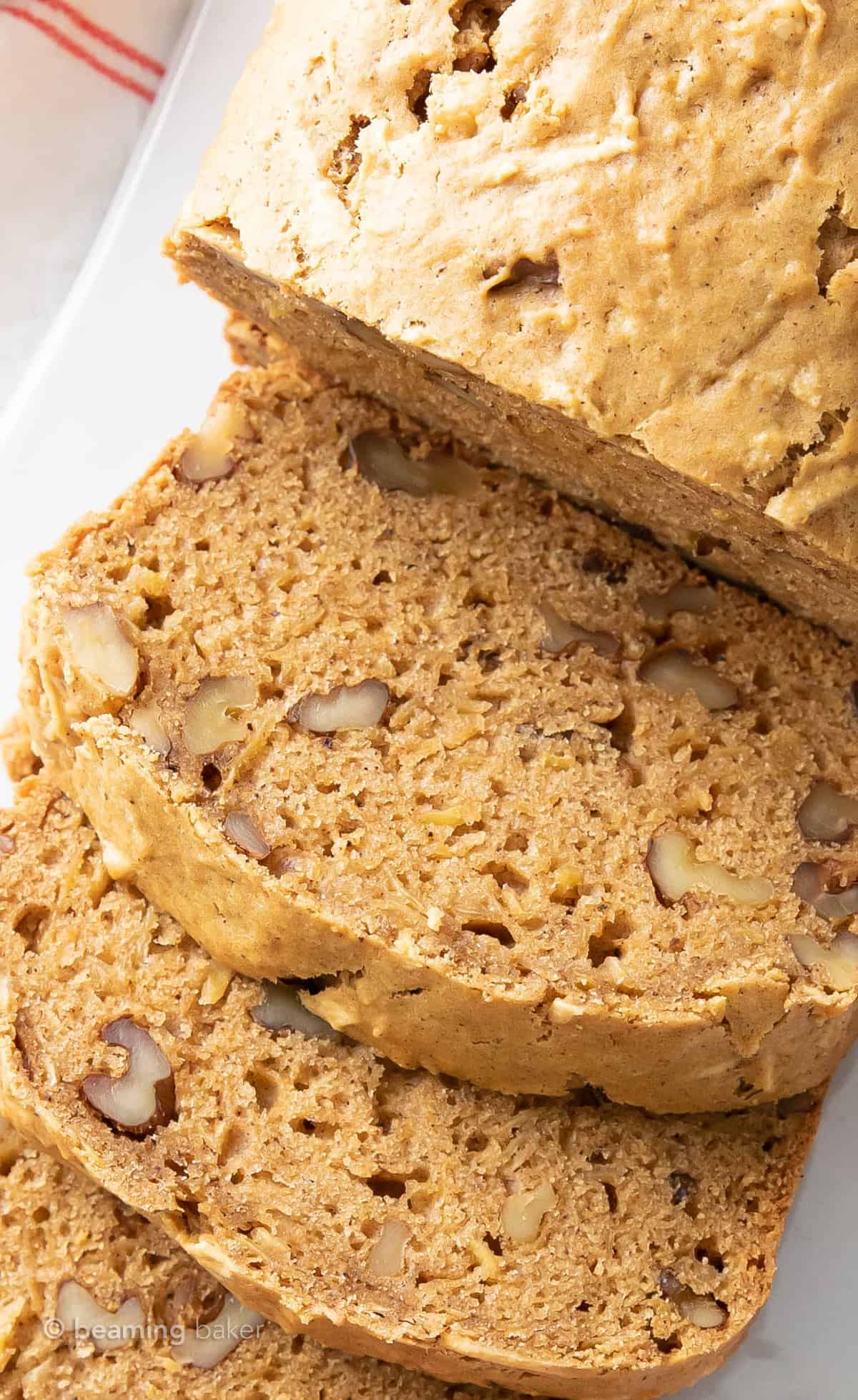 Tips for the Best Recipe for Apple Bread
This apple bread recipe comes together with little fuss and a lot of fun in the kitchen. With that said, I'm going to cover some simple tips that'll take your apple bread to the next level.
Use your favorite apples. There's no right or wrong apple here, folks! Okay, maybe Red Delicious. J/k, the grainy bastard! Haha. I typically use a combo of apples so there's a complex and layered sweetness to my apple bread recipe. But you can use whatever you have on hand, just make sure they're in good condition, aka not old and grainy.
Don't skip the almond extract. There's something that I love so, so much about almond extract. In my early food blogging years, I used to add it to everything. Think: chocolate pistachio snack bars, blueberry almond breakfast cookies, vegan vanilla ice cream, candied almonds. Now, I use it only on special occasions, like when I want to add a sweetness that's not overbearing to a special treat, like this apple cinnamon bread.
Cool completely before slicing. I know, it's so hard to wait! Especially after it took an hour to bake the bread. But trust me, it's worth it. If you wait until your apple bread is cooled completely before slicing it, you'll get nice, clean slices. If you don't, you may end up with a crumbly/gummy mess.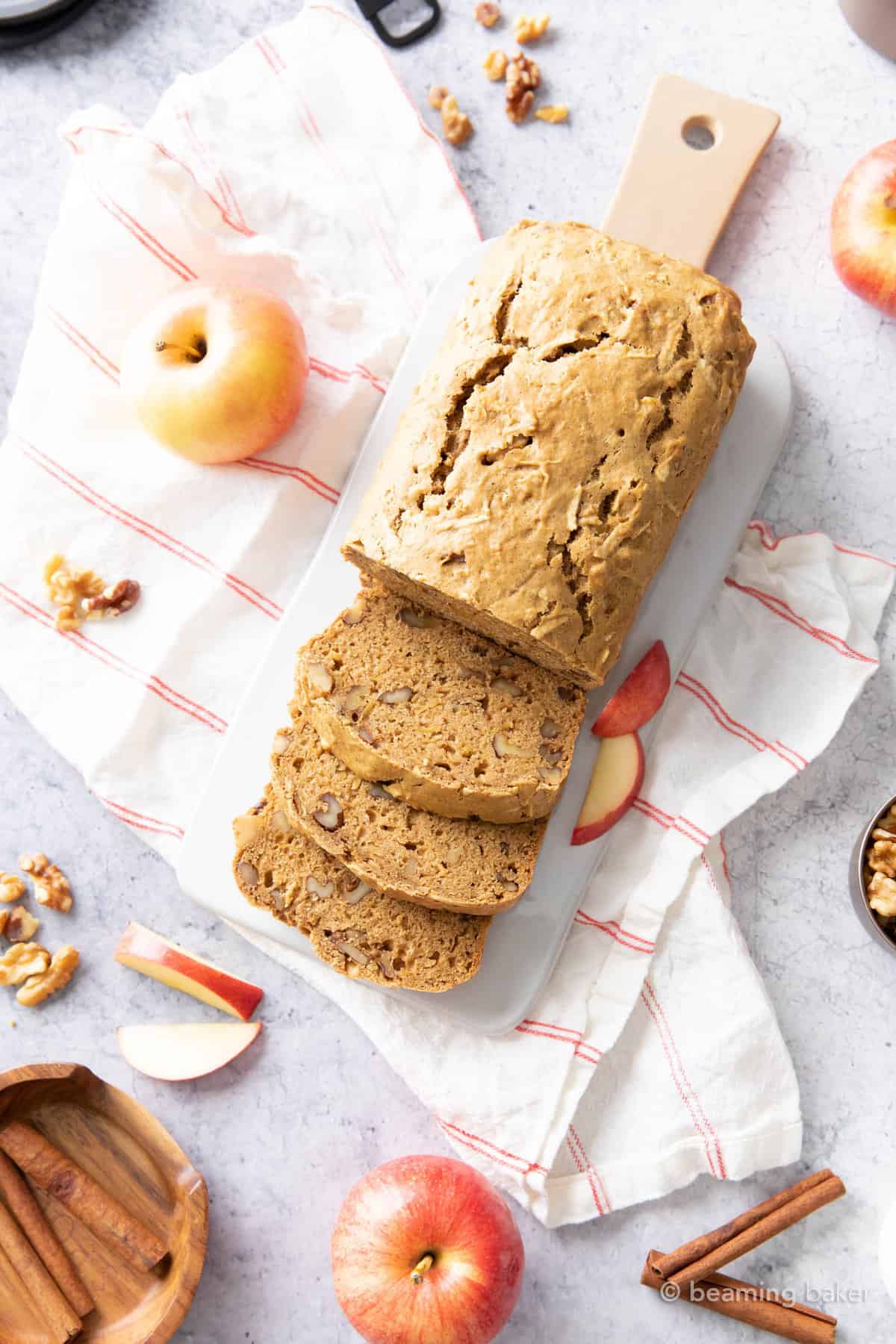 Tools You Need
I Apple-Laud You Apple-Solutely! 👏 🍏
O-kaaaay, that was a bit of a tongue-twister, but oh so worth it. 😉 I hope you'll enjoy today's apple cinnamon bread, and picking out the very best, yummiest apples! Thank you for stopping by and sharing in some joyful kitchen moments with me and your loved ones. 'Til the next one…
Sending you all my love and maybe even a dove, xo Demeter ❤️
🍎 📸 🍞
📸 Did you make this apple bread recipe? Take a pic and share it on Instagram with the hashtag #beamingbaker & tag @beamingbaker. I'd love to see it! 📸
Bountiful Recipes You'll Enjoy 🤩
Print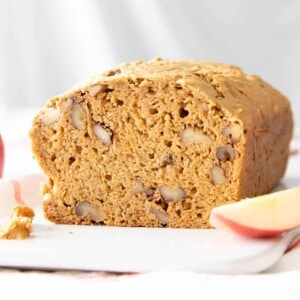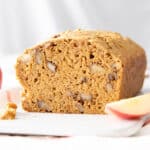 Apple Bread Recipe
---
Description
Spiced apple bread with lightly moist crumb and a touch of sweetness brought out by your favorite fall spices and delicious walnuts. The gentle sweetness of apples combined with the comforting feeling of fall for the best apple cinnamon bread!
---
Dry Ingredients
2 cups

all purpose flour or oat flour

½ teaspoon

baking soda

1 teaspoon

baking powder

1 teaspoon

ground cinnamon

¼ teaspoon

ground cloves

¼ teaspoon

ground nutmeg

¼ teaspoon

salt
Wet Ingredients
¼ cup

+

2 tablespoons

melted butter or coconut oil

¼ cup

coconut sugar, brown sugar or cane sugar

¼ cup

pure maple syrup

1 ½

eggs of choice or flax eggs (see instructions in Notes)

1 teaspoon

pure vanilla extract

¼ teaspoon

pure almond extract 
Fold-in Ingredients
1 ¼ cups

grated apples (about

1

medium apple and

1

small apple) – I used gala and envy apples

¾ cup

walnuts, chopped
---
Instructions
Preheat oven to 325°F. Then, line an 8-inch loaf pan with parchment paper or greased foil. Set aside for later.
In a medium bowl, whisk together the dry ingredients: flour, baking soda, baking powder, cinnamon, cloves, nutmeg, and salt.
In a large bowl, whisk together butter, sugar, maple syrup, eggs, vanilla and almond extract. Whisk until well mixed.
Pour dry ingredients over the wet ingredients. Whisk as long as you can, switching to a rubber spatula when needed. Use the rubber spatula to fold the batter until well incorporated, with almost no flour bits remaining. The dough will be very thick.
Using the rubber spatula, thoroughly fold and mash grated apples into batter, until apples are very well incorporated (about 1 full minute). Your goal is to get the juices of the apples to release and incorporate into the dough. The dough will be very, very thick—do not add additional liquids to thin out the dough. Fold in walnuts.
Transfer the dough into the prepared baking pan. Smooth into an even layer, with a mound down the center—into the shape of a loaf. The dough will bake up very much how it looks raw, so this is your chance to smooth it into a beautiful loaf.
Bake for 55-65 minutes. Mine took 60 minutes. Bread is done once you can stick a toothpick into the highest part and it comes out clean.
Leaving the bread in the pan, set the loaf on a cooling rack to cool for 10 minutes. Then, pinching the parchment paper or foil, carefully lift the bread and paper onto a cooling rack. Cool for about 1.5 hours. Make sure to cool completely before slicing for clean slices. Slice and enjoy!
Notes
How to Make 1 1/2 flax eggs: Combine 4 ½ TEAspoons ground flaxseed and ¼ cup + 1 ½ TEAspoons water, whisk together, and set for 15 mins.
Storing Instructions: Store completely cooled loaf in an airtight container in the refrigerator for 1-3 days. Since this bread is made with fresh apples, it'll be best on the first day.
To Freeze: Cool bread completely, then store in a freezer-friendly container in the freezer for 1-2 months. Allow to thaw at room temperature for about 15 minutes before enjoying. 
How to make Vegan: Use vegan butter or coconut oil and flax eggs.
How to make Gluten Free: Use gluten free oat flour and keep everything else the same.
Prep Time:

25 minutes

Cook Time:

60 minutes

Category:

Breakfast, Snacks

Method:

Bake

Cuisine:

American
© beamingbaker.com. All content and images are protected by copyright. Please do not use my images or recipe without my permission. Please do not republish this recipe, instead, include a link to this post for the recipe.
Wanna help grow the Beaming Baker community? ☀️
You play such an important part in the livelihood of Beaming Baker–and just know that Erik and I truly appreciate it. 🧡 If you want to help grow the BB community, you can do the following:
📝 Leave a comment & rating. When you try a recipe, leave a comment and star rating to let us know how you liked the recipe. It truly helps all of our readers discover which recipe works best–and keeps us going in the right direction.
📸 Instagram. Made a recipe? Take a photo and share it on Instagram with the tag #beamingbaker and tag us at @beamingbaker. It makes our day to see how the recipe turned out for you!
👭 Tell a friend. You know when you love something, you can't help but tell others about it? If you love any of the recipes on Beaming Baker, tell a friend. 🙂 It truly helps to grow the BB community. ☀️
More Quintessential Quick Bread Recipes ⭐️ 🍞
This post may contain affiliate links, which allow me to make a small commission for my referral, at no additional cost to you.