Pumpkin Chocolate Chip Oatmeal Breakfast Cookies (Vegan, Gluten Free, Dairy-Free, Refined Sugar-Free, One Bowl)
Pumpkin Chocolate Chip Oatmeal Breakfast Cookies (V, GF): An easy fall recipe for soft, chewy pumpkin oatmeal cookies packed with chocolate chips and pumpkin seeds. Perfect for breakfast or an afternoon treat! One Bowl, Vegan, Gluten Free, Dairy-Free, Breakfast.
Good morning! And boy, do I mean good morning. Can you foresee a morning that wouldn't be stupendously fantastic with cookies? There's just something about having cookies for breakfast that makes a day go so much better. Especially when they're paired with these Healthy Pumpkin Oatmeal Muffins, this 4 Ingredient Healthy Homemade Gluten Free Vegan Granola Recipe, and this Easy Gluten Free Vegan Pumpkin Coffee Cake Recipe (because obviously the only thing better than having cookies for breakfast is having cake for breakfast! .)
Do you have any morning routines that make your morning a bit less crazy?
I've been hearing about all kinds of tactics: meditation (come on, J.Lo does it, so it must work), 10-minute yoga session, journaling (Erik does this, so it's 55% likely to work—j/k, Buttercup!), hiding in the bathroom till everyone goes away (a personal favorite of mine), and finally, running away to a serene getaway where cartoon birds sing you awake and prepare breakfast (while not touching it because that would be gross).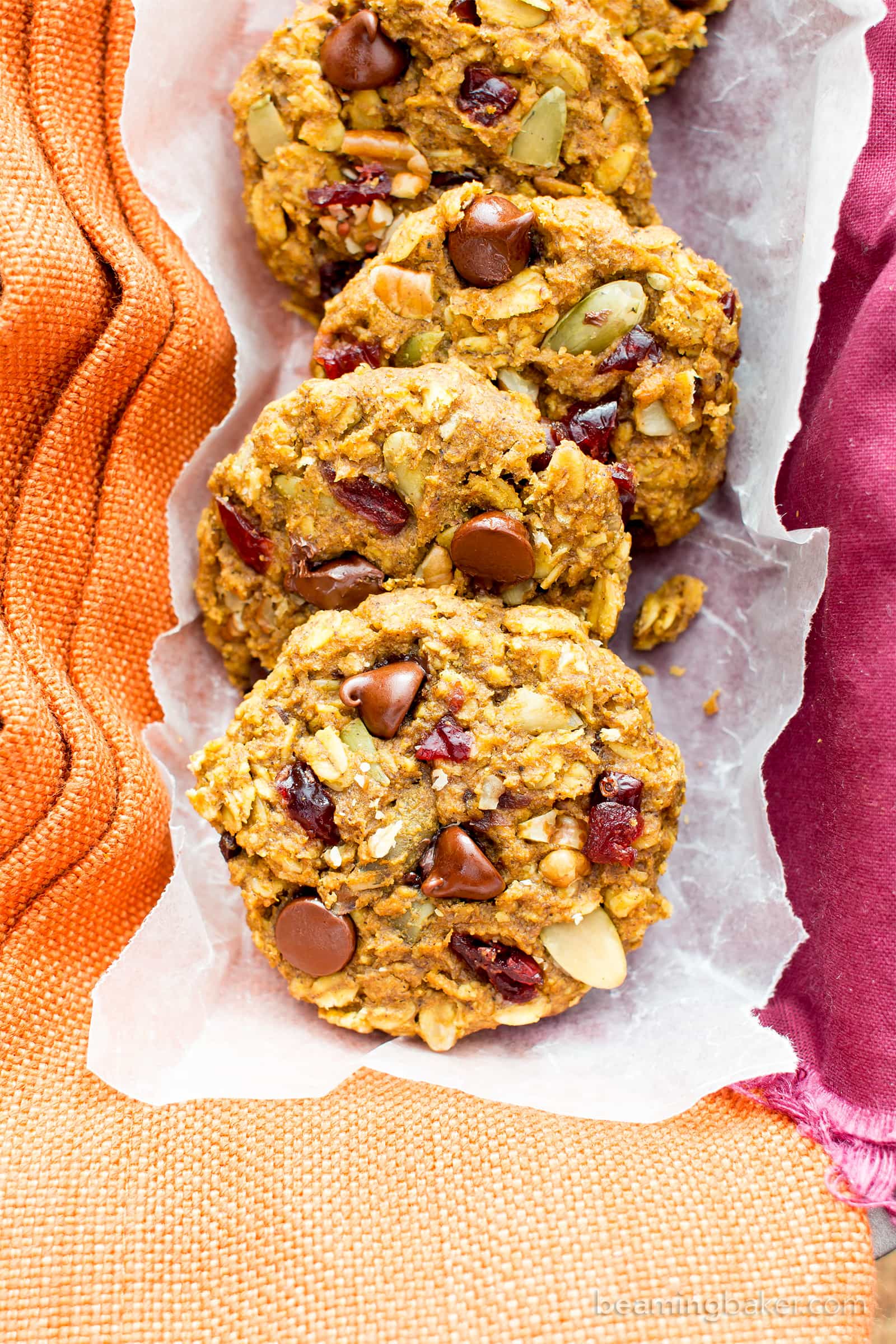 Thoughts?
My favorite new tactic for dealing with these crazy mornings is… wait for it… COOKIES!
Maybe it's the kid in me, maybe it's the kid in you, but this little ol' BB community loves breakfast cookies. Take for example, these good morning breakfast cookies (see what I mean?), these peanut butter banana breakfast cookies, and let's not forget, breakfast BARS (peanut butter chocolate chip, gingerbread oatmeal homemade breakfast bars, double chocolate banana, I could go on for days), which, for some reason, are way less controversial as a breakfast food than cookies. Hmm…
Let me not think about that as I munch on these Pumpkin Chocolate Chip Oatmeal Breakfast Cookies. Some folks have even taken to making my tastiest no bake cookies for breakfast, too. Which totally had me thinking, why didn't I think of that?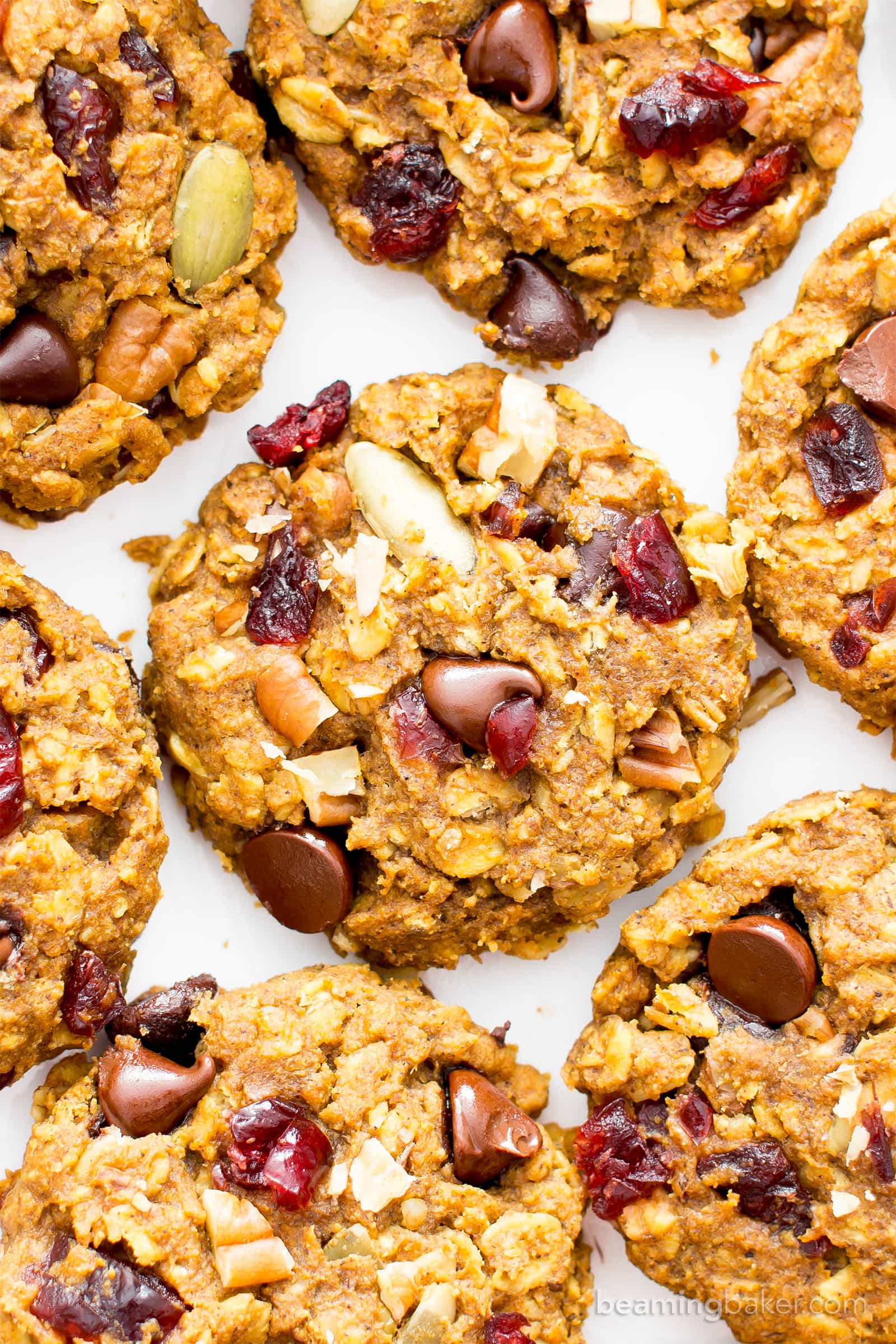 Meanwhile, it's been pumpkin all day, e'ryday for a few weeks now, and I've been semi-patiently sharing/staggering in a normal-ish manner my favorite pumpkin recipes with you. There's been maple pecan pumpkin muffins, moist gluten free chocolate pumpkin muffins, chocolate pumpkin bread (Erik's current fave), and my all-time favorite throwbacks: classic gluten free pumpkin bread and even pumpkin pie smoothies.
Since it's been exactly 11 days since I've shared a pumpkin recipe with you, I thought it was high time to share another. Are you ready? Allow me to present to you my Pumpkin Chocolate Chip Oatmeal Breakfast Cookies! That was seriously climatic, right?!? 😉
This might just be the last pumpkin recipe for the year—but don't put me on record as saying that or anything. Ya never know, I still have obscene amounts of pumpkin lurking in my house.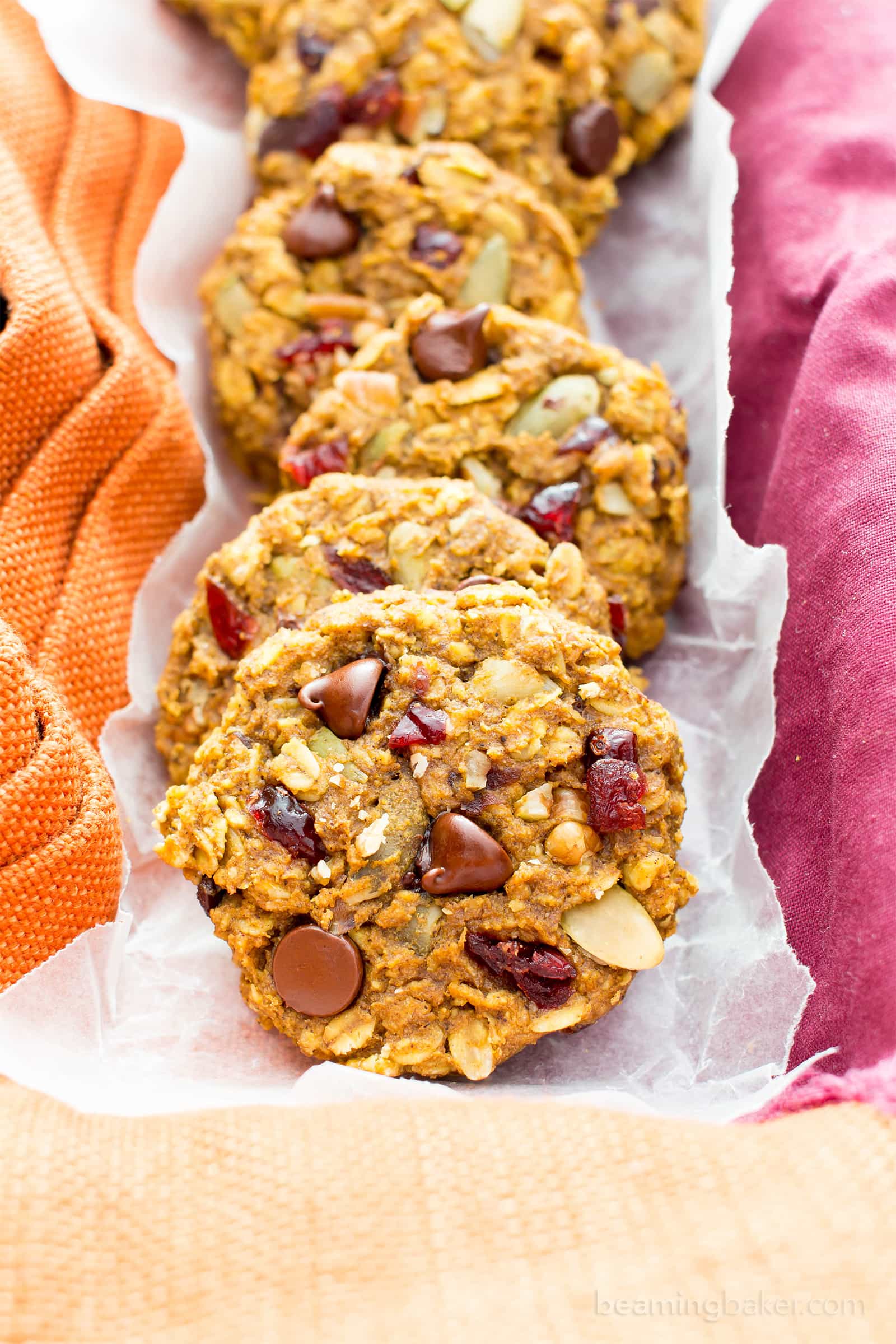 These cookies combine two of my family's current faves: pumpkin and breakfast cookies! I've been making them nonstop (hence, all the lurking pumpkin). They're seriously so good fresh out of the oven—soft, moist, chewy, and oh-so-satisfyingly warm. There's just something about melting chocolate chips nestled in the folds of chewy oats, sweet 'n tart cranberries and crispy pumpkin seeds that just does it.
See what I mean about that good morning?
And if you want to make these in advance, because, let's be real, not many of us have time to fresh-bake a treat every morning, go ahead and warm one up for 10-15 seconds in the microwave. Speaking of warming them up in the microwave, you have to try it with my Easy Gluten Free Vegan Dark Chocolate Muffins. The taste is out of this world! .
Wait, what was I saying? Oh yes. These make-ahead breakfast goodies are amazing—just like you had time to bake like a boss, and get dressed, and get the kids ready, and actually brush your teeth/floss/comb your hair in the morning.
Imagine that.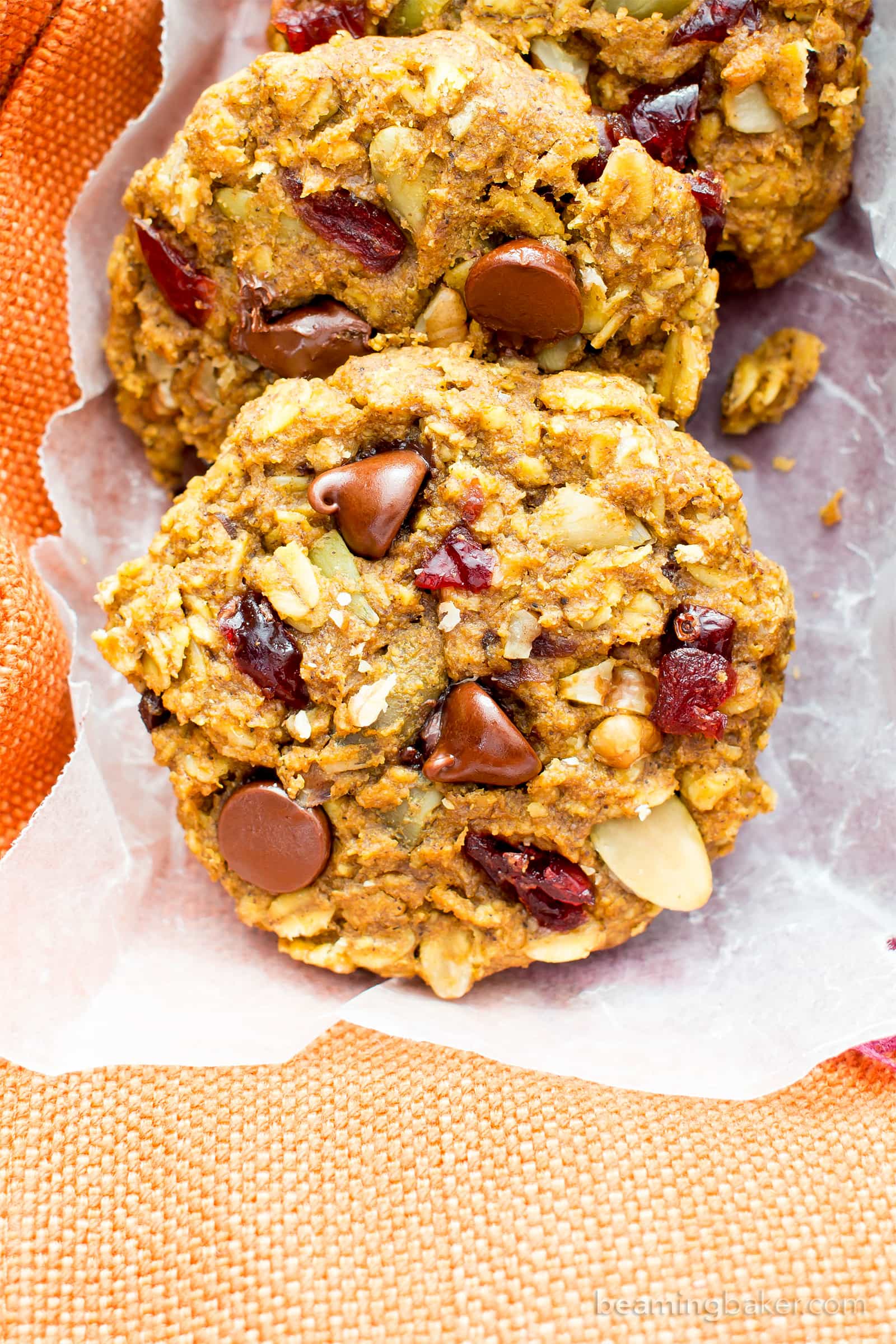 I, myself, don't have kids and all of that streudel is a struggle in the AM. Ah, mornings.
What can I say? I need these cookies to make them just a tad saner. Meanwhile, don't forget to tell me about your serenity tactics for a calm morning. Oooh, now I just wanna call the entire morning off and just binge watch Serenity with a big ol' bucket of olive oil popcorn and these Pumpkin Chocolate Chip Oatmeal Breakfast Cookies.
Or perhaps a big plate of Gluten Free on a Shoestring's wonderful Gluten Free Pancakes? With flax eggs and non-dairy milk subbed in to make 'em vegan. 😉 And maybe two loaves of this Healthy Chocolate Chip Pumpkin Bread from Healthy Seasonal Recipes… With flax eggs instead of eggs and vegan chocolate chips to make them vegan. .
How amazing does that sound?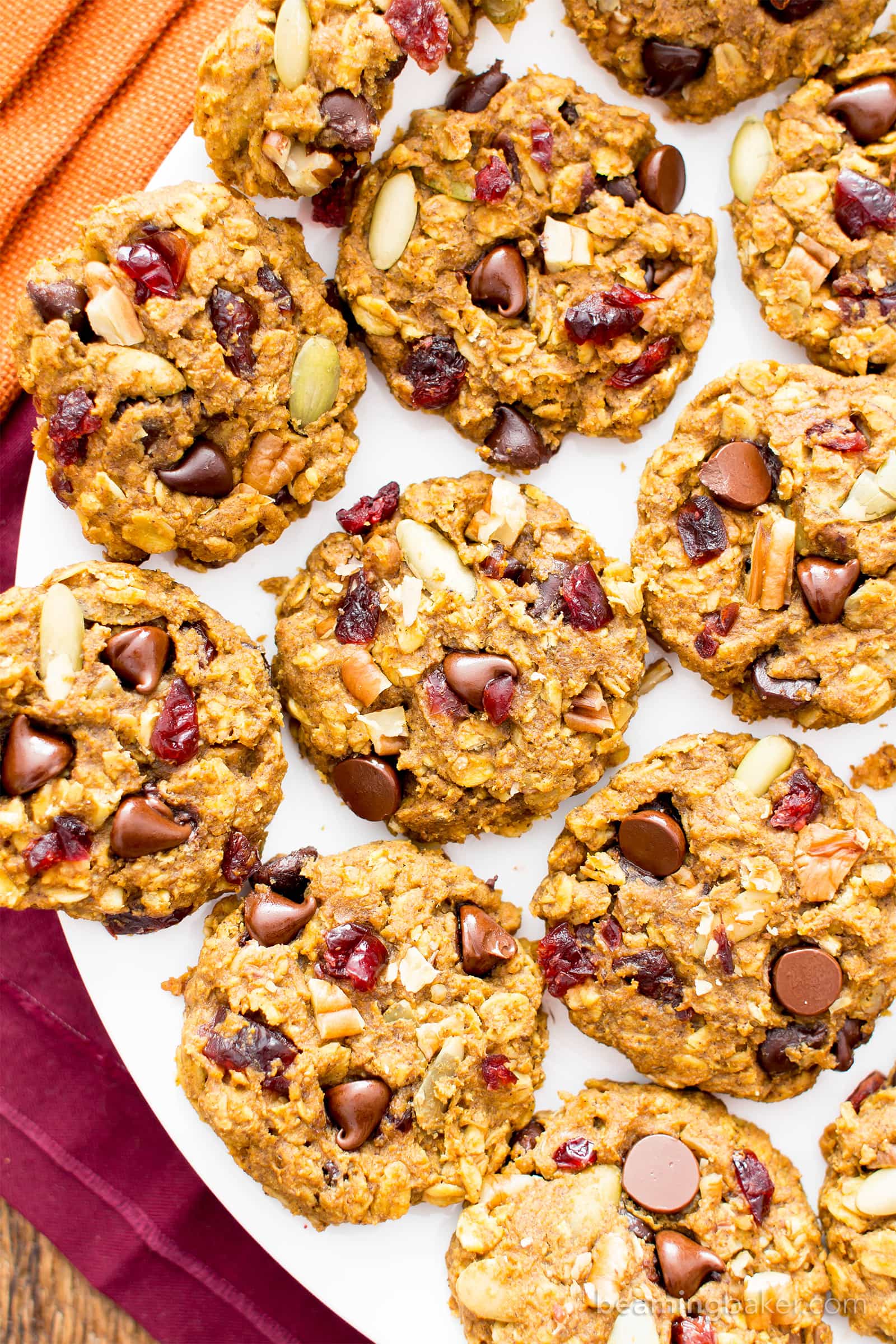 Clearly my next recipe needs to be a recipe for focusing. Heh heh. But not. So while I cook up some tasty ways to get focused or whatever I was just talking about, let me tell you all about these Pumpkin Chocolate Chip Oatmeal Breakfast Cookies. They're:
soft, chewy, satisfying
easy to make, in just one bowl
bursting with texture in the form of cranberries, pepitas, pecans and rolled oats
vegan, gluten-free, dairy-free
deliciously whole grain
easy to customize by swapping your favorite add-ins
warm, cozy and fall-satisfying
plant-based and allergy-friendly
made with the whole, simple healthy ingredients that you love
perfect for breakfast, considering its name 😉
totally legit for dessert, a workout snack or an afternoon booster
99% likely to make your morning that much better
Are you ready to bring on all the pumpkin seeds, cranberries and pecans? That combo is beyond delicious. I'll grab the pumpkins, you grab the pecans! Let's get our fall bake on. It's always a pleasure bringing it back to the kitchen with you. I love hearing about how much you and your loved ones enjoy these recipes. While I eagerly await to hear your thoughts on this one, tell me:
What's your favorite way to kick off an awesome morning?
Sending you all my love and maybe even a dove, xo Demeter ❤️
☀︎ Click below to Pin ☀︎

☀︎ Did you make this recipe? Take a pic and share it on Instagram with the hashtag #beamingbaker and tag @beamingbaker. I would love to see it! ☀︎
SHOP THE RECIPE
Here are a few items I used in today's recipe. .
Cookie Sheet | Organic Pumpkin Puree | 2-Tablespoon Cookie Scoop | Cooling Rack | Maple Syrup | Coconut Sugar | Silicone Spatulas | Glass Mixing Bowls
Print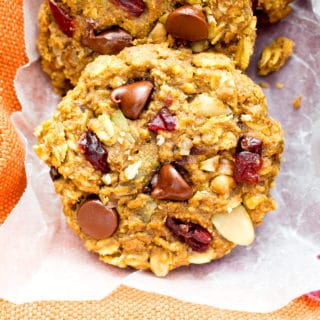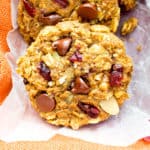 Pumpkin Chocolate Chip Oatmeal Breakfast Cookies (Vegan, Gluten Free, Dairy-Free, Refined Sugar-Free, One Bowl)
---
Description
Pumpkin Chocolate Chip Oatmeal Breakfast Cookies (V, GF): An easy fall recipe for soft, chewy pumpkin oatmeal cookies packed with chocolate chips and pumpkin seeds. Perfect for breakfast or an afternoon treat! Vegan, Gluten Free, Dairy-Free, One Bowl.
---
Wet Ingredients
½ cup

100% pure pumpkin puree

2 tablespoons

melted coconut oil

3 tablespoons

creamy, unsalted natural peanut butter

3 tablespoons

coconut sugar

3 tablespoons

pure maple syrup

1

flax egg (

1 tablespoon

ground flax +

3 tablespoons

water, whisk together, set for 15 mins)

½ teaspoon

pure vanilla extract
Dry Ingredients
1 ¼ cups

gluten free rolled oats

½ cup

+

2 tablespoons

gluten free oat flour

½ teaspoon

baking soda

¼ teaspoon

baking powder

¾ teaspoon

ground cinnamon*

¼ teaspoon

ground cloves*

¼ teaspoon

ground nutmeg*

1/8 teaspoon

salt
Add-in Ingredients
¼ cup

vegan chocolate chips

2 tablespoons

pumpkin seeds (pepitas)

2 tablespoons

pecans, chopped

2 tablespoons

dried cranberries, chopped
Topping
2

–

3

tablespoons Add-ins (chocolate chips, chopped pecans, cranberries, pumpkin seeds)
---
Instructions
Preheat the oven to 350°F. Line a large baking sheet with parchment paper or greased foil. Set aside.
Add the wet ingredients to a large bowl: pumpkin, coconut oil, peanut butter, sugar, maple syrup, flax egg, and vanilla. Whisk until well incorporated.
Add the dry ingredients: oats, oat flour, baking soda, baking powder, cinnamon, cloves, nutmeg and salt. Whisk together until just thoroughly combined. When it gets difficult to whisk, switch to folding with a rubber spatula, until no flour patches remain. Fold in Add-in Ingredients.
Using a 2-tablespoon cookie scoop, scoop and drop cookie dough onto prepared baking sheet, evenly spaced apart. Press Toppings into the top of each cookie. Using a fork, flatten cookies to desired thickness—they will not spread during baking. Periodically clean the fork off between flattening—the dough is sticky.
Bake for 10-14 minutes. Mine took 12 minutes. Allow to cool on a cooling rack for about 30 minutes, or until completely cool. Enjoy! Storing instructions below.
Category:

Cookies, Breakfast, Vegan, Gluten-Free, Dairy-Free, Healthy, Fall
© beamingbaker.com. All content and images are protected by copyright. Please do not use my images or recipe without my permission. If you wish to republish this recipe, please re-write the entire recipe using your own words and include a link to this post for the recipe.
If you enjoyed these healthy plant-based pumpkin cookies, then you'll just love these healthy breakfast recipes:
☀︎ More Healthy Allergy-Friendly Breakfast Recipes ☀︎
One Bowl Banana Nut Muffins | Chocolate Chip Oatmeal Banana Breakfast Bars | Pumpkin Chocolate Chip Muffins | No Bake Peanut Butter Fruit & Nut Cookies | Banana Breakfast Cookies | and… Easy Gluten Free Vegan Oatmeal Raisin Cookies, just for fun. 😉
This post may contain affiliate links, which allow me to make a small commission for my referral, at no additional cost to you. Thank you for supporting Beaming Baker.
Facebook ☀︎ Pinterest  ☀︎ Twitter ☀︎ Instagram