The Best Almond Joy Overnight Oats!
The only Almond Joy Overnight Oats Recipe you'll ever need!
Super EASY almond joy overnight oats that are dessert for breakfast! Chewy coconut, rich chocolate and crunchy almonds combine to make the BEST almond joy overnight oats. Your favorite candy bar just became your favorite new guilt-free breakfast!
There are 48 Almond Joy recipes on Beaming Baker. Or… so I thought. Lol. (Okay, to be honest, I thought there were, like, 480 Almond Joy recipes on BB, but then, again, I tend to have a flair for pomp and circumstance… and exaggeration.) 😉
After 3+ years of writing this food blog and over 3 decades of hearing my mom talk about/obsess/fawn over Almond Joy, my thoughts, recipes and even sleepless nights are ruled by visions of it.
Anywho, in an effort to fact check my, erm, thoughts, I turned over to Erik and asked him, "Off the top of your head, how many Almond Joy recipes do we have on the blog?" And, of course, he says, "Hmm… my guess is 7."
Any guesses as to who was close to the correct answer?
ERIK! Dagnabit. It's always Erik. Well, he was mostly right. There are 8 other Almond Joy recipes on Beaming Baker. Can you believe how close he was? Let's just say if one of us were to be picked for The Price Is Right, we all know who's going up to the stage. Harrumph!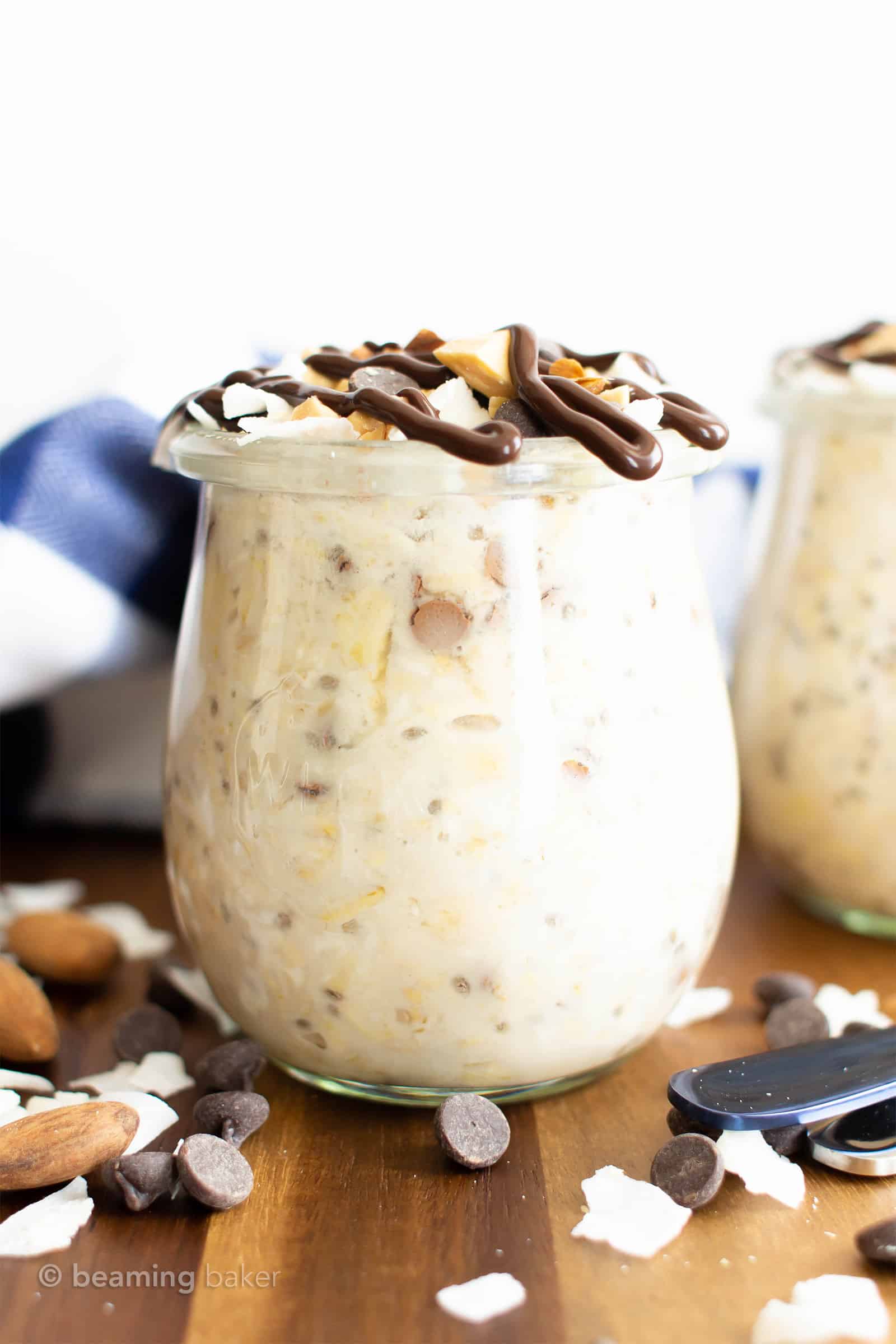 The Best Almond Joy Overnight Oats Recipe
As we begin our foray in the tasty & healthy world of easy vegan overnight oats, I thought we'd do a very delicious pit stop (yes, I've been watching way too much Amazing Race) at Almond Joy Overnight Oats!!
Who's excited?! Without further ado… let's learn/eat/enjoy our way through so many yummy flavors of easy vegan overnight oatmeal! I hope you enjoyed the Healthy Peanut Butter Overnight Oats Recipe I shared last month, and the many flavors to come in the next months. 🙂
But First, What Are Overnight Oats?
Overnight oats are a super easy breakfast recipe that combines oats, sometimes a sweetener, almost always chia seeds and a creamy ingredient. All three of these ingredients combine in a bowl (or jar), then get soaked & thickened overnight in the refrigerator.
Come morning, you've got one of the most delightful breakfast treats you've ever had!
So what are Almond Joy Overnight Oats?
Almond Joy Overnight Oats are a popular candy bar-flavored twist on the classic overnight oats recipe. But instead of using the actual Almond Joy candy bars today, we're gonna be infusing it's core flavor profile (almonds, chocolate and coconut) into every tasty inch of the BEST Almond Joy Overnight Oats ever!
A rich 'n creamy base of oats + yummy chocolate chips + chewy coconut bits + ALL of the chocolate drizzle / almond and coconut topping = the greatest Almond Joy Overnight Oats ever! (And you totally deserve it.)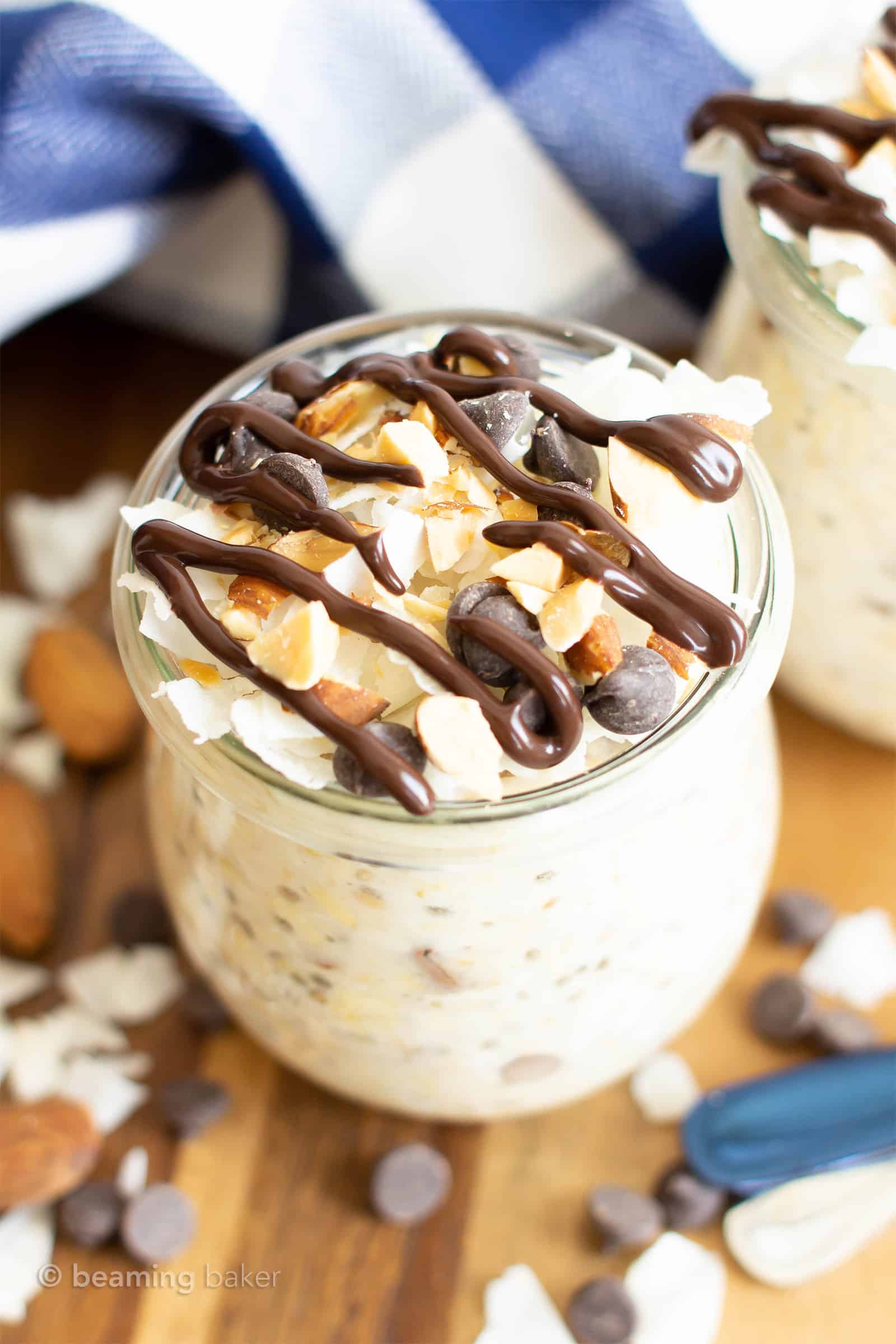 Easy Vegan Overnight Oats // Vegan Overnight Oatmeal
Today, we're learning how to make easy vegan overnight oats: Almond Joy style! Since I introduced my mom to the concept of vegan overnight oatmeal, she's been asking me to come up with a flavor she can truly fall in love with aka these Almond Joy Overnight Oats.
I've been telling her that vegan overnight oatmeal is one of the easiest, healthiest and tastiest breakfasts that she can make. In advance. Overnight! Since she doesn't love cold oatmeal, I suggested she make her almond joy overnight oats in advance and warm it up in the morning. 😉 Read on to find out how easy it is to make vegan overnight oats.
Healthy Overnight Oats Recipes
How to Make Vegan Overnight Oats: Almond Joy Style!
Learning how to make vegan overnight oats is easy! All you have to do is add all of the healthy overnight oats recipe ingredients to a jar: gluten free rolled oats, chia seeds, coconut flakes, vegan chocolate chips, almonds, non-dairy milk, coconut cream, vanilla and maple syrup. Stir until combined and cover. Refrigerate and enjoy your almond joy overnight oats the next day.
For more easy vegan breakfast recipes, try my Gluten Free Banana Chocolate Chip Oatmeal Breakfast Bars and my Good Morning Breakfast Cookies!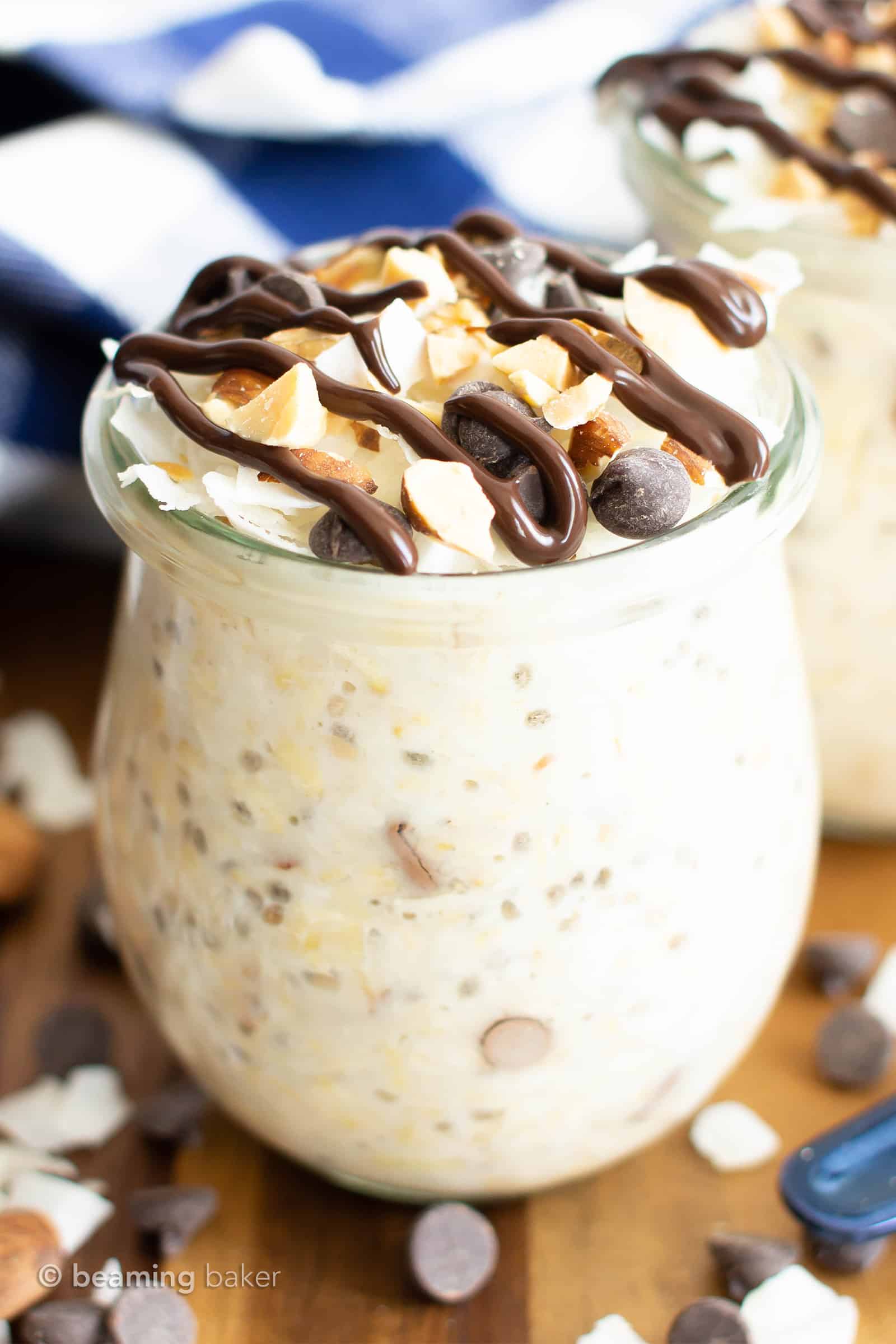 Tools for the Best Overnight Oats: Vegan Almond Joy Flavor!
Click below to see my favorite tools for the best vegan overnight oats!
So… are you totally excited to have dessert for breakfast? Wait, you didn't know that's what we were doing? *Shh… I won't tell anyone if you don't. 😉 It's so incredibly wonderful being able to share recipes & swap stories with you. I am truly so grateful that you're here. 'Til the next kitchen adventure…
Sending you all my love and maybe even a dove, xo Demeter ❤️
Click below to Pin

📸 Did you make this vegan almond joy overnight oats recipe? Take a pic & share it on Instagram with the hashtag #beamingbaker & tag @beamingbaker. I'd love to see it! 📸
Vegan Oatmeal Overnight & Almond Joy Recipes
Print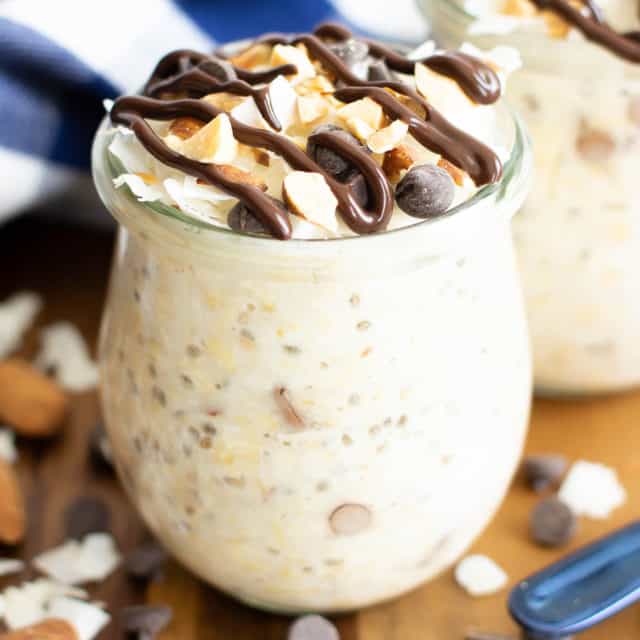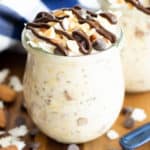 The Best Almond Joy Overnight Oats Recipe (Vegan, Gluten Free, Healthy)
---
Description
Almond Joy Overnight Oats Recipe (Vegan, GF): super EASY vegan overnight oats that are dessert for breakfast! Tasty vegan overnight oatmeal bursting with almonds, chocolate & coconut goodness. Healthy, Gluten Free, Dairy-Free.
---
Almond Joy Overnight Oats
Optional Toppings
Coconut flakes, chocolate chips, almonds, chocolate sauce
---
Instructions
If making two medium servings, set aside two resealable jars. Here are the resealable glass jars that I use. If making one large serving, set aside one large jar.
Add all ingredients to two medium jars or one large jar, leaving enough room to stir.
Stir until well mixed. Add optional toppings (nuts, coconut, etc.). Seal jars.
Store overnight in the refrigerator for up to 5 days. Overnight oats will become thicker as each day passes. If desired, add non-dairy milk to thin it out. Enjoy cold, or heat in the microwave in 20-second increments until warm.
More Healthy Breakfast Recipes
Equipment
Notes
*I prefer using coconut cream in overnight oats—it lends a thick, creamy and delicious texture. If using non-dairy yogurt, make sure to choose your favorite kind—the flavor will be very present. Also, use vanilla yogurt for a tasty addition!
**I used ½ teaspoon of each extract.
Nutrition Information: is an estimate based on the best-selling, most common brands per ingredient. Also, it's estimated based on 2 servings per recipe, made with coconut cream and 1 teaspoon maple syrup.
Prep Time:

10 mins

Cook Time:

0 mins

Category:

Breakfast, Snacks, Healthy

Method:

Chill

Cuisine:

American
Nutrition
Serving Size:

1 medium serving or small jar

Calories:

218

Sugar:

3g

Sodium:

50mg

Fat:

13g

Saturated Fat:

7g

Unsaturated Fat:

5g

Carbohydrates:

20g

Fiber:

5g

Protein:

5g

Cholesterol:

0mg
© beamingbaker.com. All content and images are protected by copyright. Please do not use my images or recipe without my permission. Please do not republish this recipe, instead, include a link to this post for the recipe.