No Bake Paleo Chocolate Almond Butter Bars (V, GF, Paleo): a 4-ingredient no bake recipe for thick, decadent almond butter bars topped with chocolate. Vegan, Paleo, Gluten Free, Dairy-Free, Protein-Rich.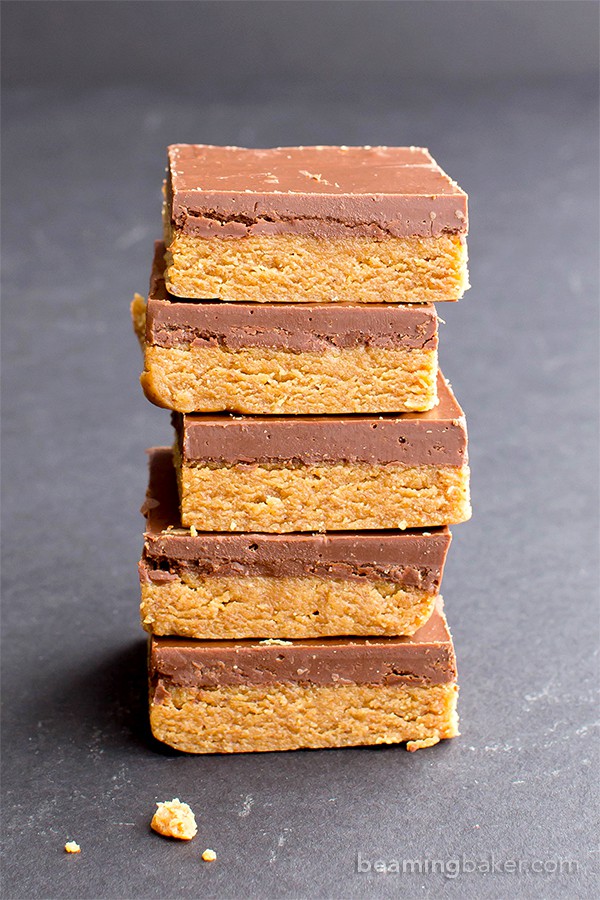 Did I ever tell you I used to be an almond butter-making maniac?
Alright, that was pretty dramatic. But totally true. Back in the day, I used to make almond butter at least twice a week. And I'm talking about HUGE batches. Why? Where did I put this almond butter? What was it used for?
Thanks for asking (kinda). Back in the day, about two years ago, I baked nonstop. I baked even more than I do now that I have a food blog (which is A LOT). Every day, I would make 4-6 batches of cookies. Then, I'd make nice cream (which was called banana soft serve back then), meal prep for the next two weeks, then spend the night putting together packages for my sisters.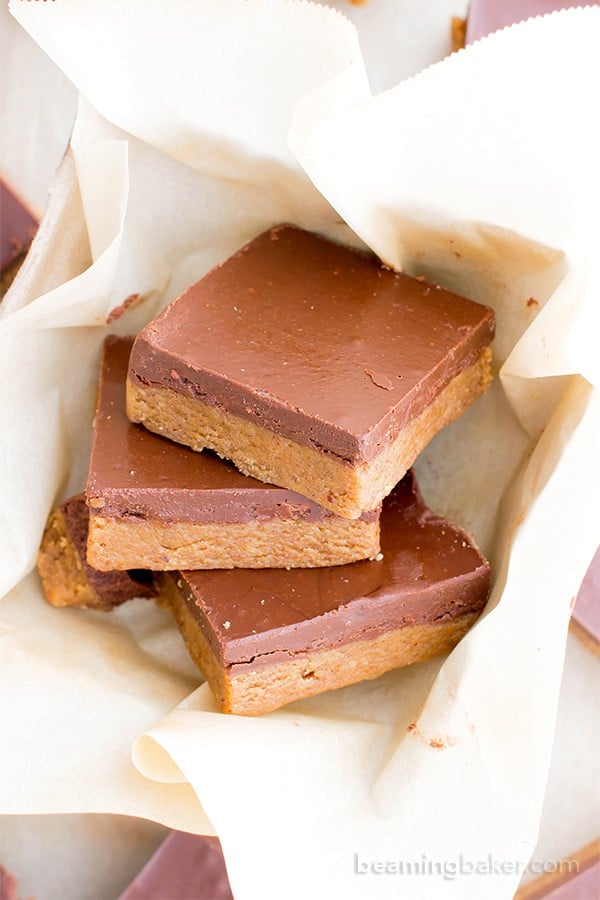 But you already knew I was kinda… cray. Right? 😉 I know some people have to do this because they have kids and wives and husbands and extra folks to constantly mealprep/bake for. But not me. I did it because I was on a mission to make everything from scratch. I also did it because baking was my solace.
You might be asking yourself, "What does this have to do with No Bake Paleo Chocolate Almond Butter Bars?" I'm so glad you (kinda) asked again. 🙂 Well, back then, if I had prepared this recipe for you, I would have made the almond butter from scratch.
Right before making the recipe.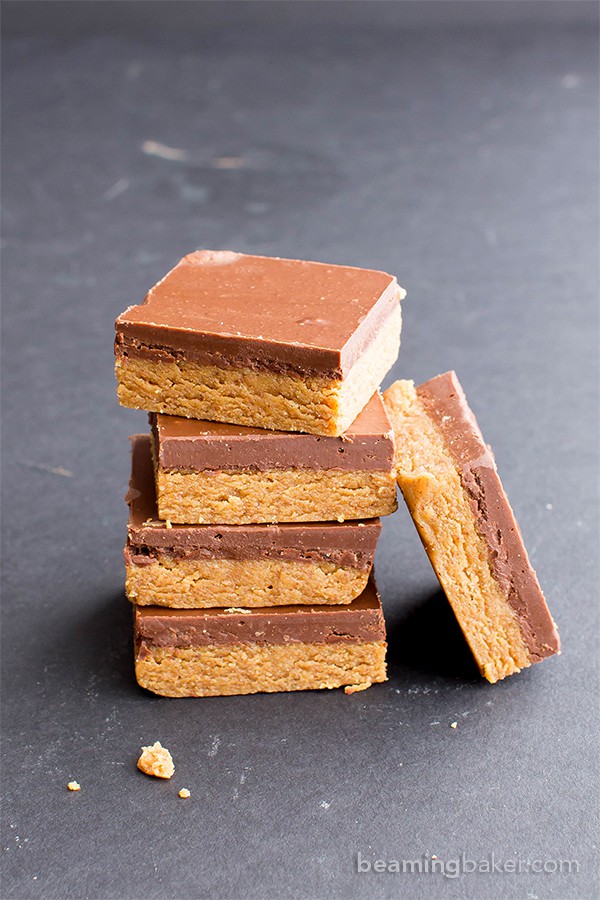 Oh me… oh my. Back then, I would have pulled out the food processor, opened up my bulk bag of almonds and blended for a good 5-15 minutes 'til I got just the perfect smooth consistency of creamy almond butter. Then, carefully transfer that mess-prone goop (scientific name for nut butter consistency) into a large Tupperware, spend like 15 good minutes wiping off flecks of almond butter goop that had flown all over the kitchen, then wash all the dishes (you know how long this takes when you have almond butter grease staunchly refusing to let go of its dish territory), then dry all the dishes (because: counter space, 'nuff said), then make these bars.
And back then, that would be right before I went ahead and baked like 500 more cookies.
I was either cray or just not too sharp. For some reason, cray totally sounds better.
And with each new batch, I'd make a new batch of almond butter. At the time, it totally made sense. You want the almond butter to be super fresh, perfectly mixed, and… oh yeah: for everything to be as difficult and tedious as possible. Oh me…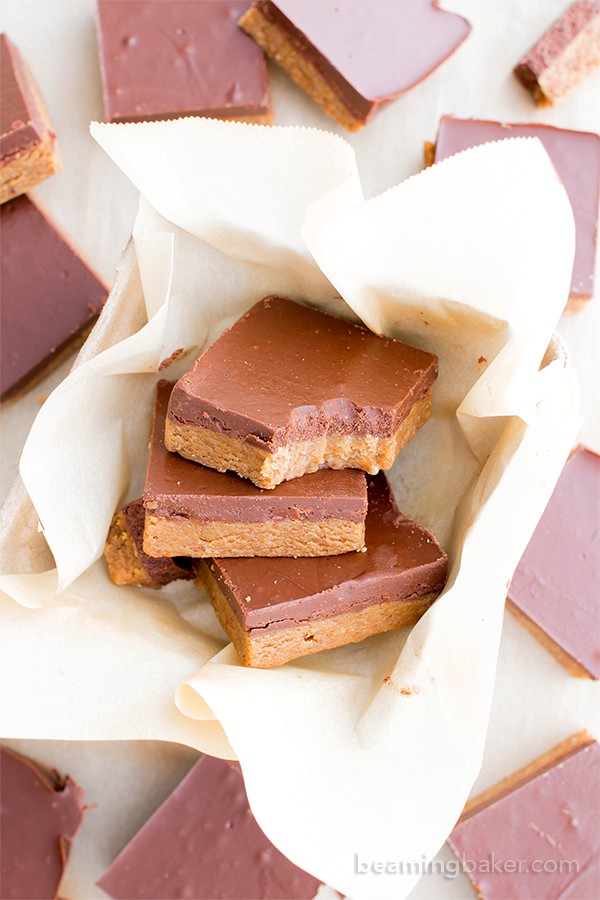 Nowadays, I'm much more sane (kinda) and way more into things being as easy and simple as possible. That's why I'm so happy to share these No Bake Paleo Chocolate Almond Butter Bars with you. Plus, to totally discourage you ever from making almond butter or any nut butter right before you need to bake like 500 cookies.
These No Bake Paleo Chocolate Almond Butter Bars are so ridiculously easy to make, so incredibly delicious, totally taste like Reese's (that is, if Reese's made almond butter cups) and one of my favorites. I got the idea for this recipe from my No Bake Chocolate Peanut Butter Bars.
You guys may or may not recall how insanely (there goes that word again lol) excited I was about those bars. They were my chance, my personal challenge to prove that no bake chocolate peanut butter bars could be made without all the dodgy ingredients: powdered sugar, graham crackers, butter, etc.
Many of you asked if you could make them with almond butter. So here we are, settling it once and for all. Why, yes, you can make them with almond butter. Woot woot!! Btw, please tell me that people still say "woot woot." As usual, I'm like 1 full decade late to the slang game. Shall I remind you of my use of "cray?" I've totally got to start calling things "lit" too before that goes out. Or did it already?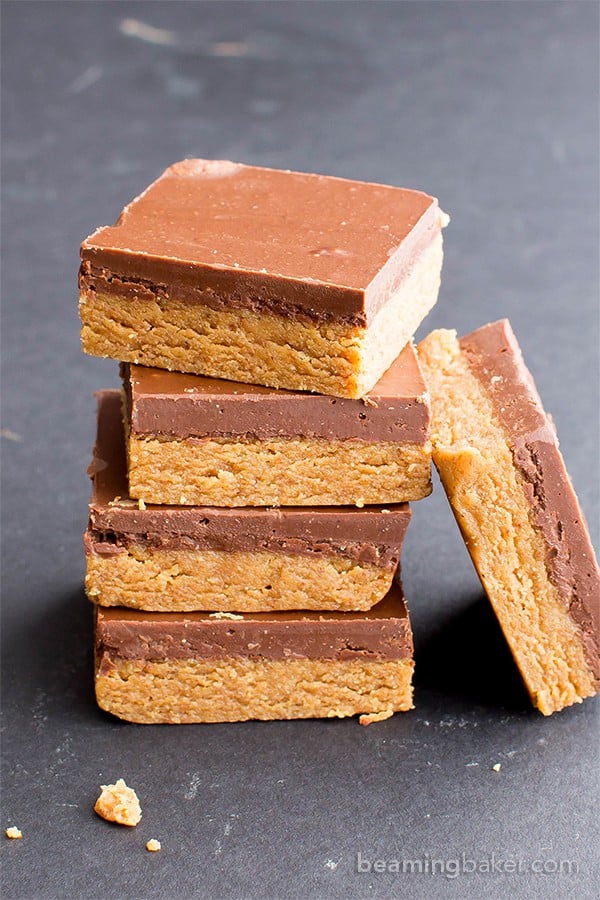 Anywho, I hope you seriously enjoy these No Bake Paleo Chocolate Almond Butter Bars. Allow me to tell you all about them. They're:
made with just 4 ingredients
vegan, gluten free, dairy-free
so easy to make, I've had readers make a quadruple batch at once. Like, woah.
thick, decadent, rich
plant-based and allergy-friendly
taste like the almond butter version of Reese's
made with just the right ratio of chocolate and nut butter
bursting with protein-rich awesomeness
great for dessert or an afternoon pick-me-up
So, what do you think? Are you enticed by the super short ingredients list, or scintillated by the thought of Reese's almond butter cups? Me, too! Grab a few kitchen tools and ingredients. Let's do this! While I wait to hear what you think about this recipe, tell me:
What do you love to make from scratch?
Sending you all my love and maybe even a dove, xo Demeter ❤️
☀︎ Click below to Pin ☀︎

☀︎ Did you make this recipe? Take a pic and share it on Instagram with the hashtag #beamingbaker and tag @beamingbaker. I would love to see it! ☀︎
No Bake Paleo Chocolate Almond Butter Bars (4 Ingredient, Vegan, Gluten Free, Paleo, Dairy-Free)
No Bake Paleo Chocolate Almond Butter Bars (V, GF, Paleo): a 4-ingredient no bake recipe for thick, decadent almond butter bars topped with chocolate. Vegan, Paleo, Gluten Free, Dairy-Free.
Author:
Demeter | Beaming Baker
Recipe type:
No Bake, Dessert, Vegan, Paleo, Gluten Free, Dairy-Free
Ingredients
Almond Butter Layer
1 cup natural, unsalted creamy almond butter
¼ cup + 2 tablespoons pure maple syrup
½ cup coconut flour
Chocolate Topping
1 cup paleo vegan chocolate chips
½ cup unsalted, natural creamy almond butter
Instructions
Line an 8-inch square baking pan with parchment paper or wax paper. Set aside. Clear some space in the freezer for this pan--you will need it later.
Make the almond butter layer: In a medium bowl, add Almond Butter Layer ingredients: 1 cup almond butter, ¼ cup + 2 tablespoons maple syrup, and ½ cup coconut flour. Whisk until thickened and difficult to stir. Switch to folding with a rubber spatula until well-incorporated.
Pour this almond butter mixture into the prepared baking pan. Using the rubber spatula, smooth into an even layer. Set aside.
Make the chocolate topping: Use the double boiler method or the following. Add Chocolate Topping ingredients to a medium, microwave-safe bowl: 1 cup chocolate chips and ½ cup almond butter. Heat in 20-second increments until chocolate is softened and melty. Stir in between heating, until smooth.
Pour the chocolate mixture over the almond butter filling. Using a clean rubber spatula, smooth chocolate into an even layer. Tap the pan a few times to help even out the chocolate.
Transfer pan to freezer. Freeze for 45-60 minutes, or until hardened. Remove from freezer and slice into 16 squares. Enjoy! Storing instructions below.
Notes
- Adapted from my
No Bake Chocolate Pecan Bars (Paleo, V, GF)
, and my
No Bake Chocolate Peanut Butter Bars
.
- On the first day, these bars are best stored in the refrigerator. Serve and enjoy within 1 hour.
- After the first day, you may store these bars in an airtight container at room temperature (1-2 weeks), refrigerator (1-2 weeks). Starting week 2, the bars are a bit drier (like Reese's PB cup filling), but still delicious.
- These bars freeze well. Store in an airtight container in the freezer for 1-2 months. Thaw at room temperature for 10 minutes before enjoying. Or, heat in the microwave in 20-second increments until softened.
- More No Bake goodies:
almond butter coconut bites
,
peanut butter truffles
,
trail mix bites
.
- Paleo goodies:
Paleo Almond Joy
,
Paleo Almond Butter Cups
,
No Bake Paleo Chocolate Pecan Bars
.
- Almond Butter Love recipes:
chocolate chip almond butter walnut cookies
,
chocolate almond butter pretzel bites
,
almond butter chocolate chip oatmeal cookies
.
© beamingbaker.com. All content and images are protected by copyright. Please do not use my images or recipe without my permission. If you wish to republish this recipe, please re-write the entire recipe using your own words and include a link to this post for the recipe.
☀︎ More Almond Butter Recipes
If you love No Bake Paleo Chocolate Almond Butter Bars, you just love these:
Almond Butter Oatmeal Chocolate Chip Cookies (Vegan, Gluten Free, Dairy-Free, Whole Grain, Flourless)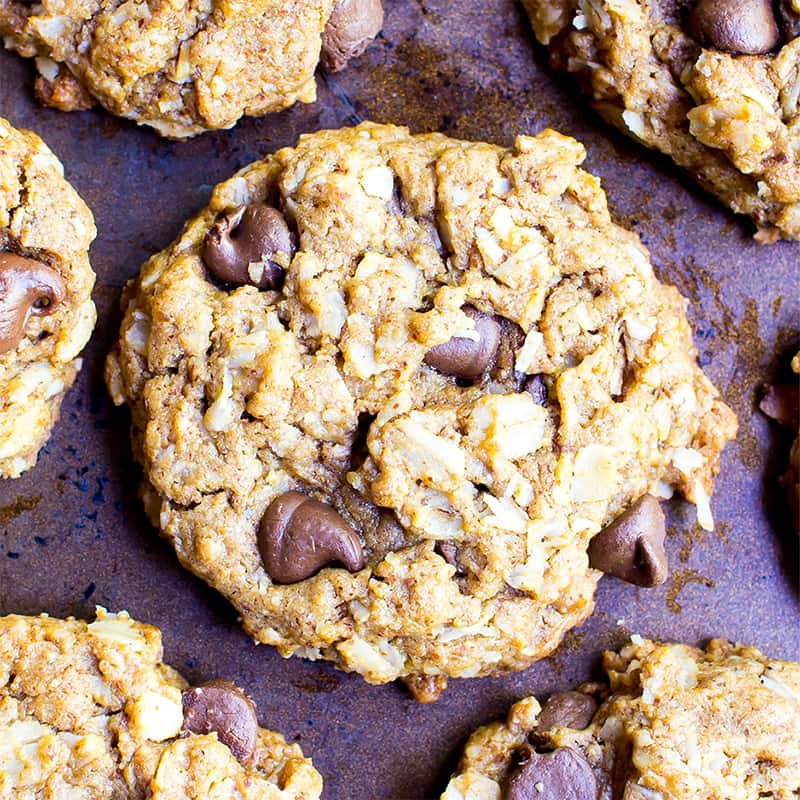 Paleo Chocolate Almond Butter Fudge Cups (Paleo, Vegan, Gluten Free, Dairy-Free)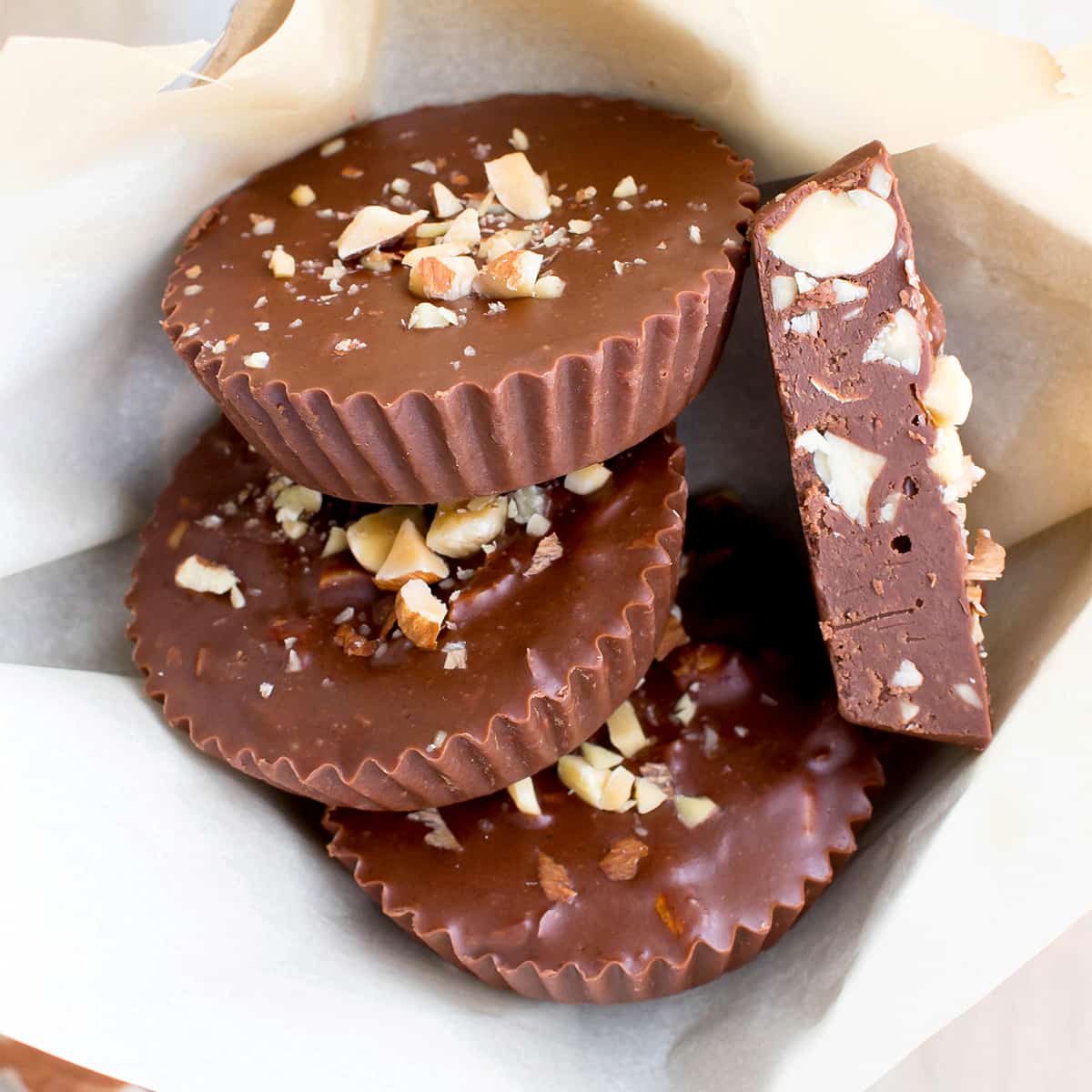 No Bake Almond Butter Chocolate Chip Cookie Dough Granola Bars (Vegan, Gluten Free, Dairy-Free, Whole Grain, Flourless)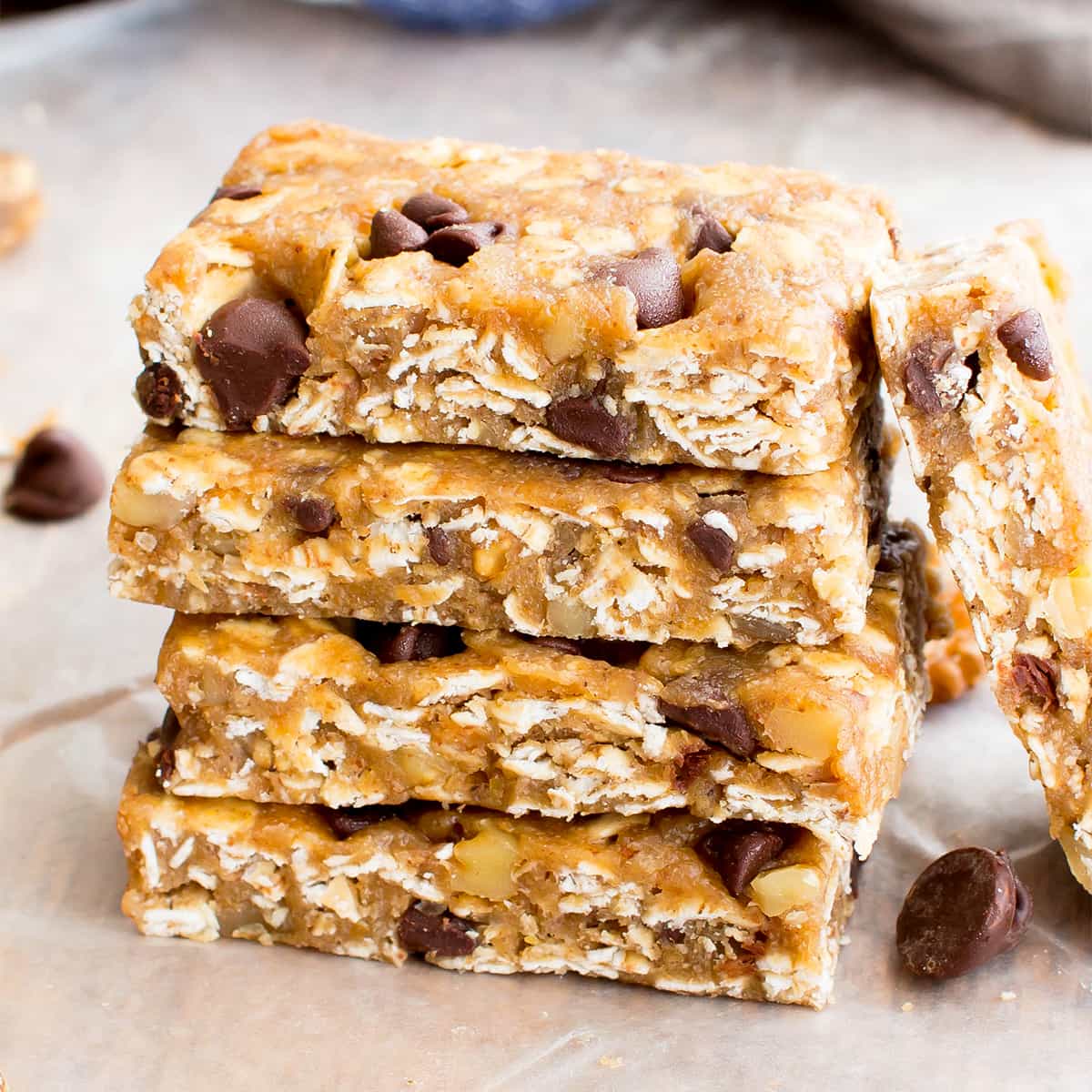 Paleo Almond Butter Cups (Paleo, Vegan, Gluten Free, Dairy-Free)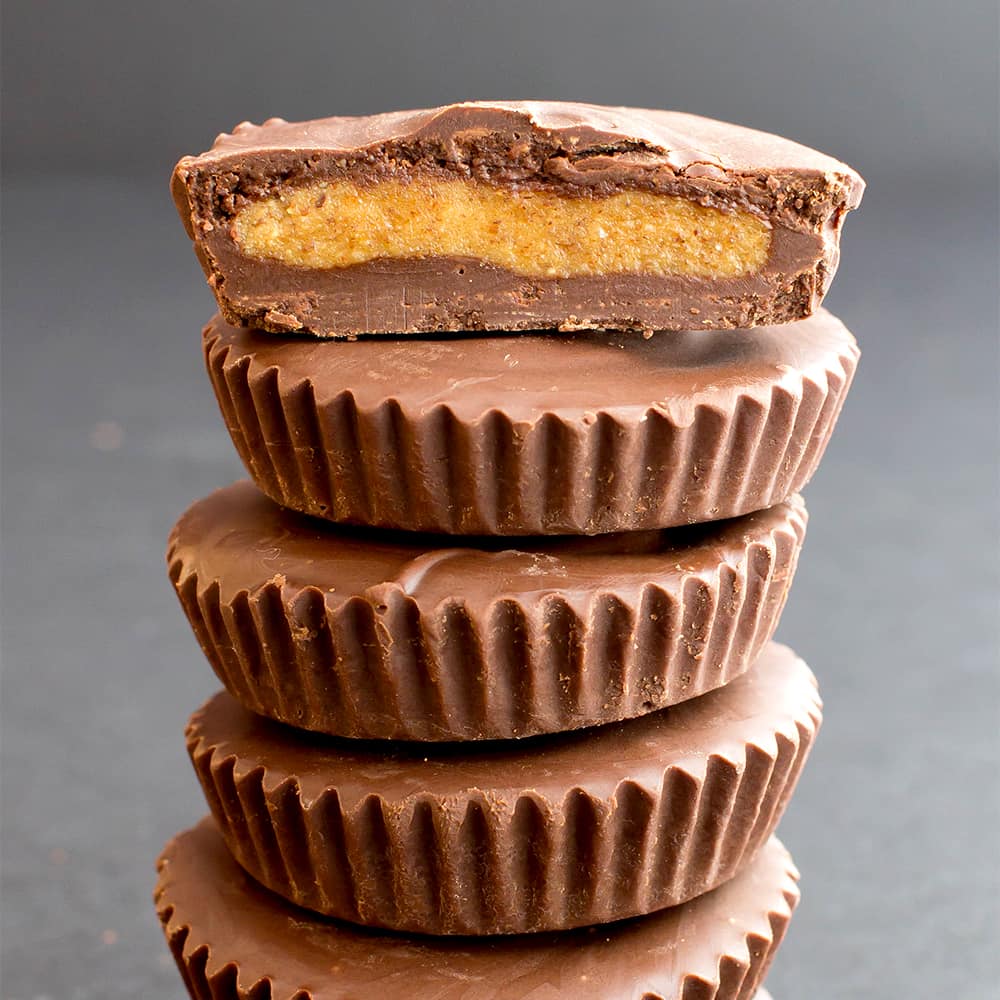 ☀︎ Even more delicious dessert recipes
No Bake Almond Butter Coconut Bites (Vegan, Gluten Free, Dairy-Free, Whole Grain)
Paleo Chocolate Almond Butter Cookie Cups by Paleo Running Momma
4 Ingredient No Bake Peanut Butter Chocolate Bars (Vegan, Gluten Free, Dairy-Free)
Flourless Almond Butter Dark Chocolate Chunk Cookies with Sea Salt by Ambitious Kitchen
Gluten Free Vegan Brownies (Vegan, Gluten Free, Dairy-Free, Whole Grain, Flourless)
Facebook ☀︎ Pinterest  ☀︎ Twitter ☀︎ Instagram