The Best Healthy Vegan Travel Snacks (Recipes, Tips & More!)
The best vegan snacks for traveling, including make-ahead no bake snacks, healthy homemade cookies, the best fruits, ready-made vegan snacks and more vegan travel snacks!
Howdy, everyone! Erik here today, bringing you my picks for the best vegan travel snacks! Because who doesn't get hungry while traveling, ya know?
Finding food while you're traveling is easy. Said no one ever.
Pickings are pretty slim when it comes to dining options at most airports, train stations and bus depots. Your options get even more limited if you're trying to find something healthy and vegan to eat–and that's assuming that you even have time and aren't running around like a crazy person to make your connection.
And that is where travel snacks come in. Rather than spend 20 precious minutes of your travel time (and quite possibly 20 of your precious dollars) to buy a soggy sandwich or a questionably aged salad, you can simply rely on some pre-packed healthy vegan goodies to keep you fueled.
Whether you're traveling on trains, planes, or a horse-drawn carriage, these are the best healthy vegan travel snacks to have on hand!
As Demeter would say, are you ready to get your snack on? Let's do this! .
Best No Bake Vegan Travel Snacks
This is one of the best types of snacks to bring while traveling because you can easily prep them ahead of time, then toss them in a reusable snack bag and you're all set! It's nothing but smooth snacking for your trip. .
I can't even remember the last time we went on a trip without some kind of no bake bites or bars on hand. They're super filling, perfectly sweet, and packed with feel good ingredients so you don't have to worry about sticking to any diets (or just general healthy eating) while you travel.
Here are some of our favorite no bake snack recipes to take along while traveling (bonus, these are all gluten free!):
One of the coolest things about bringing your own vegan travel snacks? You can also use reusable snack bags and cut down on waste! Here is one of Demeter's faves. She picked this print out just for my Batman-loving self–ahem–I mean, our 6-year-old nephew. 😉
Batman Reusable Snack Bags – these are washable, reusable and one of the best ways to store vegan no bake snacks when you're on the go.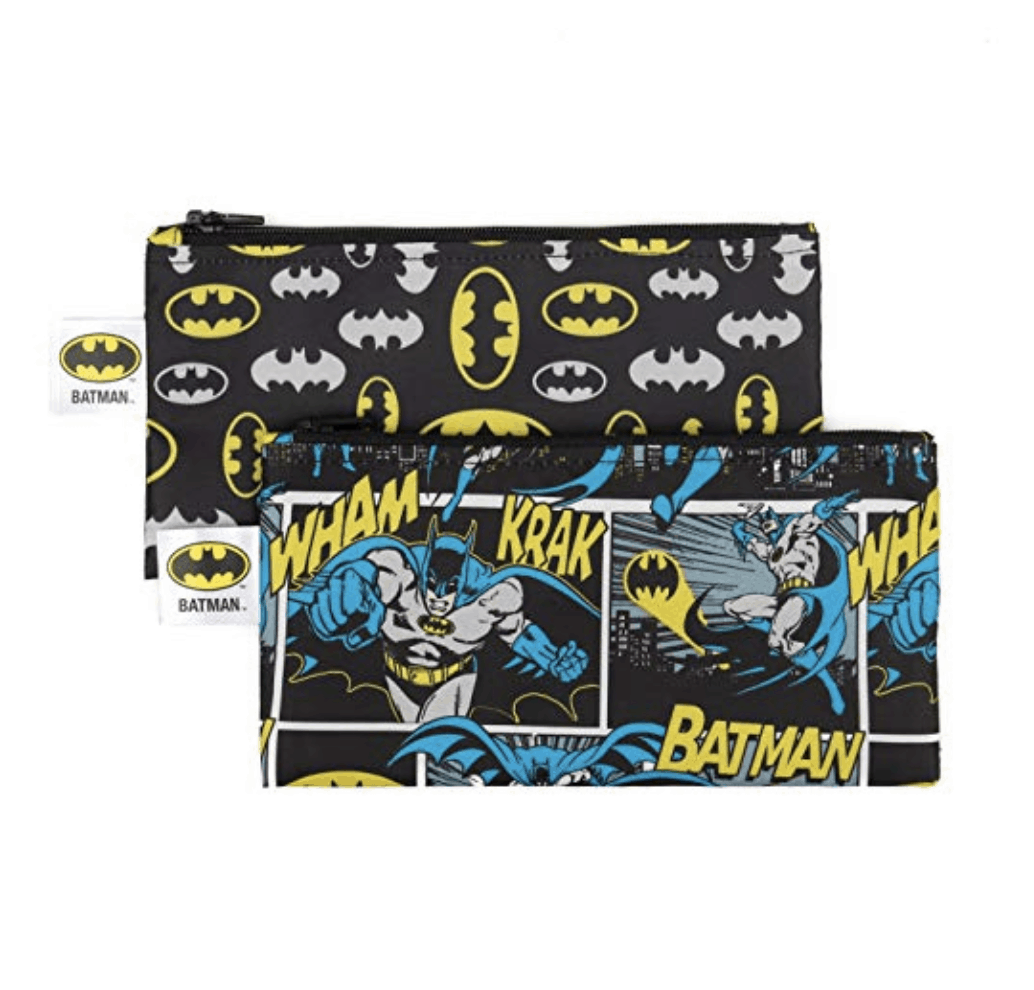 Best Fruits for Travel ..
Fresh fruits are one of the easiest vegan travel snacks to bring on any trip because they require little to no prep, and are super easy to pack. Wash the fruit at home if you can to make eating it as easy as possible.
Here are the best fruits to pack if you're traveling:
Green Apples: these are amazing for fighting nausea and seasickness, thanks to the pectin and natural sugars. Also, I love how sour they are. 😉
Bananas – a total travel fruit staple. Not terribly messy to eat, and incredibly filling.
Clementines/Tangerines – these are great because you can literally toss them into your bag and whip them out whenever you're hungry. Practically no prep needed whatsoever!
Dried fruit – one of the least messiest options for a fruity vegan travel snack. I'm a big fan of dried mango and blueberries, myself. .
Carrots – okay, technically not a fruit, but still one of the best healthy snacks to pack for any kind of trip.
If you're flying for your trip, you can usually even find some kind of fruit for sale at the airport in the food court area. Coffee shops (and in some cases newsstand shops) will usually have a bin of apples and/or bananas by the register. Sometimes healthier restaurants or delis may also have fruit salads, but buy these with caution. Check expiration and sell by dates, because spoiled or improperly handled fruit can cause some nasty stomach aches.
Here's one of the reusable travel snack containers that we love for storing fruit!
Stasher Reusable Snack Bags – Best for travel snacks that are a little more on the messy side, like fresh fruit. We like washing these by hand, but they're dishwasher-safe, too!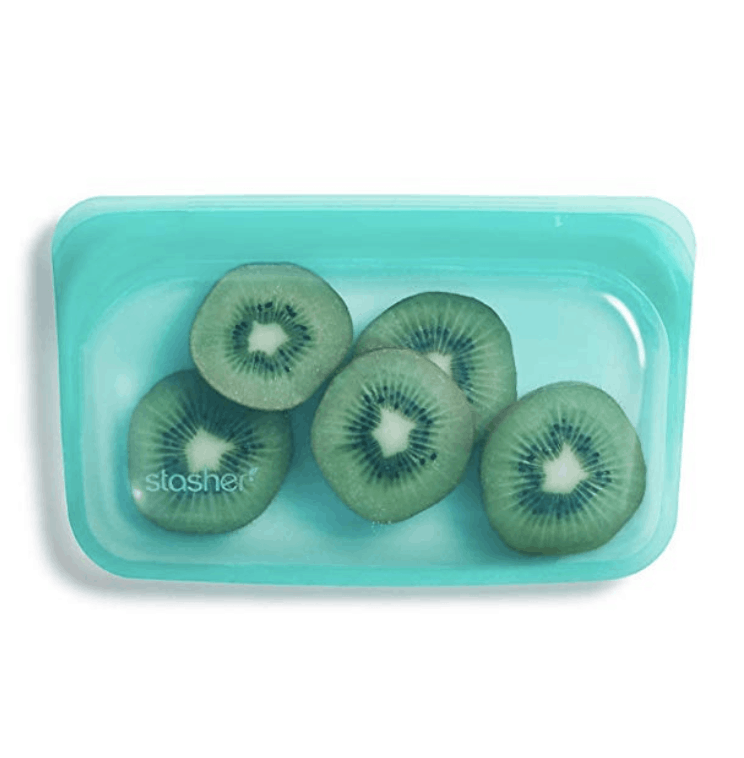 Vegan Travel Snacks: Muffins and Cookies
If you've got a bit more time to prep, or perhaps are looking for some vegan snacks for a road trip, then look no further than these muffins and cookies. They're also gluten free and dairy free, and made with the same healthy and filling ingredients to keep you full and happy during any kind of trip.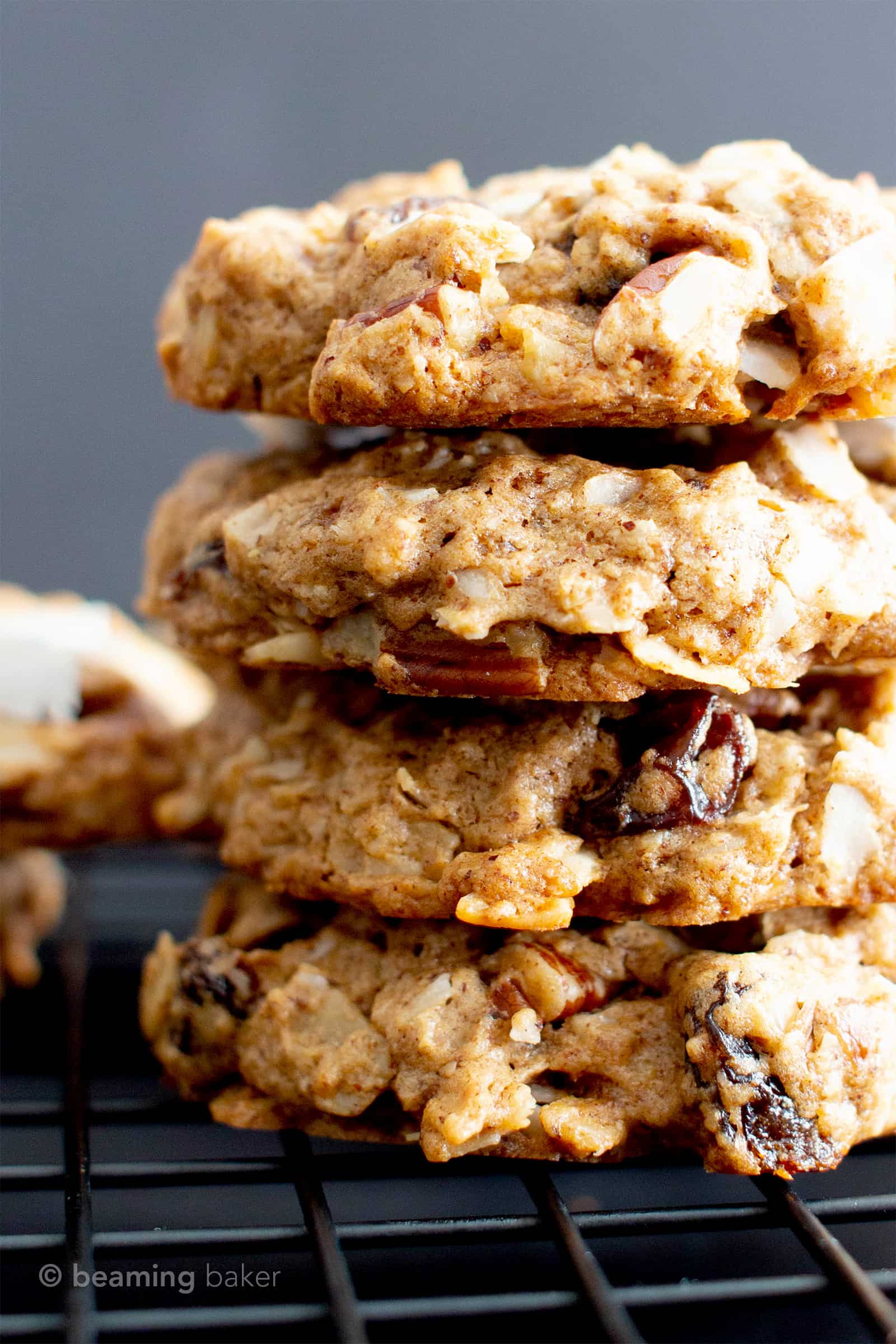 Best Healthy Vegan Travel Snacks on Amazon
Now, if you'd prefer to simply purchase some vegan travel snacks for your upcoming trip, then worry not. I totally get it, sometimes you've got so much to do—pack all your suitcases, figure out how to find the best flights, plan some seriously fun things to do—the last thing you want to do is make snacks.
So, here are some of the best vegan travel snacks on Amazon:
Healthy Vegan Snack Assortment Care Package – an incredible assortment of healthy vegan snacks, from chips and protein cookies to chia snacks and fruit bars. This is a great way to discover new vegan snacks (and give as a gift)!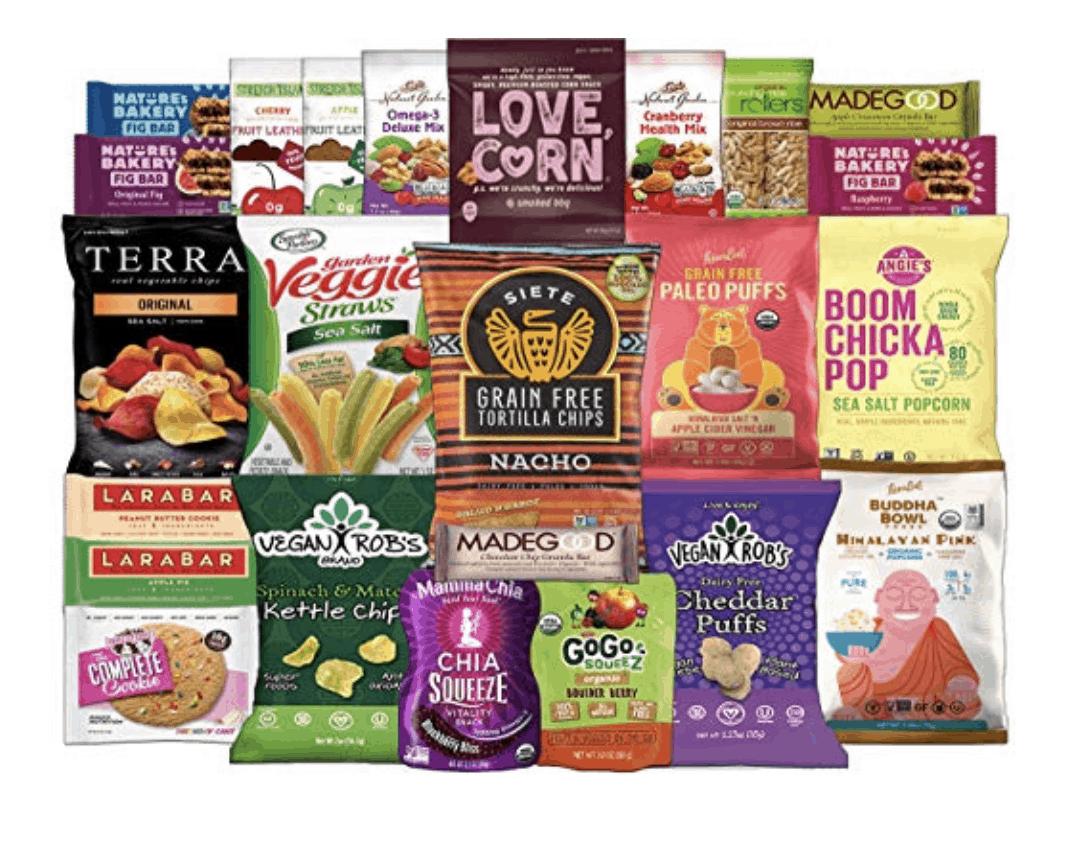 Homemade Granola
Craving something a bit more crunchy for your vegan travel snacks? Well, then you're definitely gonna love these granola recipes! They're filling, healthy and soooo seriously tasty.
Make sure to store your homemade granola in airtight containers to keep it crispy! I mean, you could store it willy-nilly in whatever open pockets you may have… J/K! (Now I'm just imaging a pair of cargo shorts with all the pockets bulging with granola, and I'm not 100% against it. ..‍♂️.)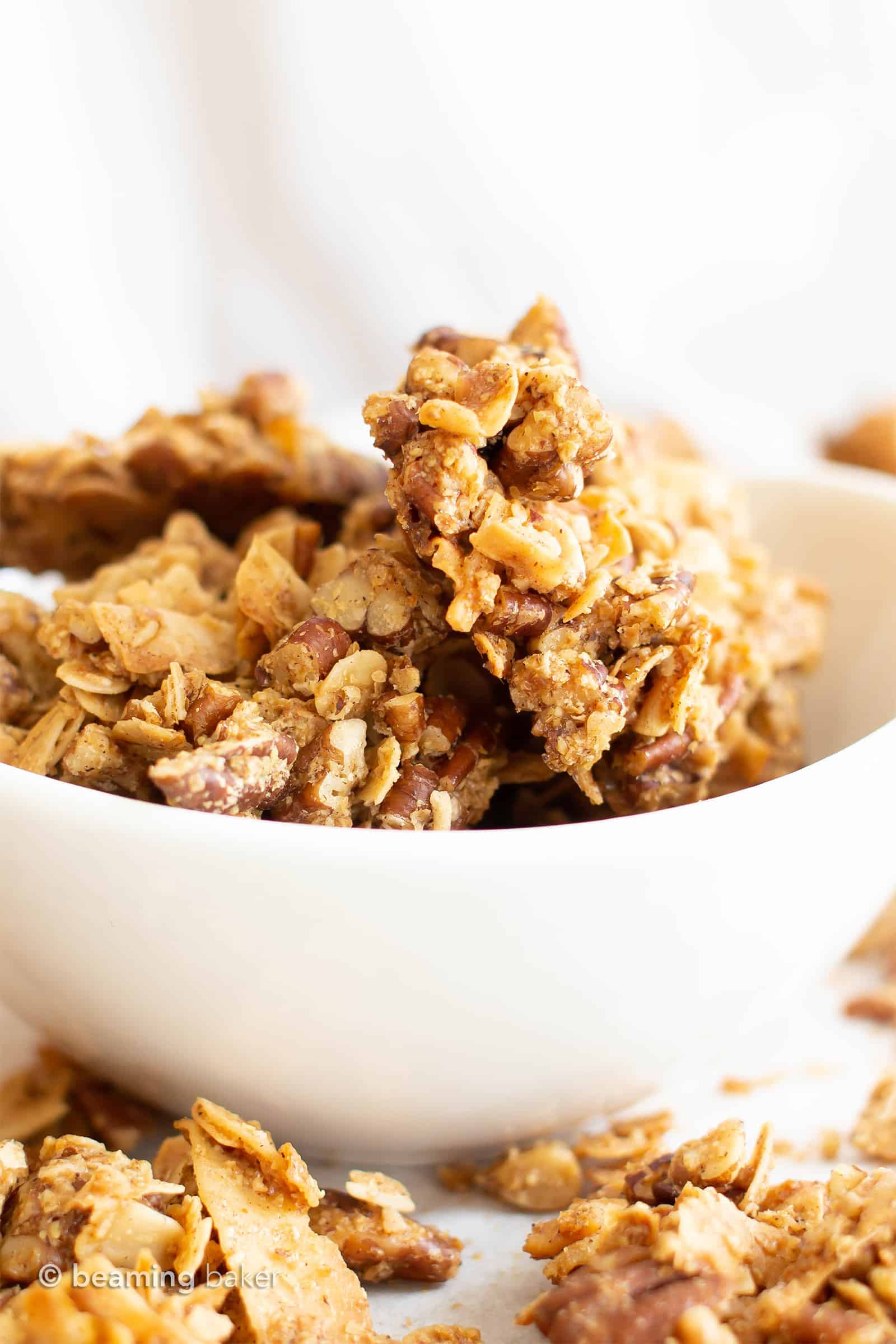 More Vegan Travel Snacks Recipe Roundups
In case you're still craving some homemade vegan travel snacks, check out these helpful recipe roundups.
Tell me all about your favorite vegan travel snacks in the comments below!
And, don't forget to catch up on my past posts:
Travel safe, and stay swanky!
– Erik .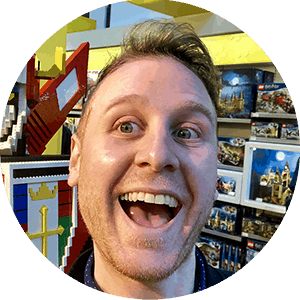 This post may contain affiliate links, which allow me to make a small commission for my referral, at no additional cost to you.