My Favorite Vegan Gluten Free Cookie Recipes
The BEST Vegan Gluten Free Cookies, all in one place! Find vegan gluten free oatmeal cookies, vegan gluten free chocolate chip cookies, V+GF peanut butter cookies, cookie dough, oatmeal raisin and more!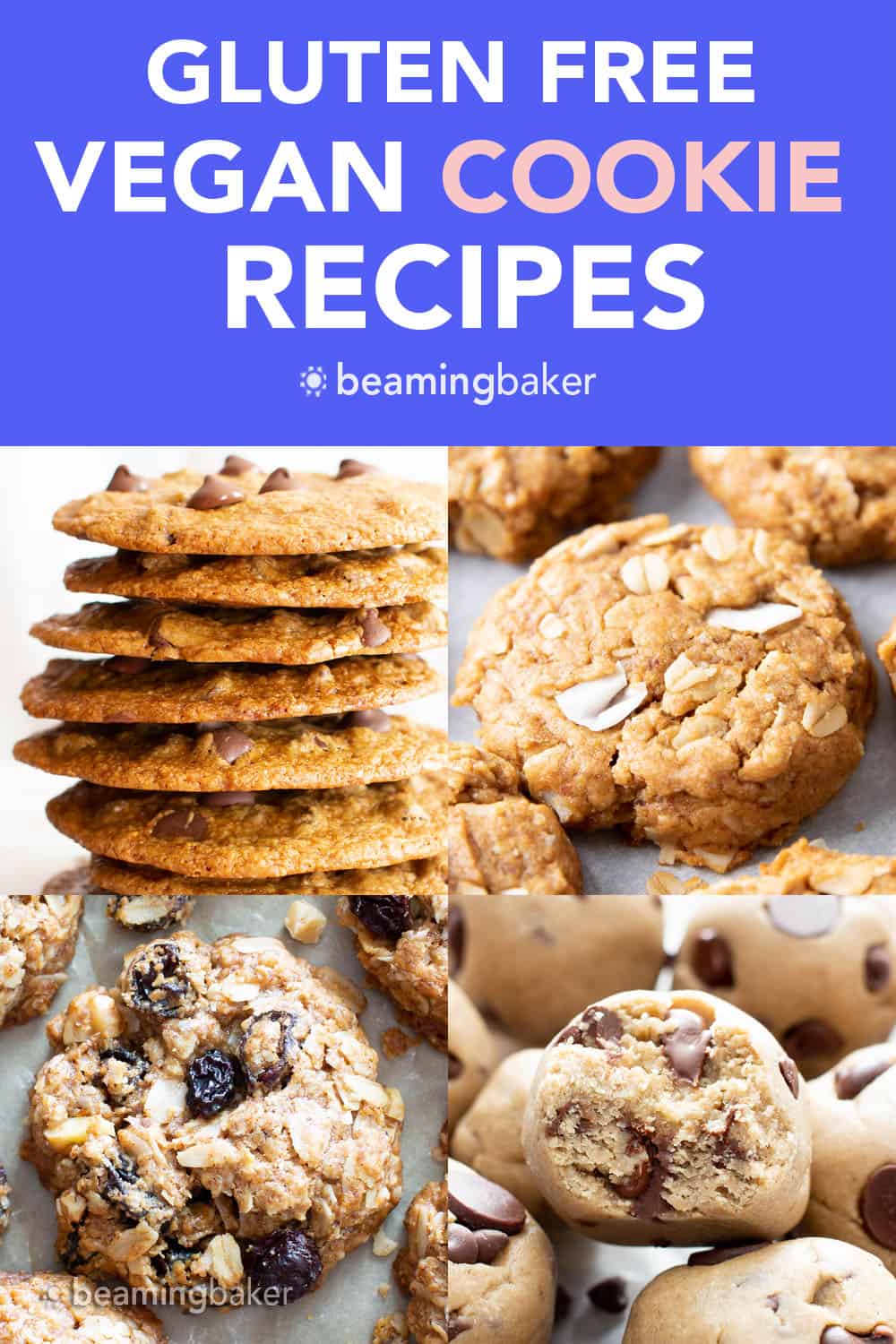 My Favorite Vegan Gluten Free Cookies Recipes!
Now that we're fast-approaching the BEST seasons ever… with the best (aka yummiest) holidays around the corner, I thought it'd be high time to gather all the cookies to eat—I mean—practice baking for the holidays!
Fret not, all of these amazing cookie recipes are vegan gluten free cookies! We're going to be covering all of the greats: from vegan gluten free chocolate chip cookies (um, YUM), to vegan gluten free oatmeal cookies (my fave), vegan gluten free peanut butter cookies (my mom's fave) to vegan gluten free cookie dough (Erik's fave) and V+GF oatmeal raisin cookies and V+GF pumpkin cookies!
All of these vegan gluten free cookie recipes are kitchen-tested and mom-approved (just, ya know, send my mom a quick text for verification). Here's a quick key:
Reader Faves: ❤️
Popular Recipes: 🔥
My Fave: 🍪
So in case I didn't just cover all of the gluten free vegan cookies you were looking for, drop me a line/write me a comment and let me know what you'd like to see. 😉
I'll keep this post updated with the newest vegan gluten free cookie recipes that I share throughout the year. So make sure to check back here whenever the gluten free vegan cookie craving hits! Without further ado, let's get this cookie party started!
Vegan Gluten Free Chocolate Chip Cookies
Vegan Gluten Free Oatmeal Cookies
Recommended Tools for the Best Gluten Free Vegan Cookies!
Vegan Gluten Free Peanut Butter Cookies
Vegan Gluten Free Cookie Dough & No Bake
More V + GF Cookies!
Looking for more vegan gluten free cookies to satisfy your cookie cravings? Perhaps you're more so in the mood for vegan gluten free oatmeal raisin cookies, or vegan gluten free pumpkin cookies… or maybe even vegan gluten free gingerbread cookies! Check 'em all out below!
Which vegan gluten free cookie are you most excited about trying first? Comment below and let me know! If you spotted a favorite on the list, comment and let others know so they can head on over to that recipe and make it. 😉 As always, I'm so grateful that you're here, sharing in these joyful kitchen adventure with me and your loved ones. 'Til the next one…
Sending you all my love and even a dove, xo Demeter ❤️
© beamingbaker.com. All content and images are protected by copyright. Please do not use my images or recipe without my permission. Please do not republish this recipe, instead, include a link to this post for the recipe.
This post may contain affiliate links, which allow me to make a small commission for my referral, at no additional cost to you.