35+ Easy Healthy Snack Recipes (V, GF): an amazing collection of the best quick 'n easy healthy homemade snack recipes! Featuring no bake bites, granola bars, breakfast cookies and more! Vegan, Gluten-Free, Dairy-Free, Refined Sugar-Free, Healthy, some Paleo.

Can you believe back-to-school everything is in full swing already?? When I was younger, I totally did not look forward to this time of year. Back-to-school meant more homework, less summer fun, and all of that…
But now, I'm like, yay!!! Back-to-school!!! A great excuse to make all the easy 'n tasty treats… and a great way to slowly transition into my favorite season: fall. Woohoo!!!
What are you excited about this time of year?
While I await your answers, I'm gonna share my favorite easy 'n healthy snacks. Hopefully you'll find some thing or things that you absolutely love.
Here's to a fantastic kickoff to the school year! Ready? Let's get started!!!
SHOP THE RECIPE
Here are a few items I used to make all of these wonderfully easy healthy snack recipes. 🙂
Cookie Sheet | Maple Syrup | Coconut Flour | Coconut Oil | 2-Tablespoon Cookie Scoop | Unbleached Parchment Paper | Baking Pan (8-inch) | Muffin Pan | Parchment Cupcake Liners
Homemade Chunky Paleo Granola with Clusters (Grain-Free, Vegan, Gluten Free, Paleo) (pictured below)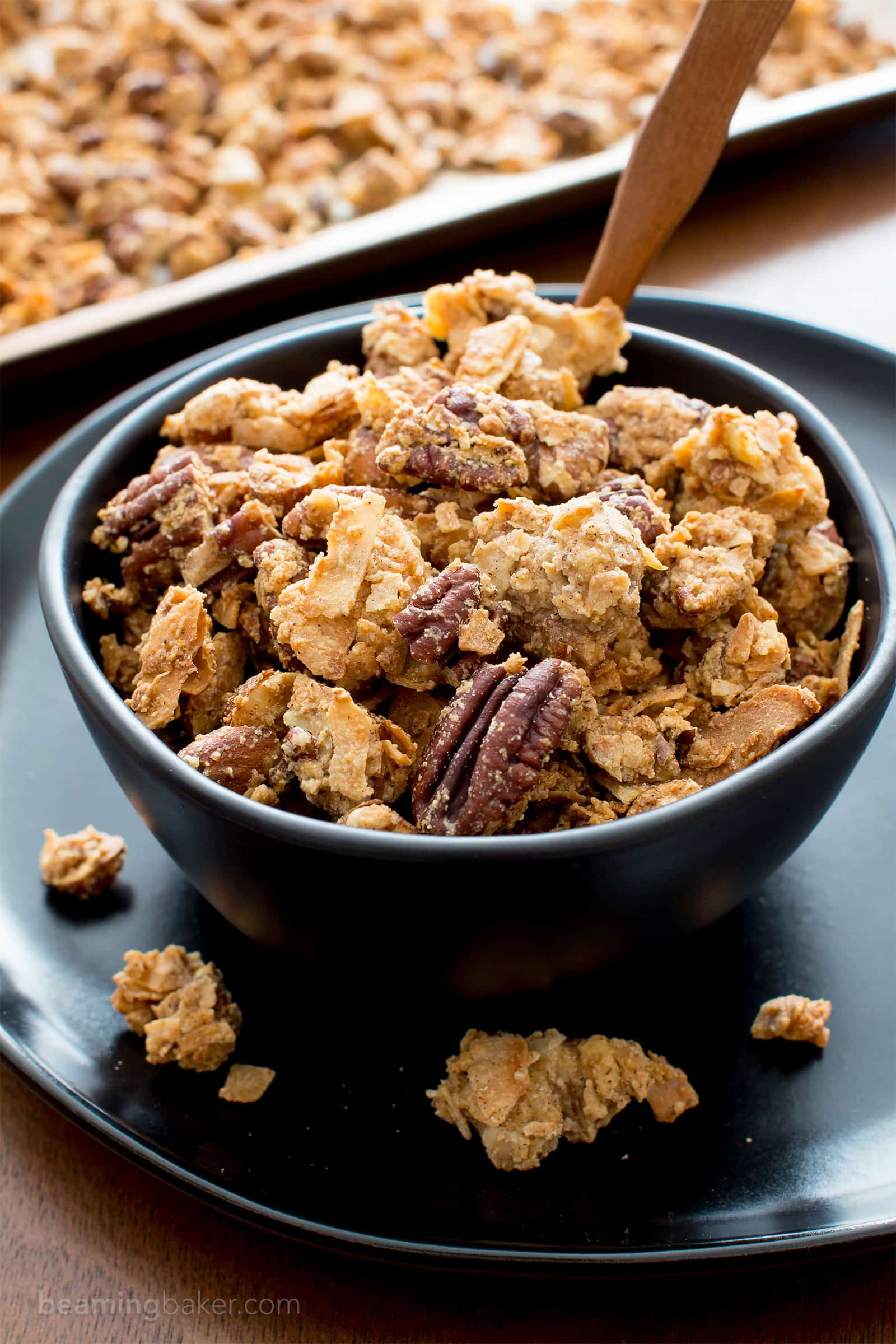 Chewy Oatmeal Raisin Cookie Recipe (Vegan, Gluten-Free, Refined Sugar-Free) (pictured below)
Related Recipes: Gluten Free Vegan Oatmeal Chocolate Chip Cookies, my favorite: Vegan Chocolate Chip Cookies Recipe, Good Morning Breakfast Cookies, Peanut Butter Coconut Oatmeal Cookies.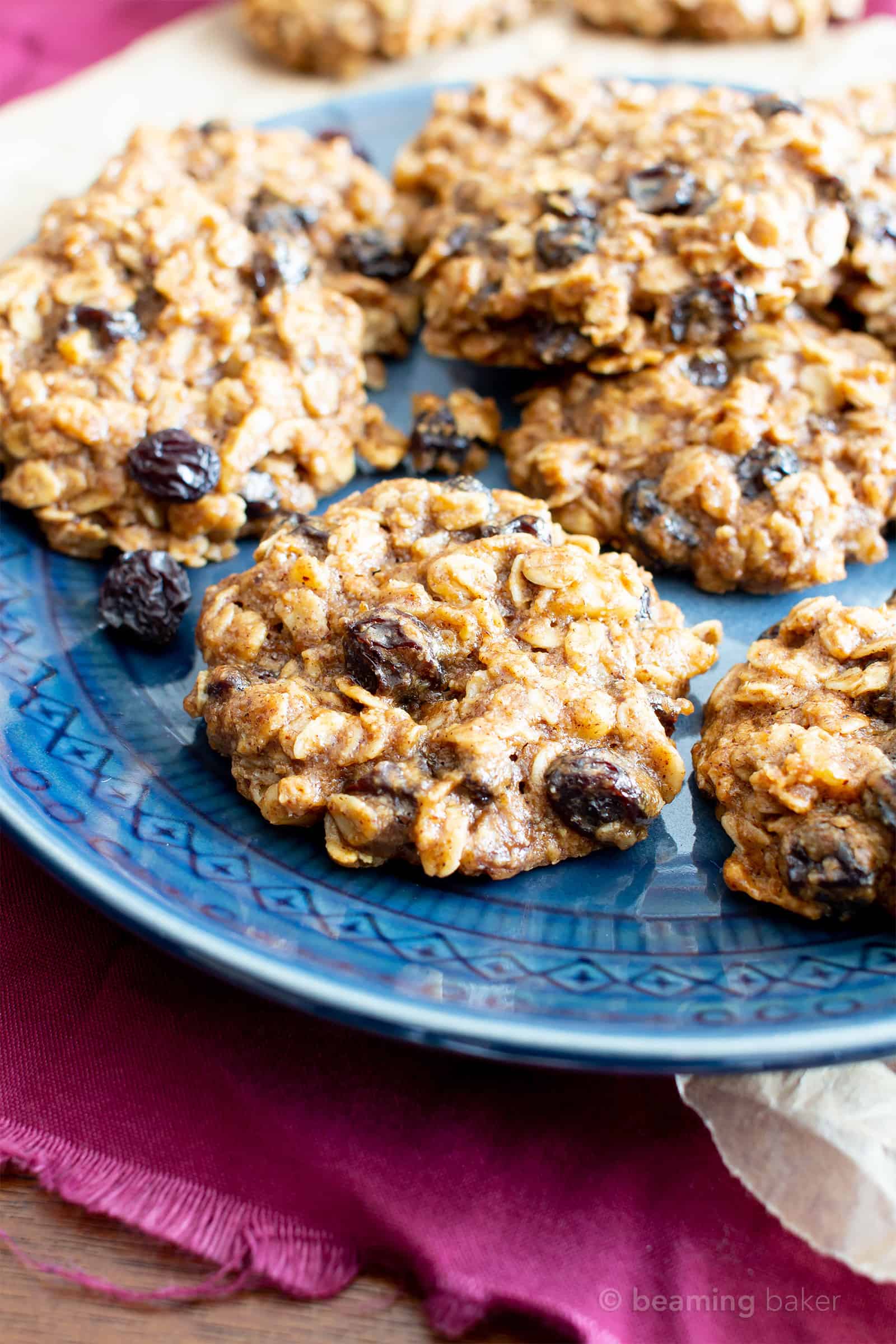 Banana Oatmeal Chocolate Chip Muffins (Vegan, Gluten Free, Dairy-Free, Refined Sugar-Free) (pictured below) Related Recipes: Best Moist Chocolate Chip Banana Bread Recipe, Vegan Chocolate Cake Recipe, Healthy Banana Blueberry Muffins Recipe, Vegan Gluten Free Chocolate Cupcakes (just for fun!).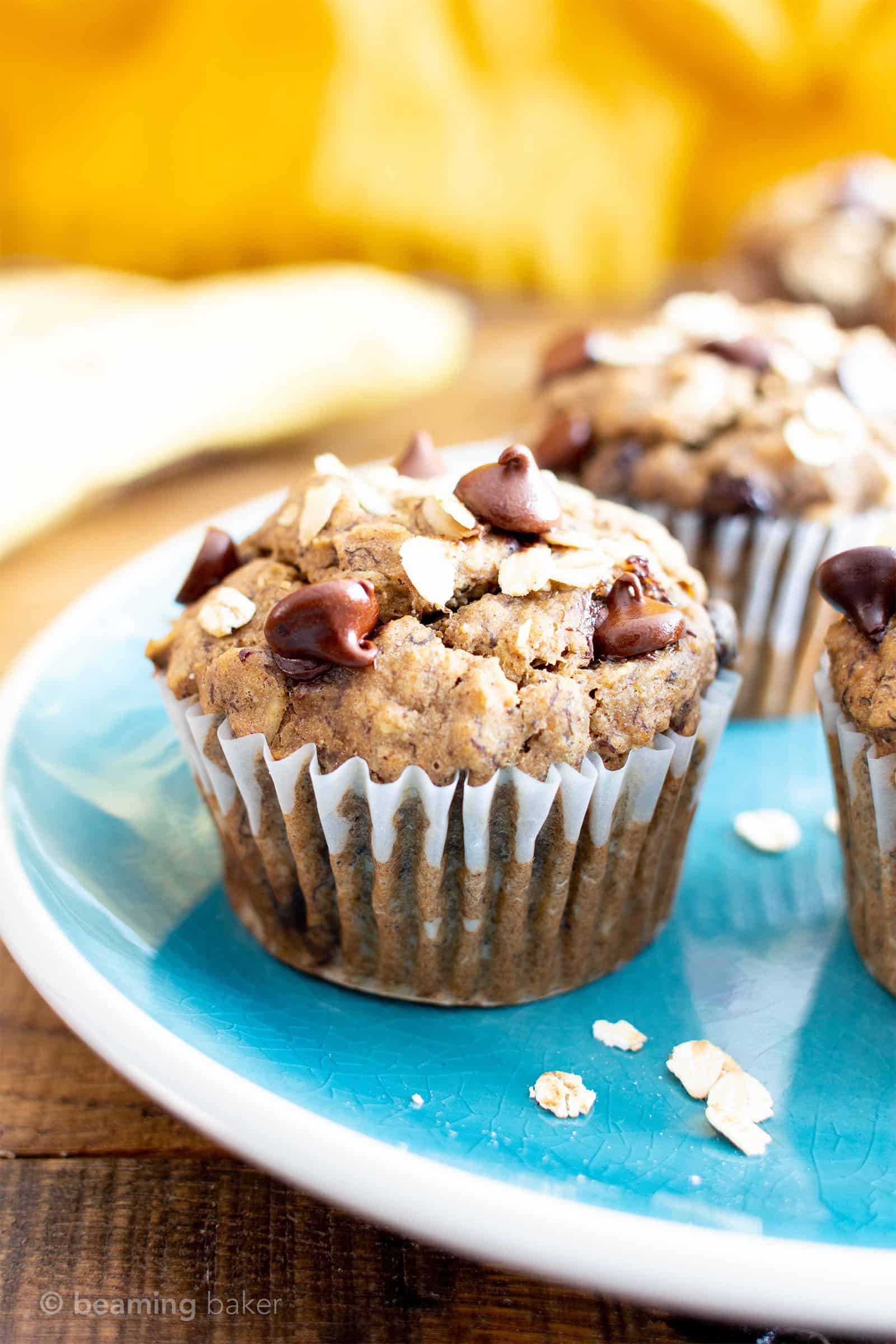 5 Ingredient Chocolate Chip Cookie Dough Bites Recipe (Vegan, Gluten Free, Dairy-Free, Refined Sugar-Free) (pictured below)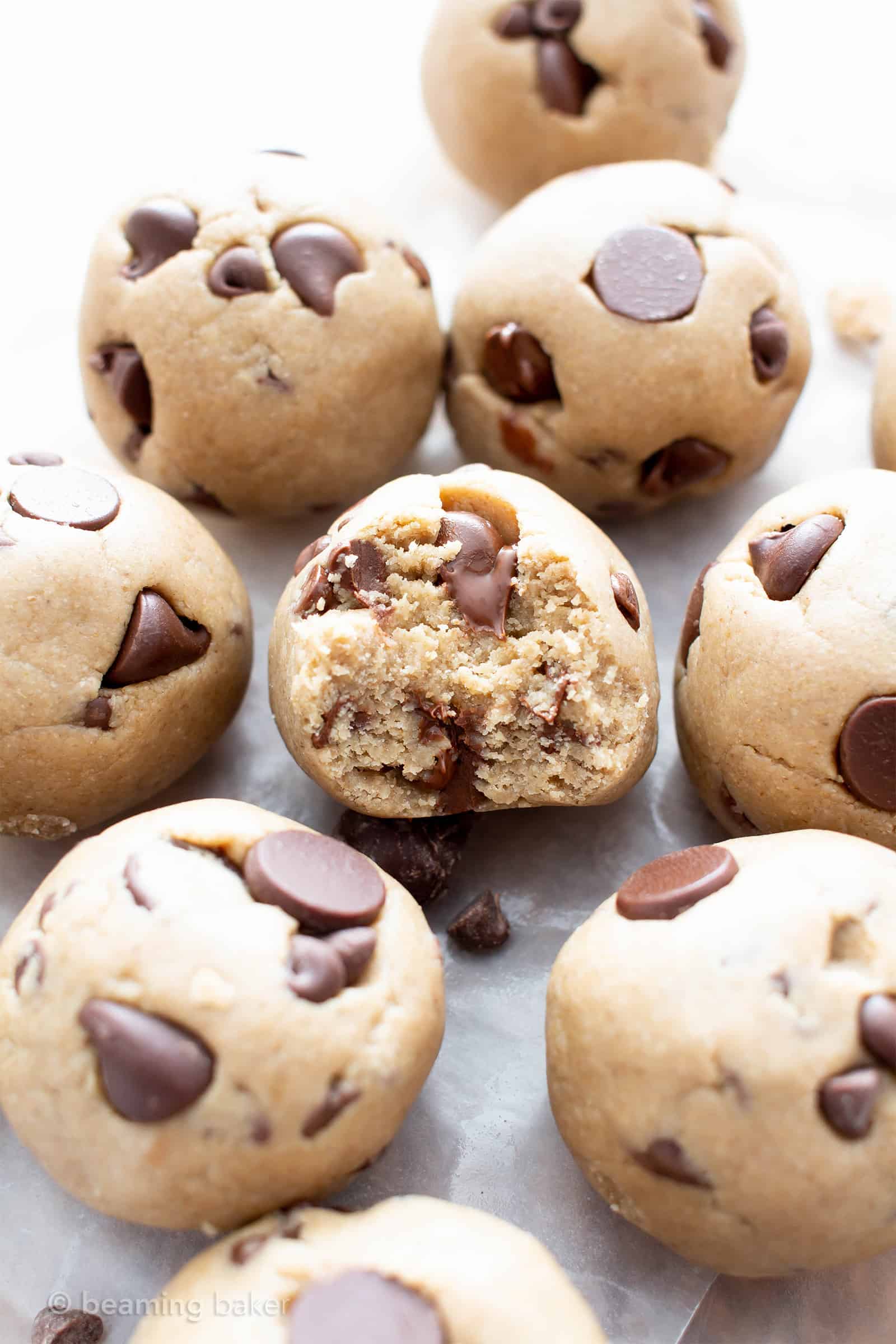 4 Ingredient Chocolate Peanut Butter Homemade Frosty Recipe (Vegan, Dairy-Free, Gluten-Free, Refined Sugar-Free)(pictured below)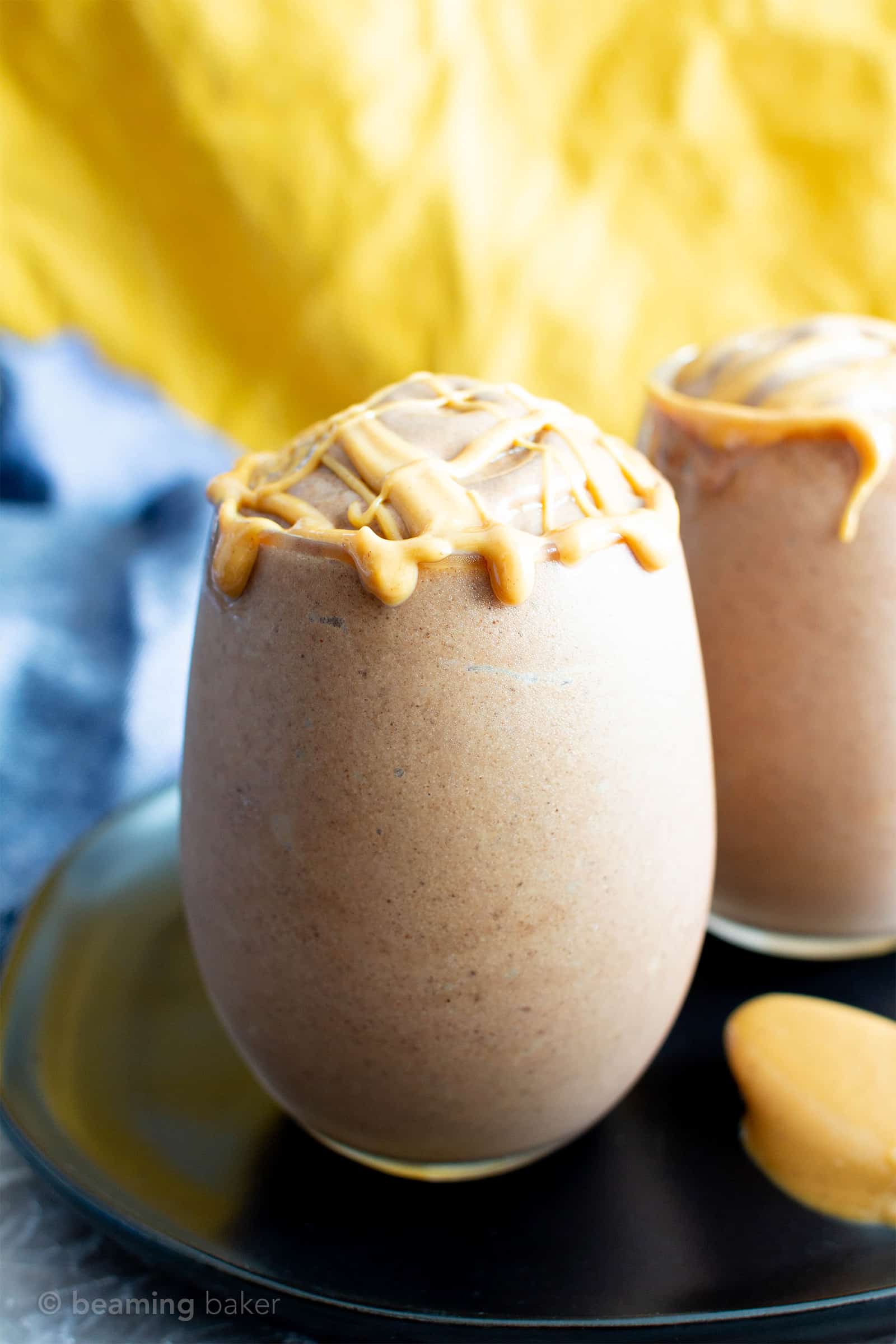 3 Ingredient Homemade KIND Coconut Almond Bar Recipe (Paleo, Vegan, Gluten Free, Dairy-Free, Oil-Free) (pictured below)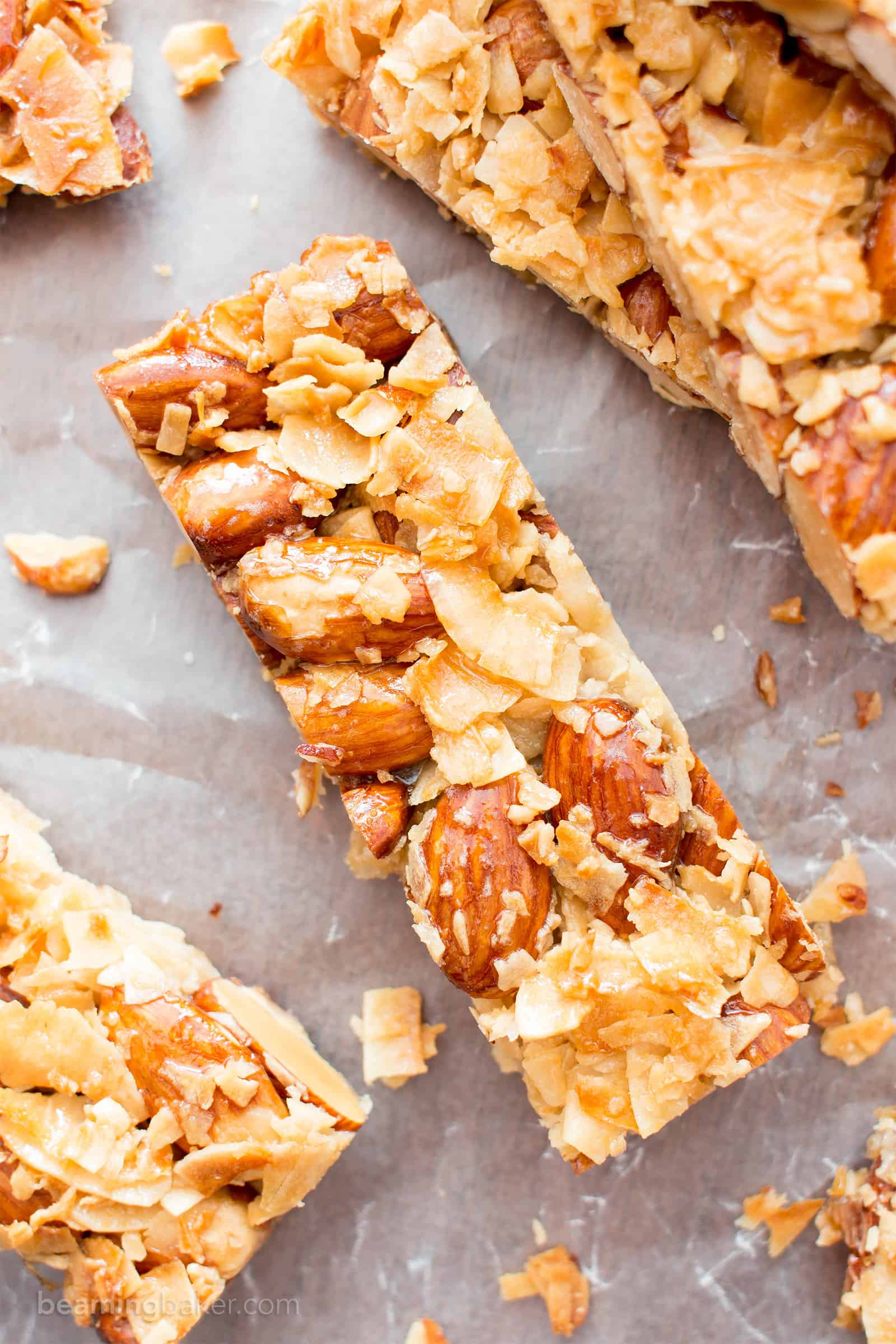 Looking for even more tasty recipes to make? Here are a few more gluten free vegan & paleo recipe roundups for you: 
Desserts
50+ Easy Vegan Dessert Recipes
15 No Bake Paleo Vegan Desserts
30+ Amazing Gluten-Free Cookie Recipes
15 Easy Gluten Free Vegan Homemade Candy Recipes
25+ Healthy Easy Peanut Butter Desserts Recipes
50+ Irresistible Vegan Frozen Dessert Recipes
Snacks
20+ Easy No Bake Energy Bites Recipes
25+ Healthy Gluten Free Breakfast Recipes
15 Healthy Gluten Free Vegan No Bake Snacks
25+ Easy Gluten Free Vegan Candy Recipes
15 Healthy Protein-Packed No Bake Energy Bite Recipes
25+ Best Healthy Road Trip Snacks Recipes
25+ Easy Summer Desserts Recipes
I hope you enjoyed the treats in this recipe roundup. Let me know what kind of easy snacks you'd like to see next.
Sending you all my love and maybe even a dove, xo Demeter ❤️
This post may contain affiliate links, which allow me to make a small commission for my referral, at no additional cost to you. Thank you for supporting Beaming Baker.
Facebook ☀︎ Pinterest  ☀︎ Twitter ☀︎ Instagram